10 Conclusive Reasons To Use Law Firm CRM For Your Business
Dec 13, 2021
You see it is already an unsaid fact in the busy world of attorneys that there is more work to do than time permits. And it is extremely crucial for all law firms to be efficient in dealing with multiple matters simultaneously. No matter how big your firm is, to sustain in today's economy, you need to compile information and centralize your data for every aspect of your business growth and client management.
And we can only imagine the level of workload a law firm has to deal with every day. You simply cannot manage your business single-handedly without technology. So why not choose the best in the market? Built on the award-winning Zoho platform, Law Firm CRM is the ultimate solution that you need for today's climate. Introhive says that firms using CRM have grown by 7% in 3 years.
Think about it practically. As an attorney, wouldn't you prioritize winning cases and practicing law rather than regulating your backend competency? That's why we have come up with Law Firm CRM. In this blog, we will delve deep into the abundant features of this application. The more features it offers, the more reasons you have to implement it for your business!
For starters, let's discuss the three kinds of billing preferences that the Law firm CRM can handle:
Hourly Billing: Attorney fees structure is one of the biggest concerns of people who need your assistance. Hourly billing is a typical fee arrangement. It includes an upfront rate charged on an estimated hourly basis.
Flat Rate: For certain types of cases that are relatively simpler, lawyers often charge a flat fee. For example, uncontested divorces cases, or will preparation. It includes a 100% beforehand payment, regardless of the outcome of the case.
Contingency Fees: Clients who have strong arguments to present to the court often hire attorneys with contingency fees. There is no requirement for the initial payment or monthly legal fees. Typical cases which involve a large sum in the stake are viable options for the lawyers. There remains a chance for them to receive a percentage of the transaction when they win.
Unify Your Data With Law Firm CRM
Running a law firm and dealing with uncountable attorneys and matters seems like an intimidating task in itself. That too while managing a spreadsheet of the latest updates on the other hand? Sounds exhausting!
Well, the best part of Law Firm CRM software is that it captures data and stores them in respective spaces in a kempt manner. But first, when you start your day, you are straight-up landed on your Home Page where all the crucial information related to your business appears before you. You can check how many leads you have generated and from where, the latest updates on your matters and open activities left, and so forth. And mind you, this AI-powered software syncs your home page with real-time updates. No matter what device you use, you can keep a diligent direction of your firm and fast-track your communication with your clients and attorneys. Run your business on the move!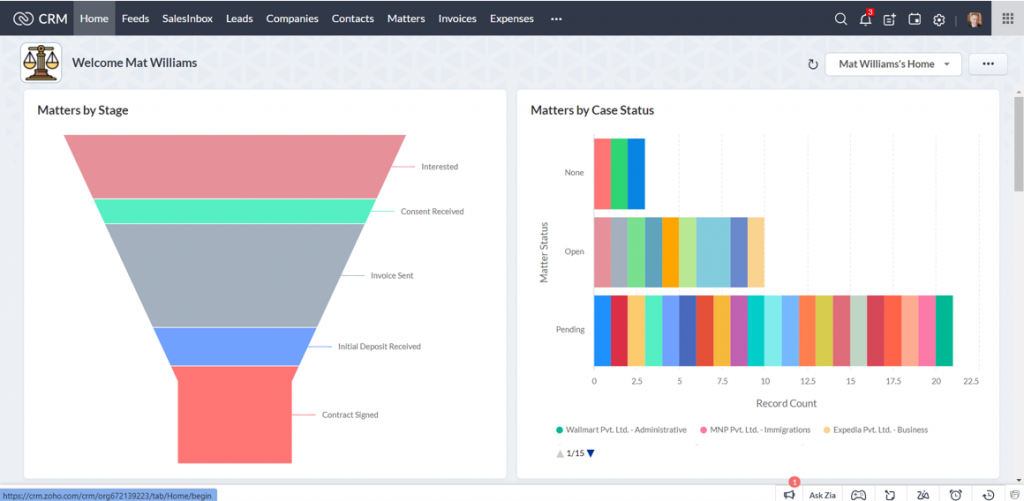 Capture And Nurture Your Leads
You'll be soaking in the swamp if you don't manage your leads efficiently. Yes, managing business leads is that important. Of course, you can generate them via different platforms such as newspapers, websites, social media networks and so many. But capturing them automatically and managing them for further conversion is a tad bit different. Law Firm CRM makes it super-easy for you.
Other than creating leads manually, when you integrate your business with this CRM system, you can easily capture them in a streamlined manner. For instance, let's say a prospect comes across your website and inquires about particular legal assistance. Law Firm CRM instantly captures that inquiry and stores it under the lead module. It will systematically place all the acquired details in the respective fields to avoid confusion. So the moment this new entry is created, you can nurture them with different follow-up activities.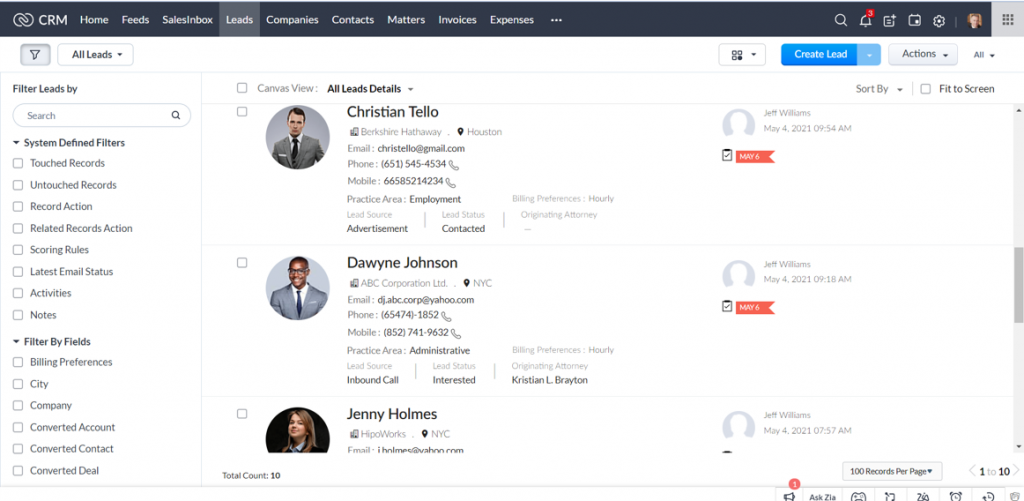 Manage Your Attorneys With Law Firm CRM
Legal firms solely revolve around attorneys right? Managing them with your best-level efficiency is super crucial. Law Firm CRM comes with the simplest yet most effective solution for you. Its attorneys' module holds a complete list of all your attorneys. A particular attorney profile houses your lawyer's detailed contact information along with their charges and practice area. You can also view their assigned matters. This way if you want to find a suitable attorney quickly, you can filter numerous attorneys applying different parameters and quickly identify the best fit for the job.
This CRM for law firms has everything interlinked but in the most seamless way. As you can view the assigned matters to a specific attorney, you can instantly switch to one of the mentioned matters and learn its stage history or related details as well.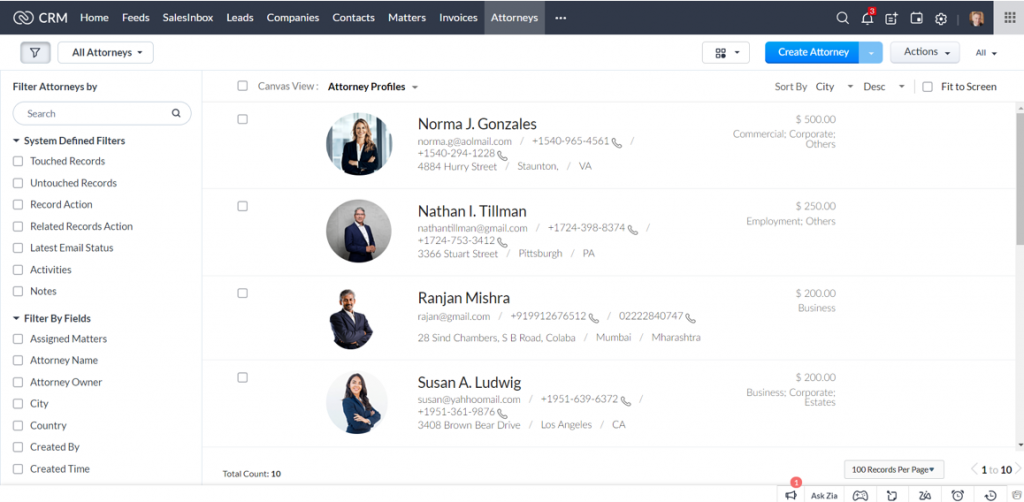 Workflow Automation With Law Firm CRM
Regardless of what industry you're involved in, when your business is equipped with automation powers, be certain that your work is half-done. Law Firm CRM comes along with pre-built automation features so that you can delegate your work pressure.
For example, when a lead inquires for your assistance, your CRM collects his/her data, creates a new entry, and sends an automated email for acknowledgment. For nurturing them further, you can assign different tasks to your teammates and set reminders, objectives, and deadlines for them. All you need to do is, mention your members. And bingo, they get instant notifications. If your prospect converts into a contact, you can share a 'matter details' form for gaining more information. And once they submit their forms, a matter gets automatically raised housing all the details inserted by your client.
This CRM software for legal firms also has a sales pipeline ready. Your tedious job becomes super easy to manage. You don't even have to think about your next move, your CRM will automatically update the current status and take you to the next stage.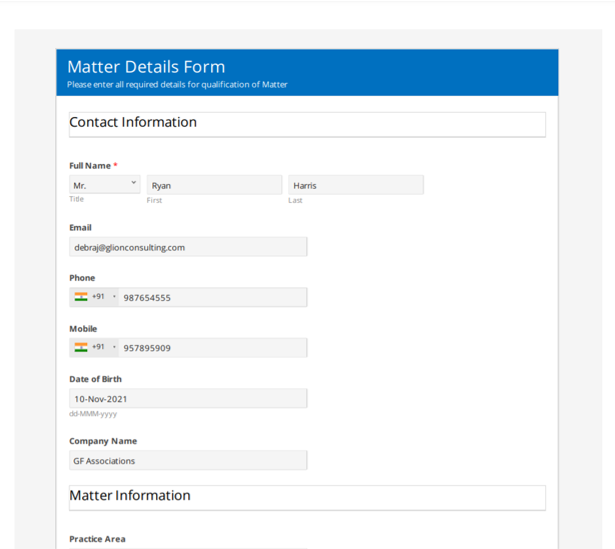 Get Your Contract Signed
The next step is to get your contract signed. The moment you evaluate a matter based on its merits and decide to move ahead, you can generate a contract. You can raise a contract depending on the billing preference and merge it with Zoho Writer. The contract automatically pulls out the relevant details from your matter record and matches it with a pre-defined template. You can also use Zoho Sign for signing the contract. It's becoming a paperless world, so why not go digital!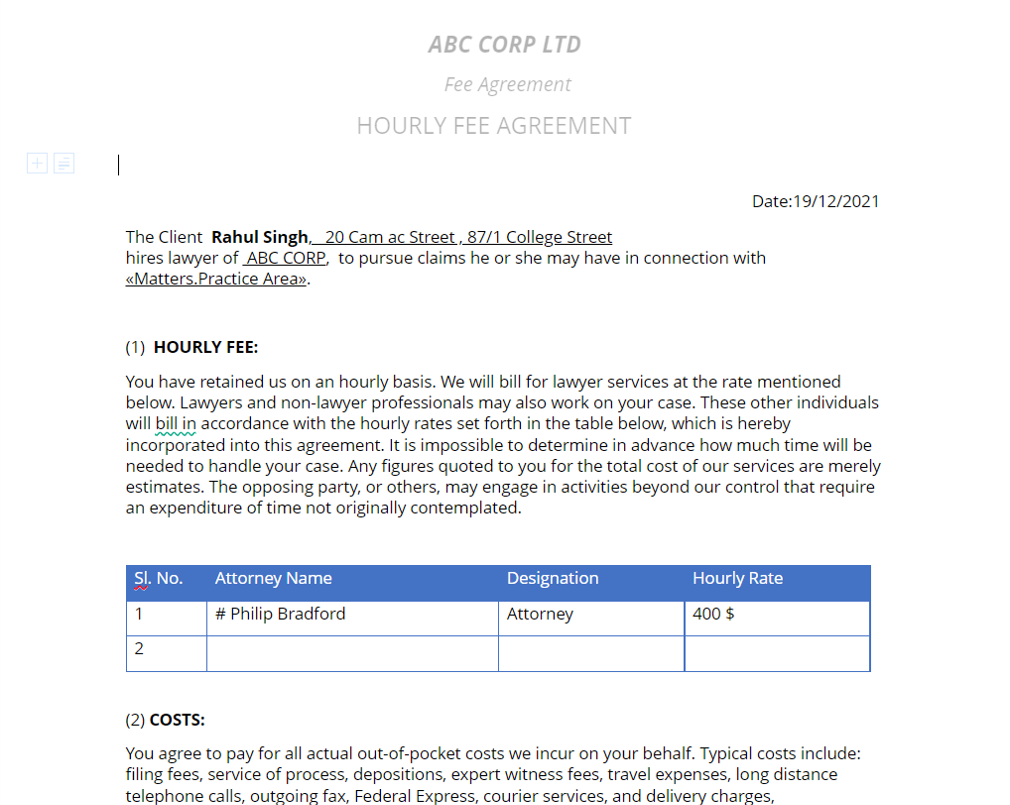 Keep Every Information Handy
You can immensely optimize your business strategy by keeping all your documents handy and in one place. As a legal assistant, it is even more important to have a centralized port that is accessible with any device and at any time. Law Firm CRM helps you store your documents which you can instantly retrieve when required. It has a library of modules laid out in an uncluttered way. So when you get inside any module, be it, a lead, or contact, or attorney, or matter– every bit of information is placed in the respective fields. You can scroll through the attachments, open activities, the number of emails sent, view the matter, the statute of limitations, and so forth. When implemented rightly, it can dramatically improve your productivity and save tons of your time.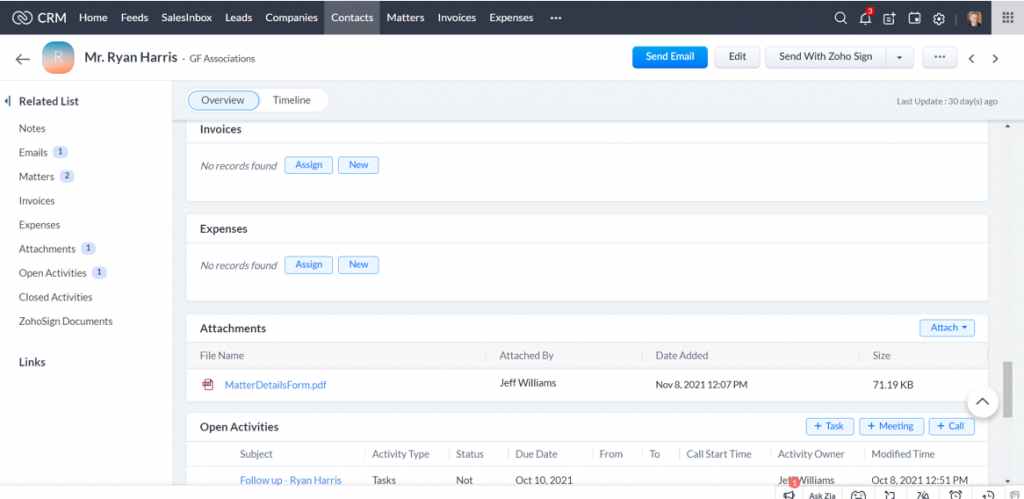 Time Sheet Management With Law Firm CRM
We all know that time is money. It is even more relevant in the legal world. So it is almost frightening if you're still using a spreadsheet to track the time invested by your attorneys on cases. For hourly billing preferred cases, Law Firm CRM makes your situation workable to a great extent. Your lawyers can simply insert the time that they have invested along with the date and tasks when they work on the matter. Or else, while preparing an invoice for the matter, when you select an attorney and enter the hours invested, this CRM software instantly pulls out the rate from the attorney module and calculates the billable amount.

One-click Invoice Generation
Once you are done with timesheet management, you can generate your invoice for this matter. Based on the hours your attorney had invested, Law Firm CRM instantly calculates the amount and generates an invoice accordingly. It is all computerized, so there remains no room for risks. Hence you never need to ponder over the same issue twice!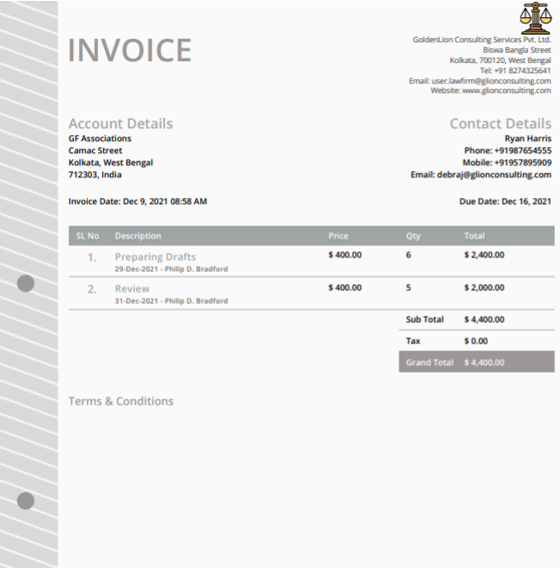 Record Your Expenses
Law Firm CRM helps you record all your expenses neatly while you're working on any case. It is often noticed that contingency matters require several services which involve additional expenses. As a legal practitioner, you might have to travel for investigation or file fees for the court. So you can create expenses and manage your matters, by inserting the name, type of expense, date, amount, or mode, and saving it. You can add multiple expenses against one particular matter. This CRM software automatically sums them up while you raise an invoice.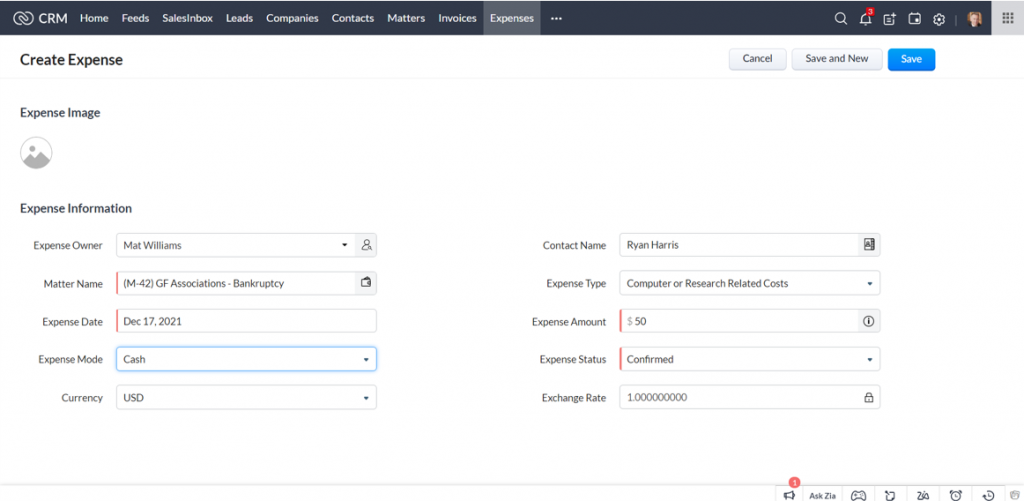 Gain Powerful Insights
The coolest hack of using quality software like Law Firm CRM is gaining real-time insights with reports and dashboards. It is after all designed with the sole intent of your success. The multiple comprehensive reports and dynamic dashboards that this CRM comes with, can help you boost your revenue generation. Banking on these, you can identify which trick is working in your favor and which trick isn't. Let's see an exemplary report–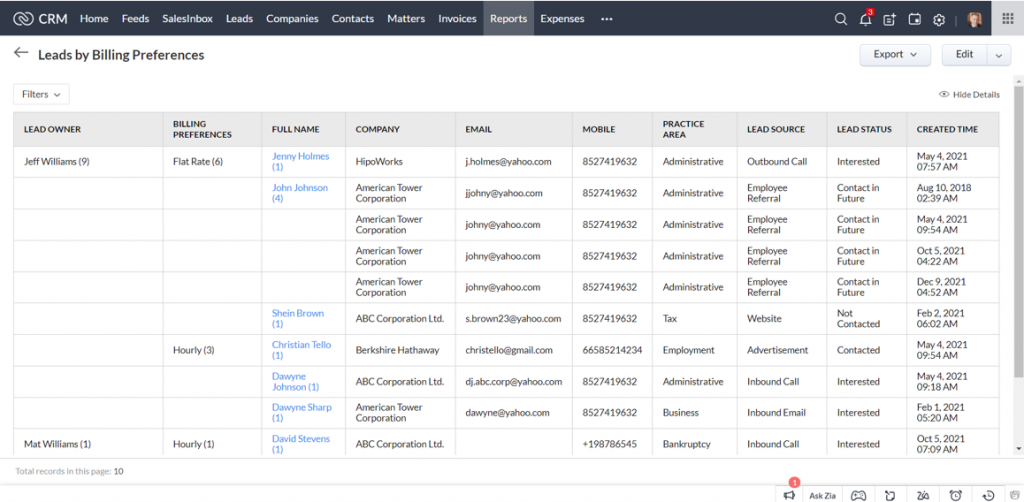 Time for a dashboard example–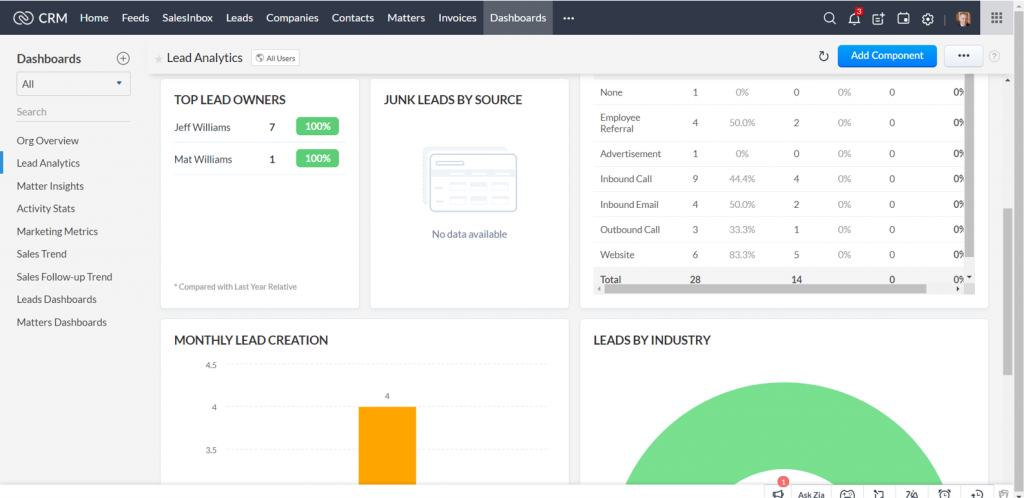 In short,
When you sync your business with Law Firm CRM, consider that half of your work is done. It is a legit game-changer for your business. From profiling, each of your prospects, understanding their avenues of required assistance, and maintaining strong relationships with clients/ attorneys. This CRM presents a unified face to cover all your bases.
Watch this video down below to understand how you can effectuate all the features of Law Firm CRM.
Colored you curious, did we? Click here for more information. Out-do yourself from yesterday with the best in the market!