10 Tips for successful Zoho CRM implementation
Aug 11, 2020
If you are planning to take a more advanced step towards empowering all your sales processes by implementing Zoho CRM, then you are in the right place. 
Every business process must have a well-regulated powerful sales tool that will make the entire work process easy and systematic. After all, 40% of the salespeople believe that the prospecting aspect of sales is the most difficult part. All the more because the data obtained for sales can get really messed-up if not organised properly. 
So, to monitor and accomplish the entire sales process you need to have the right tools. Along with the tools, you also must have the knowledge that will equip you to handle the tools better.  
Hence, in this article, I will talk more about Zoho CRM and some implementation tips to keep in mind before engaging. I will also share some case-studies that will give you better clarity about the CRM tool.
Zoho CRM: About
With Zoho CRM you will get the power to convert the leads, engage with customers, and grow your revenue. It is a cloud-based CRM software for everything around sales. Right from tracking, monitoring and nurturing leads, to qualifying and maintaining rapport with them. With Zoho CRM you can also get all your communications with clients automated.
If you think that you have a small business? Then do not worry!
Zoho CRM deals with all kinds and sizes of businesses. The systems are adjustable and customizable as well to suit your business requirements.
So, if you have decided to opt for Zoho CRM for expanding and growing your business, then let me share 10 tips that will help you make full utilization of this application.
Zoho CRM: 10 Tips for a successful Implementation
It must be really exciting to venture into  the CRM implementation. Firstly because you learn and earn a new skill. Secondly, you get a sense of a new beginning and a fresh start that encourages you to open new avenues. 
But, to really delve into the wider horizons of the CRM  we must have a thorough knowledge of it.
So, before starting to operate Zoho CRM there are 10 factors that you absolutely need to keep in mind. These factors will be like a guiding force that will help you to utilize this wonderful platform to its fullest.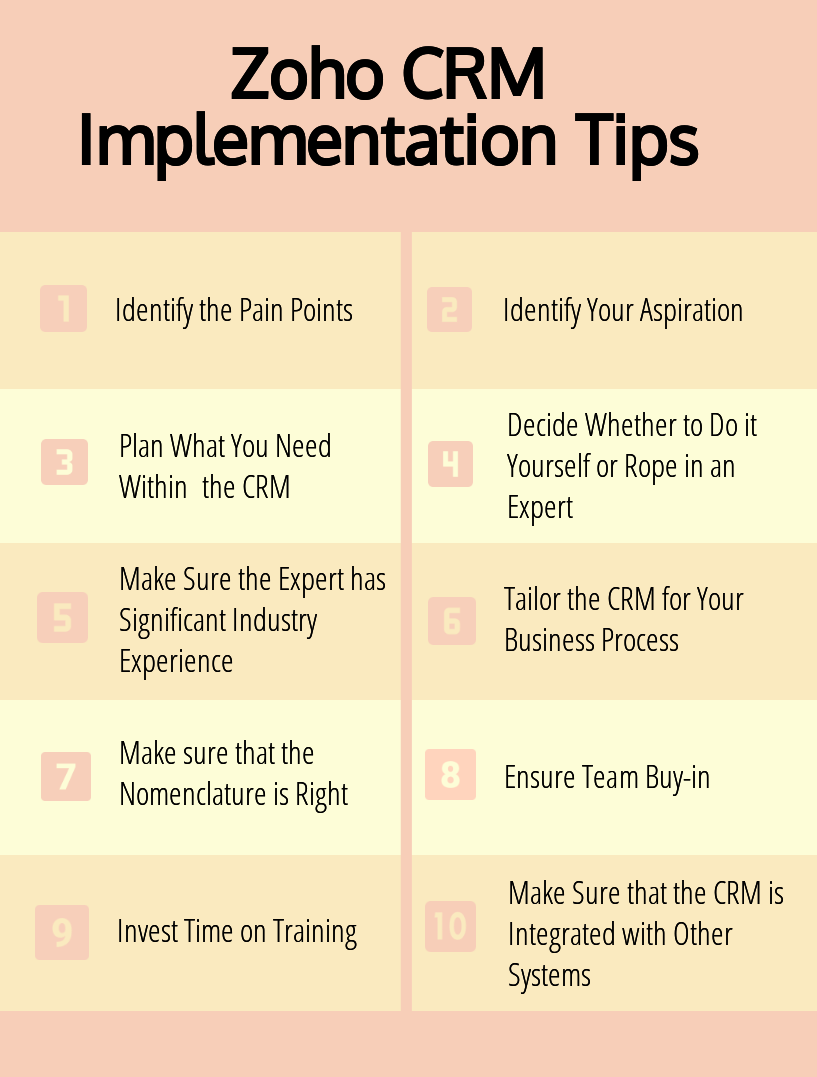 1. Identify the Pain Points
There is always a reason behind any system use. So, before starting with Zoho CRM, ask yourself about the main problems that you want to address through this implementation. Let me give you an example.
Suppose your website is generating many leads, which are all landing up in your mailbox. Now, you have to identify the potential ones and make a database. But, then again for a human, it is not completely possible to pick-out the potential ones from a humongous list of leads. The manual sorting out process finally brings inconsistencies, affecting the overall business processes.
This is where Zoho CRM is extremely useful, as the system helps you store all your leads in one single place with the flexibility to slice and dice the data as needed. 
So, think about the areas that Zoho CRM can help you function better. This attempt of understanding the pain-staking areas within the sales-cycle will guide you to implement the system better.
2. Identify Your Aspiration
The second reason behind the implementation is your aspirations regarding the business. Identifying your aspirations and targets that you want to achieve, will help you make the right decisions.
Think about it!
What do you plan to achieve by the set time? Do you aim to get a doubled customer base? Or do you want to get more returns from your business investment? Or you plan to expand your business and access new areas?
Yes, it is important to think about your goals and the way you want to see your business. This vision will empower you to plan your sales processes, giving you a better direction towards operating Zoho CRM.
3. Plan What You Need Within the CRM
This is an interesting stage as by now you have already identified the pain-points and the aspirations for your business. 
63% of the CRM failure rates are due to the lack of knowledge of how to implement the system. So, you need to have a clear knowledge of your needs and the CRM system. Once you are clear about your requirements, and ready with a plan, you can now work on the tools required within the CRM system. 
Let me give you an example. When leads are tracked manually, it consumes a lot of time. Also, the data are not organized and confuses the other interlinked work processes. In such a case, you need the tools in the CRM that will wrap-up the work quickly and present a systematic work-flow of data. You are then in the position to implement and act upon those tools that will address the above-mentioned points.
4. Decide Whether to Do it Yourself or Rope in an Expert
So, after you have planned about the tools required within the CRM, you surely need an expert to execute it.
Let's admit it! It is not possible for you to do everything. In case you try it out yourself having no prior experience then let me share an upcoming forecast:
I can be sure that soon you will be frantically browsing through the internet or try to hire an expert who can untangle the mess. Well, I am not a soothsayer; but I had the experience of seeing many businesses creating similar blunders. They eventually had to rope in an expert.
So please do not waste time and contact a professional. Whether internal or external, an expert will give you the best advice possible and can work on the CRM system. With their technical expertise, you can be sure of experiencing a worth-while system.
5. Make Sure the Expert has Significant Industry Experience
Now, while searching for the right expert you need to be sure that he/she has sufficient experience of handling CRM systems.
It is important to contact professionals who are well-acquainted with the Zoho-ecosystem and have in-depth knowledge about its applications. With their knowledge, they can empower your ideas. Also, they will be able to envision your business aspirations and can engage with the right ways of achieving it.
They will be in a better position to advise you and also give you a thorough knowledge of what you can expect from the system.
6. Tailor the CRM for Your Business Process
After you found yourself a fantastic Zoho CRM genius, you can now discuss with him/her about your business requirements. Zoho CRM gives you two flexible options to choose from.
1st Option: You can choose an horizontal Zoho CRM and customize it based on your industry and specific business needs.
2nd Option: You can choose a verticalized Zoho CRM (Industry-specific) instance and make minor adjustments. With this option you can save on time and money as you are opting for an already tailored instance, specific to your industry. To know more about vertical Zoho CRM click here.  
This is the most unique attribute of Zoho, where they give importance to your niche. Accordingly, they have features that will help you to use this platform the way it is most advantageous for you. So make full use of it!
7. Make sure that the Nomenclature is Right
I know Nomenclature is a big word! But it is really important if you want your team members to relate to the new changes.
The nomenclature here means using the terms or names that your team members are familiar with. So when you customize your CRM, make sure that you inculcate the tailored structure with your industry terms. This will help your team members to adapt to the system better. Moreover, they will be in a better position to judge which data belongs to which section.
For example, different companies will address their sales deals with different names. For a travel agency, it will be more about getting Trips, for an educational center, Enrolments might be the right term.
So to make the CRM system more relatable to your team, you must maintain the nomenclature of your industry when tailoring your tool.
8. Ensure Team Buy-in
By adding the appropriate nomenclature you have already engaged 50% of your team member's interest. Mainly because they can now understand the terms presented in the customized CRM application. But you need them to be 100% in it or else the implementation will not be a success. Hence, you have to motivate them to understand the new system.
Honestly, there is a tendency within people to avoid situations, problems, or even a math equation when it is difficult to solve. Statistics suggest that 50% of the CRM implementations fail due to the hesitant and slow user adoption. So the rule here is to make sure that they get a proper introduction about the new implementation that can arouse their interest.
Remember, team-work is the absolute essence of a successful sales team. Moreover, sales processes are composed of different stages where different team members have to coordinate and collaborate. So, all of them need to use the CRM to function better.
Another advice would be to hunt down those wizards from your team, who are very enthusiastic about learning new software. There are two advantages to this. Firstly, their enthusiasm will help them to master the new system. Secondly, they can help anyone who is stuck with the process. Also, let's not forget that enthusiasm can be contagious.
9. Invest Time on Training
Absolutely a must! Please don't rush in…
It takes time to completely master a new thing. Again different people have different ways to grasp new technology. If some are slow and some are quick it is not because of the varying intelligence residing within them. But mainly because of the difficulties in going away with an age-old habit. Some people can move on quickly and for some, it takes a tad more time. 
So, give each of your team members sufficient time to grasp the system. Make a strategy that will help you to manage time better. Be compassionate.
The best way is to provide them with training. Proper training will create a very optimistic atmosphere. This will give your team members the space needed to be more open about the confusion they have regarding the system. Also, proper training will equip them with a solid foundation, through which they can perform better.
10. Make Sure that the CRM is Integrated with Other Systems
Sales process is often interlinked with other business processes.
For example, after closing a deal, you have to raise an invoice to your customer. Now, invoices are a crucial aspect of your book-keeping process. So, if your CRM is a stand alone system, you'll have to enter the invoice details in your book-keeping system manually. This often is inconvenient and time-consuming.
But, if you integrate these two systems then the required data can be pushed into the other system automatically. This will eradicate the time-consuming part of manually typing-in data. So, life will become a lot easier when these two complementary systems will talk to each other.
Hence, for better implementation,integrate your CRM with different aligned systems that are interlinked with sales. This can be marketing, accounts, and even customer support.
Well, I will not conclude here as I really want your business to grow. So in the next section, I will briefly share with you two case studies of successful CRM implementation.
Case-Studies of Successful CRM Implementations
Let me further elucidate about CRM implementations by summarizing two case-studies. If you want to read more case-studies then Click here!
Giltedge

Founded in 2001 by Sean Kritzinger and Murray Gardiner, Giltedge is a famous African inbound travel agency. They make the best-customized itineraries suiting to their client's demands.
They were looking for a dynamic system through which they can streamline their enquiries; have a centralized platform to systematically handle data; generate extensive insightful reports for various business processes.
With the Zoho CRM, they were able to solve all these problems. They opted for Travel Agency CRM, an industry solution built on Zoho CRM for travel agencies. This further enhanced their business dimensions.
Click here if you want to read more about it.
AndersonDodson, P.C.

AndersonDodson, P.C. is a law firm in New York that is skilled to recover wages for unpaid and underpaid employees. They were frantically looking for an effective CRM system and finally opted for the Zoho CRM. 
Their CRM was tailored to meet the requirements suited to maintain a law-firm. Along with the CRM, they even implemented other cloud-based Zoho applications that aced their total work processes.  
With a customized CRM, they were now able to keep details of their clients well documented. This robust automated process eliminated all manual labor, making their task speedy and systematic.
Click Here, to know more about this case study.
Last Words…
Zoho CRM is a powerful tool that can do wonders in streamlining your sales process. It is an easy-to use, robust system that can be tailored for your business process and integrated with multiple third-party applications. 
The fact is, implementing a CRM system for the first time can be an overwhelming experience for any business. And this is where our experts can be of help. Having implemented Zoho CRM and other applications for 500+ customers, in 30+ countries, our CRM experts can help you in translating your business process into a robust system. 
Schedule an appointment today for a no-obligation one-hour in-depth session with our CRM experts.