3 Website Mistakes That are Killing Your Conversion
Nov 15, 2017
Do you know, there are more than 1 billion websites on internet today?
Well, I just that found out via a completely unnecessary yet super interesting Google search! (well, what's the use of internet if you are not looking up crazy facts and cute dog pictures!!)
But how I came by this fact is of no importance. The question that crossed my mind afterwards is the important one!
If there are so many websites online, then why on earth there are so few which have a decent conversion rate?
Now, depending on the industry you are working in, conversion may mean visitor to lead conversion or visitor to customer conversion. For example, if you are an eCommerce business, you are looking for visitor to customer conversion. However, if you are operating a B2B business, conversion for you will most likely to be visitor to lead conversion.
No matter what kind of website conversion you are looking into, the truth is, the average conversion rate across industries remains 2.35%. Awfully low, right?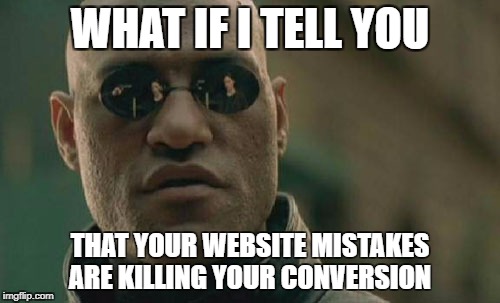 While there may be many reasons for low conversion rate, more often than not, website content and design play major part in it.
Here are 3 major website mistakes that may be killing your conversion right now!
No Call to Action:
Well, there may be thousands of reasons for putting up a website. Maybe you are a business looking at gathering more leads, maybe you are an online retailer looking at selling your products, maybe you are an organization looking at generating awareness about certain issues, or maybe you are an individual creating a strong personal brand for yourself.
No matter what your reason is for putting up a website, you are always (I repeat, ALWAYS) want the visitors to take the next step. It can be scheduling a demo, getting in touch with you, purchasing a product, requesting a callback and so on.
And, how do you communicate this? Call-to-Action (aka CTA), of course.
But, are you clearly communicating this next step with your visitors?
Well, you'll find it surprising how many websites do not have proper CTAs in place.
No matter how well designed your website is, or how awesome your products are, without proper CTAs in place, the visitors will always be confused about the next step and thus, conversion will suffer!
Writing for Search Engine:
Well, search engine is important. But not as important as your visitors!
Not long ago, web content went through a dark time when many websites started cramming the content with keywords, often without minding the readability of the content. As a result, although the pages were ranking higher on search engines, they had little value to offer to the visitors.
Search engines have modified their algorithms since then and today, keywords cramming might as well earn you a Google penalty.
Unfortunately, many websites still focus on using the keywords as many time as possible.
How does that affect conversion?
When the web copy is not readable or not engaging for your visitors, they leave your website as fast as possible!
Not only you lose a potential conversion, but also your bounce rate goes up!
Make sure that you are writing for your visitors. After all, in today's time when there are more than enough websites crowding the online space, the visitor chose to spend his/her valuable time with you! You better use that time to add some value!
Making the Website Super Busy
I get it! You want your visitors to see and know as much as possible about your business.
But, have you broken down that information into bite-size format? Have you categorized it and distributed to relevant pages?
More often than not, businesses cram web pages with information overload, making them super lengthy and often busy looking.
As a result, the important information gets lost in the chaos! And most of the time, the visitors do not even start reading the content.
Ensuring that your website content (texts, pictures, and videos) is broken down into easy to understand sections is of crucial importance. Using enough white space to make the web pages easy on the eyes is another requirement here. Have a look at our website here.
It's Never Too Late
Want to know whether your website mistakes are killing your conversion?
Click on the link below and get in touch with our experts to get a Free Website Review now!