4 Crucial Points to Consider Before Selecting the Best SEO Keywords for Website
Oct 25, 2017
Marketing practices, lead generation efforts and publicity channels vary from industry to industry. However, website remains the one crucial tool that no business can do without (no matter the size of the business, or the industry it is operating in).
The digital world we are living in today, consumers almost always search for your business online before even getting in touch with you. And therefore, making your business more accessible online is crucial for you.
But how do you ensure that your website gets pulled up during relevant searches and attracts the right kind of traffic? With focused SEO efforts, of course! And using the right keywords in your website content is one of the most crucial aspects of organic SEO.
Here are four important tips that you must keep in mind while selecting the best SEO keywords for website.
Do Proper Keyword Research
As mentioned above, choosing and optimizing for the right set of keywords can make or break your organic SEO. Thus, it is crucial that you give enough importance to keyword research.
While there are quite a few tools that you can use to find the keywords people are searching for, it does take a methodical approach and some expertise to zero in on the right keywords.
If you are launching a brand new website, the first step is to jot down the key products or services you sell. You want your website to be visible to people searching for those products or services online. And so, you need to find and use keywords relating to those terms.
Once you have the list in hand, you can go to any keyword searching tool such as Ubersuggest or a PPC tool like Google Adwords (go to the Keyword Planner section, listed under Tools) and search for keywords around those terms.
Most tools will give you a clear idea about which keywords are high competition ones, which have medium competition, and which have low competition. While going for a highly searched keyword may be tempting, one must remember that keywords with medium to low competition offer you a better chance of achieving higher rank in search engines.
Follow Your Competitors
Well it may sound a bit sly, but there is no better way to find out the best keywords to use than this one. List down the top 3 competitors you want to follow and visit their websites and landing pages. See what are the keywords they are using in the headlines and body copies of their website content.
Once you've listed down the most used keywords by your competitors, do run a search with those terms. See how you rank as compared to your competitors for those keywords. In case, your ranks are quite similar, you can out-rank your competitors by optimising your website a bit more.
Here, another important thing is to check whether your competitors are missing out on any well-searched keywords. If yes, then there is a possibility that you can optimise your web pages for those keywords to capture more eyeballs.
Focus on Region Specific Keywords
This is especially true for businesses whose services are limited to particular geographic location/s. Optimizing your website content as per the service area you cater to is crucial for getting relevant traffic to your website.
For example, if you are a travel agency offering Africa tours, targeting location-specific keywords such as 'Travel Agency for Africa Tours' will be much relevant than going for a generic 'International Travel Agency'.
Using location-specific keywords is highly recommended for small businesses and local businesses too, as it helps them get relevant traffic.
Focus on Phrases Over Generic Terms
Keywords are not just one word! People, in general, give preference to longer phrases over one generic word while searching for a service or product. One of the easiest ways to find out about well-searched phrases is to look at the related search terms.
Simply run a Google search for your keyword, scroll down the search results and you'll see the list of related search phrases listed.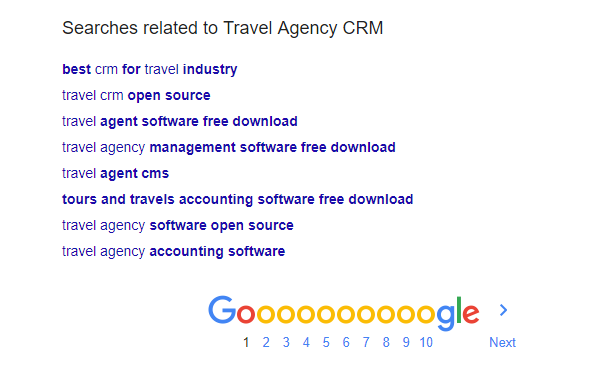 Here I've run a search for 'Travel Agency CRM' and you can see the related search phrases suggested by Google.
Simply optimize your web pages for some these key phrases and you'll start seeing quality organic traffic in no time.
Last Words
Most businesses today keep a budget aside for SEO. And still, in most cases, keywords research which is at the center of it all gets little attention. Follow the above tips to drive some quality organic traffic to your website now.