5 Super Cool Zoho CRM Features That You are Probably Not Using to the Fullest
Sep 23, 2021
If you are a Zoho user or thinking of using Zoho Suite of Apps for streamlining your business, then Zoho CRM is possibly the first application that comes to your mind. While Zoho CRM comes with tons of cool features that your sales and marketing team can leverage, today we are going to talk about 5 awesome features that can add a lot of value to your process today!
All these 5 Zoho CRM features are available to any user by default and you just need to know how to use them to leverage them right. So, without further adieu let's get started!
Cool Feature Number 1: SalesInbox
SalesInbox one of the most powerful Zoho CRM features that your Sales Team can start using today! So, what it does? It simply adds business intelligence to your email inbox. Once you've integrated your email with the CRM, the SalesInbox categories the emails based on your CRM Leads and Contacts. More importantly, you can also create folders based on lead status (for example, Interested, Quotation Out etc) and their closing date. For example, you can see all the emails related to deals to be closed this month in one folder.
Not only that, you can also categories emails from your internal team and contacts which are not in the CRM.
Today when an average professional receives about 120 emails per day, this categorization will surely help your sales team prioritize the most crucial ones and attend to them fast.
The SalesInbox comes AI enabled and is equipped to identify the tonality of the email. So, apart from the categorization based on the email sources, it let's you view your emails as Negative and Positive as well.
When it comes to mining your email inbox and grabbing every opportunity you can, SalesInbox can really make the difference between a good sales team and an amazing one!
What's more, you can create a lead or a contact from any incoming email in just one click! How cool is that!

Cool Feature Number 2: Zoho CRM Views
Again, this is one of the defaults Zoho CRM features that can really make a difference about how you sort through your leads, contacts and deals. Views are in simpler terms filtered records based on the criteria set by you.
How this can be helpful?
Let's take an example: Let's suppose you want to look at leads segregated by industries. You can create different Views for the same. Do you want to see leads that has not been touched in last 7 days? You can create a View for that! Do you want to see leads segregated by the products/services they are interested in? You can create a View for that!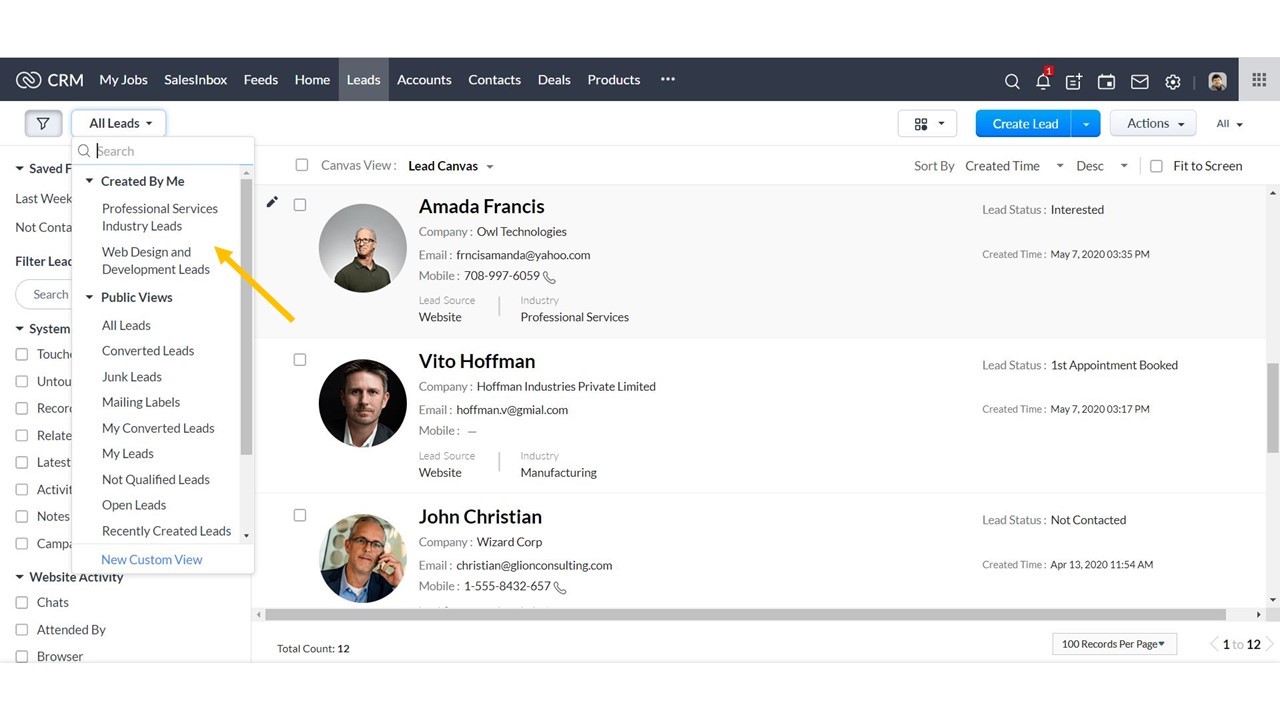 What's more, you can share these Views with your team or keep them private for yourself.
Not only this is gives you segregated lists to sort through, you can also send nurture emails, exclusive offers and more in bulk to these lists.
Creation of Views is super simple too! All you need to do is to set the criteria, decide the permission level and you are done! As you can see in the screen capture below, you can add multiple criteria based on the Lead Source, Location and much more.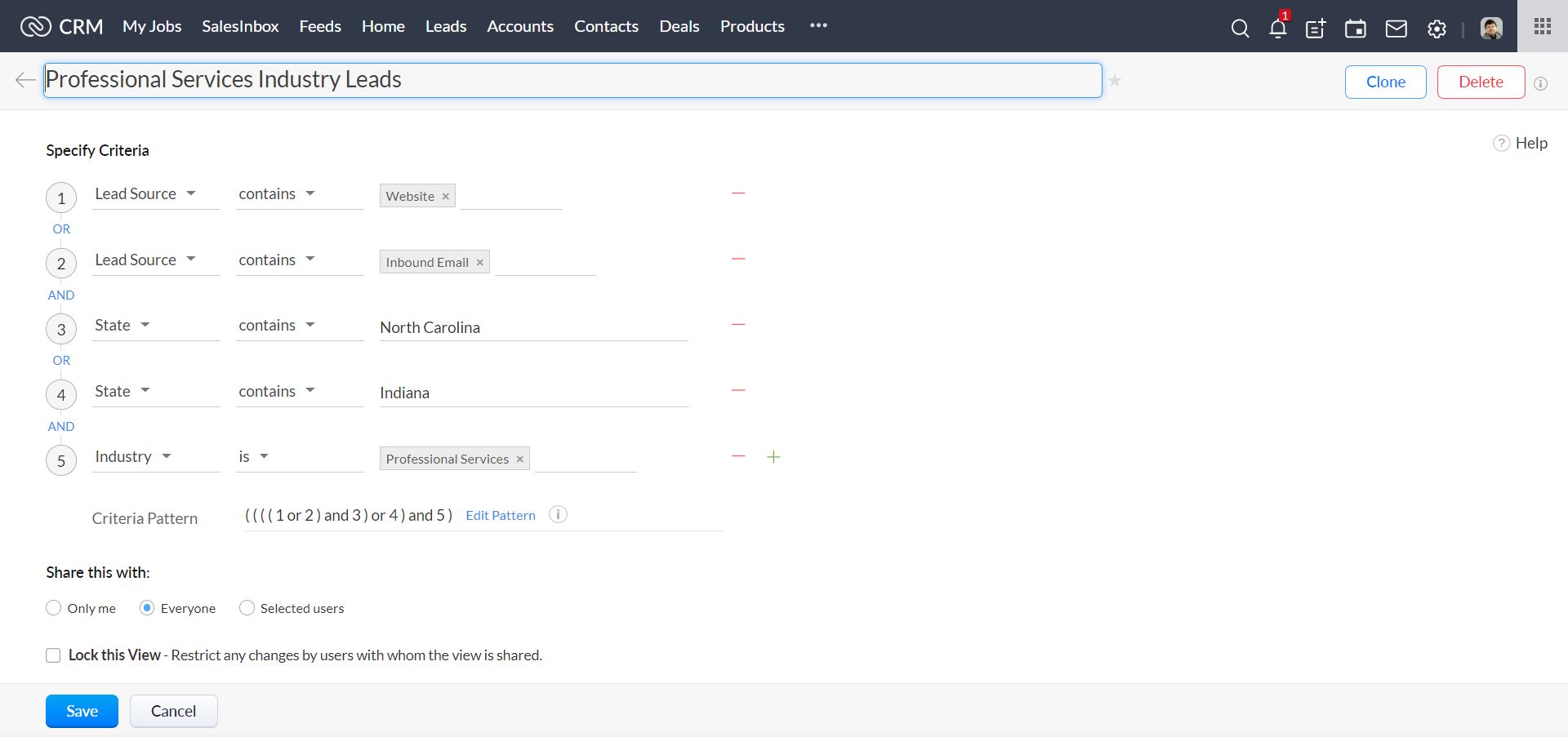 And you can do this for all modules in the Zoho CRM!
Cool Feature Number 3: Kanban View
This is another feature which does not get highlighted much, but can make a world of difference.
Let's suppose you are looking at all your Activities. Won't it help you if you can see them against Existing Customers, Open Deals, Leads and so on? In today's climate where businesses are increasingly focusing on a small and agile team, every single professional has a plethora of tasks that they need to complete. Without the much-needed prioritisation, tasks, calls and meetings can fall through the crack every easily. The Kanban View helps you here by enabling you with the context.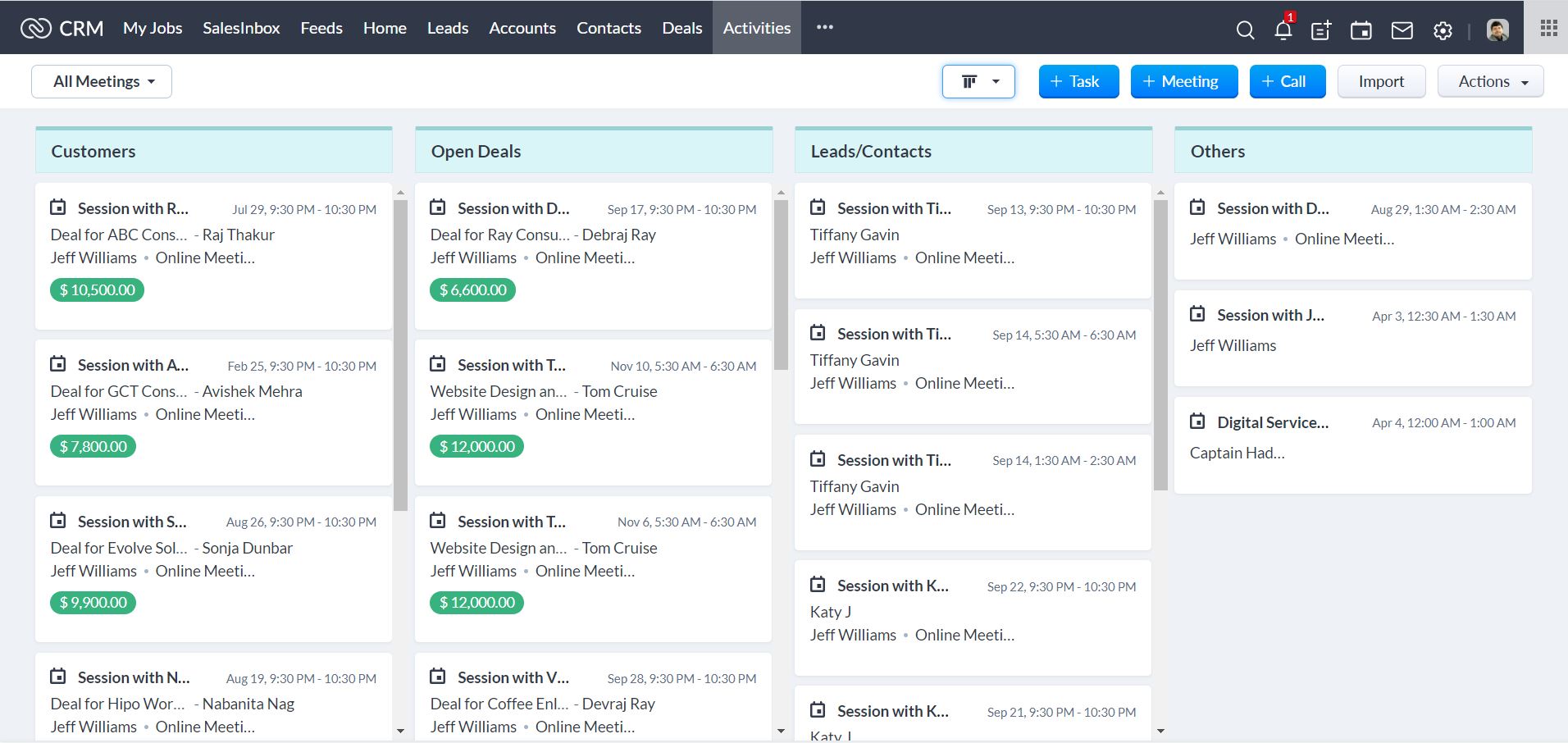 You can customize the Kanban view for each module based on different criteria that Categorize and Aggregate the records just as you want!
Cool Feature Number 4: Sub-Forms
Well, they are the unsung super heroes! Sub-forms can be added into any module you want and the beauty is you can add on to the number of rows as you go.
Let's take an example for better clarity!
Let's suppose you want to keep track of the number of services a prospect is interested in. And this list can be made of one product/service or ten. Sure, you can maintain that with a multi-select drop down. But, what do you do if all these products/services have different unit price and you also want to keep a track of the total deal value within the deal module?
Sub forms to the rescue!
In the below screen capture you can see a Sub-Form in the Deal module. Here, I want to keep track of the products the Prospect in Interested In. Now, I can add as many rows I want here. What's more, here I have the look-up of my products module, so when I choose the product, the unit price populates automatically and I just have to add the number of units to be purchased.

While this is just one use-case, there are a numerous instance where Sub-Forms can come in pretty handy.
What's more, if you are looking at generating any document like a proposal or an offer letter, you can pull this sub-form data into your Zoho Write templates. While this is will require an integration with Zoho Writer, there are tons of businesses who generally send a proposal or an offer letter instead of a Quote, can use this cool functionality.
Here's how this particular Sub-Form data gets pulled into my proposal template built on Zoho Writer.
You can customize the template design as per your branding as well!
Cool Feature Number 5: Canvas
I did save the best for the last!
Canvas: this newly launched Zoho CRM Feature lets you design the application UI as per your choice. You can group the data within a module just the way want, arrange them as per your choice, add colours to highlight a section and much more.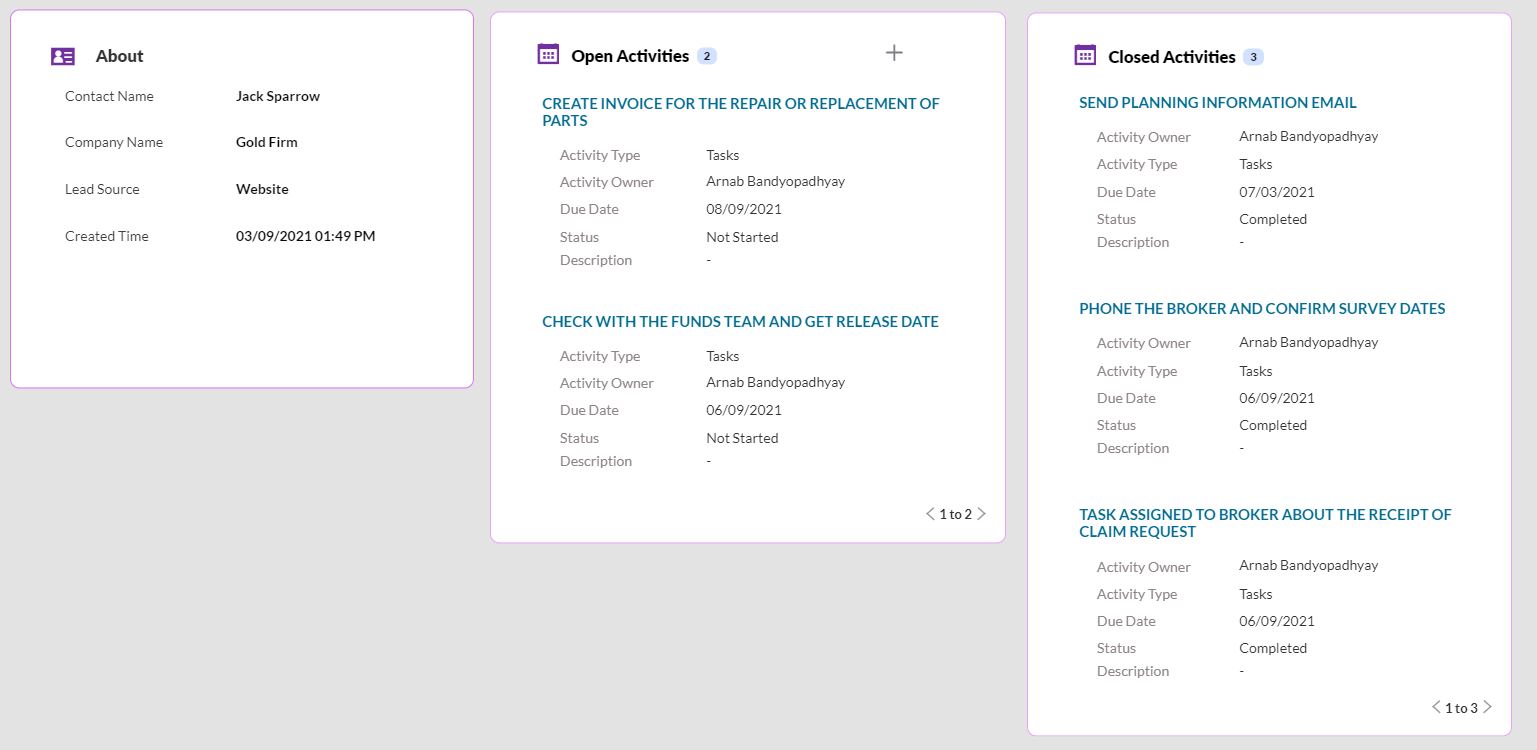 This gives you immense control on how you want your CRM system to look like. And it's not only aesthetic.
As per Harvard Business Review failure rate of CRM adoption is close to a whopping 90%. And one of the major deciding factors is the simplicity of the system and the experience of the user.
With this Canvas tool, in place, Zoho CRM let's you customize the entire UI of the application as per your users and their preferences. When done correctly, this powerhouse of a feature can not only change the way you are viewing, sorting and using your CRM data, but also help you improve adoption within the organization. Isn't that super cool?
Last Words
When it comes to Zoho CRM features, there are tons that can make your life easier and drive productivity for your organization. So, if you are already using Zoho CRM or thinking of streamlining your business processes with Zoho, it is time for an expert consultation.
And this is why we offer a no-obligation 90 mins consultation to all you amazing businesses out there. In this 90 mins, we understand your business process, understand how you are using Zoho (if you are an existing user) and see how we can help you optimize your CRM usage.
We've helped 700+ businesses so far to take their business to the next level. Yours could be the next! Schedule your no-obligation 90 mins consultation today!