5 Social Media Marketing Strategies To Help You Raise Your Travel Brand Awareness
Nov 2, 2021
In an age, where everyone screams for digitization, social media acts as the ultimate 'port key' for your magical entrance into the digital world. According to We Are Social, 53% of the total world population is active on social media. That is why Social Media Marketing is perhaps the most cost-effective marketing tool that travel agencies are using primarily to engage their audience. Just by putting your word out there, you can promote your brand, drive website traffic and connect globally. So much at one go!
Let's understand Social Media Marketing
You see, applying social media for marketing is by far the best strategy when it comes to digital disruption. Statista Research Development says, 93% of marketers used social media platforms for their business promotion.
Attention is the new currency in the marketing world. So, for your first step towards global connectivity, you should capture the attention of your audience. You can start by publishing great content (including pictures or videos of your popular destinations) on your social media channels. Platforms like Facebook, Instagram, LinkedIn, Pinterest are the most popular names when it comes to travel research. You can get your audience hooked to your social profiles when you share your message and value offers with creative content, establishing your goals, culture, and mission. And even before you know it, you'll see a massive uprise in your website traffic. Also, these social networks allow marketers like you to employ a wide array of strategies to promote your content and expand your reach.
Promote Your Brand With Detailed Travel Research
The Covid aftermath has struck a massive blow across the globe. As a travel brand, you need to stay updated about recent trends. For example, people have increasingly become health conscious and are also aware of travel restrictions. Thus, the 'go local' trend has become the newest thing for all travelers. With social media, you can market off-beat or underrepresented destinations. You can share pictures and videos of beautiful locations, local food, local shops, people, and their cultures. Once your audiences get enchanted with your content, they can visit your website where you can dispense downloadable resources such as guides, tips, or itineraries for a specific package.
You don't even need to stress about attracting your audience because we have got you covered!
With DocHipo, you can create thousands of incredible social posts with their pre-designed templates. And yes, this includes your posts for Facebook, Instagram, LinkedIn, Pinterest, Twitter, Tumblr. You blink and it's done! Even if you're into video marketing, this application has attractive YouTube Thumbnails to catch your audience's attention. You can use this feature-rich software to get your message delivered clearly while creating an enduring impression. Wishful thinking turned into reality!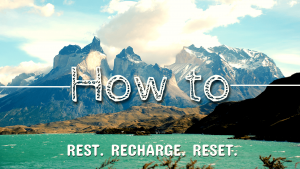 This is just an example. We have saved the real deal for you here.
Interact With Your Audience Via Social Media
Social media is all about interaction and communication, agreed? So, to engage your audience to your social profile and expand your reach, you must post consistently. You can act as a guide to your audience and market your brand as a facilitator of a successful trip.
Let's say, a potential customer has inquired about a specific trip, the approximate costs, the number of days for the trip, etc after coming across your social media content. By listening to their inquiries, you can quickly gather all the required information, tailor it according to their needs and get back to them. The more you listen or respond to their inquiries, the more you're likely to build their confidence. Even if we talk about reviews, there's a high possibility that you will be able to ensure customer satisfaction when you improve your customer service. With social media platforms, you can create persuasive content and give out exciting offers to drive more traffic to your website. Once they visit your website, you can easily capture your leads and market further to convert them into your opportunities.
Implement 'Social Listening' To Make A Difference
The recent concept of 'Social Listening' is taking great shape. It helps your travel agency gather and analyze customer data from various social media networks to improve and drive your marketing strategy. You get real-time insights from your customers, know what they are talking about, how do they feel about your services and what are they looking for in your agency. When implemented correctly, you'll notice a substantial improvement in your customer service and astounding growth in your business.
Use Travel Agency CRM To Help You Understand Your Target Audience
Chalking out your target audience is not an easy task at all. To begin with, you need to establish the selling points of your travel agency, the USP that makes you stand out of the crowd, visual representations of all the cultures that you promote, and so on.
With Zoho campaigns integrated with Travel Agency CRM, you can market popular destinations via social media. Interesting fact? You can get real-time insights as your CRM tool monitors all the necessary information. For example, how many times these campaigns have been opened by your customers, the number of shares and likes that your campaigns received on the social media platforms, and so forth.
Discover Destinations With Social Sharing
Social sharing is a gift of social media platforms. You can reach out to your customers and ask them to post their valuable feedback on their social profiles, maybe in exchange for cool perks or discounts for their next trips. Not only do you keep things interesting, but also you build a strong customer base, expand your reach across the world, and help others to discover new destinations to explore. Fun for you and your customers too!
On the other way round, with Travel Agency CRM, you can also send testimonial requests to your customers in a blink and once they submit their response, it instantly gets stored in your system. Plus, you can feature their endorsements on your website to engage more traffic.
Let's wind things up,
If you're running a travel business in this digital era, it's high time for you to embrace social media and see it as a huge opportunity for your brand promotion. It holds immense power all around the world. So, for generating solid business leads, you need to connect with your audience, influence them while creating a lasting impression with your appealing content.
Needless to say, your ultimate goal is to generate leads from the internet community and to convert them into successful trips. This is where Travel Agency CRM comes to your rescue. Implementing the abundant features that this CRM software comes with, you can successfully escalate your business growth. Click on this link for more information.
So, carve out your unique niche, promote your travel brand, build long-lasting relationships with your clients, and land up meeting new opportunities with your social networks. Get, set, go!