5 Ways to Take Your People Management to the Next Level
Feb 5, 2021
"Clients do not come first. Employees come first. If you take care of your employees, they will take care of the clients."

Richard Branson, Founder at Virgin Group
The employees are the most critical lever of any business. Without their constant effort, support, and involvement, a company can never reach its potential. Hence, it is important to strategize the employee's experience as carefully as the client's.
People management can be defined as the set of planning and practices that look after all the aspects of talent management. This includes talent acquisition, optimization, and retention. 
Studies have shown that an organization with happy employees performs very well, unleashing a 31% increase in productivity and 37% growth in sales endeavors. Hence, this opens the door for positive and fulfilling outcomes, pulling in profitable ROIs.
So, we can see why every company and organization must keep their employees happy. For that, you have to skillfully execute the employee lifecycle stages.
But, that's not easy and can become really challenging!
In this article, we will be delving into the 5 critical areas that you need to focus on to take your people management to the next level.
5 Points to Consider When Executing People Management Strategies
When we primarily talk about Employee Lifecycle, there are 5 stages that we need to keep in mind: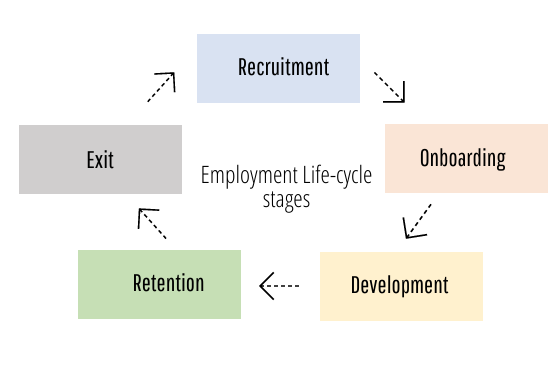 To make your people management skills easy you have to be flawless while executing each of these stages. 
So you can say that your HR team has a really tough job while managing the people resource. After all, understanding each person on an individual and a professional level is not easy. 
To make people management easy for you, let's focus on the 5 crucial points.
1. A Smooth Onboarding Processes
Onboarding a team member requires a series of systematically-laid processes. There are tons of things you need to do; like tracking their information, assigning them to a team, providing skill-based training, and so on. 
But among them, the most vital aspects of onboarding are the legalities, ensuring a proper induction, and assets procurement and allocation  
Legalities: Welcoming an employee to your company can be a really exciting thing. It's a new journey that is undertaken both by the employee and the employer with each other. But all journeys need to be marked by legalities; which will ensure that both the company and the employee are on the same page, avoiding future confusion and problems. Hence it is essential to streamline the legal documentation process.
Proper Induction: This is another important step that makes the onboarding process smooth. A proper induction ensures that the new employee gets adequate information about their job. This will help them to perform their duties well. It is important to inform them about the organization, his team, and his role in this job. Hence, there should be proper meeting and training sessions, outlining their tasks.
Assets Procurement and Allocation: The moment you onboard an employee, he or she will definitely need some infrastructure to execute his/her role better. This can include a laptop/desktop, based on the specification and its associated gadgets, mobile phone, and so on. So, it is important to keep a track of the allotments by listing them in proper order.
2. Managing Employee Database
Every information of every employee is important, whether he is working currently or had been associated with your company a long time back. This is because you will never know how and when that information will turn out to be vital. 
So, managing the employee database ensures that you have all the information of all the employees who are and have been associated with your company. This allows you to take reference from the employee details whenever a need arises. 
In fact, if you have a big company with plenty of employees, working at a different level, it is going to be the employee database that will help you to be aware of each one of them. In this way, you can continue to make them feel special on their birthdays or have a thorough idea of their medical condition when an emergency arises.
3. Attendance and Leave Management
It is essential to have a system that can manage and monitor the attendance of every employee. Whether your employees work online or visit the office, they should be able to provide the login and logout timings. In this way, you can keep track of their presence and observe their commitment to the company. 
Also, you have to be perfect with the leave management. Every employee is entitled to some leaves, based on a yearly or quarterly system, depending on the company policy. So, it is of utmost necessity that you have a proper tab on the leaves entitled to every employee. Otherwise, it will become difficult to approve leaves, inviting critical errors, which is detrimental to your relationship with the employee.
In fact, even the employees should have a simplistic and transparent system that can systematically show their entitled list of leaves. This will keep them alert as well, avoiding any unpleasant situation.
4. Performance Review
Every organization will have a performance review which will be on a yearly or half-yearly basis. But again different organizations will have a different mechanism while reviewing the performance of each employee. Like, some organizations have a multi-tiered review. This involves self-assessment reviews, reviews from peers and managers, which is calculated to figure out the average number. 
Hence, you need a system that will streamline the entire review process, gathering all the information and procuring the right output. Without a system in place, it will be very difficult to gather all the reviews in one place and create a fair appraisal. 
Producing a fair appraisal makes sure that you are taking the right actions in rewarding your employees with goodies when they deserve it or having a proper discussion if they do not perform well. 
This will also help you determine the salary hike and other reward factors that will keep on encouraging the right people, making them enrich their moments in your company. 
You must also keep in mind that without a transparent system in place, your actions based on the performance review will seem ambiguous, and unjustified. So, it is extremely necessary to implement a system that enhances credibility.
5.  Exit Process Management
When an employee decides to leave the organization, there can be many reasons behind that. Nevertheless, it is a drastic change not only for the employee but also for the organization. In such a case it is important to make the exit process smooth, so that the new employee, replacing him/her, can continue the work from where it was left. 
First, you need to understand why the employee decides to resign. Because an organization spends a lot of time, resources, and money providing training to the employee, cultivating their skills.  
So, you have to detect the cause of the employee's decision to discontinue, and start working on that for avoiding future losses. This will continue to build a better environment and a fantastic work culture. 
Many studies have suggested that the common cause of employees quitting job are, lack of growth, and lack of recognition, in the workplace. 
As you have to manage your company's reputation, do not forget to document the reasons for the exit. 
Also, you have to retrieve all the company assets from the employee into the inventory, which requires a well-managed system, ensuring that the handover process is smooth.
To carry out the exit process perfectly, it is crucial to use a system that will centralize all this information in one place. Because if you try manually, this might get daunting, ending up in a complete mess of piled-up folders.
Conclusion
HR is the most significant department of the organization. It is the pivot around which the organization can keep its internal functions strong, affecting the external outcomes.
An HR has to be well aware of all the other departments in the company and the allotted team members as well. They are always trying their best to keep the people in the company happy and positive so that their performance can keep on buttressing the company's constant effort of growth and expansion. 
Hence to make people management a smooth process, you have to make sure that the entire process from on-boarding to exit is as streamlined as possible. Also, you have to manage all the employees' data, together with their attendance and entitled leaves, along with a fair performance review.
Fulfilling all these factors can become really tough when you are doing it manually. Especially, this profile requires an errorless execution of the tasks, so that you do not get into any kind of miscommunication with your employees. 
Therefore, you have to implement the right system for your HR team. So that you can have an uninterrupted and effective people management process. 
With Zoho People, you can move your people management skills to the next level. Not only can you manage all these factors listed above, but you can take your company to new heights. With this system, you can centralize all your communication and employee data in one place, making your job easy-peasy. 
If you want to know more about Zoho People, then it is time for an expert consultation!