8 Constructive Steps To Manage Your Engagements And Enrolments With Training Provider CRM
Jan 20, 2022
Engagements and enrolments are like the bed and blankets of a training provider business. This industry solely revolves around them. Moreover, its ever-increasing growth in the global marketplace strata demands mighty trainers like you to gear up with effective strategies. Statista shows that this sector has gone up to 169.4 billion USD in the US. But guess what, slowly but surely, this graph will always thrive upwards as learning involves huge opportunities and due to the fierce competition, people are always looking for upgrading their skill set. That is why you need to get ready for managing your multiple engagements and enrolments efficiently. And what's better than the best solution! Here we present to you our CRM for training companies to marshal all its powers to be at the top of your game.
First, let's understand what are Engagements and Enrolments?
Zoho CRM for training companies is designed with the sole intent to help you attract uncountable prospects, provide the best service they can find worldwide, and repeat business. For a proficient backend operation, it lets you categorize your clients into retail (for the individual -learners) and corporate (for candidates for different companies) opportunities. In our system, engagements are the opportunities you might be working on after qualifying a lead following the BANT parameters. If you get inside any particular record from the engagement module, you can view every minute detail related to it. Whether it is about the current stage in the pipeline, which product they are interested in, the different tasks initiated for following them up, and so on.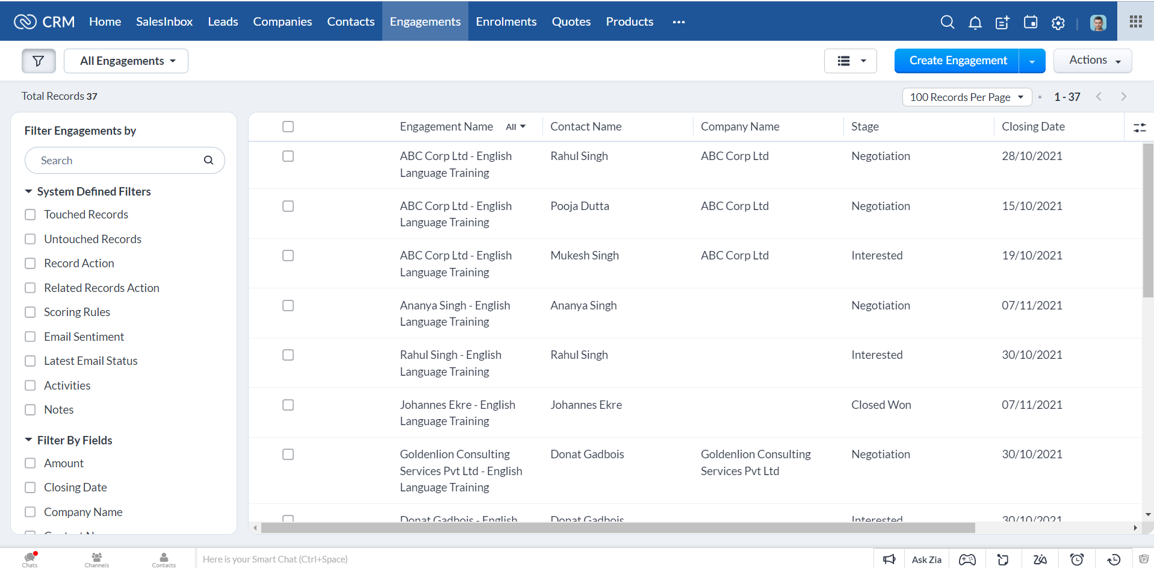 On the other hand, enrolments are the candidates who have opted for your courses. The moment you successfully win an engagement, you can start creating one or multiple enrolments following your clients' preferences. For example, if a corporate client purchases training for five of their employees, you can quickly create separate enrolments for each employee. Again, if you have a retail client, you can create an enrolment for that individual as well. However, for both cases, you need to carefully insert the necessary details such as the name of the candidate, selected course, batch, and so forth while creating an enrolment.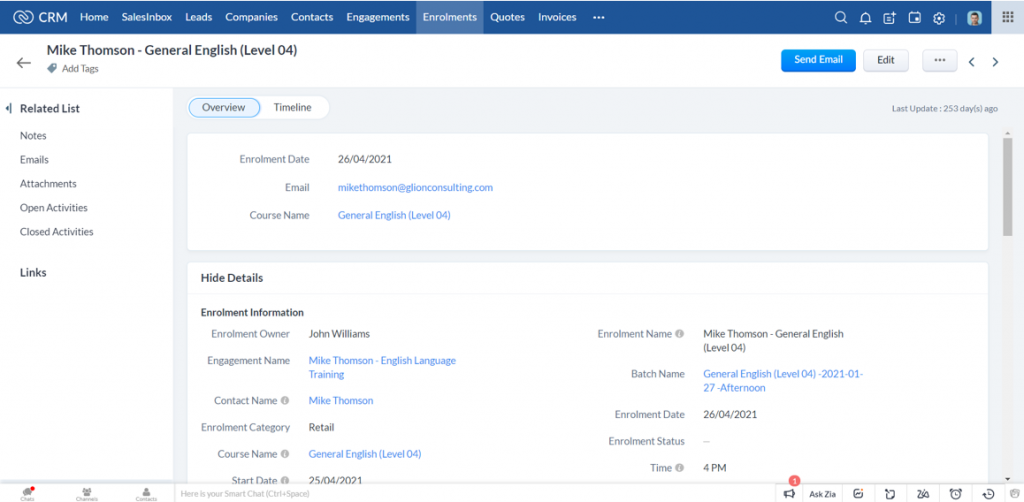 In this article, we will explore how effectively this CRM solution can manage both your engagements and enrolments. So let's cut to the chase!
Centralize Your Data With Training Provider CRM
The best part of using Training Provider CRM is the data centralization hack. Though this feature is pretty much common in every other quality solution, our CRM software stands apart because of the real-time updates. The home page projects a visual representation of the most crucial matrixes of your business. Whether it is about your sales by current month, the number of invoices generated, enrolments, leads by sources, status, or engagements by stage– you have access to everything you need. You can also view the number of open activities, their current status, task owner and deadlines, and so on. Moreover, you can always customize this page, add up dashboards that you might want, and define your data hub as per your choice.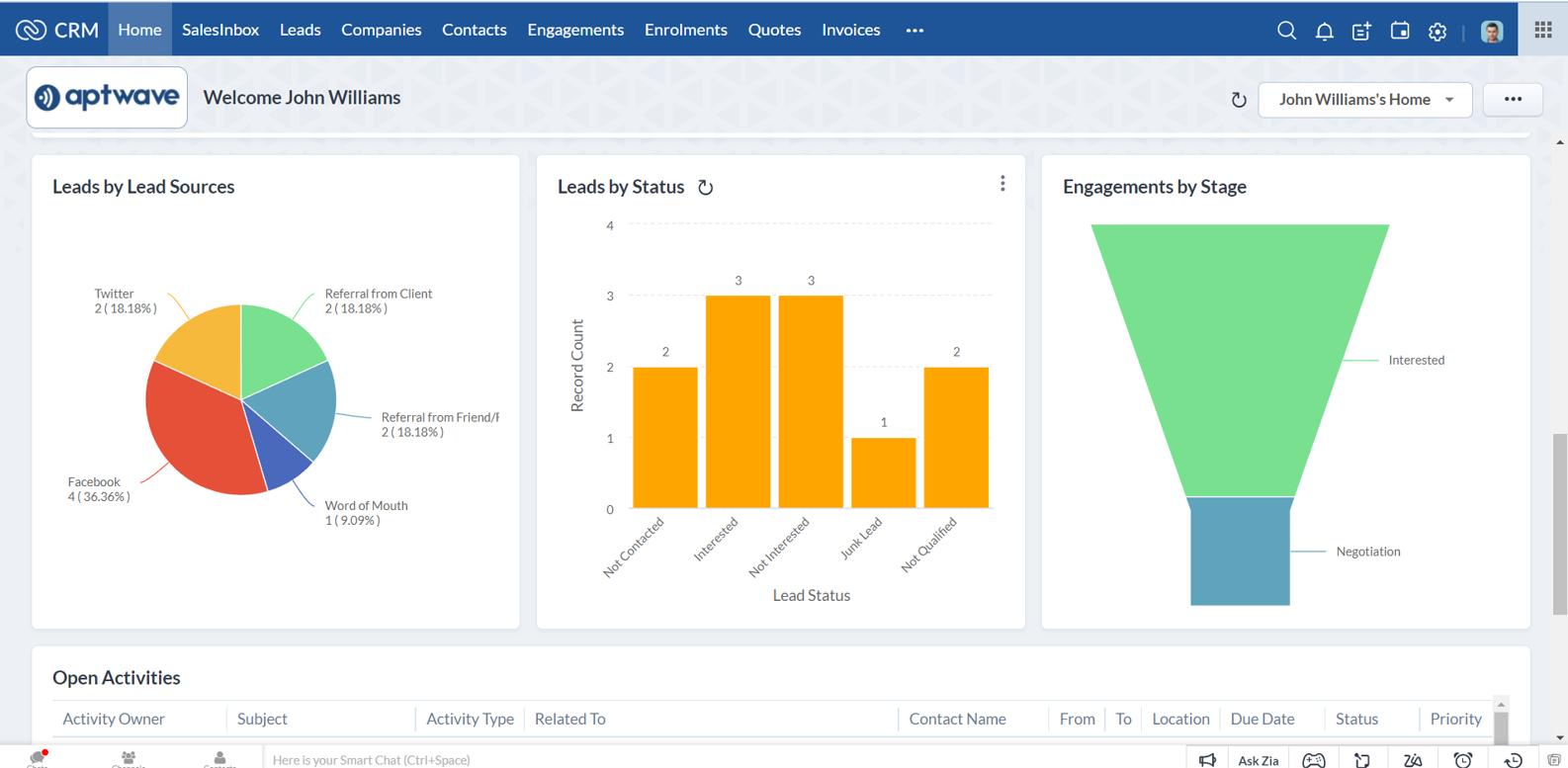 Keep Your Client Data At Your Fingertips
When it comes to profiling each of your learners, you can blindly trust our Training Provider CRM solution. The moment you qualify a lead into a contact, company (only in B2B opportunities), and engagement, this CRM software instantly creates three new entries under respective modules. If you have an individual learner, you can create a retail engagement, and if you have several learners from a company, you can create a corporate engagement. Most importantly, for a Corporate engagement, you can define the role of the contact who communicates with you on behalf of the company's learners.

For both kinds of engagements, this CRM for training companies documents a 360-degree vision of your contacts including their business card details, detailed information, and a related list. You can always initiate follow-up tasks, schedule meetings and calls to communicate timely and smoothen the purchase process. The magic trick here is that based on the details of your manual intervention, CRM records the best time for communication with your clients.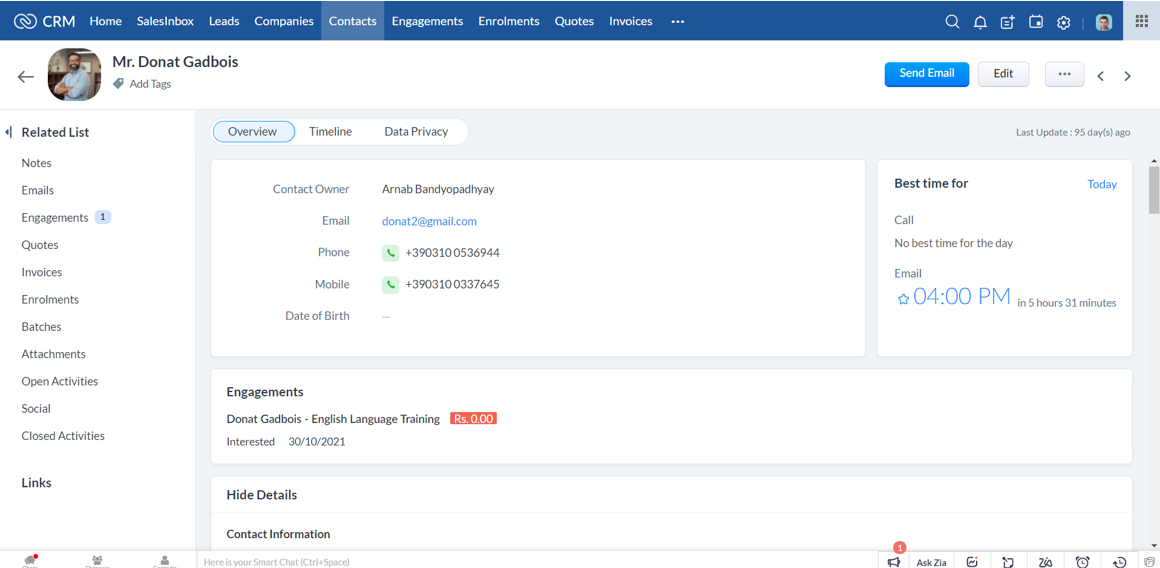 Easy Navigation With Training Provider CRM
Another cool feature of this CRM for training companies that help you optimize your backend strategy is the interlinked modules. For example, if you are in any particular contact record of an engagement, you can scroll down to the related lists and view the engagement details as well. All you need to do is click on the engagement section and viola every related information appears before you. You can also view the number of enrolments tagged against that specific engagement and access the respective details too. Therefore, you see, you can switch from one module to another in a few seconds.
Strategic Communication Flow
Better communication always does the trick to win hundreds of deals and repeat your business more often. As a training provider, you must guide your potential learners with an overall idea about a course, its duration, session, and benefits. Now as the leader of the team, we understand that it is not always possible to monitor every client per se. With Training Provider CRM, you can create numerous follow-up tasks, meetings, or calls and distribute them amongst your team members. All you need is a one-click mention for them to get instant notifications. You can even sync your calendar with tasks, set reminders on their behalf. Delegating your work pressure to your team, without mentoring them individually, while strategizing a fluent communication flow– all things said and done with this one-stop CRM solution!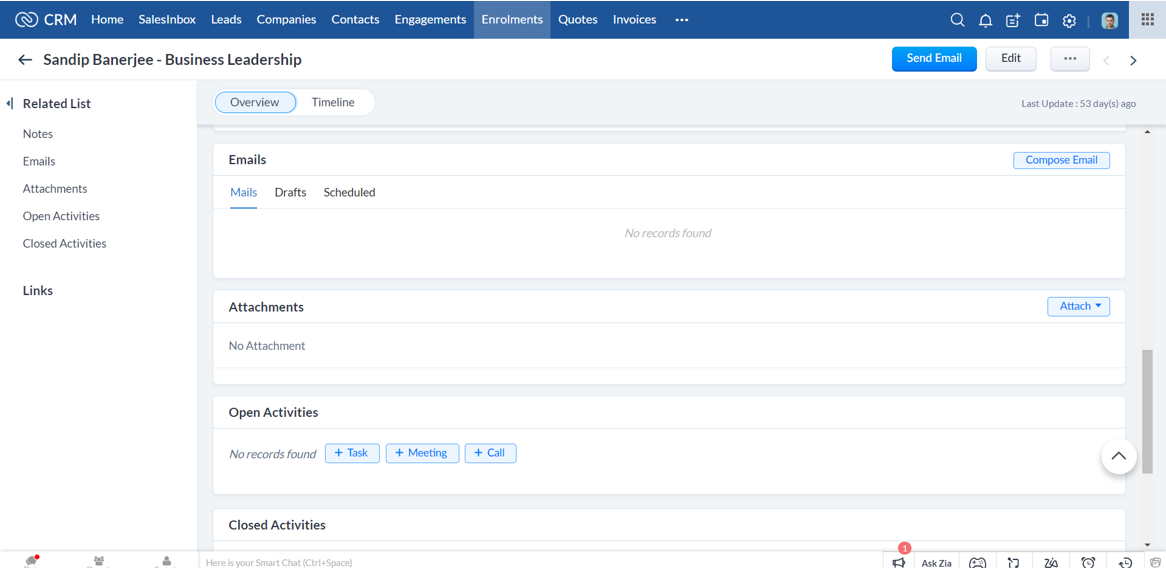 Manage Your Enrolments Without Confusion
Dealing with numerous engagements simultaneously sounds exhausting in itself. We can only imagine the immense work pressure that you'll be facing in the future. And then you might have to manage multiple enrolments for one engagement as well. Let's say, you have a Retail opportunity in which an individual learner is opting for two or more courses. Or maybe, a Corporate opportunity that requires your service for their employees. In such cases, monitoring each of your clients becomes a strenuous job– you're always open to risks and you might even fall through the cracks.
But this CRM for training companies exceptionally makes your situation workable. For corporate clients, you can create multiple enrolments for one particular engagement. How? When you get inside an engagement record, you can quickly scroll down to the enrolment section, create new enrolments for each learner, enter their details and save it.
Now for an individual candidate who wants to pursue two or more courses, you can create separate enrolments under each of his/ her preferred courses. For both cases, you can view the number of tagged enrolments when you get inside any engagement record.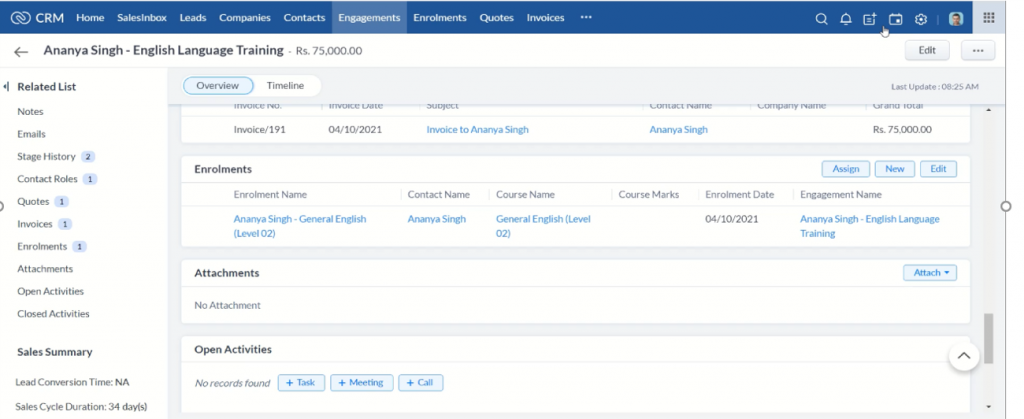 Manage Multiple Batches With Training Provider CRM
As a training provider, efficient supervision of your batches is one of your prime concerns. There are several things to consider when it comes to creating new batches. With Training Provider CRM, you can distribute your batches amongst the best-suited instructors, define the course session, the class duration, the number of seats available for each batch to maintain overall uniformity.
Documenting all the above-mentioned details can prove extremely beneficial for you. You might even have a candidate who has selected two courses that co-incidentally run at the same time. Therefore, from the batches module, you can quickly view all the relevant details of a particular batch, book a seat if available and deliver a tailor your service for that individual.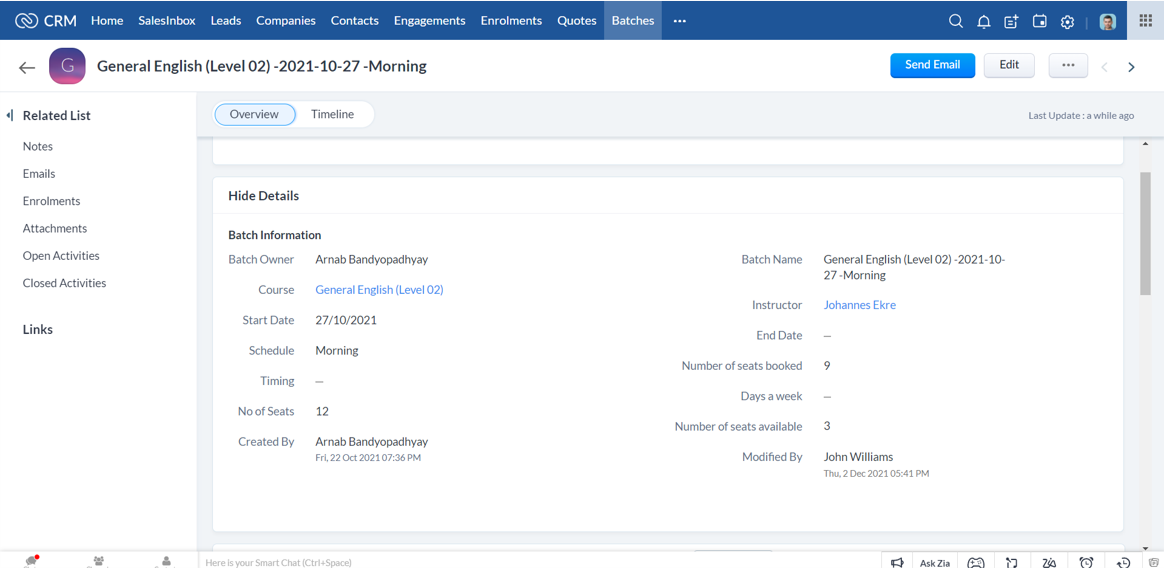 Generate Certificates In A Click
Going digital is the 'in-thing' at the moment. It helps you be faster, efficient, and productive at the same time. Once you're advanced with this CRM for training companies, you can optimize your certificate generation process as well. When your candidate completes a course, you can view his/her enrolment record, update the status, score, and merge it with Zoho Writer. The system automatically pulls out information and generates a stunning certificate with a pre-built template. You can seamlessly customize it according to your enrolment's profile, share it via email, and complete the task in a minute.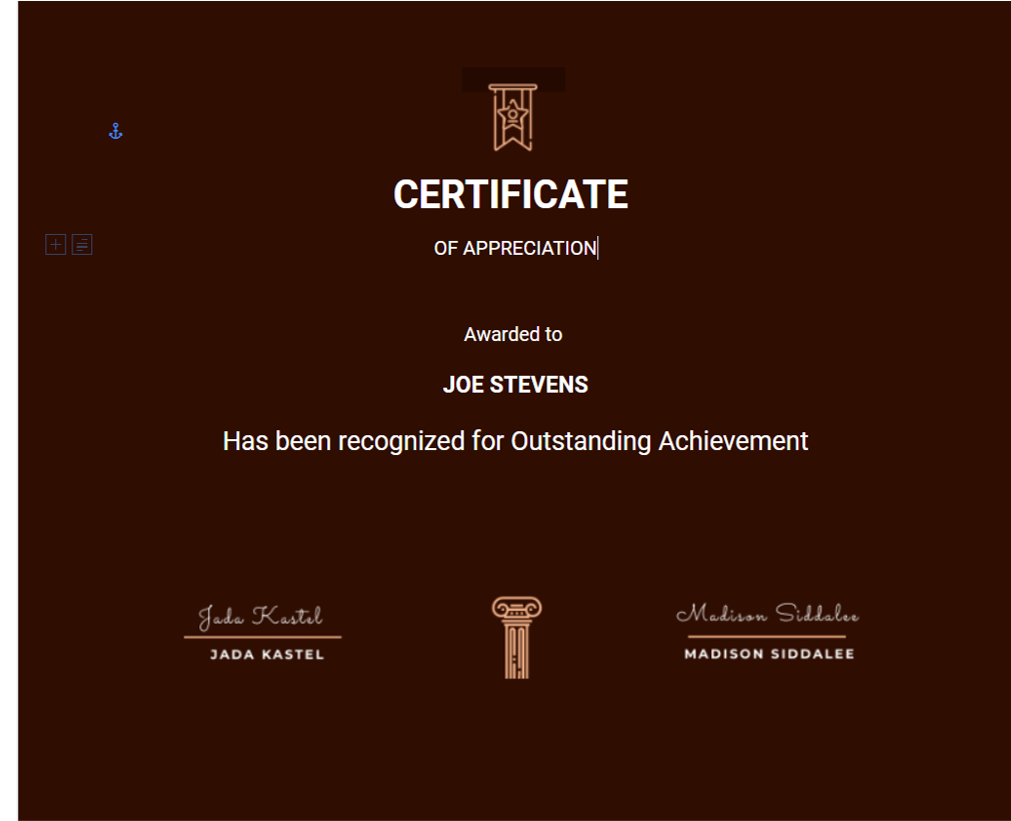 Market Your Courses With Training Provider CRM
Technology is the best gift of this digital world. Won't you agree? It gives a huge opportunity to promote your brand via different platforms. Training Provider CRM becomes exceptionally beneficial in this regard. As it stores every touchpoint information related to all your engagements in a streamlined manner, you can easily detect who could be interested in which course and you can send out email campaigns to promote further. With this CRM solution, you can also record your learners' response patterns and interact with them accordingly.
Other than this, you can reach out to them via different social media platforms for feedback surveys, inviting them for webinars or course promotion. Training Provider CRM also helps you store the links of your clients' social profiles so that you don't need to find them out later. You can use DocHipo if you want to create arresting posts for your internet community. Let us show you an example.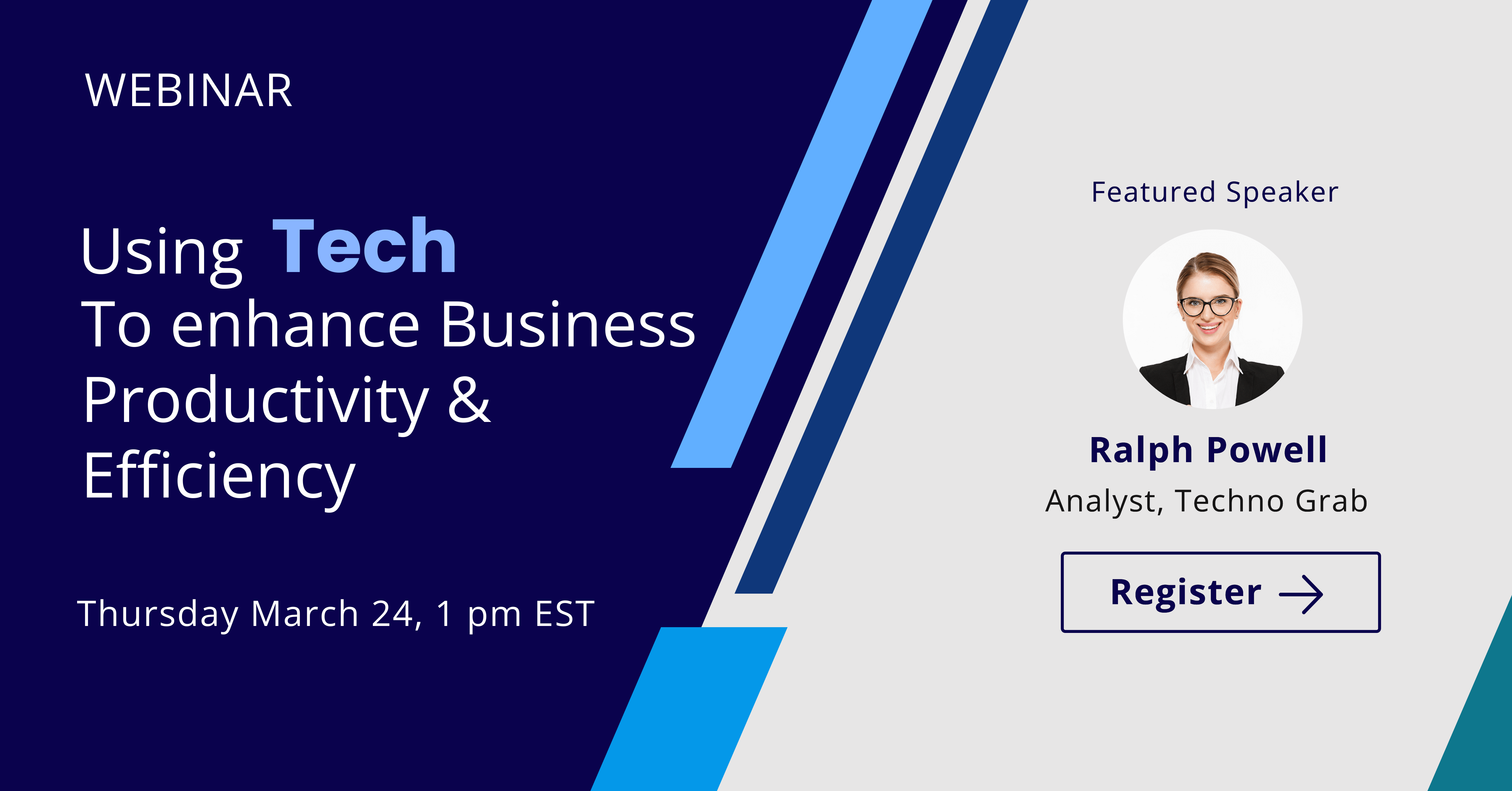 Last words,
Upskilling is a universal trend for today and tomorrow. There is no end to learning. The wider your course range becomes, the more you need to optimize your business strategy. And undoubtedly, this CRM for training companies is the one-stop solution in this regard. Leverage its full potential to manage your engagements and enrolments efficiently.
Watch this factual video about how you can effectuate all the plentiful features.
For more information, click on this link. Get, set, go!