8 Key Benefits Of Using Training Provider CRM For Your Business
Dec 6, 2021
The phrase 'survival of the fittest' is universally relevant. Today, the competition in every sector looks tougher than ever. People are always looking for leveling up a notch, expand their learning curve, and stay fit. And learning has a vast spectrum, really. So they need to master, develop and refine their skill sets. That is why they often opt for additional courses or extracurricular activity lessons to stay at the top of their game. Training provider companies like you offer multiple additional courses and we can only imagine the level of demand of your industry. However, you as a training provider, have to deal with the pressure every day. This is why we have come up with Training Provider CRM to help you improve your business agility.
Did you know? The global expenditure on employee training reached $370.3 billion in 2019. And on the other side, the market size of the personal training industry in the United States is $9 billion. Salesforce says that CRM applications can boost sales by up to 29%, sales productivity by up to 34%, and sales forecast accuracy by 42%. Imagine how immensely you can sustain your name in the business world!
So without any further ado, let us dive right into how you can execute all the benefits of Training Provider CRM for your mighty business!
Data Centralization
Training Provider CRM is an adept purpose-built solution that is uniquely designed to help you centralize all your data. But how? As this CRM software records all your interactions with your customers in a streamlined fashion, you can keep a tab on their training records. It can efficiently store, document, and segment your data to create a single view for you. So that when their course session is about to expire, you can offer them additional follow-up courses. Moreover, when you've landed on your Home Page every morning, you can take a glance at your to-do lists, just like this–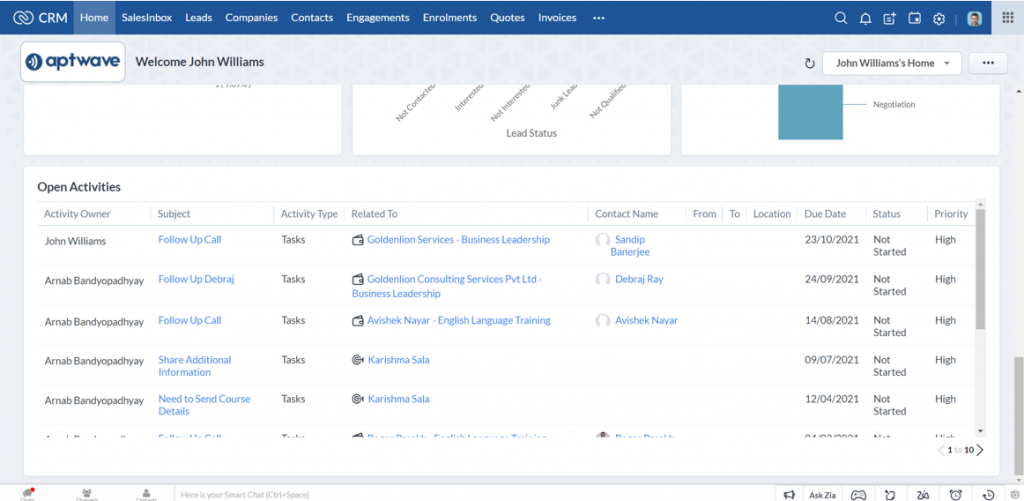 This CRM software holds a products module that consists of all your courses. The trick, however, is that when you get inside a specific product, you can view all the related engagements, enrollments, batches, and contacts. You can literally leap from one module to another because it is all centralized. Also as this is a cloud-based solution, you can access it anytime and anywhere.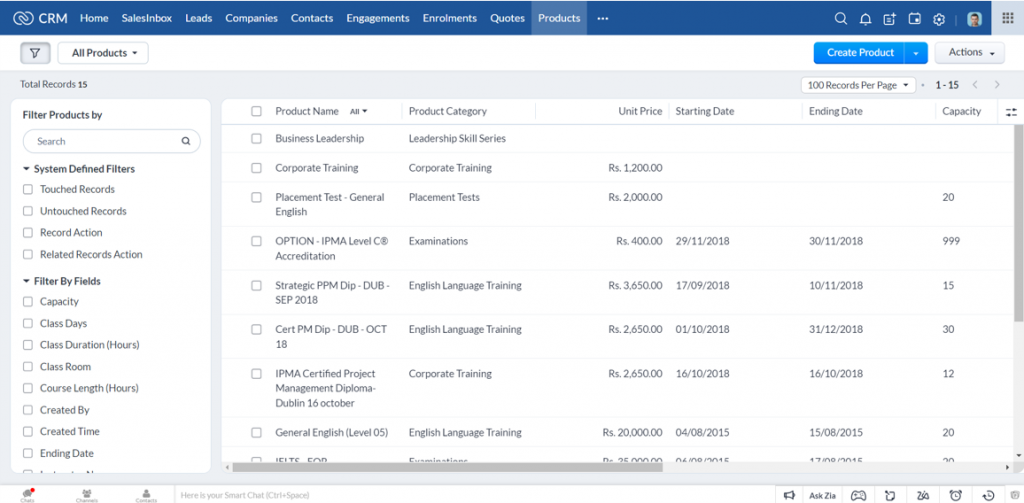 Lead Management With Training Provider CRM
Business leads lie at the core of any successful business. Generating them via different platforms (be it website, social media, newspaper, or emails) is one thing. However, capturing them and managing them efficiently is different. This is where Training Provider CRM can benefit you.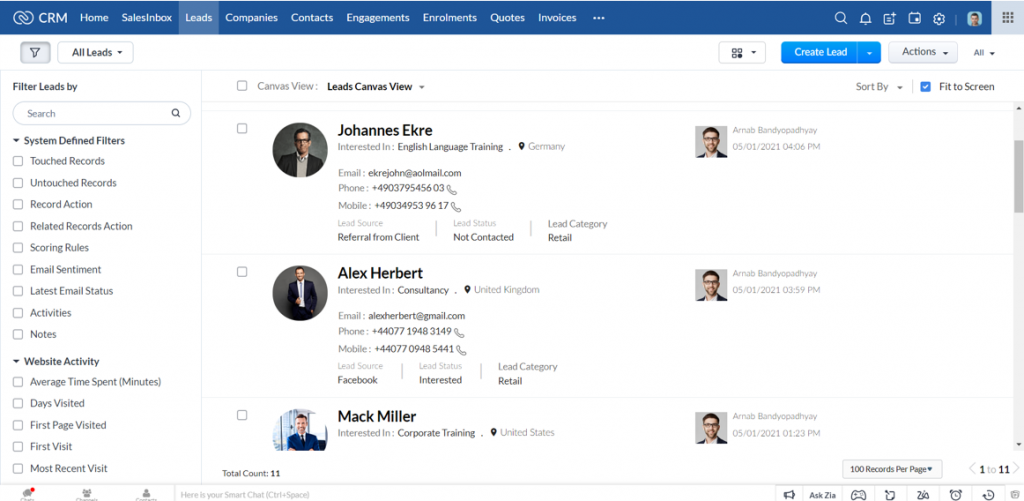 Inside the leads module, you can view multiple leads laid out with summaries. You can also create custom views to segregate your leads and apply filters accordingly. A lead record holds all the acquired details about your clients for you to evaluate and categorize them as a Retail (B2C) or a Corporate (B2B) opportunity. You can also nurture them with different follow-up tasks for better conversion rates.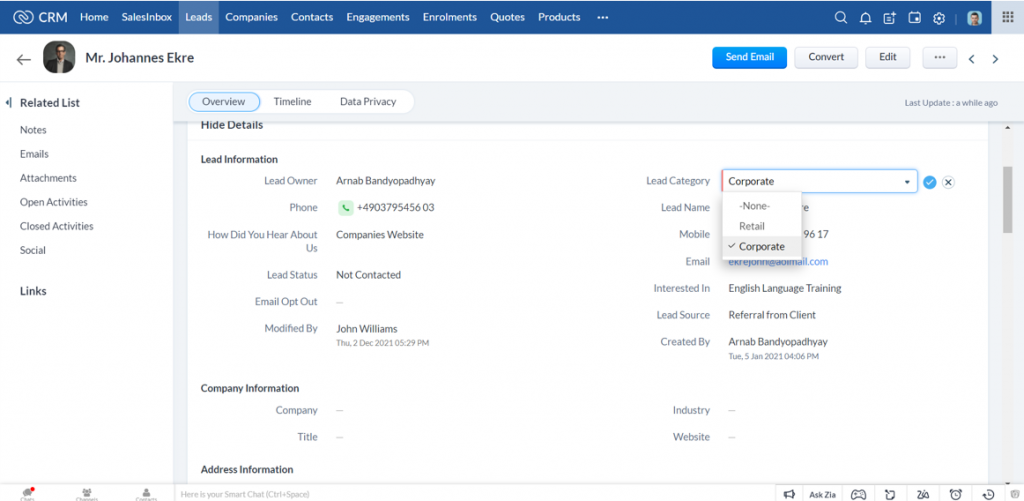 Regulate Your Engagements With Ease
Engagements are the bedrock of your business. They are basically the opportunities that you convert from your leads once they successfully fulfill all the BANT parameters. Training Provider CRM advances you to keep a diligent record of your multiple engagements simultaneously. You can view and manage every engagement that you previously created for your Retail or Corporate customers from a single screen. Your CRM lays out a detailed summary including the stage history, contact, subject of interest, how many times they have purchased training services from you, and so forth.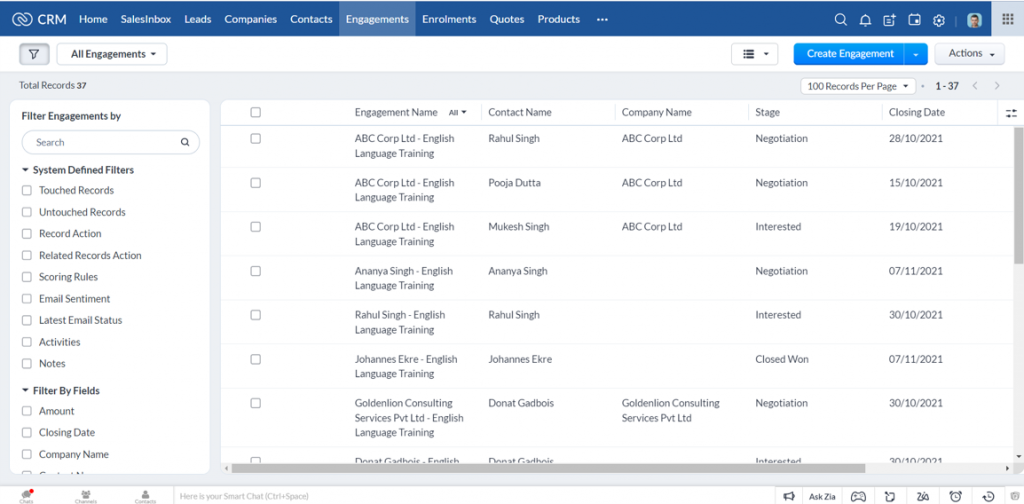 Create Stunning Quotes
Now once your customers request you for a quote, you can quickly create a new quote for them. You can fill out the necessary details, including the course which they're interested in purchasing, the quantity, and your expected prices. Once you finish this, you can send out attractive quotations with pre-designed custom-branded templates that come along with this CRM for Training Provider.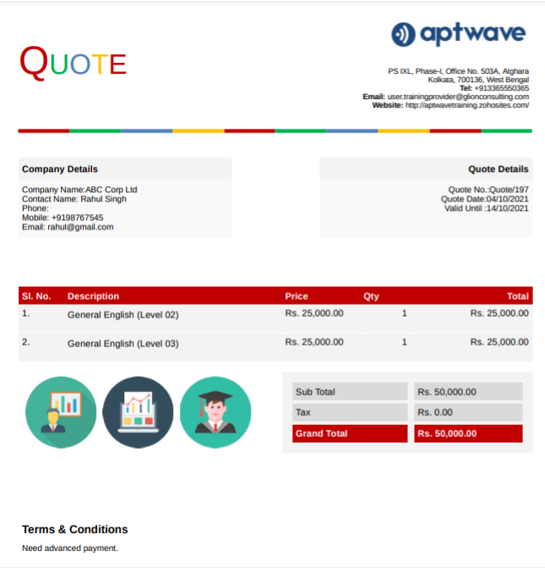 Generate Invoices Instantly
The moment your customers approve of your quote, you can instantly convert it into an invoice. All the information that was present in the quote, will be auto-populated in the invoice by your CRM. However, you can always edit it in case of further alterations. And just like the quote, you can send out your invoice with pre-designed templates, to your customers. These colorful templates are subtle enough to present a personalized touch and catch your customers' attention.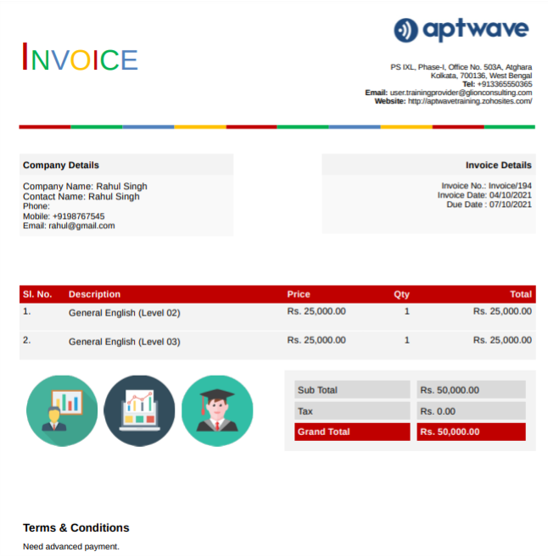 Multiple Enrolment Management
Enrolments represent the registered students who have applied for particular courses. As you start receiving your payments, you can create multiple enrolments under one Corporate engagement. And even if a Corporate customer purchases multiple courses for company employees, you can create multiple enrolment entries for each of them.
In case of a Retail engagement, you can create an enrolment for a specific student. However, he/ she can obviously opt for additional courses too. For that, Training Provider CRM lets you create specific enrolment for each course he/she chooses.
You can document and manage the start-end dates, status, and marks for each enrolment seamlessly- all from the Enrolments module.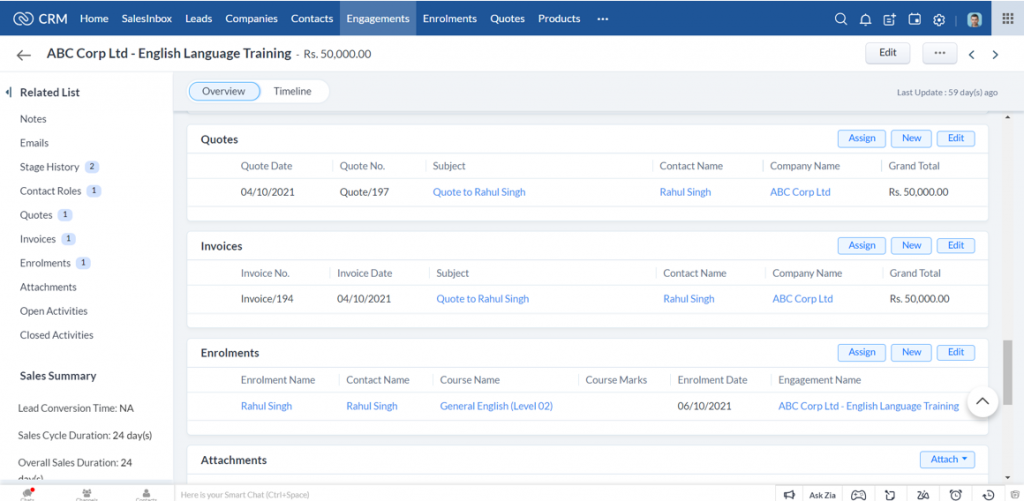 Keep Tabs On Your Batches
Managing numerous engagements and handling their uncountable number of enrolments simultaneously seems like a tricky business. There's always room for confusion right? However, batches make your situation workable. You can create batches for your live course sessions using this CRM solution for better management. You can determine the start-end dates, the class timing, and the enrolment capacity for a particular batch. Training Provider CRM tracks the number of enrolments in a batch and auto-calculates the balanced capacity as well.
For example, if a student is already engaged in a class but has opted for another course that is running at the same time, you can alter his/ her batch as per that individual's requirements.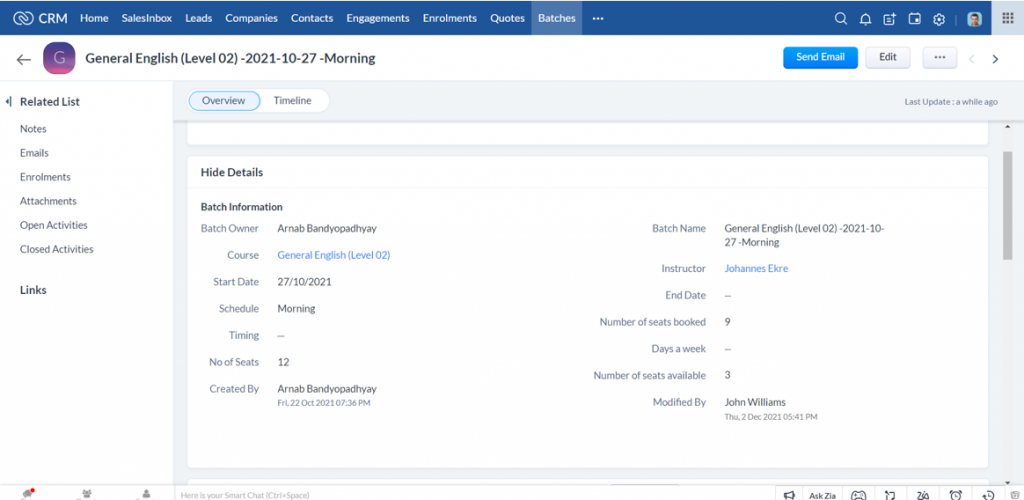 Generate Instant Certificates
This CRM for Training Provider is integrated with Zoho Writer. Once your enrolment completes a course, you can update the status and create beautiful certificates with pre-designed templates to acknowledge them. You can leverage these certificates to encourage your students for course completion and share them right from the CRM itself. Let us show you an example.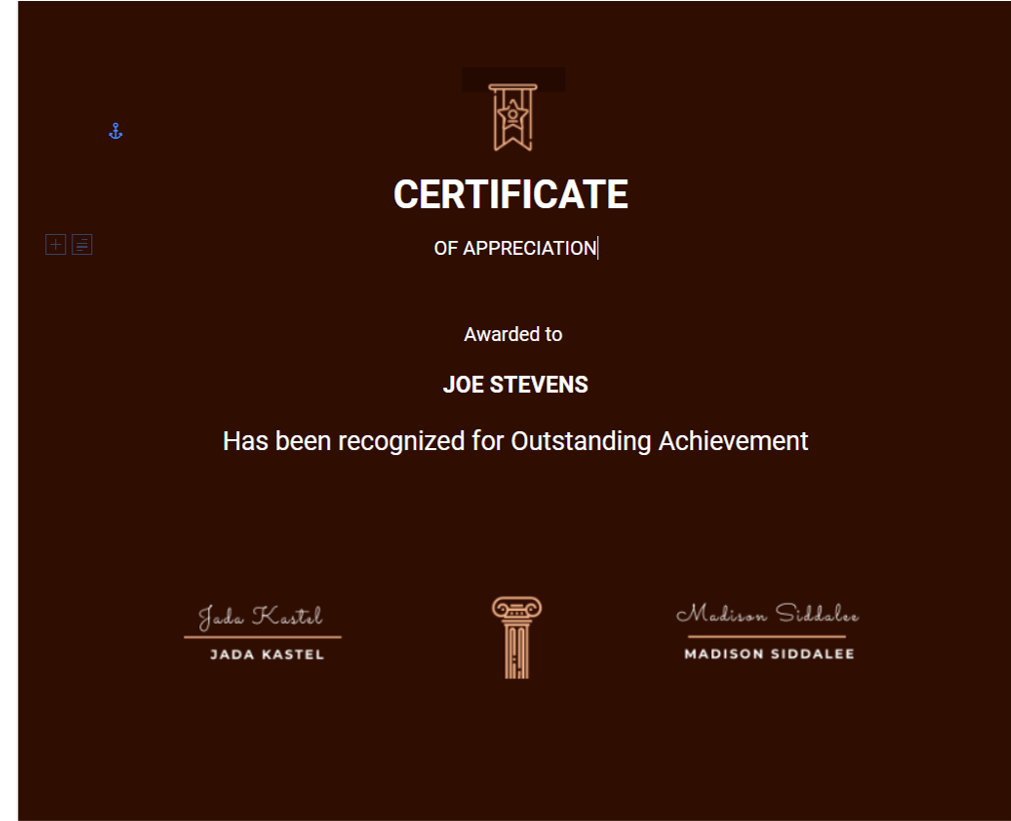 Reports and Dashboards
Training Provider CRM comes complimentary with pre-built reports and dashboards so that you get a quick glimpse of all your business metrics. These comprehensive reports and colorful dashboards are the centralized hubs of information that make data more readable. You can also place some of the dashboards on your CRM Home Page to work your way!
Let us show you how a dashboard page looks like–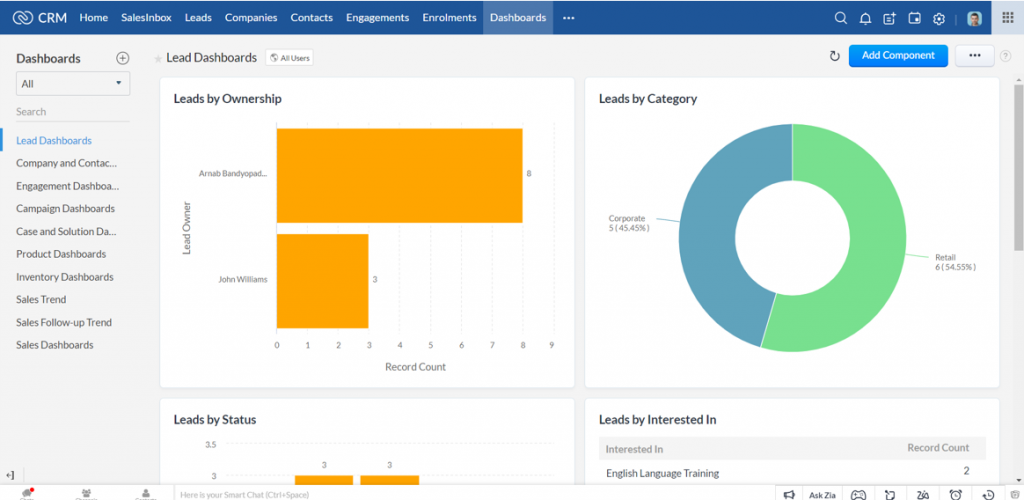 To sum things up,
Training Provider CRM is one of the finest CRM solutions that is built on the award-winning Zoho platform. It is the most secure and affordable software that you can find worldwide. Its delineable approach helps you to efficiently manage your business keeping fluent communication with your clients on the other side.
Finding it hard to believe in all its abundant features? Watch this super cool video about how you can implement all the features at your fingertips!
Click on this link to know more and let your business shoot for the stars!