Acquire Maximum Clients At Lower Costs Using Law Firm CRM
Oct 26, 2022
Are you perhaps facing a sales slouch recently? Chances are high since you've landed on this page. Let me give you that, software solutions like Law Firm CRM are designed to build and strengthen relationships with customers and hence, play a crucial role in boosting your sales number.  
While the business jargon is ever-so evolving in this fast digital age, customers are the only reliable source of a steady stream for making profits. It becomes thoroughly crucial to both acquire and retain clients. But a tailored solution like Law Firm CRM makes your work life way more manageable in this regard.
In today's article, I'll attempt to give a fresh tangent on how legal firms can maximize client acquisition numbers with lower costs. 
But first, let's understand what customer acquisition is. 
Is it just about getting customers from various sources? Nope, definitely more than that. It lies at the subset level of your entire management process where customer inquiries are generated through marketing channels. Those inquiries can be decoded as leads, eventually resulting in matters/ opportunities. Thus, lead generation is not the ending line here. You need to manage your prospects for them to transition into customers. Acquiring customers does not only mean adding more numbers to your customer base, it also gives you a competitive edge in raising your brand awareness. 
We are all aware of the fact that customer retention is more profitable than acquisition. But we cannot entirely depend on it. The retention number per legal client must be limited. Therefore, balancing between retention and acquisition is a serious concern.
Now coming to the cost, CAC or Customer Acquisition Cost is an approximate cost incurred to acquire a client, considering various marketing sources. It can be easily calculated as sales and marketing expenses per your legal firm divided by the additional number of new customers. It's obvious that your firm will try to lower the costs. By a CAC calculation, you can measure your profit margins by keeping the Customer Lifetime Value or CLTV by the side. If the investment of gaining a client is higher than their lifetime value for your firm, then you could be losing money. 
How to lower the costs? Here is a guide to help you out.
Generate Inexpensive Quality Leads 
In a survey by GetApp Lab, nearly 11.7% of respondents said that budget is one of the biggest challenges when it comes to lead generation. Most companies even try to increase their expenditure benchmark from 1 to 10%. But as they say, 'where there's a will, there's a way!' here are four easy ways. 
Organic Leads 
Organic leads are those prospects who find you by searching for a product type on Google, instead of visiting your website URL directly through some paid campaign or advertisement which might cost you big money. So do not burn a hole in your budget, try generating organic leads. There's a reason why companies are fighting to top SERP (Search Engine Results Page) ranks. You must be able to figure out the relevant keywords that your target audience is using to search for a service. You need to identify the highest volume of keyword searches along with the lowest degree of difficulty.
Seems a little too tough? Use tools like Semrush, Google Keyword Planning Tool, and Google Search Console to learn the current rank of your website and discover new matter opportunities.  
Search Engine Optimization 
Do you want to attract the right customers for your business? Of course yes. Search Engine Optimization or SEO is the strategy where a company optimizes its online content with related keywords of your service. For example, you can use words like 'personal injury', 'civil litigation', 'alimony compensation, and so forth. In other words, highlight the keywords in your blog articles, or website content so that people can easily navigate your services.
For SEO, you can use Yoast. This tool majorly helps you pull maximum website traffic by optimizing your keywords. It enables you with a plugin for each of your content pieces. It presents you with readability and other metrics to help you improve with pointers. It is available for both WordPress and Guttenberg sites and hosts tons of powerful features to help you write your content more instinctively keeping optimization in the mind.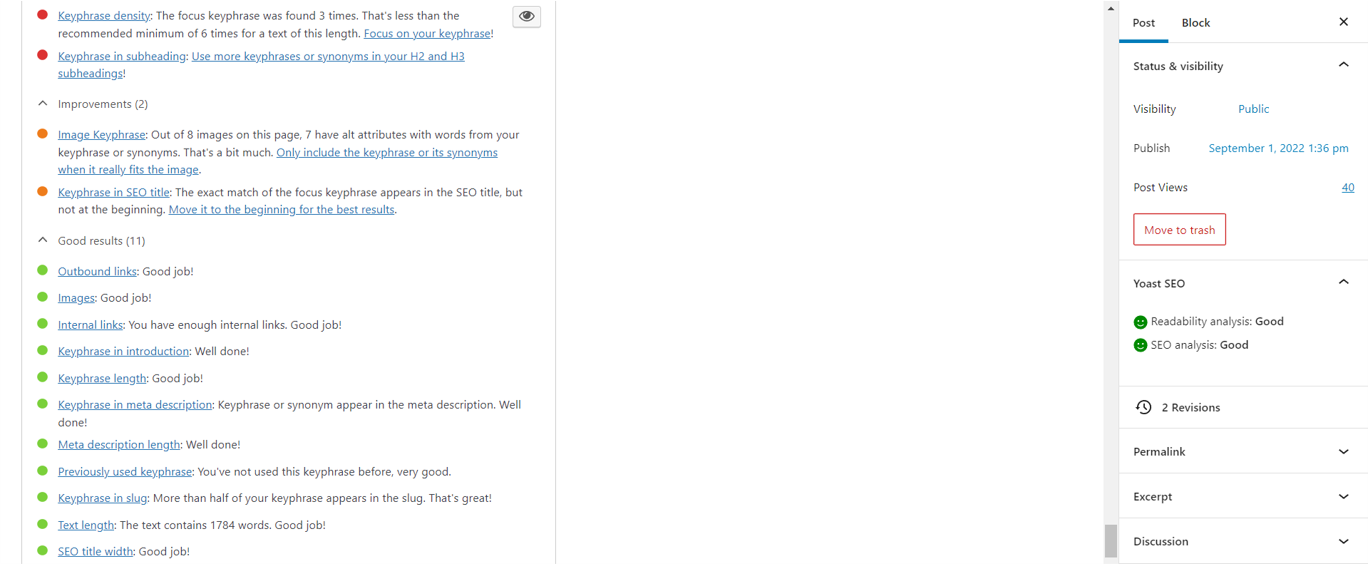 Leads From Social Media Platforms 
Honestly, I don't think I need to stress the importance of social media in this digital age. Social networking literally opens doors for your business. Even according to Attorney at Work, out of 302 lawyers, 96% responded that they use social media like LinkedIn, Facebook, Twitter, and YouTube to acquire new clients.
 Today, the more interactive and engaging your content is, it becomes easier for you to connect globally with larger audiences. And mind you, content means relevant ideas to be expressed, keeping newer tangents. However, it can get tricky to brainstorm so many ideas on an everyday basis. So instead, you can reassess your content into smaller pieces and post it on various social platforms. For this, you can use Zoho Social. It helps you create a content queue to schedule them on an intuitive calendar to post automatically.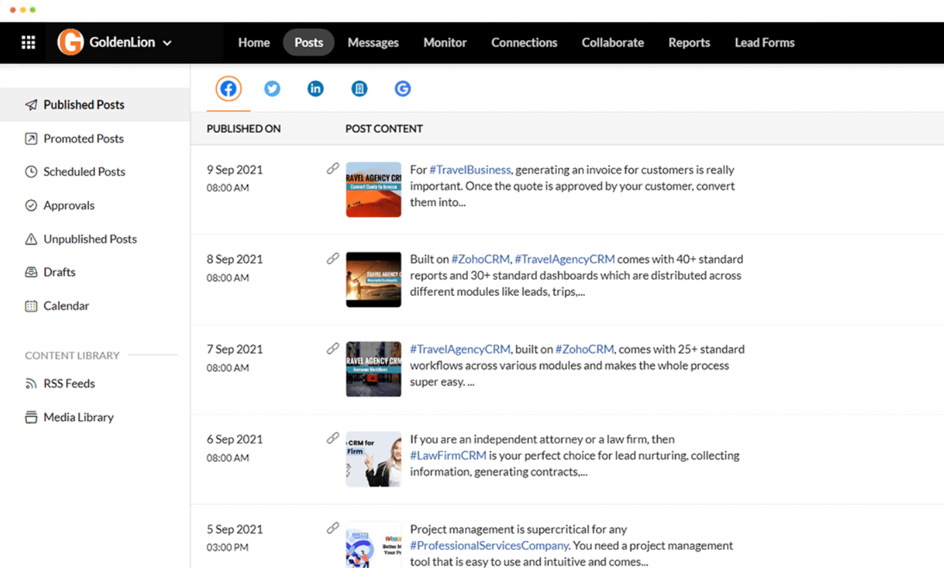 Referrals 
Referrals are an important part of lead generation for legal firms as most people rely on their friends and family to choose an attorney for assistance. Law Firm CRM can immensely help you here. As it documents all the critical information about a client in an organized manner, you can reach out to your existing clients to spread your word in exchange for cool perks or discounts as well.
Increase Your Customer Lifetime Value 
I believe every customer adds value to your business. Client Lifetime Value or CLTV is another marketing metric that is all about client satisfaction and hence, retention. It represents the total amount of money spent by a customer on purchasing your legal services in their entire lifespan. Such a metric essentially helps you make well-informed marketing moves and predict your future financial situation. This is how you can increase your customer's lifetime value.
Prioritize Your Leads With BANT Parameters  
We are all aware (if not experienced) of the immense work pressure that attorneys face every day. Call it a boon or a challenge, but the workload is increasing by the day. Therefore, it becomes incredibly crucial for lawyers to filter their prospects to bring out the best ones which can add value to their business. This is where you can apply the BANT (Budget, Authority, Need, and Timeline) parameters. With all the gathered information in hand (from the previous follow-up tasks), you can easily chalk down the prospects with more significant potential and focus on them to close-win more matters.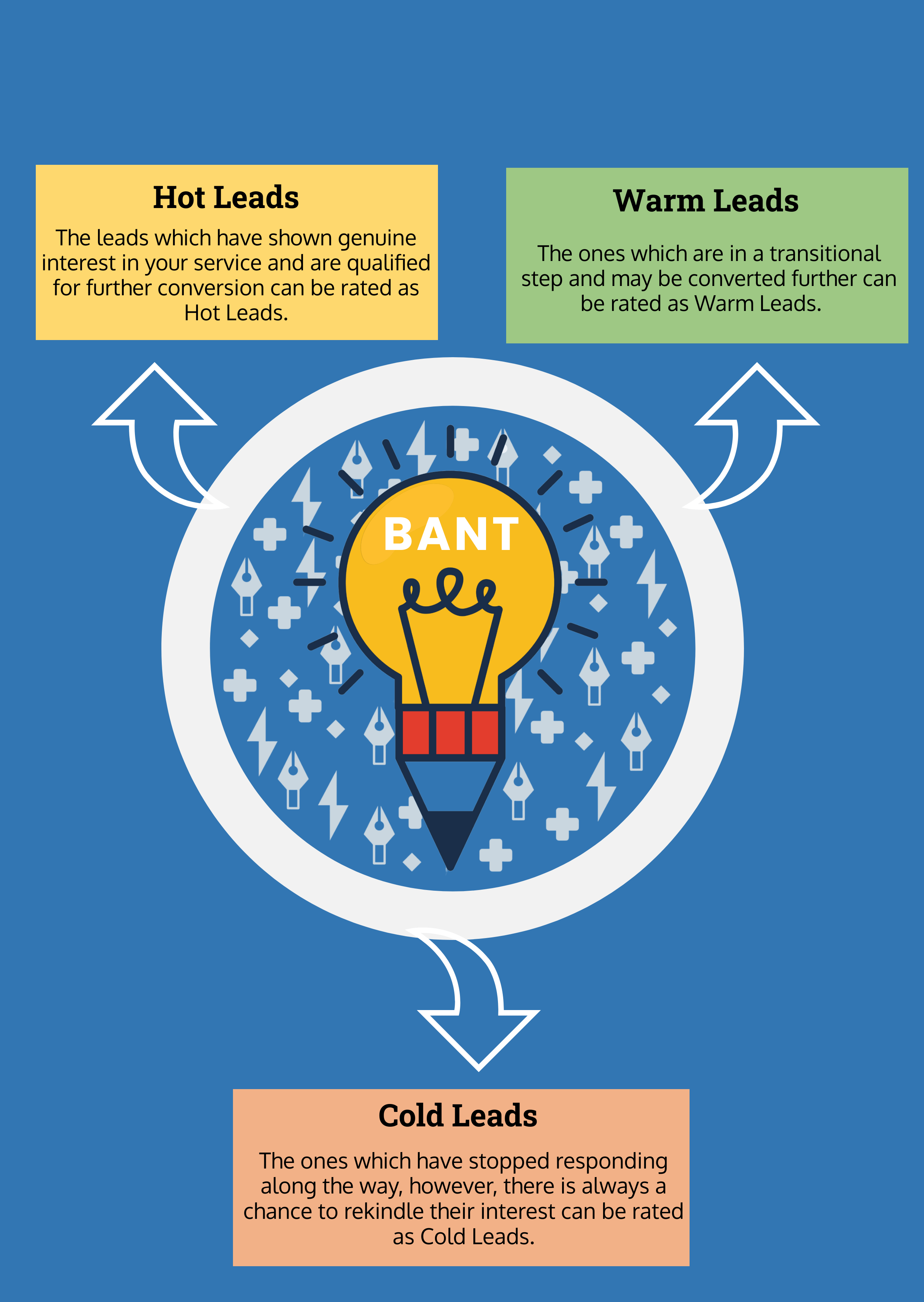 Be Responsive With Law Firm CRM
While dealing in the legal world, you must understand that the clients who come your way need your urgent assistance. Relias Media says that lawyers lose most of their prospects due to a lack of communication. Therefore, your sales reps must make a conscious effort to be more responsive.
 One of the best advantages (believe me, there are many) of using Law Firm CRM is that it sends automated emails to acknowledge their inquiries. It also instantly updates your team about the lead, so that one of them can pursue it for further conversion. As the leader of the firm, you can also create several follow-up tasks, meetings, or calls and distribute them amongst your teammates. You can even set reminders or deadlines on the intuitive CRM calendar so that you never fall off the cracks.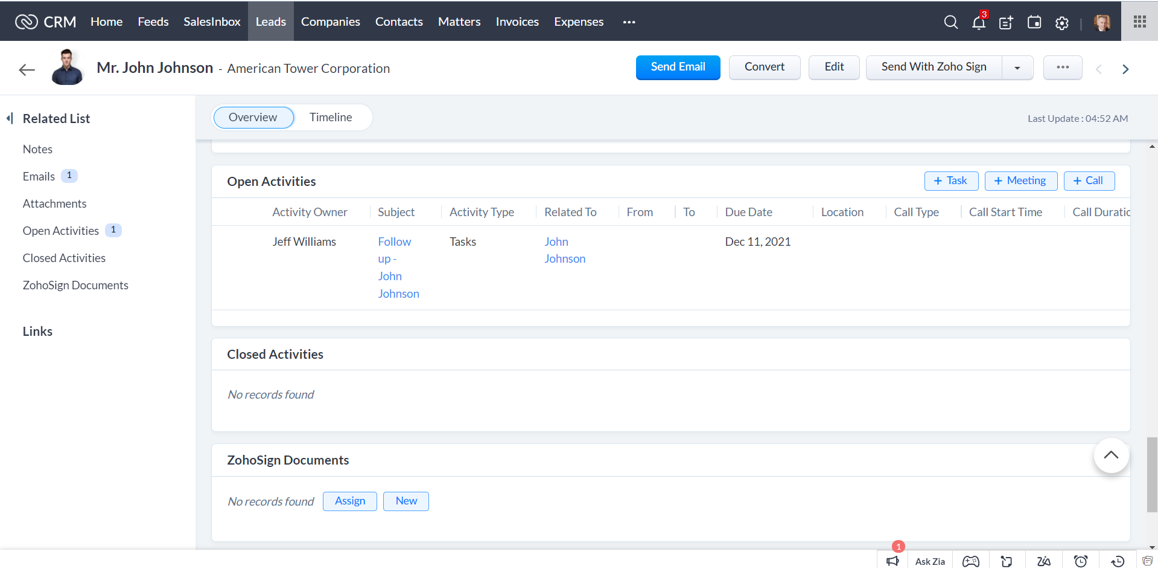 Leverage The Industry-Tailored Sales Pipeline 
To add to the best advantages, count the ready-made sales pipeline that Law Firm CRM comes along. As the solution is tailored as per your industry nomenclature, it is even easier to set goals with intermediary stages and locate the current location of a customer in the sales journey. This way you never have to wonder what your next step will be. The pipeline auto-updates itself after the previous stage's completion so there's no chance of overlapping any stage.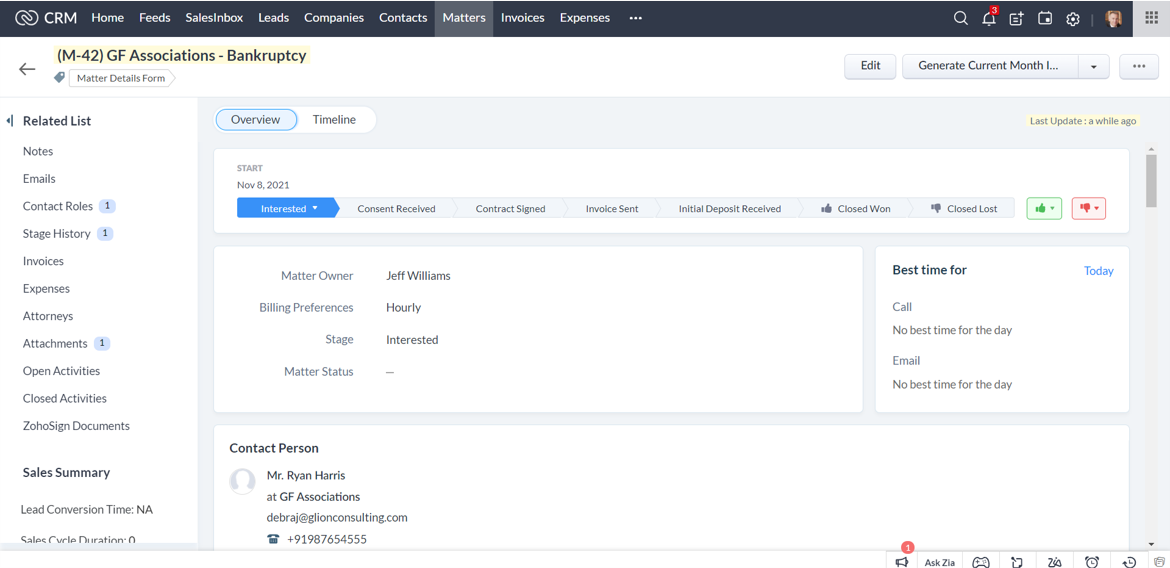 Personalize Your Services
Every legal client has a unique problem in hand. And you know, unique issues require unique solutions. Just like for you, we have Law Firm CRM.  But, yes what our customers are looking for is personalization for their problems. That's why, we bring you the 'Matter Details' form– a questionnaire that possibly covers all the information fields that you might require. Most importantly, your clients can write about their problems in their language at their convenience. This innately helps you set goals for a matter. You can easily share this pre-designed matter details form with your clients via email.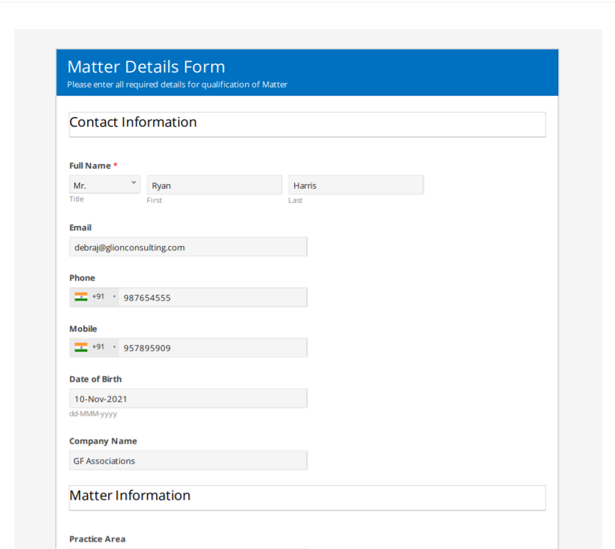 Evaluate Your Marketing Efforts With Law Firm CRM Automation
The greatest gift of technology by far is automation. You don't need to grease your elbows any longer as the CRM solution does it all for you. Here is how you can use automation for evaluating your marketing efforts.
Collect Critical Data 
You would agree that in business, there are some sectors of an organization that require your discreet attention regularly. The home page of Law Firm CRM collects and comprises all the crucial metrics of your business in a unified space. You can include up to 10 dashboards here and define your data hub. For example, you can dedicate a dashboard to how your marketing channels are performing, the lead generation numbers, their sources, and so on. Remember, the CRM updates all these informative dashboards in real time. So that you can easily understand which of your marketing sources are bringing out the best results and you can invest in them accordingly.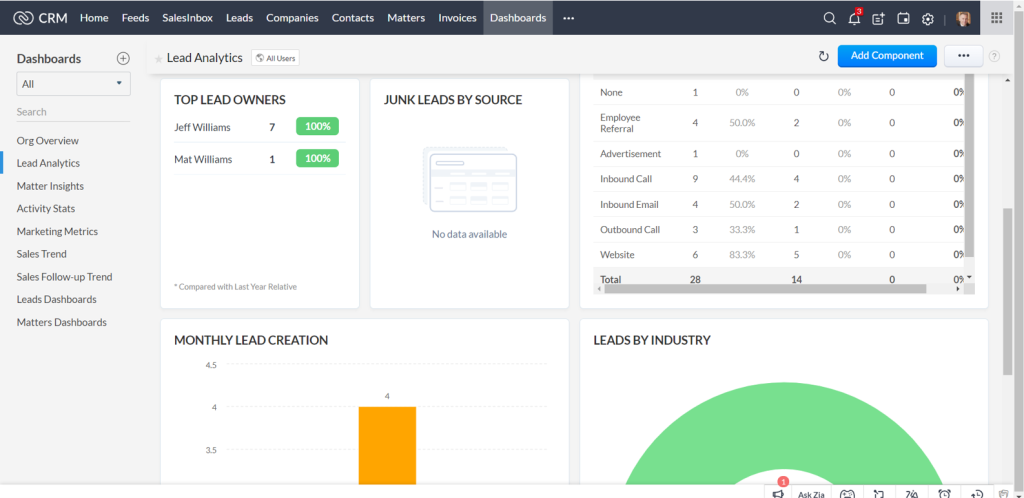 Measure Your ROI Rates 
ROI means the return on investment. Of course, you are spending thousands of dollars on your marketing sources, you should get the best out of it. Law Firm CRM not only comes with a home page for critical dashboards but also several groups of standard reports and dashboards for your easy scrutinization. These are more detailed in structure and are updated with real-time information. For instance, let's say you have a dashboard on display and you need more information about it. Now if you click on it, the solution directly takes you to the related report.
Here is an exemplary report–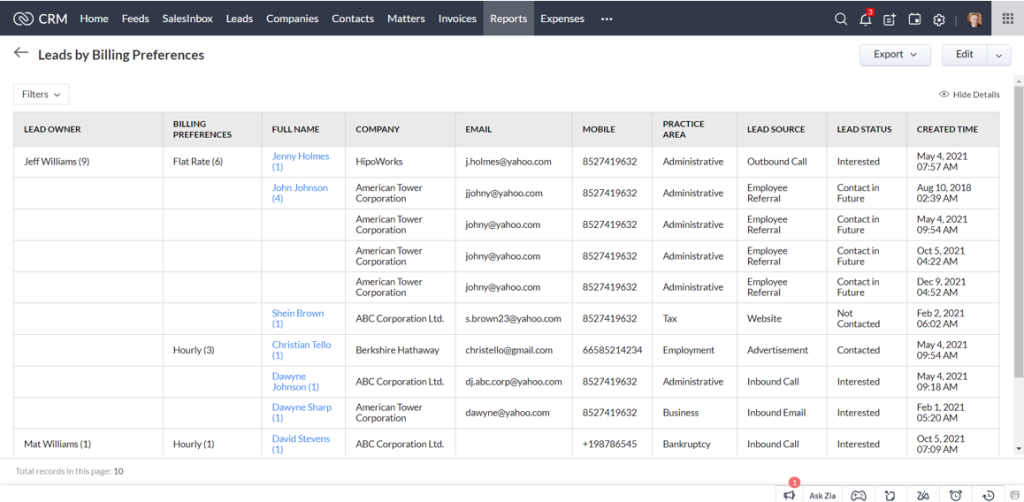 And here is a typical dashboard–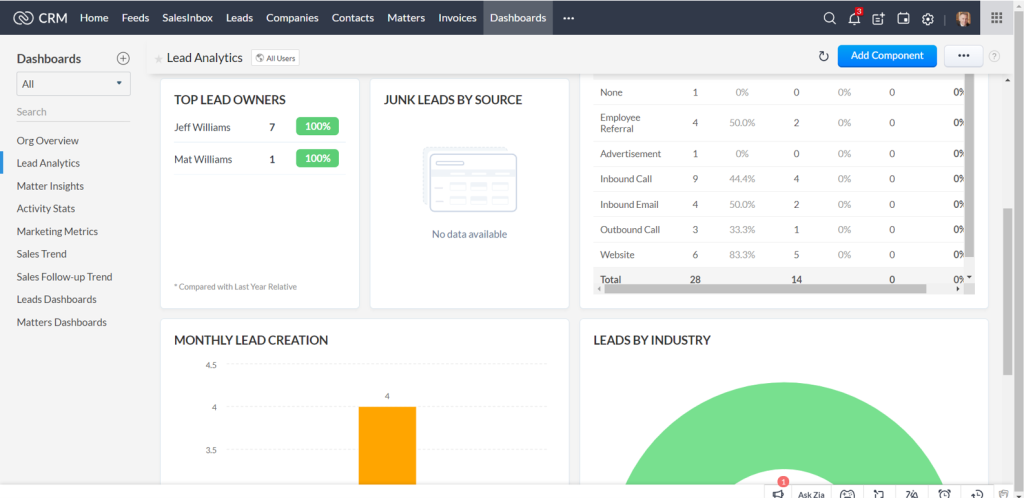 Bottomline, 
Honestly, Law Firm CRM is the one-stop solution for modern-day lawyers. With its easy-to-use interface, tons of powerful features, and effective automation, this CRM helps you take your business to the top. Plus, since it is a cloud-based solution, you can access the CRM software from anywhere and everywhere, and at any time. What more do you need? More information about it? We got you. Reach out to us for a free 90-minute no-obligation consultation here!