Advance Your Distribution Business With Zoho One
May 27, 2022
The distribution industry indeed contributes a large part to the global marketplace. Though it is not that popular amongst end consumers, it remains an integral part of the marketing machine. On the other side, unlike any other industry vertical, distribution businesses involve complex intermediary stages which require 5 to 7 different tools to cover. Now imagine, you get all these tools under one software, how cool does that sound? That is why we have designed Zoho One For Distribution – an all-encompassing solution for your purpose.
As a distributor, you are already aware of the essential areas of operations. Our Zoho One software covers them effectively and efficiently. These are all the intuitive applications that come collectively for managing each of the crucial steps of the entire sales operation.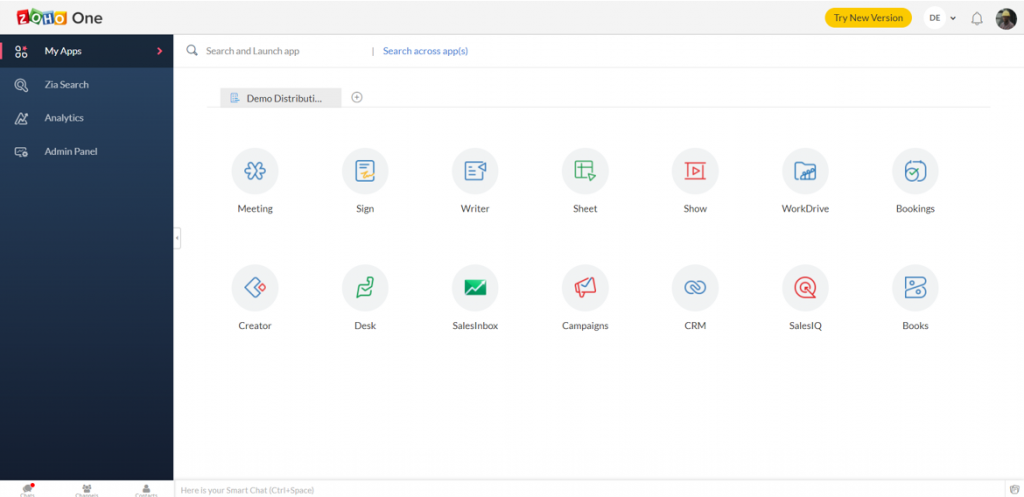 So let's jump right into this detailed article about how our system works, shall we?
Capture Ample Leads
The very first step towards making a successful business is marketing. Without marketing, there is no question of capturing leads, right? As a distributor, you must have several channels of marketing such as newspaper or Google advertisements, inbound calls, referrals, and social media. But the primary source of lead generation for you is website landing pages. Websites give us a vast space to showcase our varied range of services, testimonials, and goals to maximize audience traction. But generating leads and capturing them is different. Zoho One can capture multiple leads simultaneously on your behalf.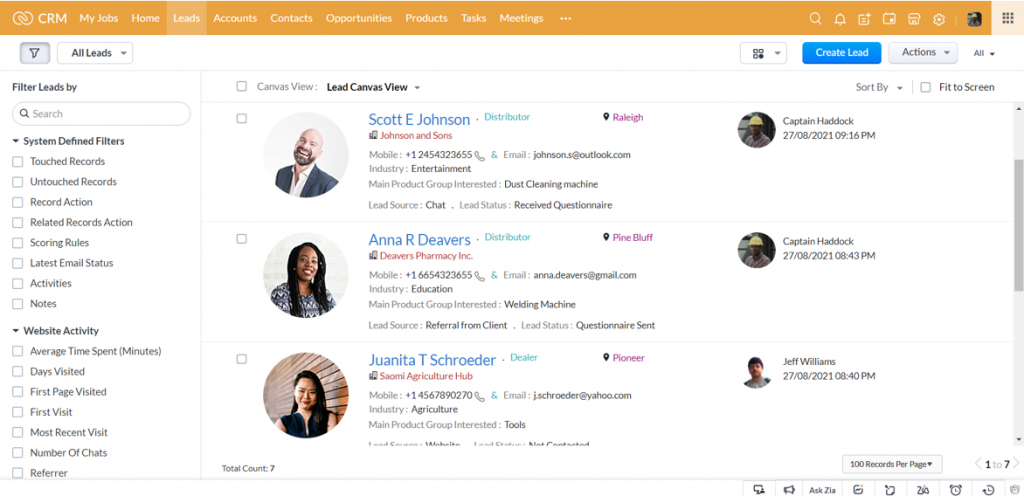 Embed A Webform
Zoho One comes with a pre-defined web form template that you can embed on your website. his web form includes all the necessary information fields that you might require initially. So that when an inquirer browses through your services, he/ she can show their interest by inserting their information. And when they do submit, our integrated Zoho CRM automatically captures all the acquired details and collects them in a streamlined format after creating a separate new lead entry. Such effective automation helps you save tons of time without the risk of missing out on an opportunity.
Implement Zoho SalesIQ
Just like you'll greet if a potential customer enters your office, Zoho SalesIQ does the same on your behalf. It is an omnipresent virtual agent which proactively interacts with your leads and caters to their queries if they have any. You can also build this live-chat bot with canned responses for general questions. Whatever the case might be, our CRM integrated solution captures all the chat transcripts under a new lead record. When you have all this information documented, you can easily evaluate them at your leisure.
Qualify Your Prospects With Automation
Our Zoho One for Distribution comes with innately effective automation powers. Once our system successfully captures a lead, it automatically sends out an acknowledgment email along with a qualifying questionnaire. Here they can enter all the necessary information that you might want to gain for further conversion. This includes address details, website URL, employee strength, operations and sales, turnover, and so forth. You can always mark selective questions as mandatory for submission. And once submitted, our CRM captures all of it and places it in the respective fields for better navigation. You can also download their individual responses in PDF format. Super cool, isn't it?
Generate Contracts In Minutes 
When your prospects submit their questionnaires, you can qualify them by tactfully evaluating their merits. You can easily generate a personalized contract by merging it with a pre-defined template from Zoho Writer. All you need to fill in are the necessary details like the date, the company name, address of the organization. You can also put your digital/ e-signature with Zoho Sign on your contract, share it with your customers via email, and you're done. Just a matter of minutes!
Remember, the moment you qualify your prospects, they are instantly profiled as a contact and account (as this is a B2B opportunity) in the CRM solution.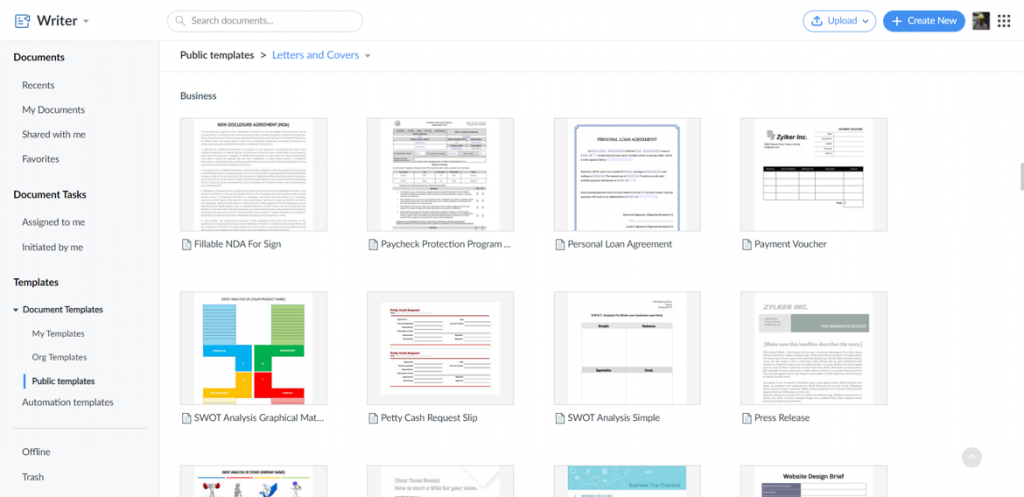 Help Your Prospects Raise Their Sales Orders
The USP functionality of our Zoho One solution for distributors is the sales order management app that comes complimentary with it. You can send an invitation link to your customers to join this application to help them create an account with their credentials. Through this intuitive portal, they can easily raise a sales order. And once raised, you can review their orders and approve them internally.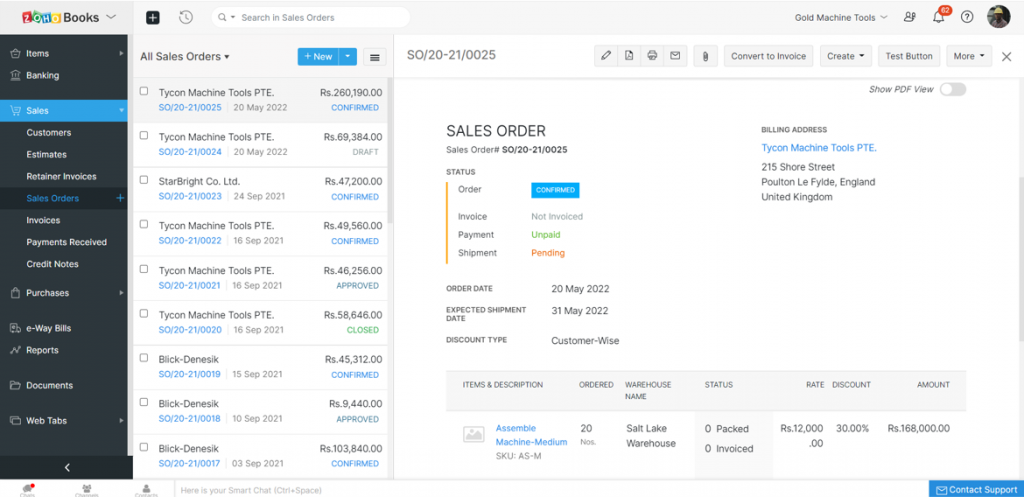 Manage Your Inventory And Invoices
When you receive their sales orders, you can check your products and stocks with Zoho Inventory. It is an intuitive tool that helps you manage your stocks. Here, you can create different item groups and multiple products for each item type. You always get a clear update about your remaining stocks so that you can quickly check and approve your customers' sales orders and convert them into an invoice.
Your invoices are seamlessly managed by Zoho Books which is again integrated with the inventory tool. With this, you can always access each of your customers' information. Be it their billing details, sales orders, or delivery challans, you get every piece of information from here.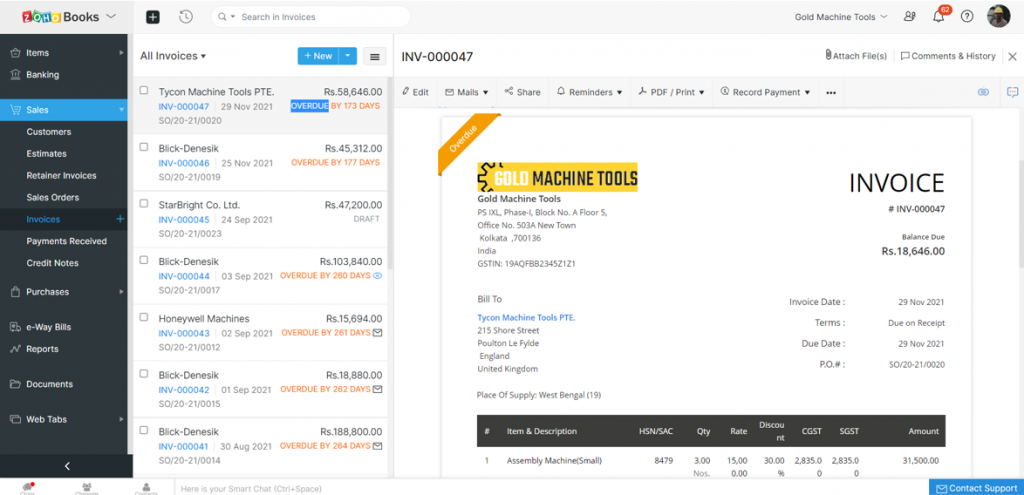 Ensure Support To Your Customers
Customer support plays a catalyst in strengthening relationships with your customers in the long run. For that, Zoho Desk is integrated with our solution for distributors. This tool deals with your customer issues centrally. Of course, you can embed FAQs to ensure self-service to your customers. However, for more complex issues, they can also reach out to you by raising an auto-created support ticket for any requirement and track the current progress stage if necessary.
As our system is integrated with Zoho CRM, your team can see a 360-degree holistic view of your customers from their contact records. All these organized details help them to understand the pain points your clients are facing so that they can easily resolve their issues and carry on with the process. However, as a leader, you can always restrict your teammates' access with user rights.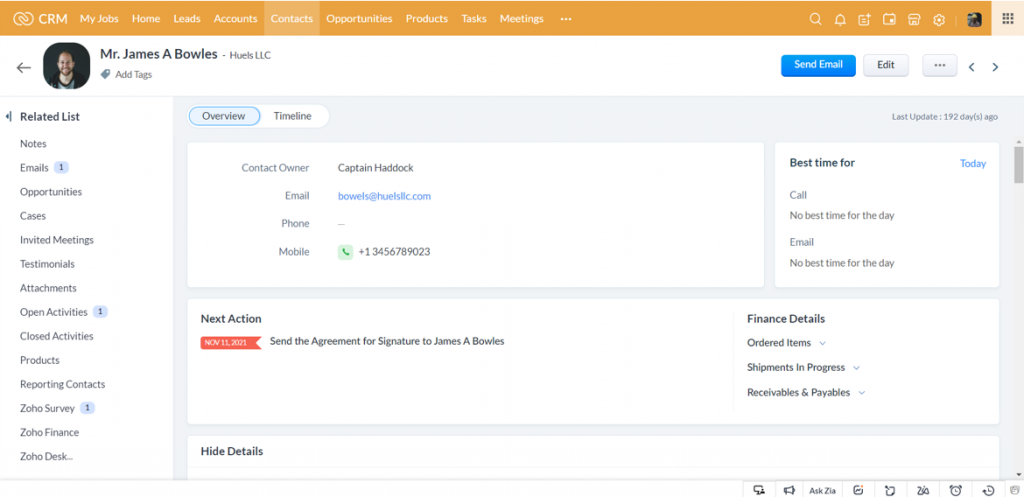 Time For Feedback Survey
Once you deliver the assignment, it's time for you to gain feedback from your clients. It is undoubtedly, one of the crucial steps of the entire sales operation. It helps you gain insights into your performance and gives you a scope for betterment. With Zoho Survey, you can send a feedback form to your customers. You can always customize this form with questions that you might see as appropriate. And once your customers submit these forms with their responses, our CRM captures their feedback instantly. You can easily your customer feedback to your benefit and share them as testimonials on your website or other marketing channels.
Track Your Overall Business Performance
The best key takeaways of our Zoho One for Distribution are the real-time updated reports and dashboards. You can easily comprehend your business health with these intuitive modules at a glance. These clutter-free reports and dashboards are interlinked with each other. For example, if you click on a particular dashboard, our CRM directly takes you to the related report. You can also segregate these modules with categories for better navigation. Such a dynamic duo helps you introduce innovative strategies, execute the same with insights and keep a diligent track of your business performance.
Last Words,
Built on the award-winning Zoho platform our software, which is solely designed to meet every distributor's end is a complete solution that you can find across the globe. It is accessible at any time, with any device, and from anywhere in the world. All you need is a browser to manage your business on the move.
Here's a factual video about how our solution truly benefits your business.
Now we throw the ball into your court. Click on this information link to get started!