Best Travel Software Tools To Consider For An End-To-End Business Management
Jul 13, 2022
Do you realize why the travel industry is so popular despite the drastic fallback in the last couple of years? Because every day folks like us never cease to look for an escapade, and that is traveling. To make the most of our vacations, we choose the best travel agencies who can offer exceptional service. So you see, as the pandemic restrictions have relaxed a little, the competition has increased like never before. The travel market is growing with the day, and customers are fleeting with the second. Therefore, the travel business process need to be systematically organized for elevated proficiency. For that, travel agents are progressively digitizing their business. And honestly, there is no end for betterment. Well, good news for you. We have explored the best travel software tools that mighty tour operators like you need to consider for end-to-end business management.
In this article we have covered all the best software tools that can extensively help you in faster business expansion. These might be indispensable in the near future, so read up to take a step ahead of your competitors!
Marketing To A Niche Audience
Staying at the top of the travel market radar is not easy. You want to make your company reach its highest potential and the first step towards that goal is to market your brand. You know, spreading out your word and doing a little extra along the way always helps. The following is a list of our recommended software that you can implement!
Design A Beautiful Website
Think about the first interaction of you with your audience, what is the medium for most cases? That's correct, websites! Our landing pages act as the virtual storefront of our business. It is almost scary if you don't have a website to survive in this digital world. You see, every industry attempts to attract a certain spectrum of audience, and remember, your competitors are offering similar services as you. Therefore, you need to carve out a niche and feature it as a selling point to generate quality leads. You can create an all-browser-friendly website that ensures maximum reach. You can make your vibrant feature-rich rich website dynamic by altering the content and managing them on platforms like WordPress, Magento, Codeigniter, and so forth. Look at this beautiful website landing page down here. Yes, you can have one for your business as well!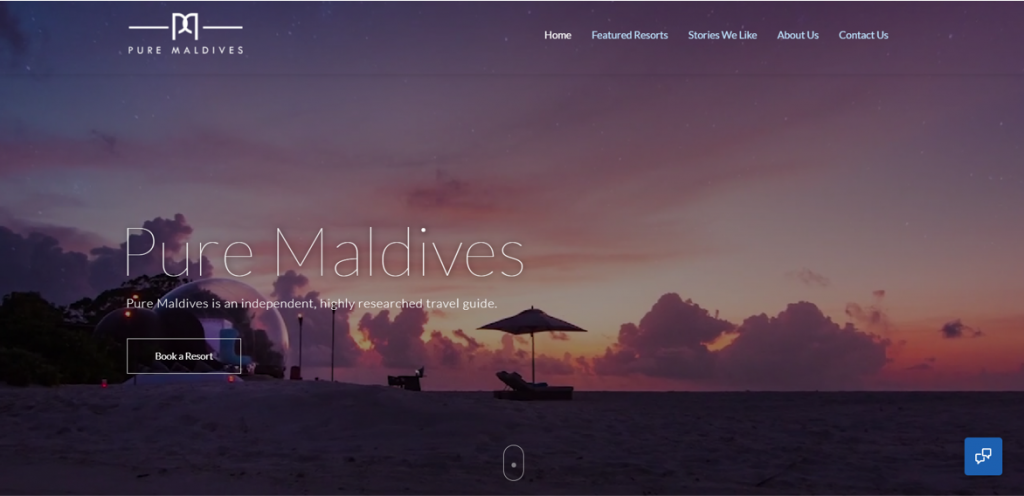 Deliver And Engage Your Audience With Your Campaigns
Figuratively speaking, email marketing is almost like a tradition in the business world. It's a cliche that both buyers and sellers seem not to get tired of. It is by far one of the most cost-effective tools that engage our audience from time to time. You can promote your brand with seasonal offers and share your latest travel packages. For effective email automation and dynamic personalization, you can leverage Zoho Campaigns. To make your posts lively, you can share interactive polls, GIFs, autoresponders, or surveys too. And later, you can evaluate the results and ascertain the one which hoards the most customer engagement. Depending on the results, you can adjust your email frequency accordingly, because of course, you don't want to overwhelm them.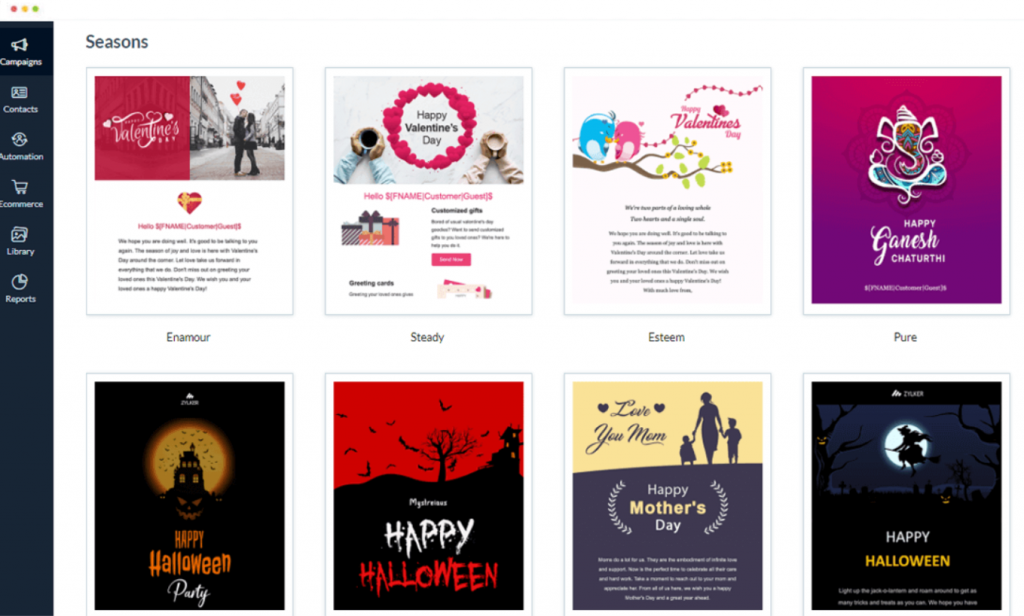 Make Your Social Posts Upbeat With DocHipo
Living in the millennial- Gen Z society? Of course, you know that social media platforms lay a huge impact on the target audience. It is where most millennials are, it is where you should market too. DocHipo is free graphic design software that comes along with a versatile range of customizable templates that can benefit you. Starting from email headers, this brand ranges from flyers to social media page covers. This incredible software application is just what you need to share valuable, informative content and arrest your audience's attention at once!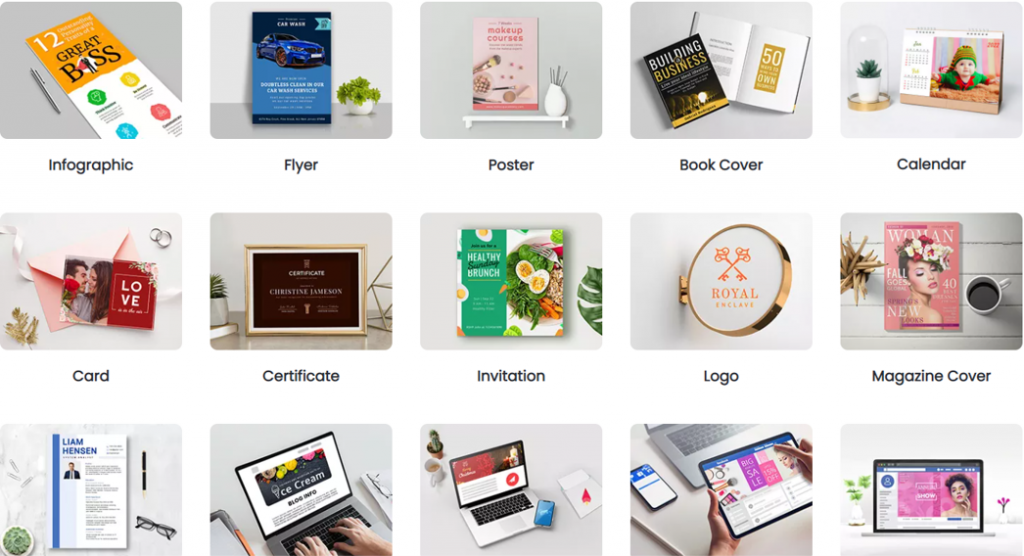 Drop Personalized Texts From Time To Time
When you're going in, why not walk the extra mile for your customers? Other than the digital modes that we mentioned before, you can keep the conversation going via text messages. But you always need to keep in mind that a simple 'one-size-fits-for-all' approach is not suitable for our modern customers. They search for personalization and opt for those which offer them the best.
Twilio
This is a customer-engagement platform that helps you redefine your travelers' experience with data-driven insights. It is a trusted omnichannel application that combines first-party data with the best digital channels and easy-to-build solutions. Twilio is adept at enabling you to know each of your customers individually and connect with them on a personal level, exactly as they prefer. You can build powerful APIs and integrate them with SMS, WhatsApp messages, and voice or video calls. It helps you amalgamate your proactive approach with contextual data, cross-channel communication, and flexible workflows to deliver the best customer experience.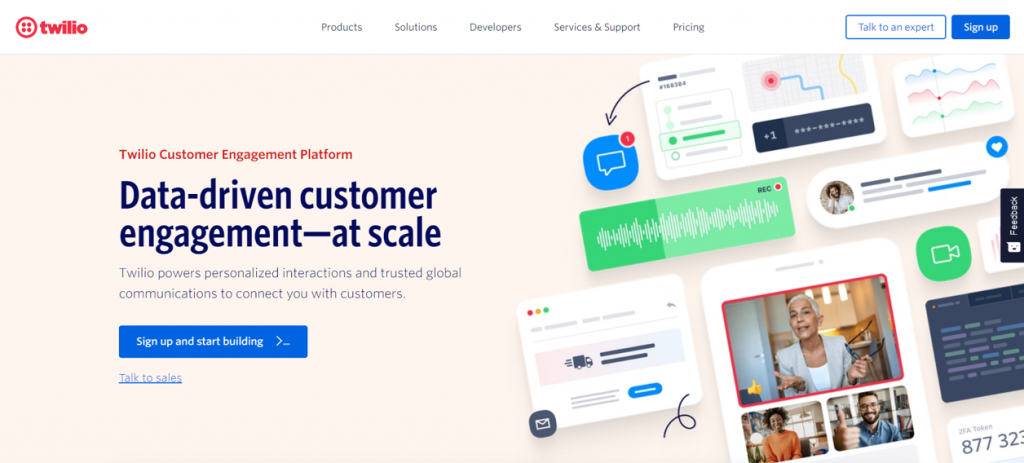 Ring Central
Ring Central is yet another intuitive platform that helps travel agents make their work-life easier with simpler communication. With an easy-to-use flexible interface, this software application collaborates with other software tools and centralizes your system. You can route and interact with your clients via voice responses or call queues. It helps you reach out to your customers or leads with automated dialers and their preferred channels. In case your agency has franchises, you can leverage the built-in multi-site support of this software to manage their operational needs. Plus, you can get hold of 18 languages available in your settings, multilingual voice responses (IVR), and localized voice prompts, to connect globally.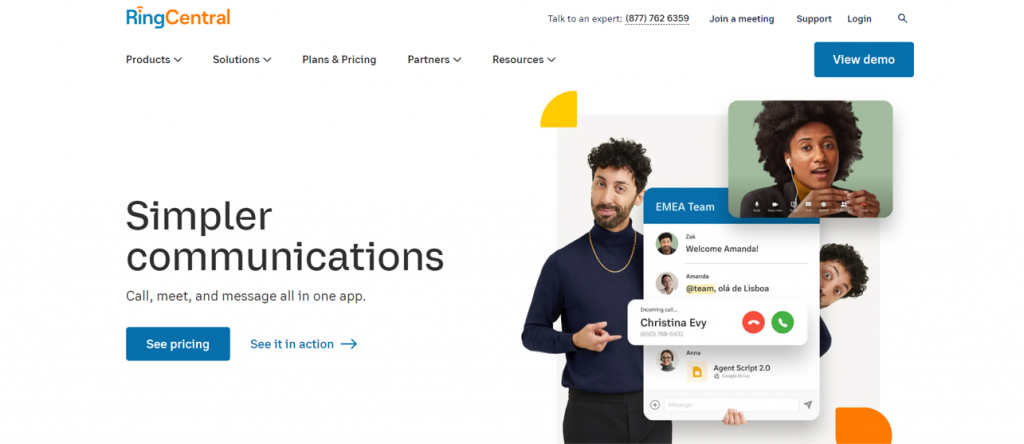 Manage Your Trips With Travel Agency CRM
Let's be honest, businesses run because of customers. None of the marketing strategies can meet your ROI (return of investment) expectations if you don't capture quality leads, convert them into prospective opportunities, win them and repeat business. And within this orbit of a prospect's journey from a basic lead to a solid customer, lies Travel Agency CRM. Built on top of the renowned Zoho CRM, this tailored travel CRM tool extensively helps you in landing new customers, strengthening relationships with them, and becoming their 'No.1' agency.
Apart from the abundant features that this CRM comes along with, to help you manage relationships with each of your customers, it also helps you as a trip booking engine.
Engineer FITs (Flexible Independent Trips)
FITs or flexible independent trips are basically the custom tours that travelers often opt for. Travel Agency CRM documents and streamlines each of your customer's information in the central database. It automatically creates a 360-degree holistic vision for you whenever you successfully convert a lead into a contact and a trip so that you can gauge their preferences.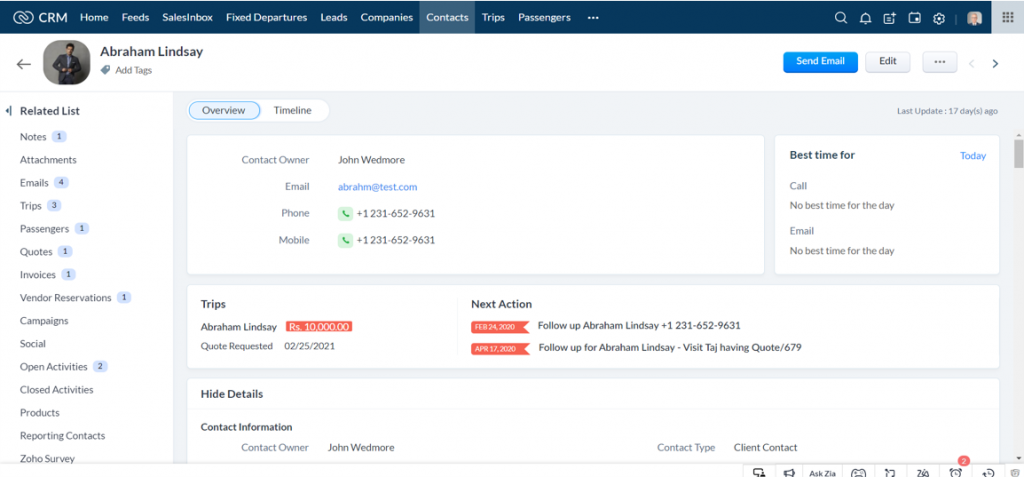 For a typical FIT scenario, you might also need to engage with multiple vendors to suit your client's requirements. Thanks to this CRM tool, it has a vendor module where you can stack and manage your vendors, send out reservation requests via email, keep track of their responses and record payment details.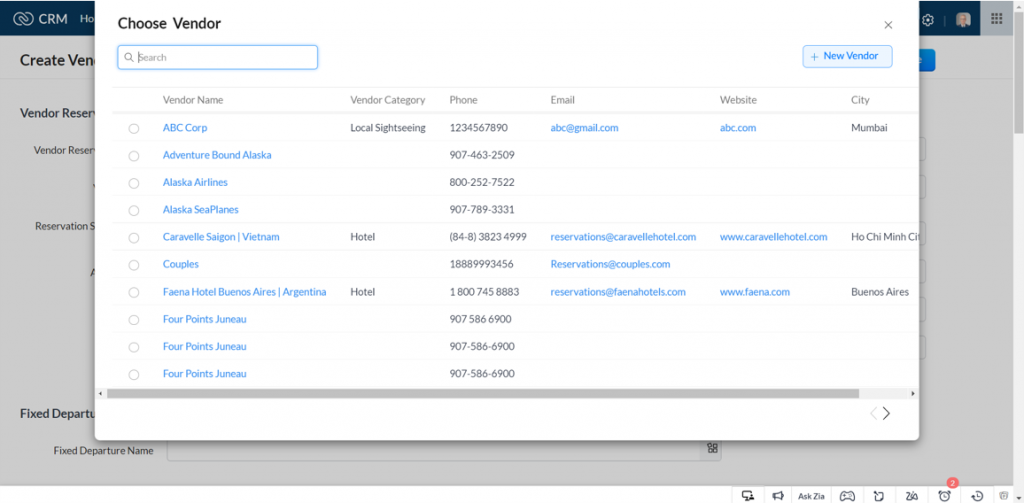 Manage Fixed Departure Trips
Travel Agency CRM works wonders on your behalf. It can even efficiently manage your fixed departure trips. But before you start with them, you need to delineate a design for a particular trip. This includes the destination, tourist spots, the start and end dates, and accommodation capacity (the PAX/ headcount number of passengers and the number of available rooms). And once these trips start engaging website traffic and people start booking, the CRM tool effectively captures all the details. It updates you on the confirmed trips, calculates the balance capacity concerning the accommodation facilities, and auto-populates information in the respective fields. The tool even informs you about the number of generated leads, how many of them are confirmed as trips, and a list of vendors required for a particular trip.
You can create your trips as different products to make your quotation and invoice generation procedure simpler and faster. Hence, end-to-end trip management in a true sense.
Keep Track Of Your Accounts With Zoho Books
Zoho Books is all about efficiently keeping your financial accounts in check. It is a super-intuitive and comprehensive platform that keeps a diligent tab on your accounts. From negotiating opportunities, calculating the due balance to generating invoices, this software application does it all. It ensures that your business stays GST compliant. You can send out your quotation, convert them to GST invoices, and even get paid online. It even helps you manage vendor commissions and payables as well.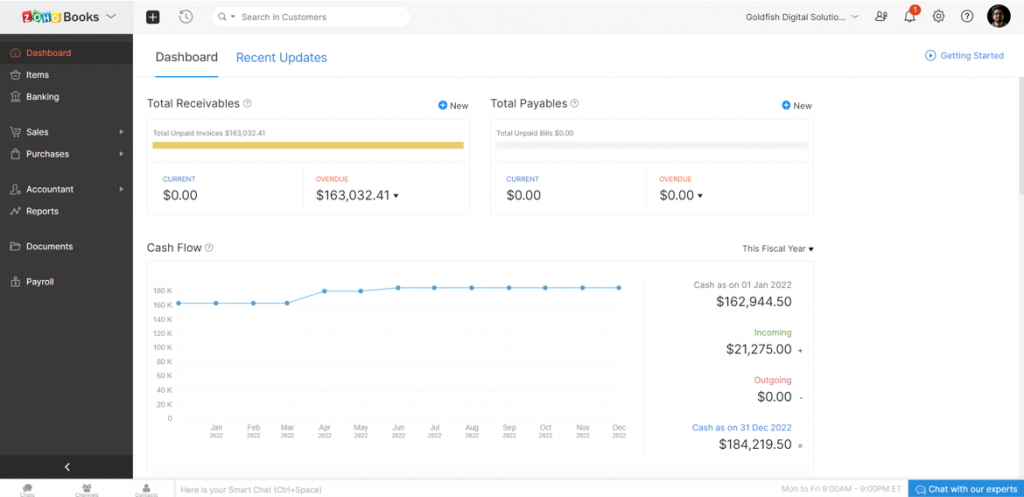 Earn Feedback From Your Customer With Zoho Survey
The simple trick that has proven extremely beneficial for most businesses is customer feedback. We believe that you have already provided your clients with the best travel experience they could have. Now it's your time to gain winsome feedback in return. And this can be done efficiently with Zoho Survey. It is a platform that helps you create multiple survey forms in minutes. With 25 different question types and features like skip logic and piping, this software tool lets you customize your survey theme and suit your brand style. You can create your surveys for every screen size, share them with everyone on your social media or email campaign lists. Once you collect your valuable feedback from your travelers, you can analyze their response trends and make informed decisions.
This survey feedback plays a vital role in helping you understand your customers and gives you a chance for betterment. Plus, it's a given that your clientele will appreciate your brand value even more when they feel listened to and see their feedback being acted upon.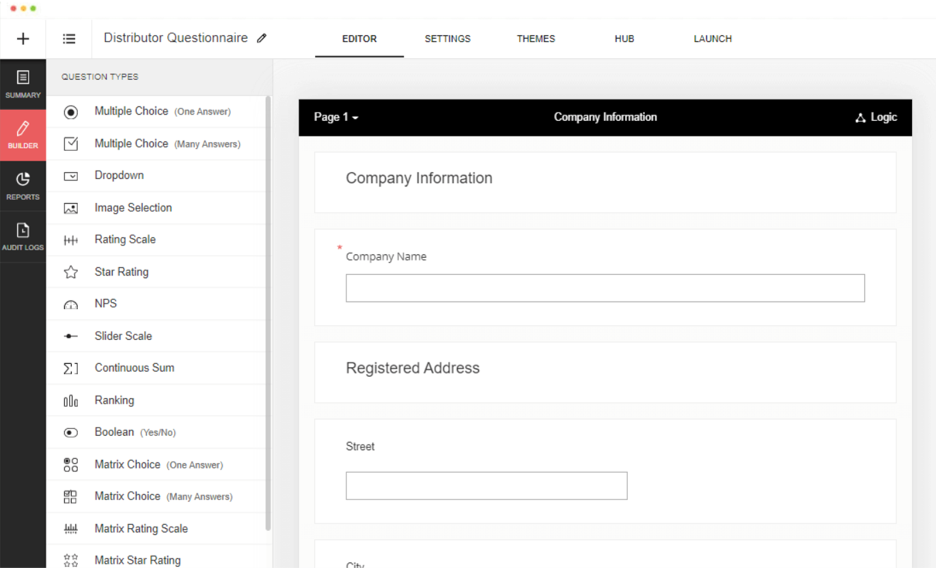 Bottomline,
It is our mission to bring to light the best software tools for travel agents. And this was a precise list of applications that you can leverage to grow your business to its full potential. You can offer unique travel products and services by implementing these applications, tweaking them perhaps, to suit the needs of your bespoke business plan, and leverage them to lift up your value proposition.
So schedule your 90 mins no-obligation consultation today, the beginning of your golden period starts now!