Better Manage your Properties with the Real Estate Developer CRM
Aug 24, 2021
Having a Real Estate Developer CRM is a boon for Real Estate Development Business. The Real Estate development business is growing rapidly all across the world. Statistics show that this particular industry increased by 30% from April 2020. With the Real Estate Development business seeing such a huge shift in the market, it is very important for you to stand out in the competition and deliver its best.
However, the Real Estate Development Business faces several challenges in terms of operations. Managing all the properties, maintaining their details properly, conveying the same to the clients and generating contracts can be daunting when executed manually. Particularly with the growing number of customers and property developments, it becomes extremely difficult to manage the business processes properly.
Well! Here is a solution for you. The Real Estate Developer CRM is a completely customized solution for the Real Estate Developer Business. Tailored to meet all the unique requirements of the Business, this CRM solution helps you to manage your properties properly, schedule meetings, generate contracts and much more.
In this article, we will speak about how you can better manage the properties of your Real Estate Developer Business using the customized CRM solution. So, let us begin!
Challenges faced in Property Management
Managing projects, buildings and units
Being a Real Estate Developer, it is quite certain that you need to maintain projects, buildings and units of your developments simultaneously. This task often gets quite strenuous for this Business. Manual operations make it quite challenging to keep a tab of all the developments and projects. It gets quite challenging to manage the correlation between projects, buildings and units with the help of spreadsheets.
Also, scaling up of the business brings several properties under your control. This makes it even more difficult to maintain and update accordingly. Using spreadsheets and files also makes it difficult to deal with the payment status of each property. During a client query, you will need to look through several files and folders to find out the correct information. This can get quite time-taking and may result in your business losing a prospect.
As such, you will need a customized CRM solution to manage your projects, buildings and units effectively.
Maintaining multiple types of properties
Maintaining multiple types of properties serve as another big challenge for the Real Estate Development Business. A client often receives two or more floors of a building as a single package. Suppose for a commercial property, a client asks for an office floor. The office floor can come with a parking space as a package and sold to the client. As such, it is very crucial to store this information properly. Manual management can result in registration or updation errors which would convey incorrect information to the clients.
Along with this, it is also important to pay attention to the various unit specifications. For every different type of unit, the specification is different. Thus, it gets quite challenging to store these varied details in a spreadsheet. The process of finding the information from the spreadsheets will also take up a lot of time.
Whether it is a residential property or a commercial one, you have to store all the crucial details of the developments. The organization can easily misplace such huge amount of data. This can disrupt the business processes.
With multiple types of properties to handle, it also gets quite disoriented for the business. Details can easily get mixed up which will result in management challenges. So, it is quite crucial to adopt a system which helps you to maintain and move seamlessly through the different types of properties.
Maintaining the status of each property
For real estate development business, a particular property goes through various stages of the sales cycle. Real estate sales have a long life cycle. Manual operations make it quite challenging to maintain and manage each stage properly. Information and updates stored about each stage in a file or spreadsheet can easily get lost.
A particular real estate developer business deals with several developments and properties simultaneously. As such, it gets quite tough for the business to maintain the status of each property properly. Incorrect details makes it very difficult to update the status of the developments and units. It also gets quite challenging to keep a track and monitor the status of the properties properly.
Inaccurate tracking of the status can also result in the clients getting wrong information. With several details to handle about the properties and their statuses, information can also get mixed up which poses another big challenge for the real estate development business.
Overcoming the Challenges of Property Management using Real Estate Developer CRM
Better property management with Real Estate Developer CRM
Real Estate Developer CRM allows you to manage your properties like never before. You can easily check the various developments, units and buildings and track them accordingly. You can also save and view any information with much ease. The Developments module is also integrated with Google Maps which helps to share the location easily with your prospects and clients.
To check for the various properties and developments of your business, navigate to the "Developments" module. This will provide you with a list view of all the developments of your projects. You can also filter out the developments by Activities, City etc. A click on a development project will provide you a list of the various buildings and units under the project, laid out in a proper fashion.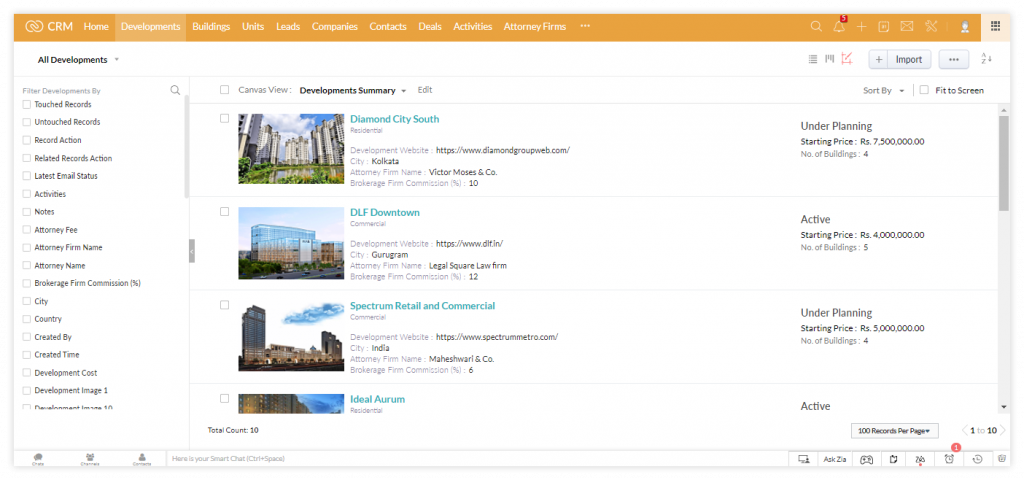 To get information about the various units within a particular building, you need to click on the building. The units are categorized into four main types which are Main Unit, Parking Unit, Cabana Unit and Storage Unit. All the details including the Unit price and the Unit Status will also be visible to you, making property management easy.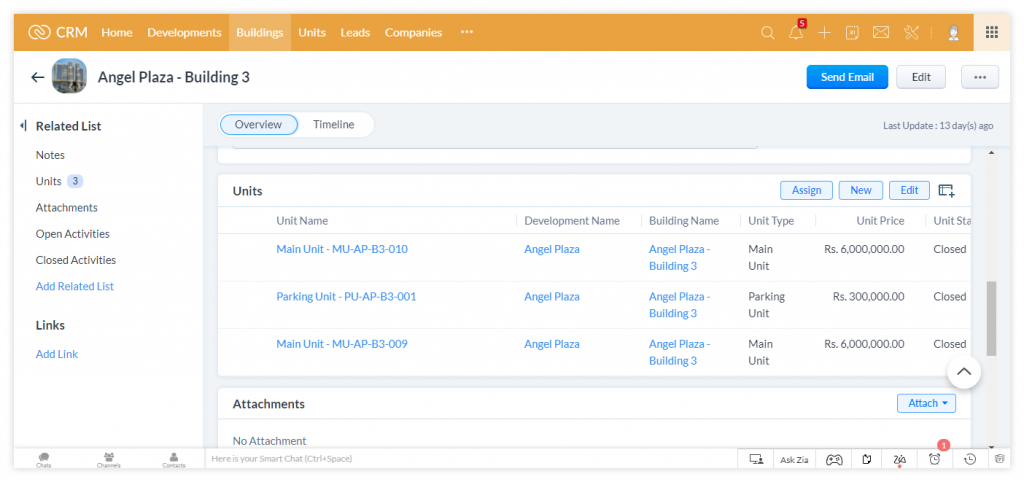 Stacking Plan Report to maintain status of each property using Real Estate Developer CRM
With the help of the Real Estate Developer CRM, you can generate a stacking plan with just one click. The Stacking Plan Report helps to maintain the status of each property unit within a development by buildings and floors. Different colours are coded to represent the different status for the units. As such, it becomes relatively easy to identify the available properties at a glance.
The stacking plan also helps to reduce mistakes, save time as well as energy. As such, negotiations do not get stalled with your clients and they leave with a happy face.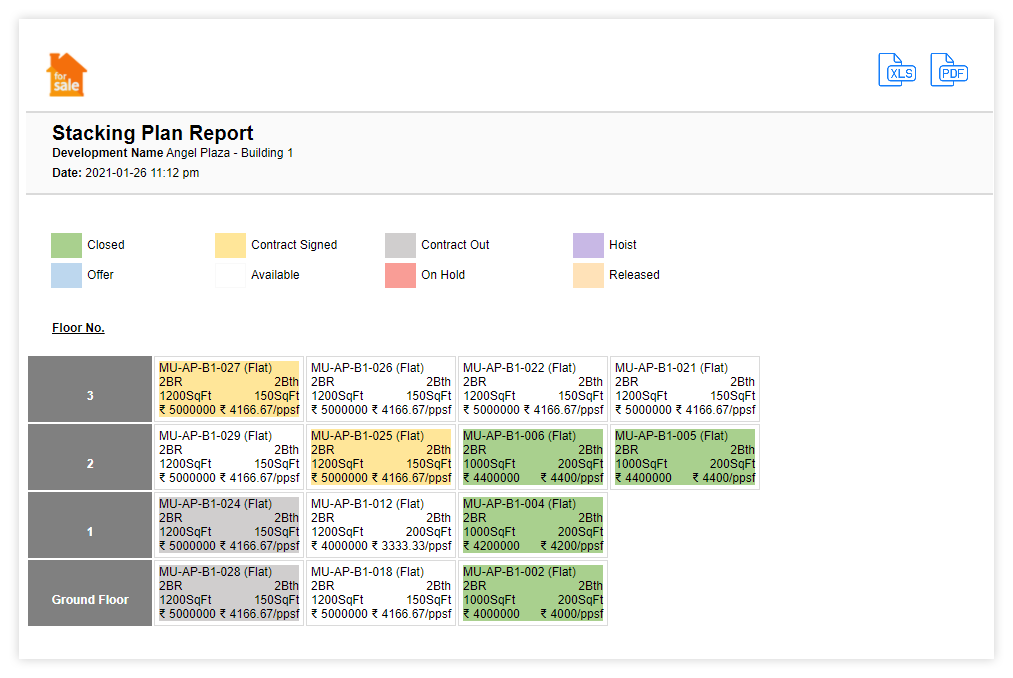 Manage Contracts easily with Real Estate Developer CRM
A complicated component of each real estate transaction is generating the first offer, monitoring counter bids, managing the status, and managing legal expenses. Not any longer! The Real Estate Developer CRM automates the whole process by tracking offers and stages properly, as well as managing legal expenses.
Once a deal with a client progresses, you can check and change the status accordingly. The solution will also give you constant reminders so that you can update any sort of crucial detail and never miss out on one.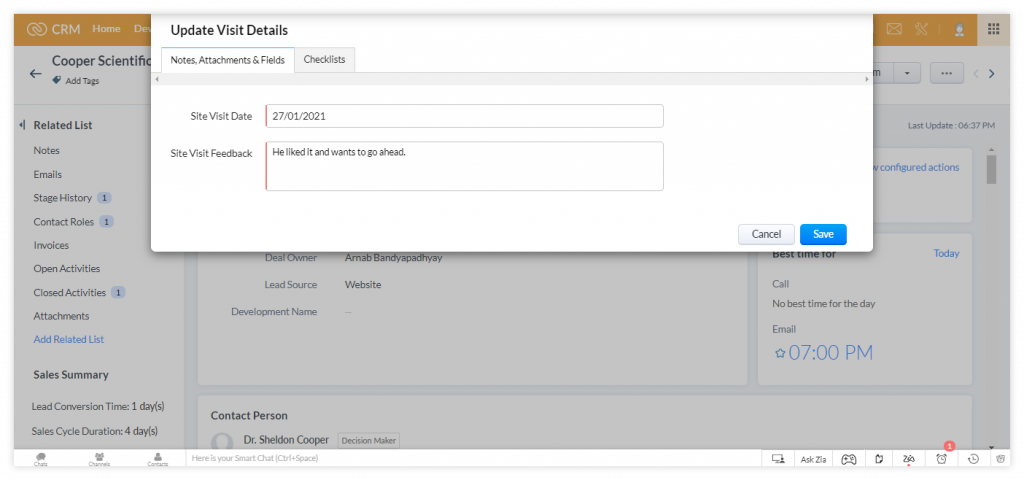 Once you select a particular unit from the list of units displayed, you can update the first payment offer of the buyer. After reaching a mutual agreement, you can seamlessly generate the contract offer form and send it to the client. Click on the "Generate Offer Form" option and get the deal information immediately filled in.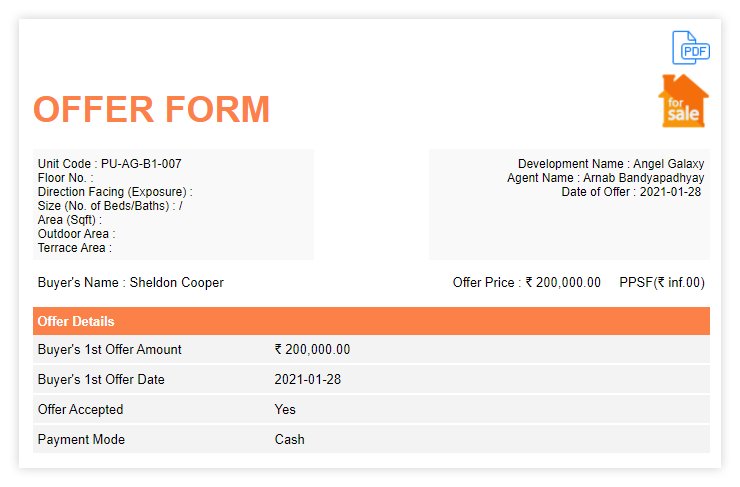 Thus, you can see for yourself, contract generation and management has never been easier than this! Simply complete relevant tasks and cross out the checklist for generating contracts. And Voila! Your CRM implementation is a roaring success.
Conclusion
With the second largest workforce employer, the Real Estate Industry is a profitable business. As such, it becomes extremely crucial to take care of all the business processes properly. However, there are certain operations which Real Estate Developers find really challenging to execute properly.
However, with the implementation of the Real Estate Developer CRM, it becomes extremely effective for Real Estate Development Business to resolve these challenges quickly. Moreover, the solution is affordable, comes with an array of unique features and can be used in any electronic device.
Interested to learn more? Contact us and get your queries answered. Get in touch with us for a no-obligation demonstration today.