Build Up Solid Customer Relationships With Zoho One For Distribution
Nov 2, 2022
Are you still stuck with the old book tricks and without technology? Wake up, it is high time for businesses to transition to digitization and evolve with it. No matter which industry we work for, the fundamental step towards making a successful business is maintaining relationships with our customers. Likewise, as the distribution industry contributes largely to the global economy, it is naturally gearing up for minimizing customer effort and maximizing exceptional user experience. Now, don't you think that advancing your business with digital tools will help you make significant changes in the current working model and improve your efficiency? So, this is us presenting Zoho One for Distribution which plays a major part in building up strong relationships with your customers. 
As B2B professionals, distributors do business with dealers and retailers and not directly with end consumers. Therefore, the middlemen (dealers and retailers) become the literal lifeblood of their business. Building and sustaining relationships is an essential part of your business. While Zoho One for Distribution comes as a power-packed suite of apps, the CRM (Customer Relationship Management) and Zoho Desk act as the prime expert tools for the purpose. In this article, we will explore how they help you in strengthening solid customer relationships. 
Data In A Centralized Space
When you start growing your business, you will naturally try to optimize your time. Now, what if I tell you that you can manage your business from one centralized space? The home page of our Zoho CRM application comprises all the crucial matrixes of your business keeping a unified space. Be it the number of leads that got generated in the current month, the number of deals you have in hand, or the total revenue– you can access every essential piece of information that requires your immediate attention. Plus, when you scroll down a little, you can also view a series of open tasks that you might have left unfinished, along with their respective owners, related deal, and so on. What's more, our CRM fills you in with real-time updates about your business so that you can stay informed, always.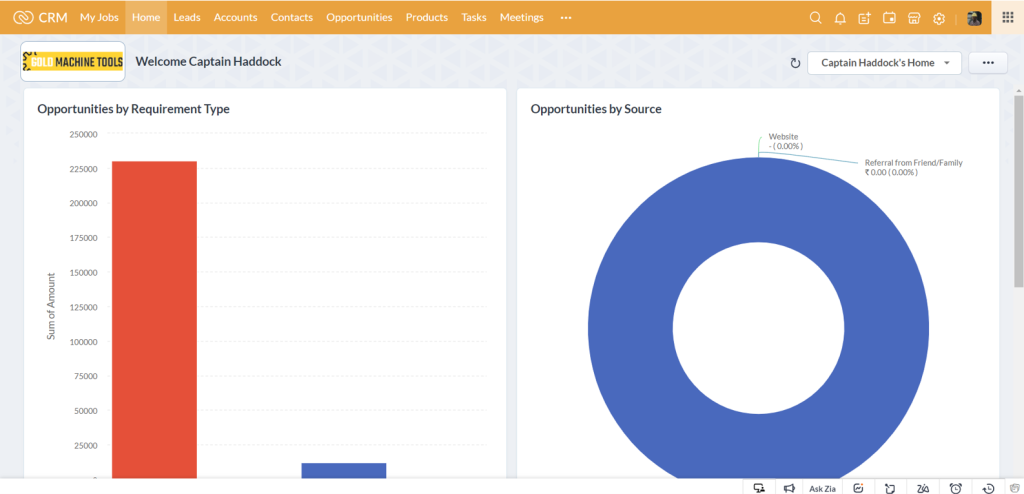 Capture Multiple Leads At A Time
Leads are the cash crops on which your business partially stands. Without them, there is no practical future. The primary source of lead generation for distribution businesses is website landing pages. Other than websites, you can promote your services via Google advertisements, referrals inbound calls, social media channels, and so forth. Our CRM solution helps you capture your leads to a great extent. When an inquirer browses through your services, they can enter their initial information via a pre-embedded webform so that our CRM automatically captures their information and rightfully stores the same in a separate new lead record.
You can also implement Zoho SalesIQ as an omnipresent channel that greets your customers and caters to their immediate queries with canned responses. You can build this live chatbot and use it persistently as a medium of proactive communication with your leads. Our CRM collects the chat transcripts in separate entries for each of your leads.
Qualify Your Prospects With Zoho One
As a distributor, not every lead that you get is the right one for you. It is critically important to qualify them first before you get into any kind of discussion with them. The moment our CRM captures a lead, it automatically sends out an acknowledgment email along with a questionnaire link so that your prospect can share all the relevant details seamlessly. This questionnaire covers all the information fields that you might require. Such as the organization name, website URL, the number of employees, and so on. You can even mark essential questions as mandatory as well. And once they submit their information, our CRM instantly captures it under the particular lead record which you can even download in a PDF format. So easy and so effective!
Onboard New Dealers And Distributors
The immediate step after qualifying your leads is getting new dealers and distributors on board which Zoho One for Distribution makes super-easy for you. Once your prospects have shared their details, you can evaluate their merits and send a contract in response. As our CRM is integrated with Zoho Writer you get pre-defined templates with which you can easily generate your agreements in quick seconds. Since it is a paperless world today, you can even put your digital/ e-signature with Zoho Sign, and share it via email. Once they receive the contract, they can review the same and digitally sign it from their end. Our CRM instantly notifies you about the progress of your prospect so that you can insert the current status as 'contract signed, which lands us on the next stage– automated conversion.
Get A 360-Degree Single View Of Your Clients
After you are done evaluating their potential and the nurturing process, you can move right away to conversion. With just a single click, our CRM solution profiles each of your customers as a contact, company (since these are B2B opportunities), and deal. All these aforementioned records hold module-specific details. So for example, if you get inside a contact record for a particular client, you can see a 360-degree contact-specific view. It includes their address information, the related deal or company, and also the best time for communication. Depending on your previous manual interventions, our CRM rightly ascertains the probable time for communication. Super cool, is it not?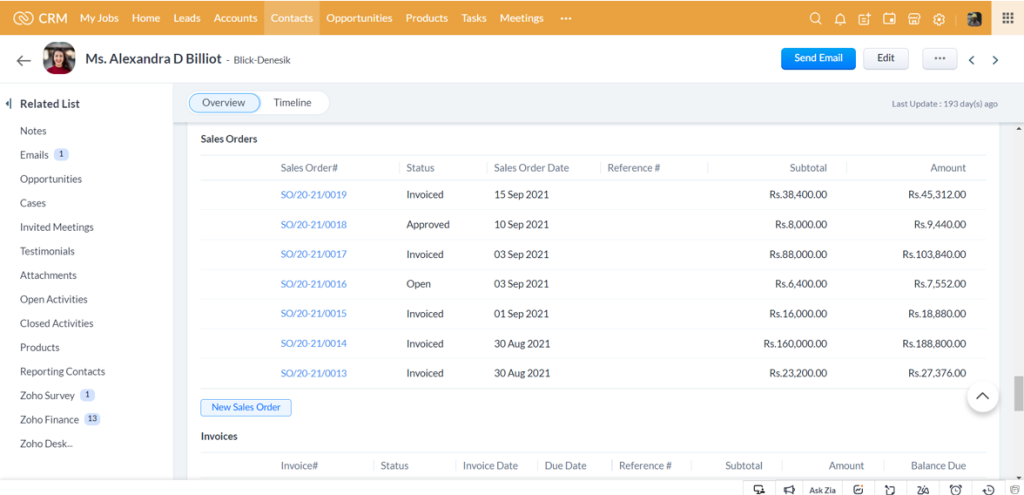 Empower Your Customers To Raise Sales Orders
While Zoho One for Distribution has plentiful advantages, the foremost mention-worthy benefit is the sales order management app built on top of Zoho Creator. Not only does it reduce the immense workload of your sales team but also increases the sales volume to a great extent. When you convert the lead into a contact and account, your client's information immediately gets synchronized with the sales order management app which creates a new distributor. So that you can invite them to join the sales order portal. They can sign up with their own credentials and log in to the application to raise sales orders at their convenience. Once a sales order is raised, you can review that at your end and accept/ reject that. The sales orders get synced with Zoho Books as well, so that your accounting stays up to date. Fascinating, isn't it? 
Assure Your Customers With Support
Of course, you want to deliver the best experience to your dealers, but to assure them with 24*7 support is what really does the trick in strengthening your relationships with them. Zoho Desk becomes real beneficial in this regard as it advances you to deal with dealers' issues centrally. For redeemable issues, they can opt for self-service by availing of the pre-embedded FAQs on the website. For complicated issues, they can always reach out to you by raising support tickets and even tracking the progress when required. Now, as the CRM already documents your dealers in a holistic single view, your teammates can ascertain the bottlenecks and resolve their issues seamlessly. 
Data Analytics With Zoho One  
Want to work strategically? Of course yes. The reports and dashboards are the key takeaways from our Zoho CRM. These comprehensive modules help you track the progress of every sector of your business. While the dashboards guide you visually, the reports present a contextual view for your better understanding of that too, with real-time updates all the time. Therefore, when implemented correctly, you can scrutinize every bottleneck, and address the issues with informed decisions.
Bottomline,
Zoho One for Distribution is the complete solution with a club of expert applications for your benefit. It comes with an easy-to-use interface and super-flexible features. We have helped 700+ businesses so far, we believe yours could be our next one!
And mind you, the CRM is just an integral part of Zoho One. Watch this factual video to understand the process even better!
Intrigued enough? So click on this information link and make a world of difference in your business!