Entertainer CRM: Best Features To Look Forward
Feb 3, 2022
While the evolution of digital information management is shaping up the global marketplace, it becomes super important for you to choose the right CRM solution for your show business. Designed especially for magicians, musicians, singers, and DJs, Zoho CRM for Entertainers is the all-in-one solution that you need today to hustle your gig.
Customers are literally the boons for running a business. And it's extremely imperative to manage them all at the same time. However, for a showrunner or a performer who's too tied up to maintain backend proficiency, Entertainer CRM is just the perfect solution. It is a Customer Relationship Management software that helps you bring efficiency and precision to your sales operations and escalate your business improvement.
In this article, we will walk you through the best features of this CRM solution that entertainers or media representatives can implement for their business expansion.
All-Encompassing Data Hub With Entertainer CRM
Imagine one single screen from which you can manage your whole business, how cool will that be! Well, with Entertainer CRM, it's possible. The homepage comprises the most crucial metrics of your business which you can access at any time and from any device whatsoever. Be it your lead generation number, the number of opportunities you have in hand, or the current month's revenue generation, you get access to everything from this page. On the plus side, you get real-time updates whenever you access this CRM solution. And not only this, our CRM system shows you a series of open activities that might be left for completion. You can check the task owner, activity type, related client, and the current status of the activity in the section. You can even add your preferred dashboards, customize this page as per your choice and define your hub.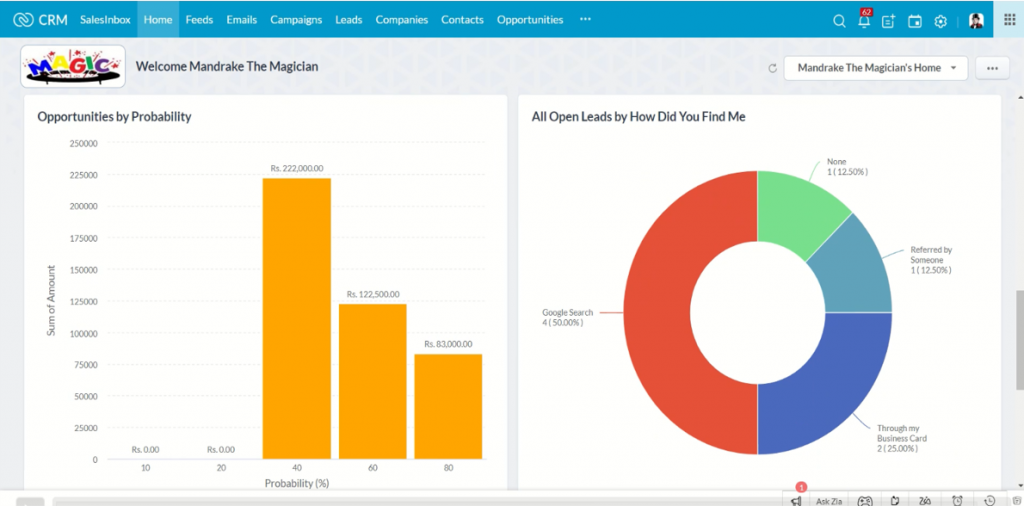 Capture Your Leads
Business leads are the legit cash crops for making a business successful. As an entertainer, you obviously have several mediums to generate your leads like websites, social media platforms, business cards, newspapers, and so on. However, generating leads and capturing numerous of them simultaneously is quite different. But with Entertainer CRM, the job seems almost effortless.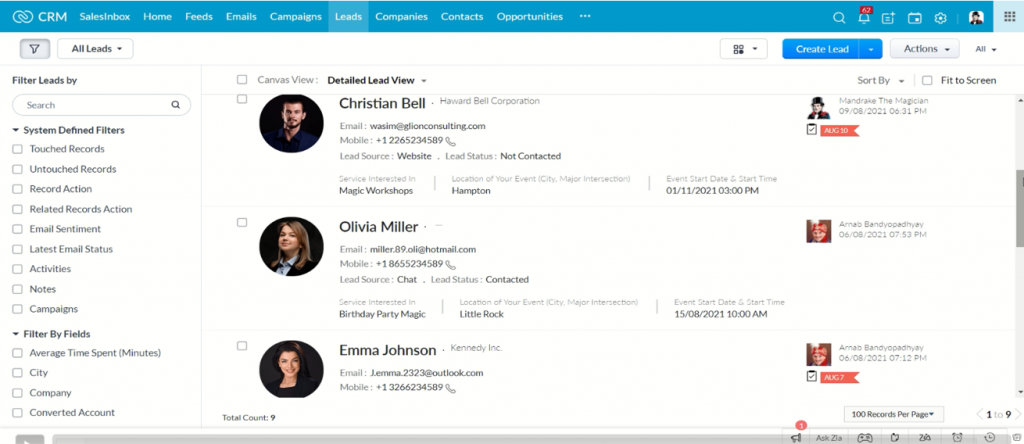 For the entertainment industry, social media platforms like Facebook, Instagram, etc are the hit ones. So you can reach out to your audience and embed your website link on your profile. On your website landing page, you can voice your ideology, your goals, showcase your best gigs and embed a contact form. Now if a lead inquires about your entertainment service, they can easily submit their details. Entertainer CRM captures all the acquired information after creating a new lead record and even notifies your team instantly. Most importantly, you can send out the pricing details of the inquired service right from the lead record.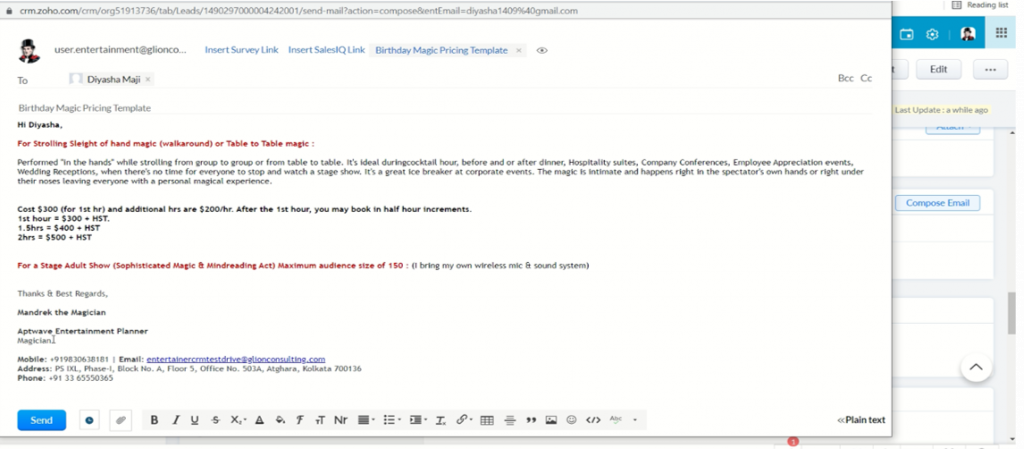 Worried about what to post for your internet community? Take a look at the humungous range of customizable templates from DocHipo which already act like show-stealers.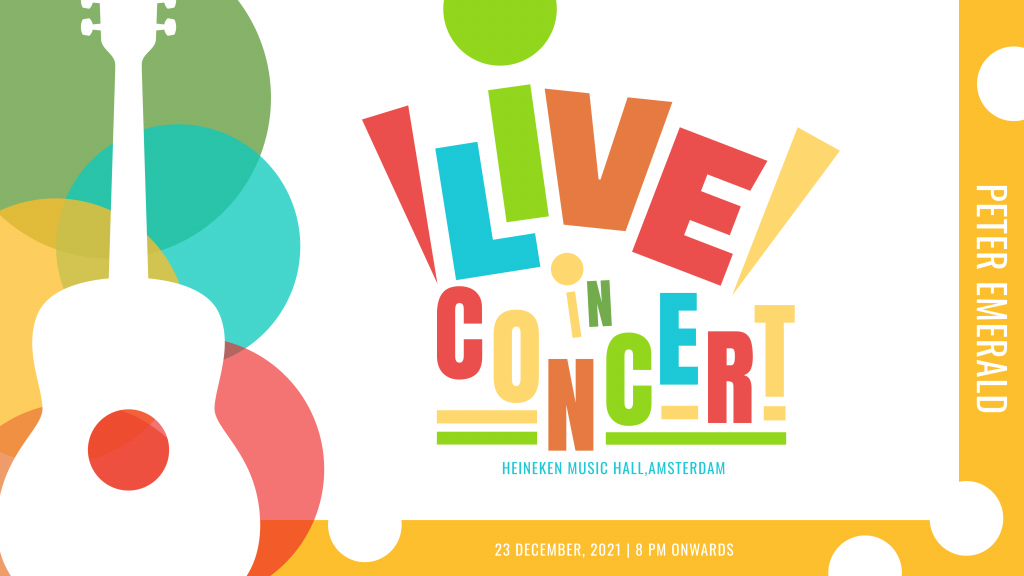 Nurture Your Prospects With Entertainer CRM
Now being an entertainer, it is quite exhausting for you to monitor your acquired leads and nurture them. So you need to delegate your backend workload to your sales reps. According to Startup Bonsai "leads are 9x more likely to convert when businesses follow-up within 5 minutes." Once you receive an inquiry, Entertainer CRM instantly notifies your entire team so that one of them can take it forward for conversion. You can create follow-up tasks, meetings, or calls and distribute them amongst your teammates. Accordingly, they can guide your clients about your products and services. You can even sync your calendar by marking deadlines, or set reminders or pop-up notifications on their behalf so that they never miss an opportunity. All you need is a one-click mention to notify them instantly– this way you don't even need to mentor them individually.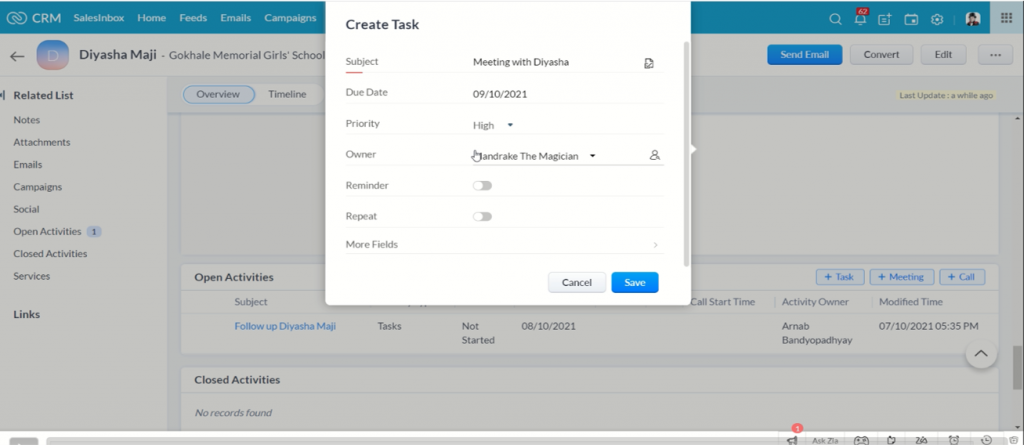 Automated Customer Profiling With Interlinked Modules
The moment you successfully convert your lead after following the BANT (Budget, Authority, Need, and Timeline) parameters, you can create a contact, company (in case of B2B clients), and an opportunity. Entertainer CRM seamlessly creates individual records under each respective module housing all the related details. So for example, if you get inside an opportunity record, you can view the opportunity-specific details, the company name, and the contact person in the related list. Sames goes for the other two. However, you can switch from one module to another in quick succession just by clicking on it. All the modules are interconnected with each other in the simplest possible way.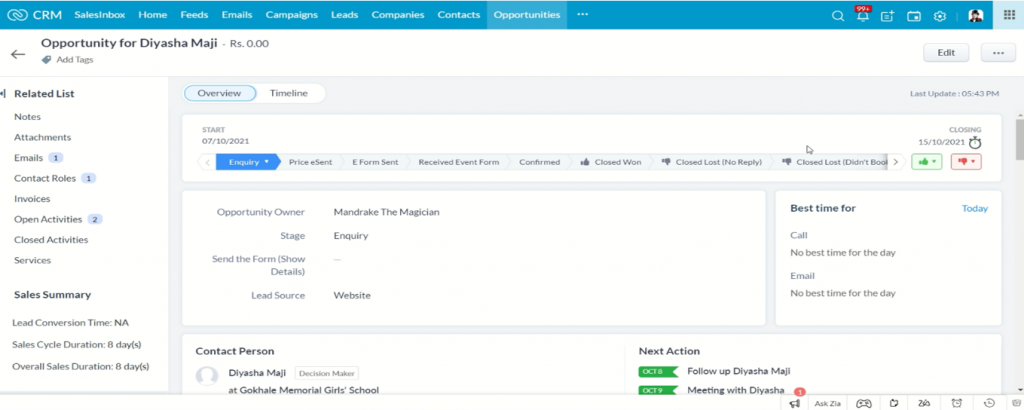 'Show Details' Form With Entertainer CRM
The 'Show Details' form is the marked USP functionality of our Entertainer CRM solution. Whenever you come across a contact who has great potential for being an opportunity, you can send out this form via email. They can fill up the type of event, the number of adults/ kids, the venue details, the onsite contact person details for coordination. Once submitted, you can check your record, and see all the acquired intel rightly placed in every respective field. So instead of you doing it manually and letting your clients fill in their forms, you can save tons of time without errors.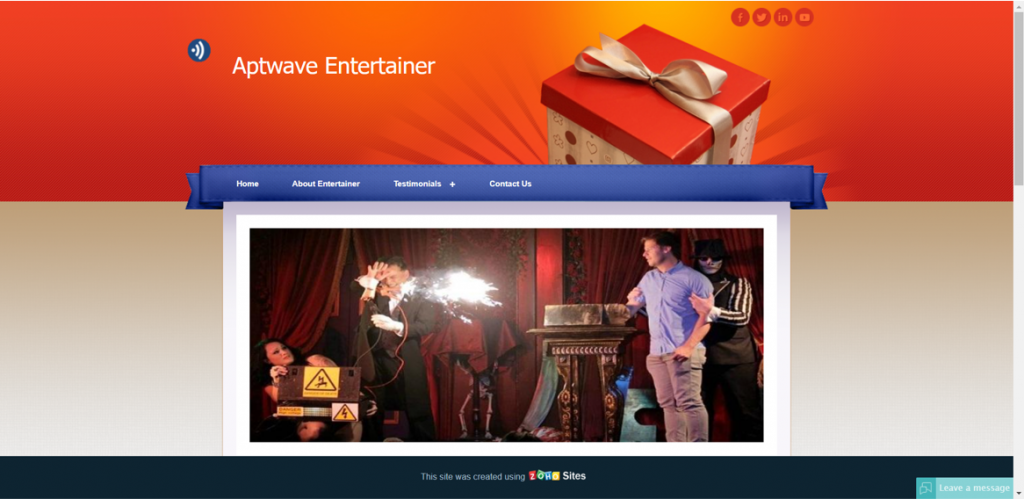 Mark Your Calendar With Entertainer CRM
We are certain that a competent showrunner like you must have a series of events lined up. However, it's practically impossible to remember your booking dates and the particular venues for different opportunities. With Entertainer CRM software, you can efficiently manage your schedule by maintaining a calendar. As you acquire the necessary knowledge about your upcoming events from the 'show details' form, you can quickly synchronize your calendar. You can click on the date, set duration, venue, and prior reminders so that you never fall through the crack. Super cool, is it not?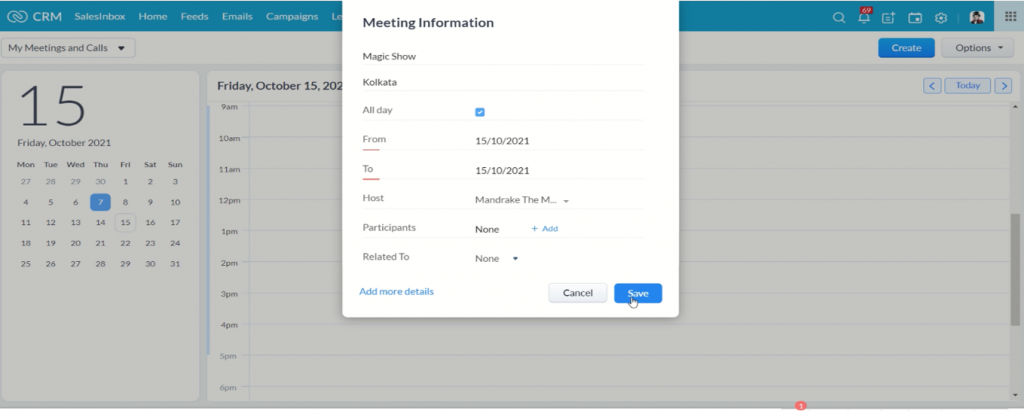 Send Out An Invoice
It is often noticed that most of the entertainers or media representatives require advanced payment for their events. The show details form is almost like approval from your clients as they have already pricing details. Once you receive their consent, you can create an invoice for the opportunity. You can fill up the necessary details like the name of the contact, address information, the product, and the price. Entertainer CRM comes will a pre-defined template. So once you save it, you can quickly generate a stunning invoice template where all the prior inserted details are flown. And send it out to your clients via emails. Just a matter of seconds!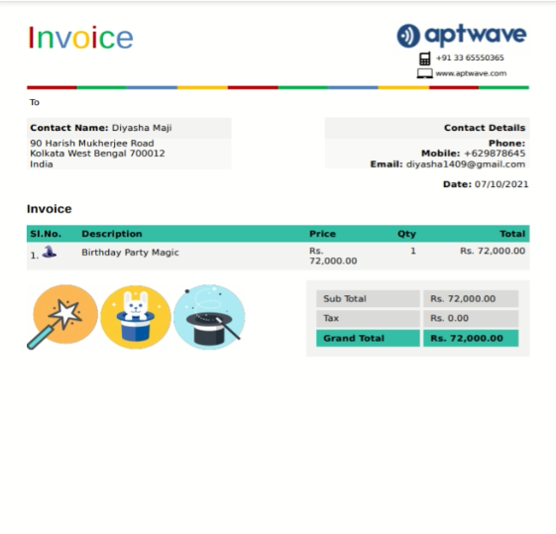 Record Your Payments And Update Sales Pipeline
Once you start receiving some deposits for a particular opportunity, you can quickly get inside the record and fill in the payment details (the date and the amount). Entertainer CRM efficiently keeps a diligent track of your payment details and auto-calculates the due balance. As you receive the full amount from your customers you can update the pipeline status and finish off the whole operation at once.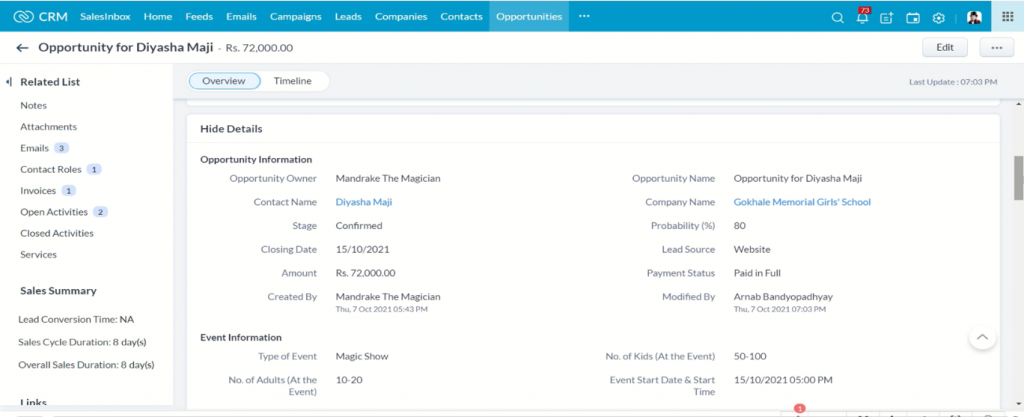 Gain Powerful Insights With Entertainer CRM
We have saved the best for the last. Our Zoho CRM for Entertainers comes complimentary with a series of reports and dashboards which help you comprehend the effectiveness of your business strategies. You can easily detect which tricks are working in your favor and which aren't. You can also view the performance of your team members, and your overall business growth. This dynamic duo always fills you in with real-time insights so that you can innovate, improvise and take faster actions with better decisions. Here's an exemplary dashboard for you.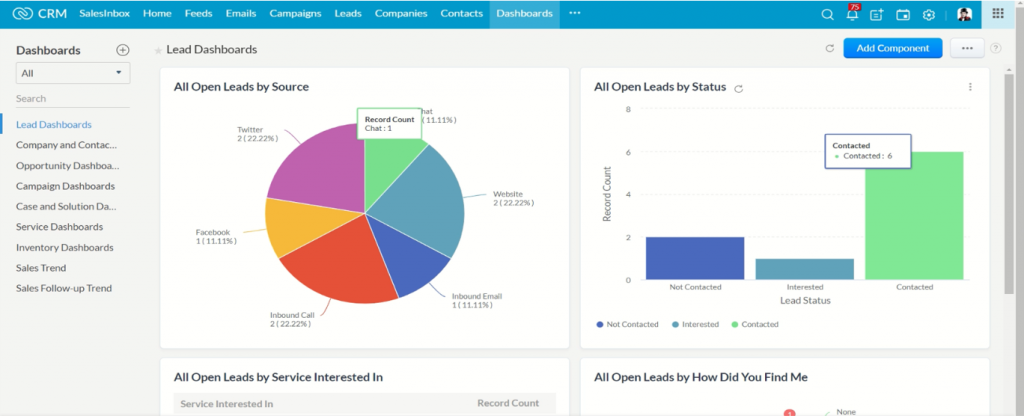 In a nutshell,
Want to expand your business with a well-established sales workflow and automation powers? Of course yes. Then Entertainer CRM is the best software solution that you can find worldwide. Built on the award-winning Zoho platform, this application has the most effective automation features that you need for excelling in your backend proficiency. Take a leap of faith and try it out!
Watch this amazingly factual video down below to visualize the process even better.
Take your business to soaring heights, so buckle up and click on this link. You know there's no time to lose!