Expand And Strengthen Your Customer Base With Law Firm CRM
Jan 12, 2022
No matter what industry you're involved in, losing clients is a serious problem for any business. Of course, how can you even expect to expand your firm if this continues for long? As a lawyer, you should always look for building substantial foundations with your clients for the long-term picture, especially in these uncertain times.
Now as a legal practitioner, is it always possible for you to monitor your admin tasks rather than focusing on cases? The answer is obvious. But clients are the base of your business, thus you cannot take them for granted either. Poor communication can result in damaged relationships with them. That is why we have come up with Law Firm CRM. The abundant features of this CRM solution advance you to grow and retain your customer base with a systematic approach.
This world has evolved with technology and so have our lawyers. They are progressively implementing Law Firm CRM solutions to effectively streamline their customers' journey. Let's explore how!
All-Encompassing Hub For Information
The best hack of using a CRM solution is probably the home page from where you can view the most crucial metrics of your business. We understand that as an attorney, it is not always possible for you to manage every sector of your business single-handedly. So you need to keep a unified space for viewing essential data. Law Firm CRM stands as the most effective solution in this regard. It keeps a centralized space for every piece of information related to your business and updates itself in real-time. Be it your matters by stage or current status, the number of leads that got generated from different platforms, or anything- you can regulate everything right from the home page. You can create or customize this page by adding more dashboards as well- as per your choice.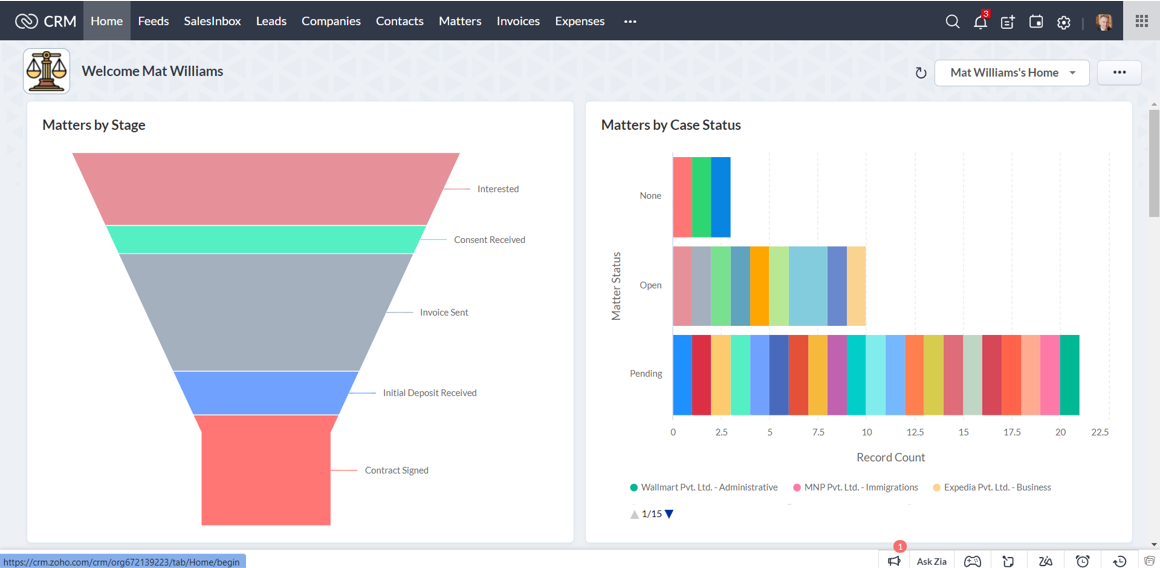 Capture And Nurture Your Leads With Law Firm CRM
Like every industry, legal firms too have various mediums to generate business leads. For example, you can avail yourself of websites, social media platforms, newspapers, business cards, and so on. Law Firm CRM helps you capture multiple leads at a go. As people are getting progressively tech-savvy, they often opt for websites to reach out for assistance. So instead of you filling forms for them manually, you can simply embed a contact form on your website. The moment they submit their details, this CRM creates a new lead entry, captures all the information in respective fields so that you can evaluate and qualify them for further conversion.
According to Law Technology Today, law firms take 3+ days to cater to an inquiry made by a potential client, nearly 42% of the time. However, we need to understand that customers will never wait for too long as they have urgent matters to deal with. It is also noticed that "leads are 9x more likely to convert when businesses follow-up within 5 minutes." Once a new lead gets captured, this effective CRM for law firms notifies the entire team. It lets you quickly assign a team member to follow up and nurture the new lead. Moreover, this CRM solution automatically sends out an acknowledgment email on your behalf so that you can reciprocate your clients' inquiries. All things said and done, even before you ask for it.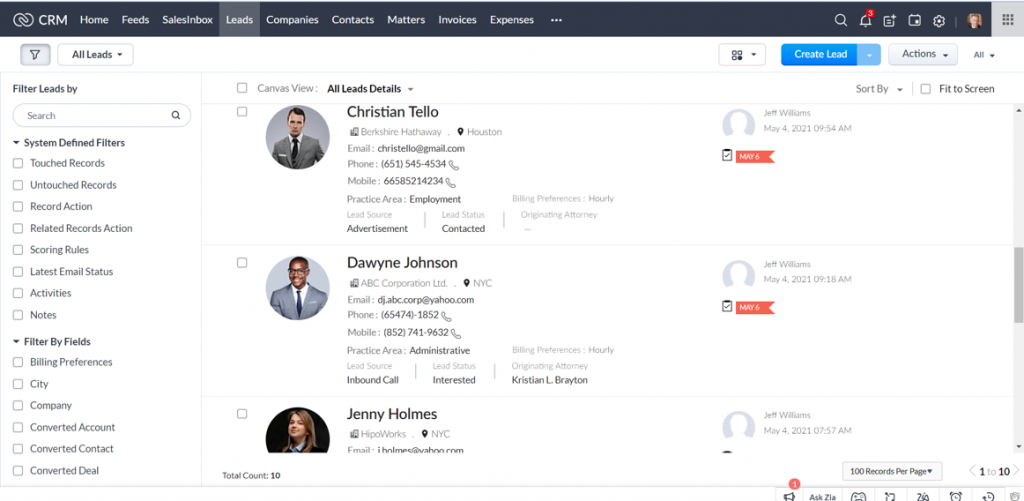 Keep Your Matter Documents Handy
Legal work involves heavy mounds of paperwork which lawyers often find difficult to manage. Now as an attorney, you might have an urgent requirement of your documents for your investigation or for presenting them to the court. Not only does this CRM for legal firms efficiently store all your matters in a single place, but it also helps you attach multiple documents for your future reference.
If you get inside any particular matter record, you can quickly scroll down to the attachment section and view your documents in a streamlined manner. Here, you can easily upload files from your device, documents from Zoho WorkDrive, add multiple Zoho Docs, or even insert links if available. This CRM solution also advances you with third-party cloud integrations for uploading documents. Everything remains well-organized and readily accessible!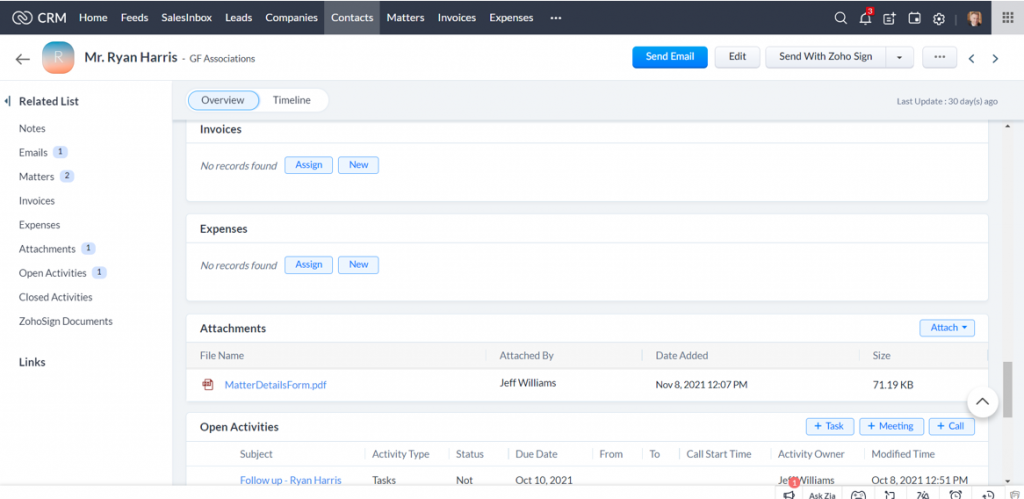 Easy Navigation With Law Firm CRM
All the modules of the Law Firm CRM solution are interconnected with each other in the simplest way possible. For instance, if you wish to view the contact-related details for a particular matter, you can easily access the contact right from the matter record and vice versa. Even from a particular attorney record, you can access information related to the matter, contact, or company. So you see, you can literally switch from one module to another in quick succession. How cool is that!
The picture shown down below is an example of a matter record. All you need to do is scroll down to the contact role or attorney sections and click on the same. And bingo, the respective records will appear before you.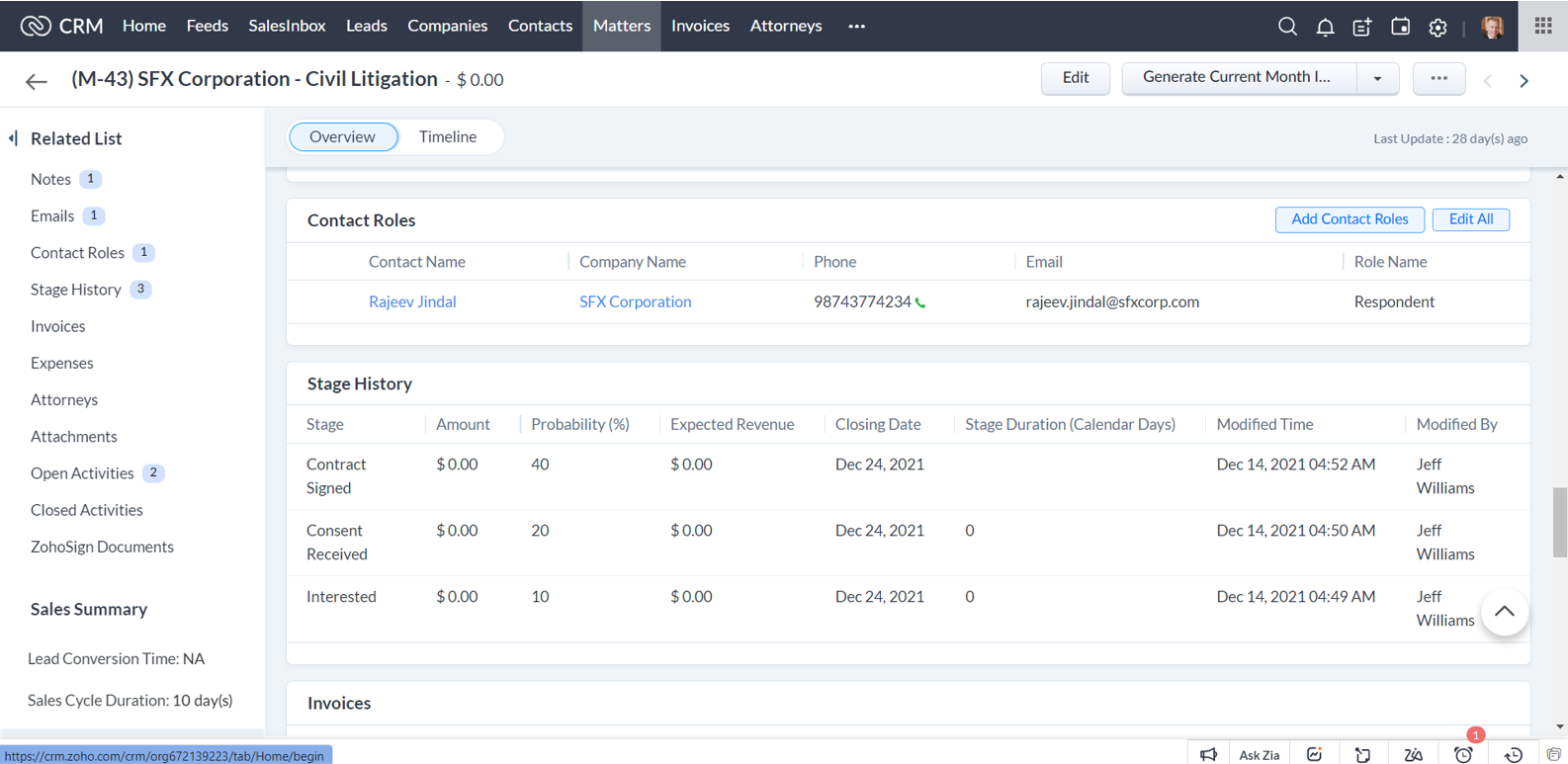 Client Relationship Management
For running a business, you need to multitask and work smart. Especially as a lawyer, it is even more important to prioritize your clients for winning more matters at a faster pace. Not every person who inquires about your legal service will get into your clients' book. So you need to categorize your potential clients following the BANT (i.e, Budget, Authority, Need, and Timeline) parameters. You can suitably detect which of your clients have a greater potential and qualify them later into contact, an account (in case of B2B opportunities), and a matter.
Managing numerous clients all at the same time is an intimidating affair. However, with this CRM for Law Firms, you can make your situation workable to a great extent. When it comes to categorization, you can also segregate your leads or contacts with various filters. You can set different parameters, say, for example, the scope of service or legal fees, etc and apply filters on your search. Such a simple feature yet so effective and time-saving.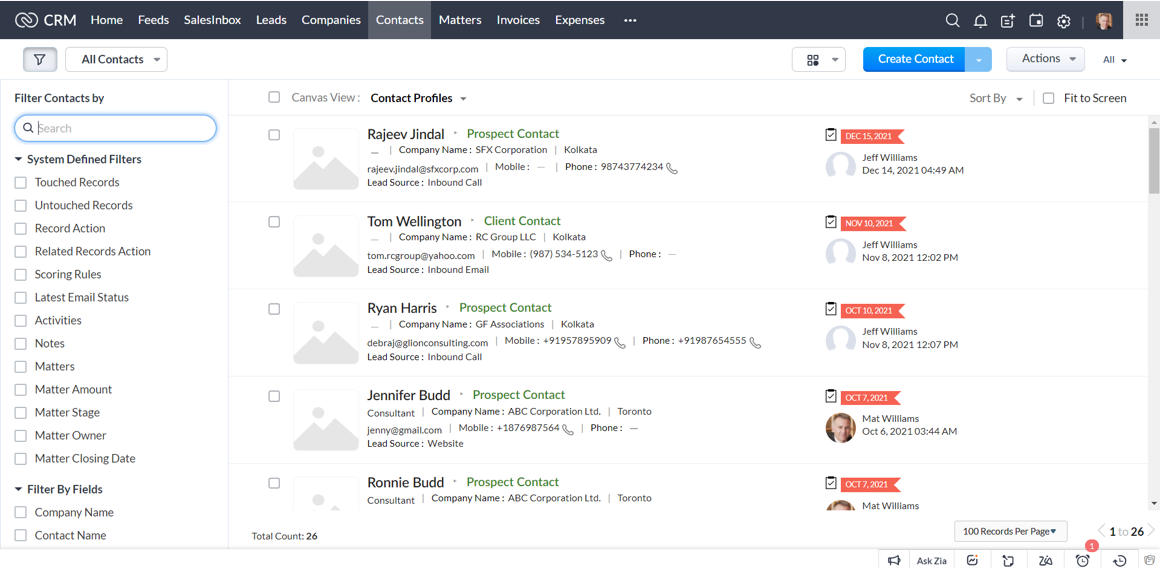 Attorney Management With Law Firm CRM
As the head of a legal firm, you will always try to provide the best legal assistance to your clients. Needless to say, your service acts as the primary reason for repeating business and also a yardstick of your customers' expectations. This CRM for Law Firms enables you with all the information regarding your attorneys. Just like any contact or matter record, CRM stores every detail of your lawyer, whether it's their contact, address information, billing preferences, or previous matters in a streamlined fashion. Therefore, based on these readily available details, you can easily identify and allow your cases to the best-suited lawyers.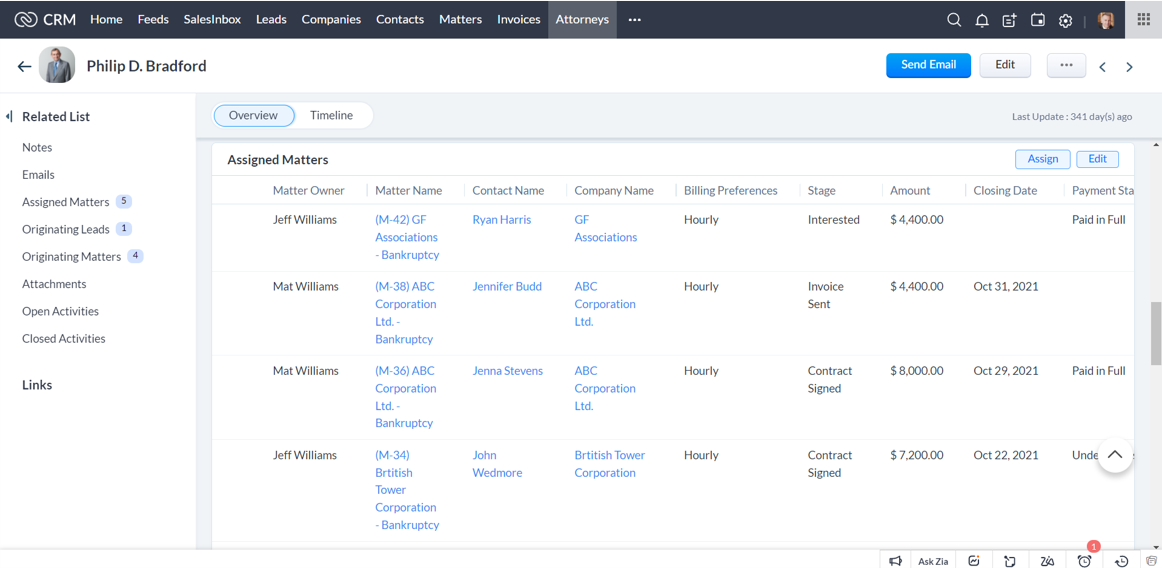 Supervise Your Team With Law Firm CRM
Once you are equipped with this CRM for law firms, you can keep a diligent track of your team members. You can create and allot various tasks for your teammates, set reminders or pop-up notifications, and assign deadlines by marking dates on your calendar as well. All you need to do is mention them for a given task so that they get instant notifications.
You can also monitor which team member is nurturing which client, the current status, priority, the number of tasks that are left to be completed, etc from the home page.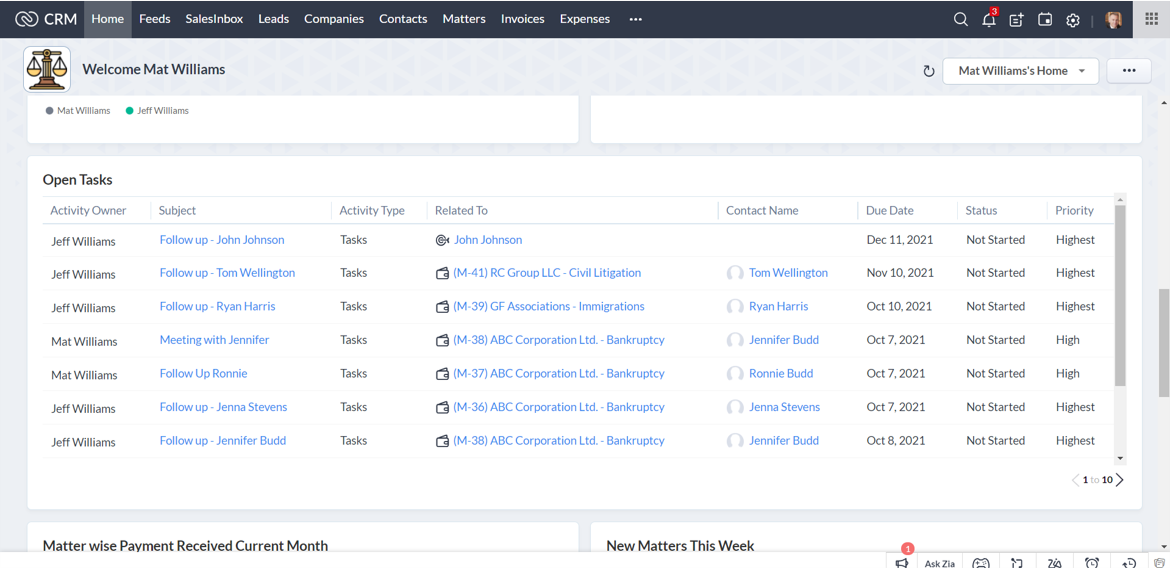 Communicate Better Via Automated Emails
One of the biggest drawbacks of legal firms is their resistance to adopting digital evolution. However, as the massive blow that the pandemic has struck across every industry, we can see considerable growth on their part. Modern-day lawyers like you can start implementing automated features of Law Firm CRM for a better client experience. You can trigger automated email replies for acknowledging your clients or send out email campaigns as well.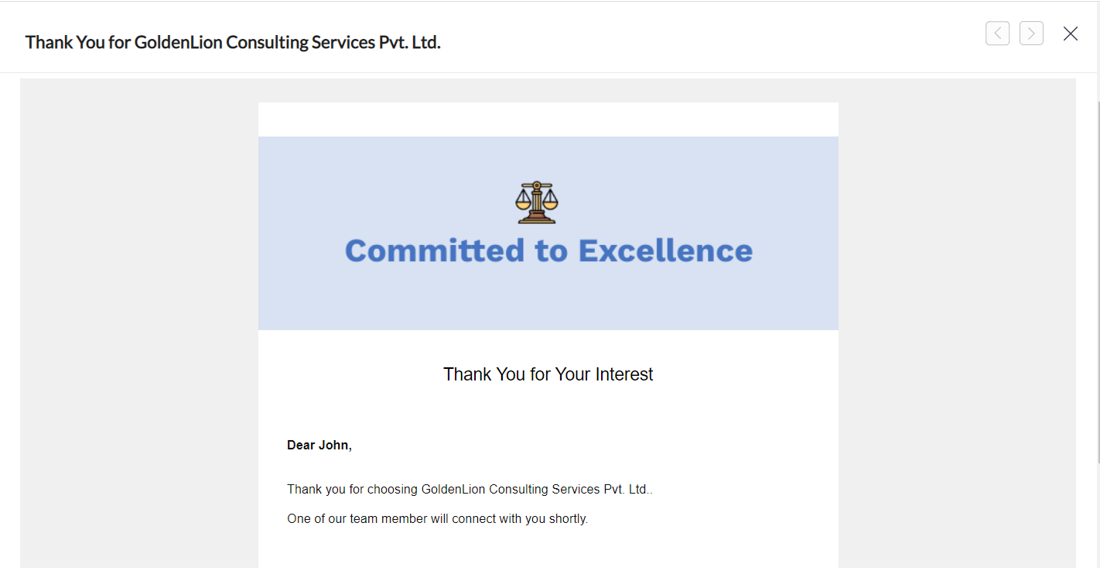 Market Your Brand
Marking a digital spot can remarkably prove effective for your business expansion. You can use social media platforms as an overall marketing strategy. It helps you create your brand awareness and encourage the targeted audience to reach out to you. These platforms help you establish your thoughts, share helpful graphics with informative facts and stats or news updates. You can also respond to comments or queries for better interaction. It helps you maximize website traction and generate numerous leads. And who knows, you might land up meeting new clients as well!
Worried about what to post for your internet community? Here we come with DocHipo to save you the trouble. It offers you a humungous range of stunning templates which you can customize to suit your purposes. Be it an informative infographic, a flyer, email header, or Linkedin banners, this software has everything that you need to create a lasting impression. You must try it out!
Here is an example of an infographic template-

Business In A Bird's Eye View
The coolest features of this CRM solution for lawyers are the reports and dashboards. You can easily comprehend the results of your business strategies from these dynamic modules. It helps you understand which tricks are working in your favor and which ones are lacking so that you can innovate and improvise accordingly. These two modules comprise real-time updates to provide you with actionable insights.
This is how a report looks like-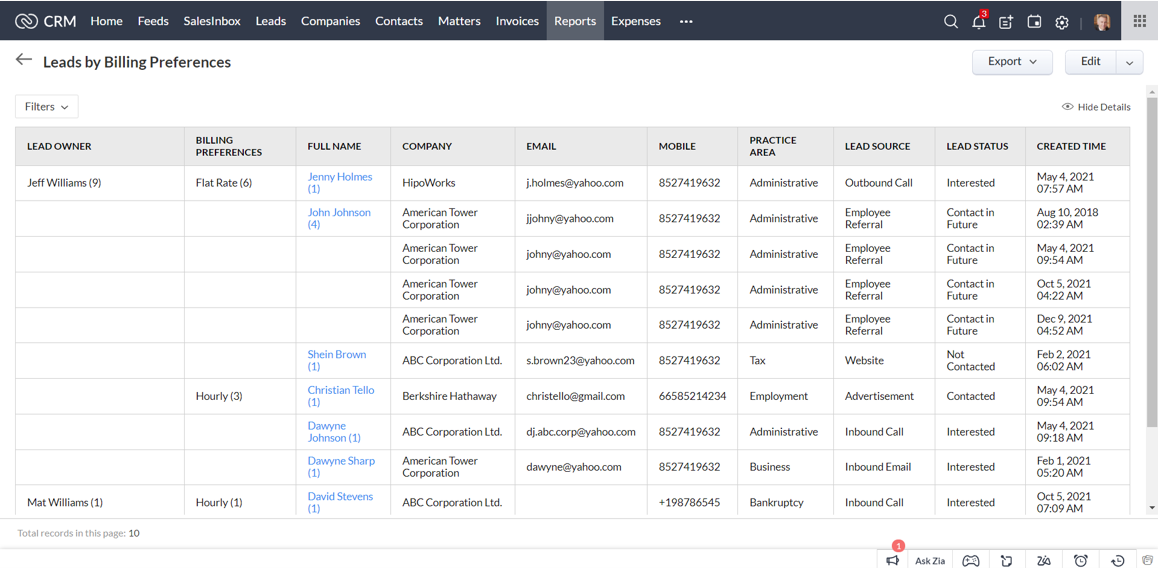 Time for a colorful dashboard-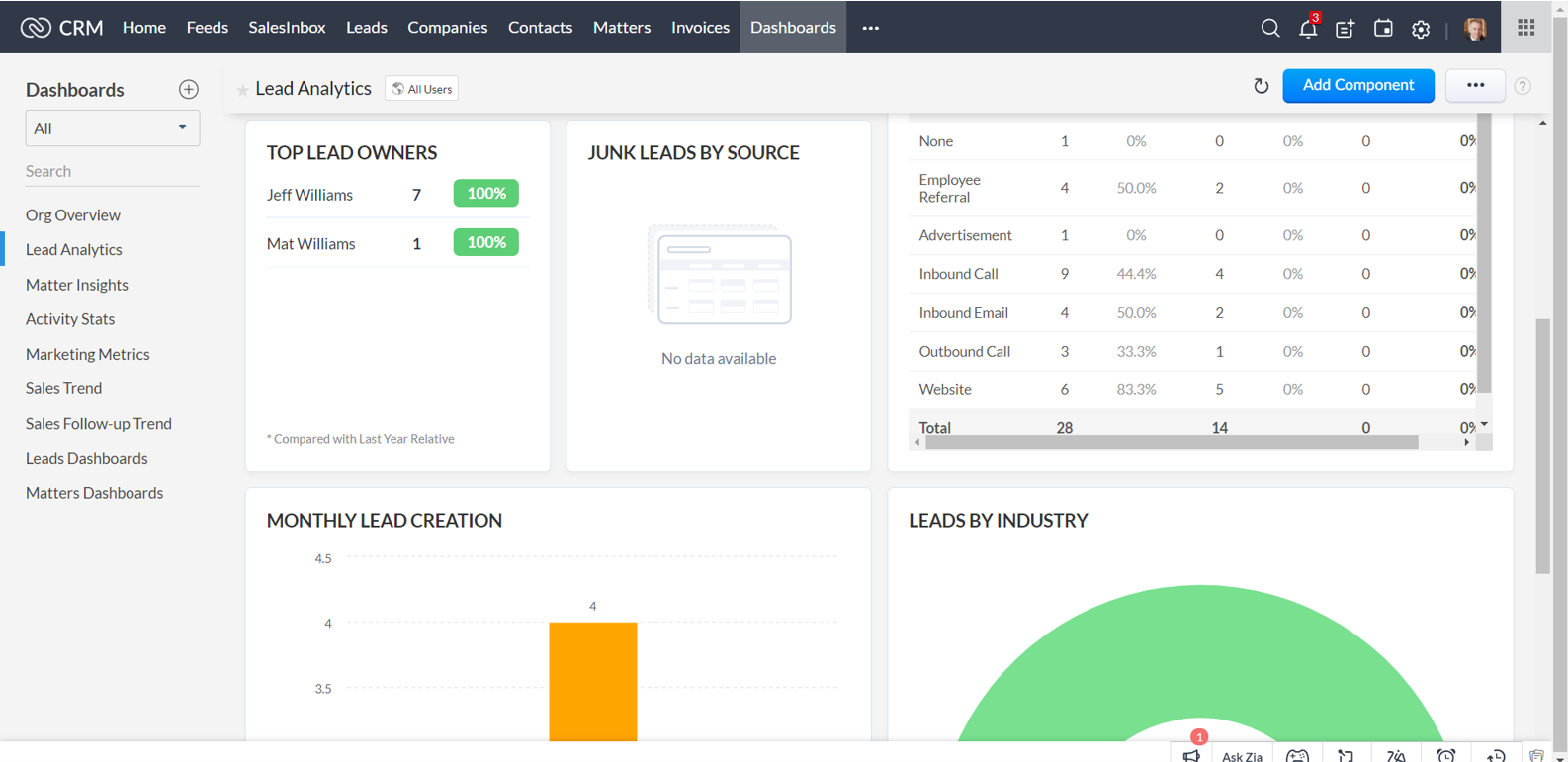 To wrap things up,
While most of the legal firms are still struggling to adapt technological aspects of client management, we have come up with this easy-to-use Law Firm CRM solution. It has plentiful flexible features which help you manage your customers almost effortlessly. Guess it's high time to mitigate technological gaps and optimize your business process. After all, modern problems require modern solutions!
Watch this super-cool video about how you can effectuate all the features of this CRM solution.
So click on this link for more information and make your business a breeze!