5 Key Factors To Drive Success From Your Real Estate Website
Mar 30, 2023
You would want to stay ahead of the curve of your competitors as a businessperson. But it doesn't sound that easy. Especially when you are not equipped with a powerful website for your company. Real estate agents are not an exception.
Today the real estate industry is digitally driven. A simple yet aesthetically appealing website would not bring you solid leads. Your modern targeted audience has particular expectations when they visit your website for properties. Here are 5 key factors of a website that can help you drive a successful business.
#1. Design Your Website
With so many realtors vying for a piece of the real estate market, your potential clients can overlook your business. That is why you must market yourself effectively. An informatively articulated web design can help you do the deed. What your prospects are looking for is value. So to avoid maximum bounce rates, you must design your website thoughtfully, and make it intuitive, user-friendly, and frequently updated. You can design it in a way to voice the vision of your company and catalog hundreds of properties so that homebuyers can scroll through them at leisure.
There was a time when people used to search on the desktop. Now it is all about a mobile responsive design. As most users search for both residential and commercial properties on their phones, as a real estate agent you must incorporate elements that can make your website accessible on any browser, or device. Google favors mobile-optimized website designs and boosts them with search engine algorithms.
When designing a real estate website, a refined user experience is also a crucial aspect. It is a key factor in maximizing your digital presence. When your website works seamlessly while your prospects scroll through featured images, you are likely to catch their attention for a longer time.
#2. Focus On Lead Capture Capability
The purpose of developing a website is to capture maximum leads. Without them, your business has no practical future and all your marketing efforts go in vain. You can embed a web form on your landing page so that your visitors can submit their initial details for a particular property. On top of that, you can integrate a powerful CRM so that it automatically captures the lead to help you resume the nurturing process later.
Your website visitors are likely to be even happier when they have multiple options for communication. One of the best ways is to build up a live chatbot with Zoho SalesIQ . Being in the industry, you come across a handful of general questions, correct? So you can have these questions and answers canned in this chatbot. So that whenever a visitor browses through your page, the chatbot can proactively initiate a conversation and pursue the lead further. Even the chat transcripts are embedded in the newly created lead record.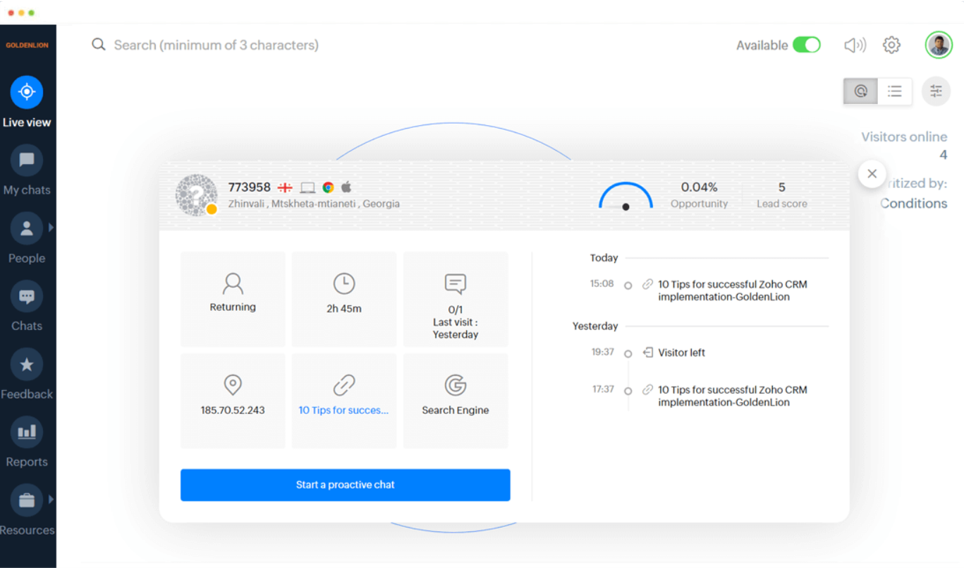 #3. Incorporate High-Quality Visuals
Visuals are the most reliable modes of marketing to engage with your audience and simulate a driving emotion for making purchase decisions. You can use high-quality images, videos, or virtual tours to give them a detailed description of the construction layout for your real estate website. These help them visualize an ideal home and lifestyle. They give a clear picture of the amenities and rooms, as in the overall feel of the property to ultimately catch their attention. Here, ensuring that these visuals fit the mobile responsive design is a must.
#4. Make Your Website Navigation Intuitive
To get started with your real estate business, you need to know your target audience. And most homebuyers of today are millennials. They have a relatively lesser attention span so your website needs to be navigated fast, easily, and conveniently. While developing an informative real estate website, you must cultivate a customer-centric approach in your content. So you need to research the relevant keywords for your business and highlight them so that the Google search results help them to land on your website. Now when your visitors are on your page, they expect a clean and uncluttered well-planned navigation structure.
#5. Integrate A Powerful CRM
The best tech product that supports your business stance is software solutions like Real Estate CRM. What you offer as a realtor are properties that are lifetime assets for most of your customers. And that's why building a sustainable relationship with them from the first point of interaction becomes crucial. CRM (Customer Relationship Management) software is designed for this purpose, except our software comes as a solution for your industry.
It helps you manage your business from one platform. From managing your leads, contacts, and deals, the solution keeps track of each of your customers' purchase journeys in an intuitive calendar. This sales pipeline covers all the stages that your industry might need to close a deal and auto-updates itself with real-time information.
The best part is that you can integrate this solution with your website. The CRM windows you an opportunity to publish your property images directly on your website. You can click on the 'Yes' button for publishing pictures while you create a property record or the 'No' button to remove them. As the system is linked to your website, you can publish or remove images from the CRM itself and optimize your time. Though it's an add-on feature, it is strongly recommended!
Last words,
The real estate industry is universally competitive. But the ways to deal with and survive through this competition are constantly changing. However, websites are one reliable source of effective marketing. So take the first step to build an effective landing page. Schedule a free no-obligation 90 mins consultation with our experts today!