Improve Your Business With First Call Resolution (FCR) Rate And Zoho
Jun 7, 2023
You want customers to flock to do business with you. To make that happen, you must ace your customer experience. Irrespective of your industry, know that customers calling your help desk are not just looking at solutions to their issues. They want immediate resolutions that minimize their downtime during an ensured seamless service. First Call Resolution or the FCR indicates how often your customer service team resolves issues on the first call.
What Is the first contact resolution rate?
The First Contact Resolution Rate is a crucial contact-centered metric that helps you gauge your customer satisfaction or CSAT and helps you reduce operating costs. This metric measures the percentage of customer issues resolved on the first call. It can be calculated by dividing the total number of cases resolved during the customer's first interaction by the total number of cases or calls in a day.
How does it help navigate and improve other metrics?
The first call resolution rate plays a vital role as an indicator of the company's effectiveness in customer service and support delivery. It plays a defining role in improving the Net Promoter Score or NPS – the faster you resolve issues for your customers, the more likely you are to get promoted. If they promote your service, they can very well repeat business with you in the future. Thus, FCR also affects your Customer Retention Rate or CRR.
Why is it important for your business?
The first call resolution (FCR) can be measured in terms of customer support and service. Customer support is a crucial department of the company that offers assistance to customers, either new or existing.
Customer service is where you need to ace your first call resolution strategy. As this department focuses on ensuring customer satisfaction (CSAT) along with other important KPIs. For this, you can rely on the smooth automation powers of Zoho CRM software.
Since the business world is becoming hyper-personalized with each day. So the run-of-the-mill approach doesn't work anymore in the customer support department.so whenever they come up with a query, your customers need to feel listened to and supported with immediate action. This first-call resolution approach can deeply impact your customers and even turn them into your company advocates. The more you focus on your FCR rates, the more your brand values and you gain better chances of customer retention.
Harvard Business Review suggests that five to 25 times more valuable to retain your customers than acquire new ones. According to Bain & Co, the creators of NPS, "a 5% increase in customer retention produces more than a 25% increase in profit."
On the other hand, this stat also plays a crucial role in determining agent productivity. When you can resolve customer issues at the first contact, you are reducing their invested time and also your labor which you can use for more complicated requests.
Standard FCR Rate varies with industries
This particular metric evolves around customer support training, customer volumes, and product complexity. Thus they are the determining factors why the FCR rates relatively differ across industries and individual businesses. The standard FCR rate for every industry should be around 70%-74%. While an 80-90% success rate proves excellent competence, 40% indicates a low success rate and a need for improvement.
Formula to calculate
That's pretty simple. You can calculate it as the percentage of the total number of customers' issues resolved within the first call by the total number of calls with an issue.
Estimate and evaluate the First Call Resolution Rate
This can be done in two methods:
1. Survey For Your Customers
During the post-sales interaction stage, you can send your surveys to your contacts on your email or social media lists. To reduce your time consumption in preparing surveys, you can use the Zoho Survey app. It comes along with 25+ different types of questionnaires including skip logic and piping. You can customize these surveys with your brand style and themes and also collaborate with teammates while prepping them.
2. Calculation For You
The best method for measuring your FCR rate can be done by Customer Relationship Management or CRM software. As the name suggests, this technology is designed to help businesses develop strong connections with their customers, it documents and streamlines every piece of data in a centralized format. Yes, that also includes identifying resolved calls through repeat and non-repeat callers.
You can use the gathered customer data of the CRM and calculate your FCR to get an accurate business analysis.
Use of CRM software to measure FCR rate
Your company's FCR rate can be measured using Zoho CRM software. It helps you to manage your customer service efficiently and helps your business to step forward in terms of customer relationships.
Customer experience is directly proportional to the FCR rate of your company. It is one of the most crucial metrics that need to be regulated and checked for, with discrete attention. Since the Zoho CRM with a user-friendly interface, is customizable, you can situate this metric on the home page itself. You can add up to 10 dashboards on the home page for the most important metrics of your company.
Since Zoho CRM is adept at documenting customer data in various interlinked records, you can quickly gather information about the customer, their product, and purchase history, You can easily address the bottleneck they are facing, track the resolution status and move on to the next one once the task is completed.
The best part is, this CRM is open for third-party applications integration. For example, you can add apps like Google, Microsoft, or Zoho Survey, Desk, Social, etc with your CRM to make it a fully customized parent console and power-packed solution for your business. You can effectively measure and manage the matrices related to customer satisfaction and level up the overall customer experience.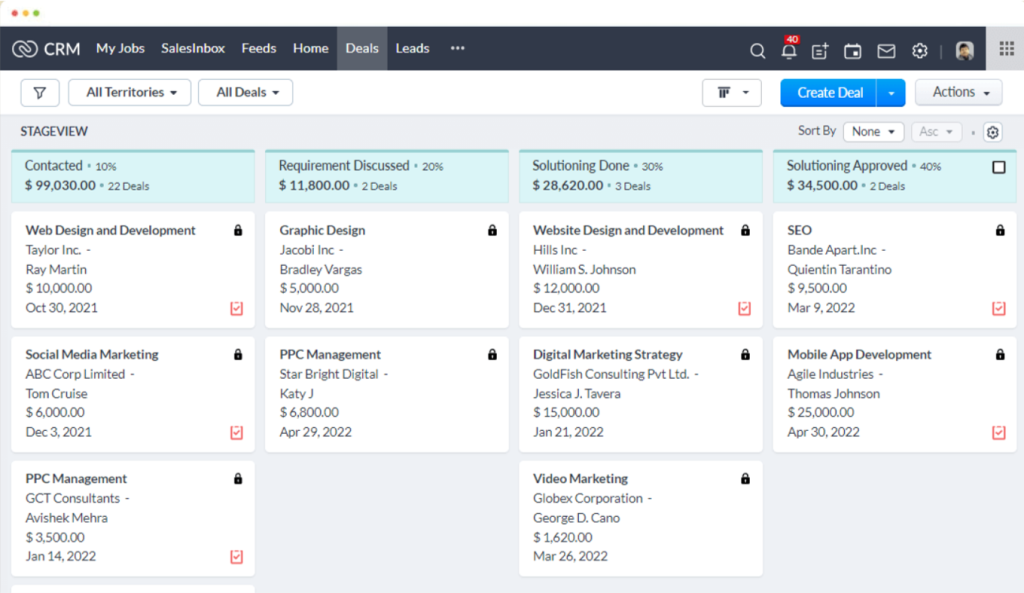 Implement Zoho Desk
Zoho Desk is a context-aware app that helps you deliver an unparalleled customer experience while simplifying customer service operations and improving agent productivity.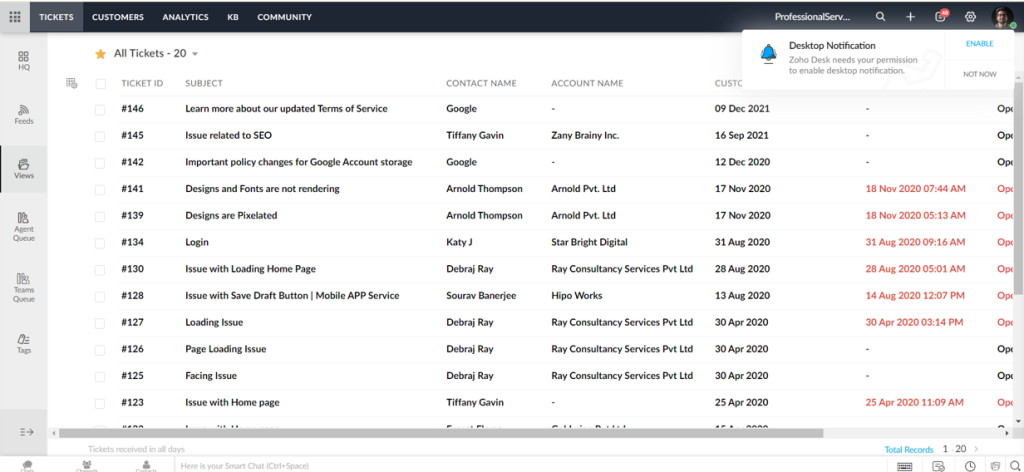 Make an omnichannel response
If you are struggling to keep up with customer conversations across multiple platforms, and receiving negative feedback for your slow responses, then the omnichannel approach is the answer for you. With Zoho Desk you get a ticketing system that robustly helps you streamline customer support tickets. It provides all the context you need to resolve issues and also allows you to prioritize, track, and automate routine support tasks.
Strengthen with self-service options
Generally, when customers encounter a problem, they leave your website to find solutions from the web. Don't risk it. Empower them with self-service options so that they can find solutions from your Help Center page and apply them. For example, you can educate them about your product or service with a knowledge base where they can find informative articles or FAQs. With this help desk software in place, you can make your customers post to or interact with community forums to interact with others or even ask Zia, an AI-powered conversation assistant for solutions.
Power of Zoho Desk with Zoho CRM
The two-way integration with Zoho CRM helps your Sales and Support teams manage new and old customers effectively. When you understand the customer, you can deliver truly personalized responses that increase their appreciation for your company. You can view their entire history of interactions with the company and enable them to engage in meaningful conversations with each other through the communities and forums. That way, they can easily help each other out. This app helps you with advanced customizable reports to make intelligent observations, identify bottlenecks, and make informed decisions about how to improve your business.
Over to you,
First Call Resolution is one of the most crucial metrics as it leads to customer satisfaction. And Zoho is by far the best platform to beget your goals of receiving lesser repeat calls and greater brand value. Schedule a free 90-minute no-obligation consultation with our experts now!