Float Your Boat Without Interruptions During This Post-Pandemic Era With Travel Agency CRM
Oct 26, 2021
As the world recovers from the pandemic with slow progression, we witness the evolution of every industry. Of course, the travel industry is surely not the one to be left behind. We already know 2021 has taken great turns in our lives with all its digitization vogue. Now it is high time to adopt the digital era effectively and create innovative opportunities to take your business ahead. And when it comes to steering your business northwards, don't you worry, Travel Agency CRM has got your back!
In this article, let us explore 7 effective strategies to promote your travel brand in this post-pandemic era.
Campaign Popular Domestic Destination
The 'go local' trend has literally pumped up all travel marketers. Domestic tourism plays a significant role in helping the travel industries to get back on their feet this post-pandemic age. As travel restrictions and health awareness have considerably decreased the demand for international tourism, people are increasingly tilting towards the domestic tourism side. Quite relevantly, road trips, staycations, or weekend getaways are the ''in thing" now.
Trafalgar says, that outdoor experiences or nature travels will be one of the biggest trends in the coming year. And why not? We have spent too much time indoors during the lockdown and it's obvious that we crave experiencing nature.
Market with Social Media
You can promote off-beat or underrepresented local destinations using social media campaigns to engage the whole community and generate leads. Social media is a great platform for destination discovery and travel research. With social sharing, you can encourage your client to post and share their experiences. Indeed, this is a smart strategy to promote your brand, target a larger audience, and earn rewarding testimonials. Fill three needs with one deed!
Generate Your Leads from Your Website
On the plus side, you get Zoho SalesIQ to help you engage with your audience. You can easily build a chatbot (which asks 'Can I help you?') and initiate a conversation with your traffic. You can see all the real-time visitors of your website, check the number of websites they have browsed through and track the time they are investing on your website. Everything will be done with ease. You also get to store all the live-chat transcripts for future reference. Super cool feature, is it not?
Integrate Online Resources with Travel Agency CRM
If the world demands you to be digital, you adopt digitization. Therefore, you need to be flexible enough to integrate online resources that you get hold of and extract every fruitful bit of use out of them.
Cater to Your Customers
Travel Agency CRM enhances and strengthens your relationships with your customers with a tinge of personalization. You can capture the interests and preferences of your clients and trigger automated email campaigns to promote your brand with seasonal discounts on birthdays and anniversaries. You can keep a record of your client's preferences with every communication touchpoint and access them anywhere and at any time.
Create and Customize Beautiful Quotes
Despite all the personalized service that you provide to your customers, to run a business you need to maintain your trip profitability. Ultimately that is the goal! You can store all your trip services right on the CRM platform. So, when you select a package for a client, automatically you'll be able to see the different options under one trip from which you can choose. Now, as you select a particular package, the prices will be automatically populated in the respective fields. If needed, you can also add other services like cab rentals, flight tickets, sight-seeing programs, and so on. To add more pizzazz you can send out beautiful predefined quote templates. So cool!
And the Invoices too!
Once the quote is accepted by your customer you can convert it into an invoice with one click. With Travel Agency CRM, you can generate invoices at a time and keep a diligent track of all the payments by your customers. Based on the current payment details of any specific trip, you can simply fill out the payment fields by global or in-line editing.
Please your Customers with the Best Deals
When you're running a travel business, you must have strong alliances with your vendors. This CRM software advances you to a level higher when it comes to customer satisfaction. You get to store all the required vendor information in your system in a streamlined manner. Thus, when you opt for a vendor, you can check whether your customers' preferences are suited appropriately. And accordingly, you can make reservations for your customers, get the best deals and generate beautiful custom-branded vouchers for them as well.
To make this trip even more personalized, you can also act as an itinerary planner by formatting a solid tour plan. This will guide your customers and help them enjoy themselves without any sort of inconvenience.
Build Customer-Confidence
A quality CRM software records every communication touchpoint with a customer on your behalf. Be it chat transcripts, emails, follow-up meetings, everything is documented in an organized manner to help you improve your customer services. Depending on these, you also gather an important aspect– their preferences and tastes. It has, time and again, proved itself to be one of the most essential factors of building customer loyalty and strengthening the customer base of a company. As you store all your important data in your CRM, it helps your sales executives solve client inquiries as well.
Business Analysis
A key advantage of using a CRM system is that you get real-time insights from your business analytics. When you start your day, you've landed on your homepage where you get a quick glance at the different sectors of your business. Of course, you can add components and customize them as per your choice.
Also, you can create or add comprehensive reports and dashboards to learn and summarize all the crucial analytics that you need, in a jiffy. This, as a result, will help you in connecting with your customers faster and better.
Time Management
Travel Agency CRM does everything for you. It organizes, centralizes, and segments all your necessary customer databases in a simplified fashion so that you work with ease. It also has an automated sales pipeline system ready. Therefore, you don't even need to think about what your next step will be. It is the software that will take you to the next step. You can even assign a particular teammate to any specific task and your person will be instantly notified about the task. Managing time has never been this easy!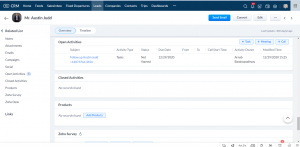 An 'icing on the cake' fact? Travel Agency CRM comes with 25+ standard workflows specially crafted for travel agencies and tour operators. However, you can also create and customize these workflows and work them your way. Automation is hands down a gift for a mighty business like yours!
Bottom line,
Travel Agency CRM equips you with a wide range of functionalities that will ultimately benefit you to survive in this industry and escalate your business. We know the mega-industry of global tourism has taken a toll due to this pandemic. But we expect that the future will shine brighter. Somewhat different but somehow brighter!
Here's an amazingly informative video about how you can effectuate your Travel Agency CRM to take your business to soar heights.
So, check out our website for more information because we know you have no time to lose!