How Can A Professional Service Company Leverage ZOHO One For Their Business
Apr 14, 2022
The professional services industry sounds already intriguing in itself. Why? People involved in this vertical act as the moderators or product vendors who offer intangible products (service as a consultant). Basically, they sell their knowledge and expertise and cater to all other kinds of businesses with specialized solutions related to their respective niche. According to Business Wire, the market is expected to grow to a stupendous $8,082.4 billion by 2022. So you need to gear up for making the most out of it. And this is why we have come up with Zoho One For Professional Services– a unified operating system to alleviate all your troubles.  
What is Zoho One? 
Zoho One is an all-encompassing suite of 40+ applications that you can use under one subscription. Imagine you get the benefits of 40+ solutions under one roof and you can also keep all your business operations unified here.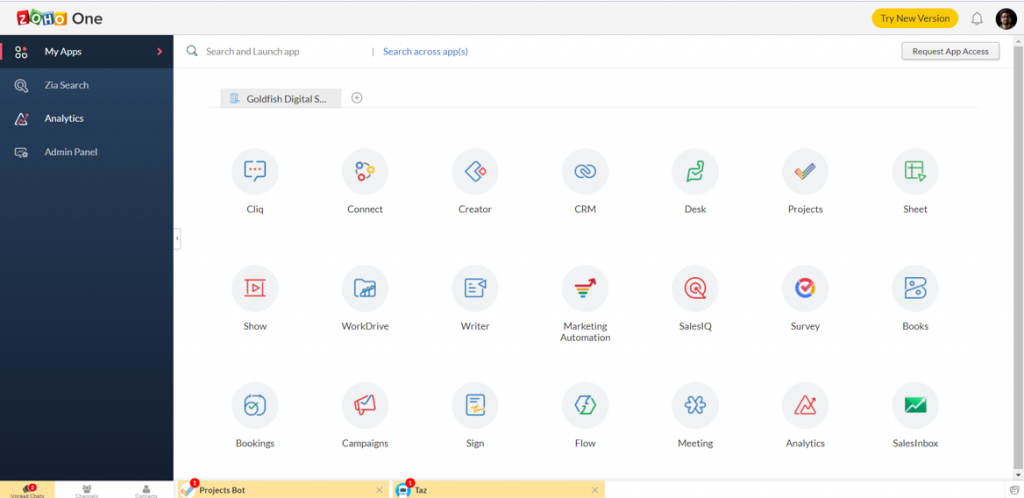 Today, in this article, we are going to explore how effectively you can use Zoho One For Professional Services for your business development.
Capture Your Leads Effortlessly 
As a professional service company, you must be reaching out to your potential customers via different channels. These may include social media platforms, inbound calls, newspaper advertisements, referrals, etc. However, from our experience, maximum quality leads are generated via website landing pages. You can design a well-crafted website, showcase your goals, team, testimonials from your previous customers, and yes, the USP feature that makes you stand apart. A well-designed website acts as a magical key to making a business successful. But all of these can go in vain when you fail to capture them.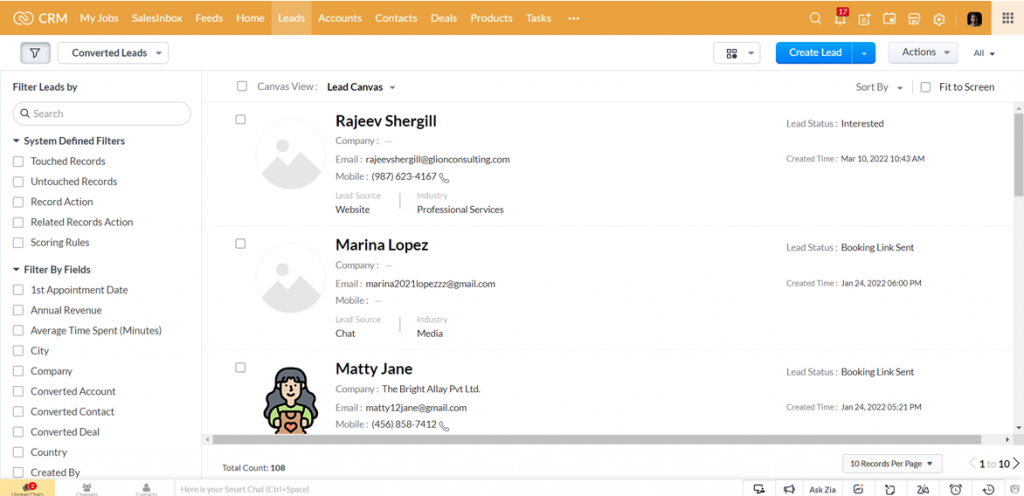 Once you're backed with Zoho One, you can capture all your leads at a go. You can make this process work by two methods. 
Webform– You can easily build a webform, locating all the necessary questions that you think are relevant. These can include name, address information, type of industry vertical, area of assistance, and so on.
2. Zoho SalesIQ– Zoho One comes up with a live chatbot/ Zoho SalesIQ which acts as an omnipresent virtual channel. It greets your leads and caters to their inquiries at any hour of the day. You can store general questions or responses so that your virtual agent can gain maximum information about your leads on your behalf. In both cases, the information that you gained via webforms or chat transcripts gets stored in your CRM software.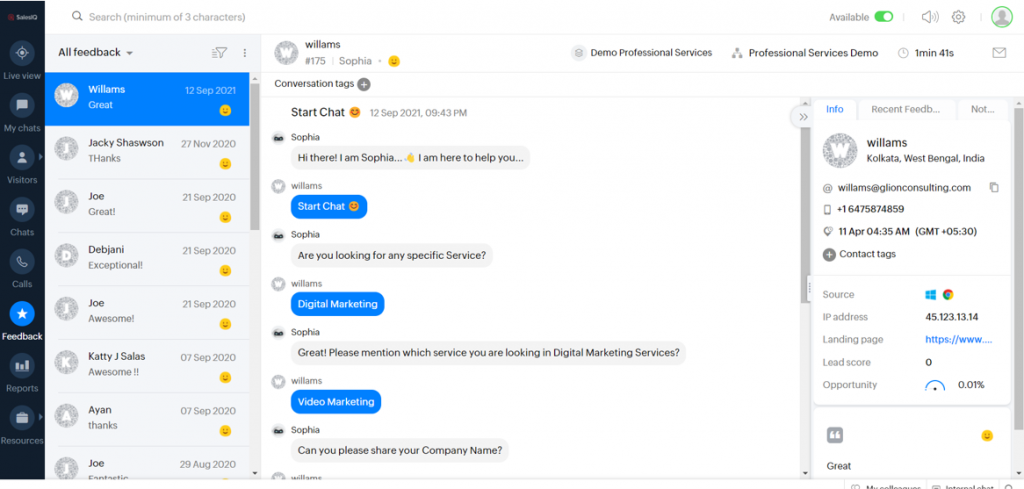 Nurture Your Prospects 
The moment you are done with capturing your potential clients/ leads, you know it's time for you to nurture them. Whenever your CRM receives a new lead, it readily notifies your respective team members. Since the project type and location may vary for different clients, our solution helps you auto-assign the lead to the relevant teammate based on the requirements. Other than this, for offering your service to other industries, you must have multiple touchpoints to meet. Based on your client's requirements, you need to prepare a solution, demonstrate the same, and propose a price for your solution.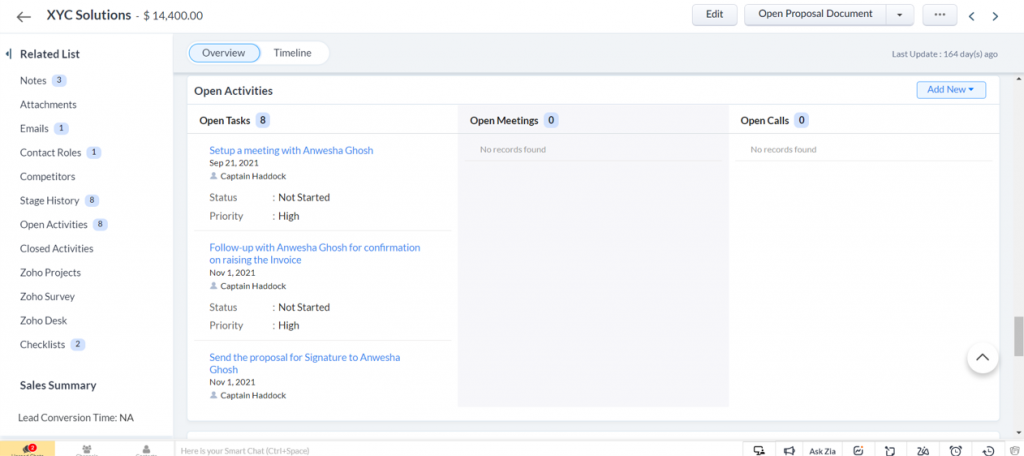 Manage Your Appointments
Our solution Zoho One comes integrated with Zoho Bookings. Once you receive a lead into your system, our CRM greets your prospects with an automated acknowledgment email. Now this email holds a link that lets your prospect select a convenient time for setting up an online/ offline session. Else, you can also predefine your available slots so that they can select a particular time and you both can work together at your convenience. And once they book a slot, CRM instantly notifies you and automatically creates a task for nurturing that particular prospect.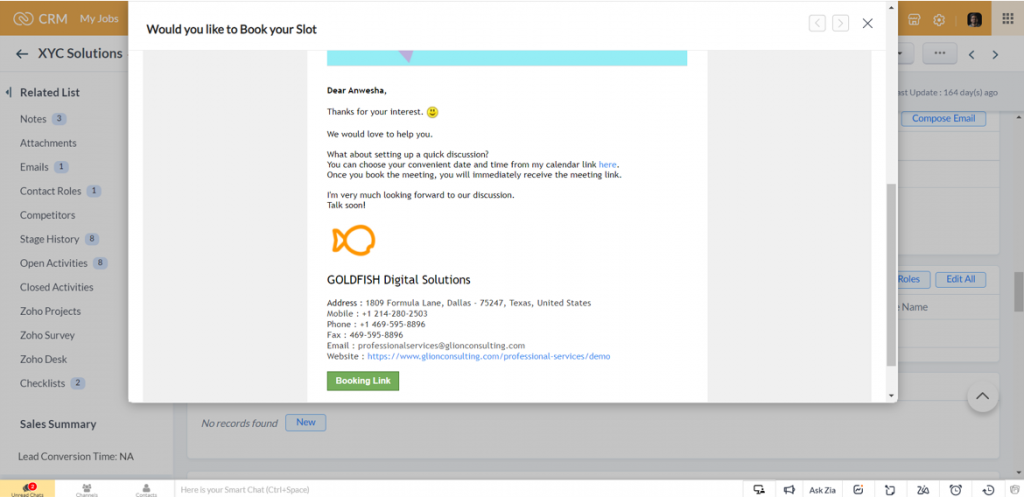 You can sync your calendar with Zoho bookings so that you never miss out on a meeting and a gradual opportunity. You can mark deadlines or reminders on your calendar and distribute your tasks amongst your team members. In case of any sort of alterations in the meeting booking system, Zoho Bookings makes it all automatically visible.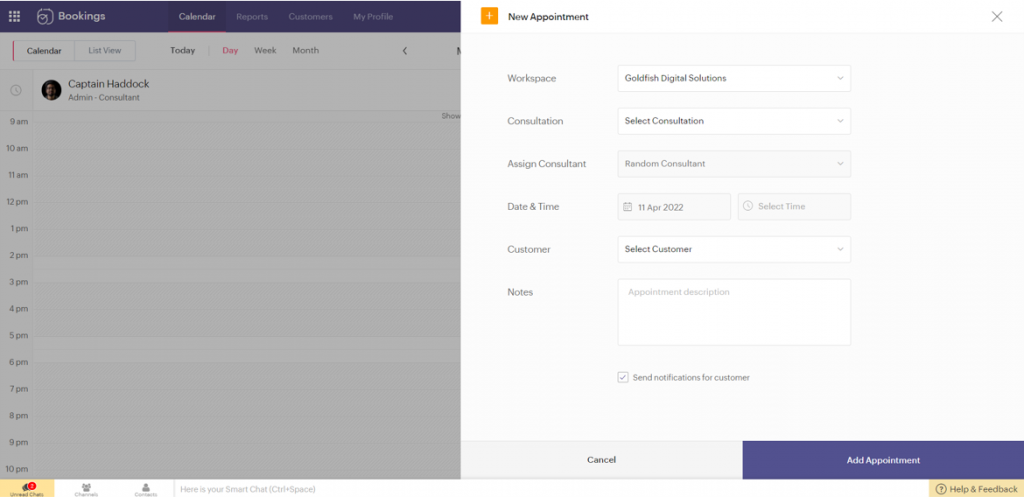 Sales Pipeline Management 
Our solution comes with a ready-made sales pipeline or rather a workflow blueprint that guides you and your teammates with the upcoming action points. But mind you, you can always take notes on every touchpoint stage, all in one place. So that you can bank on these inputs for further customizing your solution. Other than this, you can modify these sales stages to suit your business needs. As you might have to deal with multiple clients simultaneously, Zoho CRM efficiently captures data on every lead and creates automated charts and graphs about their progress.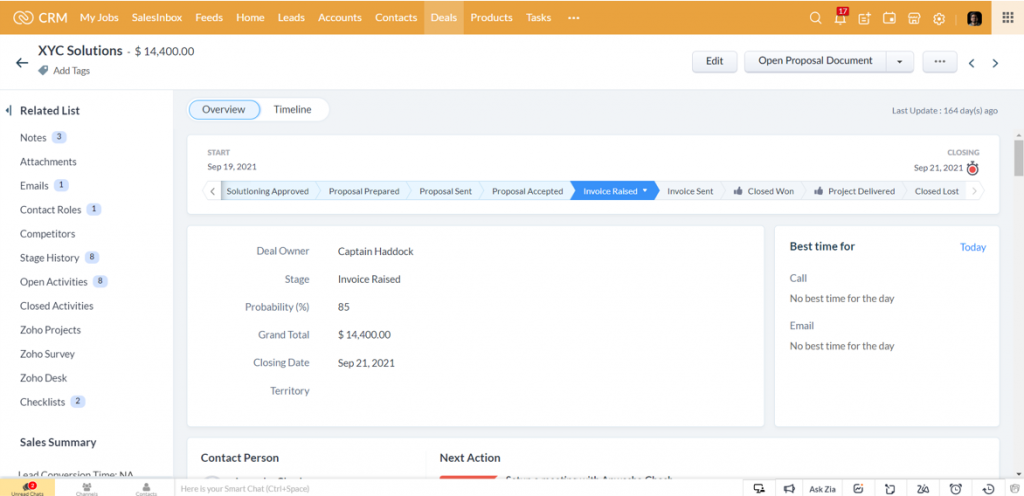 Time To Table A Proposal 
For a professional service company, your expert solution becomes your product. And when your clients approve of your power-pact solution, you can instantly table your proposal/ offer. You see, whenever you create a draft starting from scratch, it consumes a lot of time and labor. It becomes super exhausting for you to create individual drafts for every customer. With Zoho Writer, you can merge your proposal with a predefined template. It efficiently pulls out all the relevant information from the record level and generates a detailed proposal. Plus, you also get to use Zoho Sign to put your e-signature instantly and finish off the task at once.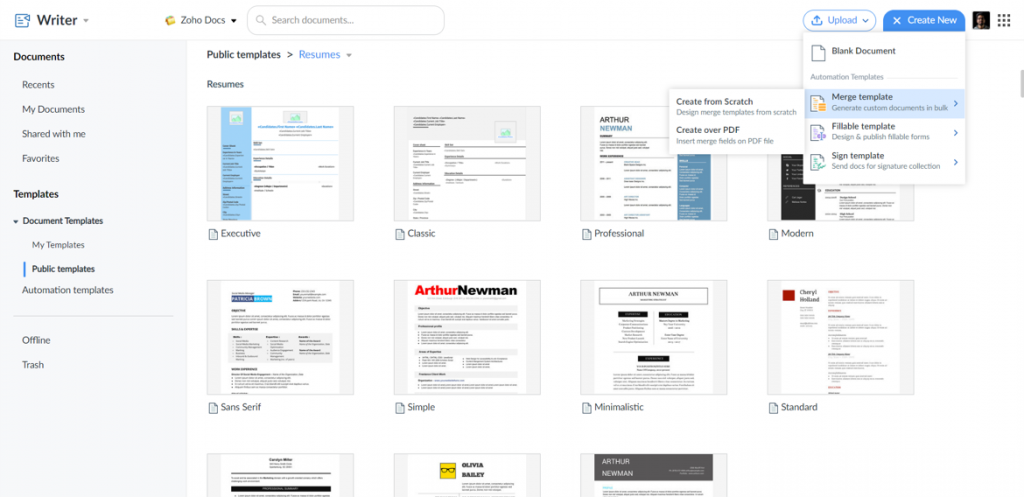 Generate An Invoice 
Doing business with a mighty professional service company like you? We're sure that your clients will accept your proposal. Once they do so, you can instantly raise an invoice for them with Zoho Books. It offers you a predefined invoice template where all the relevant data is flown. Even if your clients deposit their respective amounts in installments, our solution effectively captures that as well. As simple and neat as it sounds!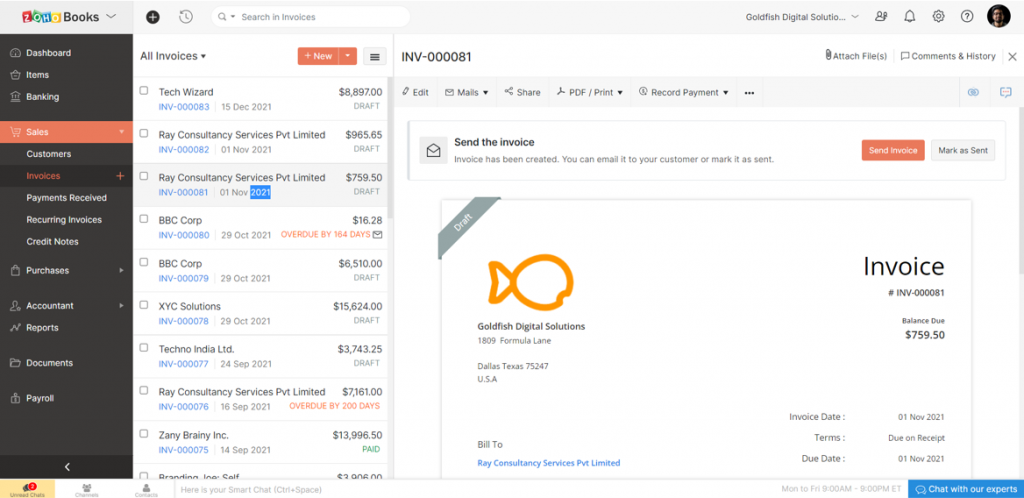 Reports And Dashboards 
The best parts of our CRM solution are the dynamic reports and dashboards. These modules help you always fill you in with real-time information so that you comprehend your overall business metrics easily and stay updated. When implemented correctly, these reports and dashboards help you strategize and execute innovative ideas for the bigger picture.
Here's an exemplary report–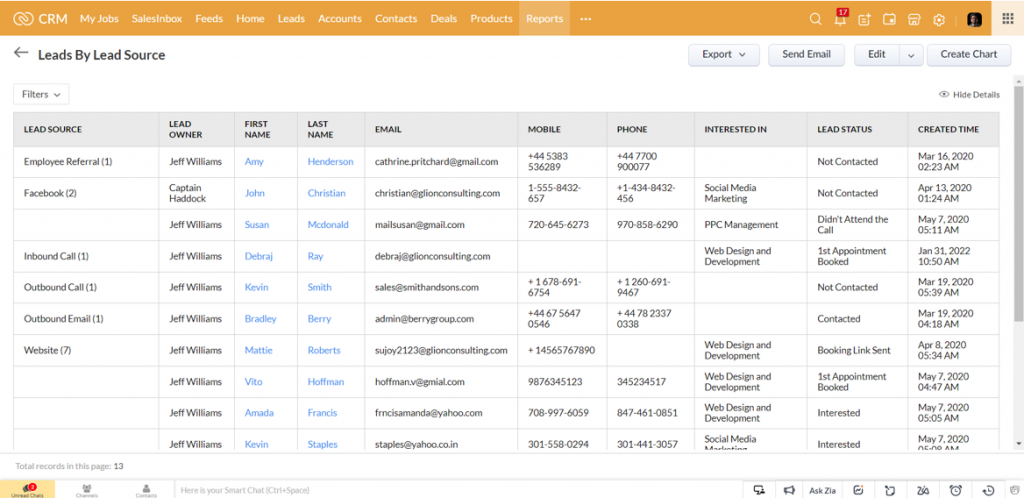 And a dashboard–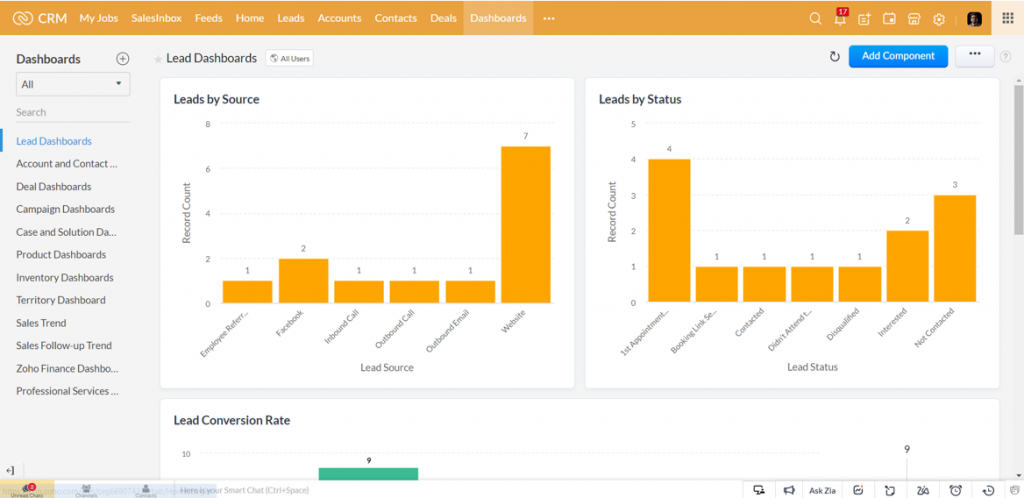 Final Thoughts, 
For running a business that works under a B2B model, you need to lay open diligent eyes on every aspect of it. When you integrate your brainchild with our Zoho One solution, you can direct and monitor your system operations under one parent console. Be it managing your leads in the pre-sales stage, monitoring projects in the delivery stage, gaining customer feedback, or reaching out to your target community– Zoho One is the ultimate solution. 
Watch this video to learn more about it! 
Interested enough? Of course, you are. Schedule a No-Obligation demonstration with our experts today. Go on!