How Do You Market Your Travel Agency during Pandemic and Beyond
Aug 18, 2020
I distinctly remember a pleasant discussion I had with my best friend. It was a sultry evening. We were seated in a dainty café and were discussing a destination that we planned to tour in 2020. We even contacted a travel agency and were ready to set for March. But our plans failed.
Traveling is a very important aspect of every individual's life. When people want to take a break from the monotony, they look for different places to explore. Through a tour, you not only capture the essence of the destination's culture but also understand yourself better. But, the sudden episode of the pandemic has disrupted this pattern.
As people cannot resume their leisurely travels, the tourism industry has faced the major blow of the pandemic. According to UNCTAD, the tourism sector has incurred a major loss of $1.2 trillion; which is equivalent to 1.5% of the global GDP. Moreover, as different countries are still skeptical about opening their borders, travel agencies are looking for ways to cope-up with the current situation.
But, challenges prove to be great teachers. So, if you have a travel agency and clueless about your next action plan then read on. In this article, I will share the best marketing strategies that will boost your travel agency during the pandemic and beyond. 
But let's first try to understand the customers.
Consumer Behavior During and After Covid19
As we all know, the pandemic caused a major upheaval. The fright has cautioned people from coming in contact with the outer world. As countries are slowly uplifting their restrictions, people are still conscious about stepping outside their premises.
In such a situation, you primarily need to understand your consumers and create a marketing strategy that will win their trust.
Also, don't forget that change is the spirit of the time. So, situations will improve and will allow you to recuperate your losses. But, there are many things you can do now, which will ensure that revival.
So, let's start with some predictable behavior your consumers can possibly show:
They will avoid places or occasions, which will attract a huge number of visitors.

They will be very mindful of the hygiene measure taken to safeguard them from the virus.

They might also be quite hesitant to visit certain places that have been reported in a bad light due to the pandemic.
As you can understand by now, we are going through a major paradigm shift!
Marketing a Travel Agency
The time is challenging for the tourism industry! But it has also brought new scopes that can be utilized to scale your business further.
Remember the previous year? I know at this time it seems to be the best period of your life! But look at how busy you always were, planning itineraries, booking different travel packages. It was so hectic and busy that you never actually had the time to rethink other innovations and changes you can inculcate within the system to be the best in the market.
But now it is a perfect time…
Let me tell you how you can leverage this opportunity to win your customer's trust, through a perfect marketing strategy. Also, we need to encompass the future along with the present to ensure impressive outcomes.
So, let's start.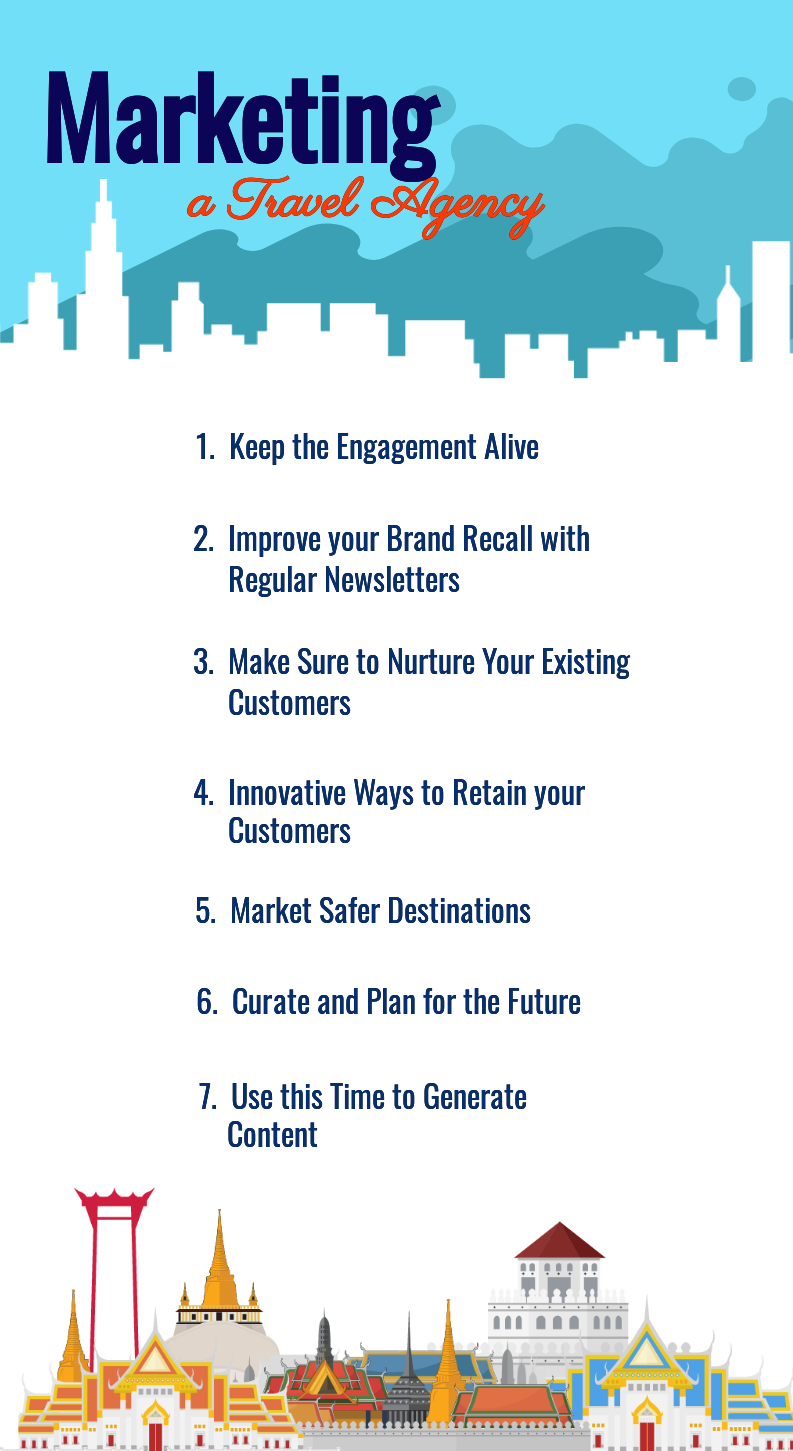 1. Keep the Engagement Alive via Social Media
We have always been a social media buff. Now, being confined within the four walls of the house, we are all about going online. Statistics show that there has been a constant rise in the average time we spent in social media; from 90 minutes daily in 2012, it has escalated to 153 minutes per day in 2019.  Another report suggested that there has been a rise of 61% in social media usage worldwide in 2020. 
Hence, this is the right platform to utilize. Create engaging content via social media channels, like, photographs, videos, and even contests that will attract more participation. You can also go live on these platforms and interact with your customers. 
Quizzes are also an amazing way to keep your customers glued to your business. Hence, post questions about different cultures, and the next destination your clients would love to visit after the pandemic disappears. Make things bright and hopeful. 
To make this job easier, you can use tools like Zoho Social, and DocHipo. Zoho Social lets you manage your social media marketing effortlessly. It provides you with one platform to systematically manage your posts on different social media platforms. On the other hand,  with DocHipo you can create amazing social graphics by customizing the stunning pre-designed templates. Let me show you some templates that you can use in social media marketing.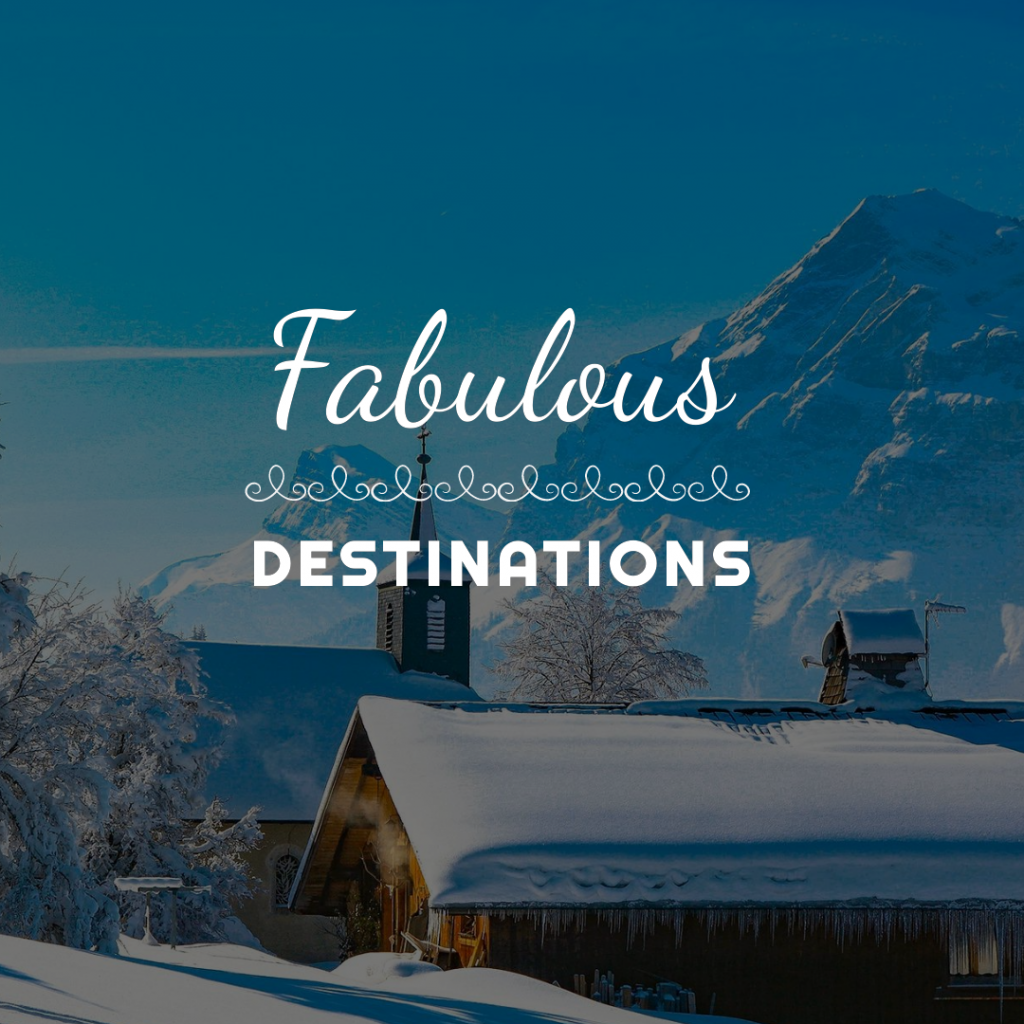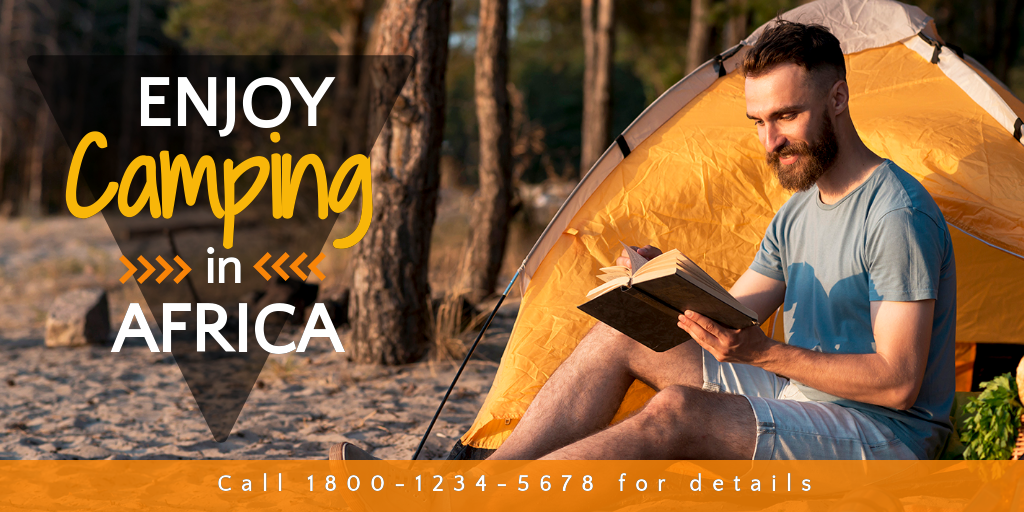 2. Improve your Brand Recall with Regular Newsletters
The next best way to engage your clients is via newsletters. Most travel agencies already maintain a steady bond with their clients by sending across newsletters. But if you are not doing it at the moment, then start now, as this can prove to be miraculous.
Newsletters are quite interesting in the sense that you can share amazing travel plans, discounts, tips, and offers, which will continue to make them think about your travel agency. This will further enhance your brand presence in your customer's minds. So keep the engagement alive. 
To make this job super simple you can use tools like Zoho campaigns, that lets you create newsletter templates and share the same with your marketing list.
3. Make Sure to Nurture Your Existing Customers 
"How are you?" is a beautiful way to show that you care. At least, when my friends ask me this question after some interval, it warms me up. Mainly because I feel loved. It is the same with the customers and this is what nurturing is all about.
You have to make your existing clients feel that you care. Especially in this time when nothing feels exciting, a little care will strengthen your bond with your customers. Also, do not forget that you need to win their trust for future endeavors. 
You can do this by having a casual interaction. Like, ask them about their next travel plans post-pandemic. This will make the conversations lively and hopeful, allowing you to nonchalantly present the safety measure that you are implementing, along with upcoming offers and plans. You can inquire about your client and his/her family's health. Try to maintain a steady rapport. It is important that they immediately think of you when planning a trip in the future. So, maintain good communication.
4. Innovative Ways to Retain your Customers
Try to retain your existing customers. Like, for trips that have already been booked previously by your customers, offer them the chance to postpone their trip. You can also try creating a buzz that will make your brand stand out from the rest. Like offering travel cards, or innovative proposals, or even offers like 'book now pay later'. In this way, you can keep them linked to your travel agency and will not lose the business.
So, make sure you continue to maintain a strong understanding of your existing clients. After all, they were the ones who trusted you with their previous purchases. To successfully execute this, you need a CRM system that is tailored for travel agencies. Here, the Travel Agency CRM, built on top of award winning Zoho CRM can be the right choice for you.
5. Market Safer Destinations
Earlier in this article, I had mentioned, how people are becoming more conscious about traveling to specific destinations. Trust me, doubts and fears are not easy to wipe-out from the human psyche. So let's not waste time on promoting those destinations right now. Moreover, along with the constant lurking fear, people are also desperate to enjoy the open air and hit the roads. 
Hence, let us figure out amazing plans that will offer your customers the opportunity to explore off-beat places. Like a long drive to a sparsely populated valley or a trip to a hilly region that displays astounding beauty. Also, how about romantic getaways to secluded cottages, located in the heart of nature. 
Personally, I have noticed that destinations that have a long coast-line, overlooking the sea, are usually crowded. Whereas, hills and mountainous regions attract very selective people.
So, start marketing remote and safe locations. Also, have a check on those countries that have lifted their travel restrictions. Like, Dubai has opened its borders for tourism and is maintaining all the safety measures.
6. Curate and Plan for the Future
Till the fateful year 2020, it has been an extremely busy time for your travel agency. You and your team were always on your toes, attending phone calls, and reserving destination packages. You must have been so engrossed in providing the best tour experience to your clients that you didn't get the time to sit, breathe, and think about other ways to remodel your business.
But, now use this time for that. Expand and curate other options that you can avail of.
Blocks on your way will never stop you. Instead, it will push you to find other routes to your goals. So rethink and reorganize your brand identity. Look for ways in which you can strengthen the customer's loyalty towards your brand by structuring a solid future plan. Try rebuilding different tour packages and diversify your travel domain; after which you can plan on the ways to market this to your clients.
So exploit this time to sit with your team, track your client's tour interests through the Zoho CRM application, and create numerous expeditions. Try employing new ideas and outlooks when planning a tour package.
7. Use this Time to Generate Content
This is the perfect time to generously proliferate amazing travel contents. Whether in the form of virtual tours, Podcasts, or even videos, astounding content can charm your customers. You can also refurbish your travel blogs with interesting write-ups that your customers can cherish while reading.
I have an idea!
How about asking your customers to contribute? You can ask them to share their pleasant memories of a destination they traveled via your travel agency. Whether in the form of pictures or videos, people love to share good memories. 
You can take these pictures, make an amazing video with nice background music. Then add hashtags and launch it in different online platforms under your business name, crediting your customer's contribution. This will not only enrich your content but will also encourage your customers to remain engaged with your business.
You can download amazing templates from DocHipo and use them for your blogs, videos, and other content. Let me show you a fantastic YouTube Thumbnail that you can use. You can customize it as per your requirements as well: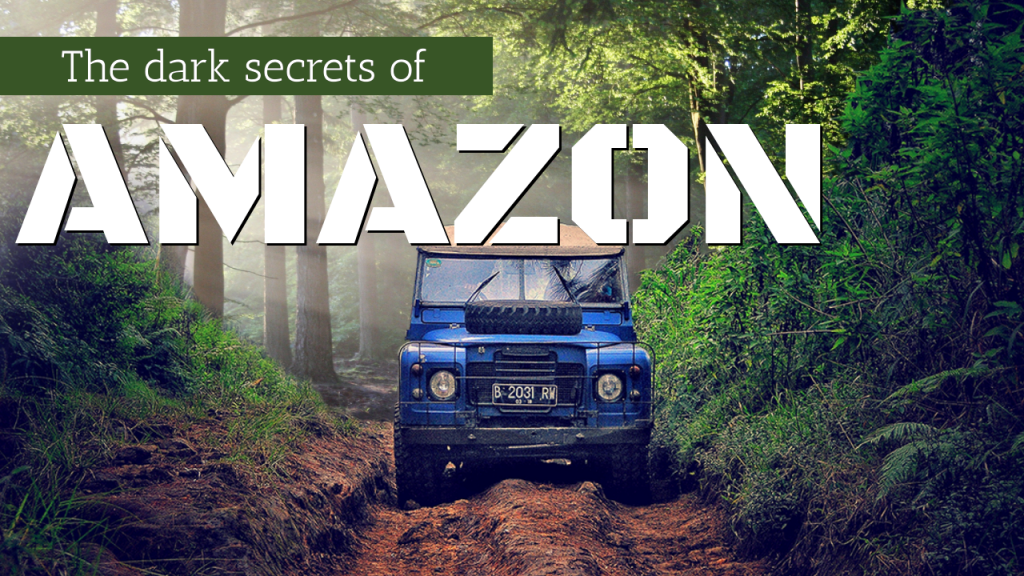 Also, you can keep some of the contents in the repository and use it post-pandemic. Hence create tons of travel contents, which will keep your customers involved with your brand.
Conclusion
This is possibly the best time to put in place a system that can manage and streamline all the associated work processes. Look for ways to make your entire business process smooth-sailing. 
Remember, this time is not going to stay forever and life is bound to resume. When that happens, your systems will be inundated with bookings. So prepare yourself for that. Check your current system, whether they can handle a sudden outpour. 
Also, start making a proper layout of how you will handle the inquiries and what excellent offers you want to give them. Probably a customer management system can make this job easy for you to handle.
Let's fight back with a Travel Agency CRM, tailored to your specific industry,  through which you can manage your inquiries and trips like never before. If you want to know more about the right applications with which you can take your travel business to the next level then feel free to Book a No-Obligation Consultation with our experts today!