{How To} Save Time and Resources with Two-Way Integration Between Real Estate Agency CRM and Website
Nov 6, 2017
When it comes to managing a real estate agency, time and data management is of crucial importance. Between gathering leads, verifying properties, generating recommendation and arranging site visits, real estate agencies often handle a huge amount of data within the shortest possible time.
Keeping in mind the unique business process, it is no surprise that most real estate agencies invest in building a user-friendly website as well as employ a feature rich CRM built for the unique needs of their business.
Irrespective of the size of your business, if you are operating a real estate agency, your sales process looks somewhat like this: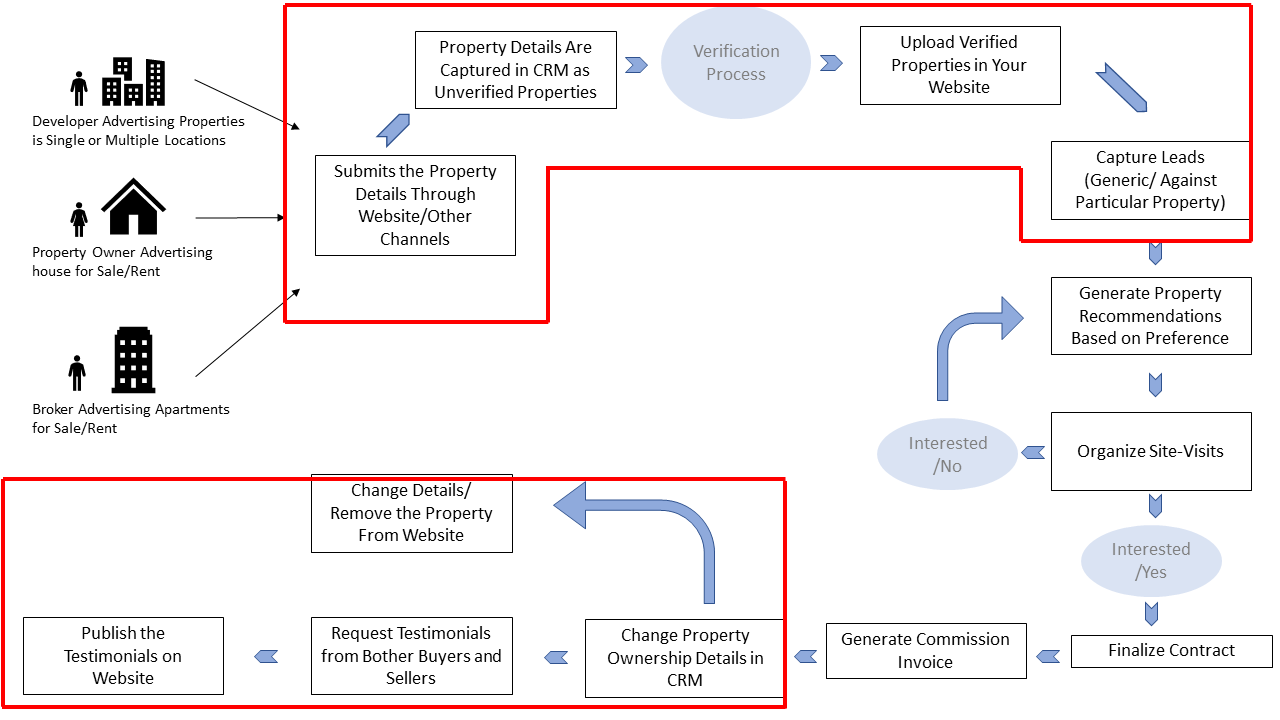 Now, look closely in the areas marked with Red Lines!
These are the areas where you invest a considerable amount time and resources in manually transferring data from Website to CRM or CRM to Website doing the following:
Entering the property details submitted through Website into your CRM
Uploading the property details back on your Website, after verification
Entering the leads generated through Website into your CRM
Uploading and publishing testimonials from your CRM to the Website
As you already know, all these tasks are not only time consuming, but also are crucial to the success of your business. And that is why, you simply cannot permit human errors in the process.
Sadly, human errors occur when time runs low! (And, ironically time often runs low for most business owners and decision-makers!)
So, the question is, How to save time and ensure error-free data transfer between your website and CRM?
Simple: With a Two-Way Integration Between Your CRM and Website Back End!
Sounds too good to be true?
Click on the link below and download the Data-Sheet now to see how our experts are doing it for real estate agencies around the world!