How to Scale Your Business With Real Estate Agency CRM
Mar 29, 2021
The real estate sector is one of the most dynamic and competitive sectors in the world. Statistics reveal that the global real estate market will grow from $2687.5 billion in 2020 to $2774.5 billion in 2021. Furthermore, the market is expected to reach $3717.5 billion by 2025. However, with rapid growth comes complexities and challenges. If you are a real estate agent, you might already be familiar with the complex business process of a real estate agency. With this in mind, we have created the Real Estate Agency CRM to help you simplify your business process.
What Is Real Estate Agency CRM?
Built on top of the award-winning Zoho CRM, the Real Estate Agency CRM is a software that caters to the unique business requirements of real estate agents. From managing leads to sending quotes to selling a property, the Real Estate Agency CRM takes care of everything.
And the best part is, the software can be accessed from anywhere with just a browser.
Why Did We Build The Real Estate Agency CRM?
Before we know more about the Real Estate Agency CRM, you must understand why we have built this application. Real estate agencies were looking for a system that can:
Help them increase their revenue and deliver an awesome customer experience.
Combine marketing automation, sales pipeline management, and Customer feedback in one place.
Help them have a single console to manage properties on their website and inside the CRM.
Create property recommendations automatically so the buyers can find what they are looking for.
Create and manage follow-up tasks, site visits, emails, calls, and more.
Help them access their data from anywhere, any device at any time. A system that is fully equipped with useful features yet affordable.
To help the Real Estate Agencies with the aforementioned goals, we have created the application. Here is how the Real Estate Agency can help you scale your business.
How Real Estate Agency CRM Works
As a Real Estate Agency, you must ensure that you can perform all the business functions seamlessly because a little mistake can harm your business reputation and can be troublesome for you.
The major processes of a real estate business are Property Management, Tracking the Availability of Properties, Sales Pipeline management, and Payment tracking. With the Real Estate Agency CRM, you can manage all these processes in one single place.
Now, without any delay, we will discuss how the Real Estate Agency CRM works.
Run Your Business From The Homepage
With Real Estate Agency CRM, you can run your real estate agency business from the application's homepage. Once you login to the application, the first page that appears on your screen is the homepage. You can access all the key matrices of your business and important information from there, such as the open activities, Deals by Stage, Deals by Requirement Type, Properties by Property Status, and many more.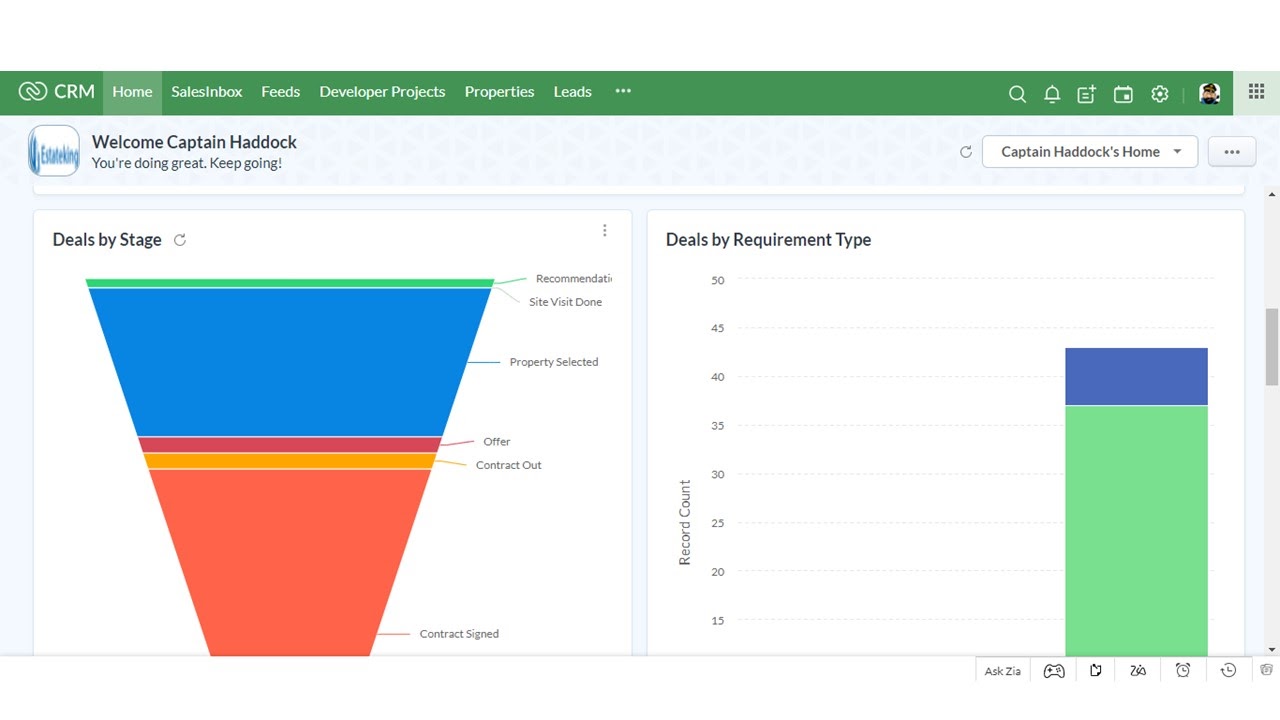 Furthermore, the application provides you with features like Add Component, Reorder and View in Full Screen for your home page. Click on the three dots on the top right corner of your CRM application to access these features.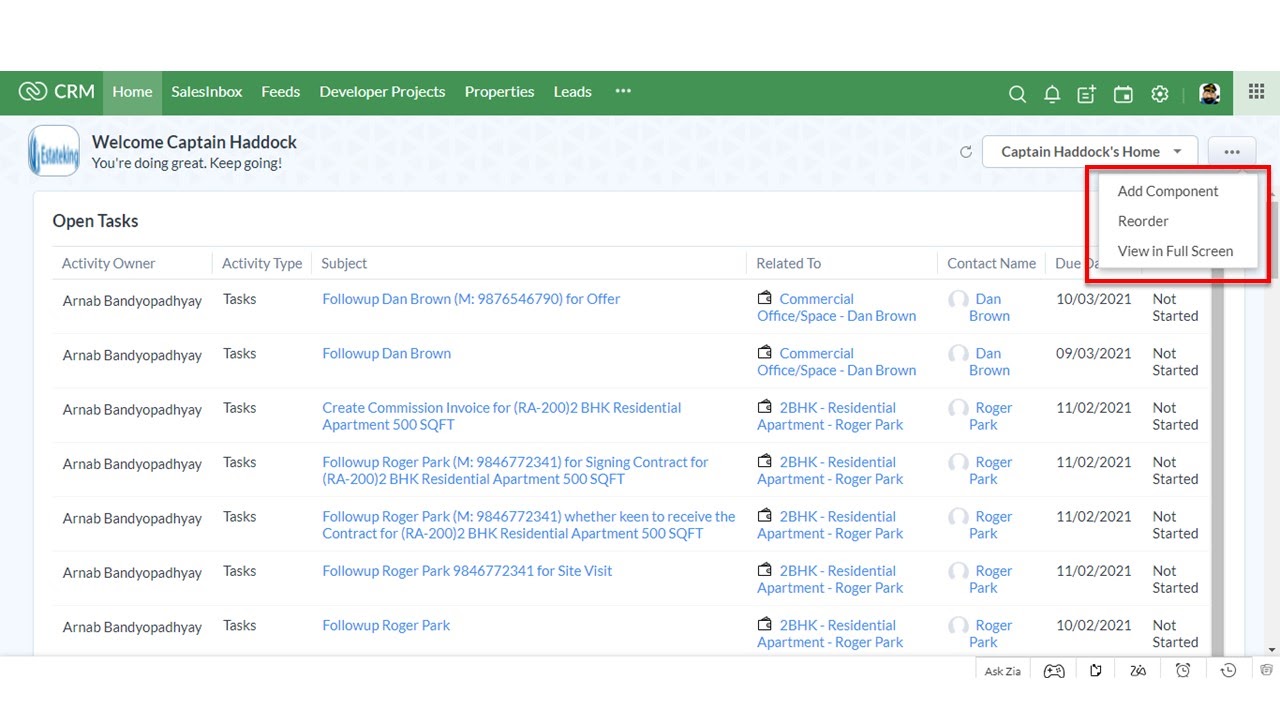 Click on the "Add Component" button and select "Dashboard", "Custom View", and/or "Widgets" to add any component you want on the home page of your CRM application.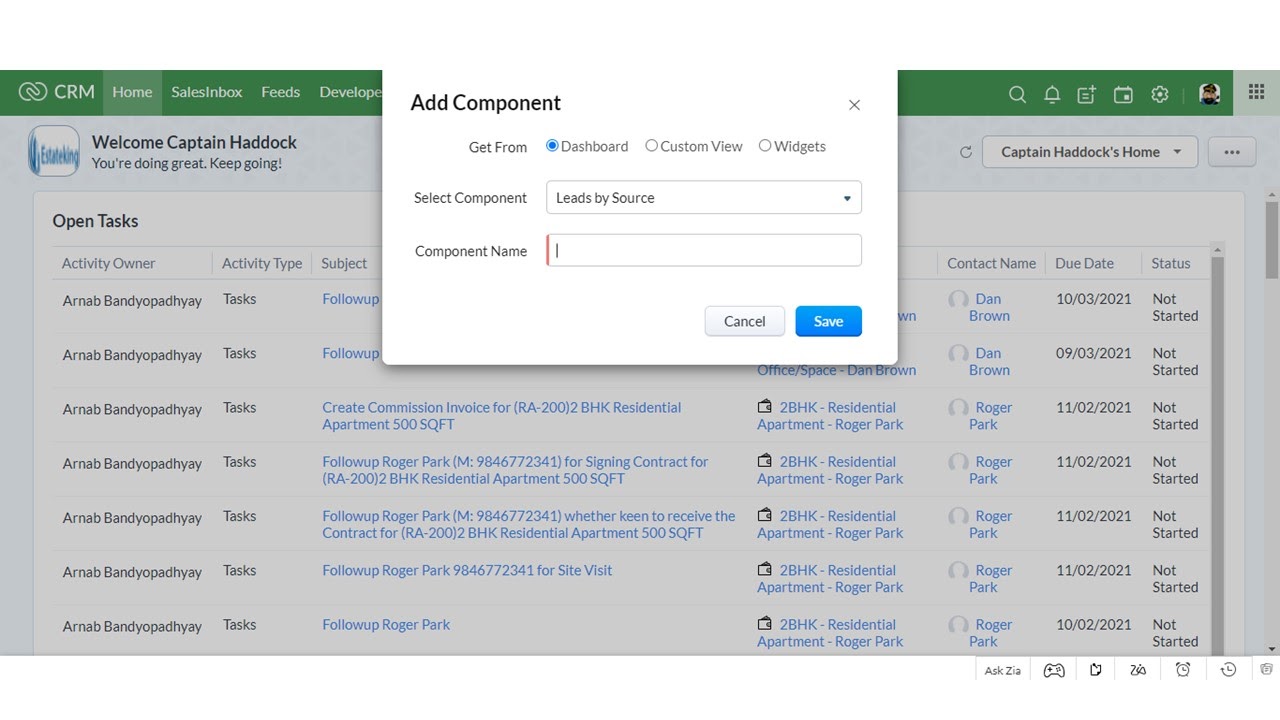 Capture Leads and Convert Them Faster
With the Real Estate Agency CRM, you can swiftly move your leads through the sales pipeline. Capture leads from your web forms, social media, live chats, and others and store them inside the CRM application.
You can auto-assign the leads to salespeople using predefined workflow rules. Use lead scoring to monitor the quality of the leads.
Click on the Leads module and select any lead to get crucial information about the lead, such as their email address, phone number, lead status, open activities, and many more. This information will help you convert the leads easily.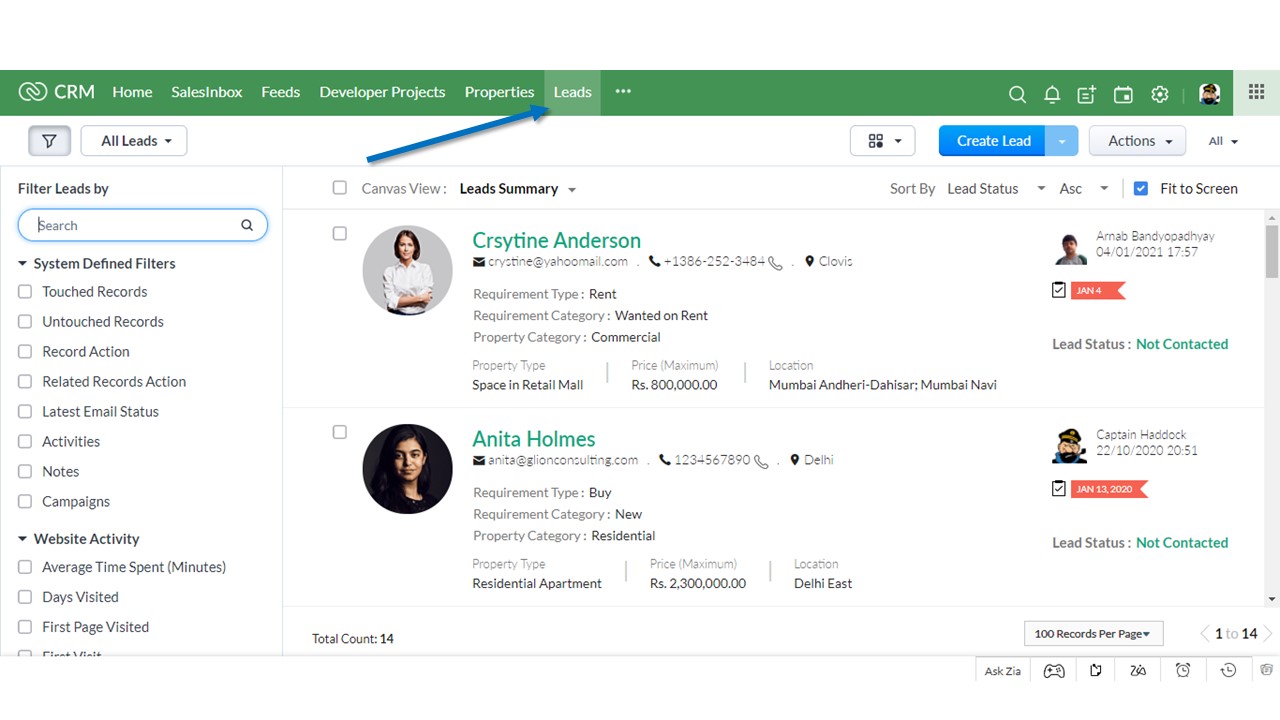 Manage Your Properties
One of the most important features of the Real Estate Agency CRM is Property management. This feature lets you manage and track the development units and buildings. You can manage both Residential and Commercial properties for "sale" and "rent". Furthermore, you can manage the additional units of the property, such as the swimming pool, parking lot, and many others.
In the Developer Projects module, you will get an overview of all the real estate projects undertaken by you.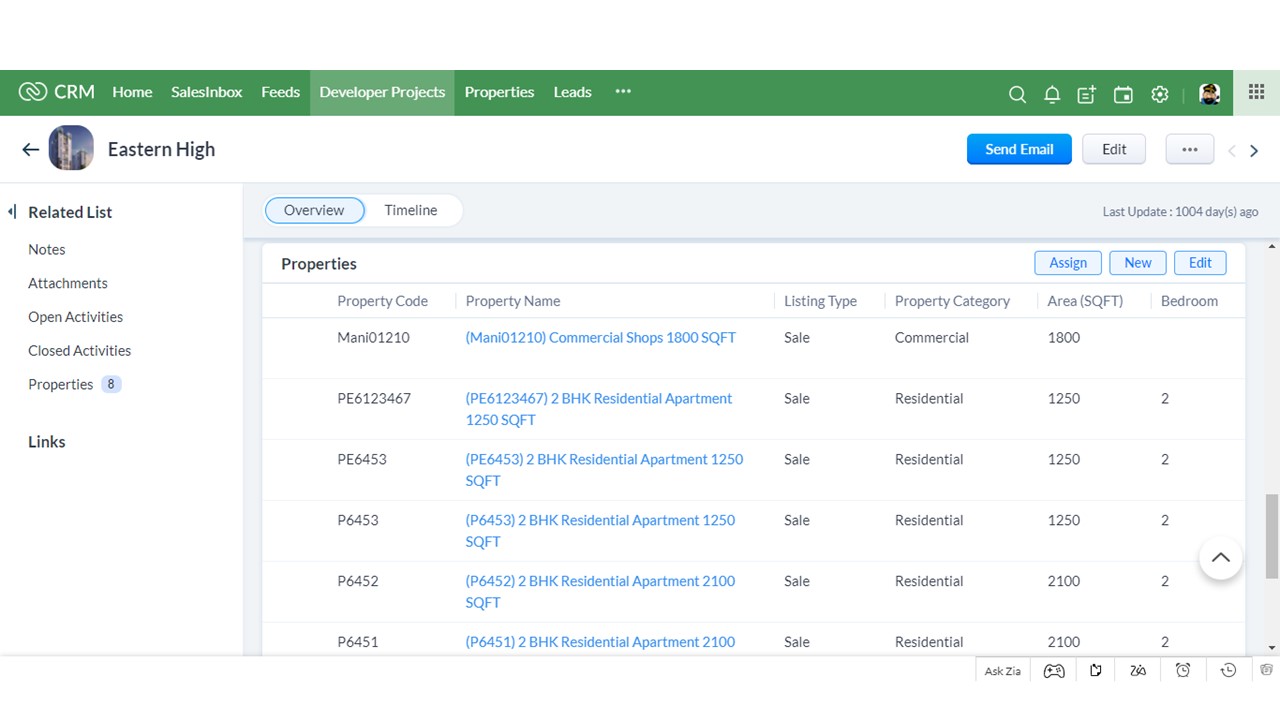 Click on any of the properties to get all the information of the property, such as Property category, Unit Price, Property code, Address Information, Property Status, and more.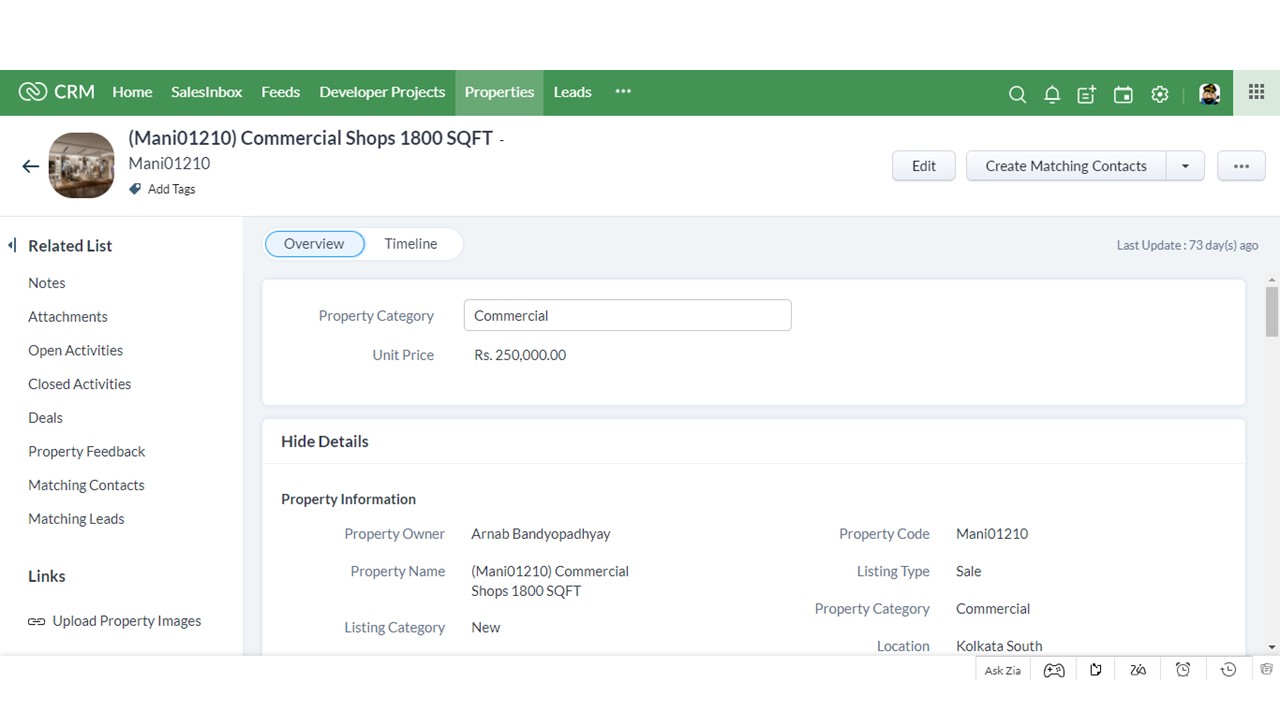 The system automatically formats the property name once the property information is saved. Furthermore, you can choose different property types for both Commercial and Residential Property categories.
Property Types Under The Residential Category: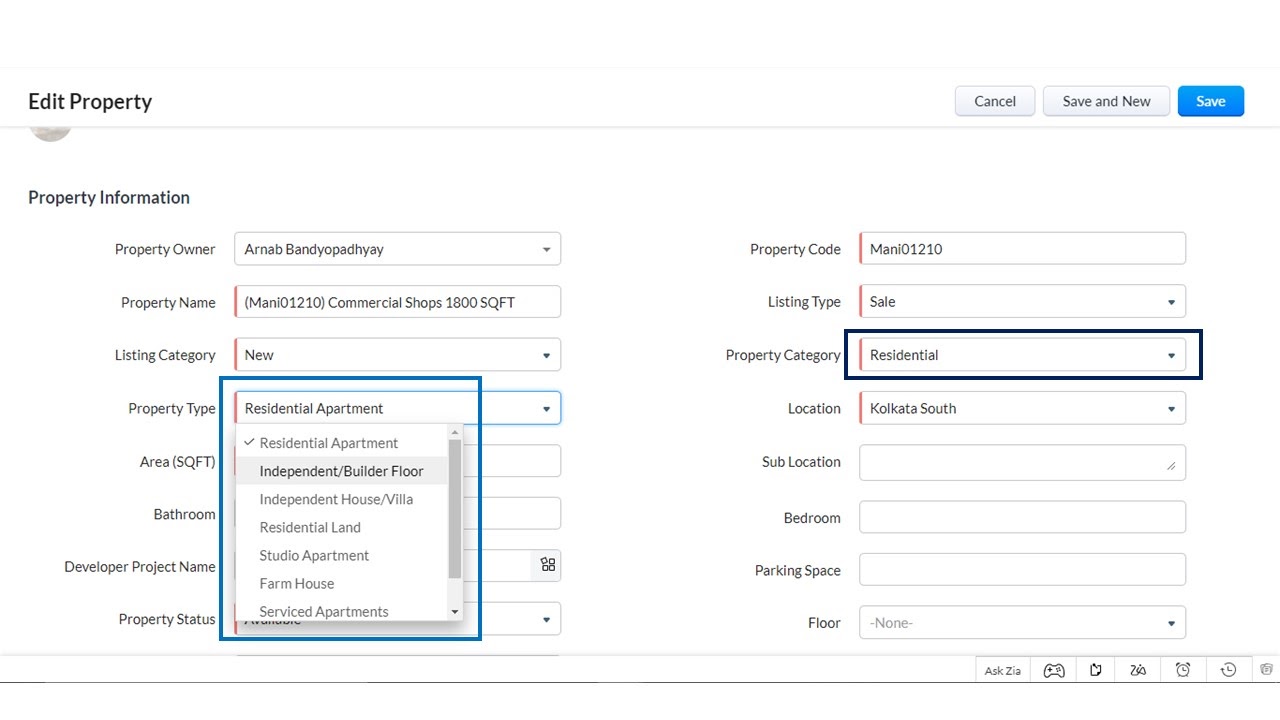 Property Types Under The Commercial Category: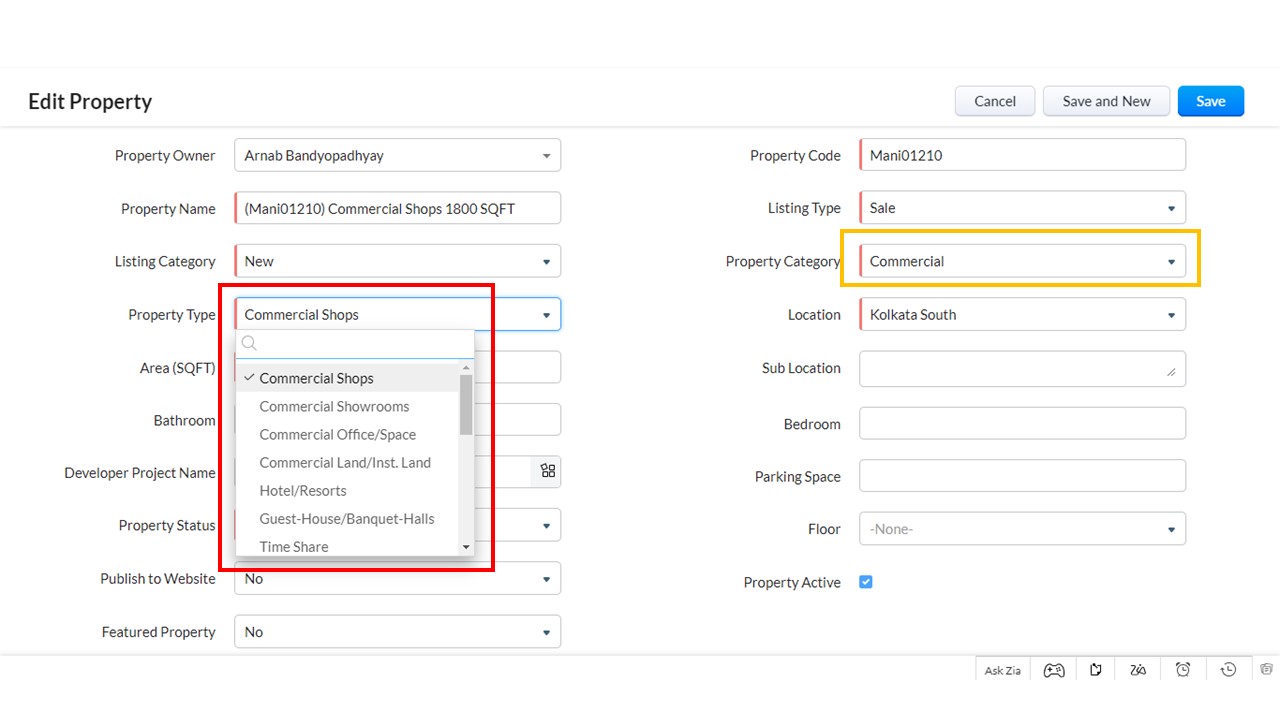 Help Seller List Property
The Real Estate Agency CRM also allows sellers and landlords to list their properties via Web forms. Once submitted, the information gets recorded inside the properties module with a status marked as "Under Validation".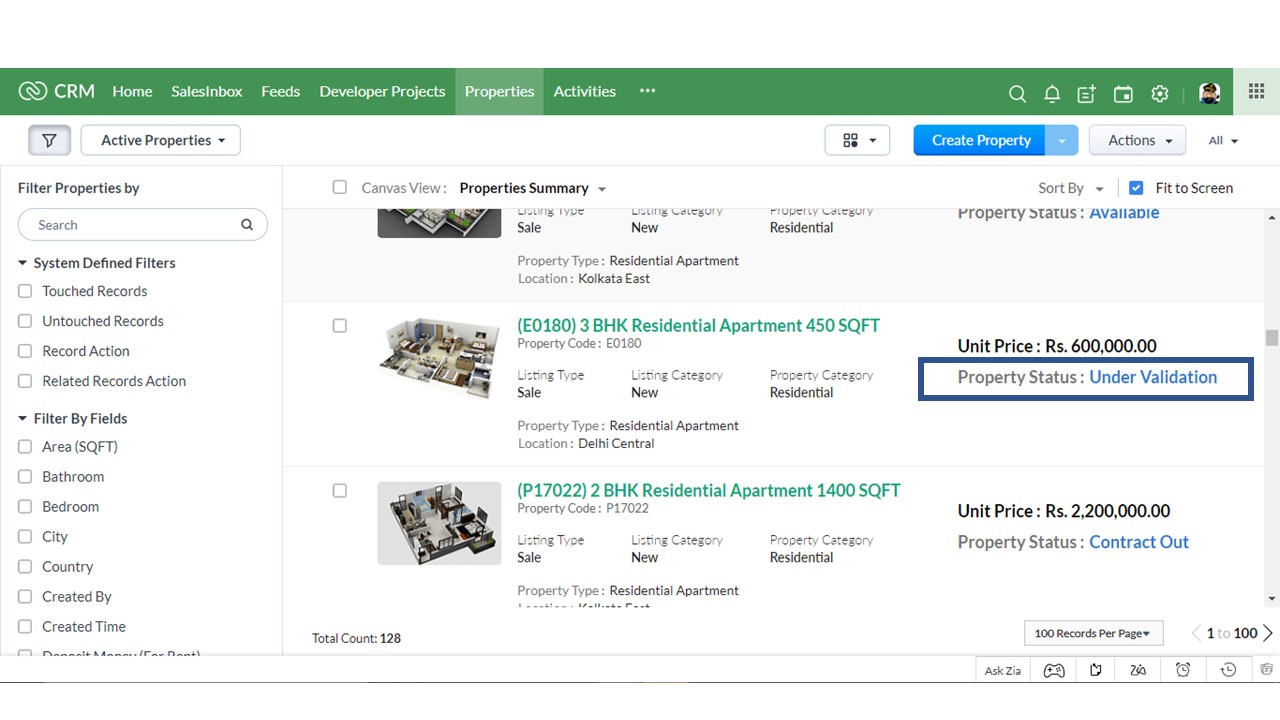 Next, you can verify all the details of the property and change the status to make it available for rent or sale. Click on the "Property" and then find the "Property Status' and then change it accordingly.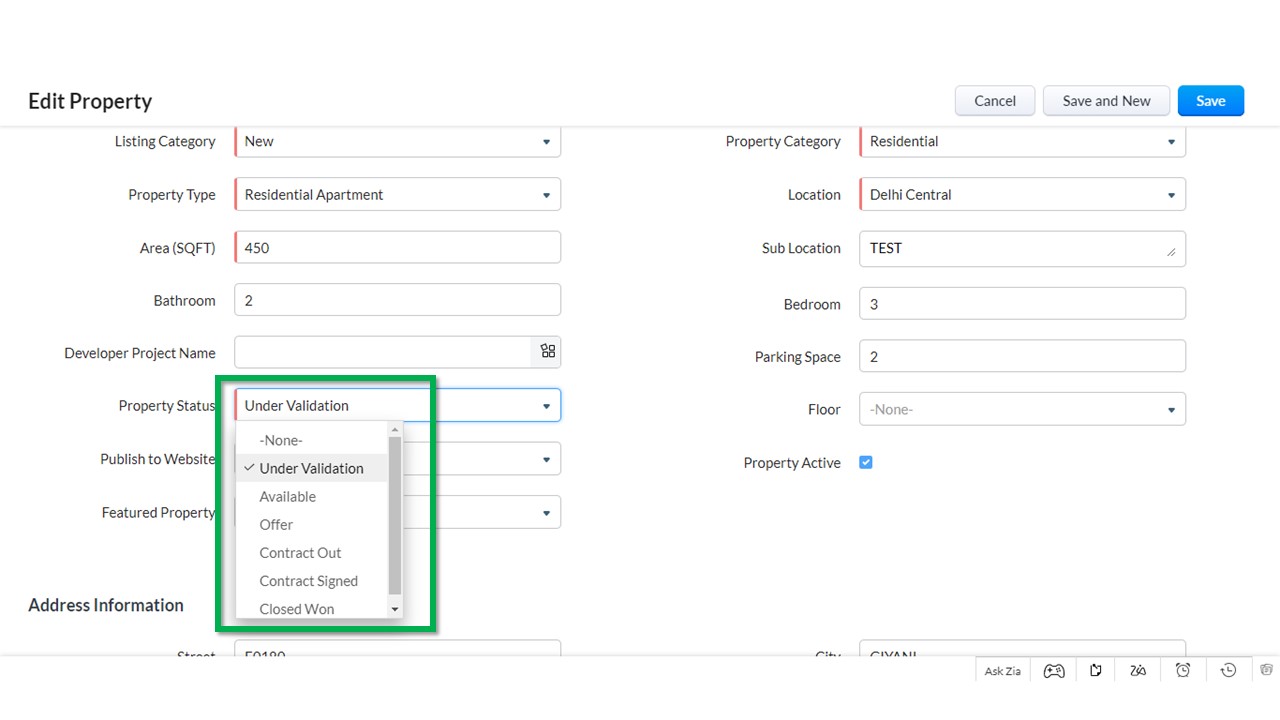 Publish Property In Website
Real Estate Agency CRM integrated with your website enables you to publish properties to your website in just one click. This feature can save you a lot of time and money so you can concentrate on growing your business. Once you have verified a property, you can go to the "Publish to Website" option and then select "Yes".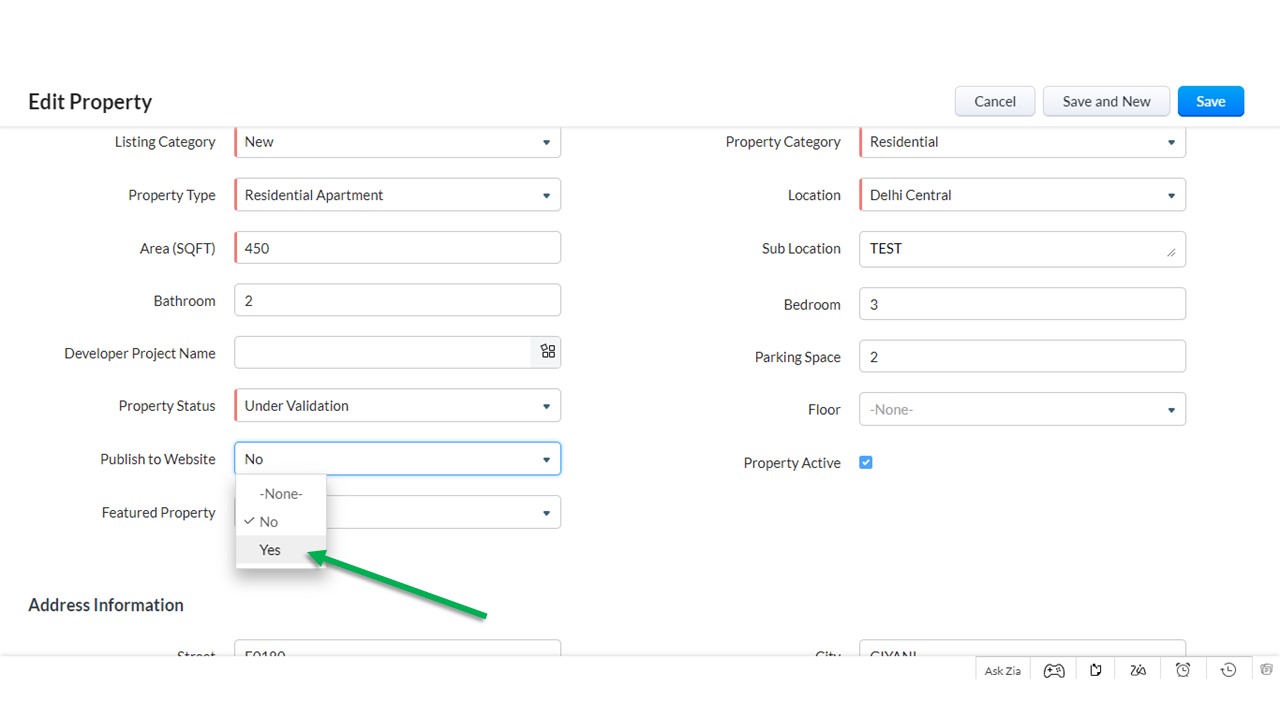 The property will appear on the list of the available properties as well as on the homepage of your website if you mark it as a featured property.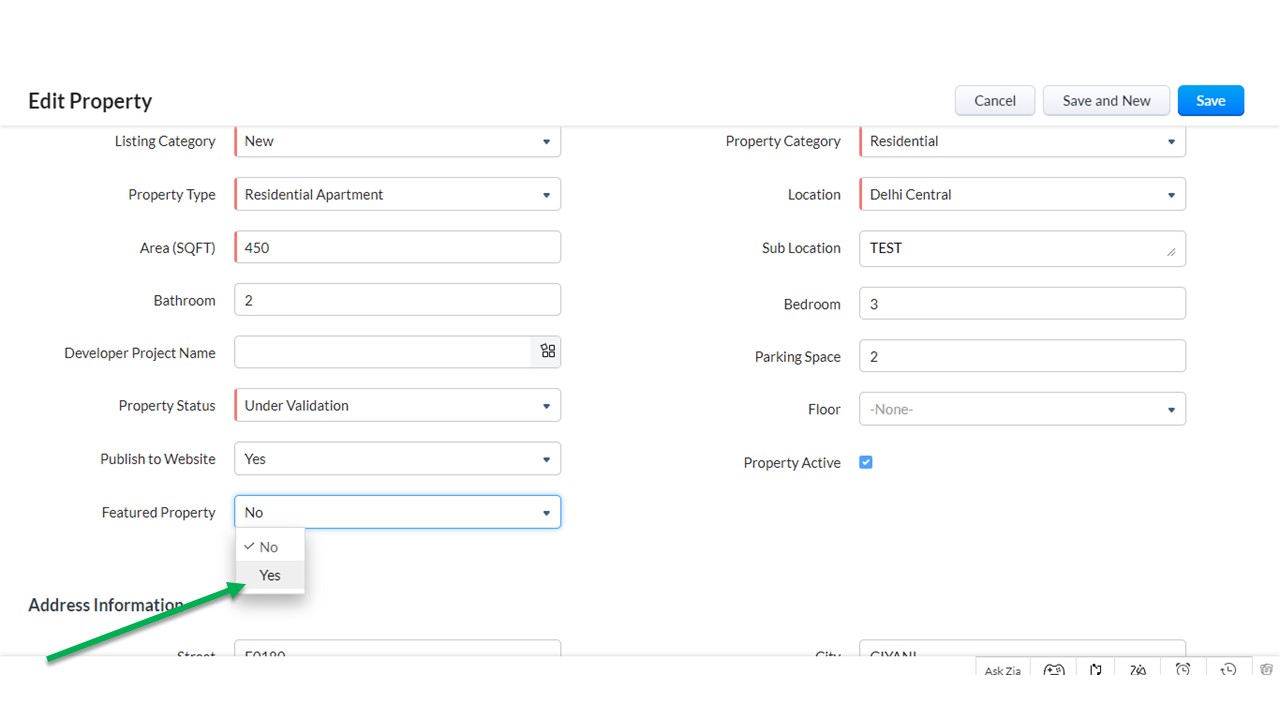 Similarly, if you remove the property from the featured property on your website, it will be removed from the website instantly.
This feature is an add-on on Real Estate Agency CRM and needs to be purchased separately if you wish to implement it.
Create/Manage Tasks and Documents
As a real estate agency, you already know the complexities around generating invoices, creating documents, sending emails, managing commission information, and others. However, with Real Estate Agency CRM, you can perform these actions effortlessly and efficiently.
Open any "Deals" record you want and select the actions you want to perform from the left pane. The system will allow you to create follow-up tasks, meetings, calls, invoices, and more.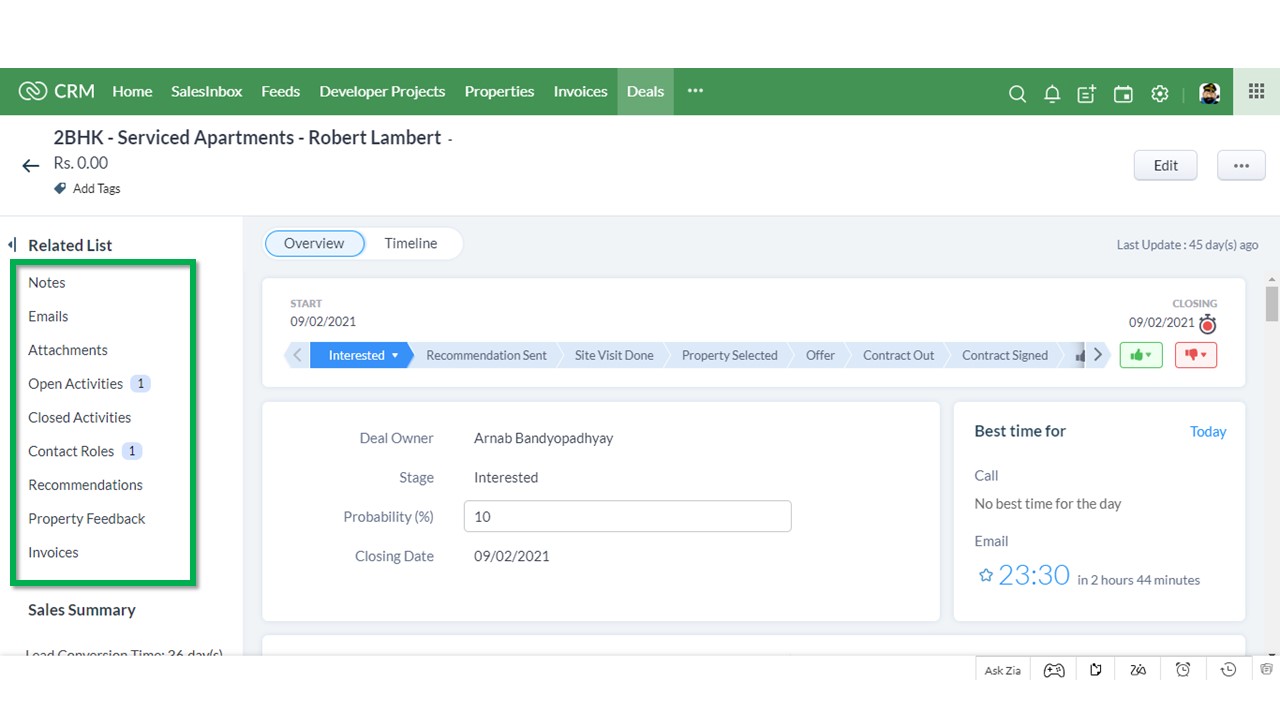 Furthermore, you can create or upload important documents for your clients and team members. Click on the "Documents" module and then click on the "Create" button from the top right corner. This feature allows you to create documents, spreadsheets, and presentations, which are the essential components of your real estate business.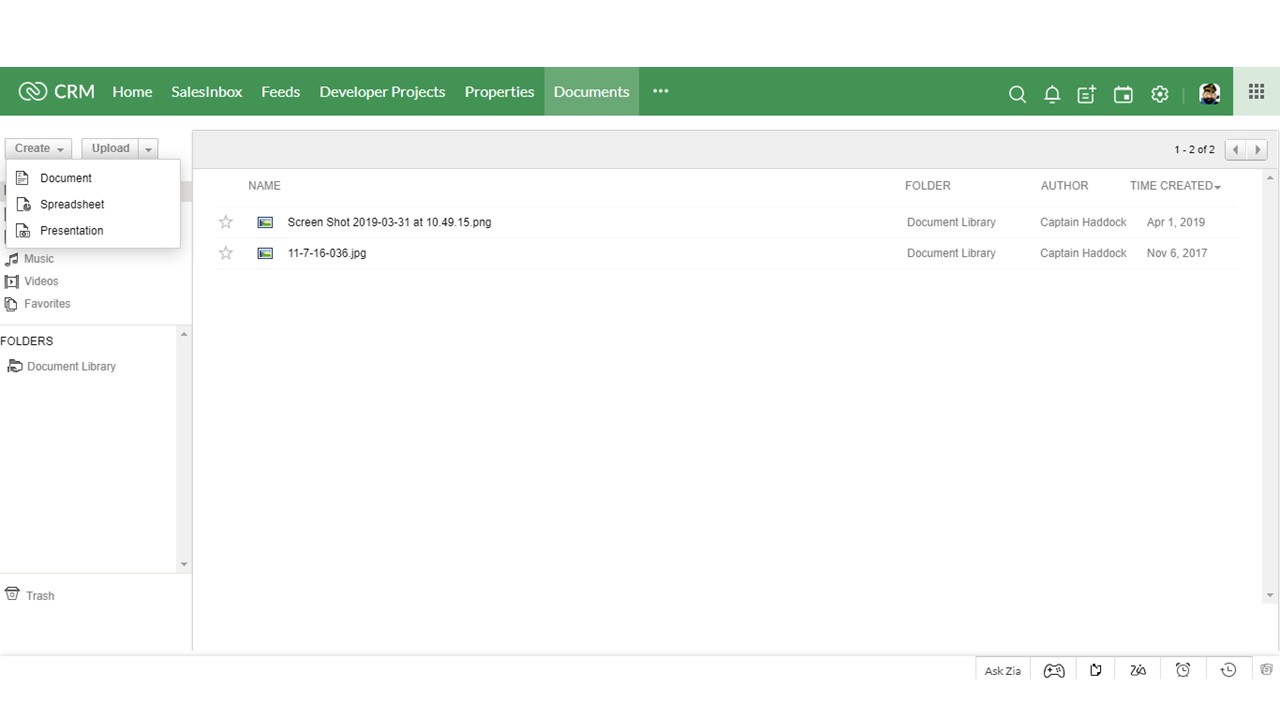 Here is a video that we have created for you to help you understand how the application works.
Last Words…
With this powerful tool, you can effortlessly manage your properties, sales pipeline, documentation, and more. Furthermore, the centralized manner of gathering all the data increases the efficiency of your business process. Anyone who wants to grow their real estate agency can use this application that is rich in features yet super affordable. Additionally, if you want to know about how to choose the right CRM for your business, then Click Here!
So, schedule an appointment today to get an expert consultation on how you can take your business to the next level by implementing the Real Estate Agency CRM.