How to Skyrocket Your Training Business with Training Provider CRM
Jan 13, 2021
Professional training has become an integral part of our lives, as we constantly strive to progress and develop our skills.
This is why training businesses are expanding worldwide.
Statistics have revealed that large companies spent an average of 1.5 million dollars, midsize companies spent around 67,209 dollars, and small-size companies spent 70,908 dollars on external and internal training.
The increasing demand for getting professional training has opened a forever-growing market bubbling with learners and knowledge enthusiasts. By 2023, this popularity is expected to increase the revenue for training providers to approximately 14.2 billion dollars.
Also, the online accessibility of binding the globe into digital screens of different sizes makes virtual training really popular.
This means that if you are running your training institute then you can expect to hear a lot of ka-chings.
But, to catch that big market, you have to focus on aspects related to marketing and sales. Hence, you need to implement a robust system, which will help you to manage your lead, customers, enrolments, and batches flawlessly. Not just that, you need a system that will help you to identify the right audiences for your marketing campaigns.
So, in this article, we will talk about how you can manage the operations of your training institute through the Training Provider CRM.
But, before talking about it, let us first know a little bit more about the professionals for whom this system can bring efficacious outcomes.
Who Can Use This System?
Before we hop into the details of the Training Provider CRM, you need to know whether or not this CRM is fit for your purpose.
So, let's see who is perfect for this system…
Individual Trainers:

If you are a freelance trainer, who is adamant to grow and be big in this industry.

Life Coaches:

If you are out in the world to share your experiences and help people walk towards their path.

Training Institutes:

If you own big institutions like schools, colleges, and universities.

Corporate Trainers:

If you train the executes and other professionals into developing their skill-set.

Online Trainers:

If you provide virtual training to audiences all around the world.

Offline Trainers:

If you provide in-class training.
So, if you fall into one of these categories then congratulations as you will unravel the exciting features that Training Provider CRM adorns you with.
With this system, which is built on top of the Zoho CRM, you can centralize your data, manage your sales pipeline, and generate comprehensive reports.
How does Training Provider CRM Help?
Training Provider CRM is a real life-saver if you have in-depth knowledge of how to run your business via this platform.
This CRM has everything under the industry nomenclature so that you do not get confused about its internal terms. Therefore, when your executives start to work on this system they will be able to relate better with it and perform like a miracle-worker.
I can vouch for the fact that if you want to lure in more customers, get your operations smoothly fulfilled, and be a pro in your industry, then implementing Training Provider CRM is a must!
Let me give you a clearer idea by enabling all the mind-boggling details of this CRM.
1. Lead Management
The Training Provider CRM empowers you to manage leads effectively. It entitles you with all the tools that will help you to capture leads, nurture them, capture their interests, and also to manage both retail and corporate leads.
So, when your prospects visit different marketing channel and register their interest, this CRM will immediately capture the lead: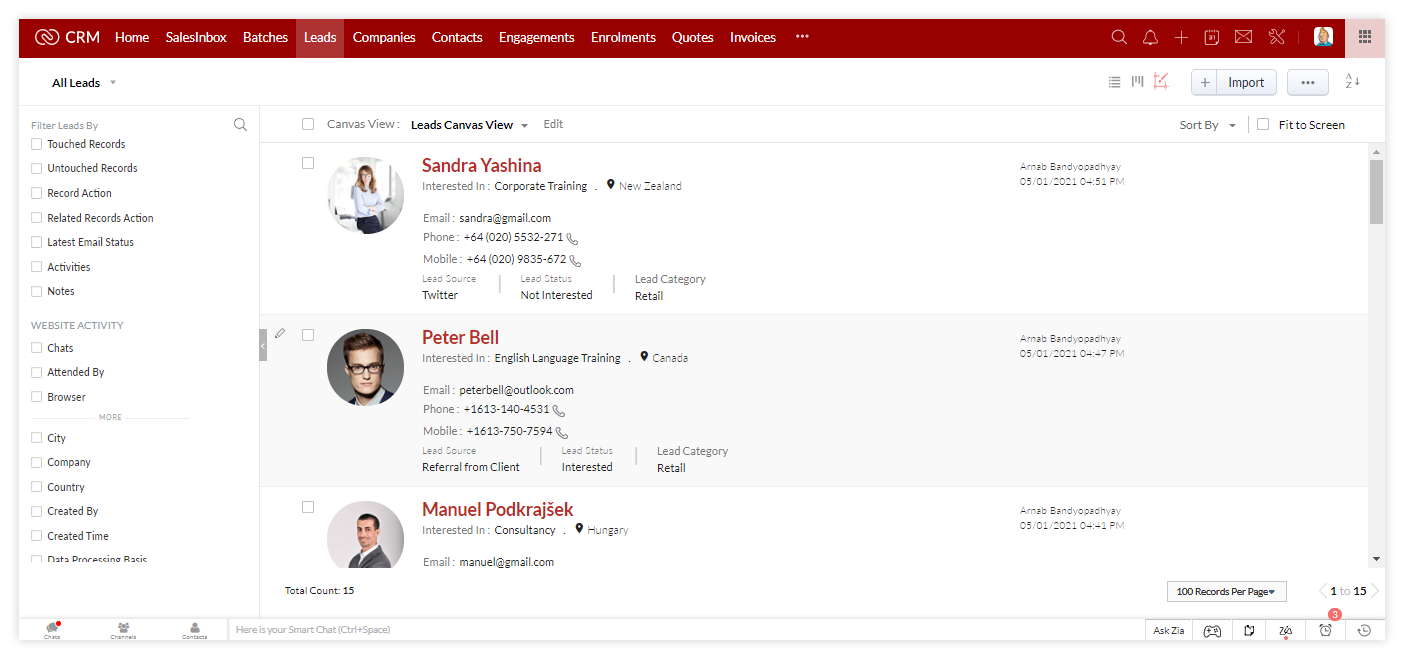 The Training Provider CRM can be integrated with all your marketing channels so that you never miss out on a potential lead. The automated aspect makes it really easy for your executives to track and monitor all the leads.
Once your leads start pouring into your CRM systems, you can nurture them effectively, by creating tasks, meetings, and calls:

When you get a lead registered into your Training Provider CRM, you will get access to all of his/her details that will give you a better understanding of what your lead is looking for. This knowledge will equip you with a sense of perceiving how you can convert them and guide them better.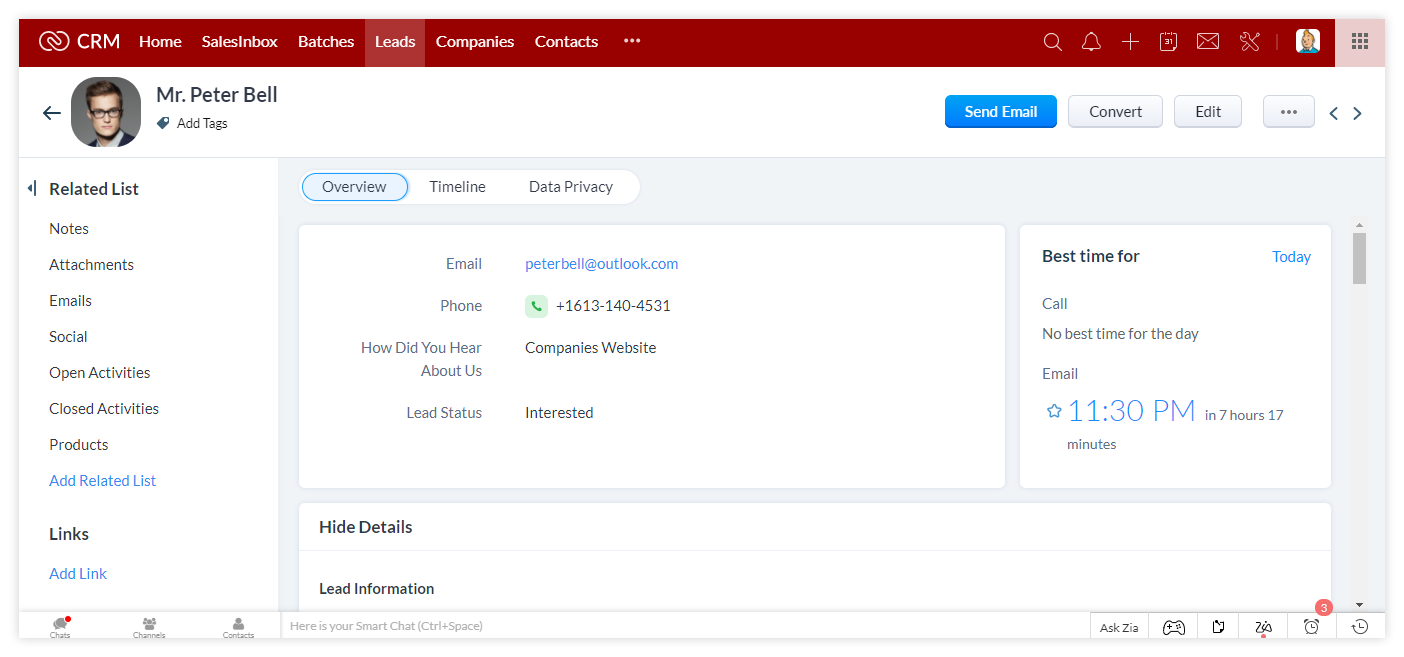 The Training Provider CRM also helps you to capture the interests of the individual clients that you can keep track of.
Interestingly, with this system, you can manage both retail and corporate leads. The CRM gives you different functionalities for each of the categories classified as Retail or Corporate.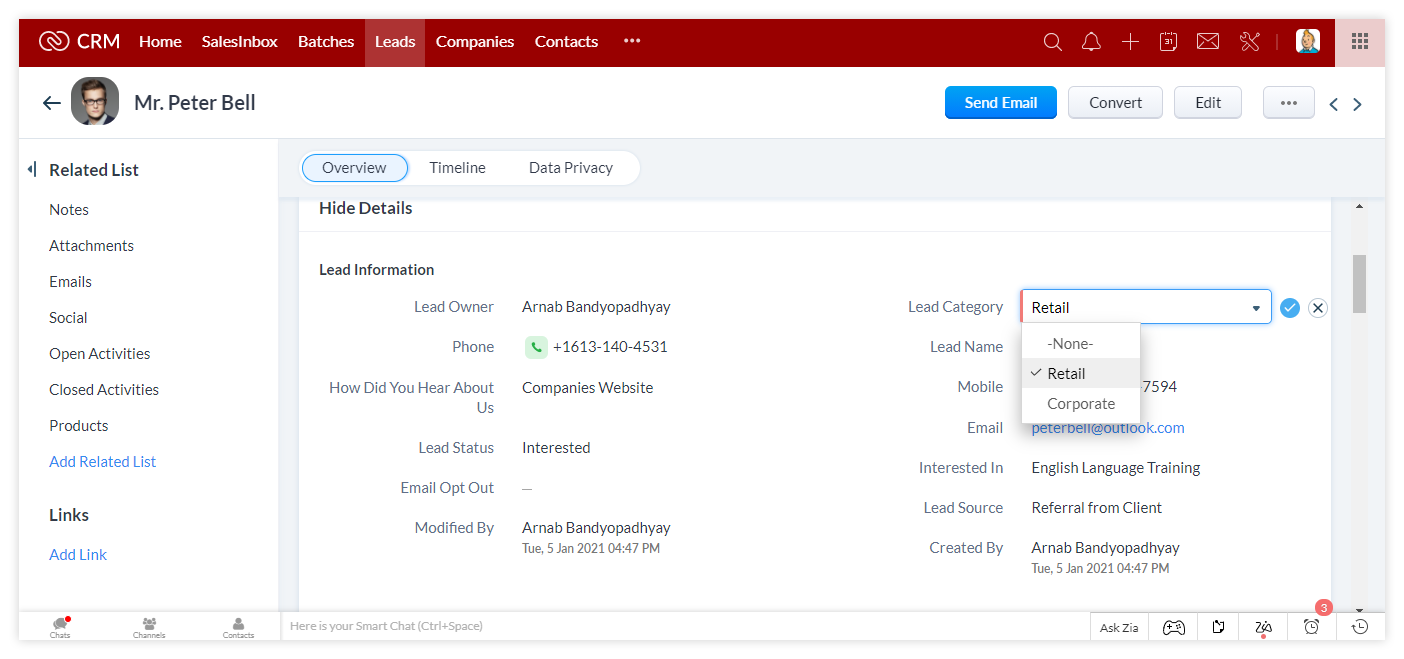 Like, for lead management under the retail category, the entire structure is linear. Whereas the corporate category has layers of structures that need to be followed for flawless lead management.
So if an individual client is interested, you can convert them and create contact and an engagement. In the case of corporate, you create a company, contact, and engagement.
2. Engagement and Enrolment Management
With the Training Provider CRM at your service, you can manage all your engagements and enrolments like never before.
This term, "Engagement" is an industry-specific nomenclature. So here it means the deals that you are coordinating either with an individual or with a Company. So, an Engagement can have many multiple Enrolments.
Now, in the Training Provider CRM, you can manage Engagements and Enrolments differently, based on your clients.
If your client is an individual, looking for a specific training program, then this client falls under the retail category: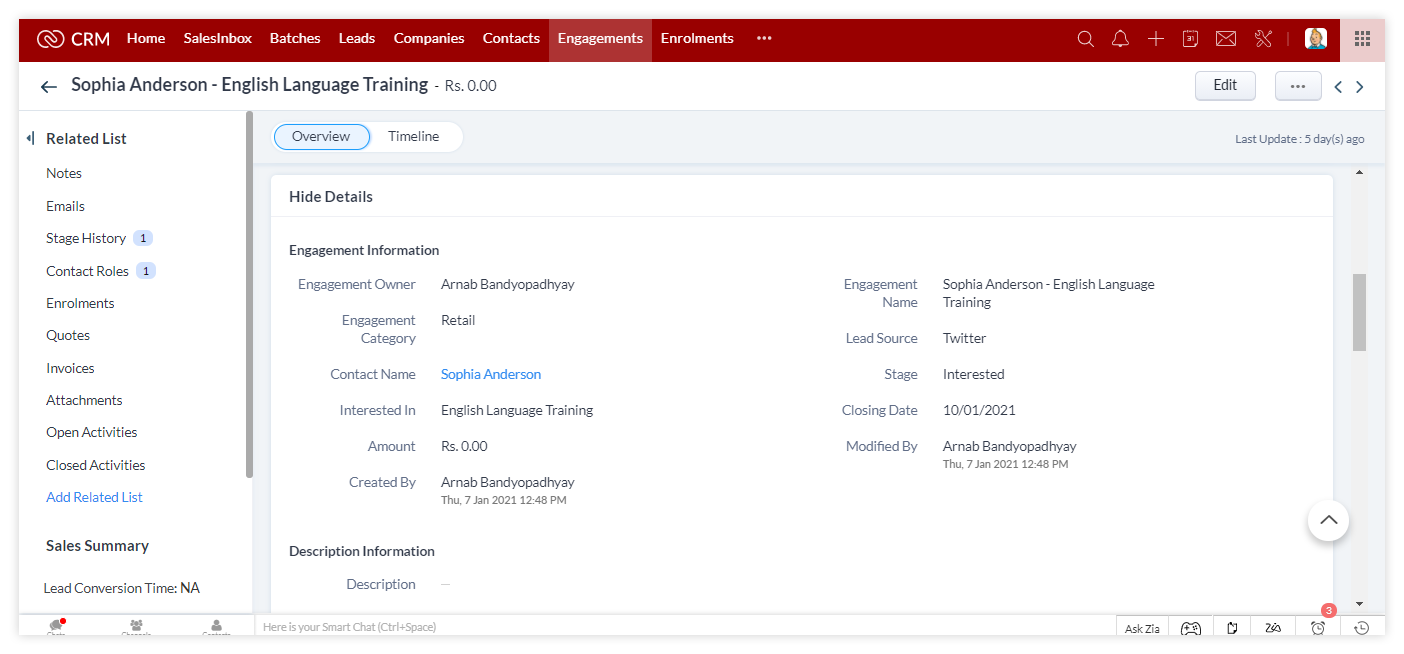 In this case, the client becomes part of an Engagement that already houses multiple Enrolments: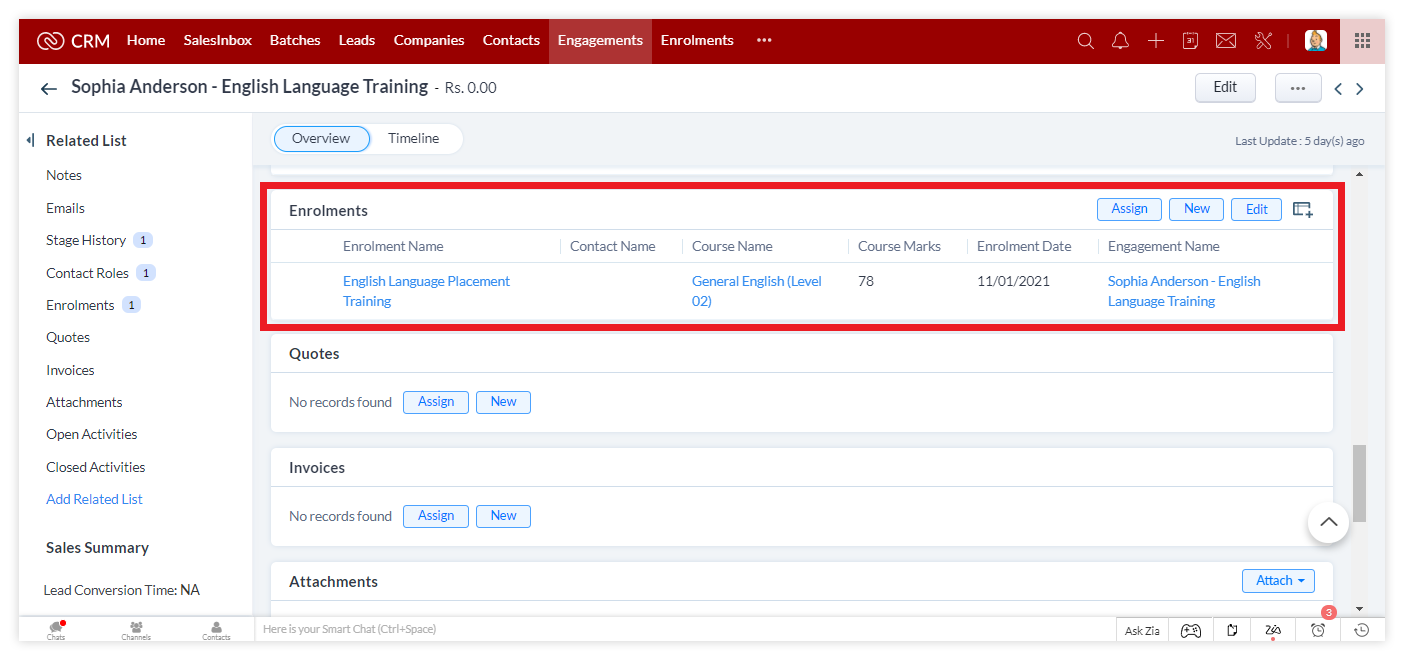 The enrolment's contact details are saved under "Contacts":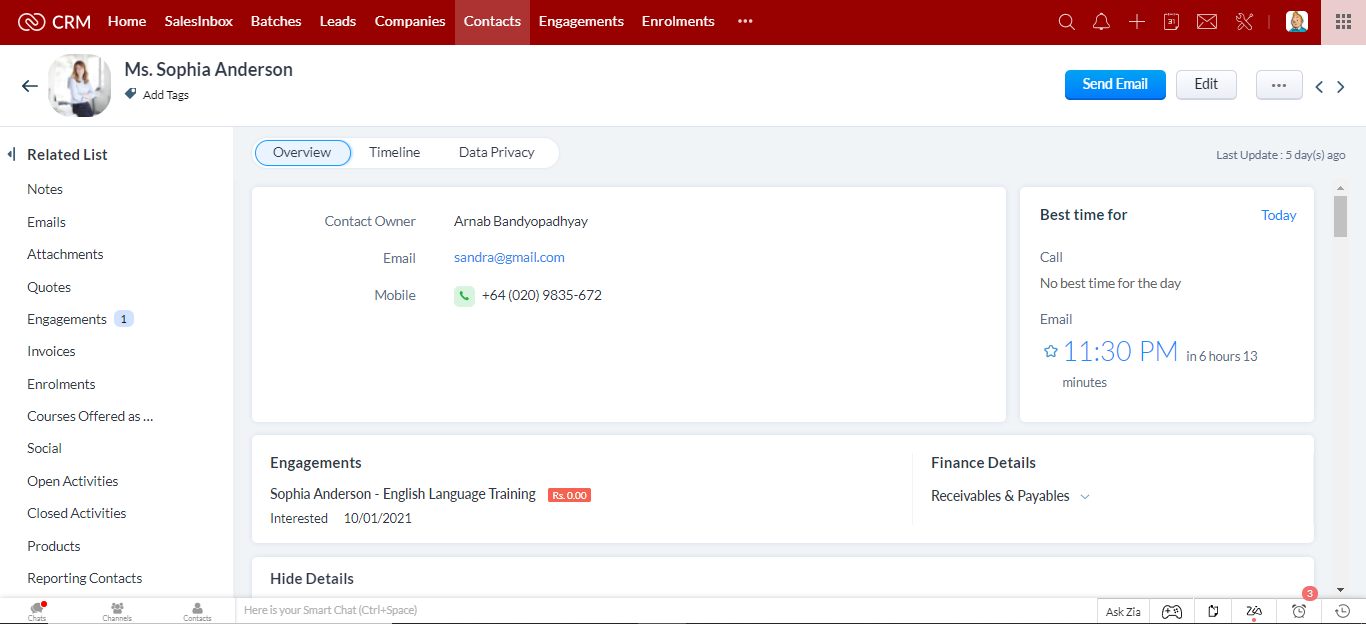 But, if your client is a company, then this process goes through different stages.
When coordinating with a company, it is a common practice to often cater repeatedly to many of their training requests. In such a situation, when a company strikes an Engagement with your training business, then the first process is to store all their company and contact details under "Companies":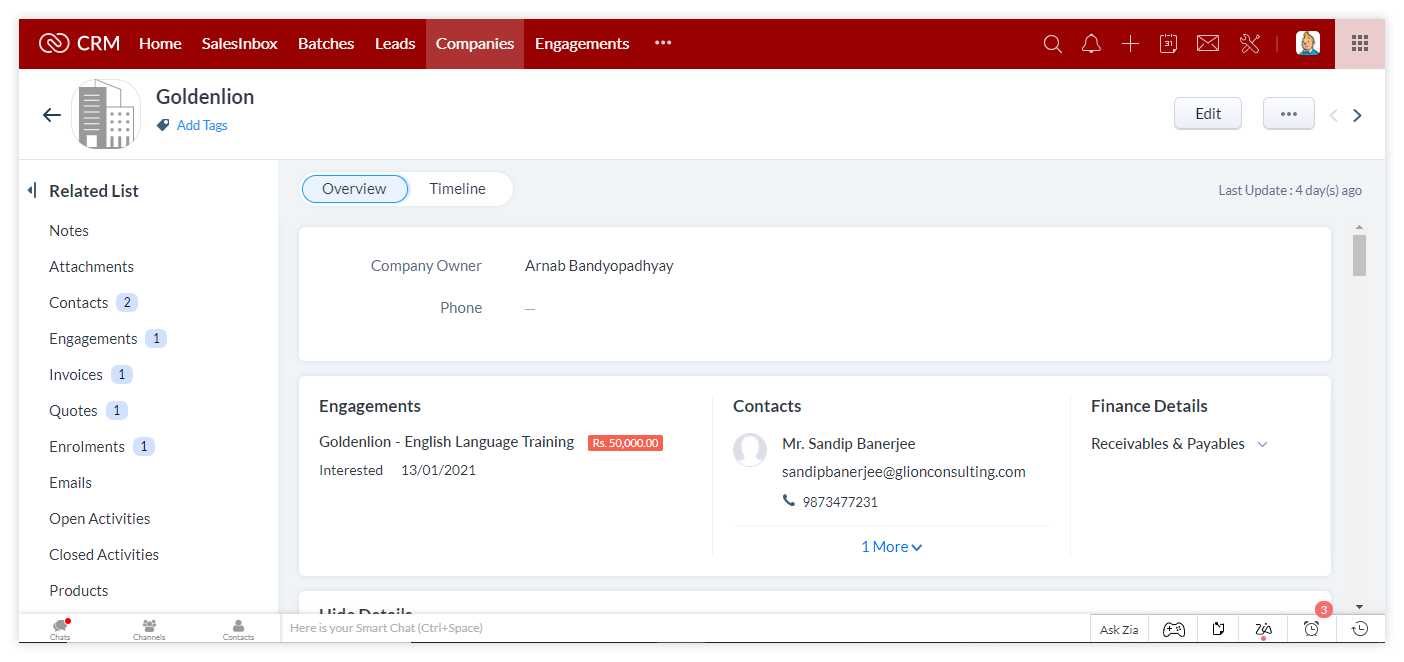 After all their deal information gets stored under the Engagement section, the registered trainees from the company get all their details stored under the Enrolment section: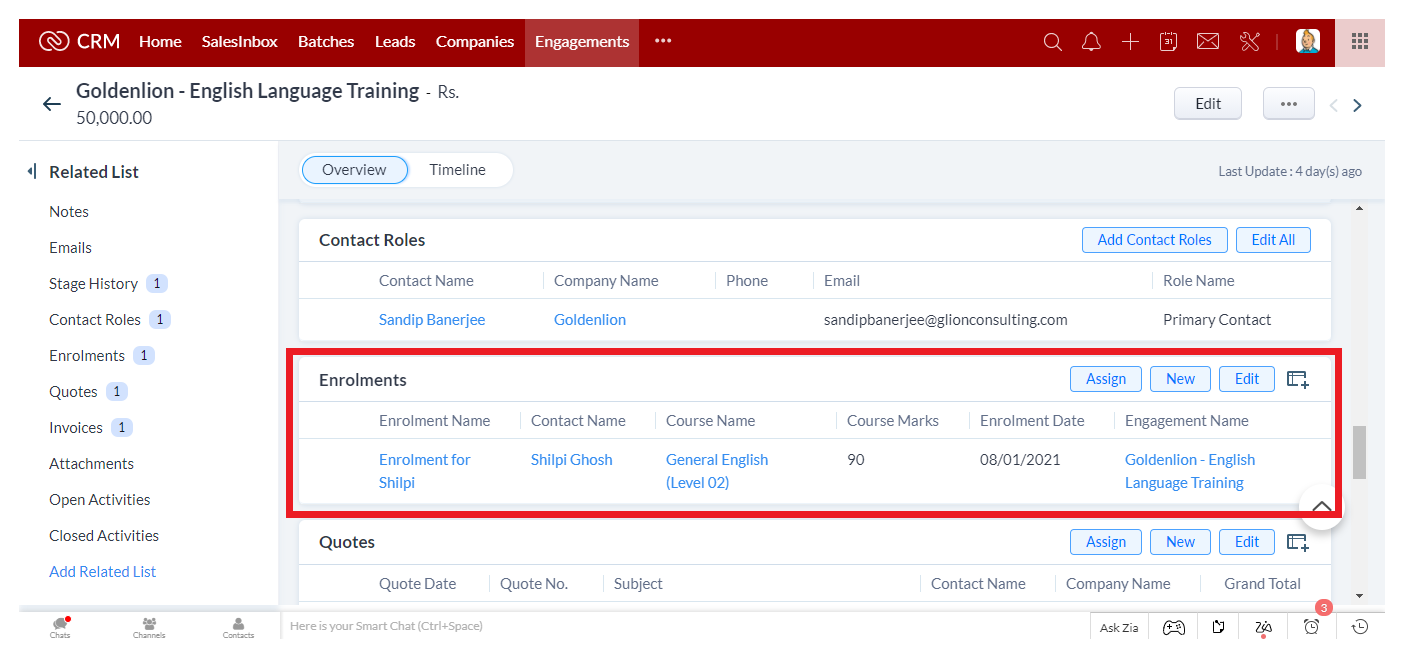 Hence, in the corporate, a company can have multiple engagements and each engagement can have multiple enrolments.
Similarly, when the trainees get enrolled, their contact details get stored under the "Contact" section: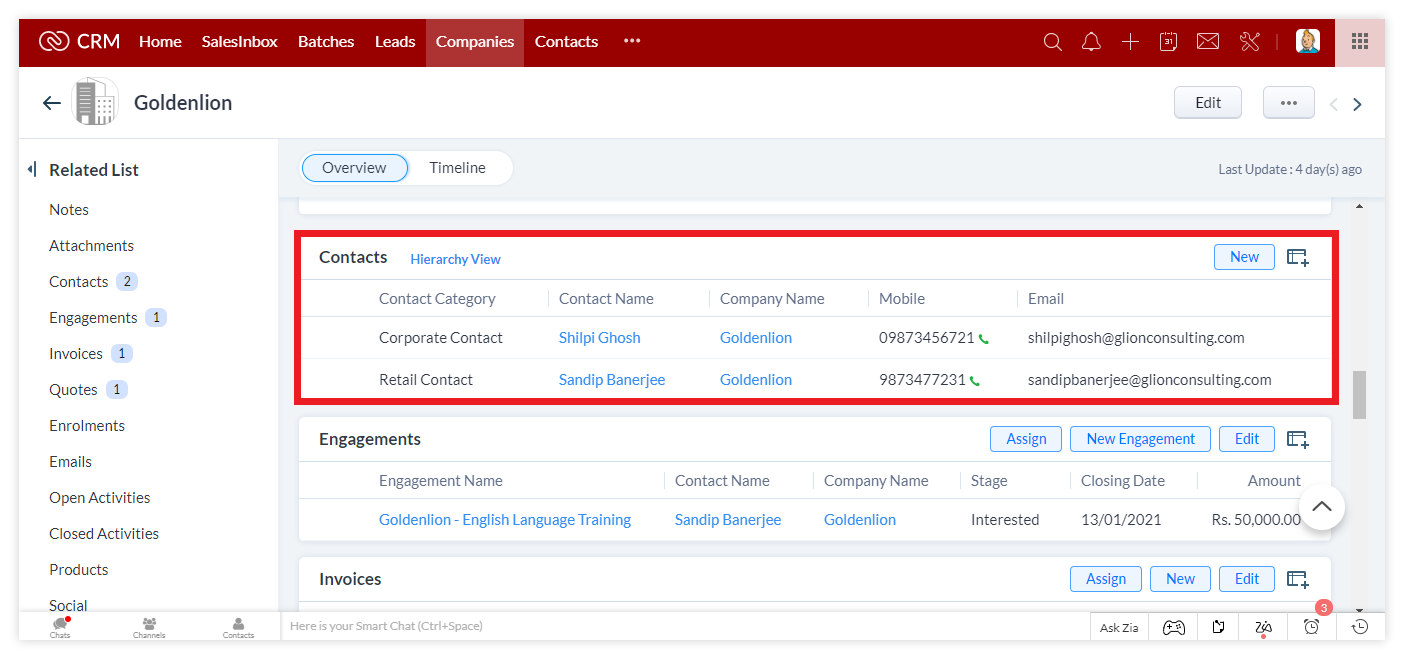 If you want to view all the enrolments separately you can do so by clicking the Enrolment option on the CRM system: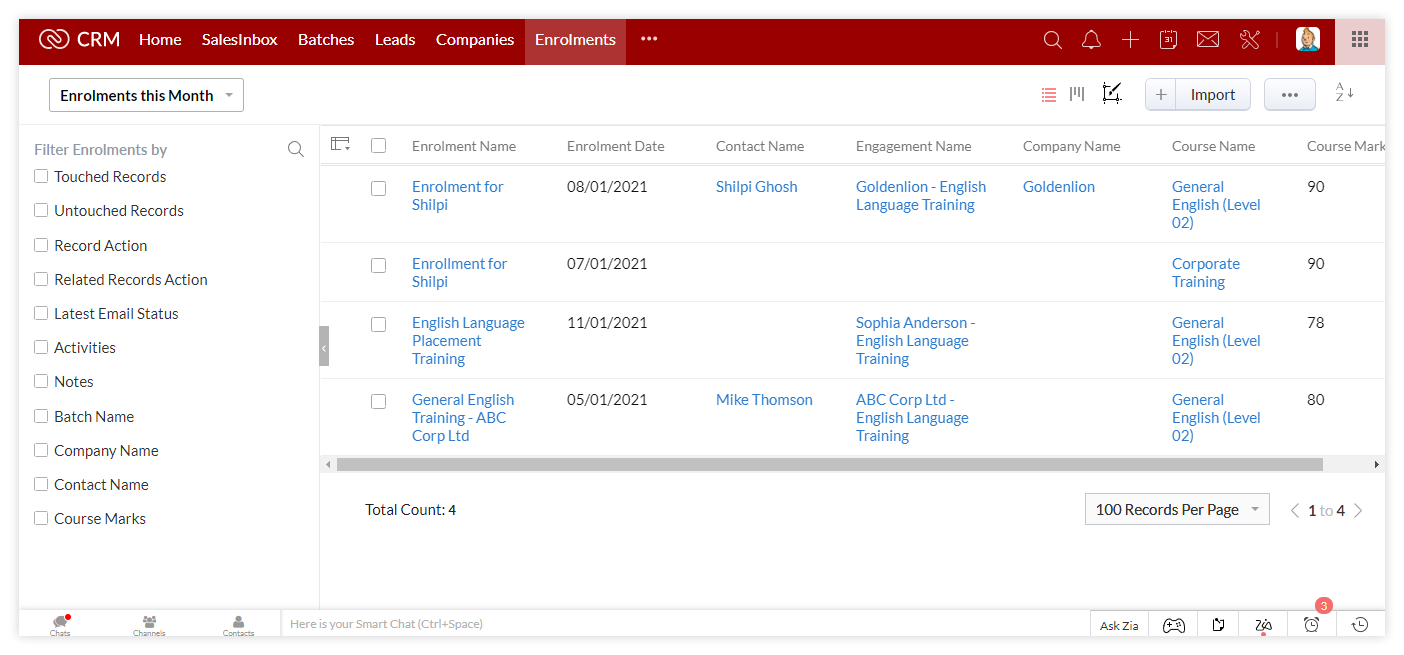 3. Quotations and Invoices
Creating a quotation is super easy in the Training Provider CRM.
Once you are aware of the engagement and the enrolments you can now quickly generate a quotation in a second.
With all the information, already stored in the system, the generated quotation is quick and accurate: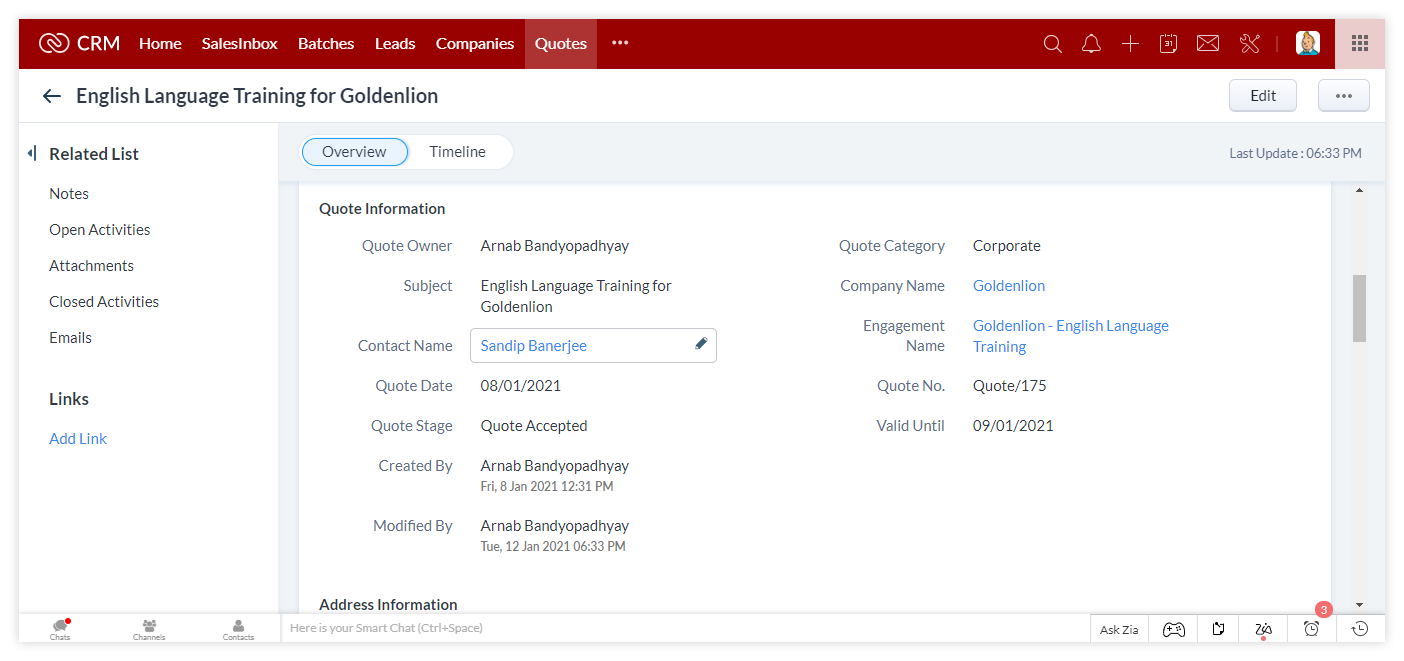 When the quotation gets approved, you can generate an invoice from the pre-populated information. This just takes a second to generate: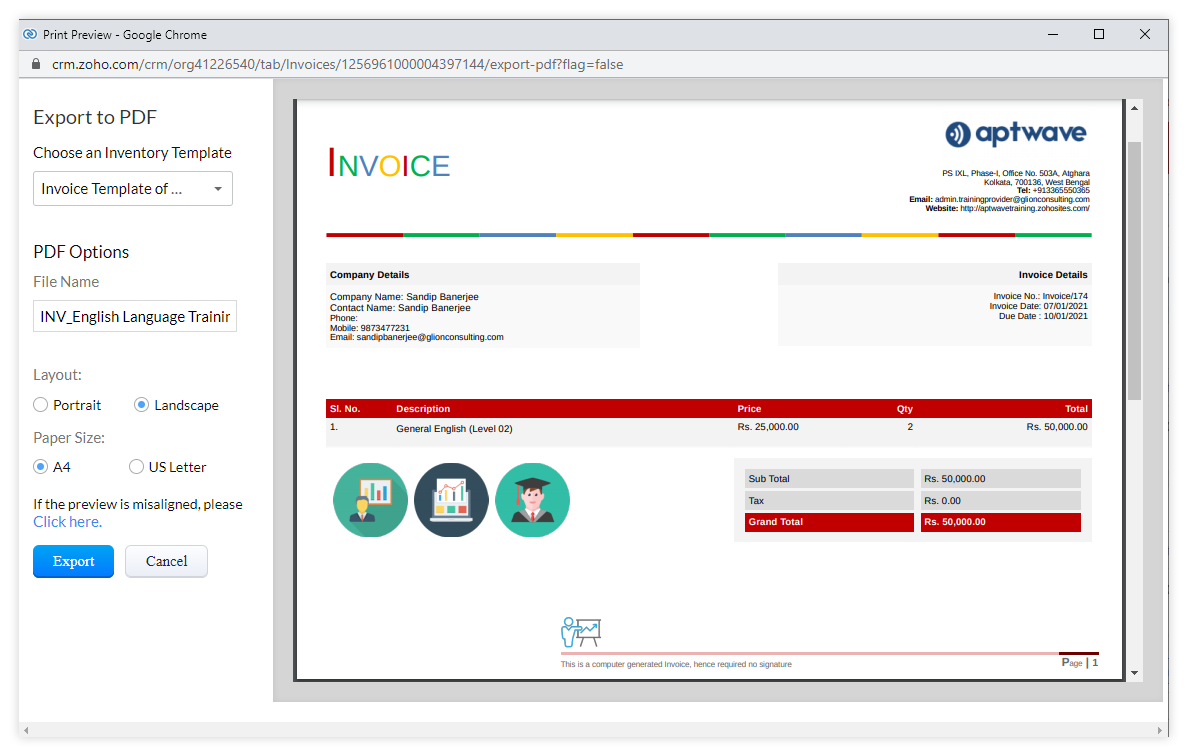 When you are ready with the invoice you can email it to the client from the system itself.
4. Batches
It can be really daunting to track each batch. This is because the meticulous process of manually overviewing all the batches for an empty slot can bring the risk of overbooking a batch several times.
This mistake can be detrimental to your training company's reputation. Especially when there are many other competitors, who are just waiting for the opportunity to grab a suitable prospect.
So, let's employ a system that can make this process easy, minimizing any risk of losing out your clients.
For this, no system is as good as a Training Provider CRM, which is specially equipped to handle the industry basics.
When you log into your CRM system, you can navigate to the "Batch" widget and see the list of on-going batches: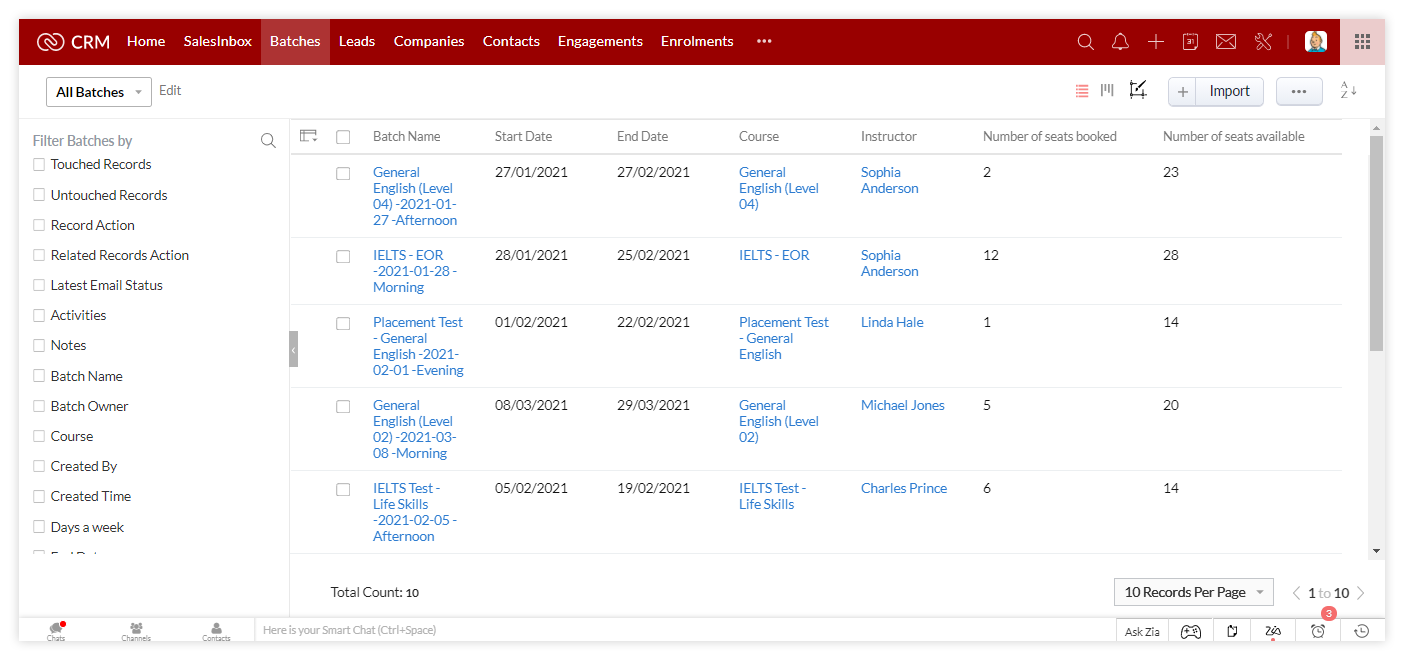 Not just that!
You can see all the details like the start and end dates, the course name, the instructor, and most importantly the number of seats booked and available.
This makes sure that you are well-grounded with your information about each batch. So, whenever a customer wants to enroll in a course, you can quickly have a look and do the needful.
You can also manage all the enrolments under each batch: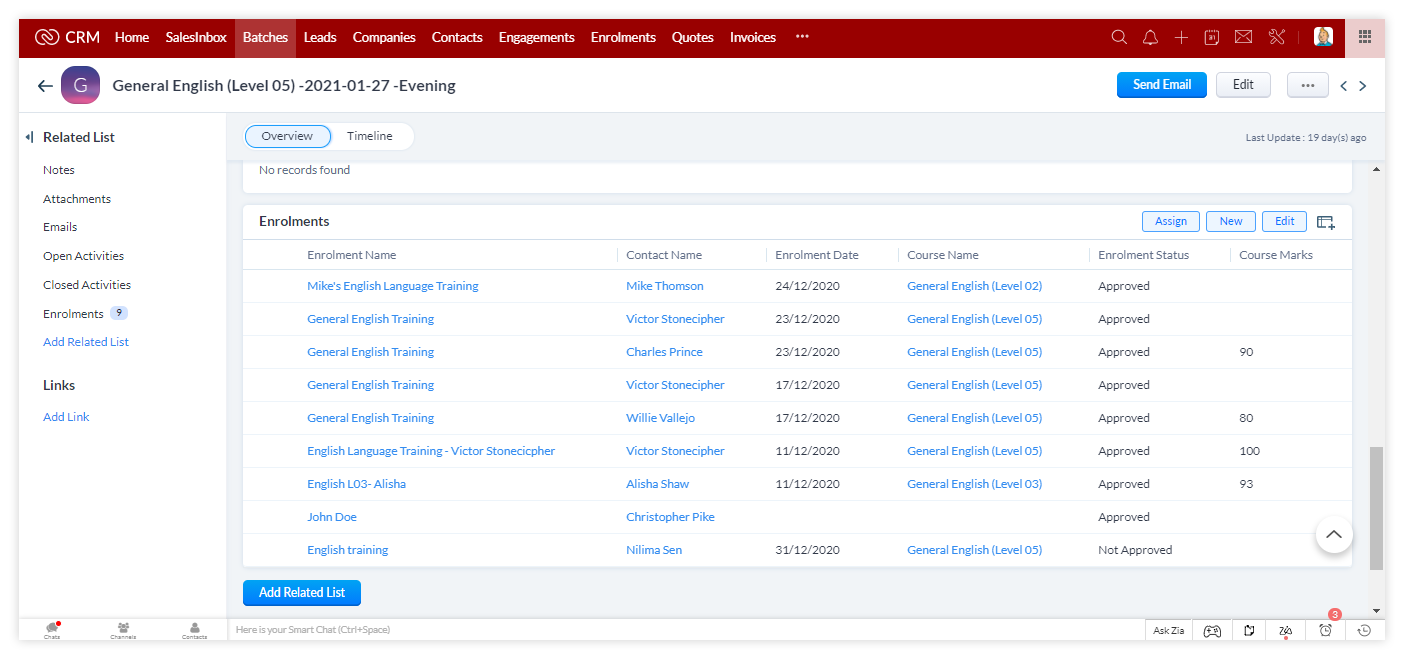 5. Generate Certificates
Generating certificates is an integral part of any training program. After all, we all want proofs that can validate a skill obtained from the rigorous practice. Whether online or offline, certificates go a long way
With a Training Provider CRM, you can also generate a certificate in a minute, actually in a second.
After an enrolment has completed his/her course, you can navigate to the "Enrolment" option on the top panel. There you can fill in the marks obtained by the enrolment and generate a certificate.
To generate a certificate you can click the dotted button at the top-right corner and click the option, "Mail Merge" from the drop options: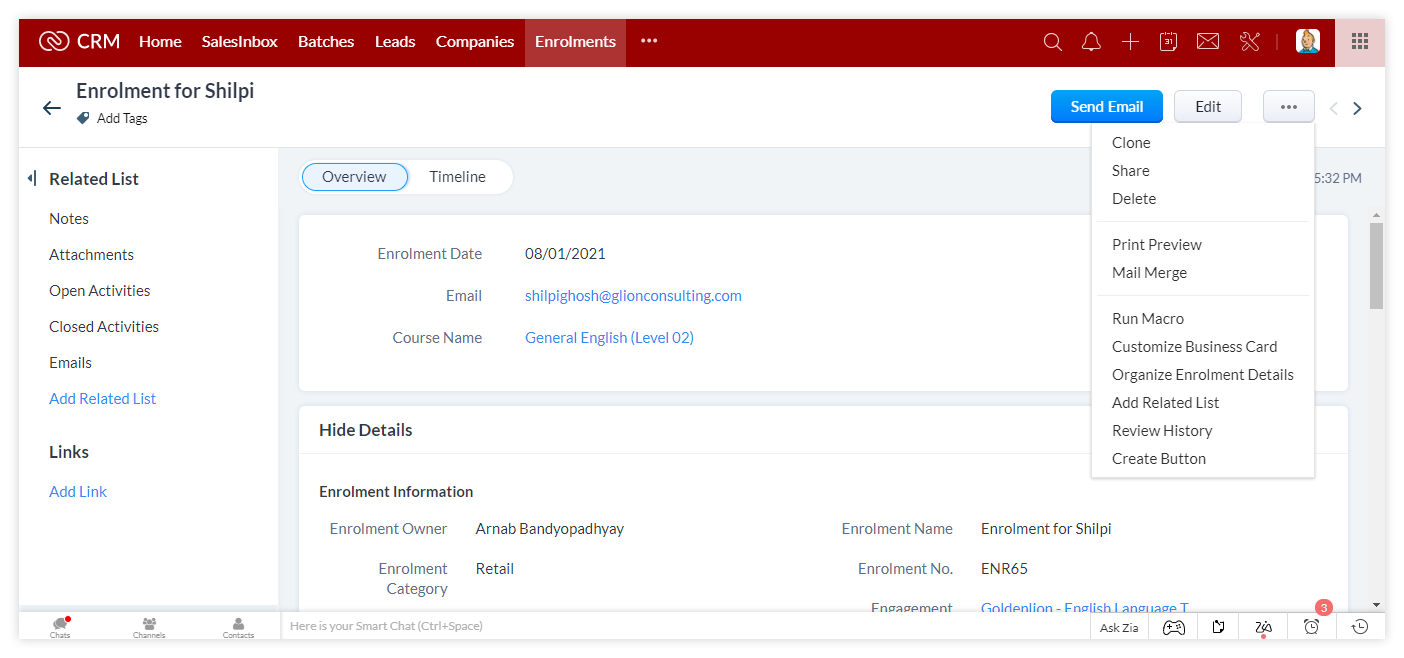 As this CRM system is stitched with different useful applications, it will work with the Zoho Writer application to generate a certificate: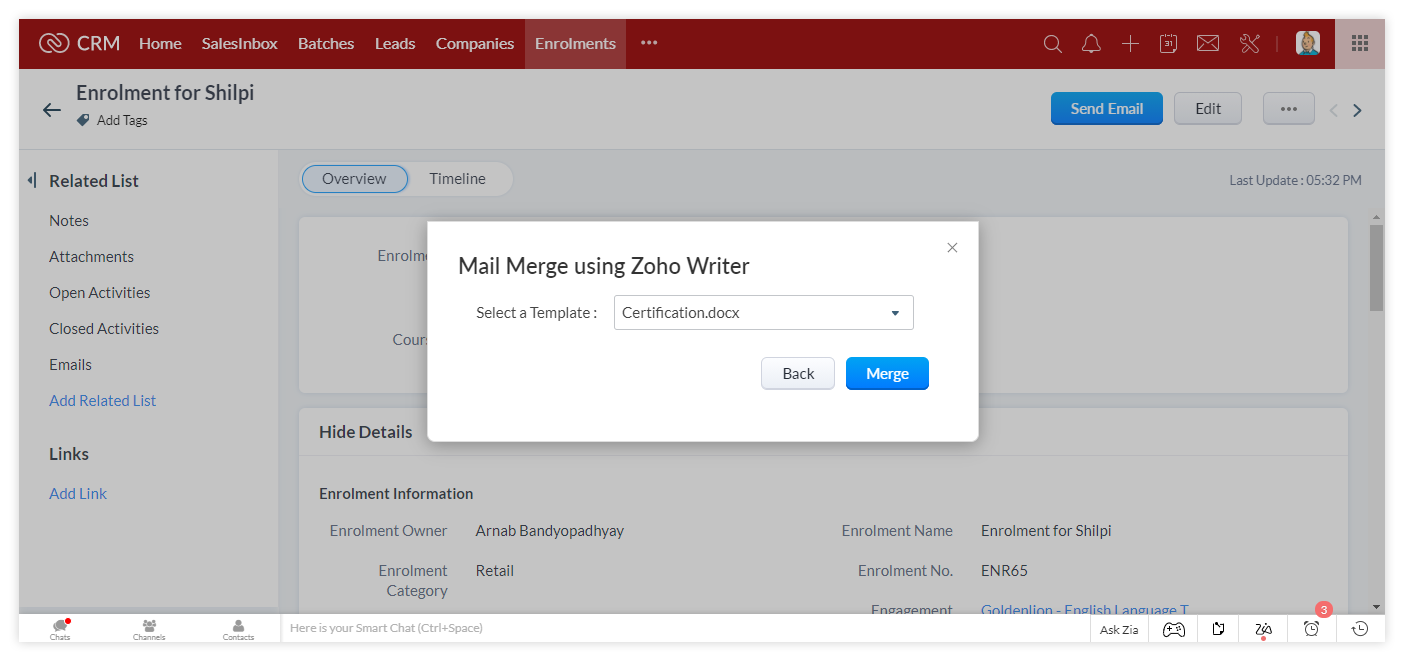 Once you click "Merge", your certificate will be generated. You can edit in this platform and make any necessary changes: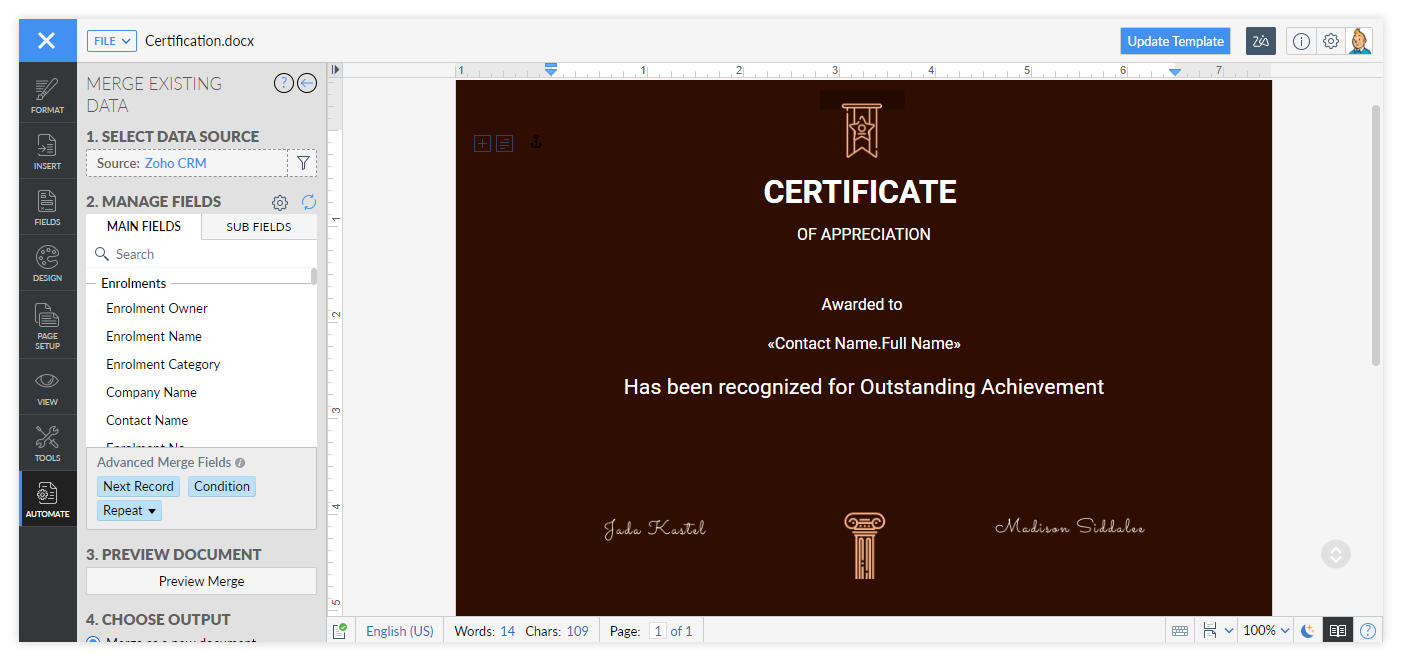 Voila!
So just in one click, you are ready to give out the most exciting aspect of any training program.
With this system, you can also quickly generate a certificate for an X-student who might have lost her/his document.
6. Reports and Dashboards
With the Training Provider CRM, you can also keep track of your entire business process through reports.
You can get updates of the leads and the actions that have been taken within the system: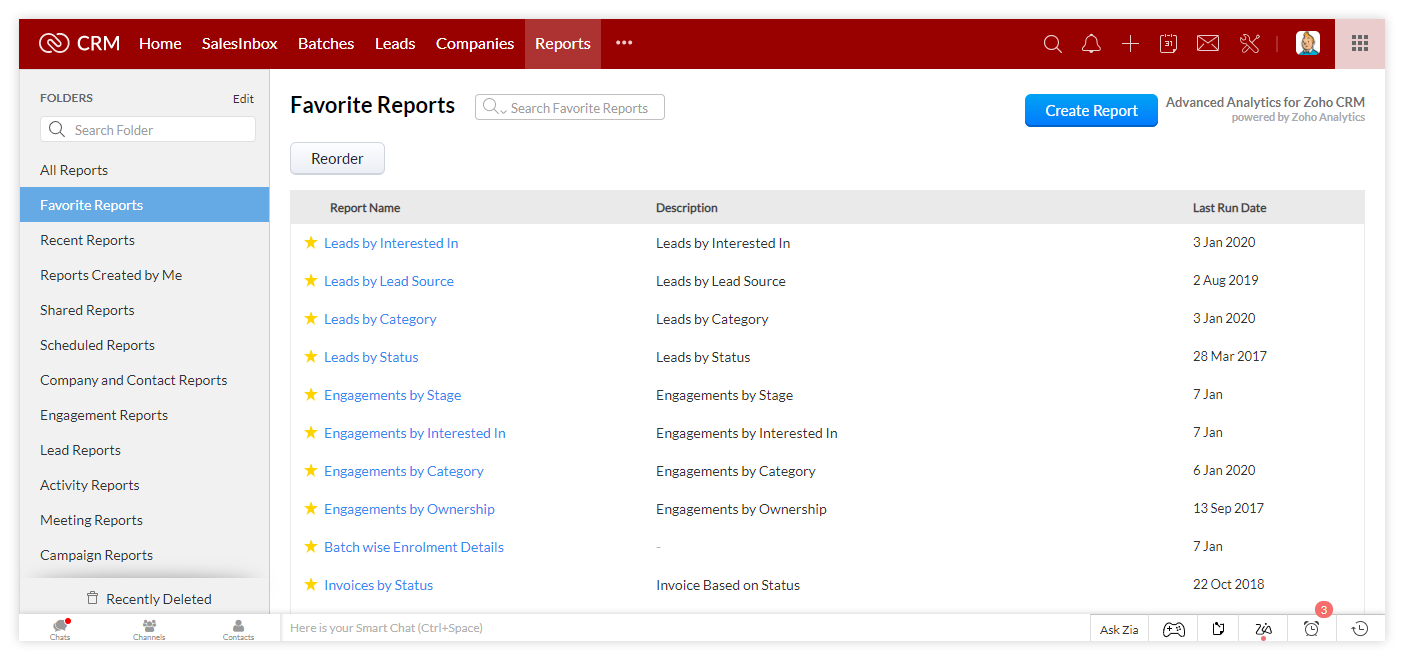 Also, you can track the batch-wise enrolment details via the reports: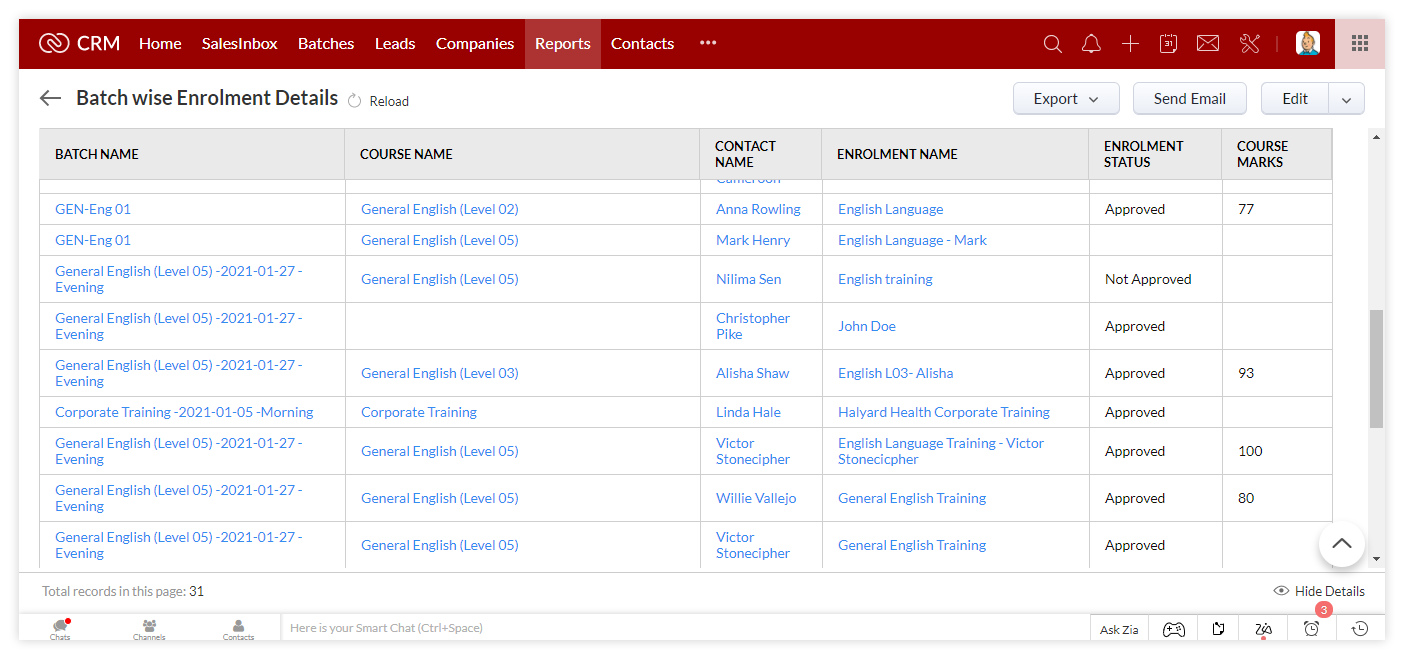 This will give you a comprehensive view of the batch names, courses, contact names, enrolments, statuses, and course marks.
You can also export this information and generate the reports in Excel, CSV, and PDF: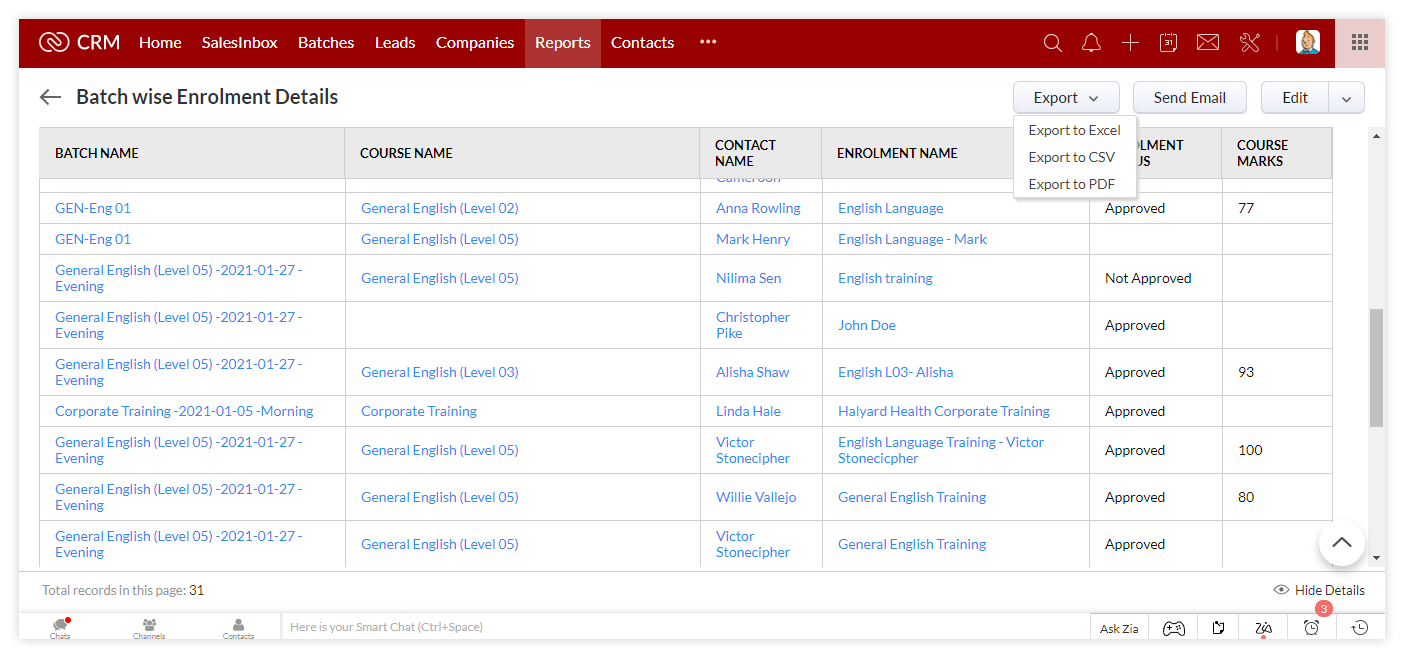 This does not end here!
As you can get a full graphical overview via the Dashboard.
A visual representation of the tracked details gives you better clarity of the data. Have a look: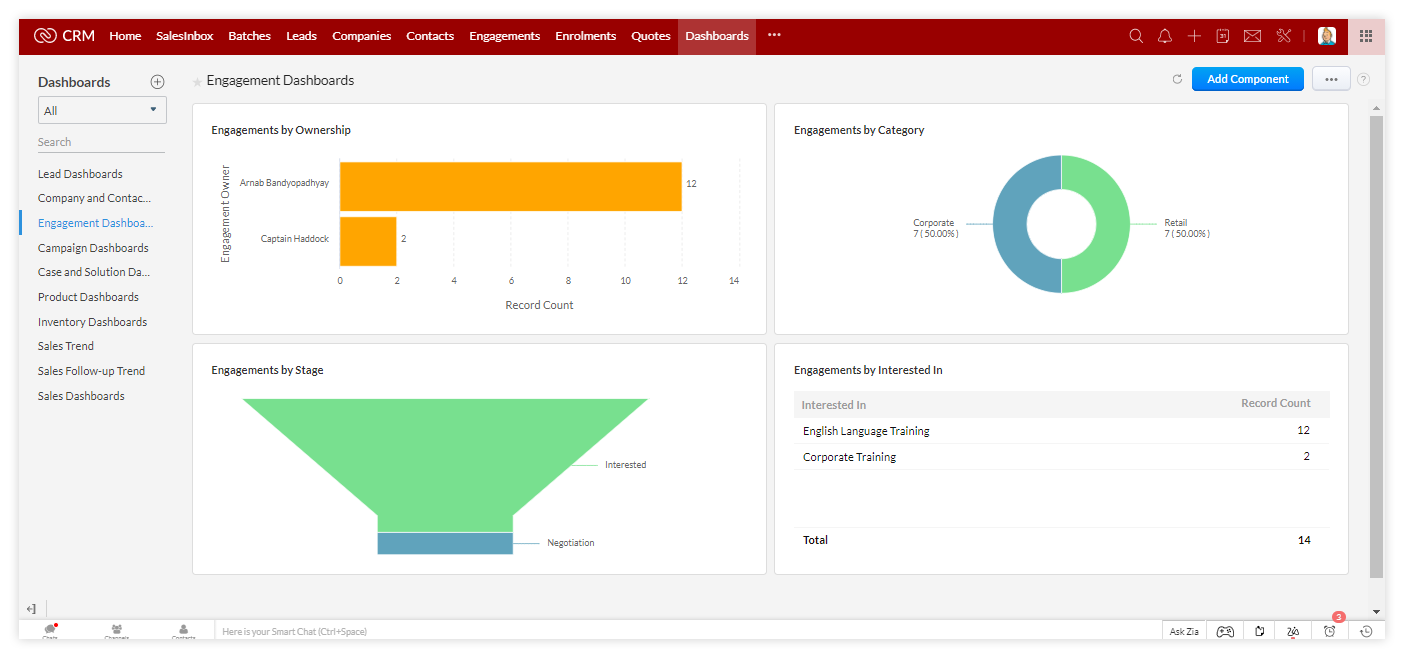 This is a really convenient platform for training providers who want to grow and expand their programs beyond the limited realms.
If you want to know more then check this video out:
Conclusion
Different training programs are gaining popularity because of their high demands in professional life. In order to excel and become well-established, training is vital to keep sharpening our skills.
This demand makes training businesses really profitable and worthwhile. But to handle this big market you have to implement a system that can help you to function in this competition well.
Training Provider CRM is that system, which is fully equipped to handle your ever-growing needs. Whether in terms of lead capturing and nurturing or in terms of managing the batches together with their different components, this system will give you a systematic structure that can help you to sail smoothly.
With this system, you can manage your leads, engagements and enrolments, quotes and invoices, certifications, and reports.
If you want to know more about the Training Provider CRM, then it is time for an expert consultation!