Improve Your Customer Retention Rate With Entertainer CRM
Mar 24, 2022
It is a no-brainer that for making a business successful, you need a lot of hard work and provide a better-than-the-best customer experience. The more you improve your service, the better customer loyalty you build– so it's basically directly proportional. However, as there's constant competition growth in every industry, our potential customers are swamped with options from different brands. As an entertainer, therefore, you need some extra magic that will do the trick for retaining customers. And there is nothing more ideal than our ultimate Entertainer CRM solution for this purpose.
Why do entertainers need to focus on customer retention?
Being entertainers you might have multiple gigs lined up. Your business involves artistry and creativity. But it is often noticed that the creative industry is not as continuous or fluid as one can expect from other industry verticals. According to Bain & Company, it costs seven times more to acquire a new customer rather than to retain an existing one. And as you know maintaining stability is the magical key to a successful business and that's what Zoho CRM for entertainers does for you. Designed craftily with the sole intent of improving your relationship with your customers, our solution is accessible at any time, and with any device.
In this article, we will explore how lucratively you can use our CRM solution for escalating your customer retention rates.
Unified Space For Your Data
The best part of using Entertainer CRM software is the homepage where you keep all your information centralized. The dashboards on the homepage represent the most crucial metrics of your business. Whether it is about how many leads got generated in the current month, the sales success rates, or the number of opportunities you have in hand– every piece of information is unified here. You can also view a set of tasks that you might have left, the task owner, related opportunity, and its current status as well. Moreover, this page auto-updates itself with real-time information. Therefore, you see, you can manage and direct every aspect of your business from the homepage itself.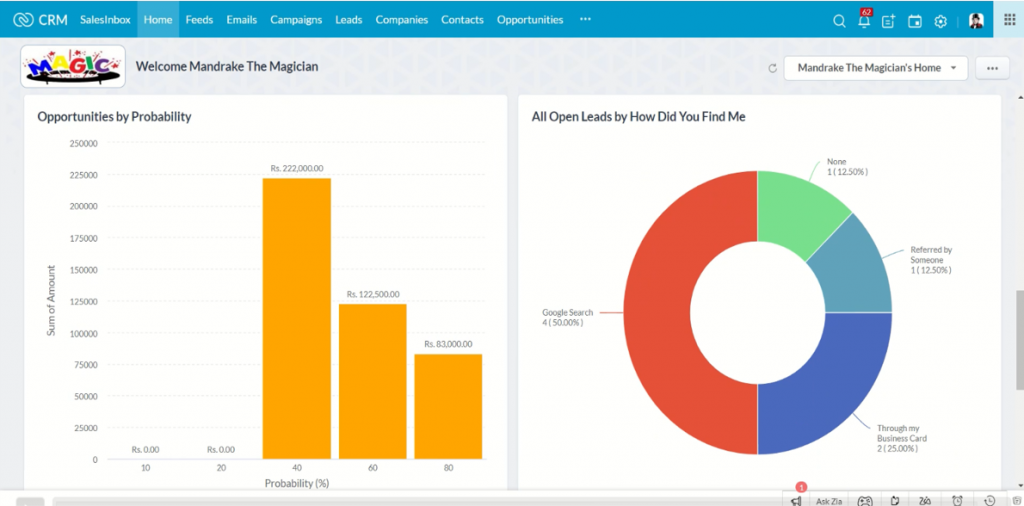 Capture Your Leads
Leads are the literal base for business growth. Without them, it is impossible to survive. As an entertainer, you must have several channels for generating leads like social media platforms, website landing pages, referrals, newspaper advertisements, and so on. While generating your leads entirely depends on your sources, you can blindly trust Entertainer CRM when it comes to capturing the same. For example, you should always embed a contact form on your website. Why? When you have several individuals inquiring about your services from your website, they can easily share their details to show interest. And the moment they do so, this CRM instantly captures them and places their information rightly after creating a separate lead record. It stores all acquired details efficiently so that you can evaluate their merits later.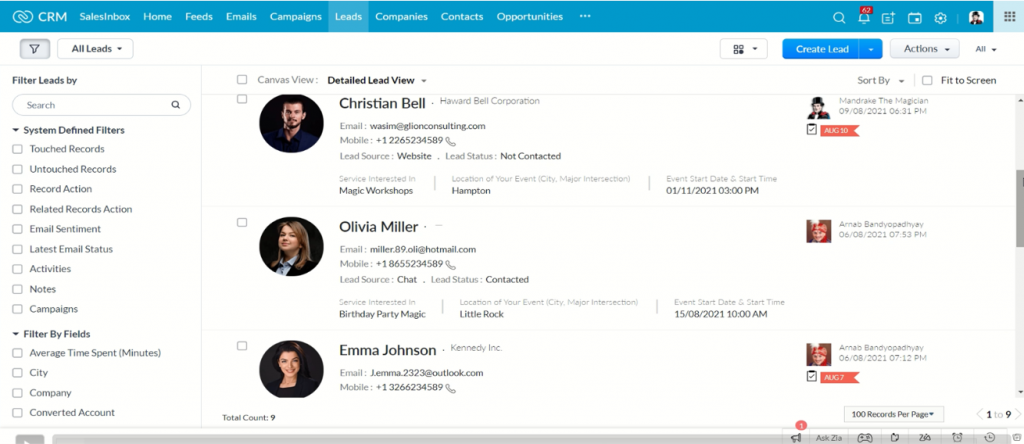 Nurture Your Prospects
As soon as a lead gets captured, you know it's time to nurture them for further conversion. However, as an entertainer, you cannot really focus on your admin tasks every time. Entertainer CRM helps you build an interactive flow so that you can guide your customers about their preferred services. It helps you create different follow-up activities, schedule calls or meetings, and distribute them amongst your teammates. You can even set reminders or mark deadlines on your calendar on their behalf. You need only a one-click mention for them to get instant notifications– this way you can easily delegate your workload without even mentoring them individually.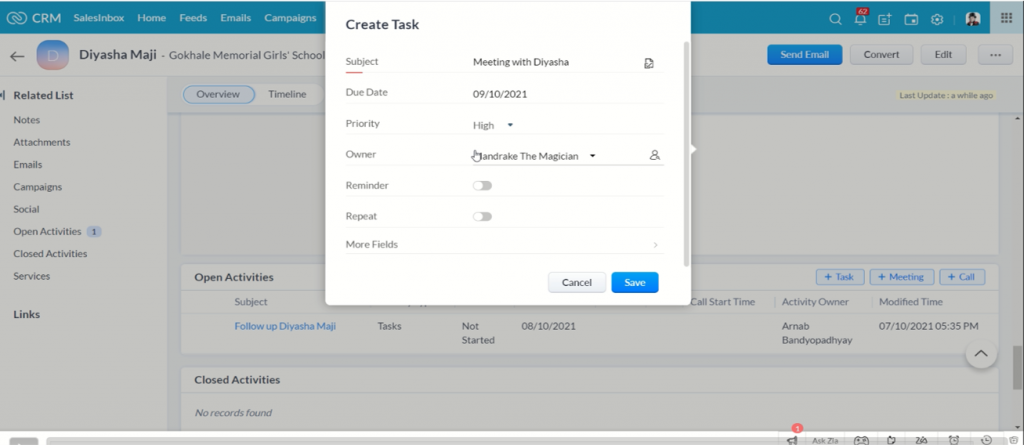 The 'Show Details' Form
The USP functionality of our Entertainer CRM is undoubtedly the 'show details form.' When you successfully convert a particular lead into a 'contact', company (for B2B opportunities) and opportunity, you can gain more knowledge about a potential event. In the opportunity record of a specific customer, you can scroll down to the detailed information section and send out a details form via email with a single click. Such a form holds every information field that you can possibly require. And once your customers share their details, CRM instantly captures the information and makes them visible in the record. This effective feature optimizes your sales cycle, avoids errors as your customers fill them out, and consequently increases your chances of customer retention.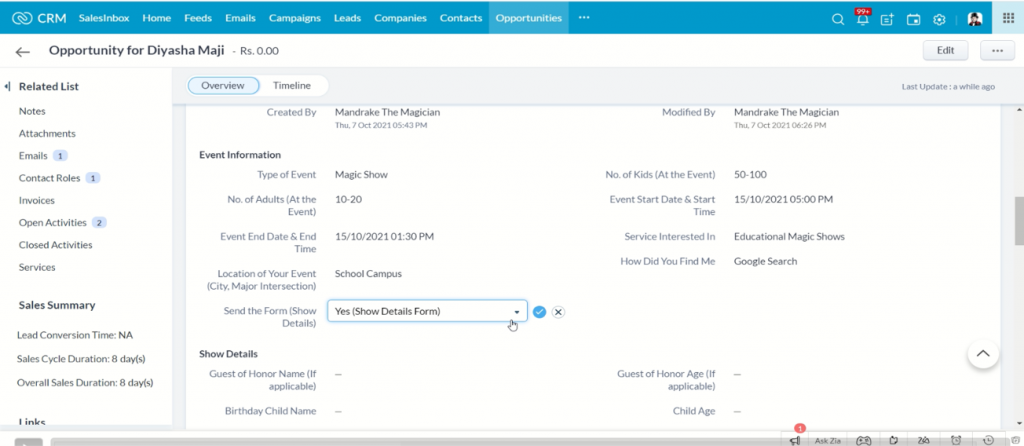 Book Dates On Your Calendar
Imagine your clients getting all tensed up whether their prestigious showrunner will turn up at the right time and venue. You surely want your customers to rely on you about the event and provide them with the best experience. Being entertainers, it is humanely impossible to remember your booking dates and specific venues for multiple opportunities. That is why with Entertainer CRM you can easily manage your calendar dates to fall off the crack. When your customers revert the 'show details' form with their preferences, you can quickly book dates on your calendar, set the time, duration, and venue. As simple as it sounds!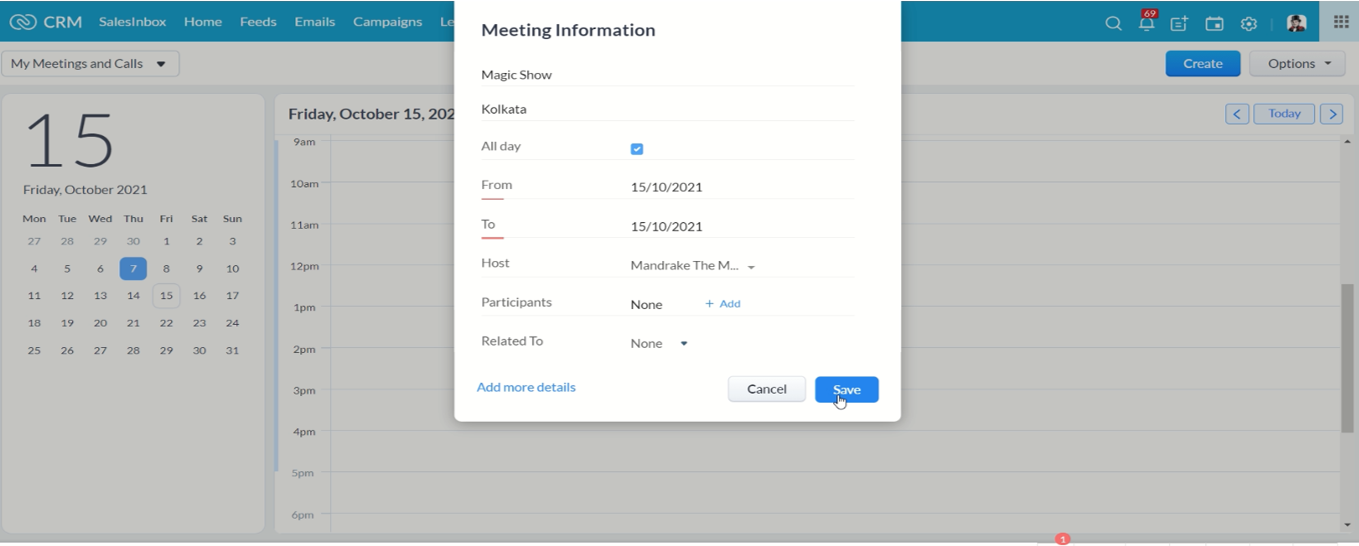 Navigate Information Easily
Our easy-to-use efficient Entertainer CRM solution has all modules interconnected with each other. For example, if you wish to view the contact details for a particular event, you can access the contact right from the opportunity record. Again if you need information about an opportunity from the contact/ company module, you can scroll down and click on the required information record. Remember, each and every record is typically segmented into a business-card section, detailed information section, and related lists. Therefore, you can literally switch from one module to another by clicking on any module from the related list for a particular client.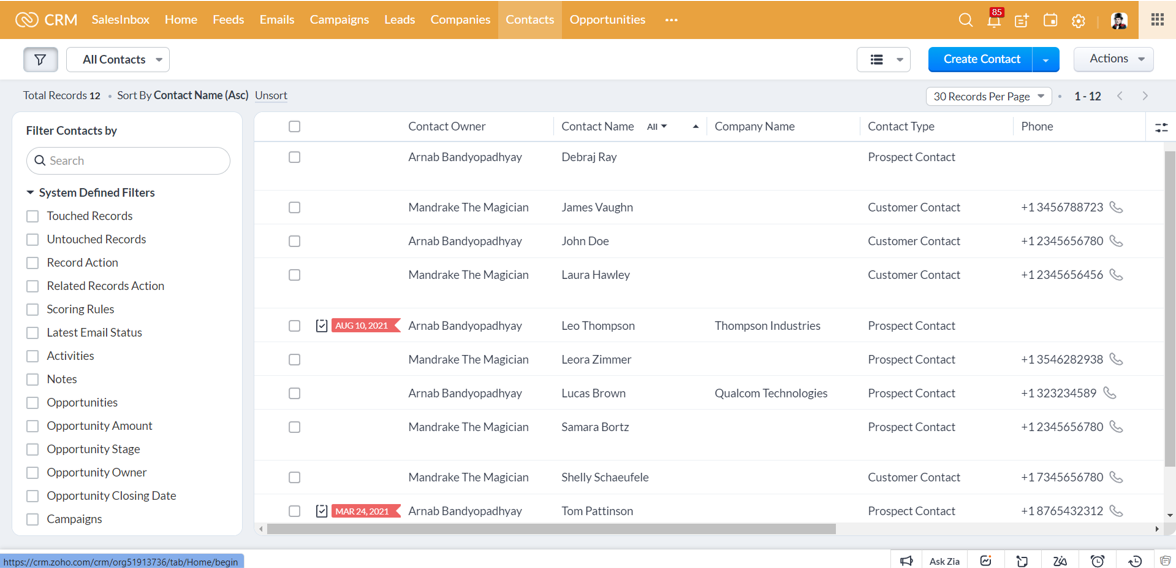 Client Relationship Management
The ultimate goal of our CRM solution for entertainers is to help you manage relationships with your numerous clients. However, for running a business smoothly, you need to prioritize your clients to work smart and multitask. In business, not every individual who inquires about your events will become your customer. Hence, you need to screen their potential using the BANT parameters (Budget, Authority, Need, and Timeline). Even when it comes to categorization, you can easily segregate your leads/ contacts with various parameters. CRM helps you conveniently set different filters for better search results.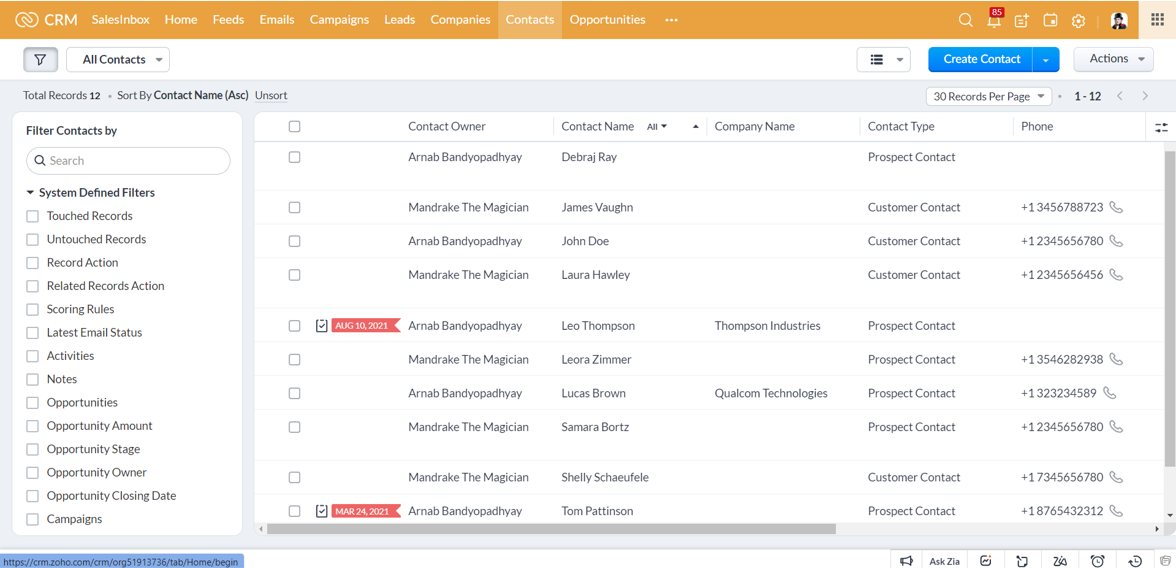 Promote Your Brand
Going social is the most 'in-thing' in this digital world. We have access to the whole world right at our fingertips. Now imagine implementing this channel constructively for your business. For an entertainer, we are guessing, that you have your maximum client reach via social media platforms. You can voice out your opinions, business goals, showcase your best events on your social profiles. Even social interaction is an effective strategy. You can respond to your audience by replying to their comments or answering their queries. This helps you overcome the virtual bridge and encourage your target audience to make further communication. But mind you, all your hard work might go in vain if you do not embed your website link on your page.
Thinking about how to enhance your posts for the internet community? Use DocHipo– a graphic design software solution that comes with a humungous range of customizable attractive templates. Infographic, email header, banners for social media– you name it and you can have it all from here.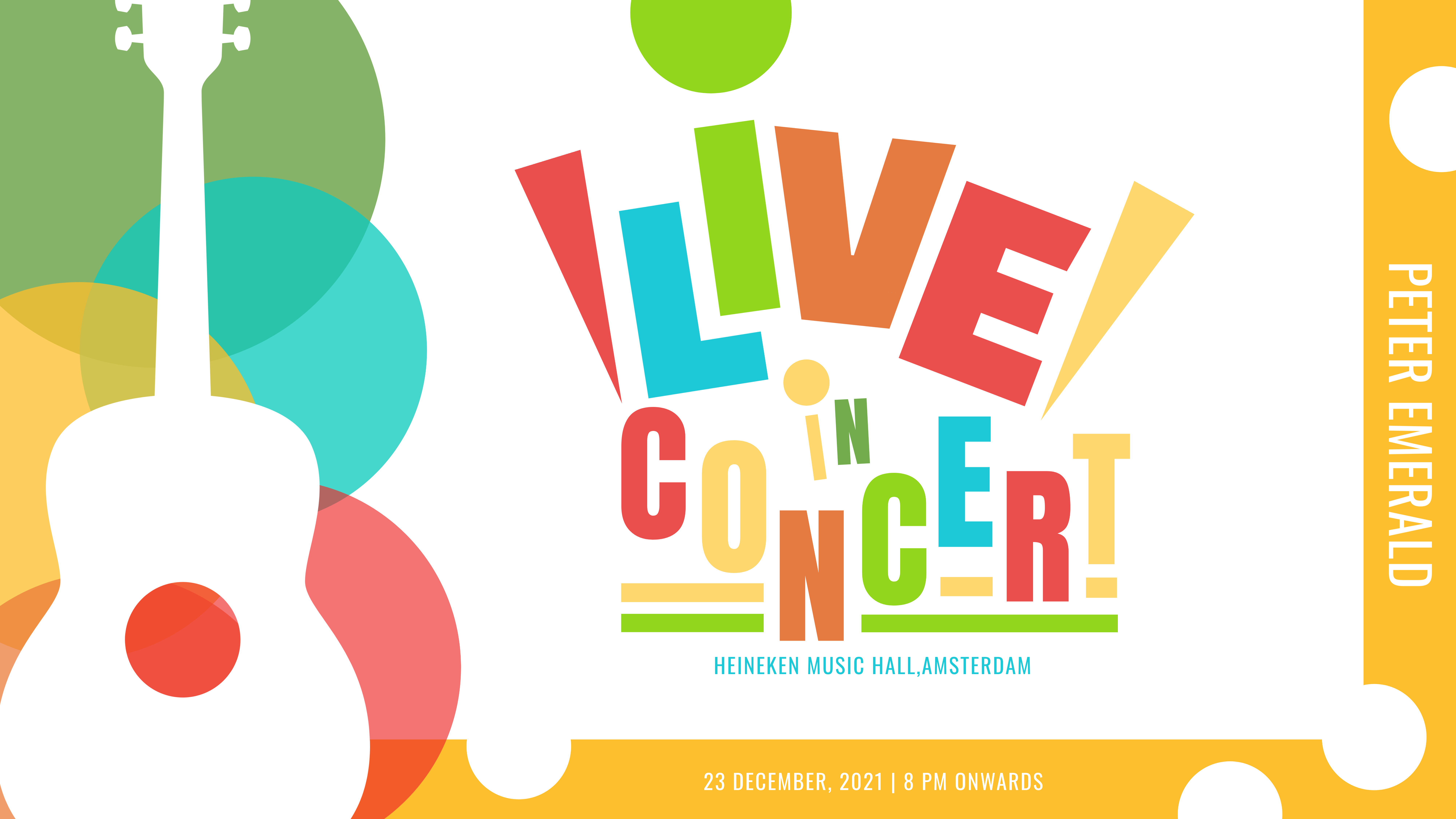 Other than this, to retain your customers you can also send out automated emails or newsletters to share news about your latest shows or products (services). Be it your social media performance or emails, our CRM efficiently records customer engagement. It keeps a diligent tab on the number of likes/ shares your posts received, the number of customers who opened your email campaigns, click-and-view rates, etc.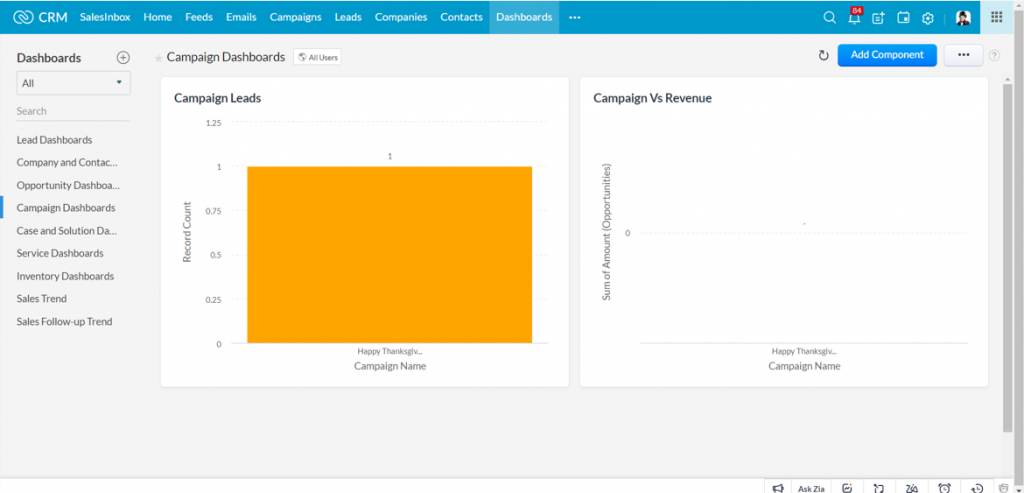 Business In An Aerial View
Reports and dashboards are the coolest features of our Entertainer CRM. These dynamic modules help you comprehend every minute detail regarding your business. You can easily ascertain which sources are primarily working in your favor. So that you can strategize and improve your customer retention rates. Most importantly, these modules always fill you in with real-time updates about your business.
This is an exemplary report module-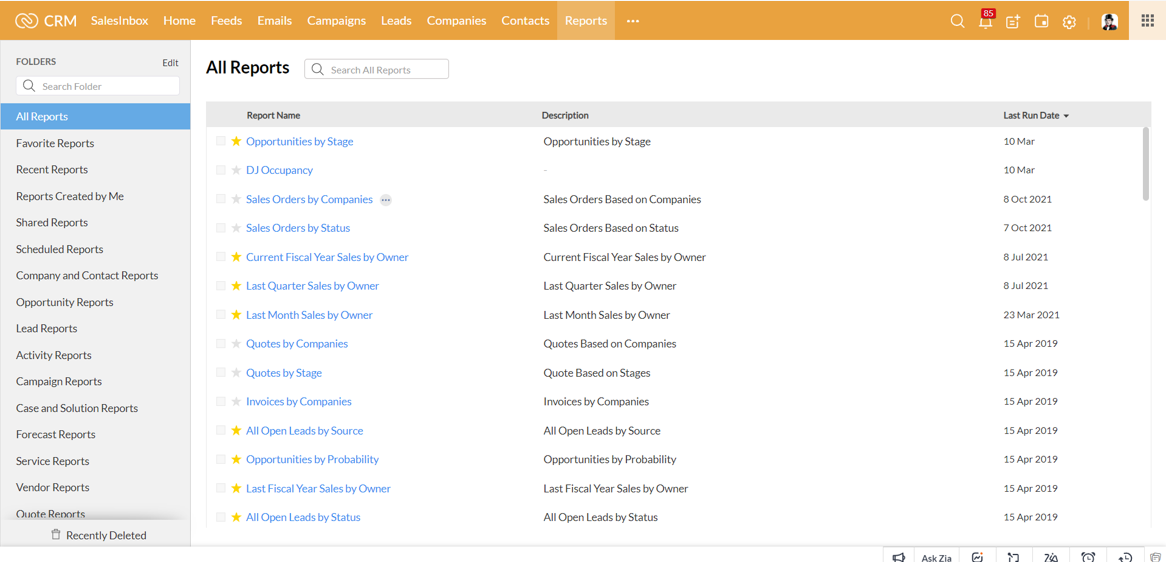 Time for a dashboard example-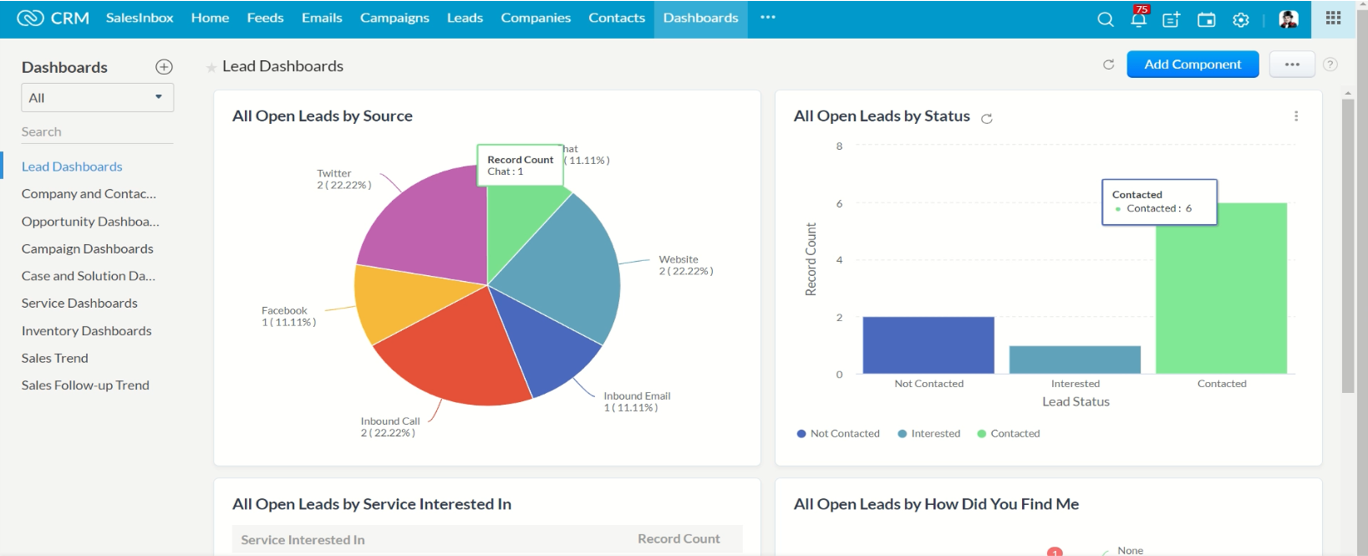 Final thoughts,
We understand that as entertainers, it is not always possible for you to manage and monitor the administration aspect of your business. But needless to say, it requires utmost attention. To alleviate all your troubles, we have come up with Zoho CRM for Entertainers– an all-in-one solution that makes your work situation way easier than you can expect. Its varied automation powers help you persistently optimize your sales cycle and retain your customers to a great extent.
This factual video down below helps you visualize the entire process even better.
Intrigued to know more about our solution? Click on this link to start winning more opportunities from today.