Improve Your Efficiency Using Data-Driven Law Firm CRM
Jan 24, 2022
We all are aware of the fact about the kind of work pressure lawyers need to deal with on a regular basis. However, they cannot ever overlook their administrative tasks when it comes to running a business successfully. Whether you work solo or under a legal firm, you have only two goals: more clients and unhinged cash flow. Data analysis is one of the key reasons behind a flourishing business.
This law and data combination may sound a bit unusual as attorneys are still struggling to adopt this digital dimension. But if you think about it practically, a data-driven approach can ensure success. With Law Firm CRM, you can obtain powerful insights about your business health, improve overall performance and address the reasons for sales congestion that might come up.
In this article, we will walk you through the different ways of how you can implement a data-driven approach for your legal firm expansion.
Data Centralization With Law Firm CRM
The homepage is an all-encompassing hub where you can view the most crucial matrixes of your business health. Whether it is about the number of leads that got generated, their current stage, the number of matters by practice area, or status– you can have access to every information that you might need right from this page. But this feature is almost available in every quality CRM software. But what makes our Law Firm CRM solution stand apart? The answer to that question is the real-time insights that you get here. When you start your day, you are straight-up landed on the efficiently updated home page so that you can carefully detect your daily improvement. Moreover, you can customize this page by incorporating the best dashboards that you think you might need and define your hub.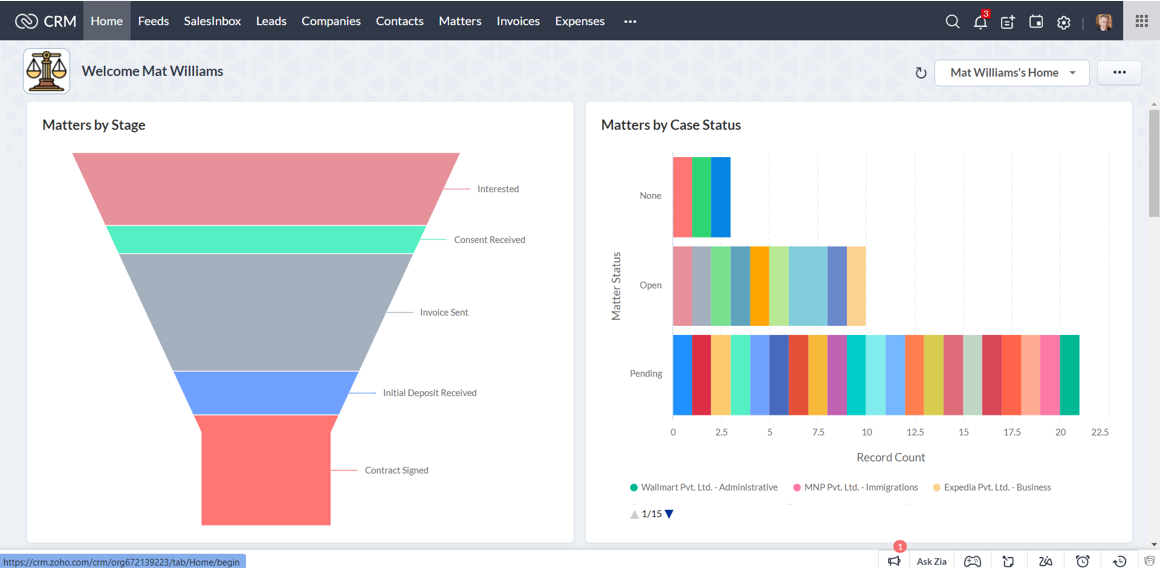 Keep Track Of Your Leads
As an attorney, you must have several mediums of generating leads, such as websites, social media, inbound calls, business cards, newspapers, and so on. Considering the digital trends of today, most people reach out to lawyers using websites. Therefore, embedding a contact form on your landing page might be an effective trick. However, generating leads from various sources is different from capturing the same. Law Firm CRM efficiently creates a new entry under the leads module whenever you receive an inquiry. It places all the acquired information in the respective fields so that you can evaluate its merits later.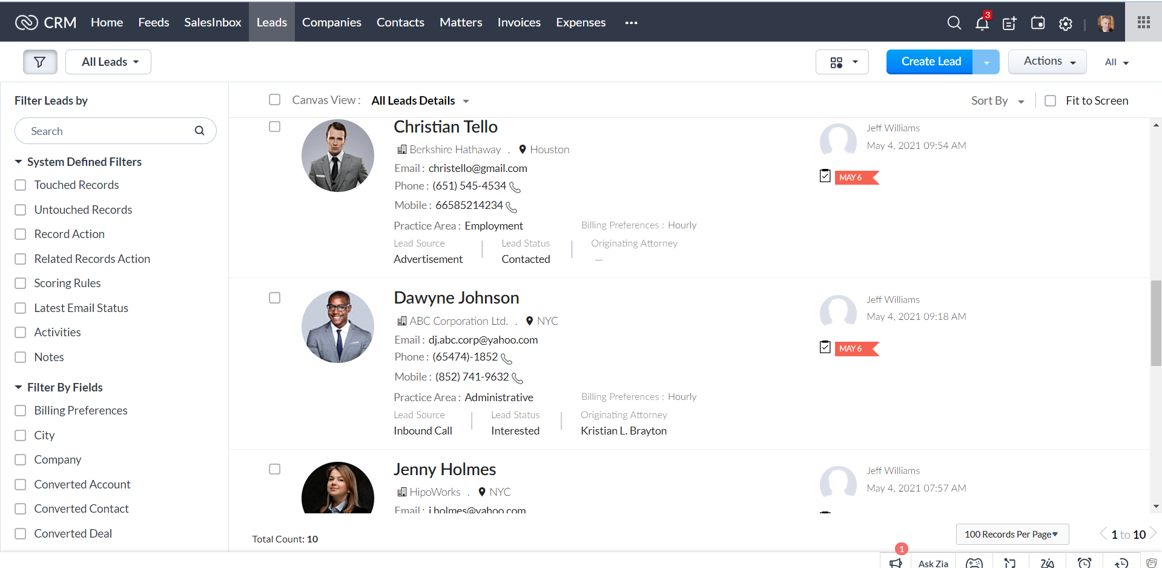 Owning a business means your capital investment. And certainly, marketing is an essential part of it. Now whenever you have a new lead in your system, Law Firm CRM auto-fills the source of that lead. Even if you dedicate a dashboard for your lead generation data, you can clearly ascertain which sources are working in your favor and which aren't.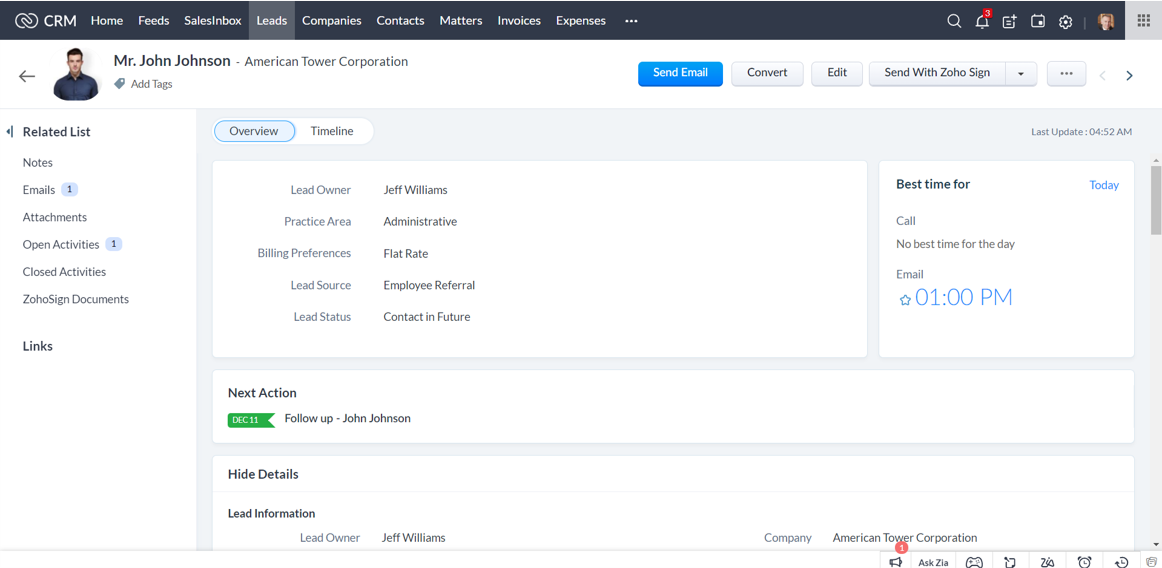 An Established Client Intake Process
Business leads are the literal cash crops for a business. Nurturing them tactfully is even more crucial for legal firms as people who require legal assistance can never wait for too long. An established client intake process can dramatically improve your overall business performance. As soon as you get a lead in the system, Law Firm CRM notifies your team so that a member can nurture it for further conversion. You too can create and distribute follow-up tasks, schedule meetings and calls for your teammates, set reminders, or mark deadlines on the calendar on their behalf. Just a one-click mention and they get an instant notification. This way you can delegate your work pressure and improve conversion rates even without guiding your members individually. Moreover, you can also take a quick glance at your open tasks, task owner, deadline date, and current stage from your home page as well.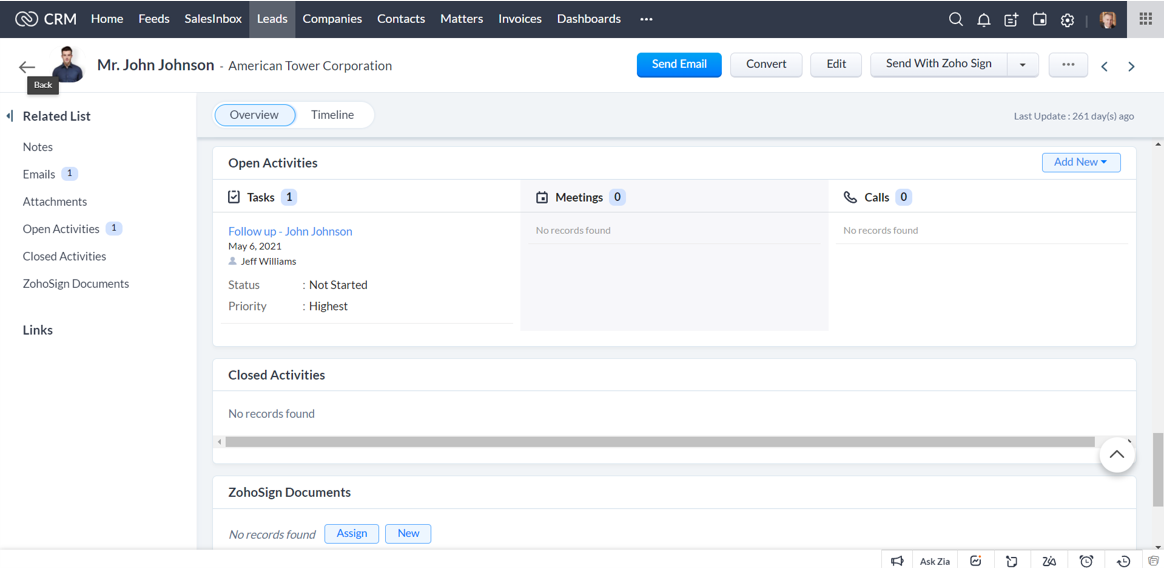 Quick Tip- Gamification Scope
You can introduce a gamification scope for your team. An all-serious workaday environment eventually becomes tedious. To heighten your team's spirits, you can make your workspace efficient and productive while bringing in healthy competition. This CRM records your teammates' performance growth so that you can analyze their data and detect both strong and weak avenues.
Analyze Stage History With Law Firm CRM
The moment you successfully convert a lead into a contact, company (in case of B2B opportunities), and matter, Law Firm CRM instantly creates new entries under respective modules. It also houses specific details inside each, so if you get inside a contact record, you can view all the contact-specific details. The same goes for the matter record but added to this, it efficiently documents the stage history. On the timeline page, you can view the previous tasks and the upcoming actions, probability percentage so that you can analyze and pick up right where you left off. This exceptionally helps you save tons of time and improve client communication.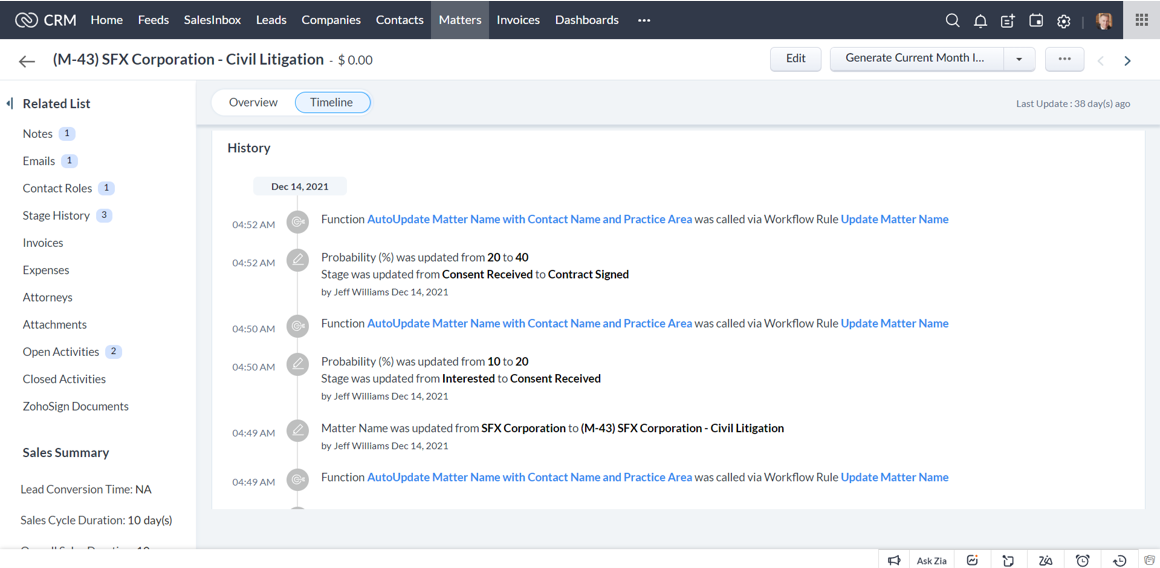 Assess The Current Stage
As a lawyer, you must be dealing with numerous clients at a go. They have individual requirements of legal assistance ('practice area' in our CRM) along with specific billing preferences. It is almost humanely impossible to monitor them all and maintain adept efficiency. So you need to assess the current stage of the matter. Now if you get inside a matter record of Law Firm CRM, you can see a ready-made pipeline that is auto-updated after the previous stage completion. It helps you resume the sales process without further delay. The best part is that you don't even need to wonder what your next action will be as this CRM automatically takes you to the next level.
One-Click Contract Generation
One of the key takeaways of our Law Firm CRM is the one-click contract generation. The moment you receive consent to proceed with the matter, you can easily raise a contract for your clients. Depending on the billing preference of your clients, you can merge your contract with Zoho Writer. It instantly pulls out the relevant data from the matter records and matches it with a pre-defined template. Even the content and structure of the three kinds of billing preferences that our CRM can handle (such as hourly billing, contingency fees, and flat-rate bills) are entirely different. Therefore, you only need to click on the billing preference and fill out the most important details (like name, address, date, etc), and the rest of the contract is efficiently generated by the CRM.
Since this is the digital age and we are heading towards a paperless world, you can also use Zoho Sign to put your e-signature on the contract and finish your task all at once.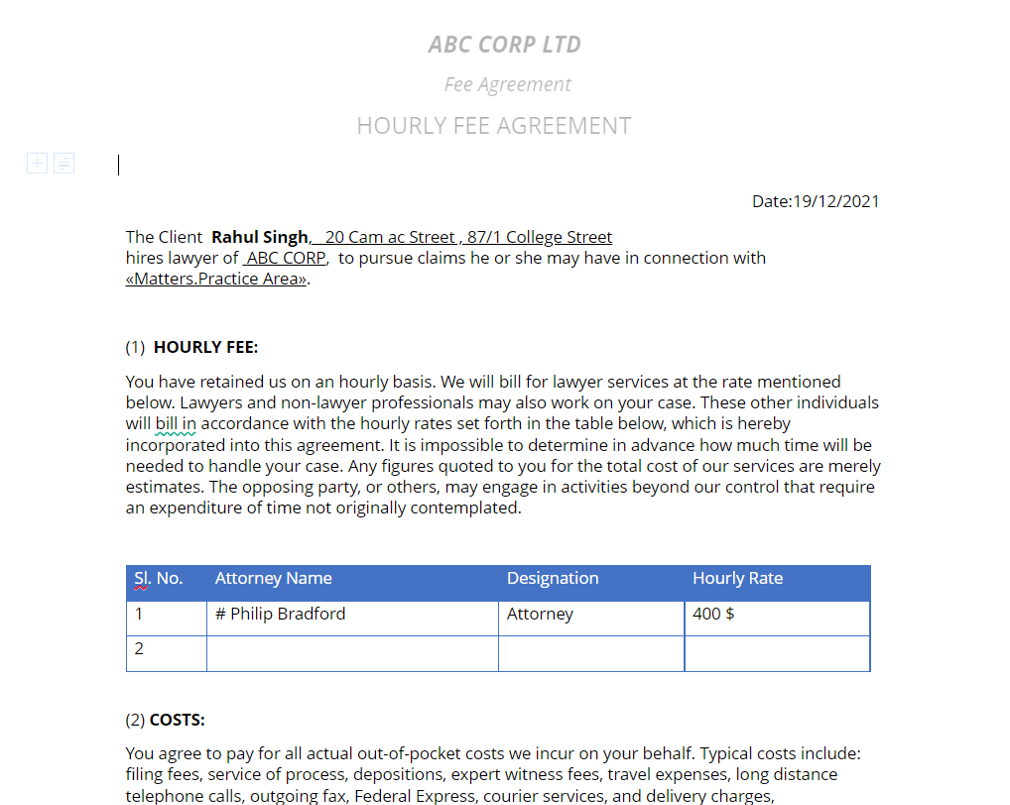 Ability To Log Time And Raise Hourly Invoice
A USP feature of this CRM for legal firms is its ability to log time and generate an hourly invoice. As most people prefer the hourly billing method, your attorneys can simply log the time that they have invested for a particular matter along with the dates and type of tasks. Other than this, you can also select a lawyer and insert the total hours invested while raising an invoice so that the CRM instantly pulls out the rate from the attorney module and calculates the billable amount.

You can also check your attorney-wise hourly billing preferred matters if you create an entry for such a report or dashboard.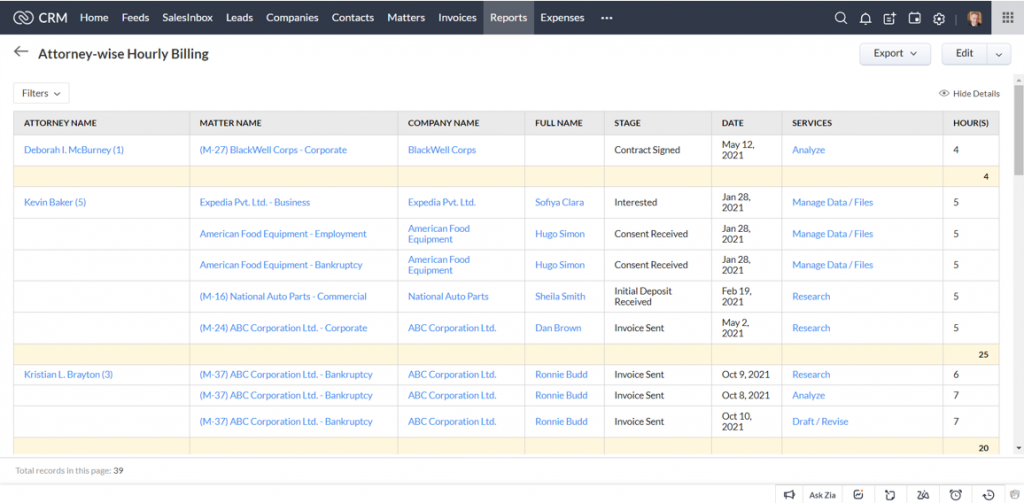 Once you're done with the timesheet management process, you can quickly generate a current month's invoice. And bingo, a pre-defined template appears before you in a second.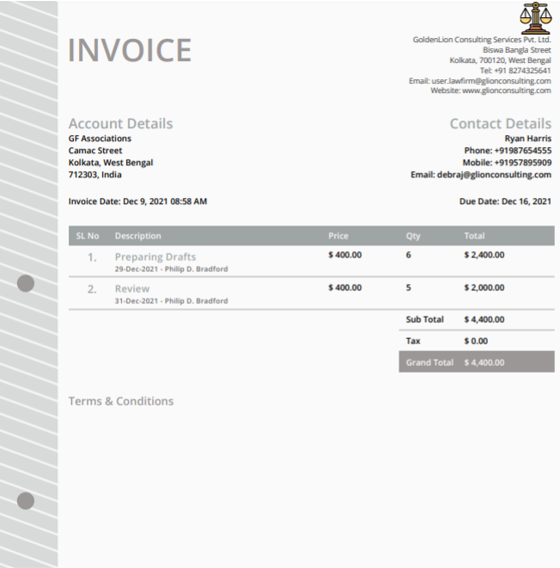 Mark Your Profitability With Law Firm CRM
It is a no-brainer that cash flow is your ultimate target and increased profitability is your goal. The more efficient you become in handling each of your clients, the more revenue you will generate. The real-time data and analytics that you get with Law Firm CRM essentially help you in minutely analyzing your business health. You can evidently identify which source of your business has generated the maximum revenue, throw a comparison if you want, adjust your strategies accordingly and maximize your daily improvement.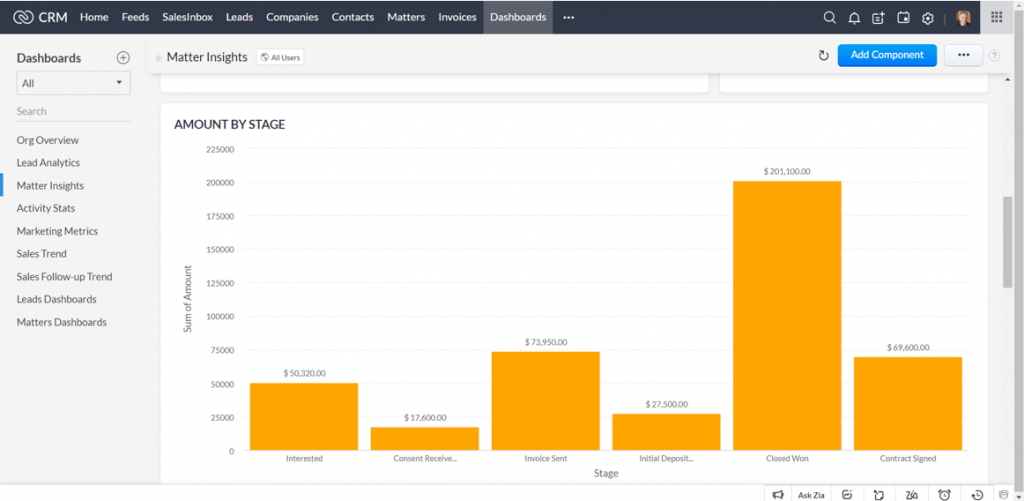 In a nutshell,
A typical 'one-size-fits-for-all' kind of approach has called its day. Digitization and technology are in universal vogue. Just like the modern trends are ever-so-changing, as a lawyer, you must embrace the change too. You need to introduce individual ideas, improvise your best tricks to prioritize proficiency. Law Firm CRM comes with abundant features in the most familiar way possible. With its computerized data and analytics, you can take better actions at a faster pace.
Watch this amazingly factual video about how Law Firm CRM works to visualize the process even better.
We are sensing curiosity. Click on this link to learn more about this application. Don't wait up!