Improve Your Training Business With Training Provider CRM
Mar 20, 2021
The training industry is growing at a rapid pace. In 2019, the total spending on employee training reached $370.3 billion globally. On the other hand, the personal training industry's market size in the United States alone is $9 billion. Hence, if you are a training provider, you have already stepped into a rapidly growing business. However, if you want to run your training business effectively in this competitive market, you must have the right tools related to marketing, sales, and operations. Hence, you will need a robust system that centralizes all your business processes, such as lead management, enrolment, batch management, invoicing, and more. In this article, we will discuss how to manage a training institute effectively using Training Provider CRM.
What Is Training Provider CRM?
The Training Provider CRM is a customized CRM built on top of award-winning Zoho CRM. The CRM for Training Provider is tailored to map the unique requirements of a Training provider business.
Hence, if you are a training institute or even an individual training provider, the Training Provider CRM is the perfect choice for you. The system is super easy to use and offers a wide range of functionalities. Moreover, the CRM for Training Providers comes with robust customization capabilities.
Now, let's see who can benefit by using this application.
Who Can Use Training Provider CRM?
Before discussing the useful features that the Training Provider CRM provides, you must assess whether the CRM for Training Provider is fit for your business purpose or not.
So, let's see who needs this system.
Training Institutes: Training institutes such as schools, colleges, universities.
Individual Trainers: Individual freelancer trainers who want to grow and ace through this rapidly growing industry.
Corporate Trainers: Trainers who train executives and other professionals to develop their skills.
Online Trainers: Trainers who provide virtual training to audiences all over the world.
Offline Trainers: Trainers who provide in-class training.
Life Coaches: Coaches who share their experiences and help people walk towards their path.
There's hardly any trainer provider who doesn't fall into these categories. However, if you are not from any of these categories, you might be one of the rarest training providers who will miss out on using the exciting features that the Training Provider CRM provides.
How Training Provider CRM Works?
Every business uses CRM differently from the others, but we will only focus on how a training provider should be using the Training Provider CRM. Furthermore, we will explore what benefits they can reap if they use it correctly. Click Here! to get some useful tips for building a winning CRM.
Here is how the Training Provider CRM works:
Lead Management
Leads are the lifeblood of any business. Without them, you won't be able to generate revenues and ultimately have to turn off the lights. Thanks to the Training Provider CRM that helps you capture and nurture leads easily to close them faster. Here's how:
Capture Leads From Websites, Social Media, and Emails
The CRM for Training Provider helps you capture leads from multiple channels such as Website, Social Media, and Emails in one place. The system can be integrated with all your marketing channels so that you don't miss out on a lead. Whenever the leads visit your marketing channels and register their interest, the application captures them immediately and stores them in one place.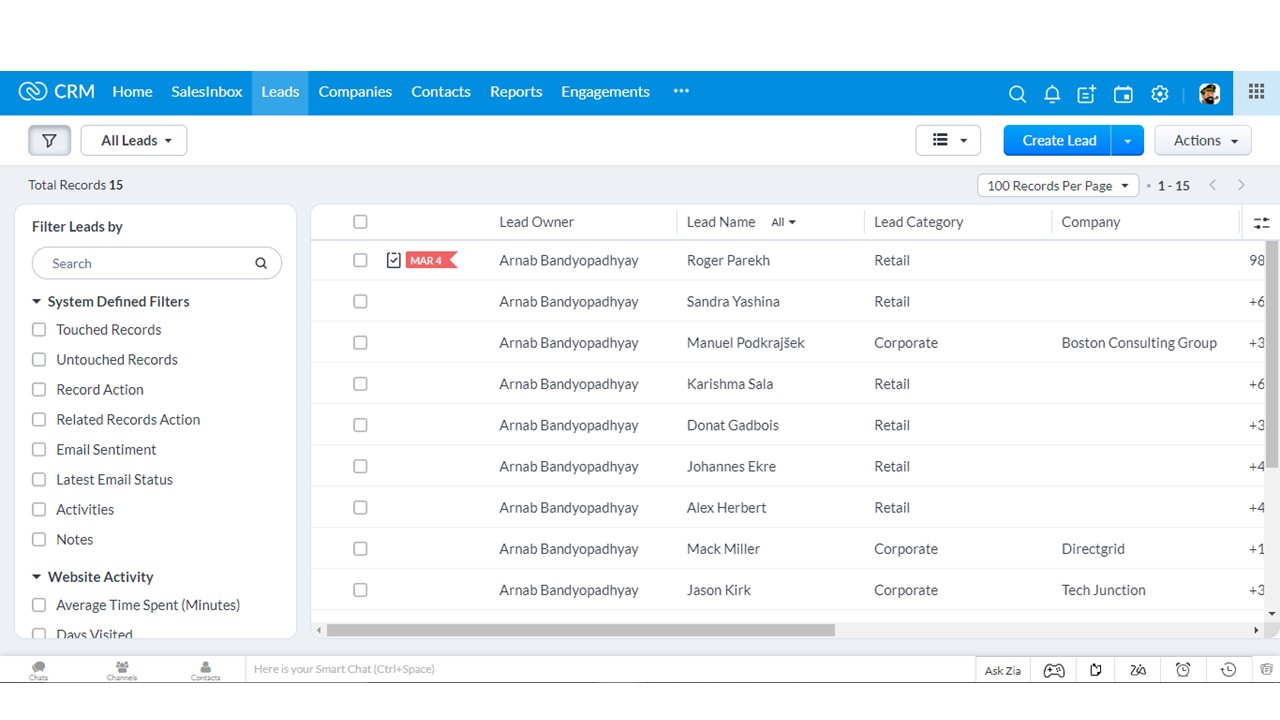 Further, the Training Provider CRM allows you to categorize the leads as Retail or Corporate and captures their interests as well. Open any lead and click on Lead Category to categorize the captured leads.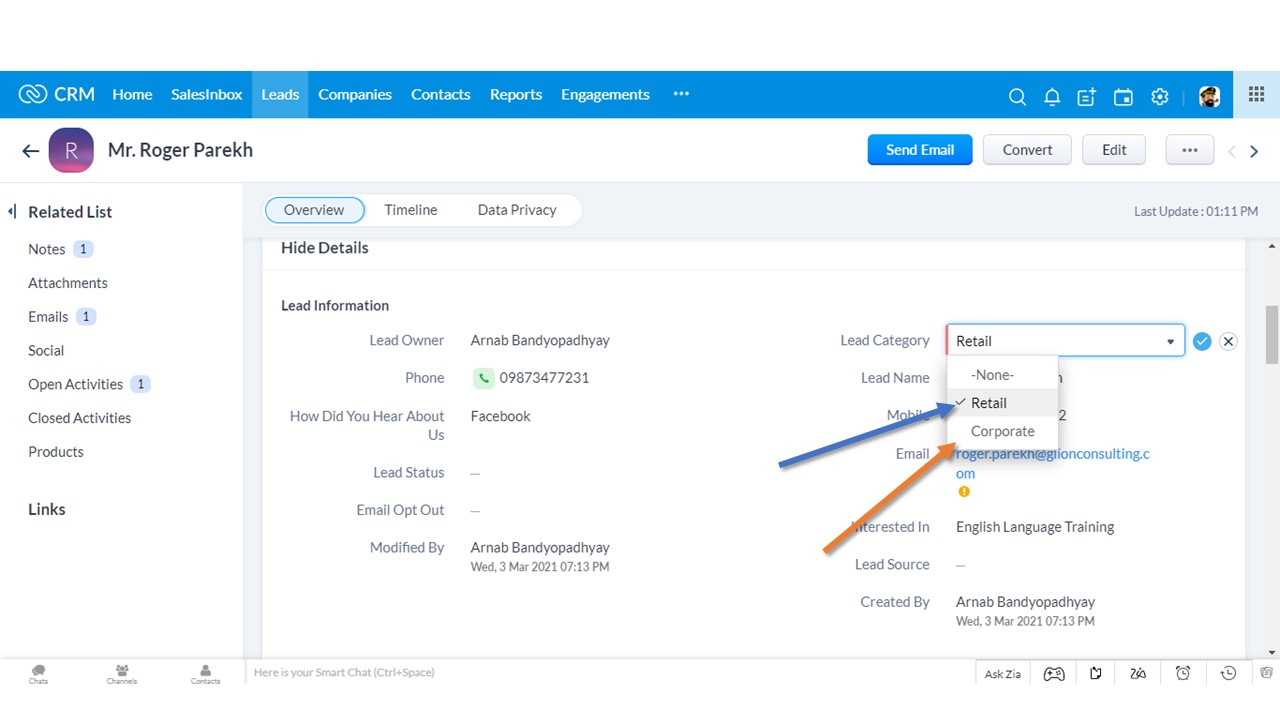 Qualify and Nurture Leads to Close Faster
With the CRM for Training Provider, you can nurture the leads by creating follow-up tasks, meetings, and emails in one place. Once the leads are qualified, convert Retail leads into Contact and Engagement and Corporate leads into Company, Contact, and Engagement.
Retail Lead: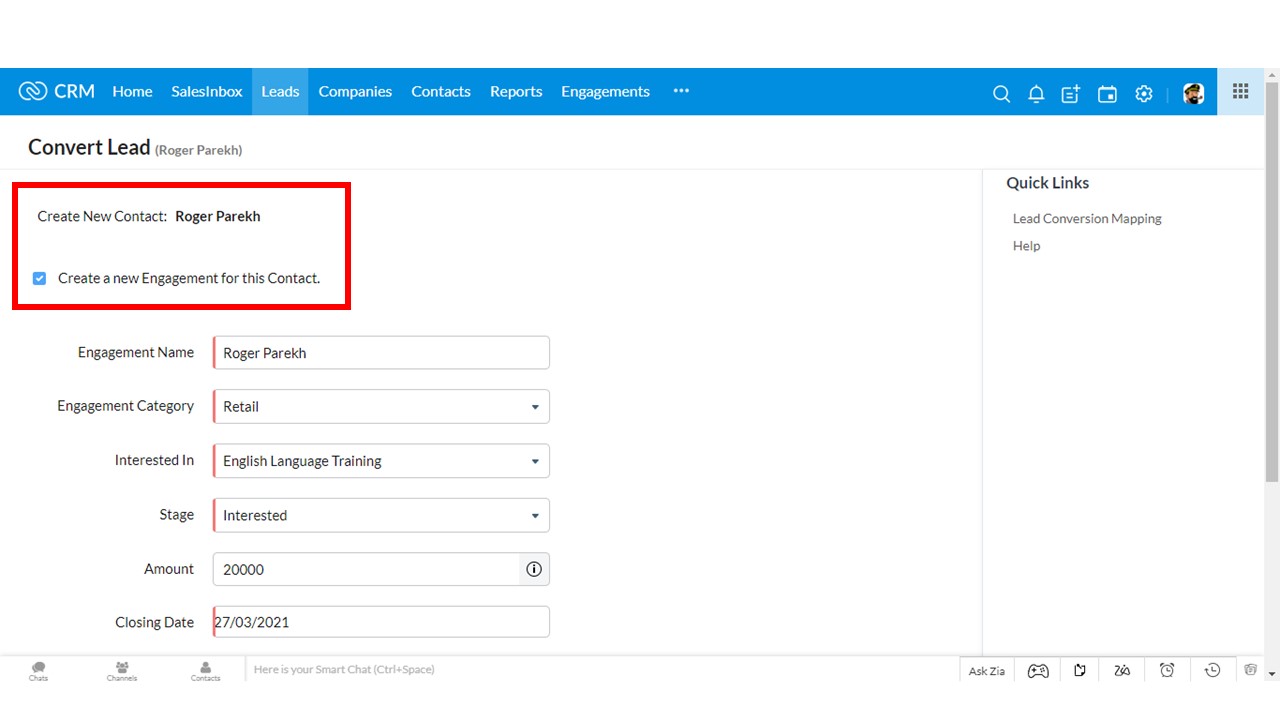 Corporate Lead: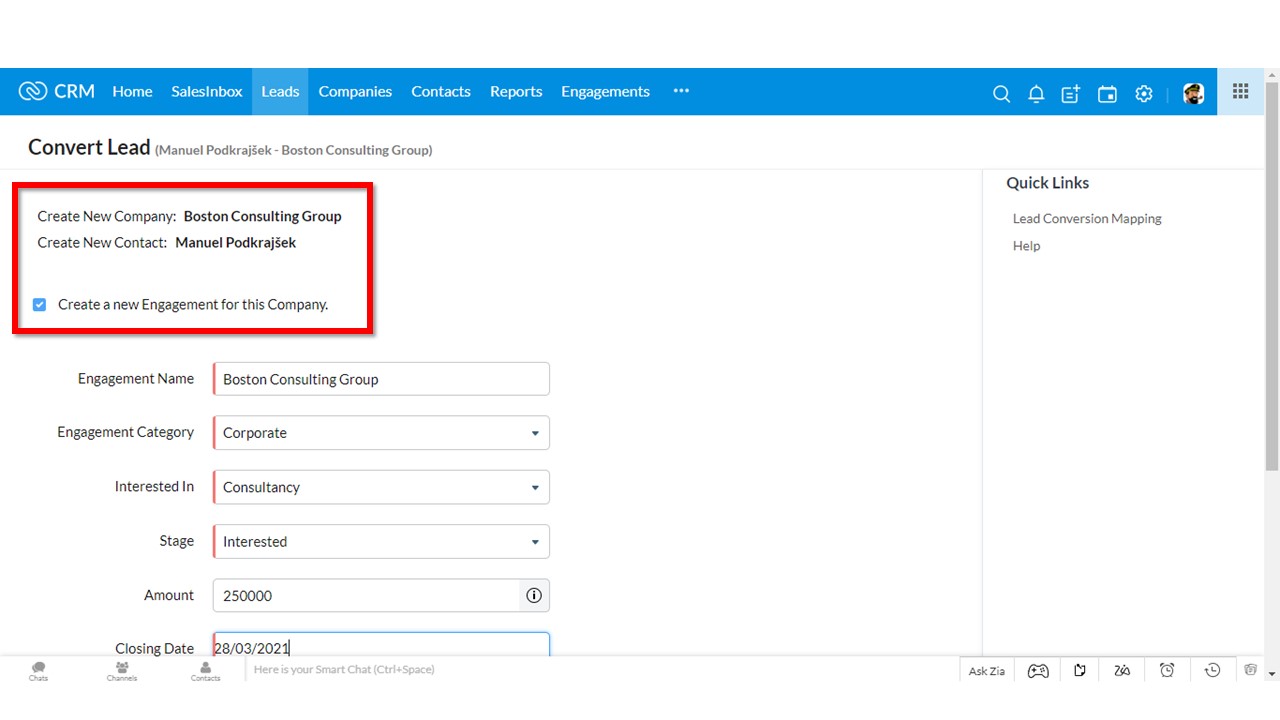 Additionally, the system provides you with different functionalities for each of the categories. Furthermore, you will have all the data of your leads that are required to understand their needs. Hence, you can meet their individual requirements and ultimately convert them into potential customers. Thus, making it easier for you to close leads faster.
Better Manage Engagements and Enrolments
Manage all your engagements and enrolments like never before. Engagement is an industry-specific term that means the deals you are corresponding with. On the other hand, Enrolments are the registration of the trainees in the courses of their choice. The engagements can either be with an individual or a company. An Engagement can have multiple Enrollments. Let's see how you can manage your Engagement and Enrolment effectively.
Multiple Engagements for the Same Customer
With Training Provider CRM, you can manage multiple Engagements for all your Retail and Corporate customers in one place. It helps you get the complete history of your customers' engagements in a centralized manner. This includes all the crucial information such as the number of purchases your customers have made, the contact person of an engagement, and many others.
Manage Multiple Enrolments for the Same Engagement
The CRM application allows you to manage multiple Enrolments for one Engagement as well. Retail customers might purchase multiple training courses. In that case, each course they are purchasing becomes a new Enrolment. On the other hand, Corporate customers might purchase training courses for multiple employees. Hence, each employee is an Enrolment in the Corporate category.
Now, the CRM for Training Provider, helps you manage the start and end date of each Enrolment, the Enrolment status, marks obtained, and many other critical operations under the Enrolment module.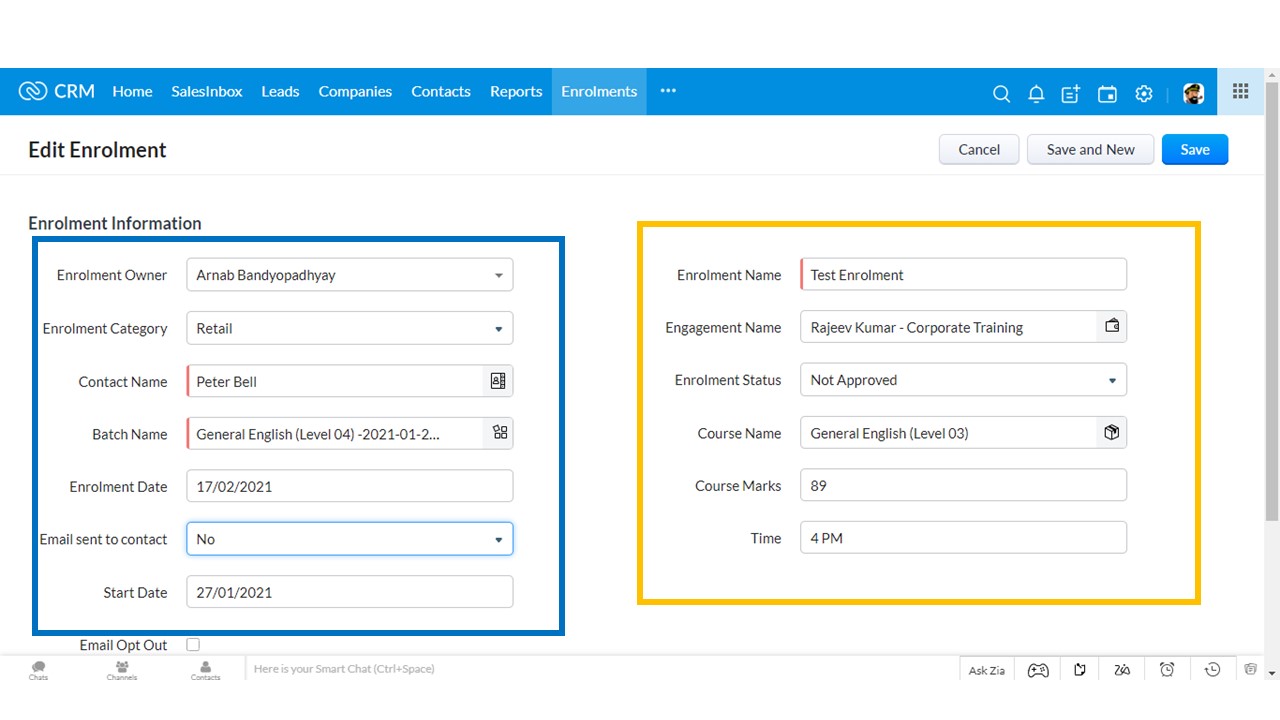 Streamline Training Batches
As a training provider, you might have multiple batches. Managing and tracking each batch can be cumbersome for you. Because you will have to overview all the batches meticulously to find an empty slot. Otherwise, you might frequently end up overbooking the slots. As a result, it can be harmful to the reputation of your institute. Hence, you must have a system that can make this process easier for you.
With this unique requirement of training business in mind, we have tailored Training Provider CRM. Here's how you can streamline your training batches.
Create Batches and Track Enrolments
By implementing the Training Provider CRM for your business, you can easily create separate batches for all your training courses. Further, you can set up start and end dates, define Enrolment capacity and class timing for each batch. Moreover, the system lets you know the balance capacity of the batches as you keep enrolling students. Thus, you will never end up overbooking your training slots. Additionally, when you create a batch, you can tag the appointed instructor for that batch and send class reminders to the students as well.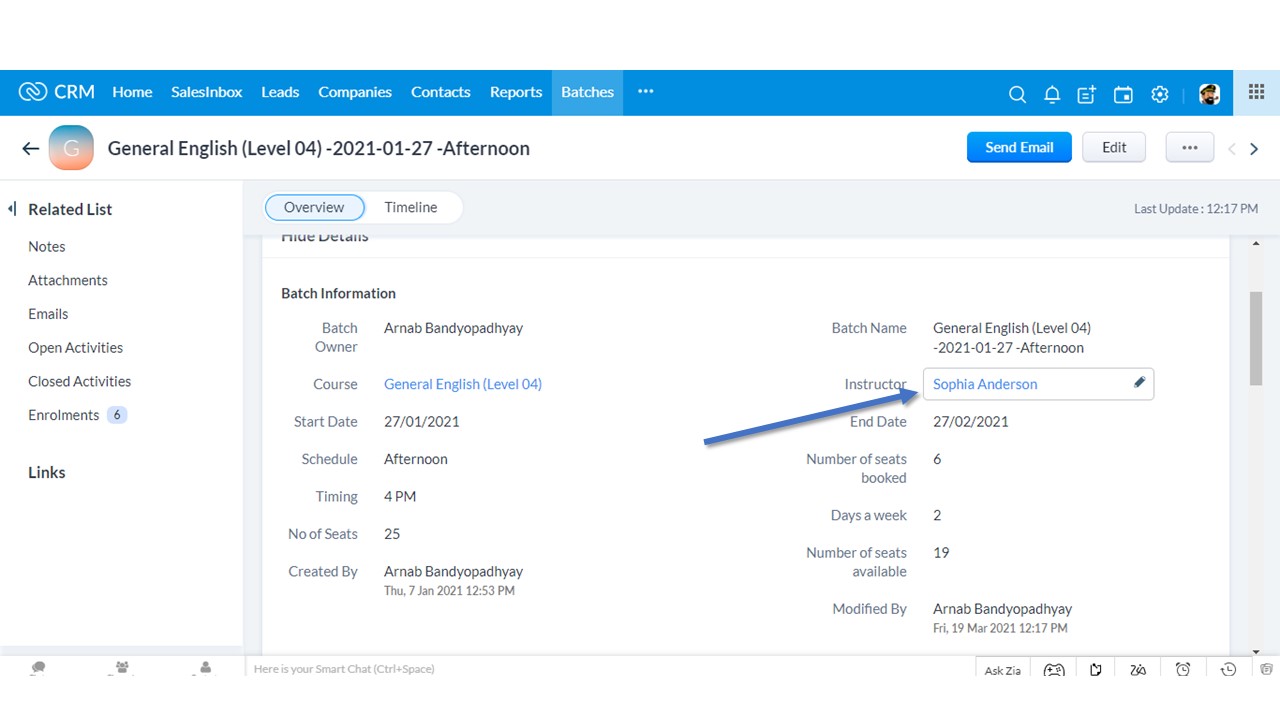 Generate Certificates
Certificate generation is one of the critical aspects of the training business. Because every student or trainee wants proof of the skills they have obtained from the rigorous training. So, the system also comes with a Mail Merge feature that allows you to generate certificates against all your enrolments once the training is complete.
Design Beautiful Certificate Templates
Training Provider CRM integrated with Zoho Writer, lets you create beautiful Certificate Templates. You can generate a certificate against any Enrolment once it's complete and the status is updated. Furthermore, you will get the option to either use a single Certificate Template or multiple Templates for different courses and Enrolments.
Open the Enrolment record and click on the three dots on the top right corner and select "Mail Merge" from the drop-down menu.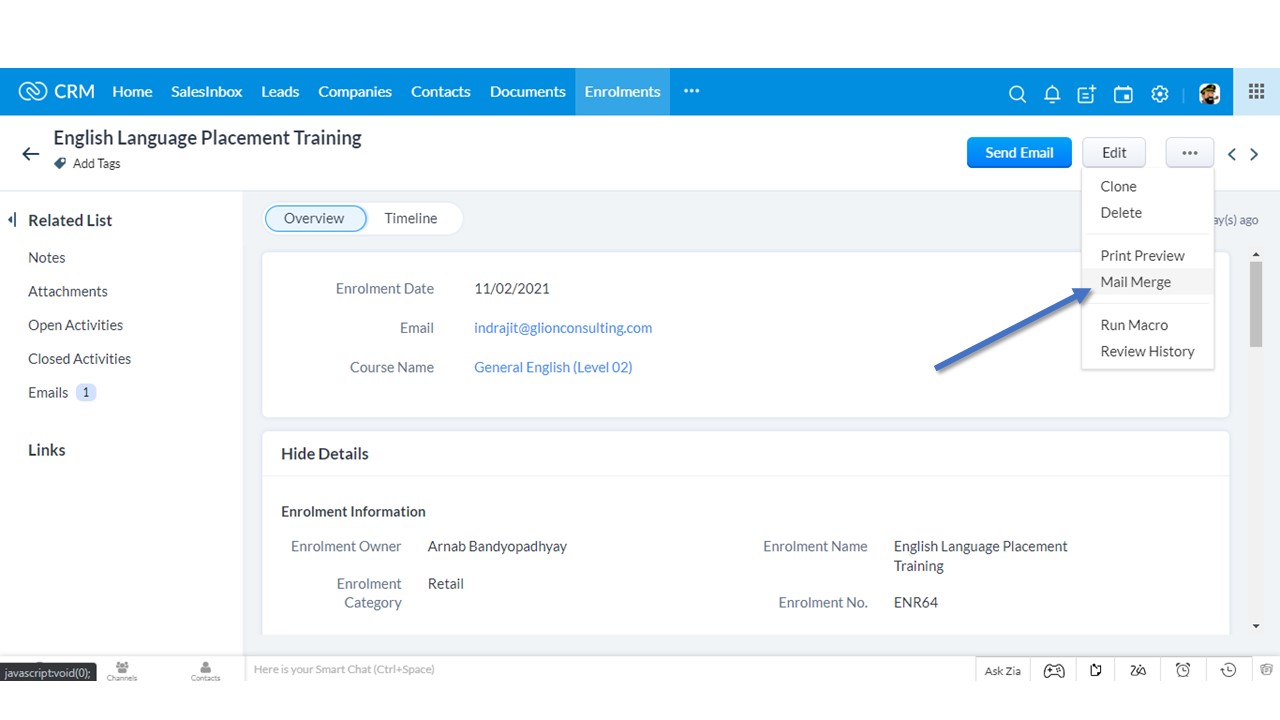 A window will pop up where you need to select a template and click on merge to proceed further.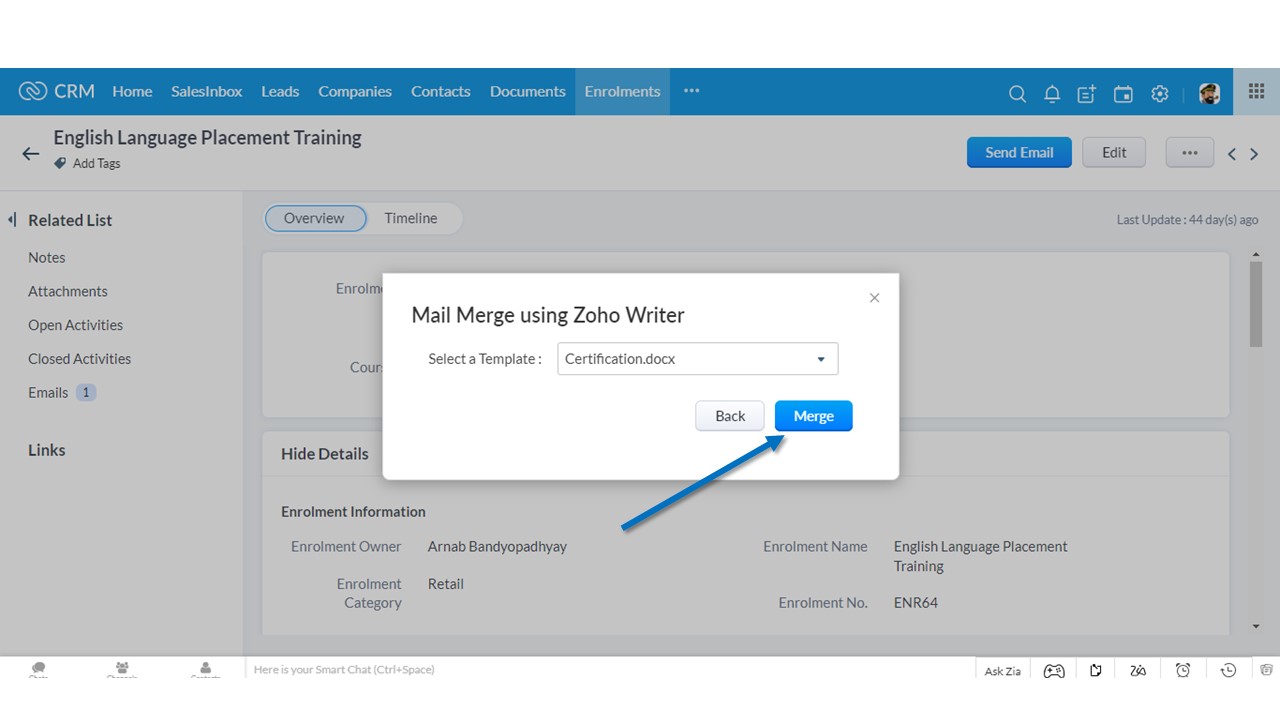 Next, click on the "Update Template" button on the top right corner and then click on "Run Merge" on the bottom left corner. And the Certificate will be downloaded.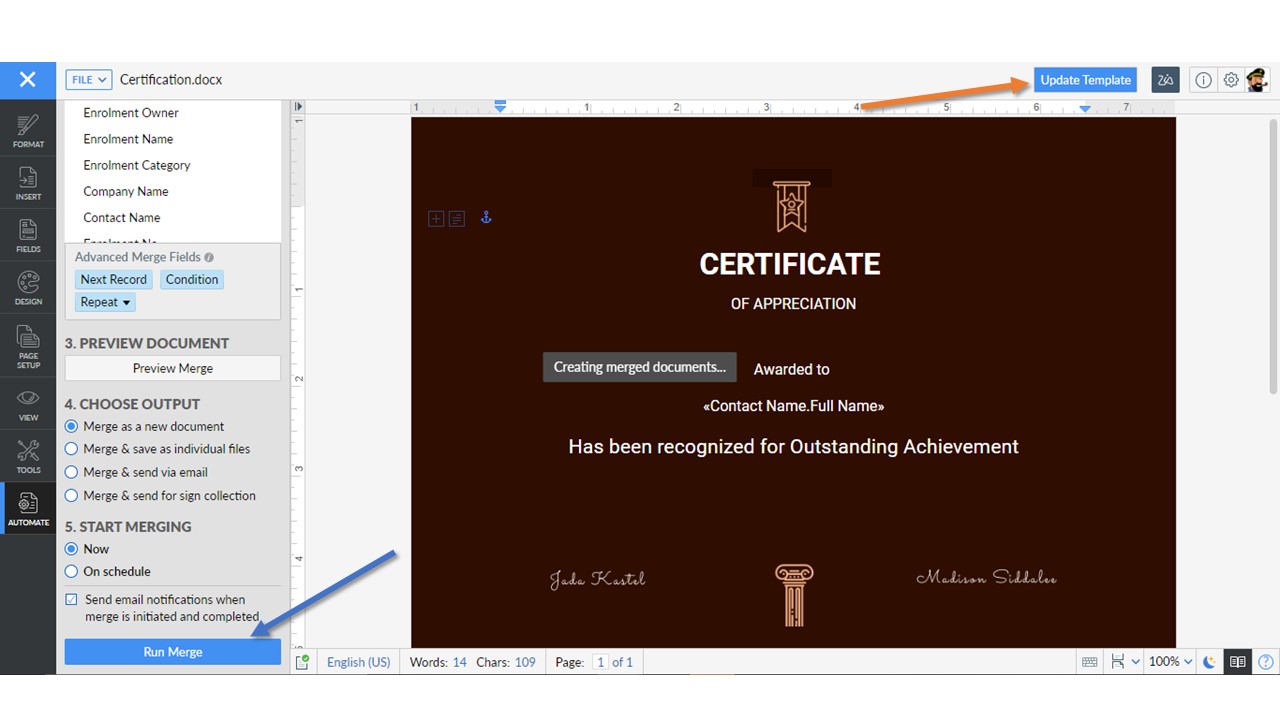 Additionally, you can send an email notification once the merge is initiated and complete. So, you can send certificates in just one click against any Enrolment that is complete.
Furthermore, you can generate a certificate for a student who has lost the certificate.
Reports and Dashboards
Training Provider CRM comes with tons of pre-built reports and dashboards that allow you to keep track of your entire business. Open the Reports module and you will get a list of various reports such as leads by category, Engagements by stage, Sales for the current month, and more.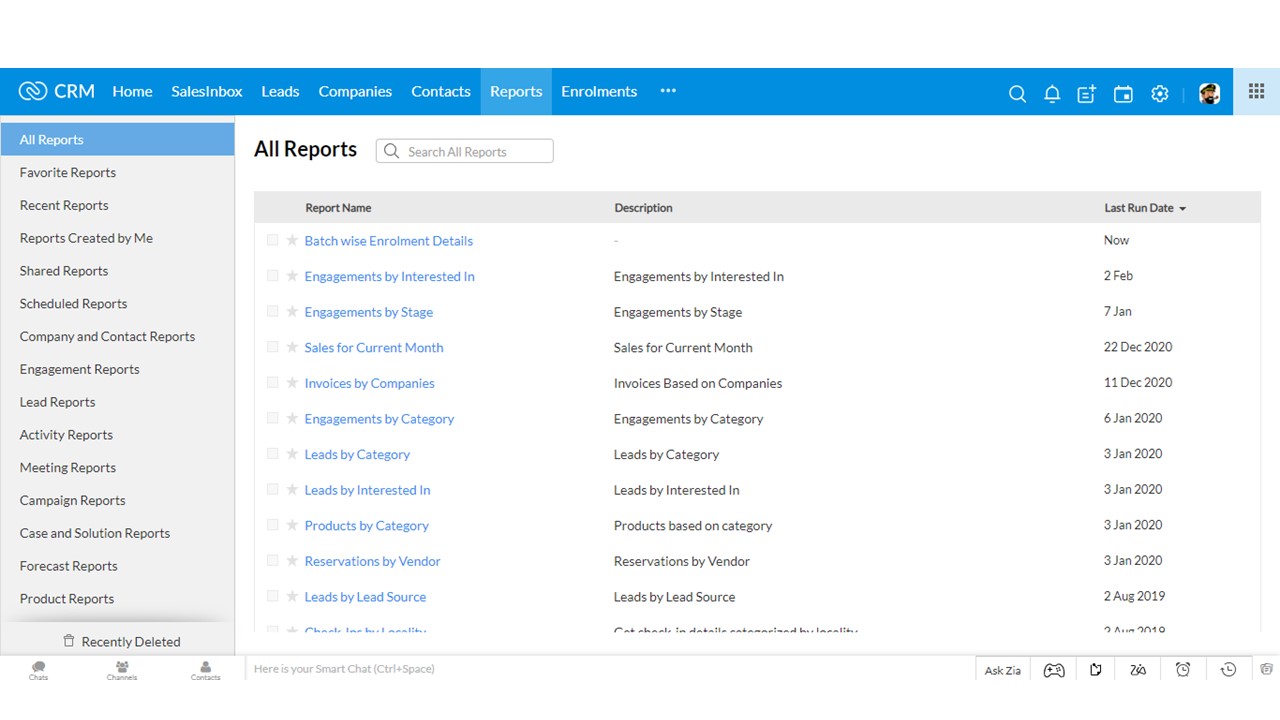 Click on any report and you will get all the data in one place. You will get a comprehensive view of all the information such as the batch names, courses, contact names, enrolments, enrolment statuses, and course marks.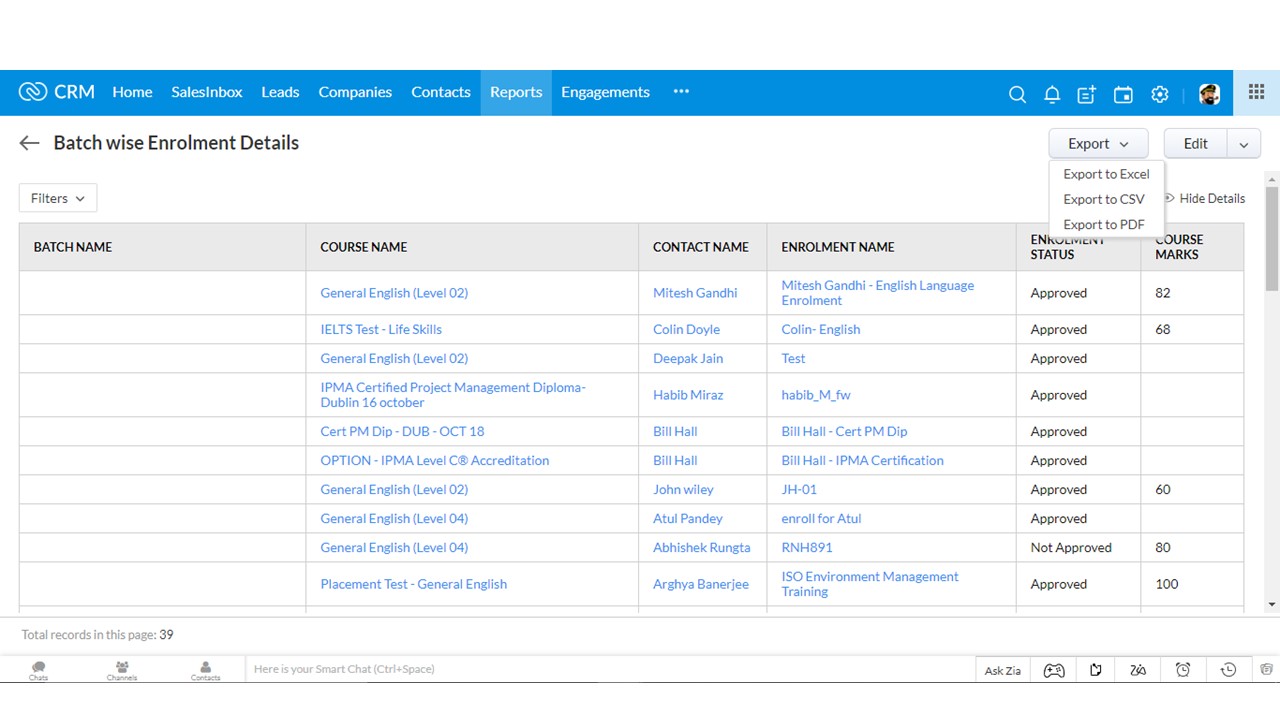 Further, you can export the reports and get them in Excel, CSV, and PDF formats.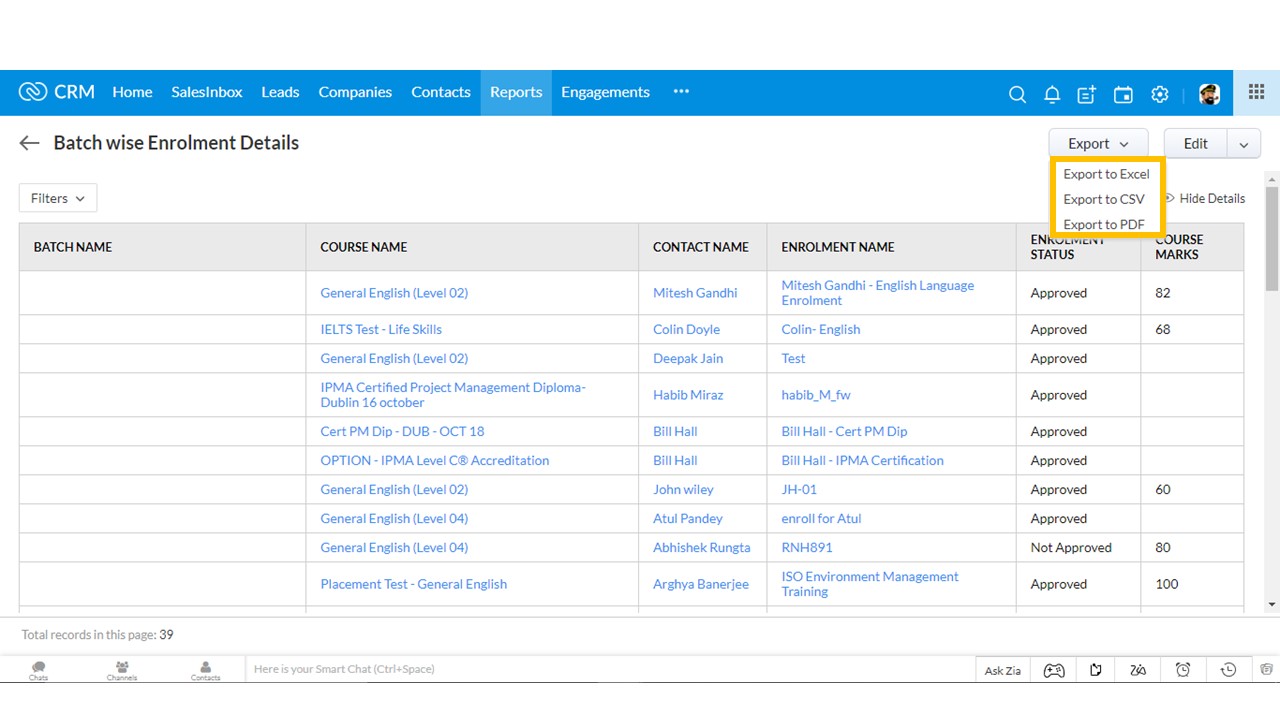 Place the most important Dashboards right on the Home Page of your CRM. Additionally, you can customize the Dashboards on the Home Page for each user.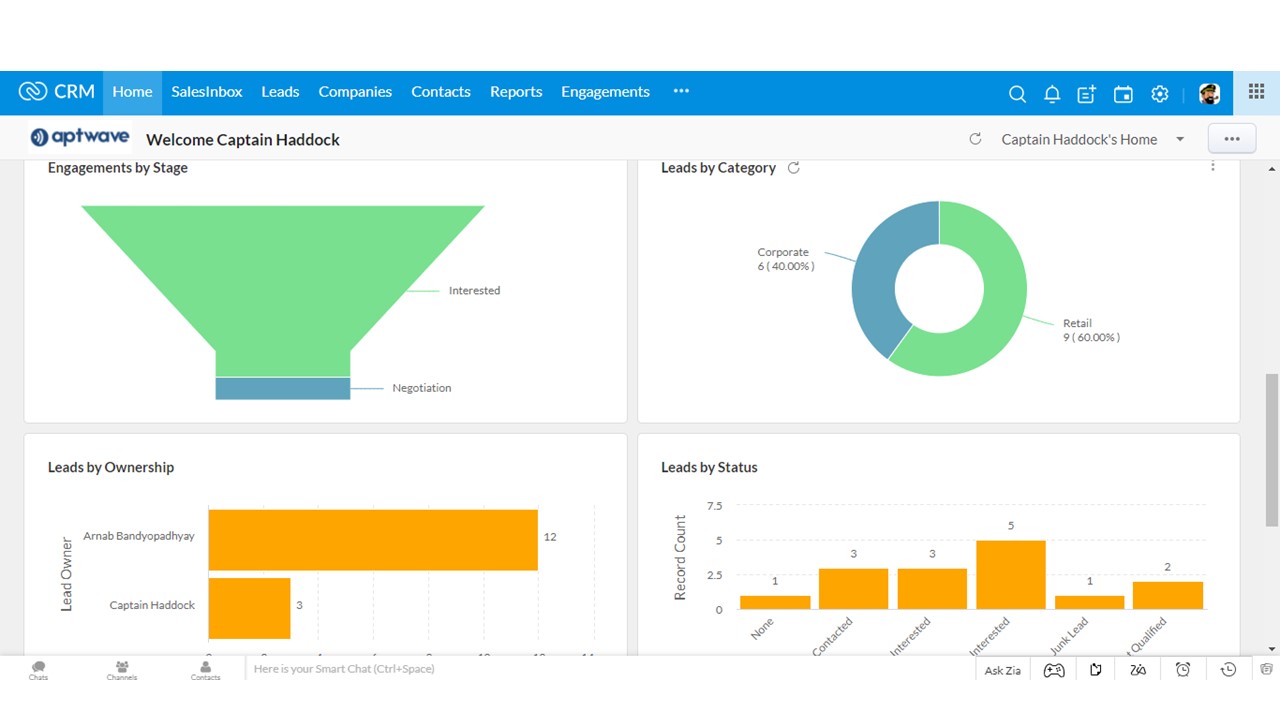 We have created a video for you so that you can understand how the CRM for Training Provider benefits you.
Final Words….
As you can see, there are lots of different ways a training business can use the Training Provider CRM. Leveraging all the valuable information at the right time, training providers can make smart business decisions.
From capturing leads and managing engagements and enrolments to creating batches and generating certificates, the Training Provider CRM streamlines your entire business process.
Book your appointment today to get an expert consultation on how you can implement Training Provider CRM for your business and take it to the next level.