Inbound Marketing Guide For Law Firms
Nov 22, 2022
Staying afloat in such a fast-changing seems difficult. But not impossible. If the other industry verticals can adapt and evolve, so can our law firms, correct? What they need is to adapt with time to achieve steady growth and sustenance.
For instance, the sales stages of the legal industry remain almost constant. Contrary to this, when it comes to marketing, the trends oscillate their ways every other day.
Your only hope is to embrace digitization and apply digital marketing for maximum prospect engagement. And the first step to getting started is implementing inbound marketing strategies.
In this article, let's dive deep into how you can strategize inbound marketing techniques and the tools that you might need to make it a success!
Table of Contents
Now, what is inbound marketing?
Inbound marketing is a method that modern businesses implement to grow their brands. It essentially focuses on pulling leads from the website rather than bombarding potential leads with advertisements. It is a strategy to develop the website traffic organically while keeping our prospects engaged with purposeful content and tailored experiences.
Remember, our potential customers are looking for guidance to their current requirements. You can leverage your valuable content as possible solutions and experiences that are relevant to them. Once you start engaging your target audience, your website traffic goes up, leaving you with higher chances of capturing quality leads and opportunities thereafter.
Four Major Steps In Inbound Marketing
Inbound marketing, at its core, focuses on the client's journey– transitioning from a prospect into a paying customer. The process is achieved through four stages in the following.
#1. Attract
The first step of the process is all about raising brand awareness, invoking thought leadership, and establishing yourself as a credible law firm with valuable content.
Design A Beautiful Website
The first thing that people do when they want information about a particular product/ service, is to look it up on Google. And Google shows them the relevant websites detecting the keywords that they use. And developing a website landing page becomes supremely crucial as it is your primary mode of interaction with your target audience. You must design it carefully as it acts as a virtual storefront, sharing valuable information about your products and services, and keeping the look and feel subtle enough to attract your prospects. Websites give you an enormous opportunity to voice your vision for your agency, feature the USP– a key demographic that makes you stand apart from the competition, and so forth. However, since your goal is to hit the global marketplace, you must understand your audiences are coming from different spectrums, and use an approachable tonality.
Create Purposeful Content
You know, companies are going in deep to ensure that they are found in search engines. A great method to achieve the same is by creating high-quality content. As lawyers, even though you might be comfortable with detailed writing, creating website content needs you to stretch different kinds of writing muscles. You need to research the target keywords and have a deep understanding of your audiences' challenges to create content that can intrigue them as valuable information. And only then, can you engage, build credibility and trust and significantly convert them into customers.
Create content? What type? Answer: Videos and blogs.
Video Content Marketing
Did you know a staggering 87% of professionals find video content marketing as a crucial aspect of every business? People watch online videos for about 19 hours per week, on average. Therefore, creating a domineering digital presence is more important than ever before. Think about it from a filmmaking or video advertising perspective and depend on only one element: relevance. You must address your audience in your videos, and concentrate on a specific topic to talk about per video to make it crisp and easy to register in one shot. You can make several categories of videos such as educational, presentational, explainer, testimonials, and so forth.
Blog Content Marketing
Next comes blog content marketing. It might sound dormant because of the video marketing craze, but it holds triumph as an educational or comprehensive guide for your target audience. You can leverage your blogs to highlight the mention-worthy features and news of and about your firm to keep them updated. Being the head of a law firm, you must be adept at looking at things from different perspectives, the same goes out for marketing. Start by promoting your legal services by creating 'how-to' or listicle articles for your readers. You can include stockpile information on industry statistics with data charts and graphs to educate them as well. Most importantly, you must research and include the most relevant keywords that your target audience is using to search for firms like you. And this makes me land on my next point.
Need creative designs to attract your audience? Use DocHipo. It comes with an enormous range of customizable templates for your email headers, blog banners, YouTube thumbnails, social posts, and so on. Let's have a look!

Optimize Your SEO Metrics
Let's say you have got a drift of content marketing and you have great content in hand. But that doesn't necessarily mean that you can leverage their fullest potential. Unless you optimize them with determined SEO metrics. Intergrowth says 68% of online experiences begin with the search engine, whereas 75% of people never scroll past the first page of search engines. This means you have a 33% chance of actually getting clicked! The gist of this information is that you need to up your SEO game before it's too late.
Yoast is here to achieve your SEO targets. It effectively helps you optimize your website content and keywords with pointers/ suggestions, pull maximum website traction, and rank higher on search engine pages. You can install Yoast on your WordPress or Guttenberg site. It hosts several powerful features and scrutinizes your content pieces through readability, meta-description, and other metrics to improve your quality.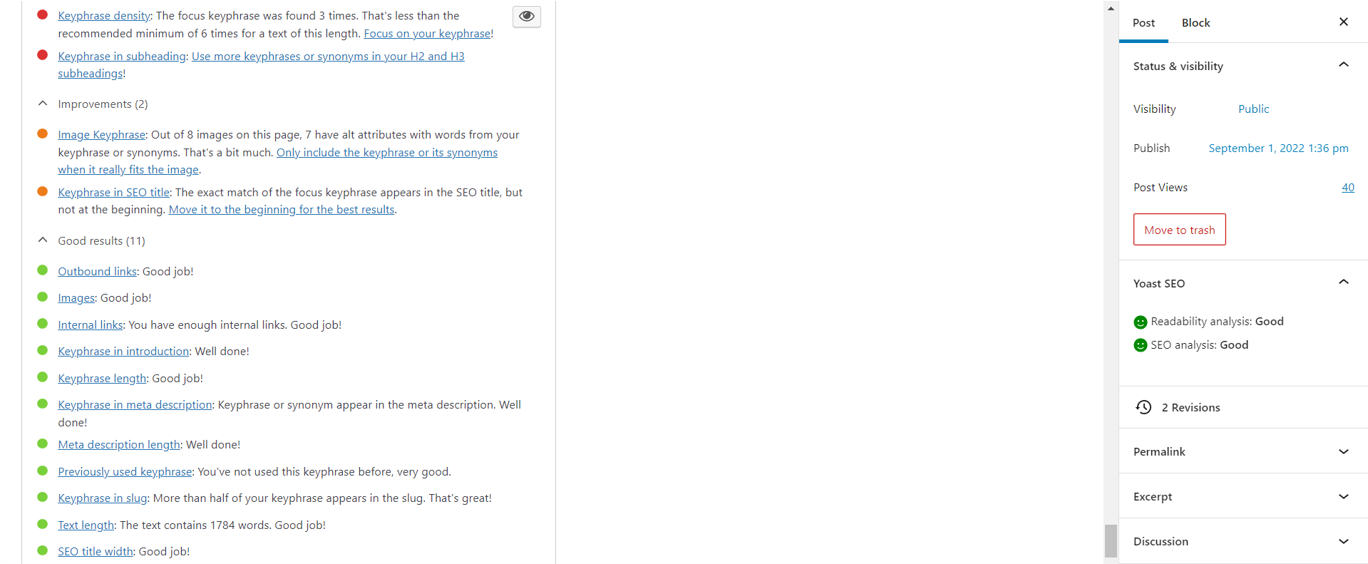 Connect With a Larger Audience
The importance of social media for business growth and development is tremendous. Even if it is the last of your target techniques of inbound marketing, you cannot certainly ignore its power. You can leverage important platforms like Facebook, LinkedIn, Instagram, and Twitter to connect with your clientele on a more personal and emotional level. But just a social media handle with no activity whatsoever wouldn't help you get what you want. Posting engaging content, breaking down your blog posts, and repurposing them for your internet community to stay active and relevant.
Zoho Social might be the best choice for you. This tool can help you monitor and manage all your posts, build up a content pipeline and schedule your posts with an intuitive publishing calendar. Plus, you can stick to social columns to respond to your audiences' queries/ comments, increase interactivity, and stay updated with emerging trends.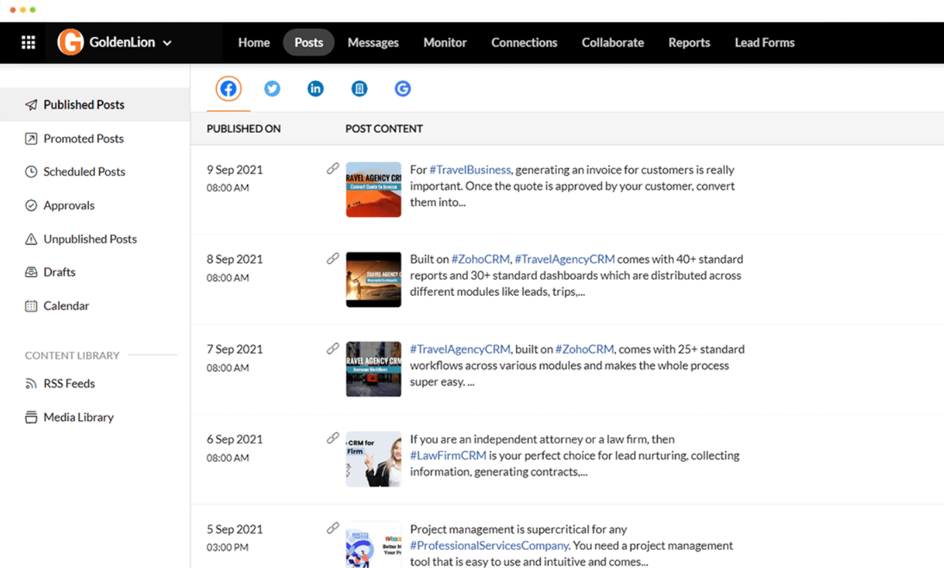 #2. Engage
The next stage involves keeping your prospects engaged with quick follow-up calls or meetings with a robust client intake process. This is where Law Firm CRM helps you extensively.
Capturing Of Multiple Leads
Once you have all the above-mentioned audience-attracting techniques in check, you can finally expect to capture multiple quality leads for your business. With the CRM solution in place, you can embed a contact/ web form on your website so that whenever a visitor shows interest and submits his/ her details, the system can instantly capture their information. It creates a separate newly created lead record and organizes the captured details in a neat streamline so that your sales reps can browse through the same before communicating with them.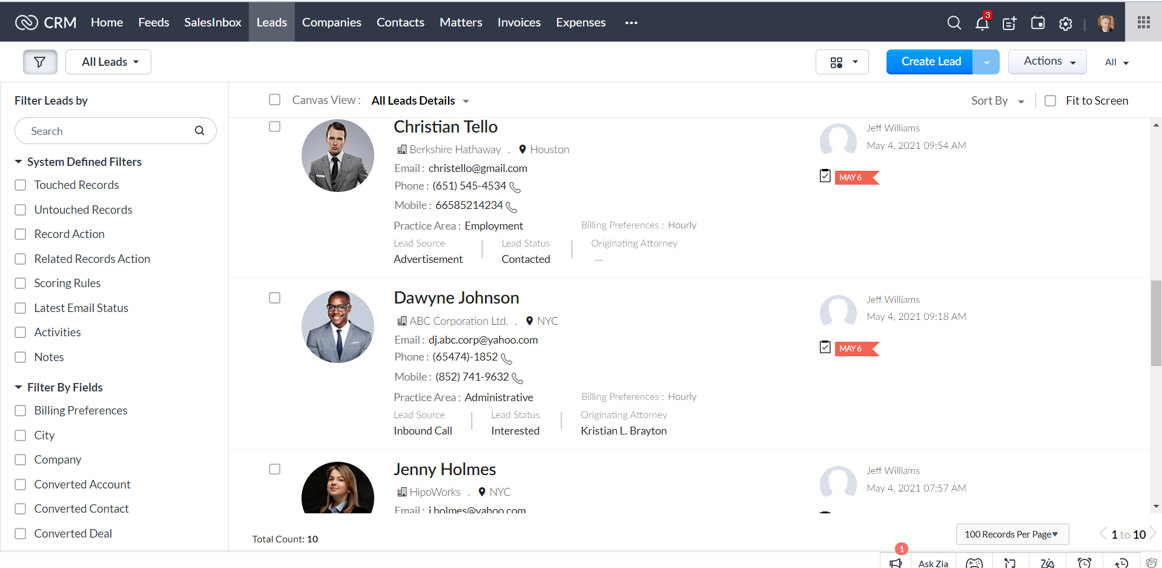 Capture Leads With A Live Chatbot
Just like you would have greeted a customer by extending a helping hand, Zoho SalesIQ does the same thing 24*7 on your behalf. It automatically catches a drift of what your website visitors are looking for, the recent sites they have visited. And accordingly, it proactively strikes up a conversation when the timing is right. You can build this chatbot with canned responses for general queries that you get from your customers and provide so that this tool can provide options to select from. When you integrate this tool with your Law Firm CRM system, it even embeds these chat transcripts in a newly created lead record so that if need be, you can browse through it once and communicate for further conversion.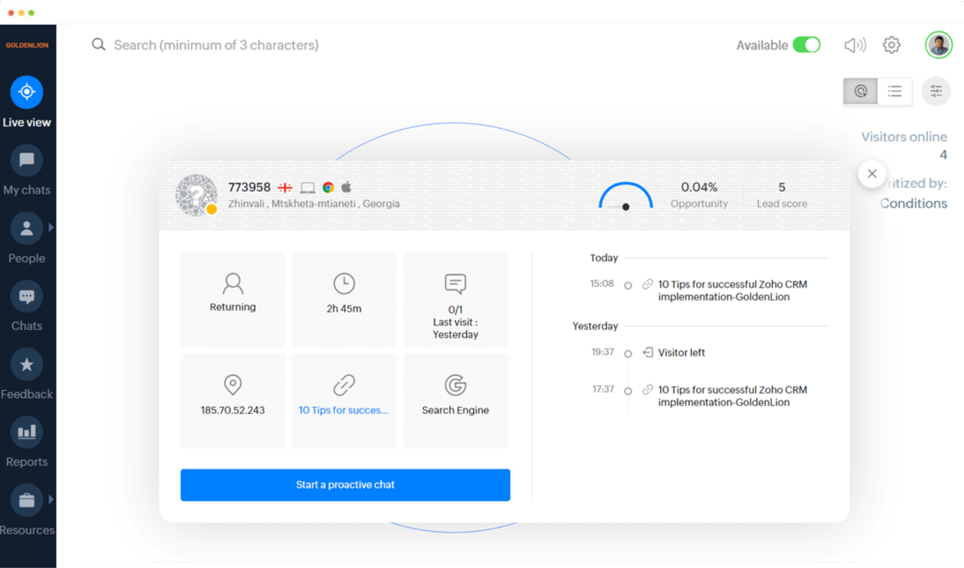 Nurture With Follow-up Activities
Your prospects need you throughout the entirety of the sales journey. You need to engage with them right from where communication starts. And Law Firm CRM rightly makes your job easier. It instantly triggers an acknowledgment email whenever it captures a lead and updates your sales team so that one of them can pursue it for further conversion. As the head of the firm, you can even create several follow-up meetings or calls and distribute these tasks amongst your sales reps. All you need is a one-click mention for them to get instant notifications. You can also mark deadlines on your CRM calendar or set up reminders for them to finish their assigned tasks as per schedule.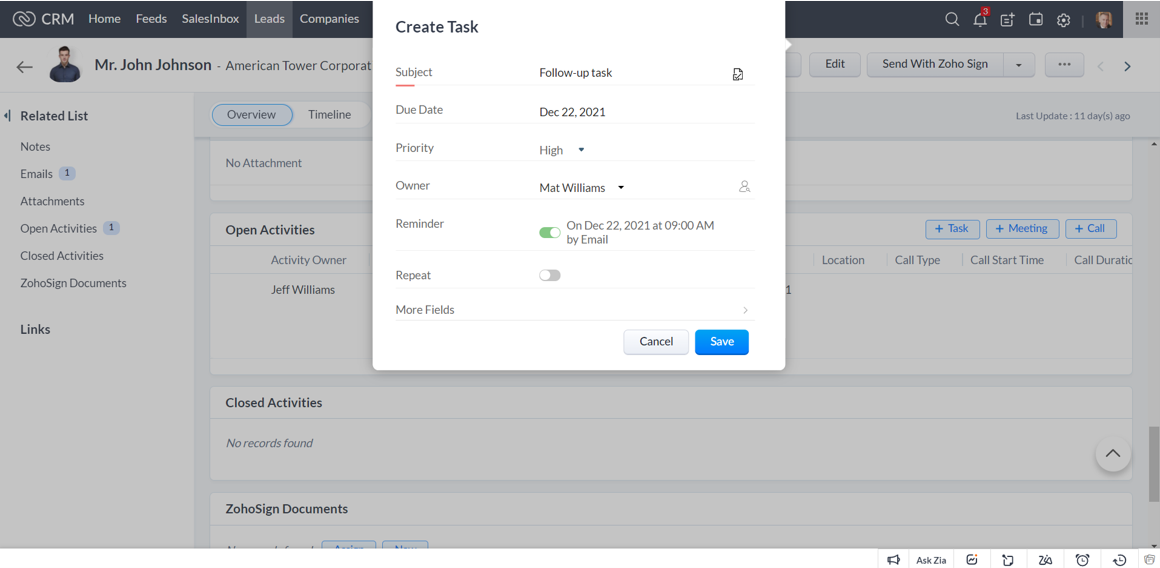 #3. Close-Win Opportunities
In the third step, you need to nurture your relationship with potential customers, with a strategic communication flow before you convert them into paying customers. This is how Law Firm CRM helps in each step.
Filter Out Your Leads
Most of your leads are not converting into opportunities? Relax, it's only obvious. Instead, you can start prioritizing the ones who are more promising. You can use BANT (Budget, Authority, Need, and Timeline) parameters to filter out your leads. Based on your previous follow-up tasks, you can gather information about your leads, and categorize them as 'hot', 'warm', and 'cold' leads.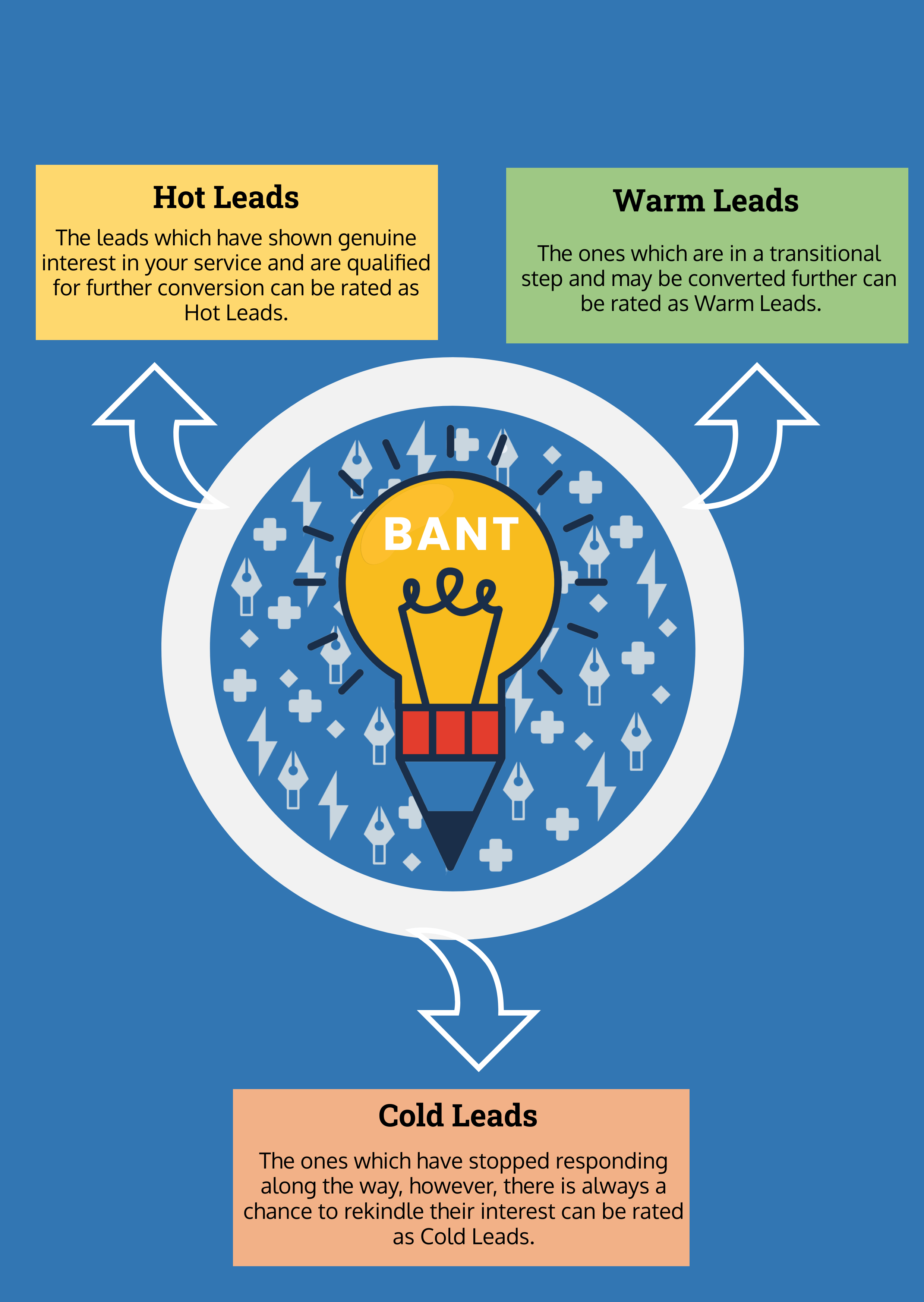 Onboard With The 'Matter Details' Form
Now when you finally have a bunch of leads to move forward with, you can share the 'Matter Details' directly from the CRM system. It is a pre-defined questionnaire that possibly covers all the fields of information that you might need. Customizing it to fit your ideal preferences is also an option. The key takeaway here is that your clients fill out their forms, express their concerns in their own words and at their convenience too. And when they do submit, the Law Firm CRM automatically captures all those details in the matter record so that you can easily retrieve it for future reference.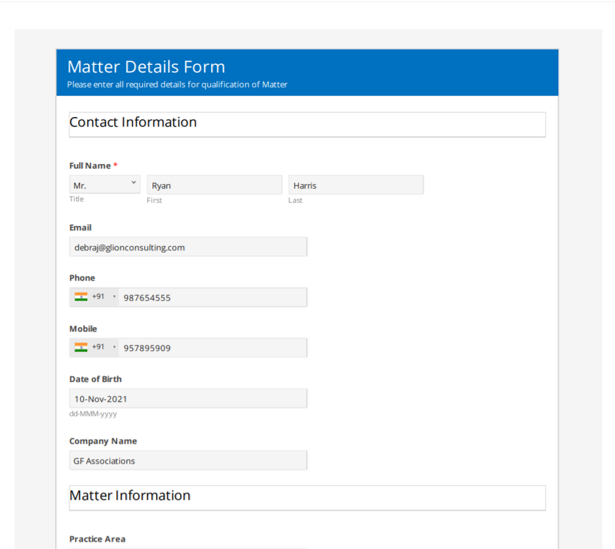 Ready-Made Sales Pipeline
Law Firm CRM comes with a ready-made sales pipeline that is designed as per your industry nomenclature. It is a super-efficient feature that detects a particular customer's current stage in the sales journey as it auto-updates itself after the previous stage completion with real-time information. So you see you don't even have to wonder what your immediate action point will be and prioritize your customers according to the urgency. It indeed helps you take the opportunity to a close-won matter.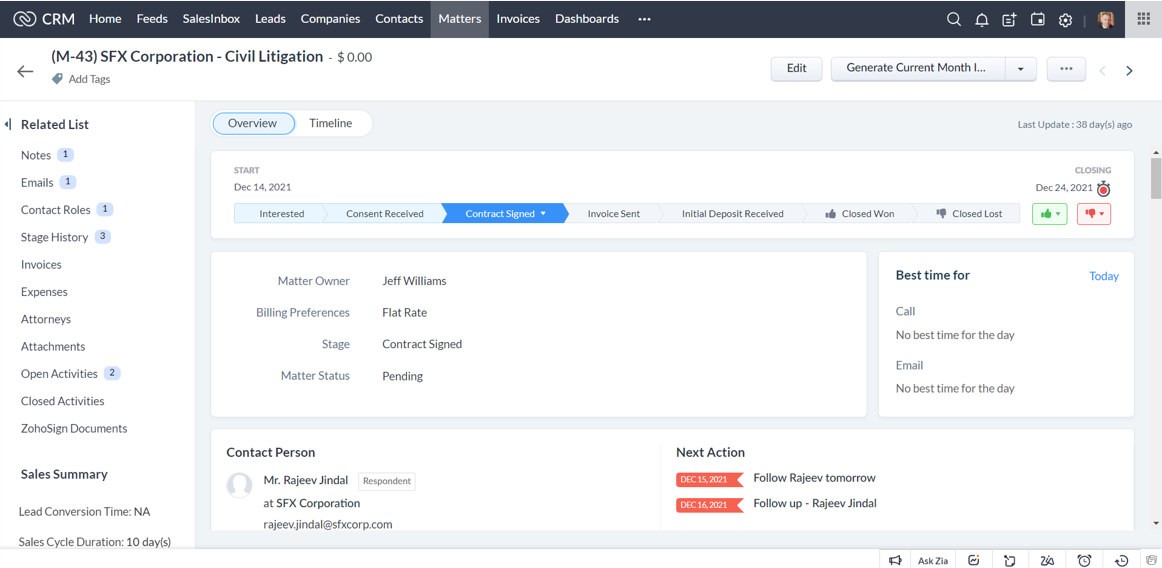 #4. Delight
Once you close an opportunity, you move on to the last stage which is to delight your customers with post-sales interaction. This stage, when done with utmost proficiency, increases your customer retention rates.
Hear About Their Experience
Now that you have delivered the best legal experience to your customers. Now it's time to hear about their experience with you. Believe me, the good reviews will only help you build trust and brand credibility (highlight them as testimonials on your website!) and the not-so-good ones will help you become better.
An easy method to obtain all these reviews? Integrate your system with Zoho Survey– a tool that comes with 25+ different question patterns, including features like skip logic, and piping. You can customize and collaborate with your team to prepare the questionnaire and share them instantly with contacts on your email or social media list. This tool even helps you analyze the data with customizable reports to visualize response trends and make well-informed decisions.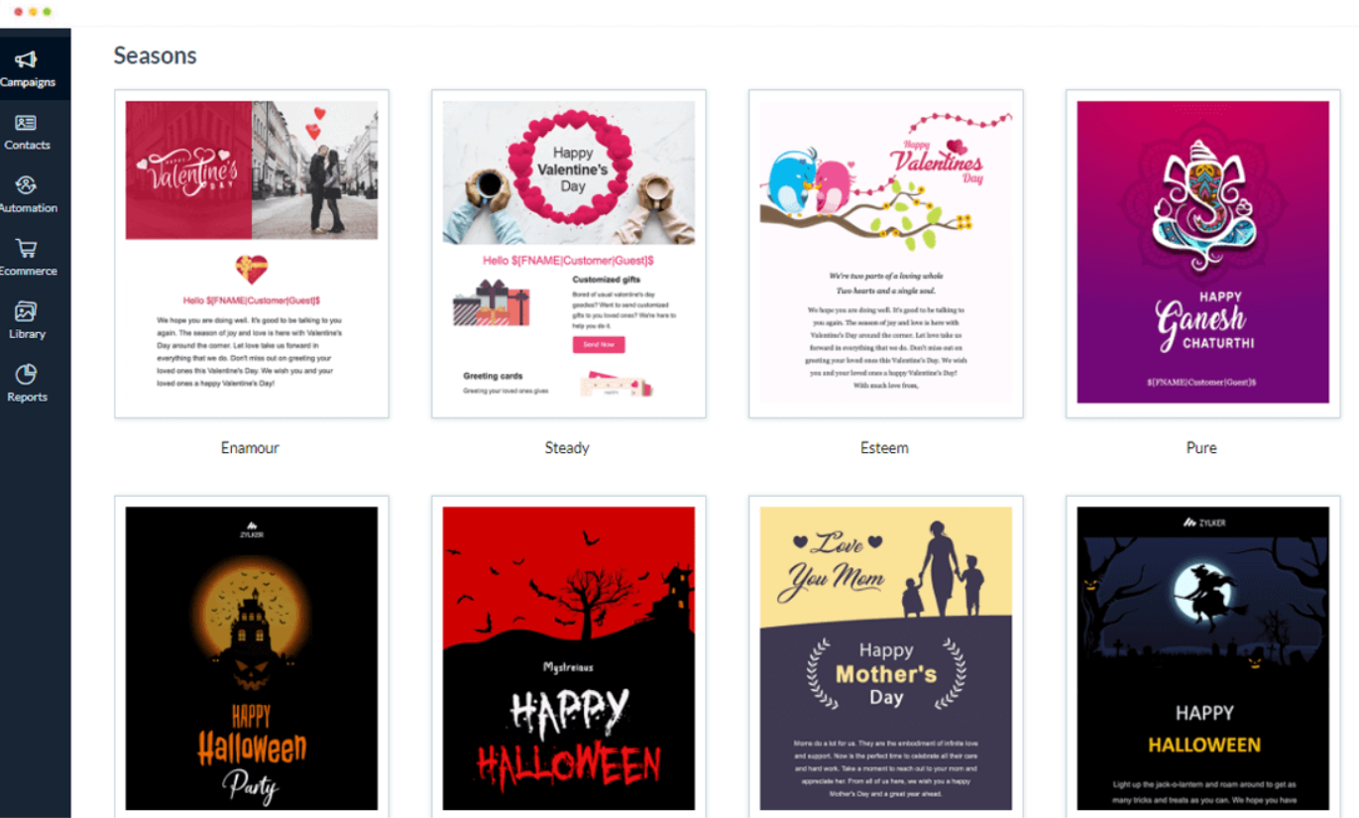 Trigger Email Campaigns
Use the good old email marketing method to retarget your customers. Trust me, it has stayed for 40 years now, and it's not leaving the marketing site anytime soon. Before you start, the two things to keep in mind are relevance and delivering that relevant content to the relevant audience at the right moment.
With Zoho Campaigns you can customize your emails based on customer databases. Now, this might be more appropriate in the case of Corporate matters since there are better chances of retention. Email campaigns are a great method to introduce your latest services or give away promotional offers. This effective tool enables you to create responsive designs, set email drip series, and trigger automated workflows for maximizing your CTA rates.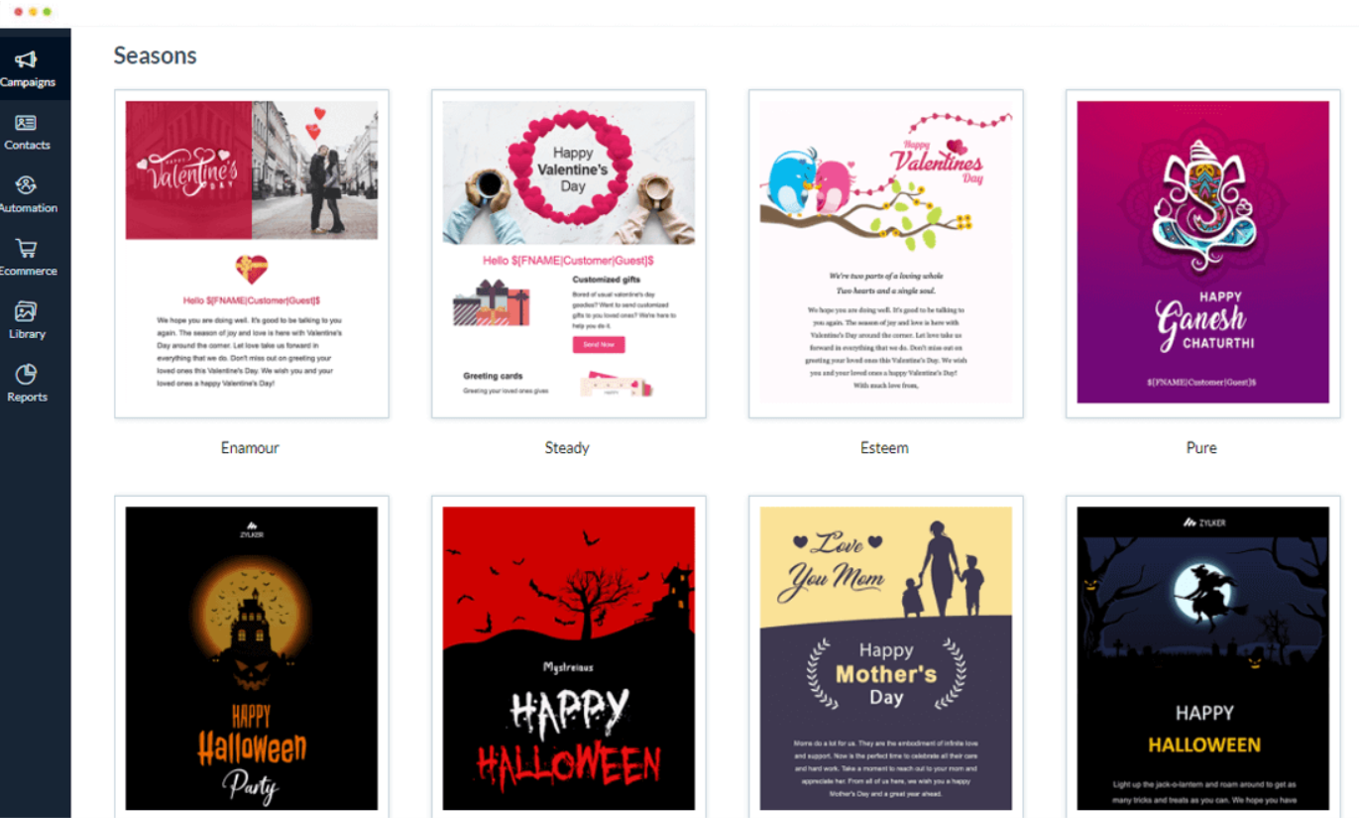 Last Words,
All these tricks and tools of a highly effective inbound marketing model will go in vain if you don't stay relevant. You must understand what your ideal client wants from you, reassess how your legal services can benefit them the maximum, and then start marketing for generating maximum leads. It's time to raise the bar higher!
Connect with our expert team for more information!