Simplify Your Business Process Management With Law Firm CRM
Jul 19, 2022
Regardless of the size of your firm, if you have a business to run, you need to manage its processes efficiently and effectively. The bigger legal firms carry on their business process meticulously. However, their smaller counterparts are constantly challenged to do the same due to their lack of resources or design a suitable business blueprint. This results in maximum churn rates, increased inefficiencies, and a major dip in the overall revenue generation. But to save you from all your troubles, we have come up with Law Firm CRM.
When you start a business, you always expect it to grow bigger. However, we always need to remember that in this competitive landscape, almost all quality legal firms are providing similar services as you. And you must be aware that a business has several entities. Such as marketing, sales, and operations which need to function together for the best results. Managing your business processes, therefore, means analyzing how all the above three separate sectors perform wholly and individually. A complete CRM solution like our Law Firm CRM helps you a great deal in this regard and in making an exceptional mark in the industry marketplace.
In this article, we will walk you through how effectively you can use our CRM solution for lawyers to streamline your business process and create effective strategies with its flexible features.
Set The Base With Centralized Data
Imagine being able to manage your business from one unified space, how easy will that become. With Law Firm CRM, it is certainly possible. The home page of our effective software solution is a unified space where you can keep diligent track of the most crucial matrixes of your business. We understand that each and every aspect of your business is of utmost importance, but some selective sectors require your discreet attention. You can select your preferred dashboards for reviewing them regularly and define your data hub. Most importantly, our CRM always updates this page with real-time information so that you are always aware of the overall performance of your business.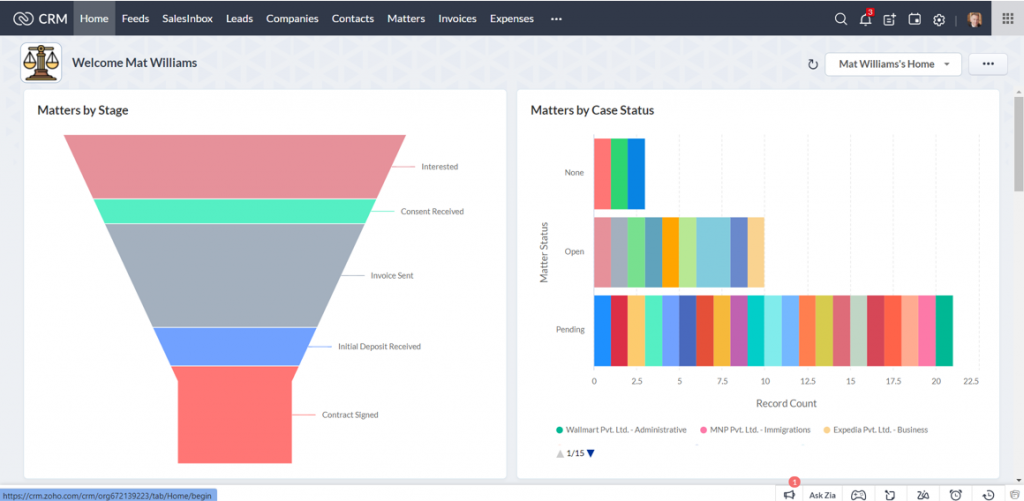 Capture Leads Automatically
If you want to do business, you have to have leads, it is as simple as that! As a lawyer, you must have several channels for generating mounds of leads. For example, websites, social media platforms, newspapers, referrals, and so forth. Through these mediums, you get to spread your word and market your legal firm. But these strategies might go in vain if you don't capture your leads effectively. Law Firm CRM makes it super easy for you.
Let's say you have a visitor on your website who is in urgent of your legal assistance. Now if you embed a contact/ web form on your website, that individual can show interest by sharing their initial information. And once they do that, our CRM readily captures their details and places them in the appropriate information fields after creating a separate new entry under the lead record. Therefore, you see this process is all efficiently automated. In the case of referrals or newspaper-generated leads, you can manually fill in your prospect's details.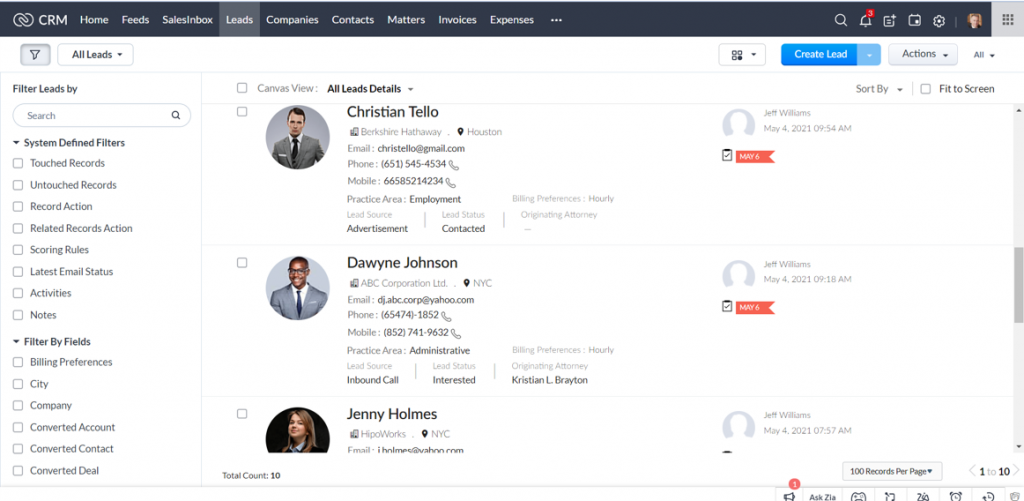 Nurture Your Prospects With Law Firm CRM
The immediate step after capturing your leads is nurturing them with utmost diligence. Law firm CRM makes it a lot easier for you. As soon as a lead lands in your CRM system, it instantly sends out an acknowledgment email for their patience. Since your prospective clients mostly have urgent legal matters in hand, naturally they cannot wait for your response for long. That is why our CRM immediately informs about the lead so that one of your respective teammates can take it forward.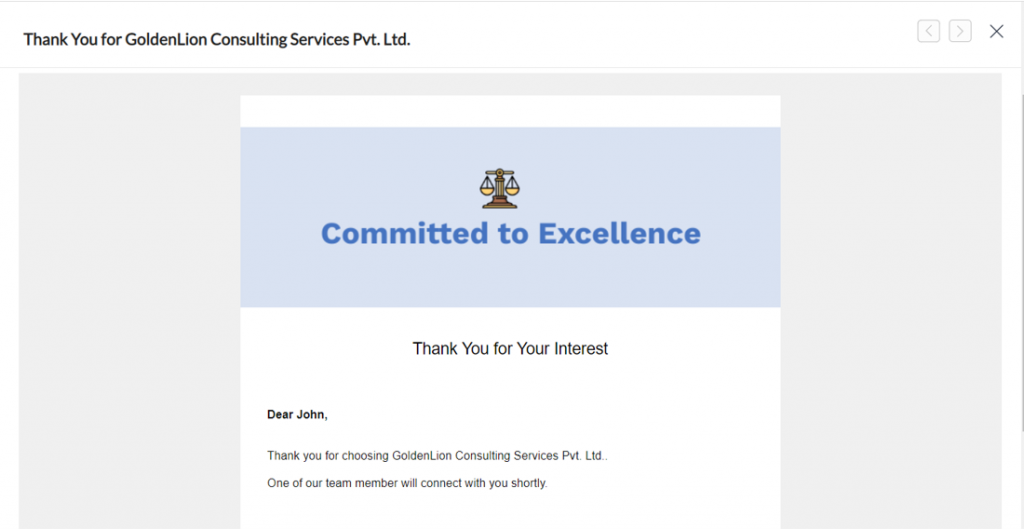 As legal matters are sensitive and complicated, your clients need uninterrupted attention from your end. So you can always initiate different follow-up tasks, and schedule meetings or calls to assist them. Being lawyers, we understand that you have too much on your plate already but the nurturing part is unquestionably an important step of the business process management. You can delegate your workload by assigning your follow-up activities to different members of your team, synchronizing your calendar, and setting reminders or pop-up notifications to maintain timely interaction. This way, you can keep in constant communication with your prospects.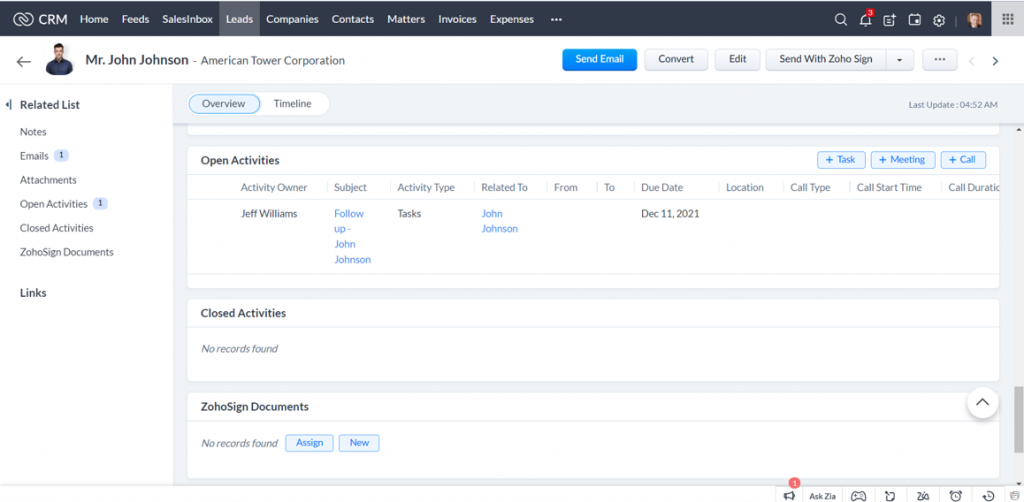 Filter Your Leads With Greater Potential
For being in business, you need to work smart and multitask. You cannot simply get stuck at one lead when you have hundreds in hand. And you already know that all individuals who inquire about your legal services will eventually become your customers. Depending on the information from your prior manual intervention (follow-up tasks), you can easily apply BANT (Budget, Authority, Need, and Timeline) parameters and categorize your leads accordingly.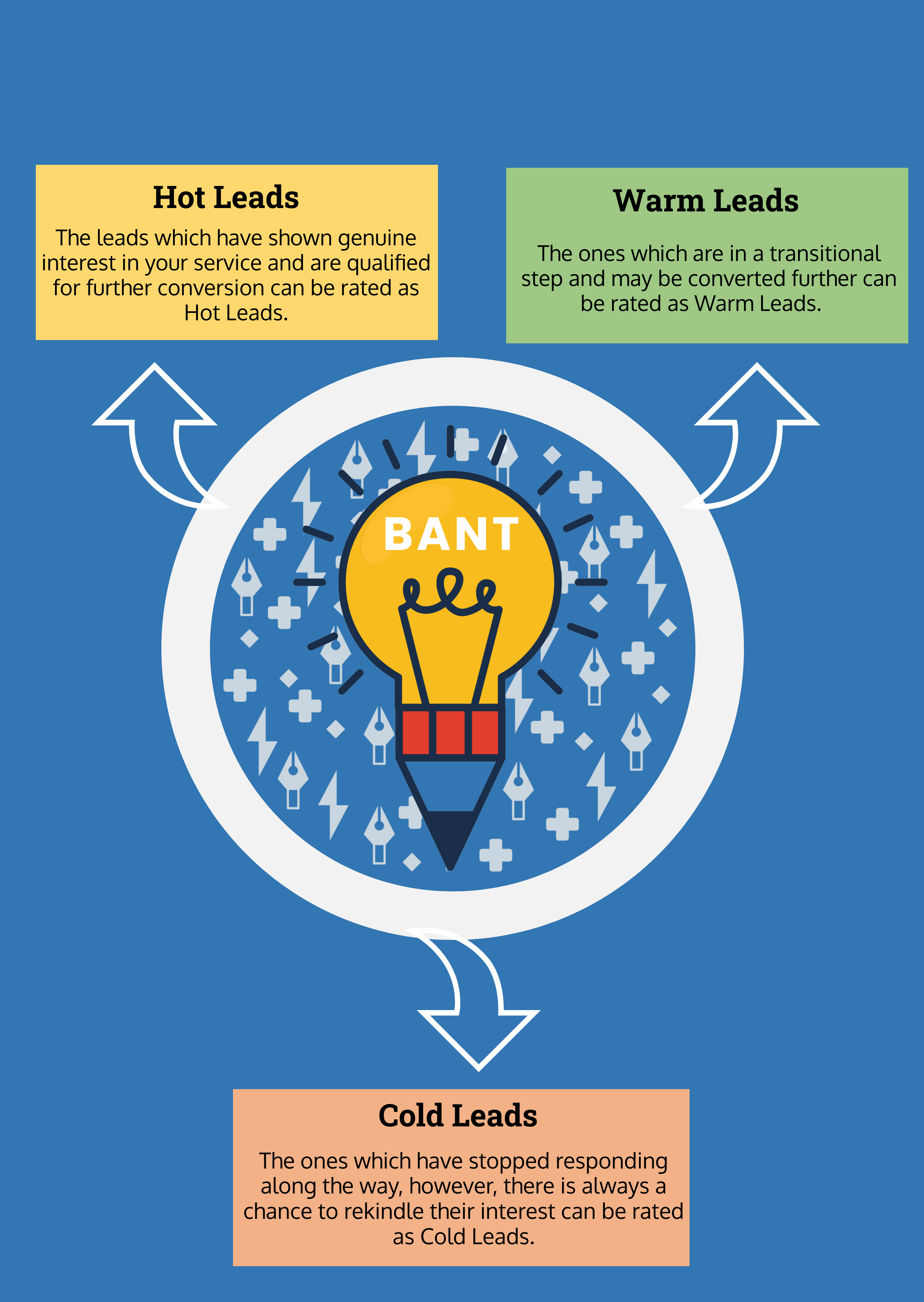 Document Your Customers With A 360-Degree Vision
Once you have filtered your leads and qualified them, it's time for conversion. Everything with Law Firm CRM becomes super-easy. How? The moment you click on the 'convert' button, our CRM instantly creates three different records namely, contact, company (applicable for B2B opportunities), and matter. These records are essentially module-specific. So for instance, if you get inside a contact record, you can see all the contact-oriented details Our CRM is intuitive enough to detect the best time for communication, based on your customer responses to the previous follow-up tasks. However, the related company (if any) and matter are located in the list below so that when you click on them, our CRM takes you to that particular record directly. This pattern applies to these three interlinked modules.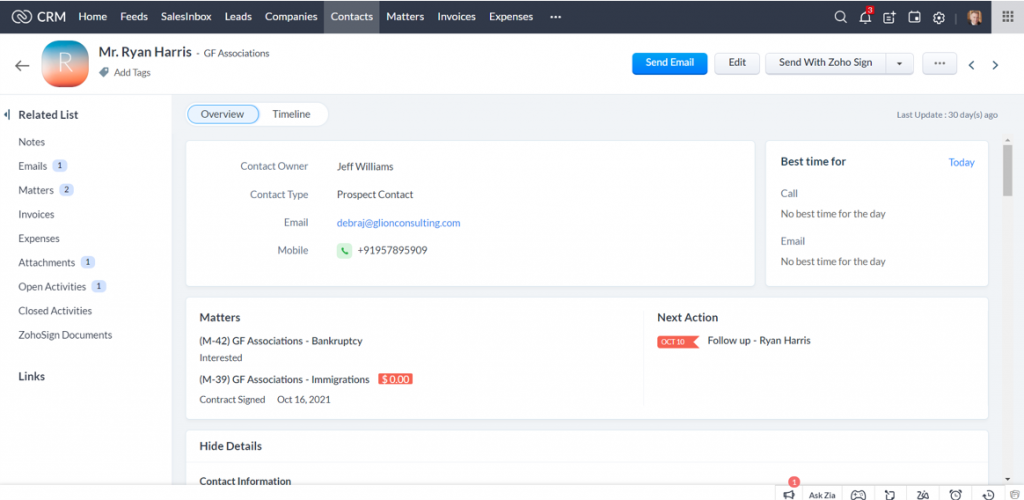 Send Out The 'Matter Details' Form
When you convert your leads, it means you must have evaluated their merits and now you might want to gain more impetus regarding the matter. Needless to say, Law Firm CRM extensively makes your situation workable. It comes with a pre-defined matter details form consisting of all the information fields that you most definitely require. This gives your clients a chance to write about their areas of legal assistance in their own words and at their convenience. You can share this form directly from the CRM itself and when your customers do submit their information, our CRM instantly captures it for your study.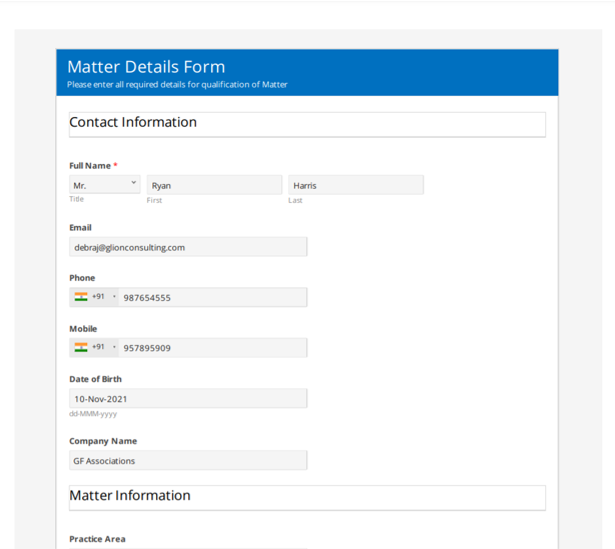 Manage Your Sales Pipeline With Law Firm CRM
For running a business smoothly, you need to have an established sales process. Our Law Firm CRM advances you with a ready-made sales pipeline. It features all the steps that you can possibly require. Moreover, this pipeline automatically updates itself after every step completion so that you can clearly assess the current state of your customer's journey.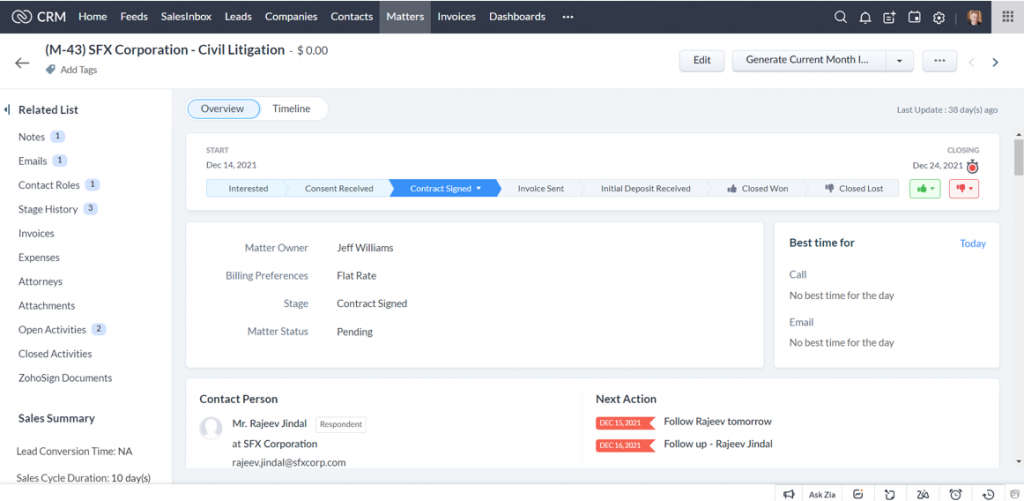 Generate Contracts In Seconds
Law Firm CRM is by far the most flexible yet complete power-packed software solution for modern-day lawyers. It primarily deals with hourly billing, flat-rate, and contingency contracts. Most importantly, when you're backed with our solution, you can seamlessly generate multiple contracts/ agreements as preferred by your clients. You can merge your document with Zoho Writer, select the preferred option, and viola, a contract is raised for your client. Mind you, the content and structure of your contracts vary depending on the selected billing preference. All you need to do is insert the necessary information including the date, the name of the client, and the address to make it personalized. You can also put your digital/ e-signature with Zoho Sign, share it via email, and complete the whole task in one sitting!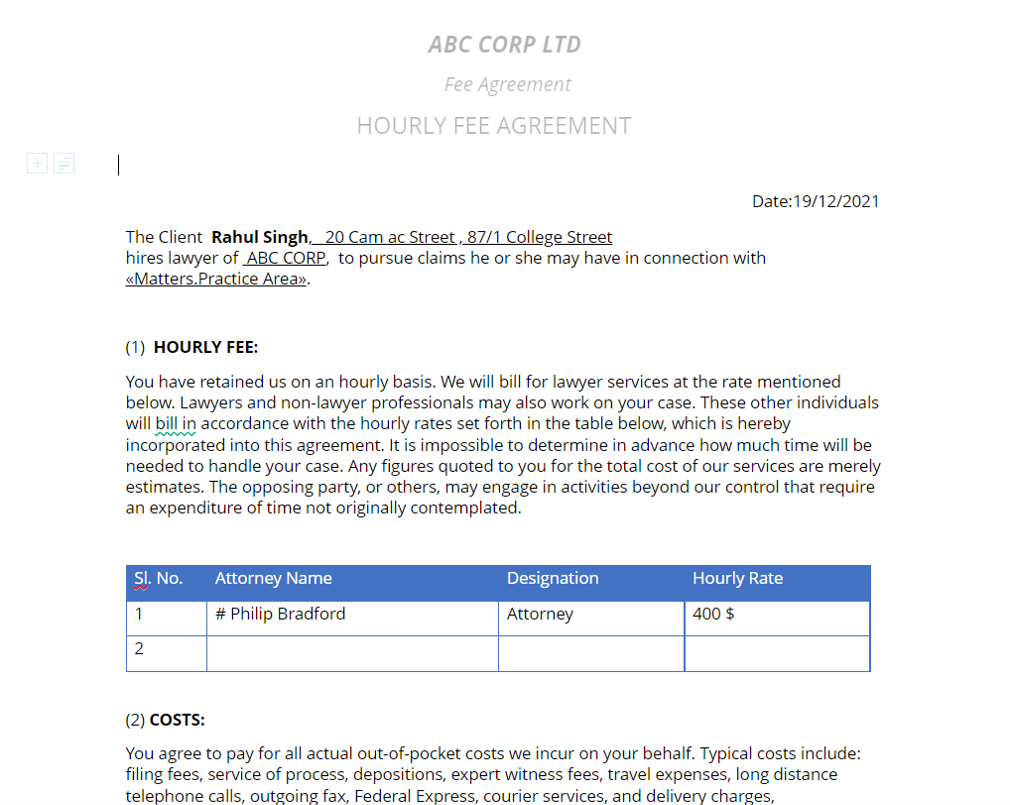 Generate Your Invoices
Different attorneys call for different prices for investing their time into matters. With Law Firm CRM you can set the different rates of your attorneys from the respective module. Especially when it comes to hourly billing, your attorneys can log the total hours they have dedicated for a particular matter so that the system auto-calculates the billable amount. Once recorded, you can merge these recorded payment details with a pre-defined invoice template that comes with our CRM solution.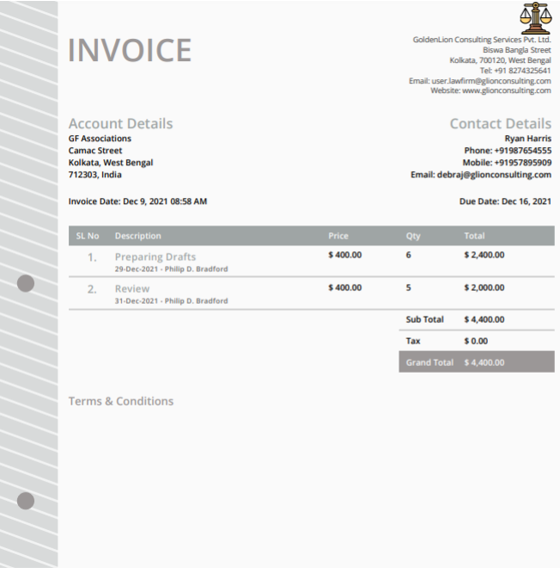 Record Expenses
As you take on a matter, you might have to do several additional activities during the investigation procedure. If you get inside a particular matter record and scroll down a little, you can issue an expense and add multiple rows if you need to. All you need to do is select the additional task and insert the date so that our Law Firm CRM records them in a streamline and sums up the total amount in the invoice.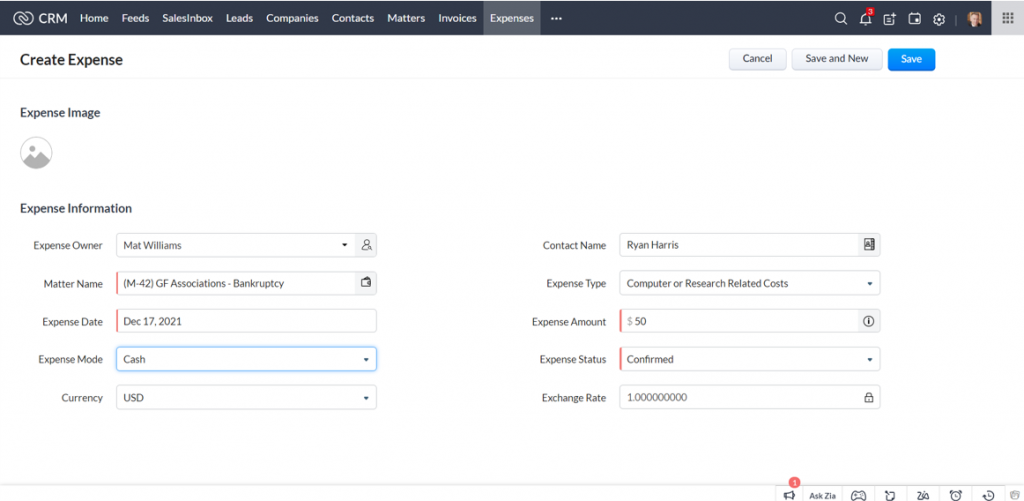 Key Advantages: Reports And Dashboards
To manage your business processes, you need to analyze every aspect of your business, right? That is why Law Firm CRM presents you with a series of comprehensive reports and dashboards. Such a dynamic duo helps you extensively in understanding your daily progression. What's more, you always get filled in with real-time updates so that you can make informed decisions at a faster pace. Here is an exemplary report-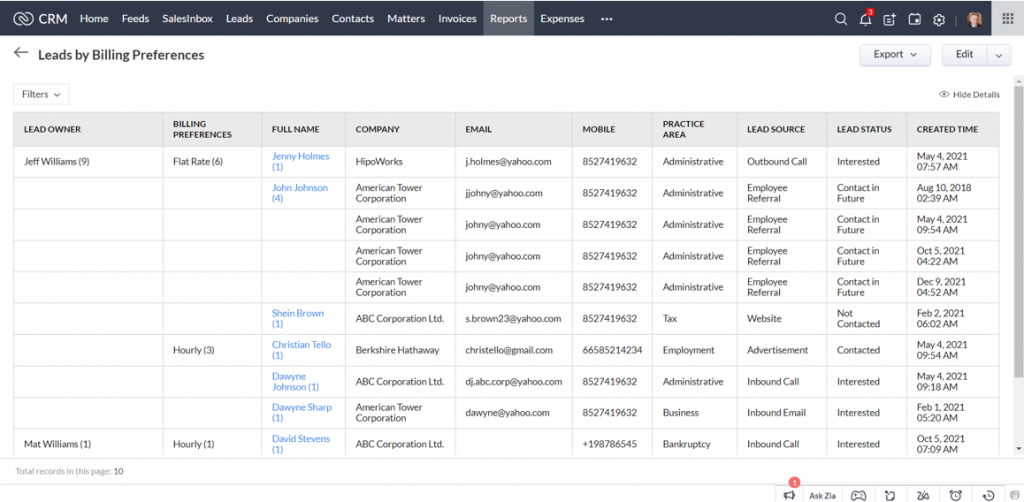 And here is a stand dashboard example-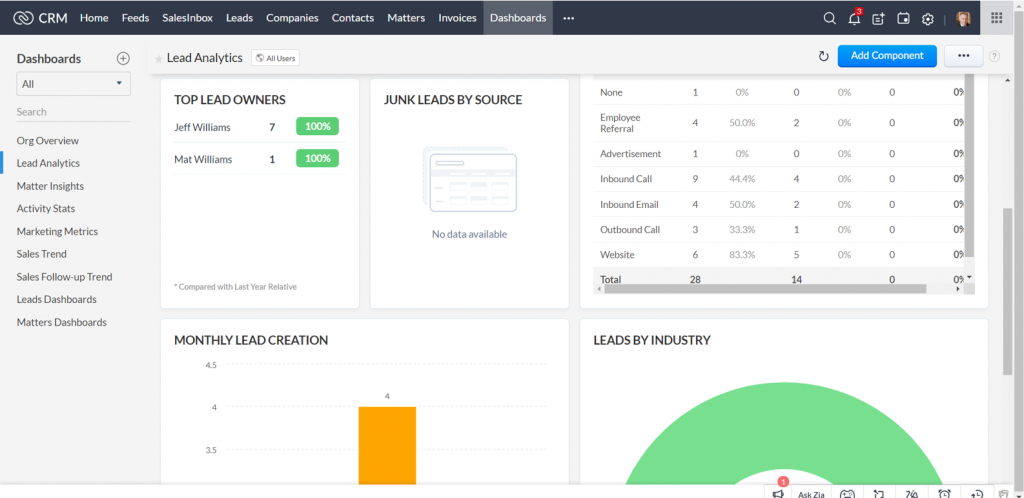 Last Words,
Law Firm CRM gives a huge scope for managing your business process. It is a single platform that can be accessible at any time and with any device whatsoever. Take a leap of faith and try us. We have helped 700+ businesses so far and now we are here to help you manage your business on the go.
Watch this insightful video to understand the process even better. 
And now we throw the ball into your court. Click on this information link and get started!