Manage Your Contracts And Invoices Using Law Firm CRM
May 20, 2022
Bringing justice to people is what lawyers are meant for. But when you don a legal practitioner's profession, you certainly need to manage the business perspective as well. For managing your customers seamlessly, and personalizing their experience as a whole, you need to keep tabs on your contracts and invoices with zero scopes of confusion. That is why we have come up with Zoho CRM for Law Firms. 
Did you know? Go Remotely experts say that by 2024, the legal marketplace is expected to grow by 5.6% around the world. And the worldwide industry growth will unquestionably fall upon your shoulders. Of course, acquiring more clients and making greater revenue is a part of increasing profitability. But we also need to be efficient in generating invoices as per the contracts of our clients. Therefore, you need to execute a sensible and streamlined invoicing process to maintain timely payments from your clients and reflect for higher profits. 
Built on the world-renowned Zoho platform, our Law Firm CRM primarily deals with three types of contracts and billing preferences. These are namely hourly billing contracts, flat-rate contracts, and contingency fee contracts. In this article, we will delve deep into the aforementioned types of contracts and how effectively our CRM solution generates invoices as per your clients' preferences. 
Flat-Rate Contract Management 
One of the most commonly opted contract and pricing structures in the legal sector is the flat-rate/ flat-fee arrangement. According to a recent survey of Clio, close to 47% of consumers wanted legal firms to adopt the flat-rate agreement. Here, the clients are required to pay a fixed or agreed-upon amount as an upfront settlement to cover all the legal work. Offering such a service adds to your USP as quality, consistency, and predictability are expected here. These matters generally involve relatively uncomplicated issues like mortgage foreclosures, drafting of wills, uncontested divorces, and so on. However, before the agreement, lawyers need to study the entire matter thoroughly to avoid future disputes over legal fees.  
Since lawyers are constantly challenged to do more in less time, our Law Firm CRM solution comes with pre-defined templates. You can straightaway select the 'flat-fee' option and merge your contract with Zoho Writer to generate one, in a couple of minutes. You only need to insert the necessary details like name, address, company name (if applicable), date, etc. Mind you, the content and structure of all the agreements that our CRM handles differ according to the type of the contract.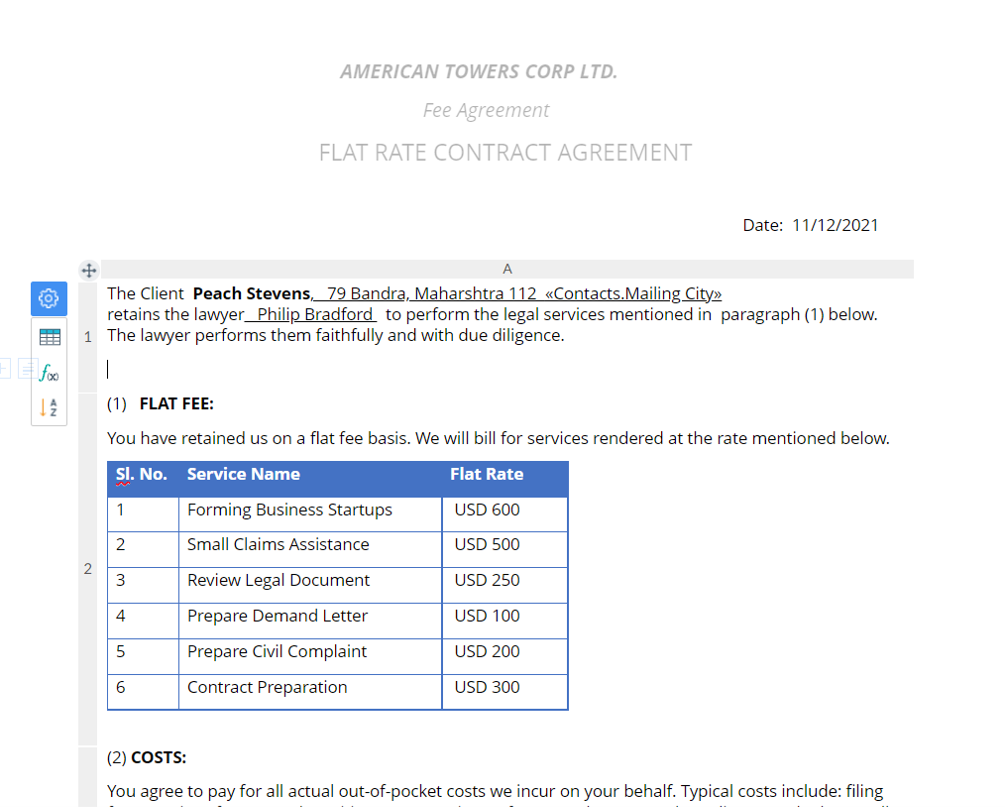 Regarding billing and invoice, the flat-fee agreement procedure is comparatively a lot easier than that of hourly billing. If you get inside a particular matter, you can see an 'edit' option in the top-right corner, insert the fixed amount and save the changes. In the matter record itself, you can click on the 'Generate Current Month Invoice' option so that our CRM automatically generates an invoice which you can download and share with your clients via email. 
Contingency Fee Agreement 
Next up is the contingency fee agreement. These matters typically involve a scope of risk as the clients participate with a solid argument or ground for justice. Examples of this kind of unique matter may include, wrongful death, personal injury, medical malpractices, and others. As many of your clients might not afford the substantial legal expenses, they can opt for such an agreement. The lawyers working on such matters expect an agreeable percentage out of the cash reward or settlement. However, the client is not responsible for paying the attorney if the matter is unsuccessful.
With Zoho CRM for law firms, you can easily raise a contract for such an agreement, in quick seconds. You can merge it with the pre-defined template that comes with Zoho Writer by selecting the right option and filling out the necessary information. You can also put your e–signature with Zoho Sign and finish off the whole task at once. For billing, you can document the agreed-upon percentage by editing the matter record. So that when you generate monthly invoices, our CRM automatically calculates the total amount. You can download the invoice in PDF format and share it via email. Sounds about simple!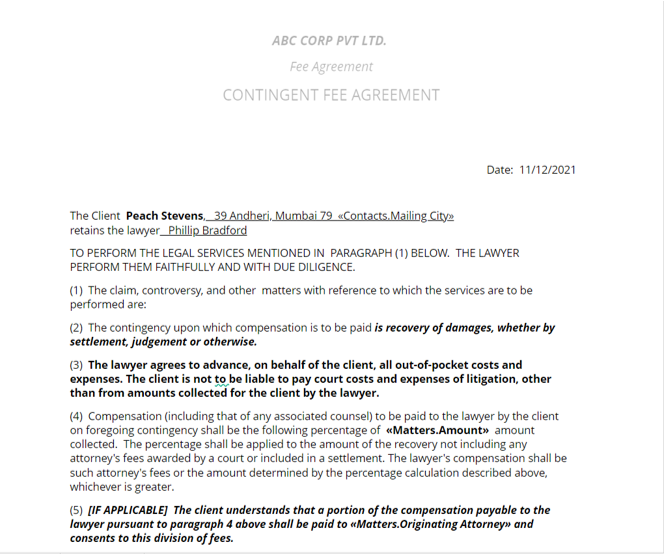 Hourly Billing Agreement 
The USP functionality of Law Firm CRM is managing the hourly billing agreement. It is the most typical arrangement that clients often opt for for their legal matters. In such a case, lawyers charge their clients as per the hours they invest in a particular matter. Being a leader of a law firm, it might be difficult for you to keep track of your agreements and matters as you tackle so many. Especially for hourly-billing contracts, the rate of your lawyers can vary from one another, as per experience. Here, you not only need your attorneys' area of legal practice but also their legal charges to suit your customers' preferences. As our CRM solution profiles your lawyers' information in separate streamlined records, you can easily check their hourly rates and area of expertise and tag them against a matter.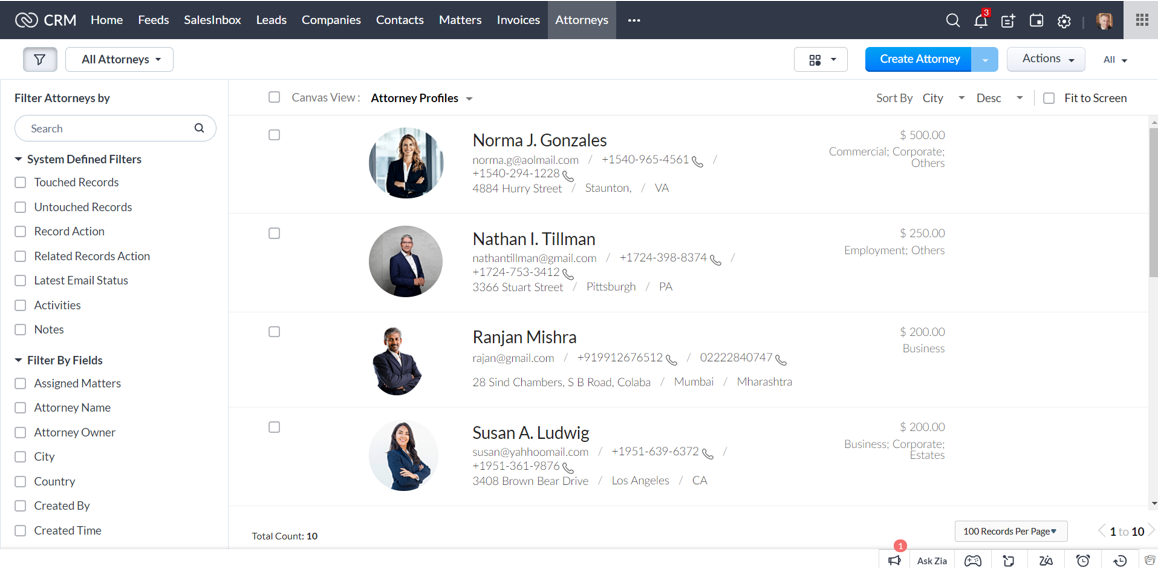 For raising an hourly-billing agreement, you can again select the option and merge with Zoho Writer and use Zoho Sign. 
Now when it comes to recording bills for a client, you can get inside a specific matter record and edit it accordingly. Our Zoho CRM for law firms presents a time-sheet in front of you where you can choose the particular attorney with their hourly rate, record the date and log in the time. You can add multiple services and the number of hours they have invested in each. Our efficient CRM software diligently records all these details and auto-calculates the total number of billable hours and the amount as well.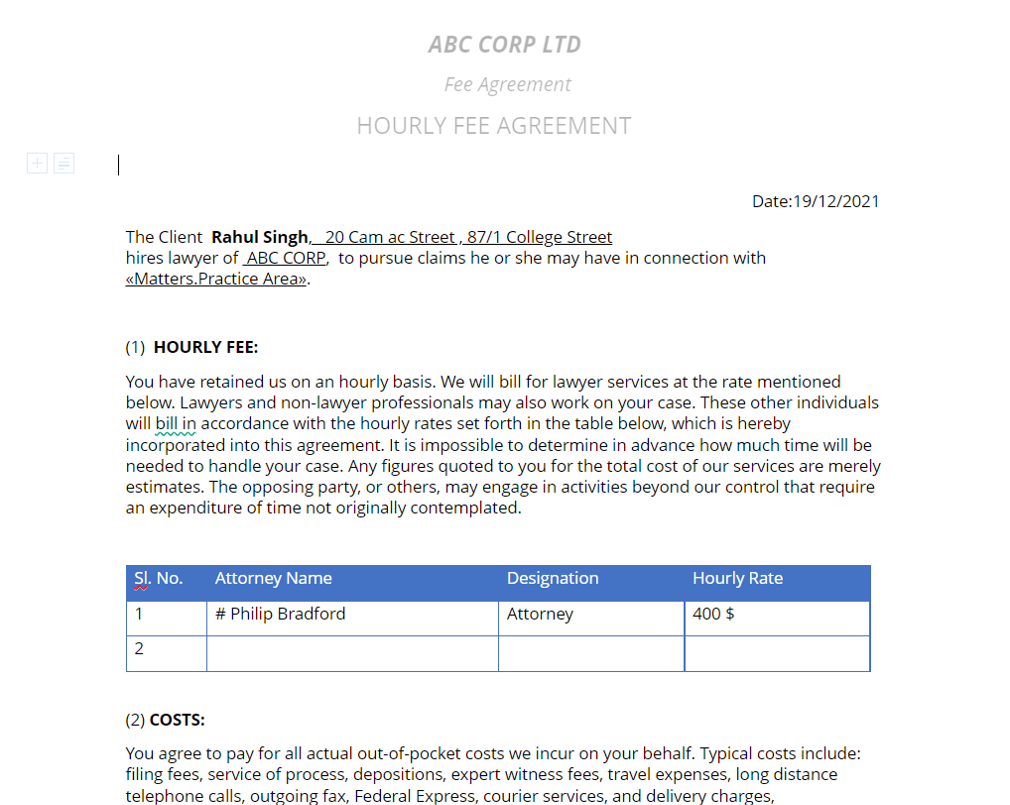 Generate Multiple Invoices In Seconds 
Law Firm CRM makes it exceptionally easy and organized for you to manage your invoices at your convenience. But of course, as a businessperson, you need to edit your matter whenever there is a chance of an update. Else, you can blindly trust our solution. Now, once you have all your matters streamlined and updated, you can click on the 'Generate Current Month Invoice' button for a particular matter. Our CRM software comes with a pre-defined invoice that can be persistently used. All the information including your client's name, the date, the matter name, the amount, etc. You can download it in PDF format and send it out to your clients via email.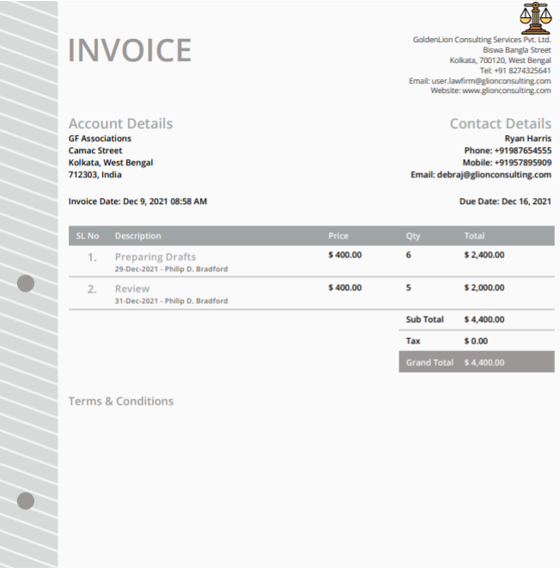 Record Expenses If Any 
Legal matters often involve additional expenses for different services. These can involve photocopying, travel, filing charges, and so forth. As it can often slip your mind, it becomes extremely crucial for you to record these expenses. With Law Firm CRM, you can issue additional expenses, by logging in the date, the time, the amount, and selecting the type of service. You can always add multiple rows to it if necessary and make a sum of the total amount to include them in the invoice generation step.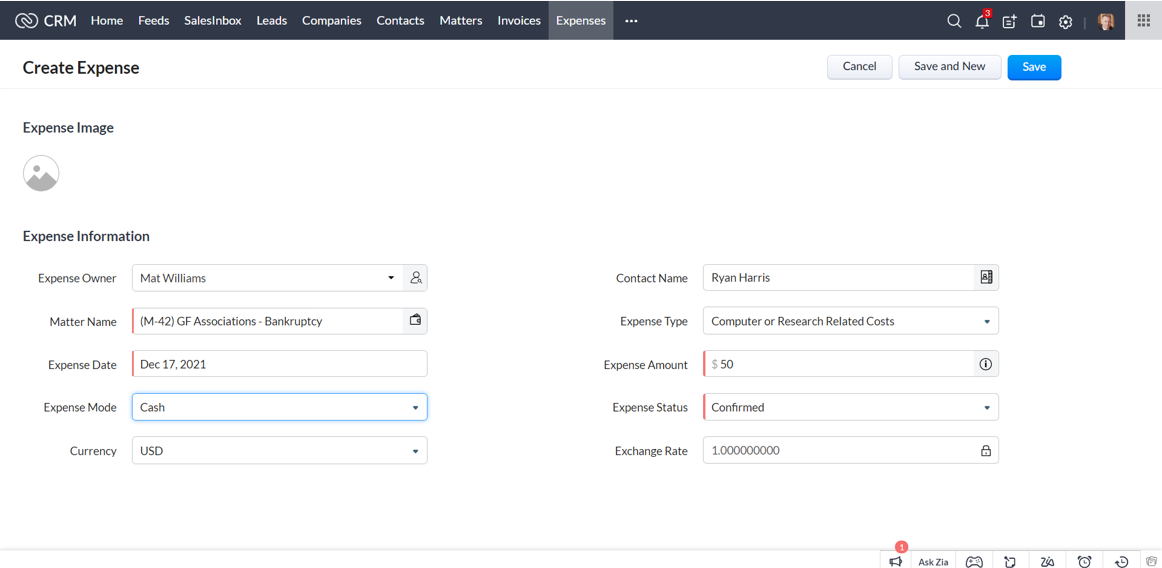 To wrap things up, 
Zoho CRM for Law Firms is the 'A-One' software solution that modern-day lawyers need today for managing every aspect of their business. It is super-intuitive and has abundant benefits. Don't believe us still? Watch this video to learn even more about our solution. 
We have helped 700+ businesses so far, and we believe that yours could be our next one. Click on this information link, it's your first step towards success.