CRM that A Manufacturer Cannot Live Without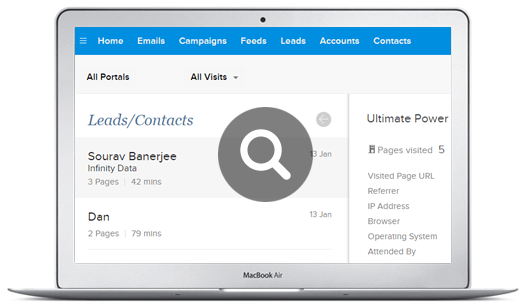 Acquiring new customers and providing world-class experience to existing customers have become the need of the hour for manufacturers around the globe. Zoho CRM for Manufacturing helps you optimize your marketing efforts and fuel sales revenue like never before. With all your existing and prospective customers' data in one system, you could now be unstoppable!
How Does the Manufacturing CRM Help
Lead Capturing

Capture Leads from Website, Social Media, Email Inbox.
Track Your Website Visitors, Chat and Convert Them as Lead.
Nurture and Qualify Leads

Set up Drip Marketing via Auto res ponders.
Capture Customer Need, Decision Making Time, Budget and Who Plays What Role.
Manage Your Sales Pipe

Track How Many Deals at What Stage.
Who is the Competition.
Average Age of an Opportunity.
Collaborate with Team Members

Collaborate via Feeds (Group Message or Private Message).
Chat
Manage Quote-Order-Invoice

Create Sales Quote with Different Products.
Convert the Quote, Once Accepted, into a Sales Order.
Convert the Sales Order into an Invoice.
All Interactions in One Place

Emails are Inside the CRM.
Tasks, Events, Calls, Notes, Chat Transcript: All in One Place.
Sell More to Existing Customers

Promote Products via Email and Social Media Campaigns.
Track the Campaign Result inside CRM.
Reports, Dashboards and Automations

Emails are Inside the CRM.
Tasks, Events, Calls, Notes, Chat Transcript: All in One Place.
Reports, Dashboards and Automations

Pre-built Reports and Dashboards.
Powerful Workflow Automation Rules.
Simple Pricing
Subscription Fee:
$35/User/Month
(Billed Annually or $45 Month-to-Month)
One-Time Fee:
$997
(15 Hours of Done for You services / Additional hours @ $30/Hour)
Downdload Pdf
Subscription Fee:
INR 2100/User/Month
(Billed Annually or INR 2700 Month-to-Month)
One-Time Fee:
INR 60,000 + Tax
(15 Hours of Done for You services / Additional hours @ INR 1800 + Tax/Hour)
Downdload Pdf
GoldenLion was a true blessing to our CRM implementation. GoldenLion gave us a vision of what Zoho CRM was capable of and walked us step by step through the process. The real advantage was allowing us to speed up the "time to market" from 6 months down to 6 weeks, what an amazing ROI. Thank you!
Curtis McNeill,
VP Sales, Curbco
It has always been a pleasure working with GoldenLion.Your product, training and after sales support are all outstanding. Zoho CRM has really helped us improve our business. All the very best to GoldenLion!
Manish Gourisaria,
Joint Managing Director, Lion Picture & Frames (India) Ltd.
I contacted GoldenLion through Zoho website about 3 months ago with a single question. They took the time to Skype and assist me with the issue as a courtesy. Subsequently, my company needed to improve its CRM experience, so I contacted GoldenLion again. Very professional. Very responsive. Very quick. I highly recommend using GoldenLion!
Justin Doria,
Managing Partner, Vogue Performance
We had a great experience with GoldenLion in rolling out Zoho CRM for 2 of our companies, viz. G P Tronics Pvt. Ltd. and Galileosolar India Pvt. Ltd. We are extremely happy with the services provided and the commitment that they have shown. Highly recommend this organization.
Saikat Roy Choudhury,
Director, G P Tronics Pvt. Ltd.
Questions You Might Have
Which Edition of Zoho CRM Should I Use?
In order for the customization to work, you must be a subscriber of the Enterprise Edition of Zoho CRM.
How Much Does Manufacturing CRM Cost and What Do I Get?
Manufacturing CRM is available at an One-time fee. However you need to pay subscription fee for Zoho Suite of Apps.
What's the Delivery Time?
We will deliver you the customized version of Manufacturing CRM within 7 Working Days.
How Can I Sign Up for Zoho CRM Account?
You can sign up for a Free Trial here. Note: this will be the Standard Zoho CRM when you sign up, Not the customized version for Manufacturing.
Can I Further Customize Manufacturing CRM in Future?
Yes. You can either do it yourself OR hire us at an affordable fee.
Am I Locked with Zoho?
No! Never. You are not locked into any long-term contracts. You can pay monthly or yearly, whichever works best for you.
Why Can't We Customize Zoho CRM Ourselves?
You can of course! However there will be tremendous learning curve involved. We bring together our experience of implementing Zoho CRM across hundreds of companies and help you leverage this application in the quickest possible time.
What Support Do I Get Once I Go Live?
You get 24/7 Support over Email from GoldenLion. Besides that you get support from Zoho via LiveChat, Email and Phone.
TRUSTED BY MANUFACTURING COMPANIES