Navigate Customer Experience Trends Before You Hit The 2023 Market
Nov 30, 2022
A solid customer experience or CX strategy has to be on your business blueprint for fast expansion. Even though it cannot be measured through a specific metric or KPI, the impact that your products/ services lay on your customer base determines the future of your brand.
Now, what are the first two words that come to your mind when you think about customer experience? Acquisition and retention. Yes, these are by far the most crucial aspect of any business. The only difference is that the former costs you 5x times more than the latter one. A research study from Harvard Business School, claims that increasing customer retention rates by only 5% increase a company's profits by 25-95%.
Why? Of course, customer acquisition sounds exciting, however, retaining your existing customers is what makes you sustain your business. Sure, you might feel like piling it up for later but it is something that needs your immediate attention.
What is customer retention?
It is a long-term investment in various activities that aim to increase a customer's lifetime value and make them loyal buyers. Indeed, it is a timeless concept. However, the trends have always been fluctuating and influencing the business world. Therefore, being updated and mindful of these customer retention rates helps your agency capitalize on opportunities for improving customer experience.
For instance, research shows that loyal customers are 23% more likely to spend with you than the average customer. Again, Yotpo says, 60% of consumers talk about a brand they're loyal to with their family and friends. As word of mouth increases exponentially, customer retention is a must-have for your business.
Therefore, you see a customer-centric culture is extremely important for your business development. Here are some of the tactics that you can anchor on before you you go all-in the 2023 market.
#1. Adopt A Live Chatbot
Now I know, that sales reps often find it difficult to interact with your website visitors as they already have too much on their plate, correct? However, most of your potential customers want to communicate for learning about your products/ services. What's the solution? Integrate Zoho SalesIQ to adopt a live chatbot.
Just like you would have greeted a customer by extending a helping hand, Zoho SalesIQ does the same thing 24*7 on your behalf. It automatically catches a drift of what your website visitors are looking for, the recent sites they have visited. And accordingly, they proactively strike up a conversation when the timing is right. You can build this chatbot with canned responses for general queries that you get from your customers and provide so that this tool can provide options to select from. When you integrate this tool with your Zoho CRM system, it even embeds these chat transcripts in a newly created lead record so that if need be, you can browse through it once and communicate for further conversion.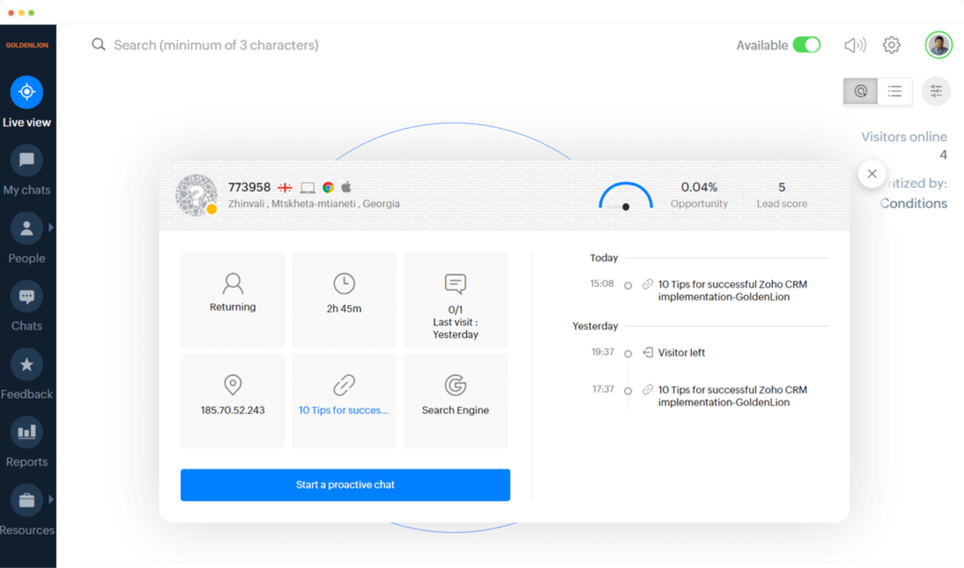 #2. Leverage Personalization With Zoho CRM
Remember, today our customers are progressively tech-savvy, fickle, and demanding. A simple greeting by calling their names and giving away seasonal offers via email wouldn't get you to be their 'number 1'. They expect you to deliver a personalized experience throughout the entirety of their purchase lifecycle. This is where you can leverage your CRM data. Once you integrate such a quality software with your business, it automatically triggers an acknowledgment email whenever it captures a lead with all their information recorded in a neat streamline and even alerts you about the same. So that your sales team can come in immediate contact with them for further conversion.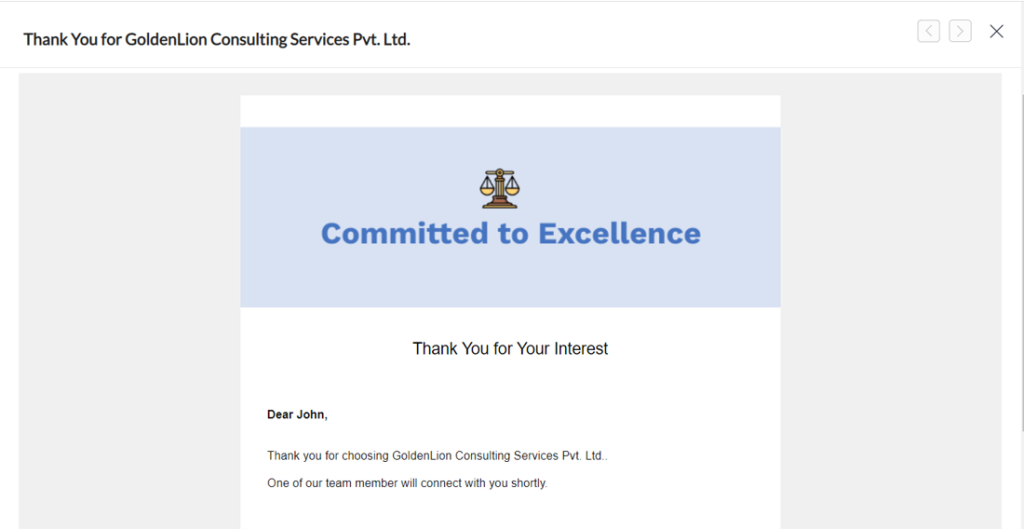 Even as a leader, you can create several follow-up tasks, meetings, or calls and distribute them amongst your teammates. To make things easier, you can set timely reminders or mark deadlines so that you can keep consistent communication with your customers. Following these phases of manual intervention, Zoho CRM even detects the best time for communication for each client to help you deliver the best possible personalized service.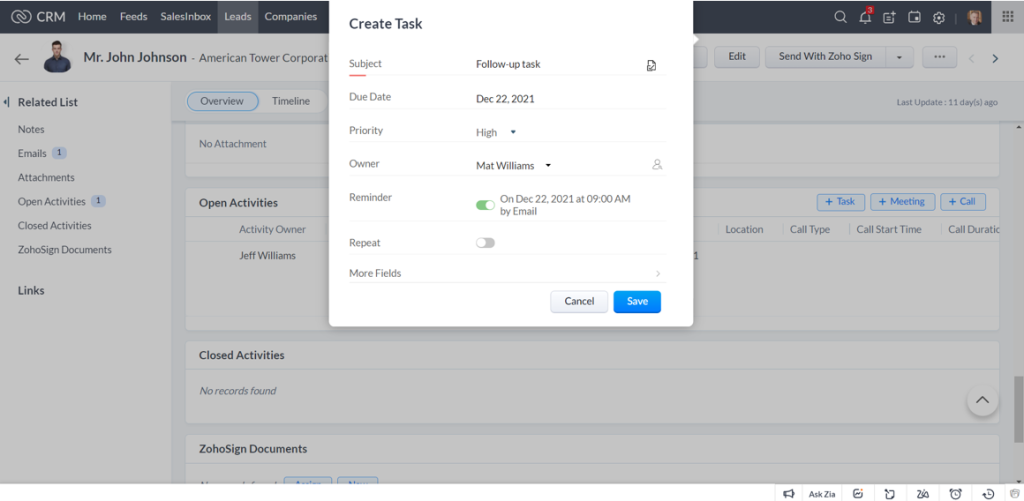 #3. Take An Omnichannel Approach
A crucial part of a power-packed customer experience (CX) strategy is a cohesive omnichannel approach. Your potential customers want to interact with you in via multiple channels. It is about aligning third-party integrations with your CRM system to create a compact customer sales journey. You can start with Twilio.
It is a customer engagement application that has the power of a contextual customer data platform and native omnichannel together in one solution to help you increase lifetime value to help you strengthen relationships with your clients. It combines flexible APIs for cross-channel communications across digital channels (like SMS, WhatsApp messages, and voice/ video calls), first-party customer data, and global infrastructure to support you at scale.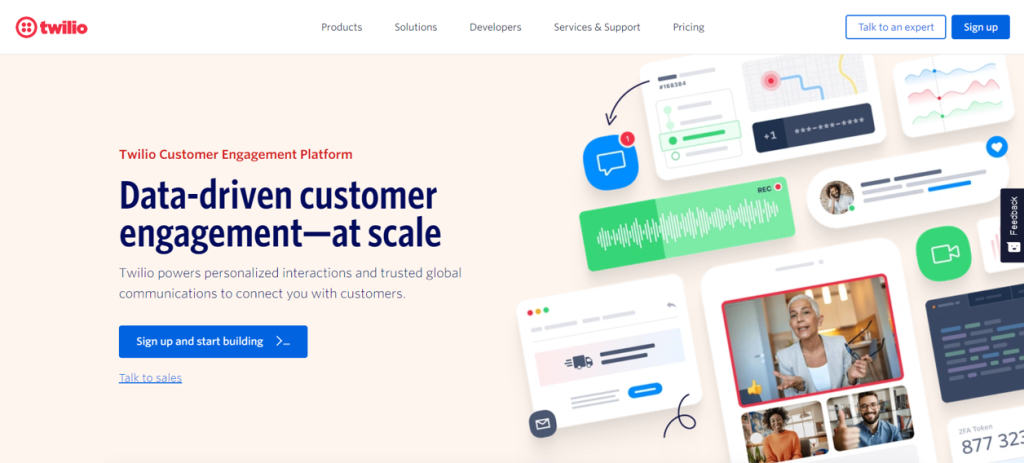 #4. Secure Customer Data
Data security is yet another tricky part of the business. Of course, you don't want your databases out in the open with no security. CRM systems like Zoho not only organize your data but also prioritizes safeguarding your customers' personal information. It uses one of the robust methods – AES – to encrypt and decrypt your sensitive data. All your data is backed up in real-time across multiple servers. In the event of hardware failure or a natural disaster, your data stays secure.
Zoho even helps you determine user accessibility based on the roles of your team and vault crucial information to prevent hackers or other users from accessing the vault contents.
#5. Invest In Loyalty Programs
Simple strategy: if you provide the best service to your customers, they are likely to continue purchasing products/ services from you. But such loyal customers (even proponents of your services, if you are lucky) are rare to find. Statistics show that they can reach up to 20% of your customer base. However, they can drive 80% of your business. They are also 50% more likely to try a new product and spend 31% more than new customers.
Therefore, loyal customers create the best opportunities for conversions. So you must consider emphasizing loyalty programs that show appreciation to these customers and inspire them to continue returning.
#6. Data Analytics
The best part of using Zoho CRM is its data analytics. It empowers everyone in your organization to make data-driven decisions. Including your C-level employees, management, and sales representatives. You can blend your data in several ways to understand the underlying trends. It also enables you to filter options to sift through your data using criteria based on modules, for example – if you are analyzing a deals module, you can drill down based on deal type, deal stage, sales cycle duration, and so on. Easy convenience, right?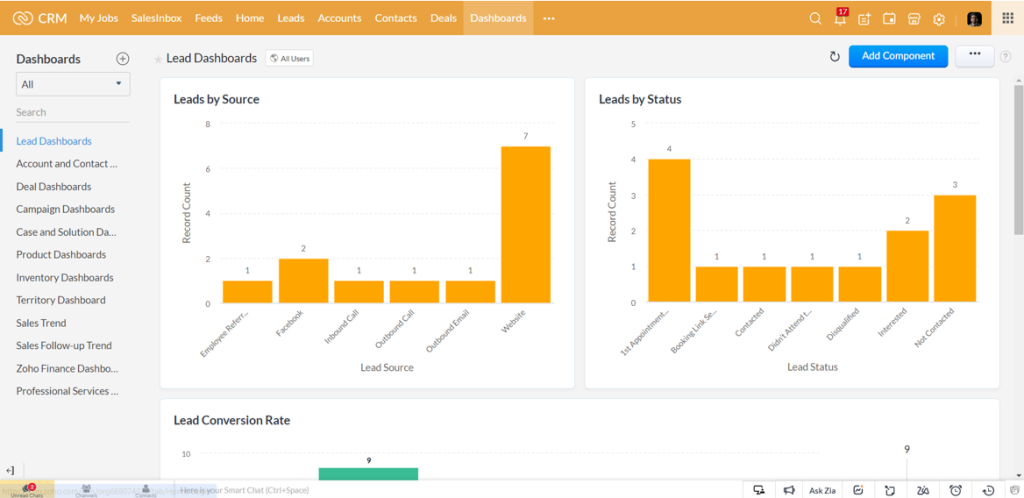 Last Words,
While your products/ services are supposed to do the maximum heavy lifting, these strategies are meant to maintain a balance between acquisition and retention. Your ultimate goal is to acquire clients, deliver the best possible service and secure solid relationships to retain them for future business. This article was all about which tools can navigate your customer experience trends and benefit you in executing the same.
For more information, get in touch with our expert team!