Nurture Your Leads Effectively With Zoho CRM For Entertainers
Feb 28, 2022
It won't be entirely wrong to say that today the global marketplace heavily depends on digital information management. Ever since the pandemic had struck a hard blow across the world, people are indeed looking out for innovative ways to seek business. The entertainment industry is of course, not the one to be left behind. But for thriving upwards in the market, winning more opportunities, and repeating your business, you need to nurture your prospects. That is why we have come up with our one-stop solution for you– Zoho CRM for Entertainers.
But before we start with the nurturing process, here's a couple of things that you need to know, like–
A. What are leads? How can you capture them with Entertainers CRM?
Leads are your cash crops i.e. the potential customers who have shown considerable interest in your services. In other words, if you have no leads, it means you have no business. Hubspot says that 61% of marketers rank lead generation as their top priority to date. Now, as an entertainer, you must have several modes of lead generation. While most entertainers depend on websites, social media platforms, and referrals as primary sources for generating maximum leads, Entertainer CRM becomes real effective for capturing them.
As most of the millennials are housed in social media, embedding your website link on your social profile can be a constructive trick. You can design a well-crafted landing page where you showcase your previous gigs and available services and embed 'contact details' forms while attracting your audience. Consequently, if someone gets interested in your services they can fill out their details and submit their forms. The moment they do so, Entertainer CRM instantly captures the acquired knowledge and places them in respective fields after creating a new lead entry.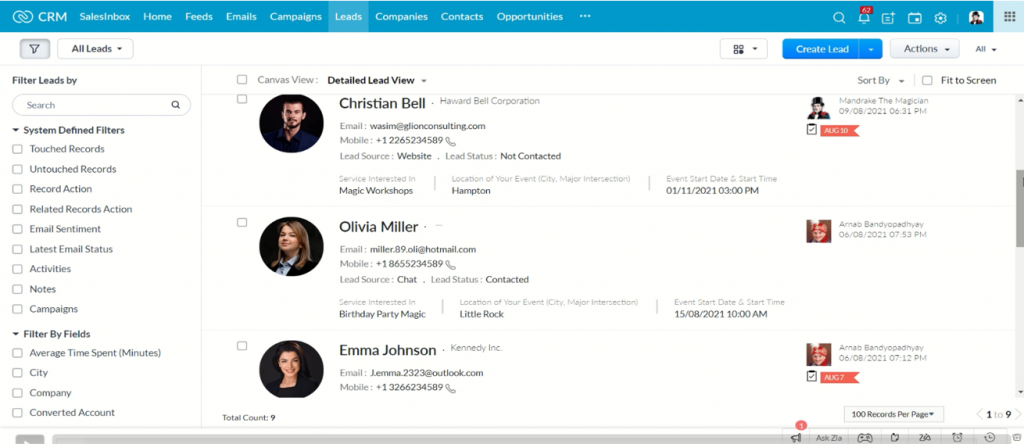 B. How to screen your leads with greater potential?
Nurturing your prospects or leads is a process of building solid relationships with them by undertaking follow-up activities at the relevant stages of a customer's journey. When you're in business, you already should be aware of the fact that every individual who inquires about your services might not turn out to be your customer. Therefore, even before you start the sales cycle and invest your time in your leads, you need to screen their potential with the BANT (Budget, Authority, Need, and Timeline) parameters and rate them accordingly.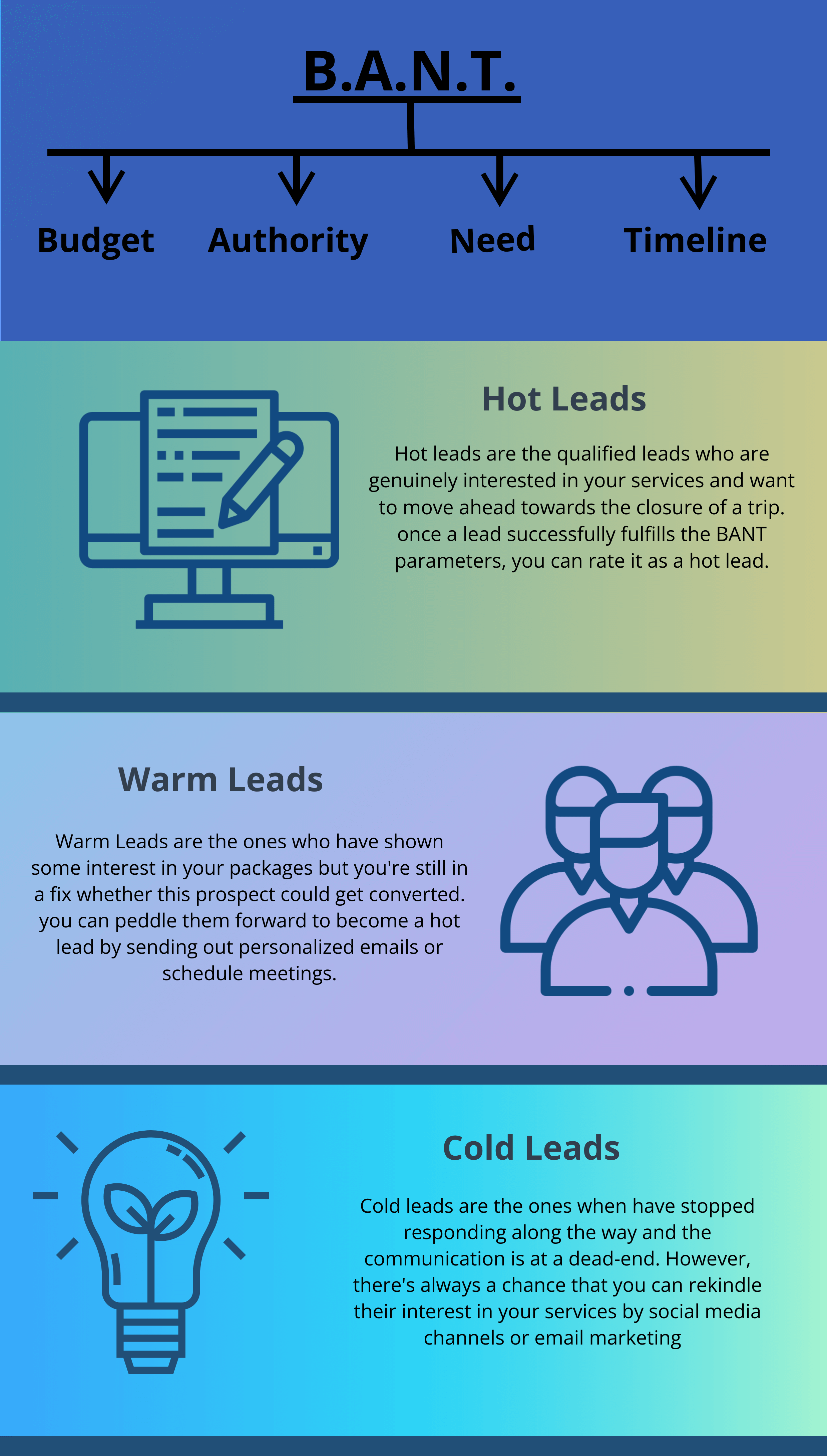 In this article, we will delve deep into how effectively you can leverage the powers of Zoho CRM for Entertainers to nurture your leads.
Fast Follow-Up Tasks
According to Startup Bonsai, leads are 9x times more likely to convert as opportunities when they're followed up in five minutes. The moment this effective CRM for Entertainers captures a lead, it instantly notifies the respective teammates so that one of them can take it for further conversion. You can even create different follow-up activities, schedule meetings or calls, and assign your sales reps to delegate volumes of your work. You can even synchronize your calendar to mark deadlines and set reminders for your team members to increase productivity. All you need to do is mention them with a click for them to get instant notifications.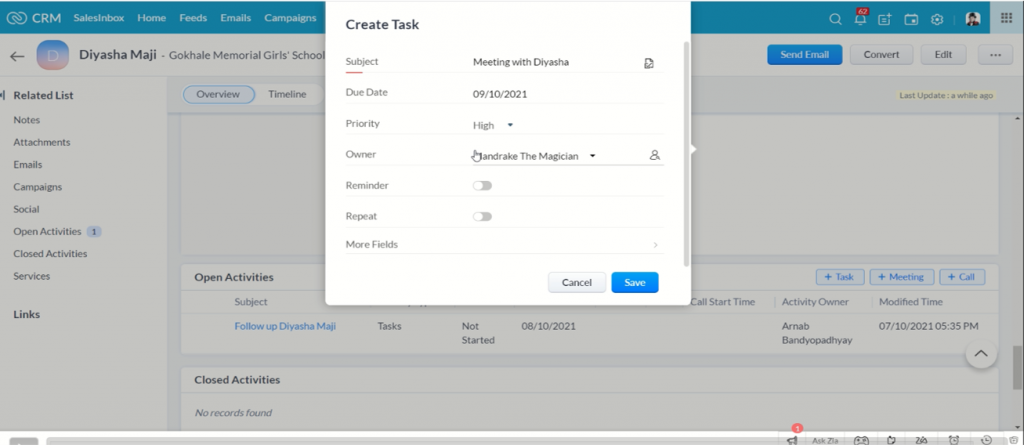 Automated Customer Profiling
The moment you convert a lead, Entertainer CRM automatically creates three different records as a 'contact', 'company' (only in case of B2B deals), and an 'opportunity.' It profiles each of your clients by housing specific details inside each respective record. Every record is typically broken into business-card information, detailed information section, and related lists. So for instance, if you get inside a contact record for a particular client, you can check all the contact-specific details. And the same goes for the other two. Based on your prior manual intervention (follow-up tasks and customer responses), our effective CRM solution detects the most convenient time for communication.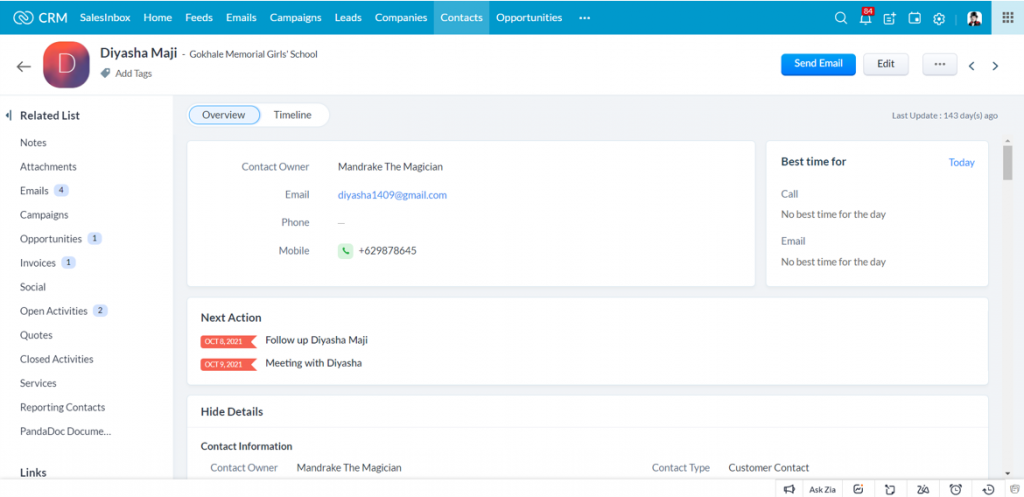 As far as nurturing potential customers is your concern, you surely don't want to repeat your previous tasks. Entertainer CRM stores every touchpoint communication (360-degree vision) with your clients in a streamline for you to analyze the previous ones, and maintain a continuous communication flow.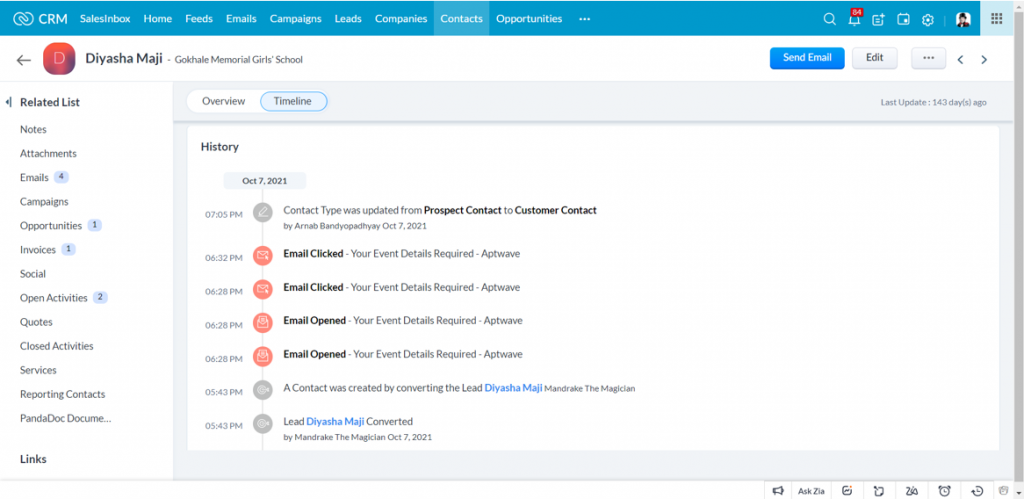 Design An Effective Sales Pipeline
Zoho CRM for Entertainers comes with a well-designed automated sales pipeline that you can use for effective optimization. It helps you visualize every step of your client's progress in the purchasing process. For example, if you need to obtain more information about a particular opportunity, you can send out a 'show details' form. And the moment they submit the necessary information, our CRM takes you to the next stage. The pipeline efficiently covers all your bases and it is all automated so that you never fall through the cracks.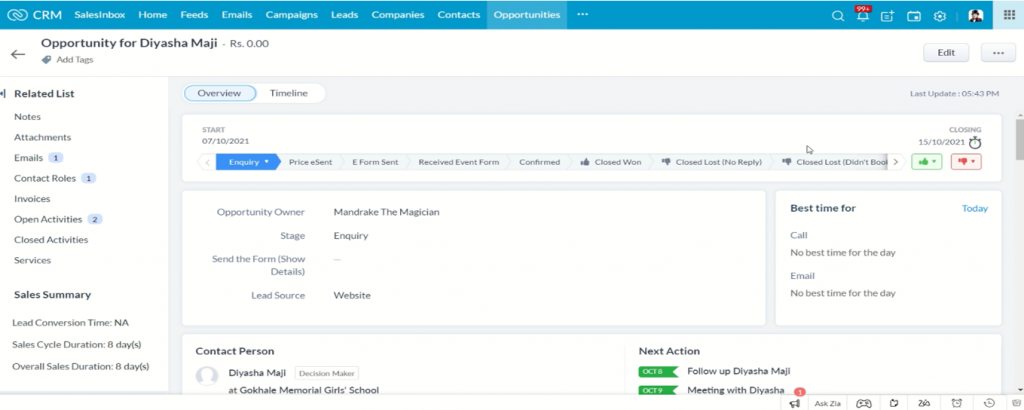 Chalk Out Your Target Audience
Entertainer CRM helps you soil your relationships with your clients on a vigorous customer database. As it documents every touchpoint interaction in an organized manner, you already have an upper hand. Depending on your CRM data, you can easily chalk out your target audience– meaning, who could be interested in which service. Accordingly, you can trigger personalized email or social media campaigns to maintain adept consistency. You can even increase the effectiveness of these campaigns by sending out seasonal discounts on birthdays, or anniversaries. Remember other companies bombard your potential leads with their email advertisements. So you can always adjust your campaign frequency depending on their engagement, efficiently recorded by this CRM solution. This way you can deliver a personalized customer experience on one hand and raise your brand awareness on the other.
Added to this, you can also check if your campaigns are working according to your expectations. Our CRM solution records actionable data insights which help you analyze your client engagement. Like the number of likes or shares it got on social media, click and open rates, and so on.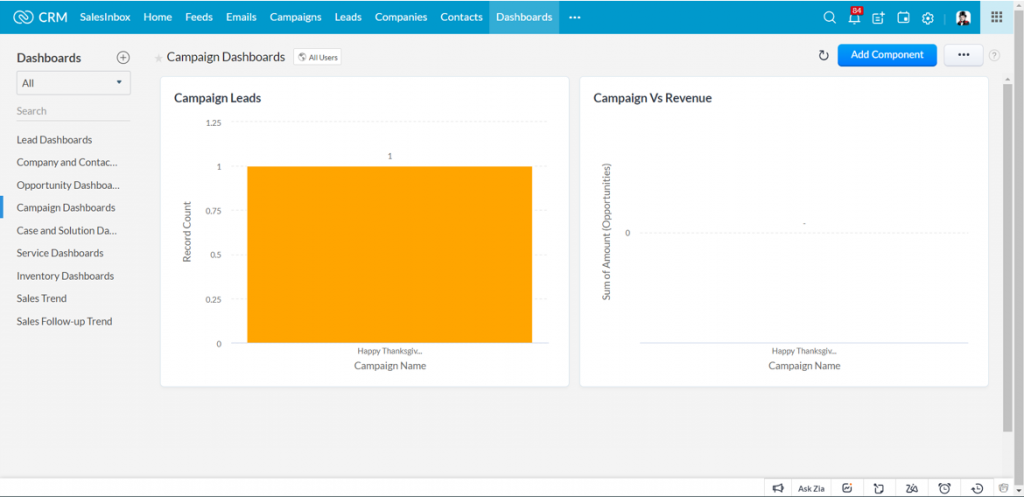 Reports And Dashboards
Just like any other quality CRM software, our solution for entertainers also comes complimentary with a series of dynamic reports and dashboards. But what you also get here are the real-time updates on the data insights. Business can never stand stagnant. These reports and dashboards help you comprehend every minute change in your business health. You can check the number of leads that got generated and converted, the number of opportunities you have in the current month, and so on. Banking on these accurate analytics, you can innovate and improvise your strategies to take your business northwards.
Here's an exemplary report-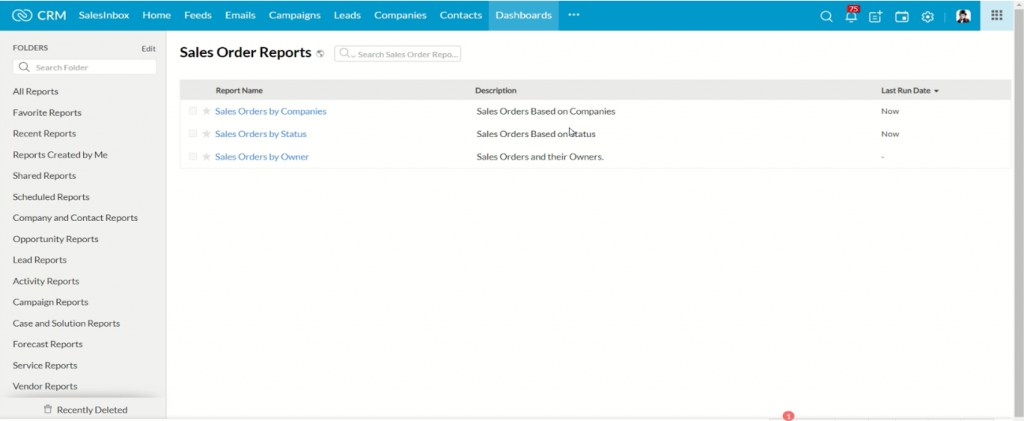 And this a dashboard example-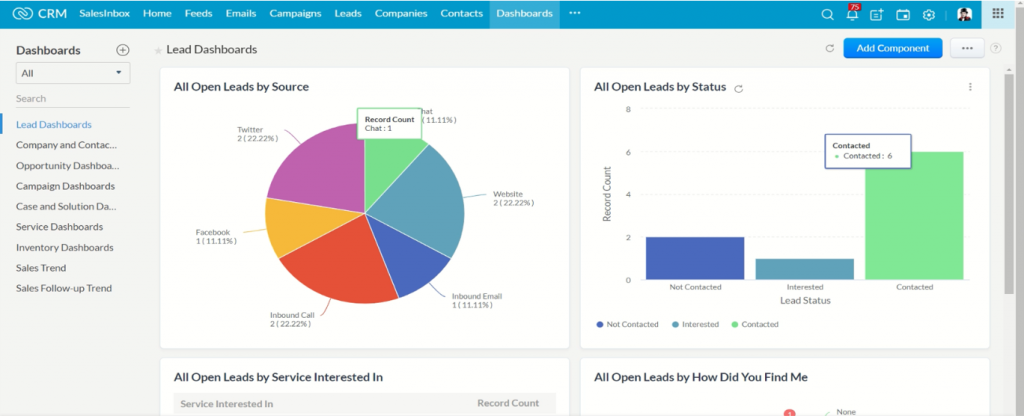 In a nutshell,
You have probably outdone yourself from yesterday and now you're busy prepping up for tomorrow's gig. To grow your business even bigger than it already is, Zoho CRM for Entertainers is the ultimate software solution. We have helped 700+ businesses grow so far. Your's could be the next one, for sure!
Watch this factual video down below about how you can carry through these strategies with the abundant features of Entertainer CRM.
Click here for more information and be one step closer to taking your business to astounding heights!