Remodel Your Business With Data Analytics Using Training Provider CRM
Feb 10, 2022
It's no secret that for sustaining a successful business, we need to keep ourselves updated with the emerging marketing trends of our industry. Wouldn't you agree? For instance, according to Business Review, the major trend in the training industry in 2022 is the new hybrid way of learning. Needless to say, this is essentially an outcome of the pandemic. So you see, as training providers, you need to manage every aspect of your business to avoid risking it for a second time. No matter if you work for individual learners or you deal with Corporate candidates, data analysis is the key to your success. And that is why we have come up with Zoho's Training Provider CRM.
Why is data so important for businesses?
Data is the new currency in the business world. And indeed, data literacy acts as the game-changer for us in this digital decade. Forbes says that a database is a raw and unique account of actions and activities. It reflects the specific characteristics of the customer base for a particular industry vertical. Other than the vast range of flexible functionalities of Training Provider CRM, data analytics and insights are the proven premise that can help you take faster yet better decisions.
In this article, we will discuss the different ways to implement a data-driven approach for your business expansion.
Centralize Your Data
Imagine a space that represents the most crucial metrics of your business in an organized fashion. How cool would that be! With Training Provider CRM, it is possible. In our solution, the homepage is a centralized data hub where you get a quick glimpse of all the crucial metrics related to your business. Whether it is about the number of leads that got generated from various sources, the engagements by stage, total revenue– you get access to every piece of information. Most importantly, the real-time updates that it efficiently captures are what actually make our CRM solution stand apart. You can even add up different dashboards that you might prefer, customize this page accordingly and define your hub.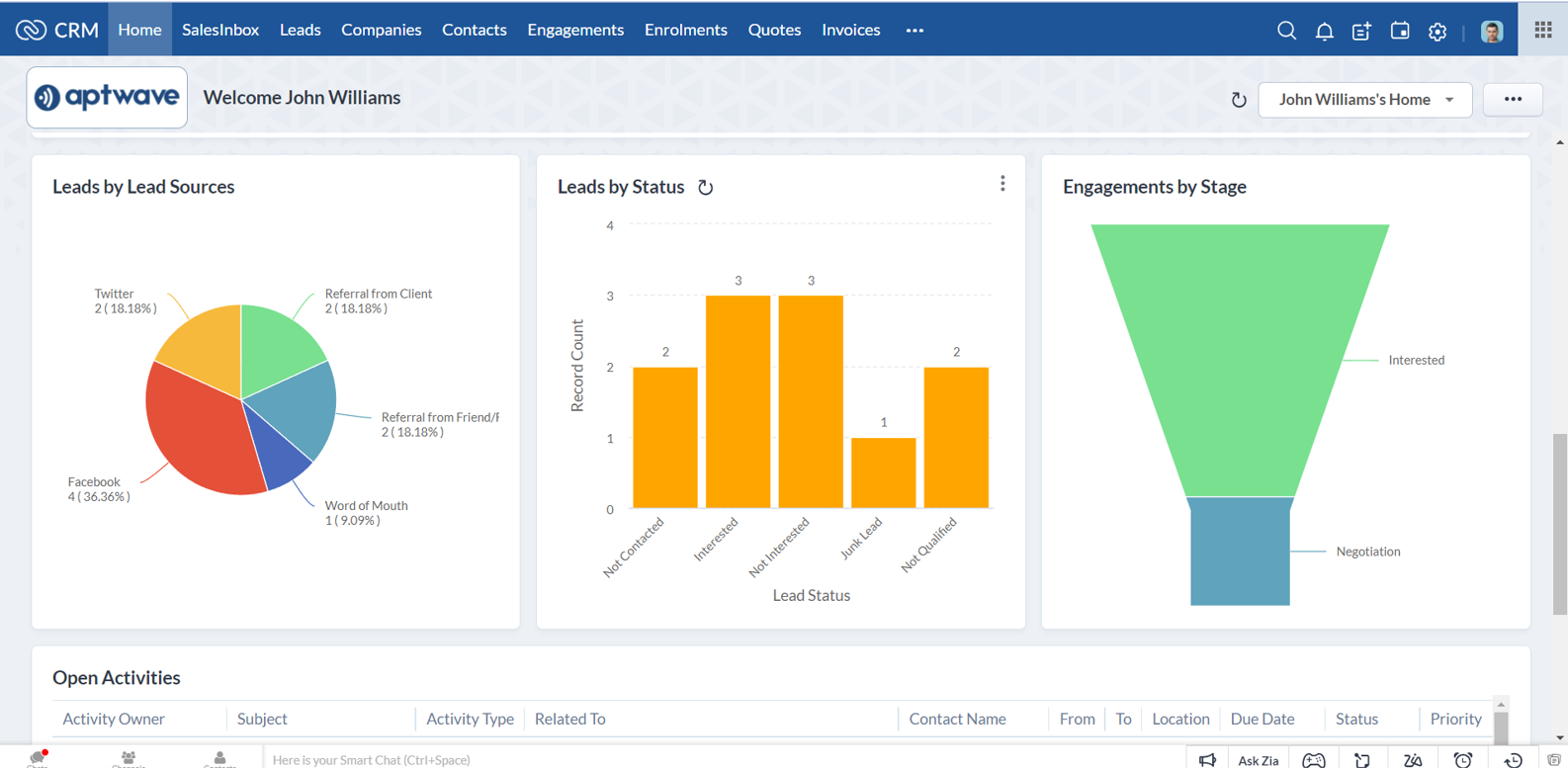 Track Your Leads With Data Insights
Knowing the best mediums of lead generation is itself a boon for every business. Of course, marketing is a significant part of your capital investment. You should identify whether the sources for which you're spending hundreds of dollars are worthy enough. With Training Provider CRM, you can diligently analyze numerous leads simultaneously.
As a trainer, you must have several mediums of generating leads, like websites, social media, calls, newspapers, business cards, etc. But generating leads and capturing them efficiently is different. Considering the digital trend of today, website landing pages are important mediums for lead generation. Here you can easily embed a contact form for your potential clients. If a learner browses through your website and selects a course to engage with, he/ she can submit their details via the contact form. The moment you receive an inquiry, Training Provider CRM creates a new lead record in which it captures the source and other acquired information so that you evaluate its merits later. You can also dedicate a dashboard for your lead generation numbers as per the source on the home page.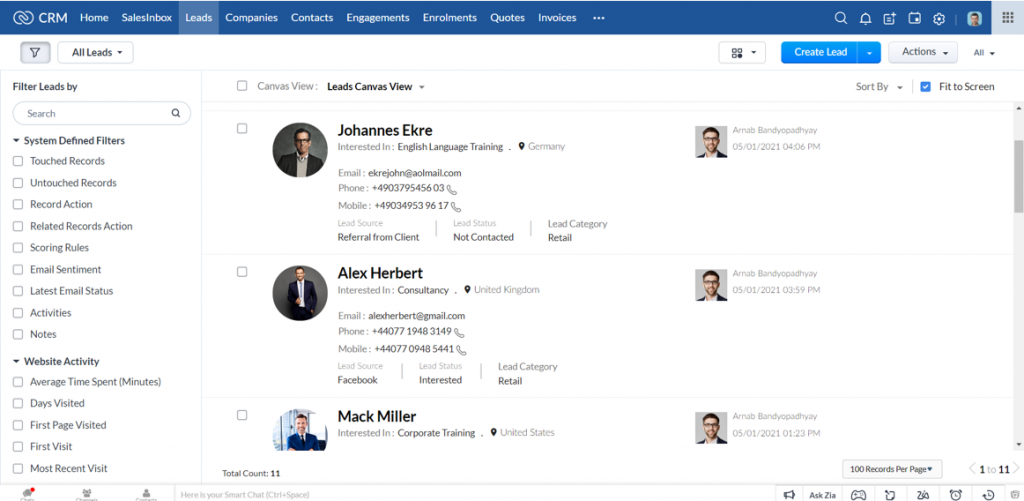 Prioritize Your Leads
Depending on the BANT parameters (Budget, Authority, Need, and Timeline), you can prioritize your leads for further conversion. As a businessman, you must be aware that not every inquirer will eventually turn into your customers. So you need to ascertain the ones with greater potential. As Training Provider CRM records every touchpoint interaction for each of your potential clients, you can analyze the database carefully and categorize them accordingly. This is an example of how our CRM rates each lead.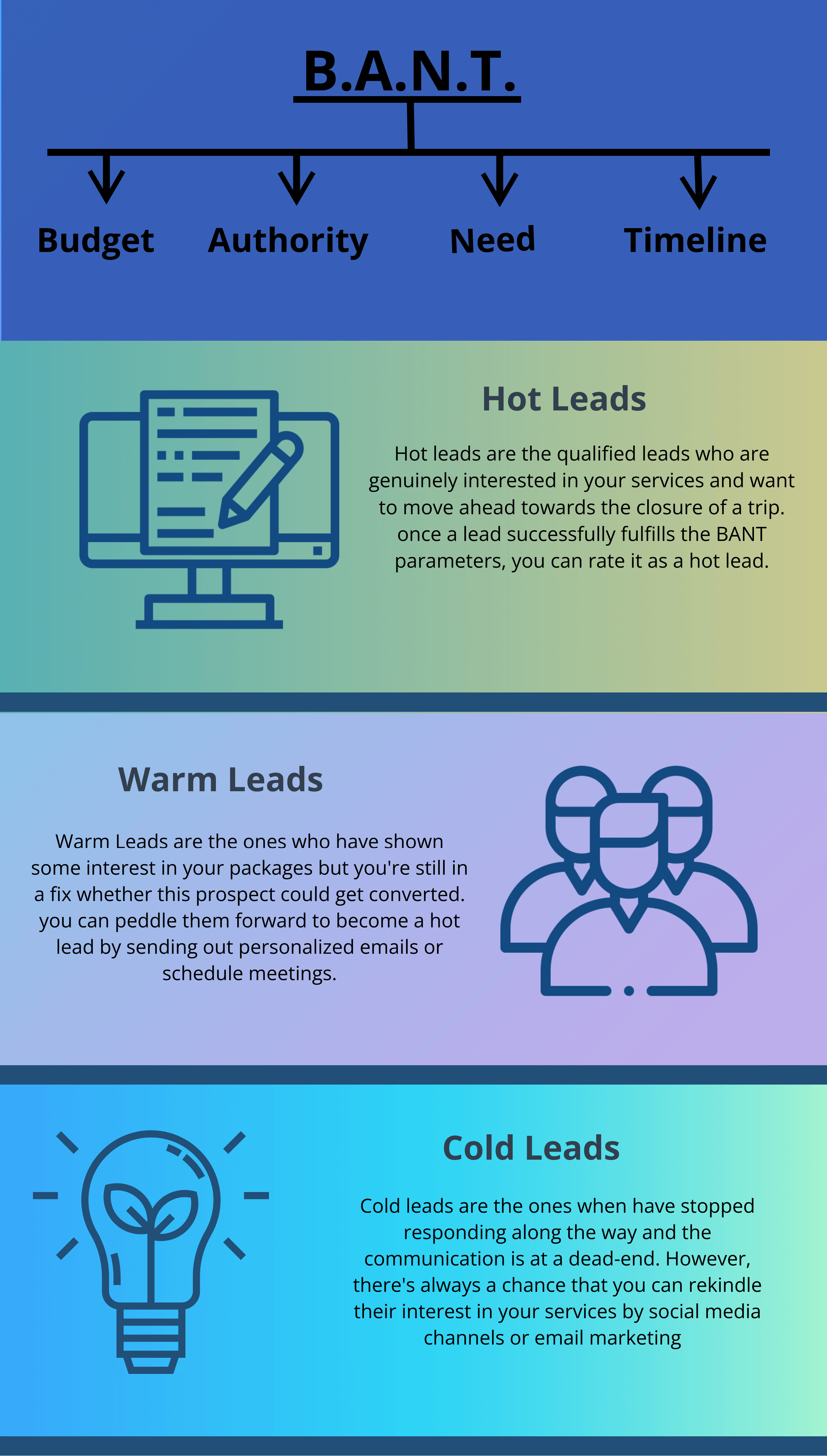 Client Intake Process
Most of the businesses fail to generate the expected revenue owing to the lack of an established client intake process. When you integrate your business with our Training Provider CRM, your entire team gets notified about the leads once you receive an inquiry. This step dramatically improves your customer strength. One of your sales reps can assist your potential clients with the courses they prefer and take them forward. Even as a leader, you can create different follow-up tasks, scheduled meetings, or calls and delegate them amongst your teammates with a one-click mention. The client intake process was never made this smooth!
Moreover, you can check the number of open activities that might be left for completion, the related engagement, the respective task owner, and its current status, right from the home page. Our solution even documents the overall performance of your teammates on the basis of their sales conversion, closed engagements, and so on. Such a thorough process of data analysis helps you understand both the strong and weak avenues of your team.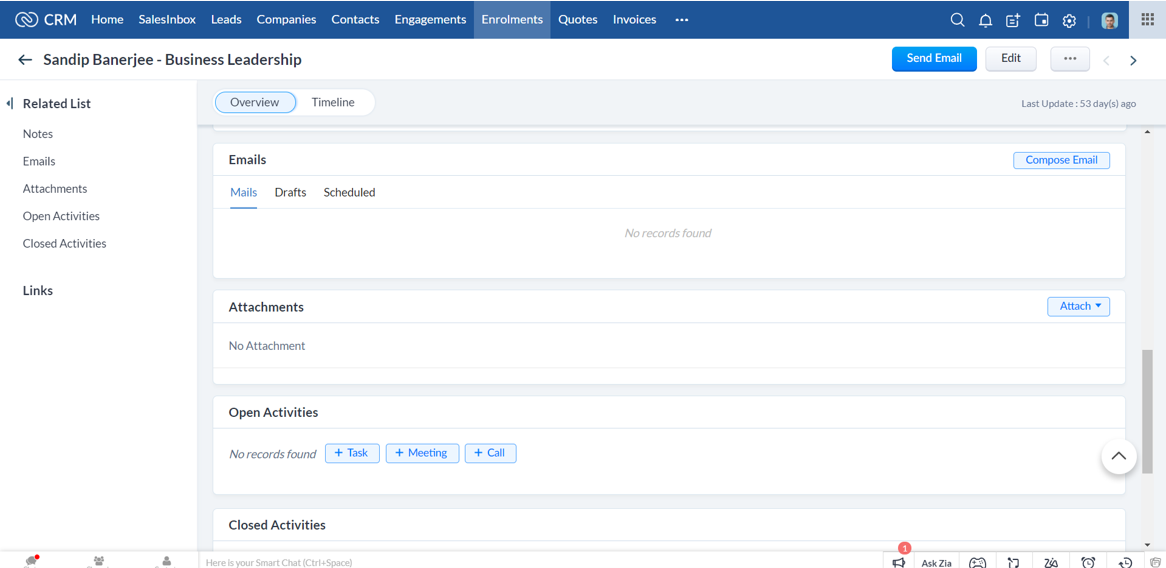 Improved Client Interaction With Data Analytics
Let's say, you have successfully converted a lead into a contact, a company (for B2B opportunity), and an engagement. Training Provider CRM automatically creates individual records under each respective module. So for example, if you get inside a contact record, you can view the contact-based data of a particular client. Each record is typically broken into business card details, a detailed information section, and related lists. In the related list, you can find the company (if applicable) and the engagement names. Based on the previous follow-up activities, our solution even identifies the best time to communicate with your clients.
Most importantly, it efficiently documents the stage history for each of your clients. On the timeline page, you can view the previous tasks and the upcoming actions, so that you can effectively resume the sales operation without repeating a task. This feature helps you analyze the behavioral patterns of your clients, prioritize and save tons of your time.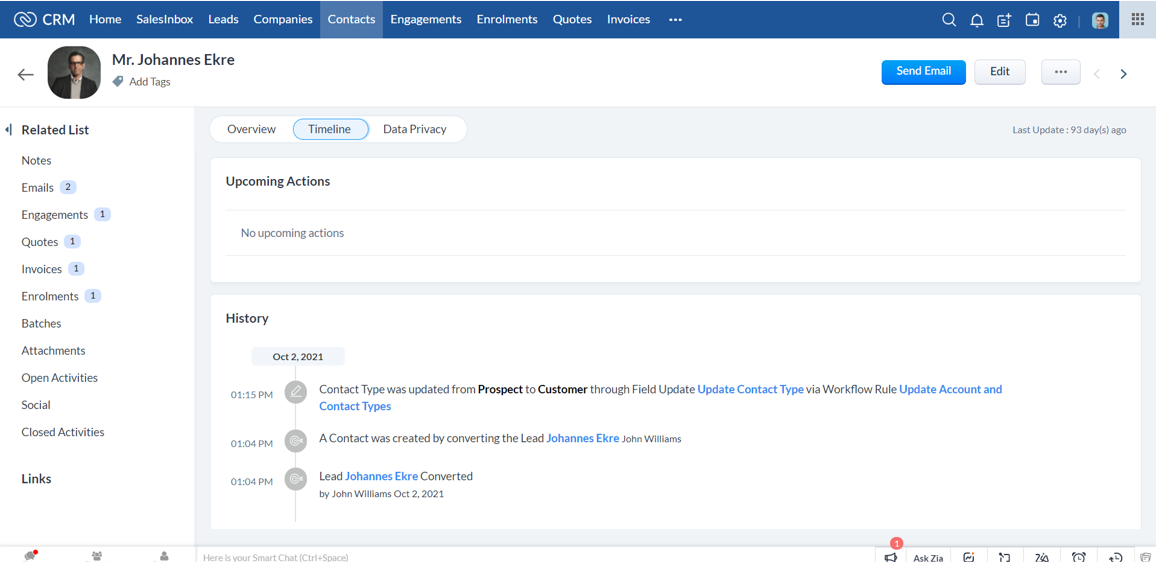 Manage Your Pipeline Stages
The training industry has seen massive growth all over the world with the increase of competition. People are always looking for expanding their learning curves for better opportunities. Naturally, you as a trainer must be handling multiple engagements with their numerous enrollments. Monitoring them all with adept efficiency seems like an exhausting job. However, the data-driven approach of Training Provider CRM makes your situation workable to a great extent.
If you get inside an engagement record, you can view a ready-made pipeline that CRM auto-updates after the previous level completion. You can assess exactly where you stand in the sales pipeline and resume the process without further delay. The best part is that you don't even need to wonder what your next action will be as this CRM automatically takes you to the next level.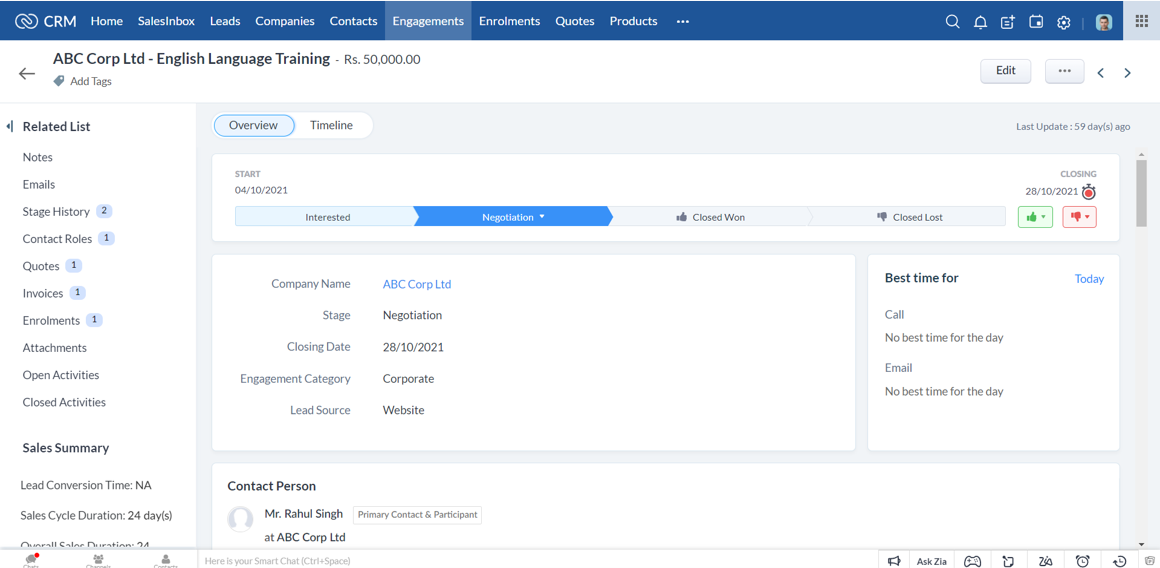 Mark Your Profitability
For any business, it's a given that increased profitability and an uninterrupted cash flow are the ultimate goals. Along with its abundant benefits, Training Provider CRM fills you in with real-time data analytics that helps you minutely scrutinize your business health. You can make an exceptional difference by detecting which sources have generated the maximum leads or revenue, throw a comparison between monthly sales rates so that you can improvise your strategies and escalate overall growth. This is an exemplary report-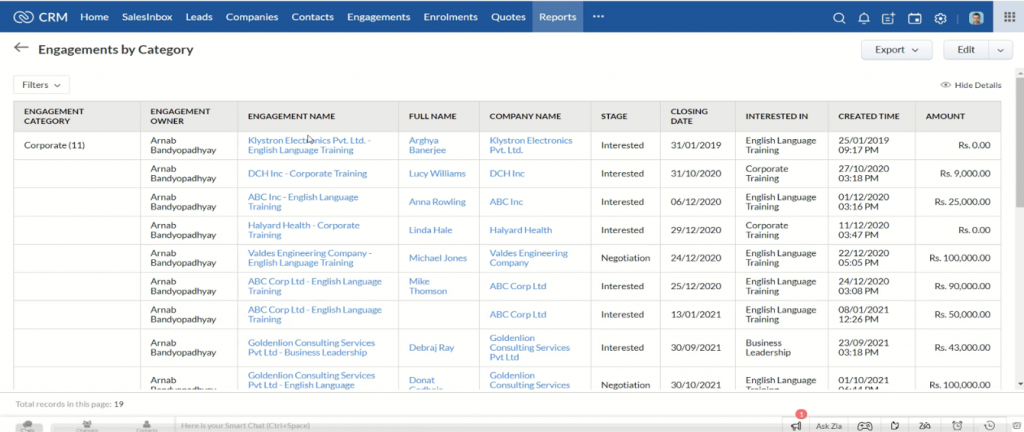 To wrap things up,
This decade demands you to be digital for stepping forward in the business radar. And with digitization, comes data insights and analytics. These persistently optimize your business growth without consuming labor or resources and time. Designed with the sole intent of prioritizing your overall business performance, Zoho's Training Provider CRM is the one-stop solution for you.
Finding it hard to believe us, still? Watch this amazingly factual video that helps you understand how easily you can implement the plentiful benefits of our CRM solution.
Done with watching the video? Now, click on this link for more information, and let's get into some action!