Resolving challenges of law firm using Law Firm CRM
Jul 23, 2021
Law has always been a competitive industry. In the United States alone there are 1.35 million practicing Attorneys today.  While as an industry Law Firm do have a standard business process, it differs quite significantly than that of any other business. This is why, when it comes to CRM for Law Firms, you need something tailored for your unique business process. And in truth, Attorneys and Law Firms across the globe are steadily moving towards higher CRM adoption. So much so that presently, 78% of law firms use some CRM solutions to improve their business processes. 
The challenge for most Law Firms today is to find a solution that maps their business process, talks their industry language and comes with robust marketing and sales automation capabilities. 
The Law Firm CRM, built on top of Zoho CRM bridges this gap. 
The system is tailored to cater to the needs of Law Firms and Attorneys while offering all the robustness and scalability that Zoho has to offer. 
Why Use Law Firm CRM? 
With the Law Firm CRM in place, you can easily manage your Customers, Matters, Attorneys and Invoicing centrally. If you are looking for a CRM system that is super easy to use, offers a wide array of functionalities, and comes with robust customization capabilities, then Law Firm CRM is the right choice for you!
But that begs the question, why not simply choose any CRM application and customize it as per your need? Well, you can of course take that route. But, you'll certainly lose out on some pretty tempting advantages in that case. Let me lay it out for you! 
Plug and Play Advantage: As an attorney you are possibly pressed for time more than you like! With the Law Firm CRM, you can get your CRM up and running in a maximum of 4-5 business days!
Industry Nomenclature: You need a system that talks the language of your business, right? For any successful CRM implementation, it is super-critical that the system incorporates the vocabulary of your industry and more importantly of your team members. With Law Firm CRM, that is out of the way for you!
Competitive Pricing: The Law Firm CRM is an industry solution built by seasoned professionals with sound knowledge of Zoho CRM and extensive industry experience. Being a productized solution, the CRM is available to you at a fraction of the cost for any comparable industry solution.
Robust Marketing and Sales Automation: One of the major challenges for any Law Firm has been finding a CRM solution that manages the operational aspect of your practice while offering automation capabilities. Built on top of Zoho CRM, Law Firm CRM comes with tons of available automations. And you can further scale up the system as per your needs!
In short, Law Firm CRM helps to streamline your business, save time and go Live as soon as possible! 
Having said that, let's see what are the major challenges a Law Firm faces and how the tailored CRM for Law Firms addresses those! 
Challenges faced by Law Firms
Irrespective of the industry, every business comes with it's own challenges. In the case of law firms, it's not too different. Here are some of the major challenges that most law firms have to deal with and triumph over! 
Data Management 
One serious challenge that any law firm faces is proper maintenance of client information. As much as quality clients are important, maintenance and management of their information is equally crucial. Law firms need to manage huge amounts of confidential data. As such, managing and maintaining the same without a central repository poses a huge challenge.
You could be the greatest Attorney in the world, but without proper management of client information, you will go nowhere. As someone rightly said "Keep up the pace with rapid changes in your business and market, to create and keep a customer".
Proper Matter Management 
Law firms can find it extremely challenging to manage the different matters and manage their expanding workload. This is not just limited to onboarding a large number of new customers. The problems with matter management also range from management of attorneys, registering different attorneys to different matters, keeping a track on their log hours and so on.
Managing different types of Billing
Managing different types of billing can also pose a huge challenge to the law firms. Most law firms bill their customers in three ways, Hourly  (where customers are billed on hourly basis), Contingency (where the firm fights a matter and then takes a certain percentage of the financial settlement at the end) and Flat Fee (where a fixed amount is charged for the services). 
These three types of billings can be difficult to manage if the system you are using is not tailored to it. 
How Law Firm CRM helps to solve these challenges
Let's see how Law Firm CRM helps you meet these challenges and scale your practice.
Manage leads like never before with the Law Firm CRM
Effective lead management is a crucial component for any business. With the Law Firm CRM, you can manage leads and lead details with just a single click. The Law Firm CRM allows you to capture leads automatically from your website and landing pages. You can easily import lead details from spreadsheets too. For any inquiry that you got offline, you can enter the details manually.
Once you click on the Leads module, you can check each of all the leads that your firm received. You can also sort and filter the leads based on interests, type of lead (i.e. retail or corporate), Activities and so on.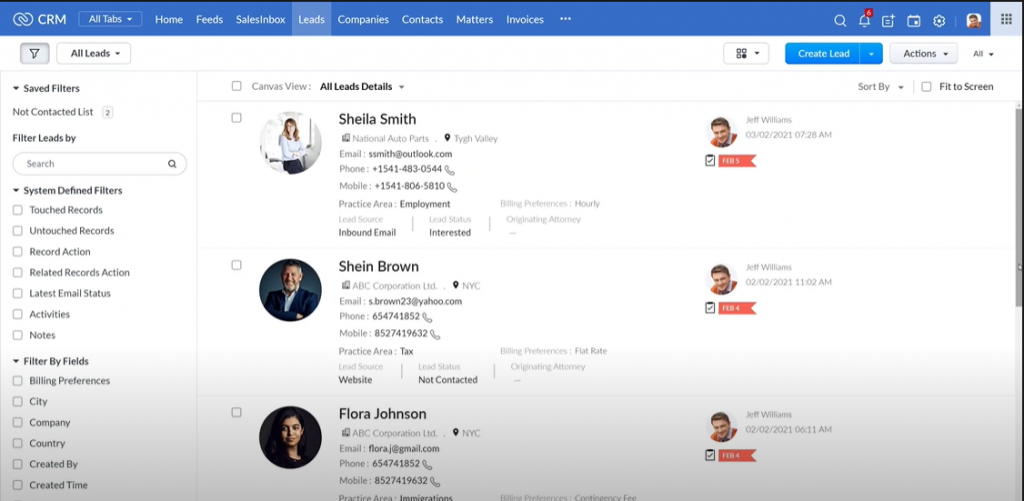 Once you click on a particular lead, you will get access to all the relevant information which will help you to plan your steps accordingly.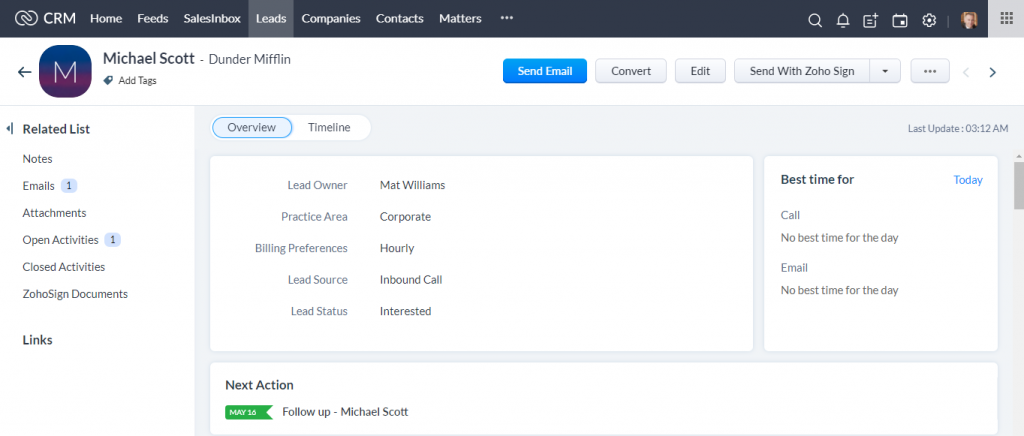 Once you have got the lead details, you can nurture the leads further using the "Open Activities" module which helps to set up calls, follow-up tasks, meetings and so on with the lead. This makes sure you never miss out on a follow up, a task or a meeting. You can also keep a track of all the nurturing actions in one place, record them properly and make them easily accessible.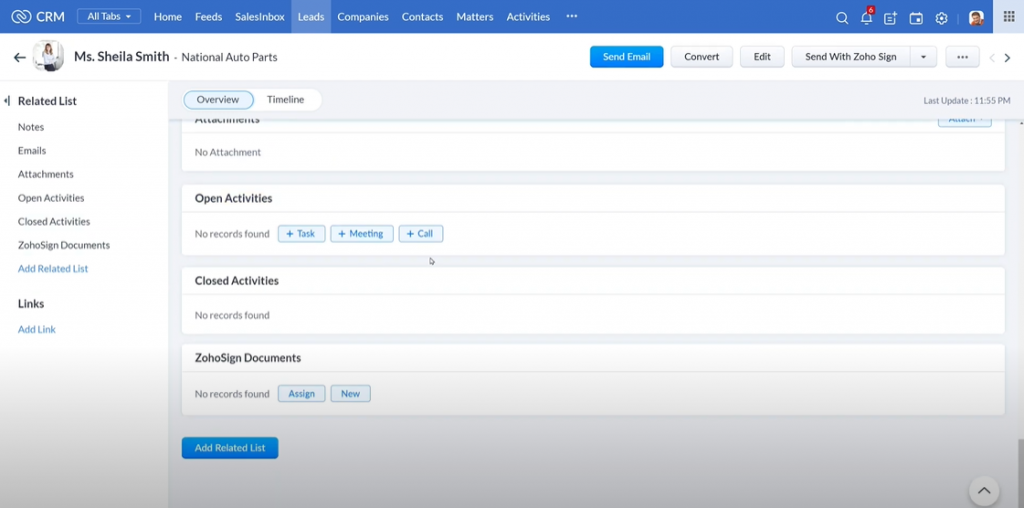 Law Firm CRM makes Contact Management super easy
Once you get the subsequent lead details, you might want to collect more information on the matter to qualify the inquiry. At this point, you can go ahead and convert this lead into a contact and in case of corporate inquiry, a company as well.
Once your lead gets converted into a prospect contact, you can easily send them the matter details form that pre-populates your information. As such, your prospect can now share further details of the matter with you in the form.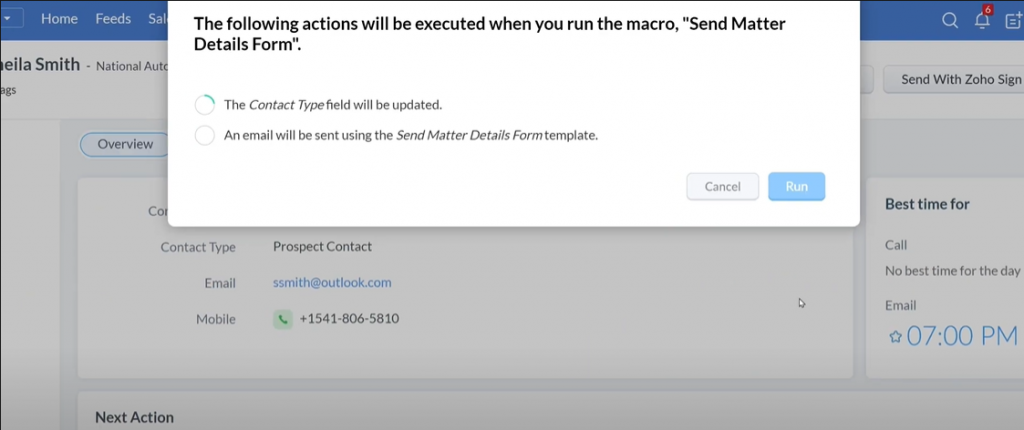 A matter gets created automatically against the contact once the details of the prospect gets submitted. Now, you can review all the important details and decide whether to take on the matter or not.
Let's say you find the matter to have merits and you are willing to represent this prospect. At this point, you would possibly need a contract signed. You can prepare three types of contracts: Hourly Billing contract, Flat Rate Contract, and Contingency Contract. Depending on the billing preference, you can generate the contract easily right from the CRM itself.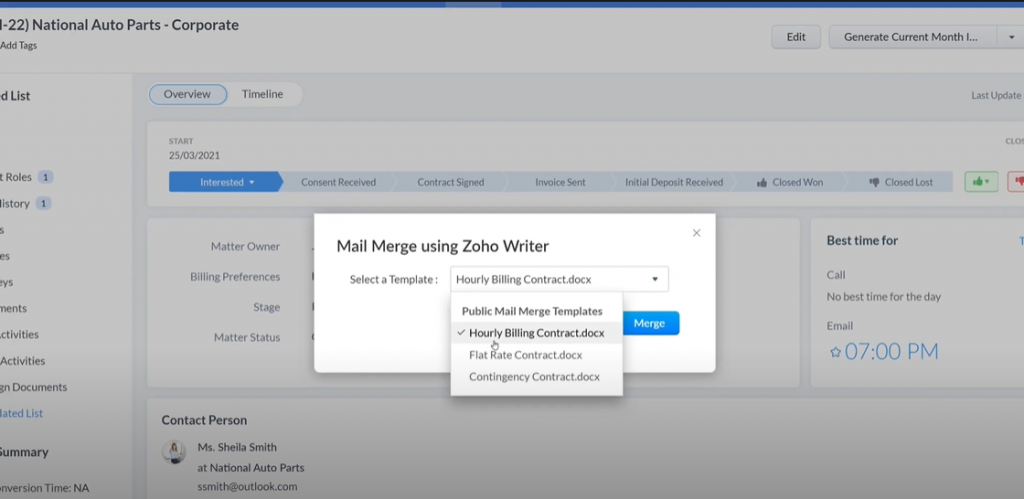 The system comes with pre-built contract templates. So, once you run the merge, the system pulls data from the record level and matches the same with your predefined template. You can now send this contract to your client for the signature via the Zoho sign.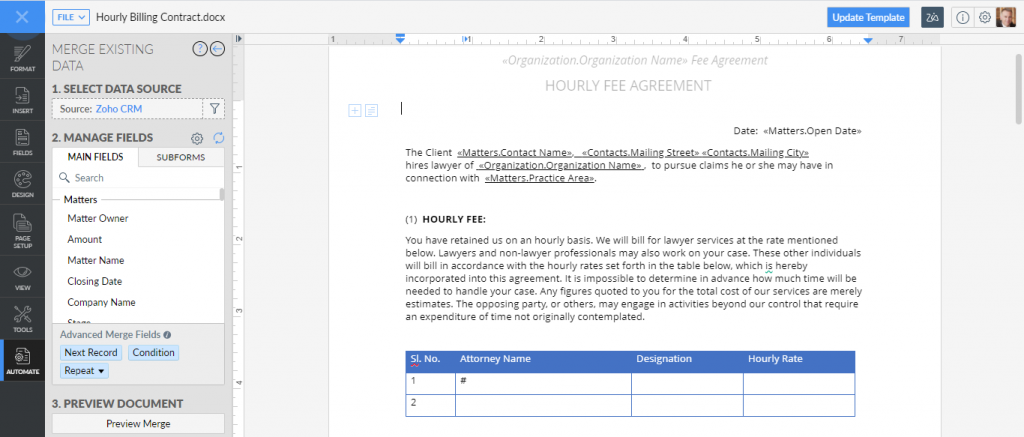 Manage Attorneys of your Law Firm CRM easily
With the Law Firm CRM, you can manage attorneys on the go. Managing Attorneys is crucial and with the Attorneys module in the CRM, you can check for all the details of the Attorneys. Select any one from the list and you will be able to see their complete details. You will find their personal information, hourly rates, area of expertise as well as the matter they are working on or which they have closed down etc.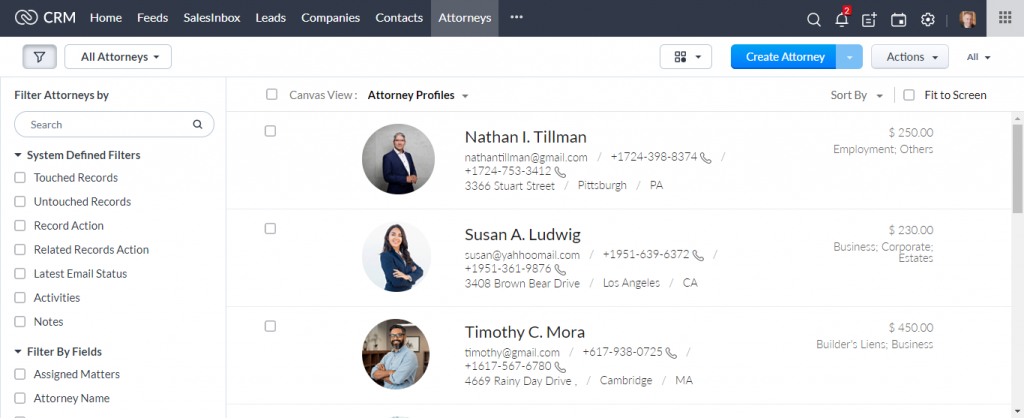 If you want to add a particular attorney to your CRM, just click on the Create Attorney option on the top right. Fill out the details properly and save them accordingly. The Law Firm CRM saves the Attorney details properly.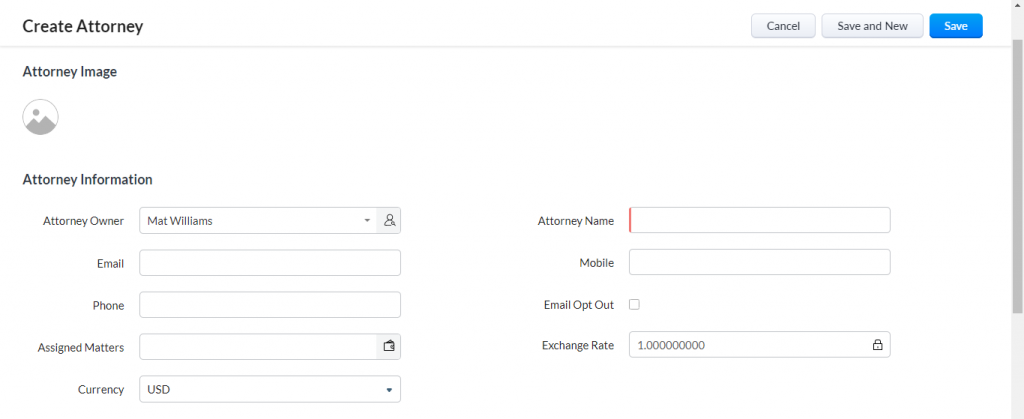 Hour logs and easy invoice generation
Once you start working on the case, you might want to keep track of the time invested in the matter. This is extremely crucial for all hourly billing contacts. Attorneys may keep track of how much time they spend on a case, as well as the date and tasks they complete. To create a billable invoice at the end of the month, the Matter Module provides the number of hours engaged, and the Attorney Module provides the hourly rates.

It is critical to produce and submit invoices on a regular basis as you progress with your matter. On the top of the matter detail page, there is a Generate Current Month Invoice option. You may click that, and your monthly hourly billing will be generated. Each time you offer a service, create a new invoice, and it will display in a list view within the subject.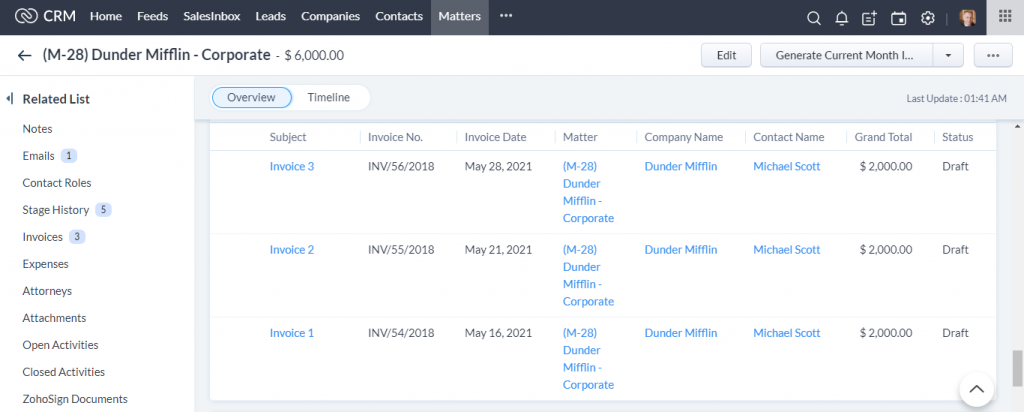 Manage expenses on the go with Law Firm CRM
As and when you incur any expenses for a particular matter, you can track it via the Expenses module. Managing expenses is a crucial part of a business. With the Expenses module, you can add and update details of your expenses and maintain them properly. All the expenses you add get summed and you can generate reports on the same.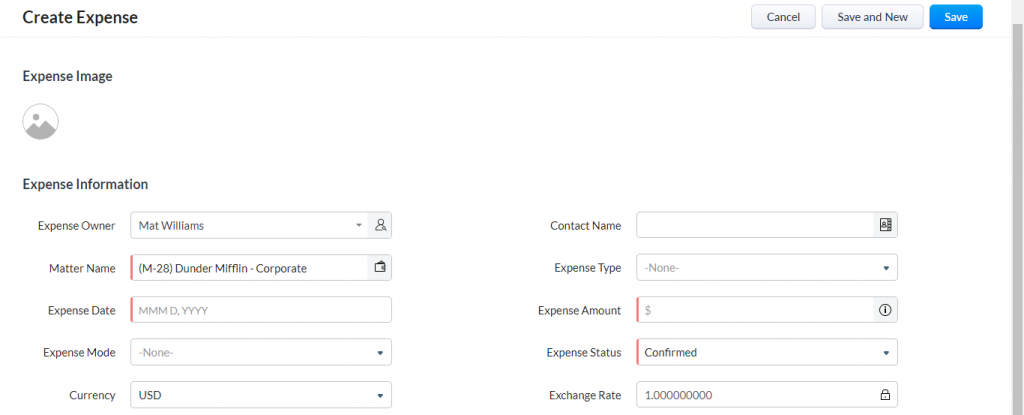 In the case of contingency matters, expense management is a crucial functionality. The system comes with several reports that help you keep a track of your business as well as the expenses.
You can also learn more about the Law Firm CRM from the video below:
Conclusion
When you manage a Law Firm, it is very crucial to take care of certain factors. You would never want to miss out on crucial stages while managing your Law Firm Business. Statistics say that jobs for Attorneys are expected to grow by 4% in the next decade. To cater to this increasing demand, you need a Law Firm CRM in your business.