Speed Up Your Sales Rates With Real Estate Agency CRM
Jan 10, 2022
The real estate industry has been a giant name in the global marketplace. And there's no denying that. However, the Covid-19 outbreak has caused a massive downturn in the last two years. But as they always say, "where there is a will, there is a way." The flexibility to adapt and survive has made realtors of today stand resilient against all adversities. They are gearing up to come back even stronger by implementing the abundant features of Real Estate CRM software.
The property industry has witnessed several trends due to the pandemic. For example, people are looking for livable spaces with outdoor amenities for enhancing their health and well-being. But the surprising fact is that all these trend variations or even the pandemic could not stop this industry from bouncing back in no time. Experts envision this market to reach Rs 65,000 crore (the US $9.30 billion) by 2040. That's why mighty realtors are striving to boost sales rates for their survival.
In this article, we present to you how effectively you can implement Real Estate Agency CRM for accelerating your sales. Let's jump right into it!
Streamline Everyday Tasks
As a realtor, you must have innumerable clients to deal with and you're probably trying even harder to get the numbers up. But it is not always possible for you to remember every nitty-gritty of your business. Real Estate Agency CRM is a quality software solution that acts as a centralized hub of information. Not only do you get real-time updates of the most crucial metrics of your business from the home page, but also you can view a series of open tasks that are left to be completed. This effective CRM solution rightly pops up all the reminders for your meetings, calls, or tasks so that you never miss out on any opportunity.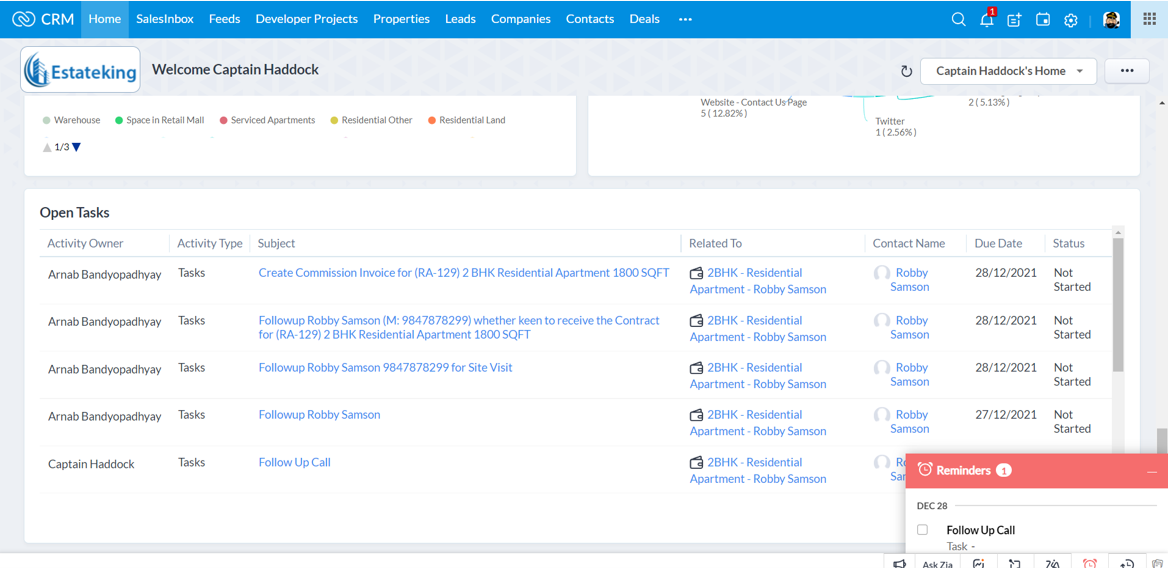 Capture And Nurture Your Leads
As a real estate agent, you can opt for various platforms to generate your business leads. Say, for instance, websites, social media channels, newspapers, referrals, business cards, and so on. But there is a thin line between generating leads and nurturing them. As the lead generation number goes up, it becomes extremely difficult to cater to the inquiries and manage them for further conversion- all at the same time.
Real Estate CRM can efficiently capture all your leads, place the acquired intel in respective fields so that there is no confusion. It also helps you create multiple tasks, schedule timely calls, or meetings in the open activities section so that you can foster them with your assistance. You can also assign your sales reps for these tasks. All you need is a one-click mention and viola, they get instant notifications. This way, you don't even need to guide or remind them individually.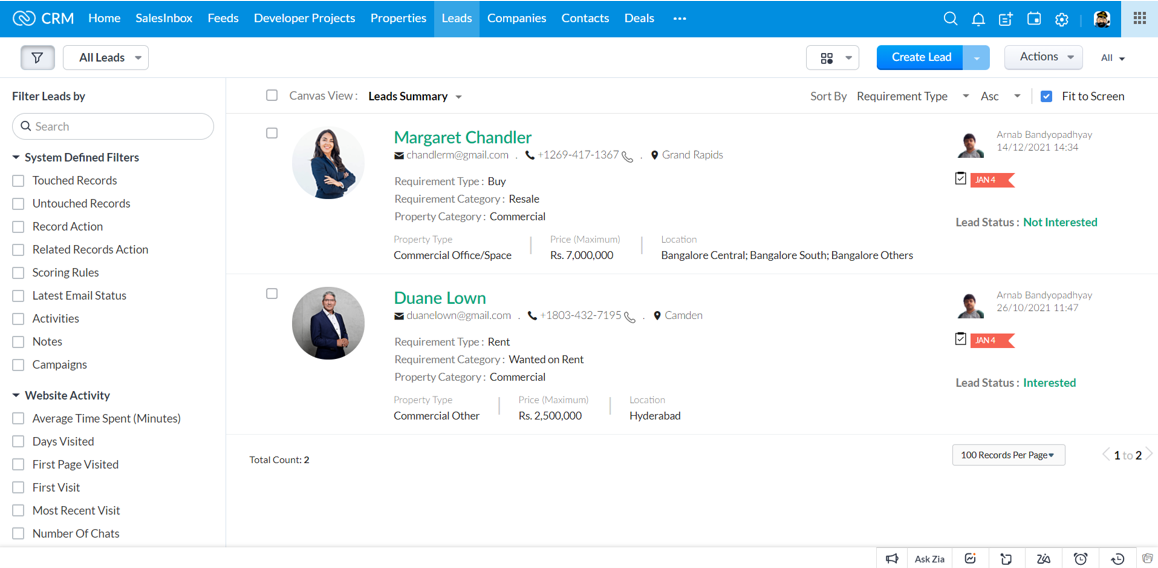 Categorize Your Leads
For running a business, you need to multi-task and work smart. Not every individual who inquires about your properties will gradually become your customer. So you need to prioritize accordingly to suit your purpose. Following the BANT parameters (i.e. Budget, Authority, Need, and Timeline), you can categorize your leads.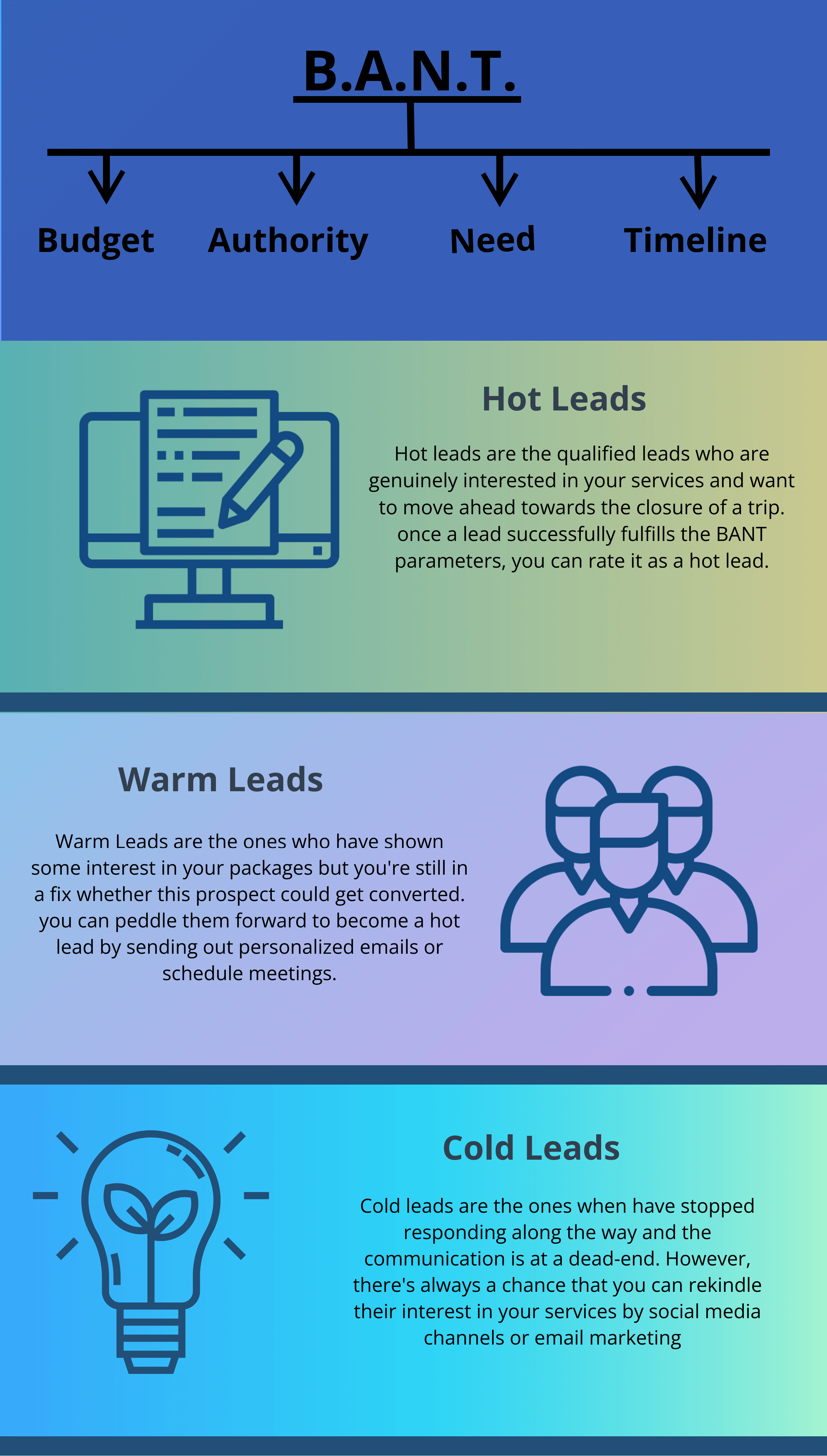 Once you identify the ones who have a greater potential of becoming loyal customers, you can qualify them and convert them into contact, an account (only in case of B2B opportunities), and a deal.
Automated Customer Profiling
One of the coolest hacks of using Real Estate Agency CRM is automated customer profiling. The moment you convert a lead into a contract, an account, and a deal, this CRM will instantly create three different entries under respective modules. So when you get inside a particular contact record, you can view all the contact-related details put in the allotted fields and also the account and deal related to it. And same goes for the account and deal record as well. This CRM creates a single view housing every touchpoint interaction, email, and other detail.
Moreover, all these modules are interlinked with each other in the simplest way possible. For instance, if you wish to view the contact details of a deal record, you can easily switch to the contact of the deal and vice versa. You can literally take a leap and jump from one module to another whenever required. So cool, you should go for it!
This is an example of a typical contact record-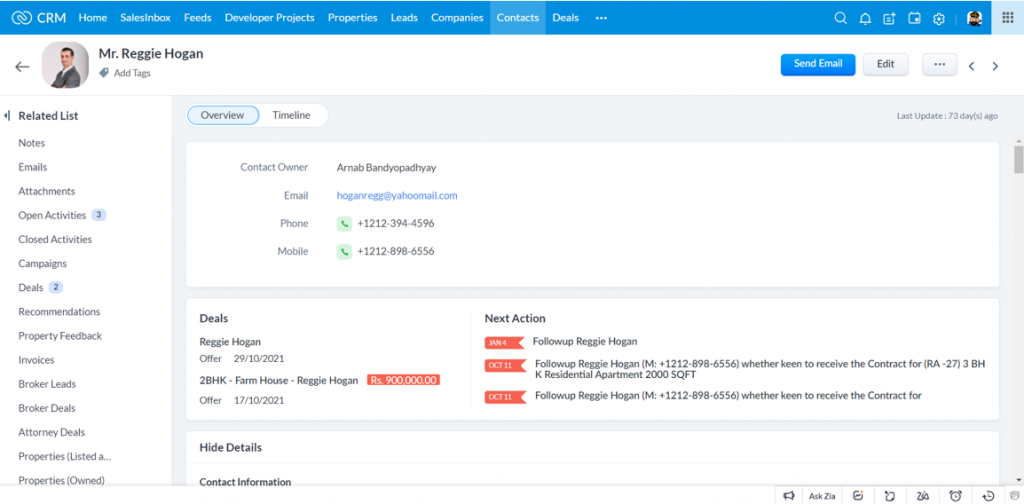 Manage Your Brokers
Real Estate CRM also manages your relationships with third-party brokers. As you start expanding your business, you can't monitor your leads single-handily. Let's say if you are a realtor based in Mumbai and you came across a lead who needs your assistance for a Kolkata location. In such cases, you need to involve third-party brokers to recommend properties and close the deal on your behalf.
Even when it comes to commission calculation, you can easily add a percentage of your profit for your co-brokerage agency. The moment the negotiation-affirmation between the buyer and seller is completed, you can insert your commission percentage and CRM accordingly calculates the amount. You can now raise an invoice and apply it to both parties.
For your co-brokerage agency, you can simply add the defined percentage and the total amount gets calculated here as well. Simple, quick, and error-free!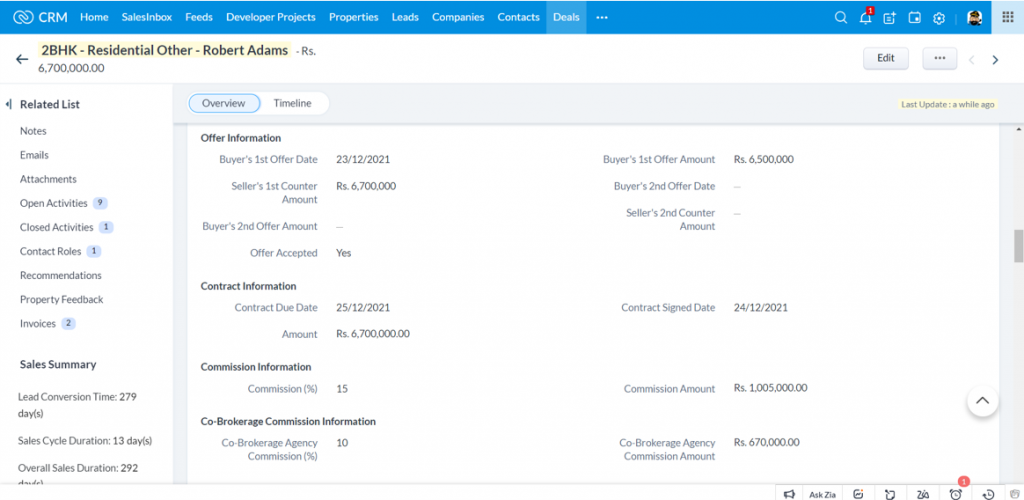 Automated Property Recommendations
As you ski your way through such a competitive landscape, you should always have a USP factor to retain your customers. It always becomes a back-breaking task when you have to manually browse through all your properties to match your customer's preferences. This is where Real Estate CRM can prove real beneficial for you.
Once you have qualified a lead into a contact and deal, you can simply generate matching property recommendations. This software is extremely intuitive in nature so it can efficiently understand the nature of your customer's preferences and can recommend properties accordingly. Moreover, you can also create a stunning PDF document of your property recommendation to send out to your customers. The faster, the better. Right?
Match Your Leads And Contacts For Your Properties
Another effective way to retain your customers is to identify appropriate prospects for a particular property. Now when you add a new property, you can easily identify who could be interested in the same. All you need to do is click on 'create matching leads' or 'create matching contacts' and this Real Estate CRM software will automatically generate a list of leads or contacts who could be potential buyers of that particular property.
Mobility And Accessibility
Real Estate Agency CRM is extremely mobile and intuitive in nature. It can be accessed at any time, from any location, and with any device whatsoever. You don't even need to install any app as you can manage with the browser only. Even though the use of mobile CRM is relatively lower than desktop or laptop, the rising use of mobile devices or even tablets denotes 81% of users access their CRM solutions from multiple devices. Especially after this 'work-from-home' situation, this feature is the most 'in' thing. It has become super-easy to manage businesses on the move.
Powerful Insights
You can comprehend each of your business metrics with the dynamic reports and dashboards that this CRM solution comes with. You can understand, evaluate and strategize innovative ideas to implement for your business. It effectively helps you identify which sectors of your business are working in your favor and which aren't. These reports and dashboards are always updated with real-time information for faster action and better supervision.
This is an example of a comprehensive report-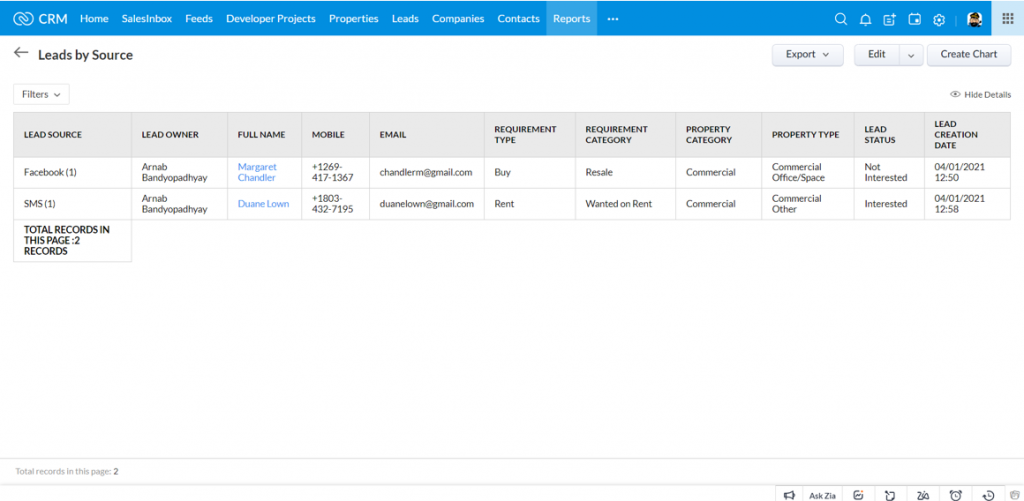 And now, a dashboard example-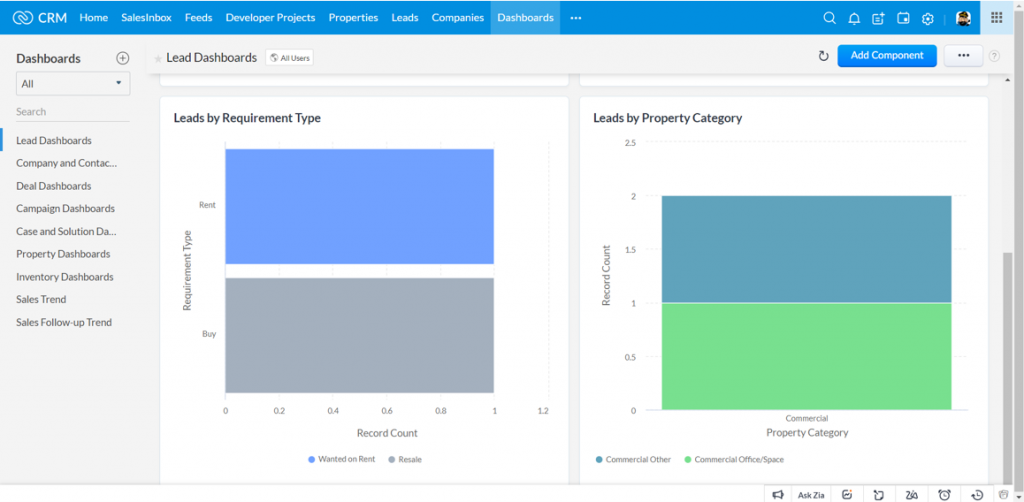 Last words,
Real Estate Agency CRM is unquestionably the all-in-one solution when put to practice. It is one of the best tools to tackle uncountable customers efficiently and effectively. And it is just what a mighty realtor like you needs for business development. You know, we have helped 700+ businesses to grow so far. We believe, yours could be the next.
Here's a super amazing video to help you understand the entire operation even better.
Now hurry up and click on this link for more information. And take a deep breath folks and watch your business take off for soaring heights!