Step Up Your Business With Efficient Lead Management With Law Firm CRM
Jun 29, 2022
The legal world is always bustling with attorneys tied up with several matters in their hands. We all know about the onslaught of immense work pressure that they face every day. We understand that as lawyers you want to focus more on matters rather than perfecting administrative tasks. However, from a business perspective, you need to scale up your venture in innovative yet effective ways. And the first step toward the goal is efficient lead management. To save you from the extra trouble, we have designed Law Firm CRM, a power-packed cloud-based solution that is built to help your business grow from all possible directions. 
Leads keep your business running as they are your potential cash crops. There will be no service or product to sell if you don't have enough leads. When we think of a business, the first things that come to our mind are customers and a well-designed sales pipeline. That is why several companies fall short when it comes to lead management. After all, those are the ones who will populate your sales pipeline.
In this article, we will explore in depth how effectively you can use this incredible CRM solution to enhance your lead management process for business growth.  
Step 1: Capture Your Leads 
You can only capture a lead when hit the target audience with skillful marketing strategies to attract them. Being lawyers, you might have different channels to promote your legal brand. Such as, website landing pages, newspapers, referrals, business cards, and so on. Even social media platforms are standing out as one of the major KPIs concerning lead generation. In any which case, you always need to embed your website link as it acts as your virtual storefront. Here you can embed a contact/ webform so that whenever a lead inquires about your services, they can fill in their initial contact details and submit the same for further conversation. So that our CRM for lawyers seamlessly captures your prospects' details, and places the same in a separate new lead record.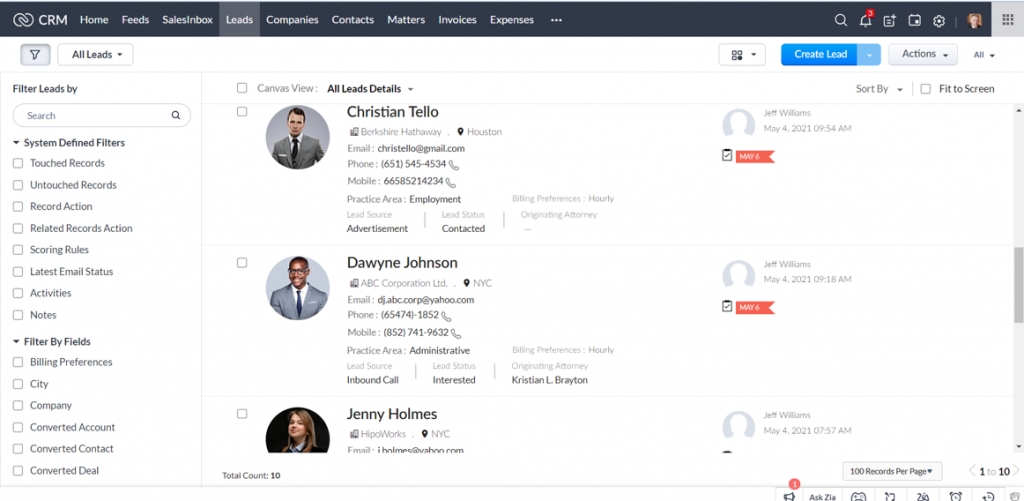 Step 2: Track Your Leads 
When you start a business, you'd naturally want to expand it by optimizing your resources. Of course, you must try out several channels to generate ample numbers of leads. And only then can you narrow down which marketing strategies work the best for you. After all, you are spending hundreds of dollars on the purpose. Now, when you capture a lead, if it is procured from websites or social media, our Law Firm CRM instantly captures its source of generation with its automation power. However, in case they are procured from other sources, you can manually enter their source. But you should always remember to maintain the trajectory of your leads so that you can detect the performance of your marketing channels.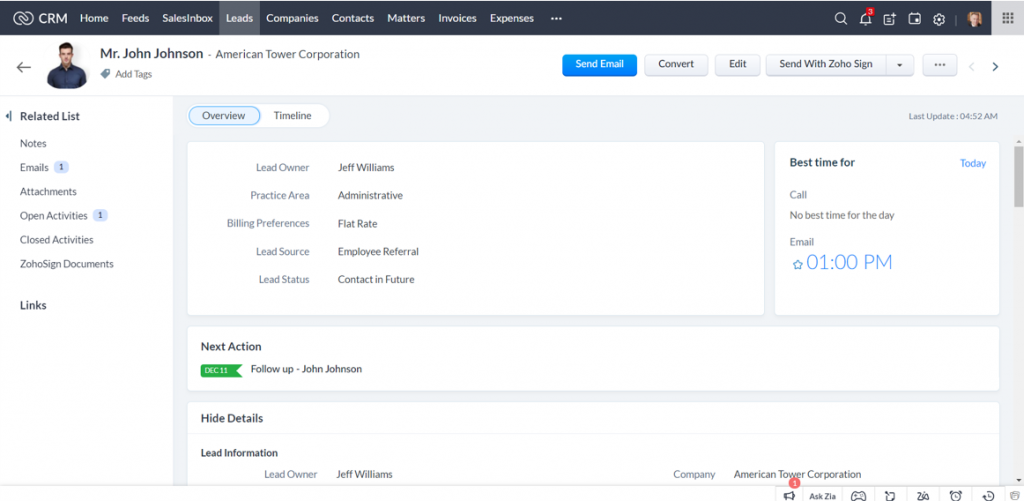 Step 3: Distribute And Nurture Your Leads With Law Firm CRM
It is often noticed that businesses especially legal firms fall short when it comes to responding to their potential customers. However, customers who have legal matters in hand cannot wait for too long, and eventually, they can go looking for other firms. When you're backed with CRM solution, the system automatically sends out an acknowledgment email. It even alerts your respective team members about the lead so that one of them can take it forward.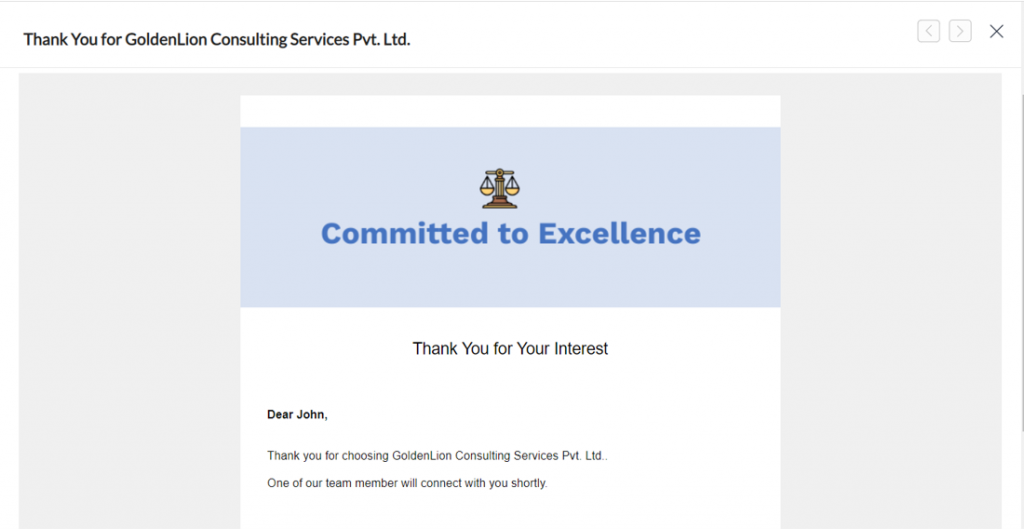 As the head of the firm, you can also create different follow-up activities, and schedule meetings or calls to nurture your prospects with assistance. Since you might be caught up with too much workload, you can delegate these tasks amongst your team members with a single click mention. Plus, you can also mark deadlines on your calendar, and set reminders or pop-up notifications on their behalf. They can take notes for a particular lead which can be critical for future use. This way you can build up a strategic communication flow with your potential clients and gather the necessary information about them.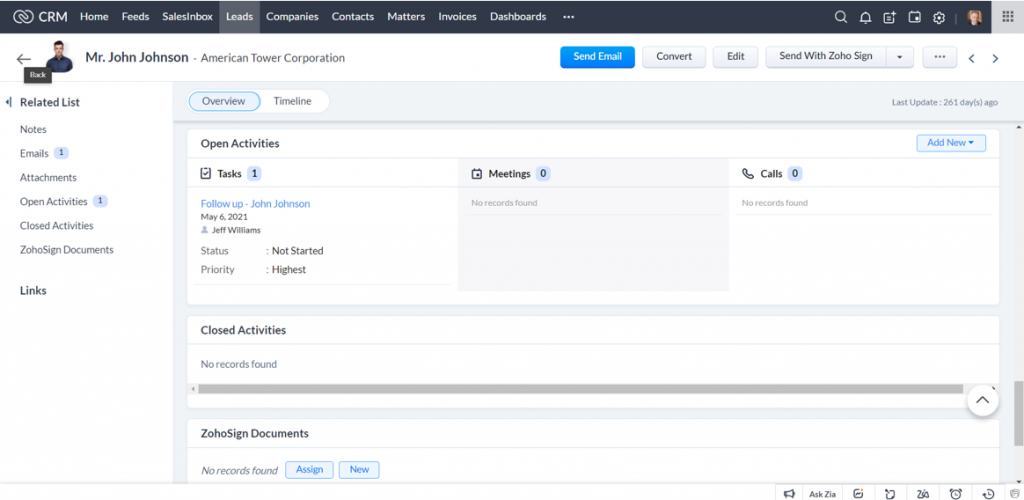 Step 4: Filter Out Your Leads 
It is only obvious that not all inquirers who show interest in your legal services will turn out to be your customers. There is no point in investing your resources in each one of them. So you need to filter out the ones who have greater potential and for that, you can apply the BANT parameters. From the gathered information through the previous follow-up tasks, you can easily chalk out your client's budgetary preferences, the role of the contact person (Authority), the area of legal assistance (Need), and the timeline. 
Quick Tip: Introduce Gamification Scope 
Legal matters sound pretty serious, we got it. But it doesn't mean that your sales activities have to become tedious all day long. As a leader, you can conduct a healthy competitive environment to make your workspace entertaining and productive at the same time. This game scope gives your teammates a chance to boost their proficiency and productivity when they successfully convert leads and gain points in return. 
Streamline Your Sales Process 
You see, managing leads efficiently is a major aspect of your business, but it is not the whole of it. When you successfully convert the leads into contacts, company (applicable for B2B opportunities), and matters, you begin the real challenge– the sales pipeline. Your Law Firm CRM comes aligned with a ready-made sales pipeline that covers all possible action points that you might need. Since every industry vertical follows a certain pattern, this pipeline is specially tailored to make your legal sales processes super-effective and without chaos.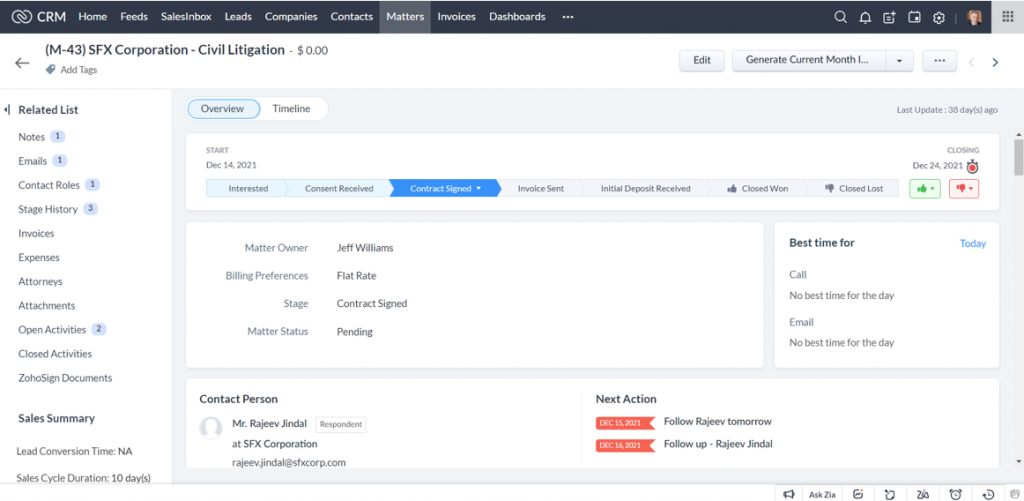 Reports And Dashboards 
The key functionalities of Law Firm CRM have to be the reports and dashboards. These modules are the visual representations of your data making them more readable and comprehensive. You can use this dynamic duo to define and measure your KPIs, and understand the emerging marketing trends to make your strategies more effective. This is what a standard report looks like-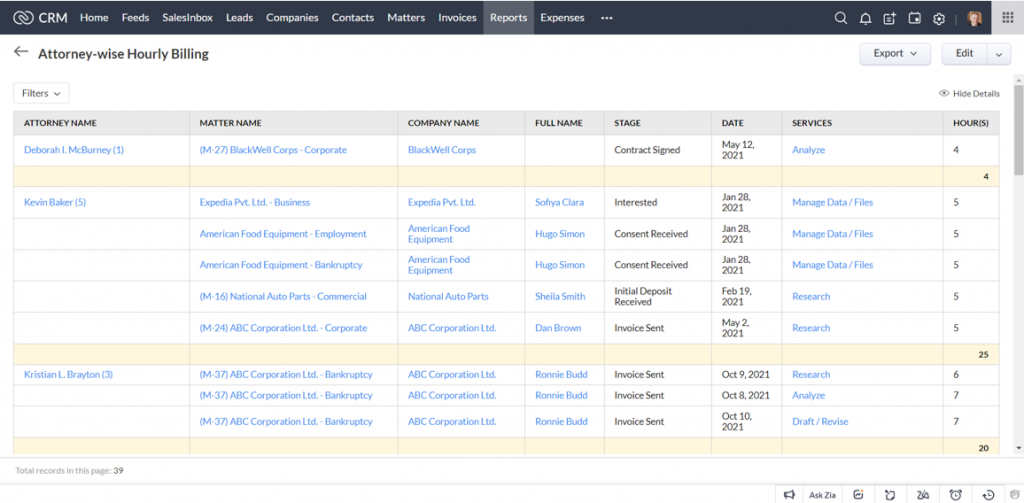 And this is an exemplary dashboard–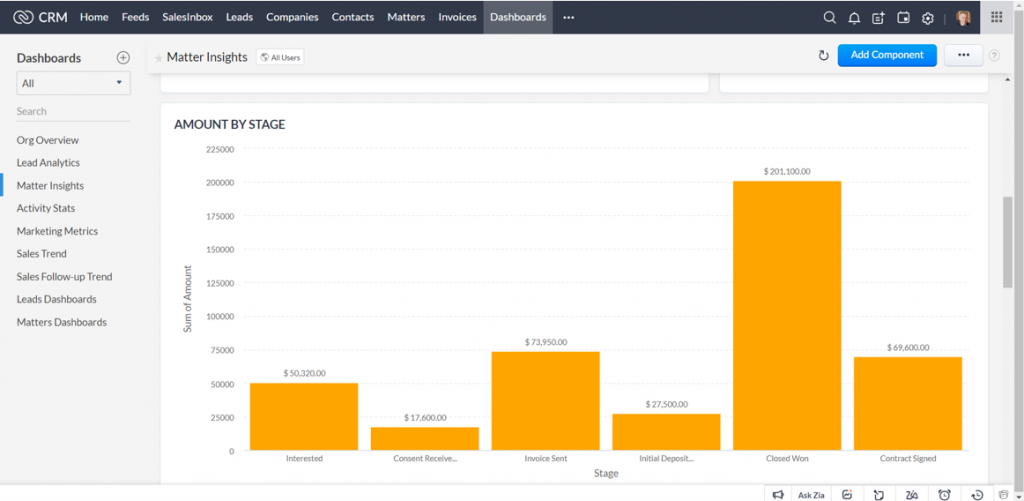 Over to you, 
Law Firm CRM is hands-down the best solution for modern-day lawyers. It is a compact cloud-based solution that manages your business in every possible way. It enables you to build and strengthen relationships with your customers. Right from the marketing stage to the finish line as a closed-won opportunity and loyal customers!
Don't believe us? Watch this video to get a better understanding of the whole process. 
Now click on this information to gain more information. Get, set, go!