Strategize Customer Lifecycle Marketing To Grow Your Business
Nov 7, 2022
Times have been changing. Are you finding it hard to reel in your customers at the first encounter with your old book tricks? Most people are struggling, so don't fret, you're not the only one. Instead, think of valuable strategies. To make your agency survive, regardless of the industry you're involved in, you must get a slice of the new marketing trick and that is Customer Lifecycle Marketing.
`The old trick stood for the product, price, and promotion. In addition to these three, we now have to consider engagement and experience for the new one.
Engagement and experience are even more important than your product, price, and promotion for new customers. Simply because our customers are willing to pay better for prolific experiences. Remember, they are tech-savvy, well-informed, and demanding. They are aware of their options and know exactly what they want.
The classic marketing tricks stop pursuing a customer once the deal is won. But think about it. After investing so much effort from your end, you have got a customer who added value to your business recently. Don't you wish to repeat business with the same customer? You do. That's when you want Customer Lifecycle Marketing/ CLM strategy included in your core business plan.
Today, the major aspects such as infrastructure, costs, and expertise, which previously were impediments to incorporating CLM as a strategy are reduced due to the technological revolution. This article is all about how you can navigate through the stages and benefits of a CLM strategy. Let's dive deep!
Table of Contents
But first, let us understand what Customer Lifecycle Marketing is.
Customer Lifecycle marketing is an exclusive approach to a deeper level of engagement through various mediums of communication to foster high value at each stage of the sales journey. Here are the four essential stages that a CLM strategy can be broken into.
#1. Discovery
In this fast-growing digital world, the only reliable way of getting people to discover your brand is by creating a strong online presence, hence website development. Your website is the primary source of generating leads as prospects learn about your brand and come into direct communication with you via your website. As this is the first step in the conversion funnel, you need to reel in as many leads from the target audience as possible. So you need to share valuable content regarding your products/ services with a decipherable tonality. You can organize your service catalog, and include descriptive images/ videos or testimonies from your existing customers to encourage your prospects. With effective mark-tech tools like Semrush, Google Search Console, etc you can research relevant keywords and use them on your website content to maximize your website traction.
#2. Engagement
Once your target audience reaches your website landing pages, it's time to engage them with purposeful content. You can share information about your services or products and highlight the USP feature of your agency to stand apart from the competition. You can engage them with energetic video demonstrations or tutorials for your prospects' clear understanding. Since the videos are made more crisp and brief, you can use more descriptive blog articles. You can project your content as guides to answer the most asked questions, and solutions to problems that are commonly faced by customers, and showcase your insightful research work to cope with the changes in the industry trends.
DocHipo
"A picture is worth a thousand words," right? A recent study found that posts with compelling images average 94% more views than posts without them. Want to use arresting visuals for your content too? Use DocHipo– a free graphic-designer software tool that has hundreds of customizable templates for each of your content pieces. Whether you want to create YouTube thumbnails, blog banners, social posts, or email headers– everything is housed here!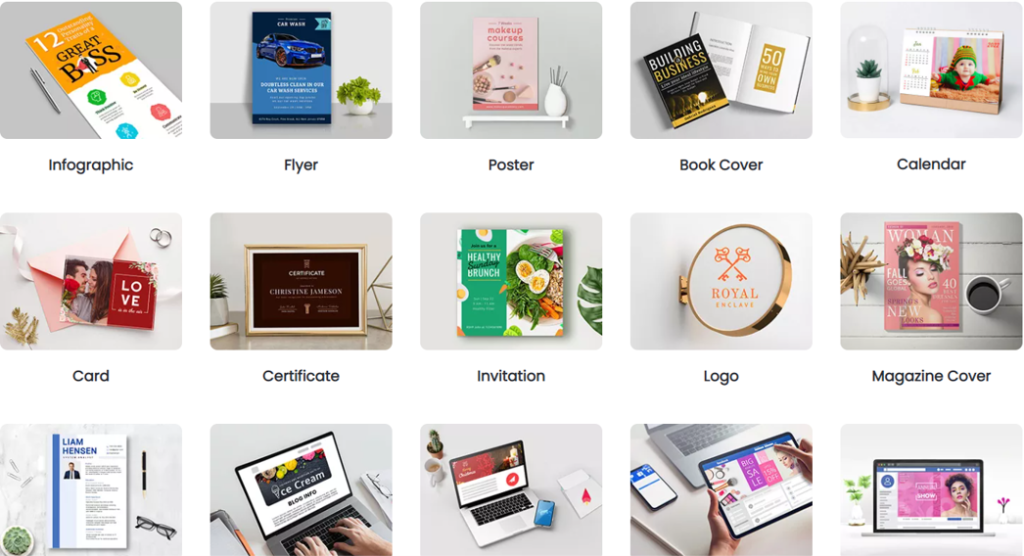 Zoho SalesIQ
This is an all-in-one live chatbot and analytics platform that promotes proactive customer engagement, allowing you to initiate the right kind of conversation at exactly the right time. It empowers your marketing, sales, and support teams to communicate with every site visitor at every stage of the customer lifecycle. Zoho SalesIQ enables you with an overview of each prospect's areas of interest by analyzing their recent browse history and leverage those insights to respond with relevant information or route them to the perfect live chat agent for their particular needs. You can even set up automated triggers for different scenarios to initiate a chat with visitors by sending a message or showing a custom banner based on their areas of interest.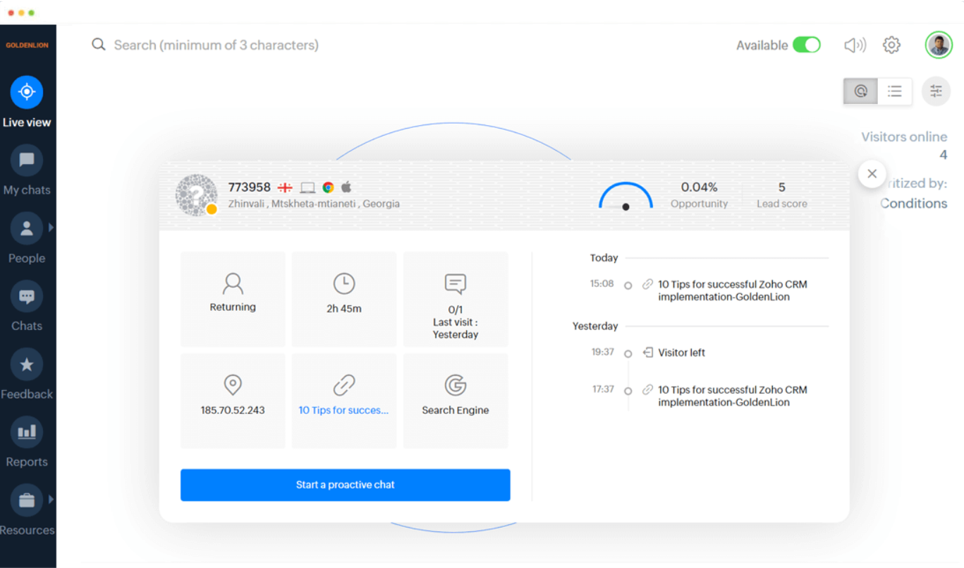 #3. Conversion
Now that you have caught your audience's attention, you can move on to the next step and that is conversion. This is where you need CRM (Customer Relationship Management) software which helps you transition your prospects into contacts and opportunities. Effective software tools like Zoho CRM convert your leads into contacts, companies (in case of B2B opportunities), and deals just in a single click. All the information that you have gathered about a specific lead gets automatically flown into the aforementioned records. So that you can easily retrieve information anytime you need it.
The thing is, you must make your customers confident enough to proceed with their purchase decision. And when you have every piece of information organized in neat streamlines, you can leverage them to persuade them further.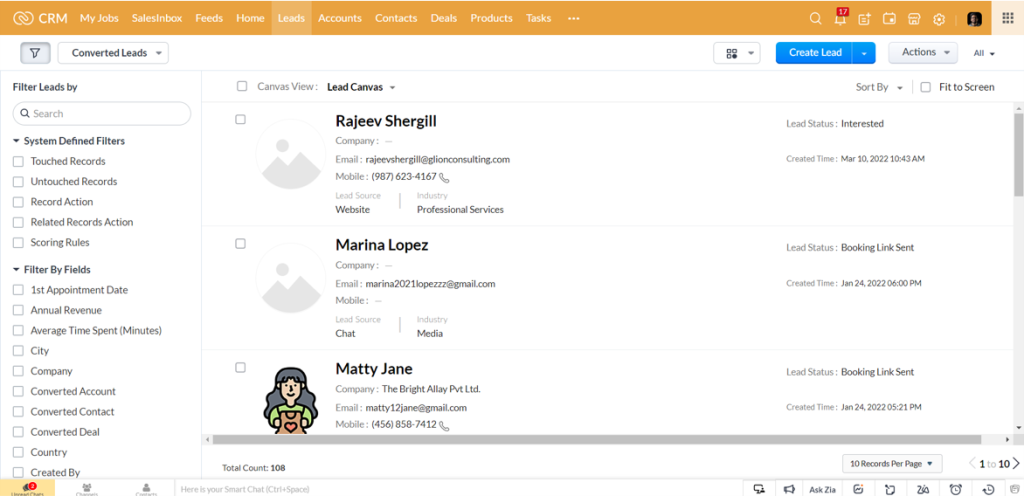 #4. Post-Sales For Customer Retention
Think about it if a customer finds a company that offers them exactly what they need (or even close to the exact), why will they look elsewhere? Lead generation and customer acquisition might sound exciting, however, when it is about benefits, customer retention is the one you want to go for. Bain & Company research says that Increasing customer retention rates by just 5% can increase profits by between 25% and 95%.
So you see, when you win a deal, it does not necessarily mean you have to stop engaging with your customers. This is called the post-sales stage and tools like Zoho Survey, Campaigns, Social, and an omnichannel approach help you abundantly. These tools, I tell you, will quickly sharpen your CLM strategies. Let's see how!
Zoho Survey
Let's say, you have delivered the best service possible, which I'm sure you do, every day. Time to connect with them yet again to learn about their experience. Customers love to share their feedback and anticipate improvement for the next deal. For this, you can use Zoho Survey, an app that comes with 25+ different question types inclusive of piping and skip logic. You can customize your survey forms with your brand style and themes. On top of that, you get Zoho's SSL protection which keeps these forms secure and private. So that you can seamlessly share them with people on your email or social campaign list. It also helps you with customizable reports visualizing responses or real-time data analytics on Google Sheets for an in-depth understanding of response trends.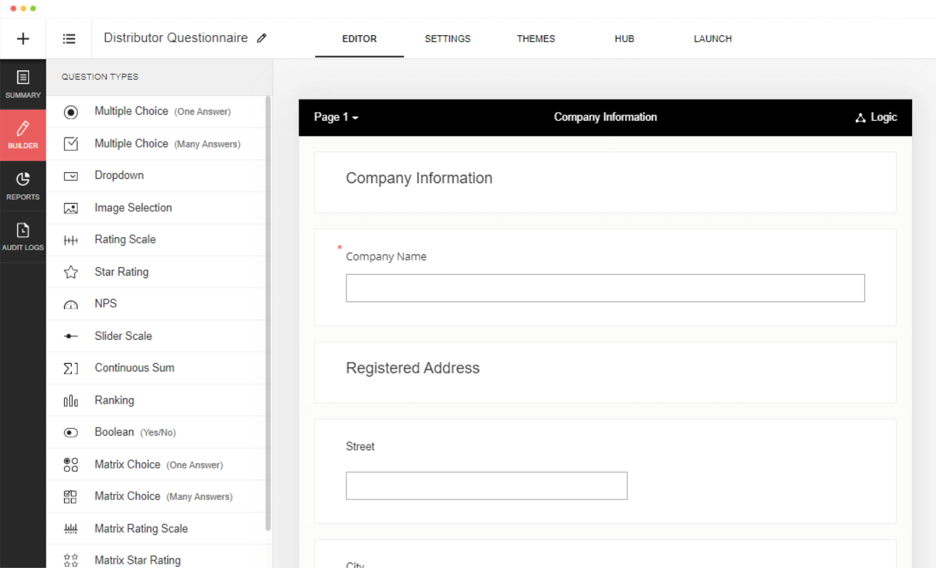 Zoho Campaigns
Marketing tactics have evolved with time, we see them changing every day. The question is, whether email marketing is still relevant. Well yes, it is one of our main choices of communication mediums for over 40 years now, and certainly, it doesn't seem to take a backseat anytime soon.
Why would it? Email marketing is by far the cost-effective strategy that gives you an incredible opportunity to reach and stay connected with your target audience in real-time. Backlinko cites, 73% of businesses in the B2B world claim it as their most prominent form of communication, whereas 91% of consumers use email to stay updated with promotional discounts, offers, launched products, and so on.
Speaking of emails, let me mention Zoho Campaigns that is thoroughly designed to execute your plans to perfection. This app helps you create responsive designs, deliver personalized messages for the target audiences, trigger automated workflows, and connect with new customers— precisely, everything you need. You can interact with your recipients with polls, surveys, attachments, GIFs, images, videos, and reply tracking, set up drip campaigns or newsletters and so much more!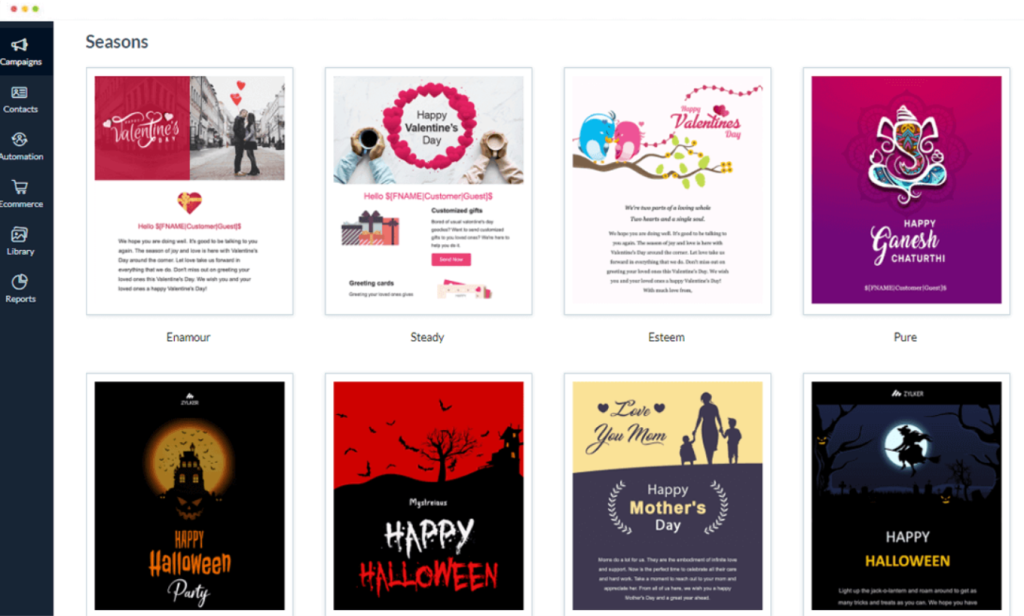 Zoho Social
By this time I hope you're all aware of the importance of social media in our daily lives. It has legit become the go-to window for discovering opportunities, brands, products, people– everything. You hear about a new product and you get to learn more about it from Google.
While almost all of your potential customers have smartphones in their pockets, connect with them through channels like Twitter, Tumblr, Facebook, Instagram, LinkedIn, or Tiktok. Internet marketing gives you an incredible opportunity to raise brand awareness, generate leads, build brand authenticity, and drive thought leadership with engaging content.
Zoho Social might just be the one toolkit that you need to 'up' your social media marketing game. You can schedule unlimited content pieces with an intuitive calendar so that the app timely publishes the same, and keeps your audience attuned. The best part is, you can stick dashboards or social columns to implement social listening and interact with your interact community as often as you like.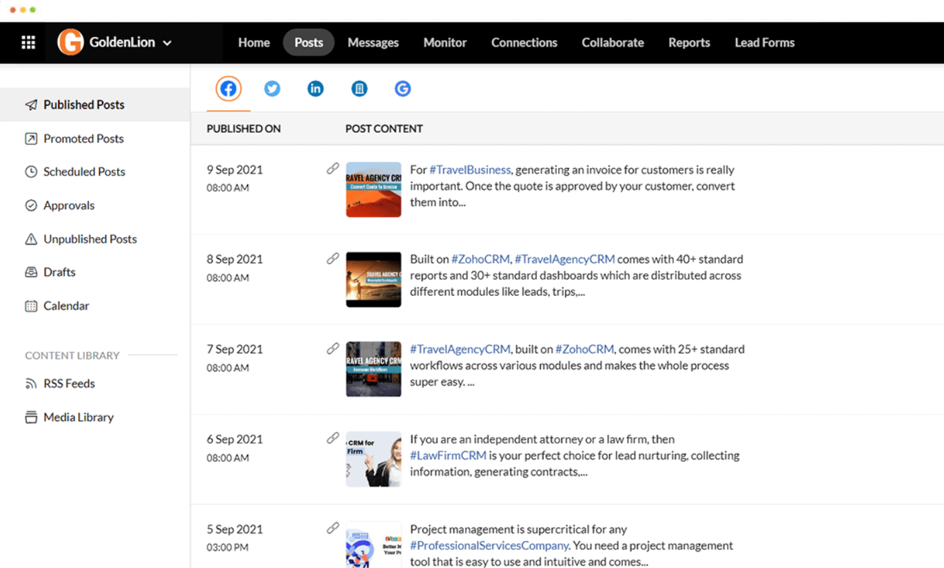 Incorporate An Omnichannel Approach
Heard of the phrase "communication is the key", I'm sure you have, yes? Great. Now apply it to your marketing strategy with an omnichannel approach. Long gone are the days when people used to hop from shop to shop. Since now, everything is virtual, channel-hopping is the new vogue. At least that's what 86% of consumers are doing. And guess what, 87% of businesses recognize the omnichannel approach as a crucial strategy.
While I have already discussed the importance of email and social media marketing where you can execute this approach effortlessly. Is anything else in the bag? Yes, here are two additional apps that you can implement.
Twilio
Your customers have their smartphones almost all the time, just like you do. A good old text can always work, right? So why not use Twilio? It is yet another customer engagement tool that combines flexible APIs for cross-channel communications across digital channels (like SMS, WhatsApp messages, and voice/ video calls), first-party customer data, and global infrastructure to support you at scale. You can build personal relationships with your customer as it has the power of contextual customer data platform and native omnichannel together in one solution to help you increase lifetime value. Honestly, what more do you need?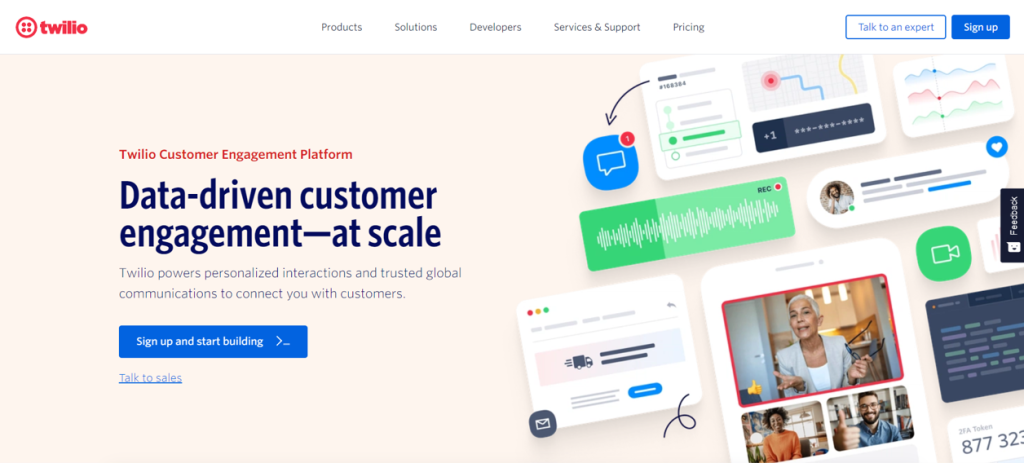 To wrap things up,
I hope you now know the benefits, the stages, and the most suitable applications that can help you execute your Customer Lifecycle Marketing strategy. What if I tell you that you can manage all these tools from one single platform? Zoho CRM makes it all possible. It centralizes your customer data, extracts real-time business analytics to boost customer engagement, and drives profitability. That's your ultimate goal, right? Get started with a 90-minute no-obligation consultation with our experts now!