Super Surge Your Customer Retention Rate With Real Estate Developer CRM
Jan 17, 2022
The real estate industry is perhaps the most client-centric vertical we can find worldwide. It has always sustained its huge name in the global marketplace and it could only be possible because real estate developers like you can accomplish every customers' expectation Real Estate Developer CRM advances you with 10x power when it comes to retaining your customers and driving your business forward.
But why is customer retention so important nowadays?
This world has evolved with digitization. And so have your clients. As they become progressively tech-savvy, they are also constantly swamped with options from different brands. It is quite natural that they will pledge to the brand that convinces them the best. But to survive in today's economy, especially during such uncertain times, real estate developers need to expand their customer base while strengthening their relationships with the existing ones.
To make situations better for you, we have come up with Real Estate Developer CRM so that you can leverage its enormous potential to revolutionize your business. This article is about how to retain your clients using this CRM solution, so let's jump right into it! 
Centralized Hub Of Information
Like every other quality CRM solution, Real Estate Developer CRM keeps a unified space for all your data. On the home page, you can view the most crucial matrixes of your business broken down into several comprehensive dashboards which you can always customize according to your preferences. But what makes our solution stand apart from others? This CRM software efficiently updates itself with real-time information. These are all computerized and therefore, there remain no chances of misleading information. With these analytics, you can easily detect the performance of your team and get a drift of your business growth on a regular basis.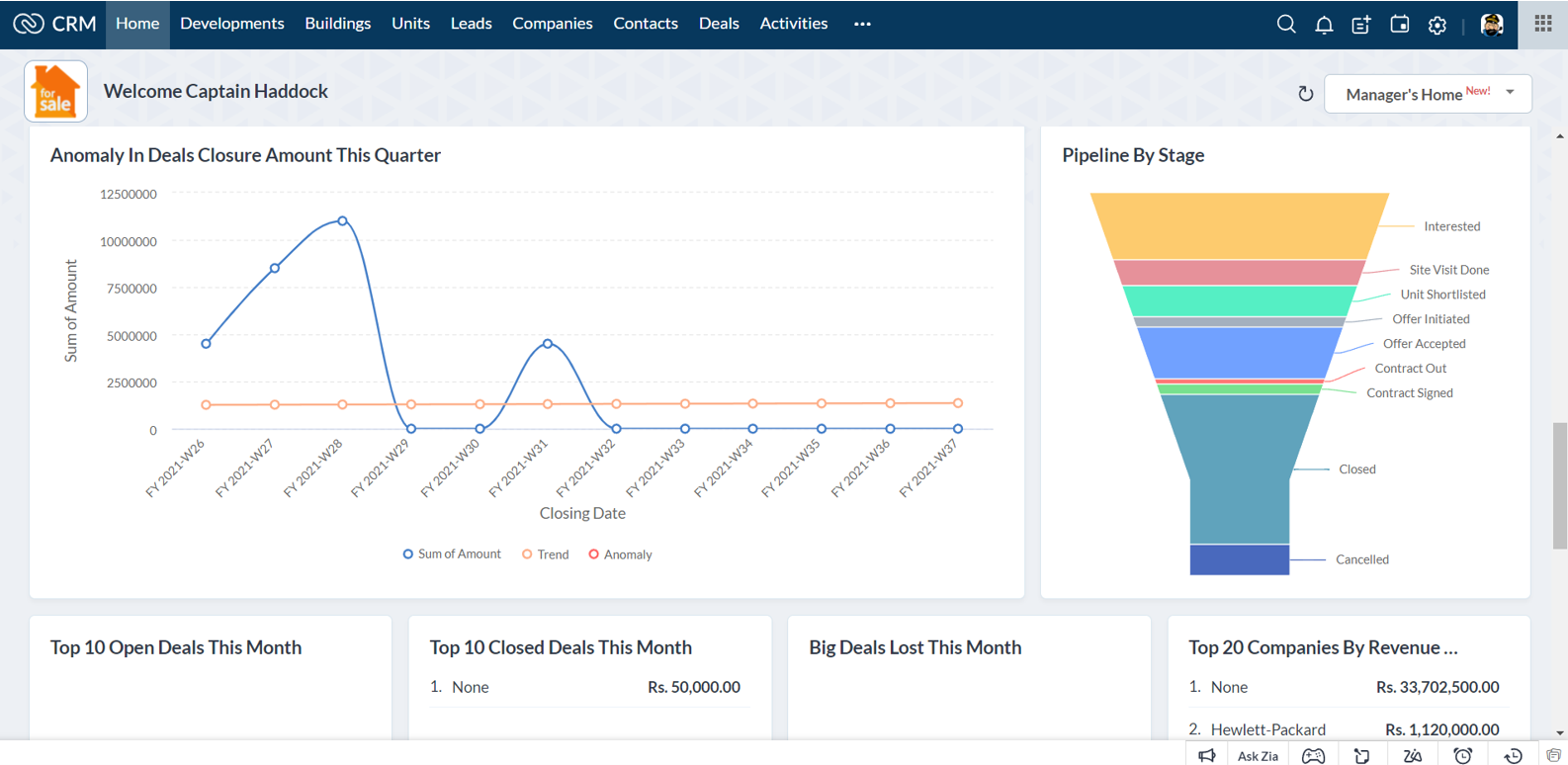 Publish Properties On Your Website
One of the most effective tools that you can use for customer retention is visual aids. For marketing your properties, you can always publish multiple pictures on your websites. Now, this is an add-on service that you get with this CRM solution but it is highly recommended. Pictures are essential tools to subtly arrest your customers' attention and create a lasting impression. These help you make your customers get a grip of the construction dynamics. You see, buying a property involves both emotional and monetary investment from your customers' end. Therefore, they should get a clear picture of what they are going to opt for before proceeding further. Such an effective step saves time for both parties.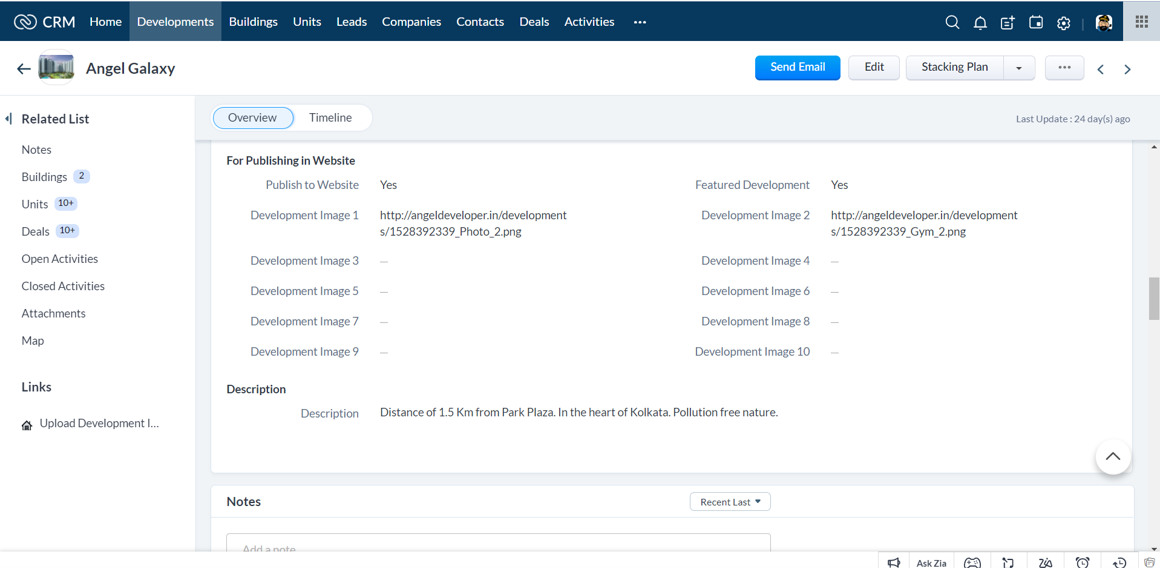 Keep Client Data At Your Fingertips
Did you know that nearly 73% of people prefer purchasing from a brand that uses personal information for providing a better customer experience? Our Real Estate Developer CRM efficiently profiles each of your customers with a 360-degree vision. It documents every touchpoint interaction, whether it is about follow-up tasks, the number of emails sent, or meetings scheduled– you get all the details in a streamline.
When you qualify a lead, this CRM instantly creates a contact, an account, and a deal for you. Now, as you get inside that particular contact record, you can view its business card details, detailed information section, and a related list where the company and the deal are tagged. You can also view the number of emails sent or follow-up tasks completed in this section. Based on these details after your manual intervention, this CRM solution records your contact's behavioral pattern and detects the best time for communication.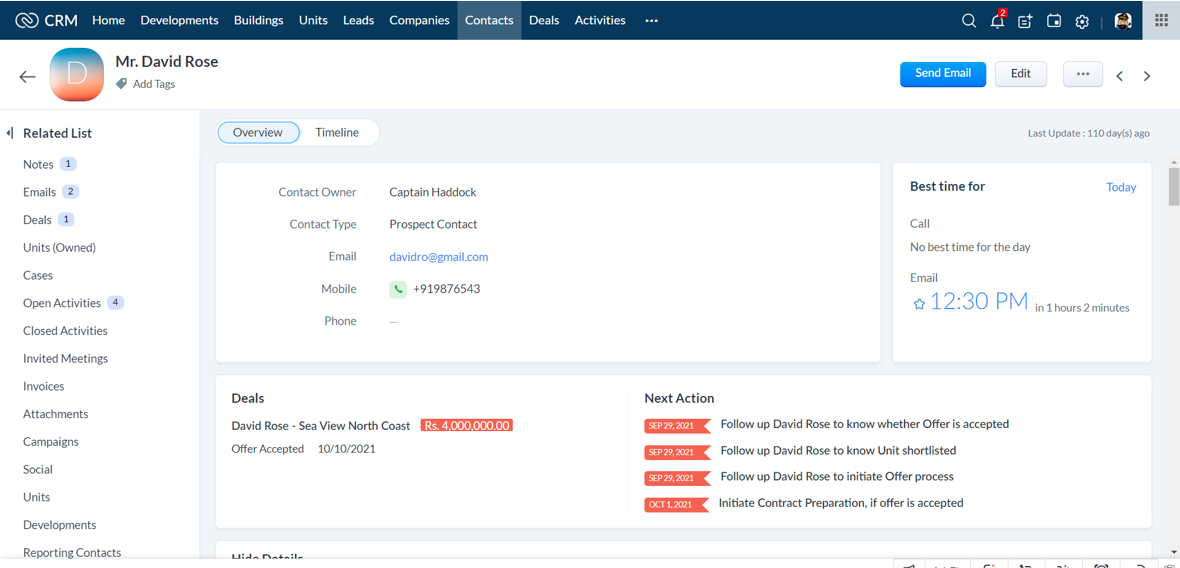 Collaborate With Your Team With Real Estate Developer CRM
Once you're equipped with this CRM solution, you can create and allot tasks with almost zero effort. The moment this software captures a new lead, your team members are instantly notified in the feed so that they can follow up quickly. As the head of your team, you can always motivate your sales reps, create tasks for them instantly with a one-click mention, set reminders, mark deadlines on your calendar.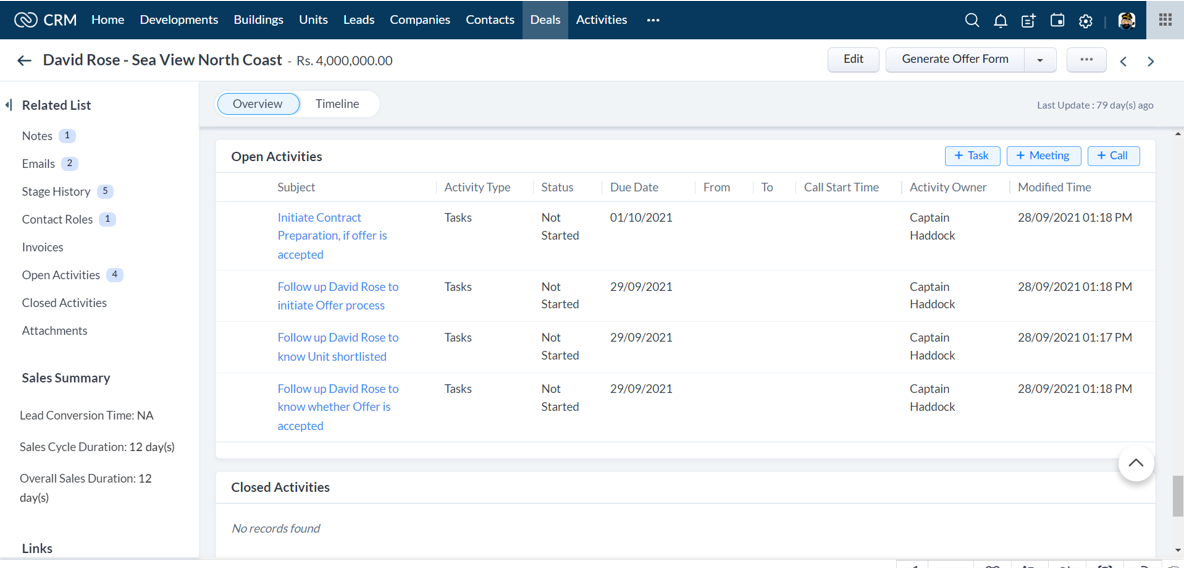 But other than this, you can also make your workspace environment even more productive with the gamification scope that comes with this CRM. It introduces an element of healthy competition and fun amongst them while being productive.
Record Stage History
This Real Estate Developer CRM software efficiently records your clients' journey to help you provide them with the best service. If you get inside any specific deal record, you can view the stage history of the customer, refer to it for proceeding further. You and your team can easily identify which stage of the pipeline are your customers currently in so that if you see a halt in the process, you can interact with them for a smooth purchase operation. This step clearly helps you move forward to winning a deal.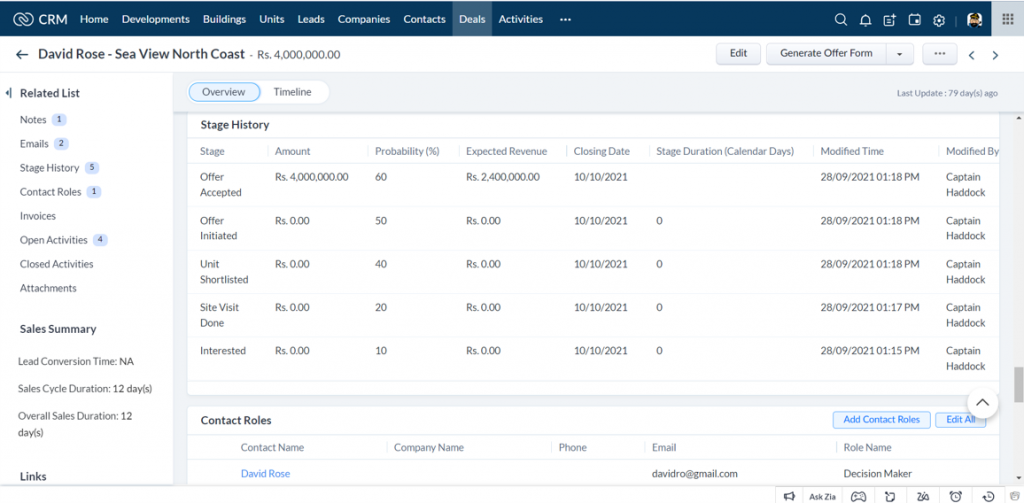 Engage Your Customers With Real Estate Developer CRM
For repeating business with your existing customers, you must indulge in effective ways for customer engagement. Of course, you will sway the full potential of this CRM software for closing hundreds of deals. But even after winning a deal, you must look out for your customers for future opportunities. You can send out email campaigns or reach out via social media platforms for sharing important updates, your latest projects, news on the real estate industry, or feedback surveys as well. Real Estate Developer CRM can also store the social profile links of your customers so that you don't have to find them out on your own. 
You can use the stunning templates from DocHipo to subtly arrest your potential customers' attention. This uber-cool software lets you create and customize as per your preferences effortlessly! This is an exemplary flyer post-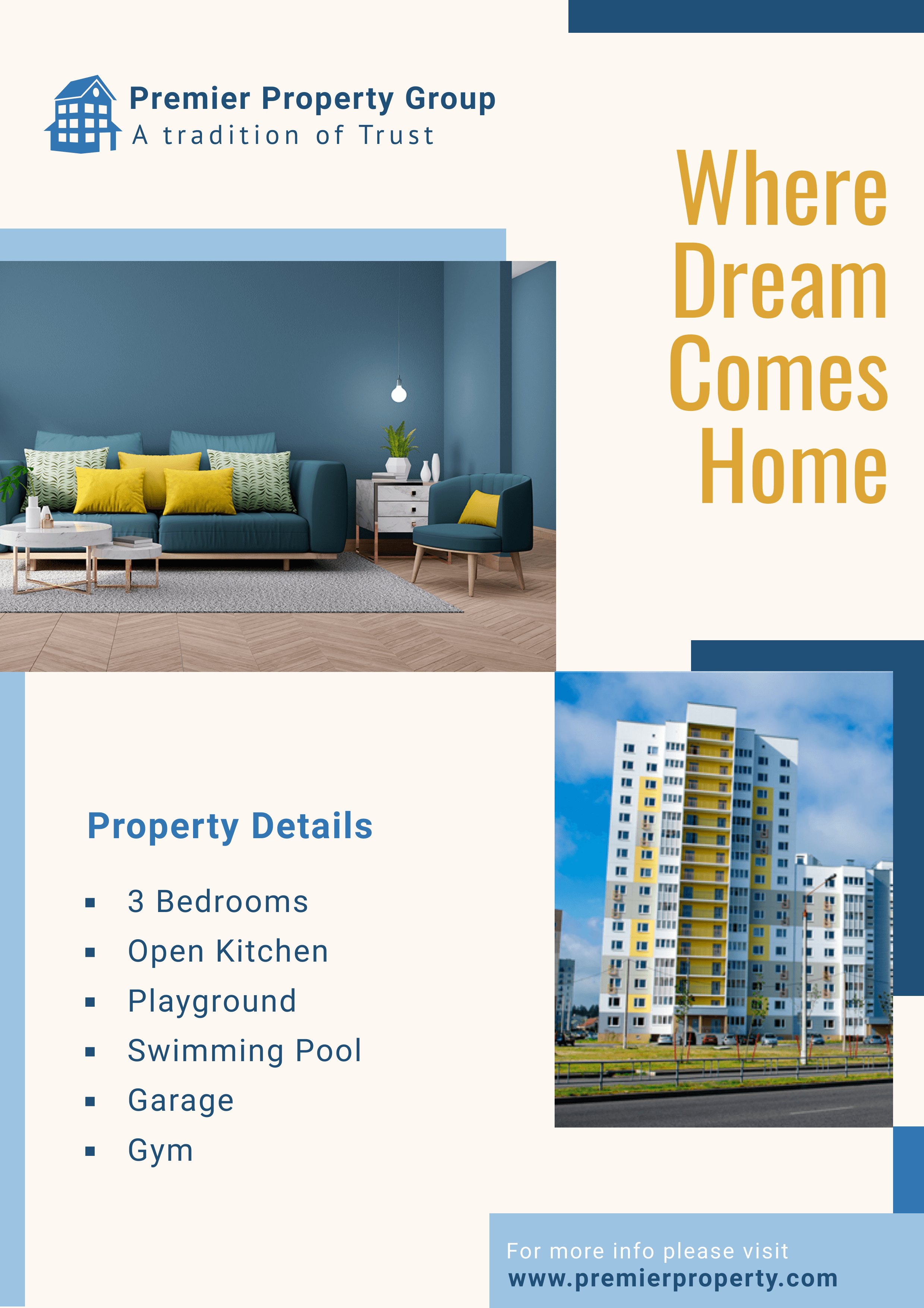 Manage Brokerage Agencies
As a real estate developer, you must have several projects comprising numerous buildings and uncountable units to your name. And it is not always easy to monitor their purchase progress and sell them off. To sustain your customer base strength, you can distribute your properties to different co-brokerage agencies. Such third-party inclusion can be extremely beneficial in this regard. They can word-mouth or recommend properties and pursue potential customers on your behalf.
And of course, you can blindly trust Real Estate Developer CRM when it comes to co-brokerage commission. Whenever you create a new entry under the developments module, in the detailed section, you can certainly define the commission that needs to be paid to the brokerage agencies. It auto-calculates the total amount of the commission percentage for your brokers whenever you win a deal.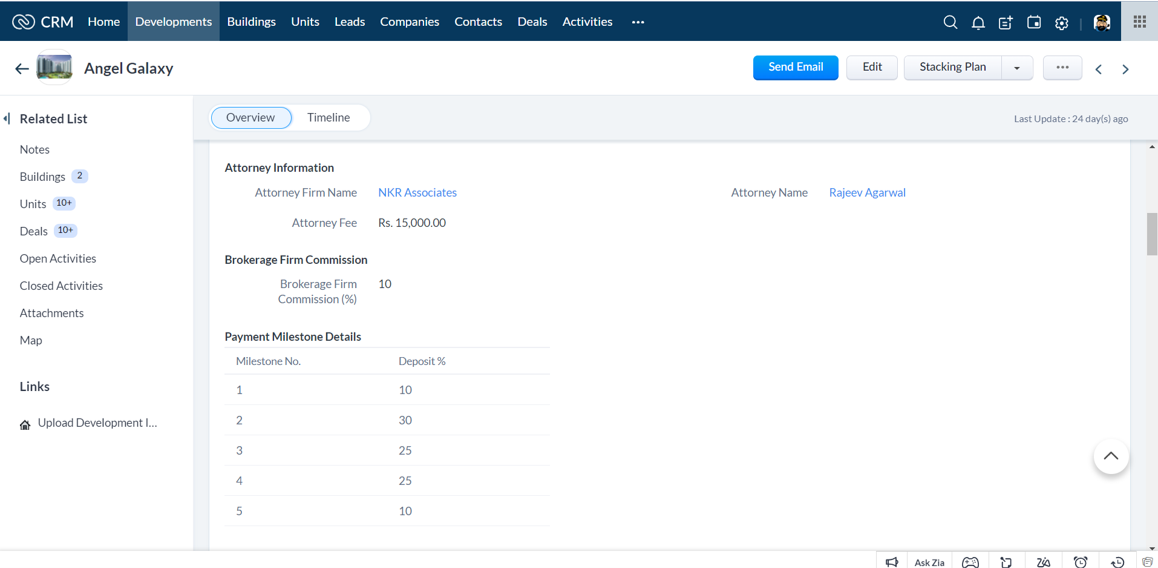 Analytical Insights With Real Estate Developer CRM
This CRM solution comes complimentary with a number of comprehensive reports and dashboards. These two modules can prove extremely effective when implemented correctly as they're updated with real-time information. Depending on these analytics, you can understand your overall business performance, strategize with innovative ideas and improvise your existing ones. Moreover, you can always segregate them with filters to identify each category faster. 
This is an example of a comprehensive report-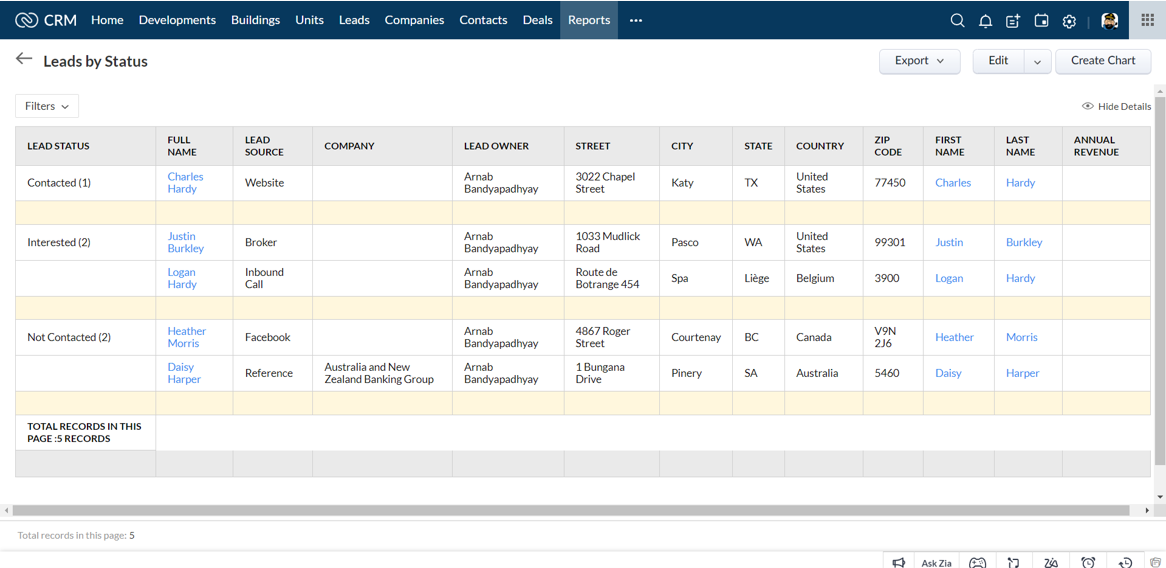 And this an exemplary dashboard-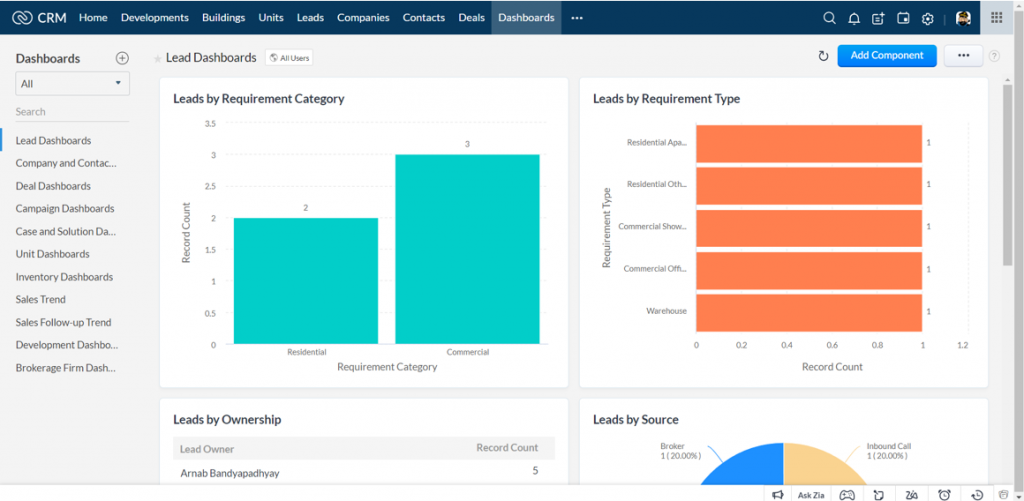 Stacking Plan Report With Real Estate Developer CRM
We have saved the best feature for the last. The stacking plan report is a key functionality of this CRM application. This report represents a visualized plan of occupied units of a building. Therefore, when you have multiple buildings under one project, you can view any specific space along with its availability status, the number of bedrooms or bathrooms, area, and price. This always helps you present definite information while pitching to your customers.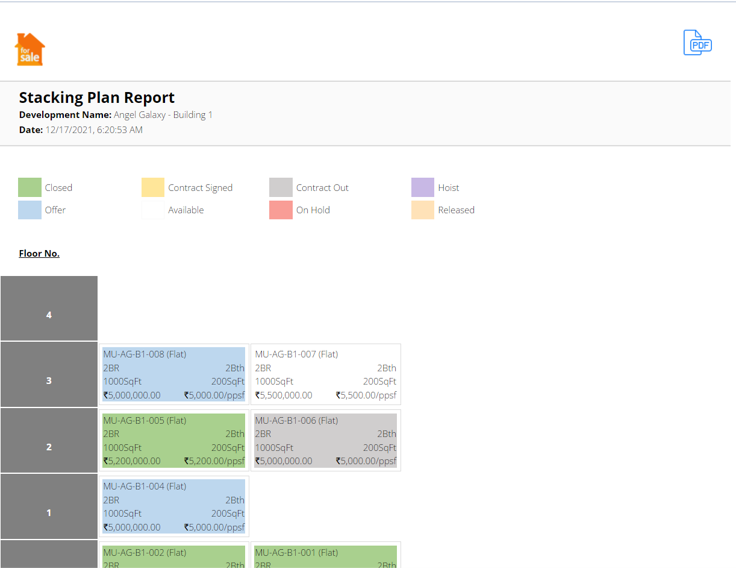 Last Words,
Customer retention is unquestionably the 'port key' of profitability. Zoho CRM for Real Estate Developers can truly help you accomplish a sustainable position with optimized interaction with your clients. It is both efficient and effective when it comes to managing your customer database with its easy-to-use interface.
Ready to win more deals and repeat your business? Let's get started!