The Pain Points of Real Estate Agencies and How to Solve them?
Feb 28, 2020
As a real estate agent, you might have to juggle innumerable tasks and I understand it is not easy. You must maintain good relationship with your previous customers, keep tracks of referral tabs, attend to prospective customers, schedule follow ups and meetings, schedule property site visits for your customers and the list of tasks continues!
Maintaining all these minute details in an excel sheet is complex. Do not get me wrong here. I do not hate spreadsheets but keeping track of the intricate details of every customer in a spreadsheet is just next to impossible!
Let me briefly highlight the pain points of running a real estate agency for you. Do not be overwhelmed. My intention is not to scare you!
Rather, I want you to identify the bottlenecks which are present in your real estate agency business and help you to get rid of them as soon as possible.
End to End Property Management
You as a real estate agent, have multiple responsibilities. You must keep track of the property type, what features the properties have, the location of the property, the present owner of the property and finally to find out whether the property is associated to any development.
Let us look at the problems one by one.
Property Type
First thing that you must categorize is whether the property is an individual property or is it under any development. If the property is under a development, then your job becomes complex. You must keep a proper track of the properties and to which developments they are tagged to.
Property Features
Being a real estate agent is not easy. Your world revolves around how you can match the available properties with your contacts' requirements and criteria. Every customer is unique and so are their requirements. There are different kinds of properties like residential, commercial and so on. Different properties have different features like if the property is residential then you might have to keep records of the number of bedrooms, restrooms, if the property has a lawn or not, a garage is available or not along with the property and so on. So, when you try to store all such information in an excel sheet property tagging becomes extremely difficult. You won't know which features are specific to which properties.
Here my friend begins your struggles!
But do not worry! We have a solution for this problem as well.
Our customized Real Estate Agency CRM comes to your rescue. You can easily store all these tiny details in the centralized system and tag the features to the specific property. When you search a property according to the requirements of your clients you get all the needed data right before your eyes. Finally, according to your client's preferences you can select a property for them and arrange a site visit.
Property Location
Where a particular property is located, is of utmost importance. This record will help you search properties location wise. But such a location filter is not available in an excel sheet. In our real estate agency CRM, we have incorporated this filter to make your job easier. You need not have to call up several brokers and find out in which location what properties are available.
Property Owner
Just like a bank cashier deals with a lot of cash every day but does not own it. You in a similar way deal with numerous properties which you do not own. You are a medium of contact between the sellers and buyers. So, it is very important for you to keep records of which property belongs to whom. Without a CRM you might be lost in the sea of data and can never find out relevant data in the time of need.
To manage all these pain points, you need an industry specific system where you can easily maintain all the information in a central location. For example, the Real Estate Agency CRM system can give you the required visibility and accessibility to get the correct information as and when required. Here's some screenshots that shows how the data can be stored and displayed for better readability.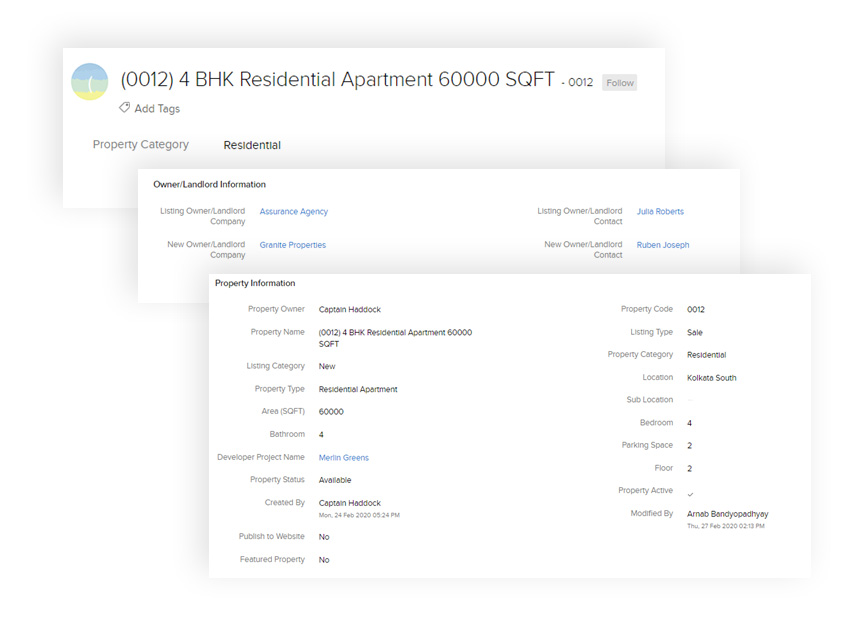 Simplified Lead Management
Your next pain point as a real estate agent is managing leads. You get two types of inquiries, leads who are looking for properties to buy or rent and leads who are willing to sell or rent their properties out. Your first concern is to differentiate these two kinds of leads. The second and equally pressing one is to track their advances into the sales cycle and to be able to monitor where they are at.
As tailored solution such as Real Estate Agency CRM does this job for you. When this is categorized and simplified, it gets easier for you to contact your leads and hold meaningful conversation with them. This increases the chances of converting leads to customers.
Generate Recommendations
When inquiry comes, it enters your database. Then finding sellers of properties according to the enquirer's requirements is a messy job. You need to look through your entire database to find a matching property. You sometimes need to call your teammates to find out if they have property suggestions. So, much pain just to match your clients' criteria!
In a similar way, when a property enters your database you need to find out buyers whose requirements exactly match with the property's features! Again, you need to scan through your excel sheets, manually go through tons of property documents in your office to find a match. Such a complicated task!
Real Estate Agency CRM is designed in such a way that you can create property recommendations in just one click. This feature enables you to find properties for your clients according to their specific requirements by just one click as well.
This enables you to match the properties with perspective buyers and vice versa. This is a crucial feature which you do not want to miss out on!

Manage commission
Commission is the bread and butter of real estate agencies. In order to generate invoices, you need to have a clear idea about whom to charge the commissions from. You can either charge the sellers after they sell off their property or charge the buyers. Sometimes, you can charge commissions from both. When you have all the data about your customers you can make the right choices and charge commissions wisely!
With the help of the Real Estate Agency CRM you can easily keep track whom to invoice for the commission. Here's how this information can be pulled from the system!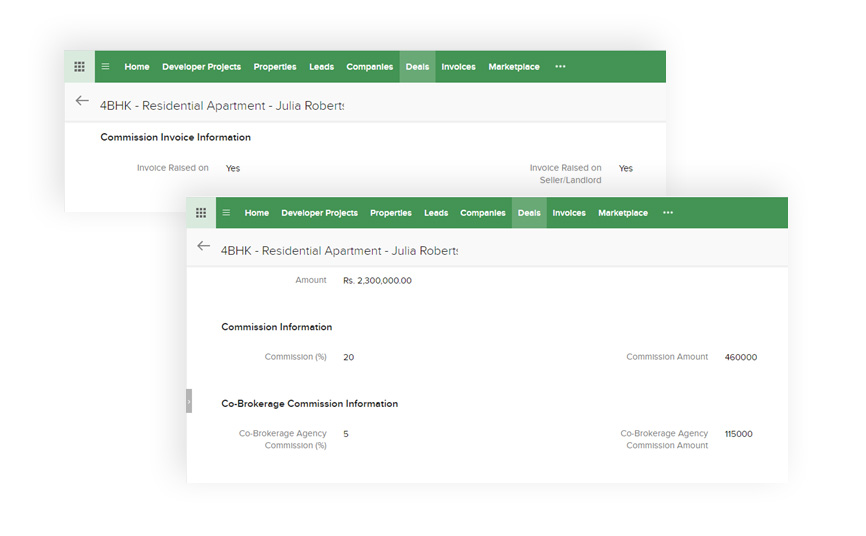 Manage Tasks
For a real estate agency, sales cycles are much longer. From the time of getting a new lead to closing the deal you need to perform multiple tasks. Buying and selling property involves several steps.
You need to take your clients to multiple site visits, sit with your clients to understand what are their requirements, hold several meetings with them to note down every detailed criteria, keep a track of all email conversations with your clients, go through all the property documents and discuss it with your clients and conduct multiple follow-ups with your clients.
Now how do you manage all these tasks in a better way? How do you assure utmost care and attention to your clients?
You miss one site visit you lose an opportunity to convert a lead to customer. You miss one follow-up and you lose your client and business opportunity!
Keeping in touch with existing customers is equally important. The reason is simple if your customers are happy with your services and dedication then they will refer your agency to other people as well.
If you wish to survive in this competitive market and get ahead of your competitors, you must pay attention to your customers' requirements and ultimately their satisfaction.
So, how to achieve the above goals?
Simple!
By providing your clients with what they are looking for.
In order to avoid mistakes and messed up situations you can create tasks for yourself (as well as your employees) in the CRM system, you can schedule follow-ups with your clients, schedule meetings, arrange site visit dates and so much more.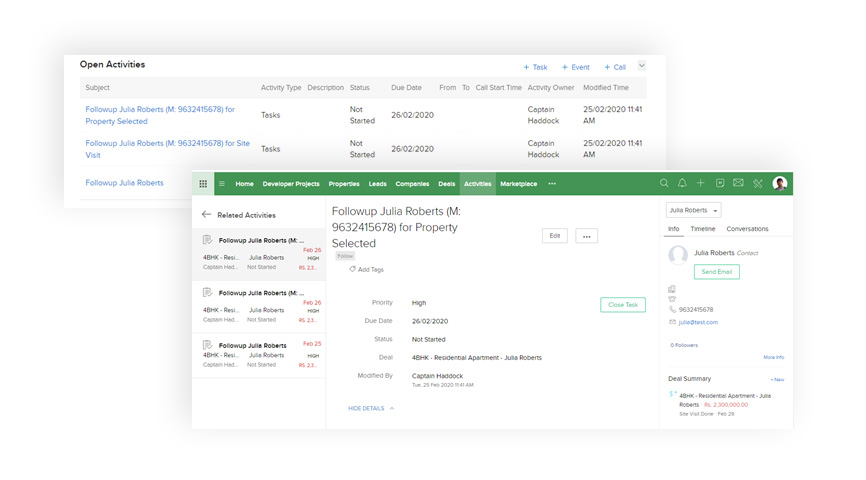 Feedback
After the property site visits comes the feedback part. Collecting feedback from your customers gives you proper understanding of your clients' preferences. Such insights let you schedule more appropriate site visits.
Now the question arises how can you ask for feedback from your clients and where will you record those feedback?
The answer is again the same. The real estate agency CRM sends feedback forms to your clients and stores that information in the system. The information can be pulled as and when required.
Last Words
You could relate to all these pain points of your business, right? So, to remove all these obstructions you need to have a bird eye's view of all your deals and sales pipelines.
Now that you know the bottlenecks of your business please see how our tailored Real Estate Agency CRM can help you !