The Ultimate Guide To Nurture Your Leads With Travel Agency CRM
Oct 29, 2021
The global marketplace is beaming bright with the evolution of digital information management. And travel industries have walked great miles to foster their brand awareness in the virtual world. According to Statista Research Development, the tourism industry has shown considerable success in recovering from the Covid-19 aftermath. Certainly, you can expect the tourism industry to be geared up even more for 2022. So, if you want to thrive upwards in the market, a tailored Travel Agency CRM is your one-stop solution.
Business lead generation is the very first step towards growing your business. Hubspot has shown that 61% of marketers rank lead generation as their number one challenge. Now the question arises– What's a lead? A lead is a potential customer who has shown considerable interest in your services. Thus, in reality, generating leads can be tougher than it seems. Travel Agency CRM is a proven platform that can help you better manage lead generation so that you can engage and nurture them for further conversion.
But first things first, How Do You Rate Your Leads?
Rating a lead is an essential key behind a successful lead management process. Not all people or businesses will gradually become your customers. The average lead conversion rate in the travel industry, as per the recent statistics shown by Smart Insights, is 4.8%. To make it better, tourism companies need to implement their marketing strategies with diligent analysis of their leads. Thus, rating your leads is a crucial part of your business analytics as it helps your sales team prioritize accordingly. How to do that? Let's know the difference!
Hot leads are the qualified leads who are genuinely interested in your services and want to move ahead towards the closure of a trip. Once a lead successfully fulfills the BANT parameters, namely Budget, Authority, Need, and Timeframe, you can rate it as a hot lead.
Warm leads are the ones who have shown some interest in your tour packages but you're still in a fix whether this prospect could get converted. You can peddle them forward to become a hot lead by sending out personalized emails or scheduling meetings.
Cold leads are the ones who have stopped responding along the way and the communication is at a dead-end. However, there's always a chance that you can rekindle their interest in your services by email marketing.
Now let us delve deep into the ultimate guide about how you can use your Travel Agency CRM for capturing more leads and converting them into paying customers.
Use a Well-designed Website to Generate your Leads
When it comes to running a business your customers are your prime concern. An artfully crafted website that is easily accessible to decipher by your audience, can enormously attract traffic. Through the website, you can showcase pictures of your previous successful trips, tour package listings, contact information, and so on. You can also include web forms or 'Contact Us' forms where you can capture the details of the potential customers. Now, once they submit their details, Travel Agency CRM automatically stores them in your system. This trick is neat!
Leads From Live Chat
Also, you get Zoho SalesIQ to help you engage with your audience better. You can easily create a chatbot (or 'Can I help you?' box) and initiate a conversation with your traffic. You can see all the real-time visitors to your website, and track the time they are investing in your website. Made your burden lighter? We bet, we did!
Email Marketing with Travel Agency CRM
Email marketing is one of the most popular and powerful business strategies that you can use to raise your travel brand awareness. You can blindly trust your CRM tool to organize, centralize and document every touchpoint communication with your customers. So, based on their interests, preferences, likes, and dislikes, you can market popular destinations to any individual customer with a scoop of personalization via email. You can promote your brand with seasonal offers and discounts on their birthdays or anniversaries. And, also send out 'thank you' or 'safe journey' emails with creative custom-branded email templates.
Time to get Social
This millennial world revolves around social media. It's the "in-thing" for the new age. So how can we leave social platforms out of our marketing radar? It's a great opportunity for you to reach out across the globe, promote your brand name and generate ample leads. With social sharing, you get a chance to encourage your customers to share their experiences and collect rewarding responses to show off on your landing page. Two for one situation, great!
Effectively Nurture your Leads
When you're equipped with Travel Agency CRM, know that your personalization tactics are sticking to the north. To convert your lead into a potential trip you can schedule meetings and calls for follow-up. Now handling it all by yourself can be tiresome. So, you can assign any particular team member to move ahead with the process. You can mention them for a task and they'll be instantly notified.
Design an Effective Sales Pipeline
With Travel Agency CRM, you get a well-formatted sales pipeline that can result in effective optimization. A sales pipeline or a sales funnel usually illustrates a customer's journey. It helps you visualize every step of your customer's progress in the purchasing process. So when you proceed with a specific trip, you can see the automated trip stages. You don't even need to think about your next step, your CRM system will take you to the next level. Super cool!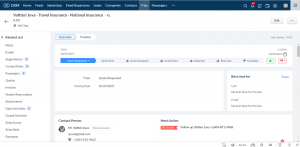 Chalk out your Target Audience
Understanding the target audience for your travel brand is indeed the toughest job of all. For starters, you need to establish the selling points of your agency. Let's say, a brief about the travel services that you offer, the USP that makes your brand better than others, visual representations, and so on.
Travel Agency CRM plays a powerful role in targeting your audience. As it documents all your customer databases in a streamlined manner, you can easily access them to evaluate your existing customers. Once you keep all that information centralized and handy, you can boost your sales process. You can send out aesthetically designed campaigns for peddling other destinations based on their previous experiences. And, once you do this, your CRM software will be able to track whether your messages have been opened by your customers, in other words, their response patterns.
Seek out Rewarding Testimonials
Satisfying your customers and strengthening your customer base is your ultimate goal. We understand. And, that is exactly why we bring you the chance of earning winsome testimonials from your clients. With Travel Agency CRM, you can send testimonial requests to them with one click and once they submit their response, it instantly gets collected in your system. Also, you can feature their endorsements on your website to encourage more traffic. After all, if you have it, you must flaunt it!
To wrap things up,
We know that you've given the best for your business. And unquestionably, you want to expand it even more. So, when you implement the abundant features that Travel Agency CRM comes with, you are bound to succeed. We have helped 700+ businesses grow so far. Your's could be the next one, for sure!
Watch this factual video down below about how you can carry through these ideas for your business and take it to astounding heights.
Click on this link to know more. Don't wait up!