Training Provider CRM: How to Manage Enrolments Effectively
Apr 25, 2021
Enrolment management is the bloodline of every Training Provider business. It is one of the crucial functionalities based on which the company stands. In this blog we'll see how the Training Provider CRM can help you meet all the challenges in enrolment management.  
The Training Providing industry is ever-increasing and has gone up to 169.4 billion USD in the US, according to the latest data. With the growing corporate sector all over the world, people are interested to upskill their employees.
Even employees are pretty excited to learn something new that would help them to reach an advanced level. 68% of the labour force stated that they are eager to participate in training which is provided by their company.
The industry is thriving and only with the right CRM solution can it survive in this competitive environment. 
Today, we are going to talk about ways to run smoothly with your Enrolment Management and stay top-notch with your Training Provider company.
Let's take a look at how a tailored Training Provider CRM can overcome the challenges faced in enrolment management. 
Overcoming Challenges and Creating an Efficient Enrolment Process With Training Provider CRM 
Managing Details
Remember the times when you had kept all the details of your enrolments in the form of a table or arranged it beautifully in a file, but somehow couldn't get hold of it when you wanted to?  Managing myriad data in an uncluttered manner has always been one of the greatest challenges f or any training provider. 
Well, this challenge can be resolved if you use a tailored CRM for training providers where all your enrolment details are centrally stored and organized. And you can access them as and when you want, from any device with internet connection.  
The Training Provider CRM allows you to capture all the necessary information in a precise manner at the enrolment module, from where you can delve into further details.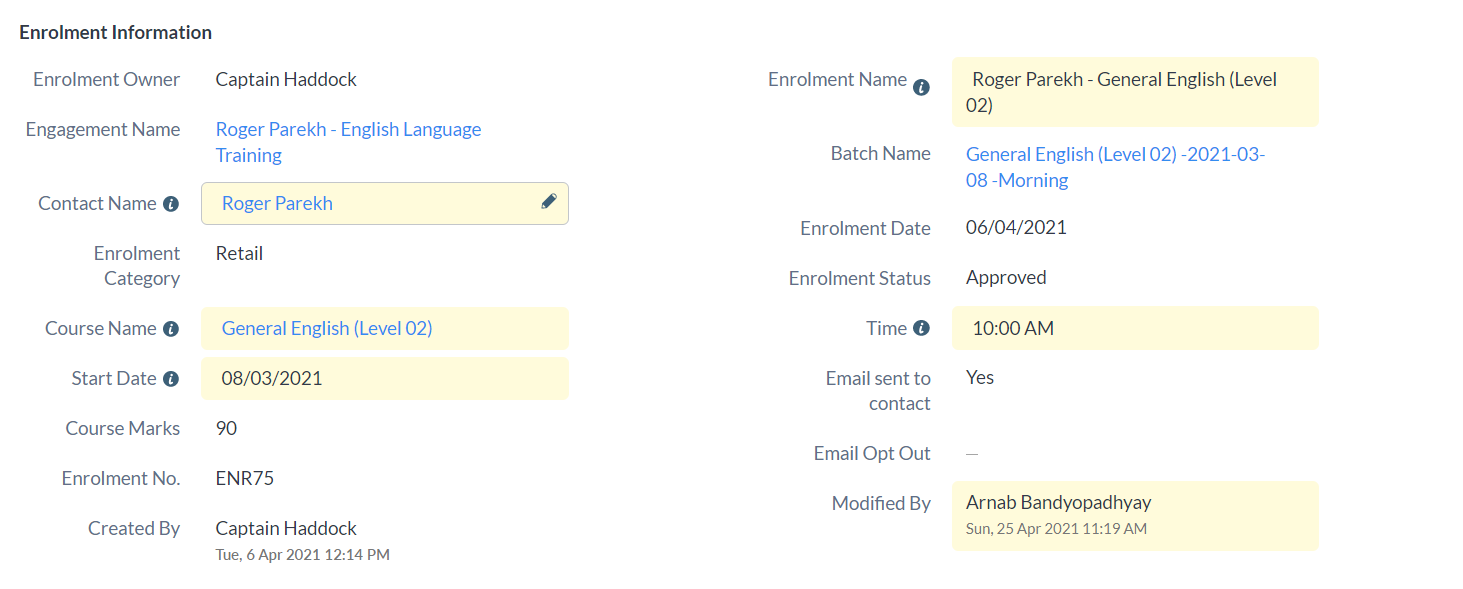 As and when you need, you can simply search by the Contact Name, enrolment name or enrolment no and you've all the information you need on your finger-tips. This not only helps you in managing your business better, but also makes it possible to run different marketing campaigns based on the courses your students have taken, their reasons for taking the course etc.
Managing Multiple Enrolments for One Engagement
Suppose a corporate client wants six of its employees to engage in six different courses each. The contact person is the manager who isn't one of the participants. So, how will you arrange the whole engagement?
Or maybe an individual student purchased multiple courses at one go. Now you have to enrol him/her for these courses in different timings, batches etc.
Keeping track of these details often pose a challenge to a Training Provider.
The Training Provider CRM makes this as easy as a pie for you. Just create the engagement under the respective name. And you can create multiple enrolment under the same. You can easily navigate to the Enrolment module from the related list in the left panel.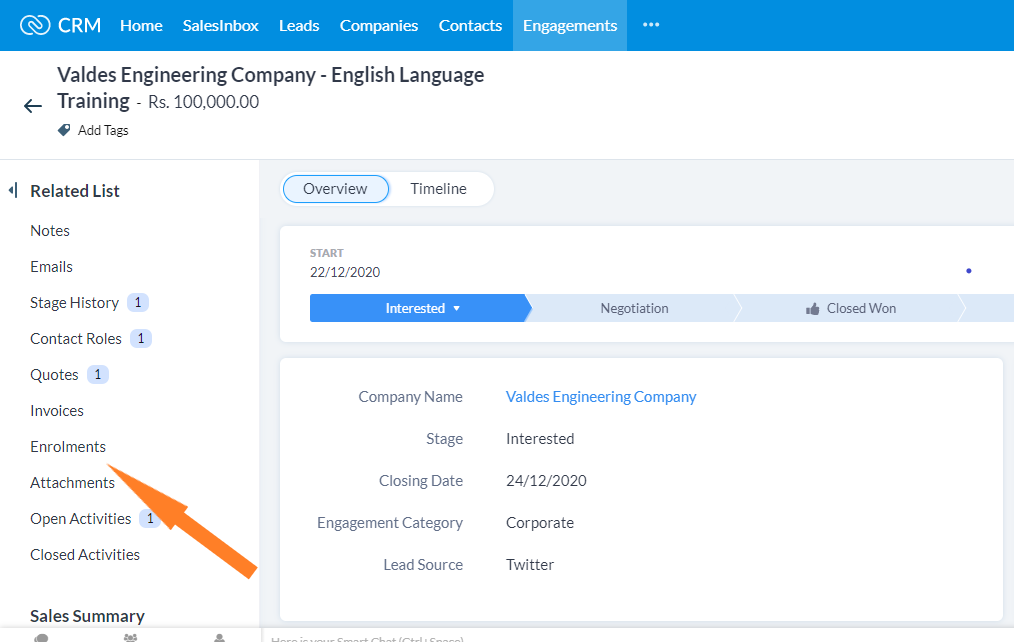 Now, you can add new enrolments to each of the candidates one by one. Or for individual students, you can create a new enrolment for each course they've opted in.  Let us see how.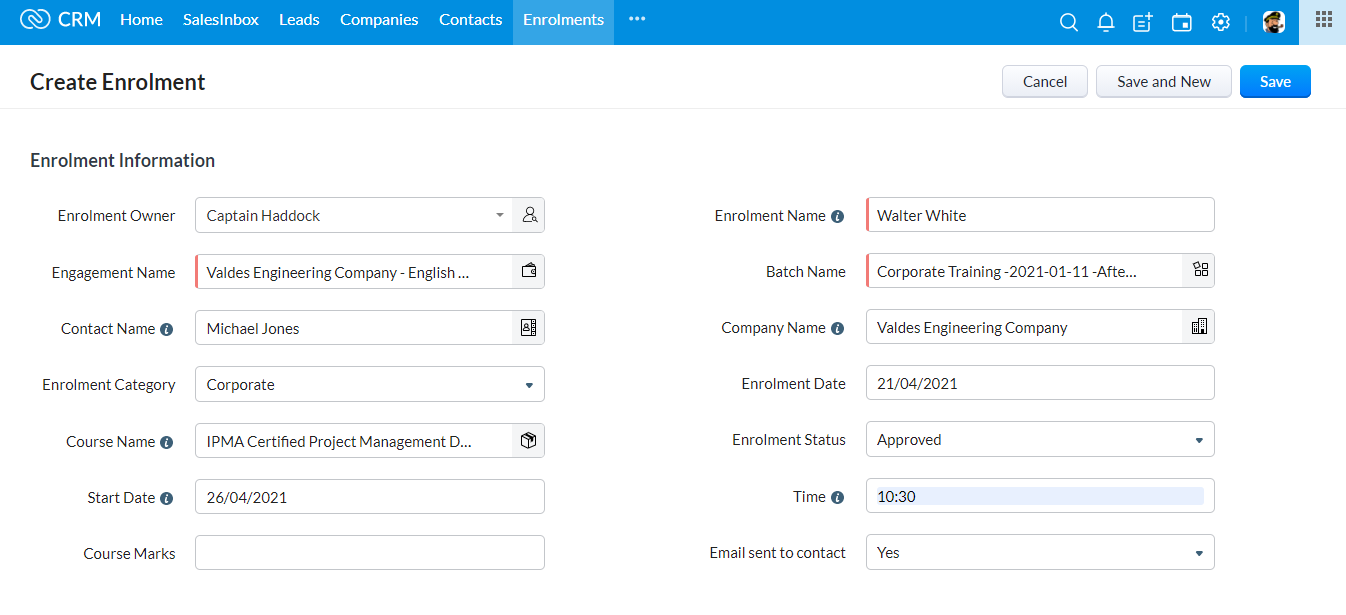 Once you've entered all the details carefully, you can save the enrolment.
Keep on adding all the enrolments in the same process. Once you're finished updating the enrolments, you will find that when you open your engagement contact it'll show the number of enrolments attached to it.
Here, as you can see multiple enrolments pursuing different courses have been created under the same engagement.  

Effective Batch Management
Batch management is a huge task for any Training Providing company. Selecting the instructors and adjusting their class timings so that none of the batches clash or enrolling the correct number of students and maintaining parity between batches and many other factors are to be kept in mind to think through. 
But the Training Provider CRM makes it all super easy! Let's see how.
You can house all your training batches in the Batches module. The list view lets you see all crucial details like name of the batch, start date, end date etc at a glace. For your convenience, you can filter out the batches by course, instructors etc.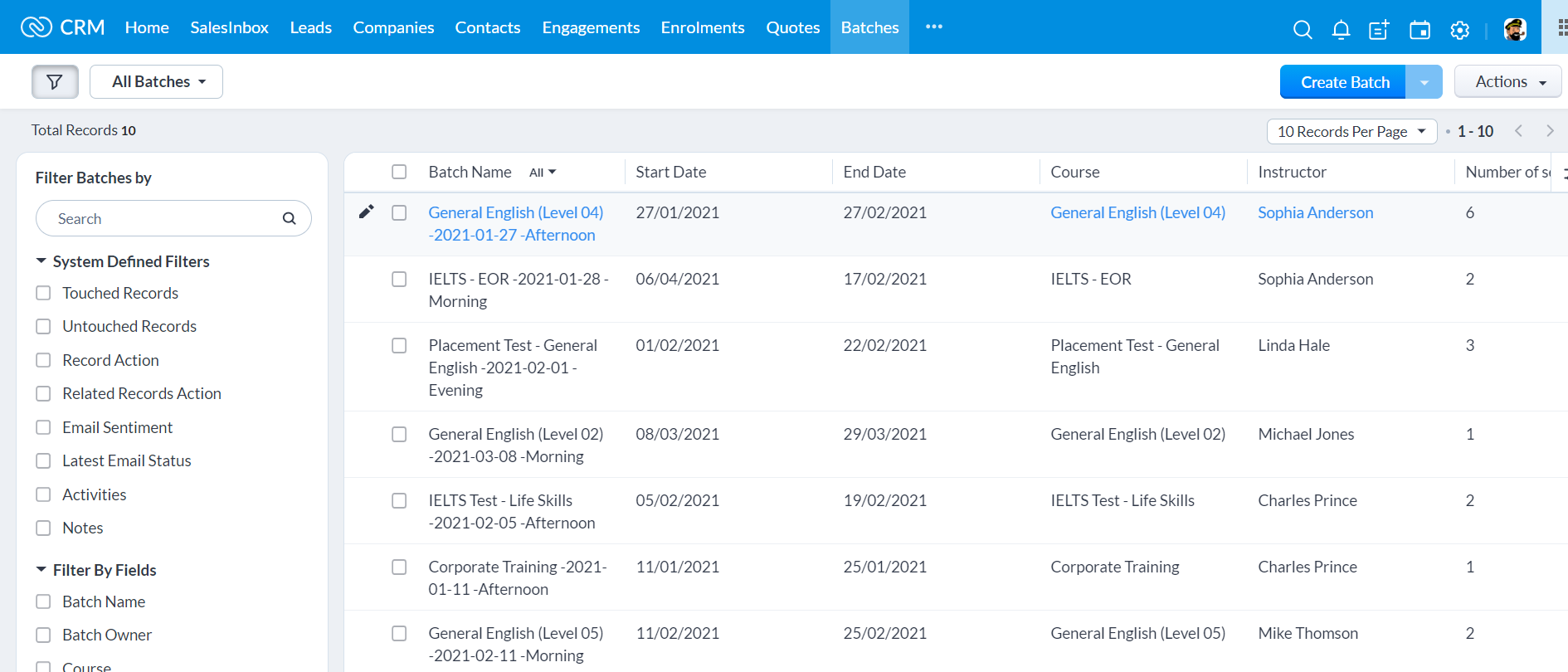 Once you click on any batch you'll find all the details for that particular batch in one place. From start date, timing of the classes, to number seats available, all details are in neatly listed here. So, once you get an enquiry, you can quickly see how many seats are available in which batch. This way, you'll never over-book your classes. 

Not only this, you can see all enrolments you take for a particular batch here. In case, there's any update you want to send to all the participants in this Batch, you can do this easily.
One-click Certificate Generation
Oh, what a hassle it is to prepare a proper hard copy of the certificates. Sometimes the signatories are not available for signing those, or a former candidate wants a new one as he or she has lost the original copy. 
To keep you from all these irrelevant repetitive problems, a Training provider CRM has found the best solution for you.
With just one click you can generate a certificate and directly mail it to the candidate or print it and give it to them. 
Let's see how it works. 
Go to the enrolment whose certificate you want to generate. From the top-right dropdown menu click on Mail Merge.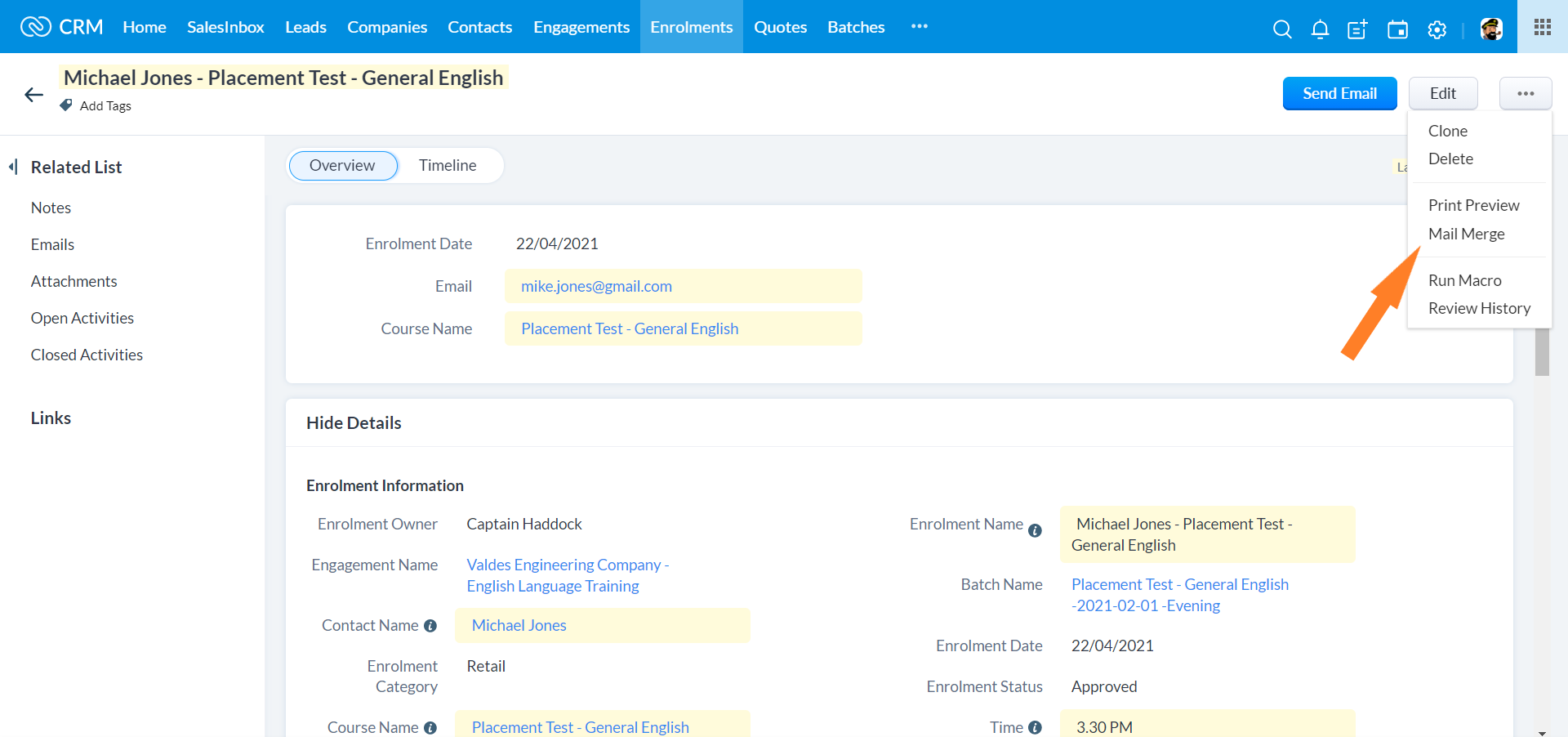 You can then select the Certificate template and click on Merge.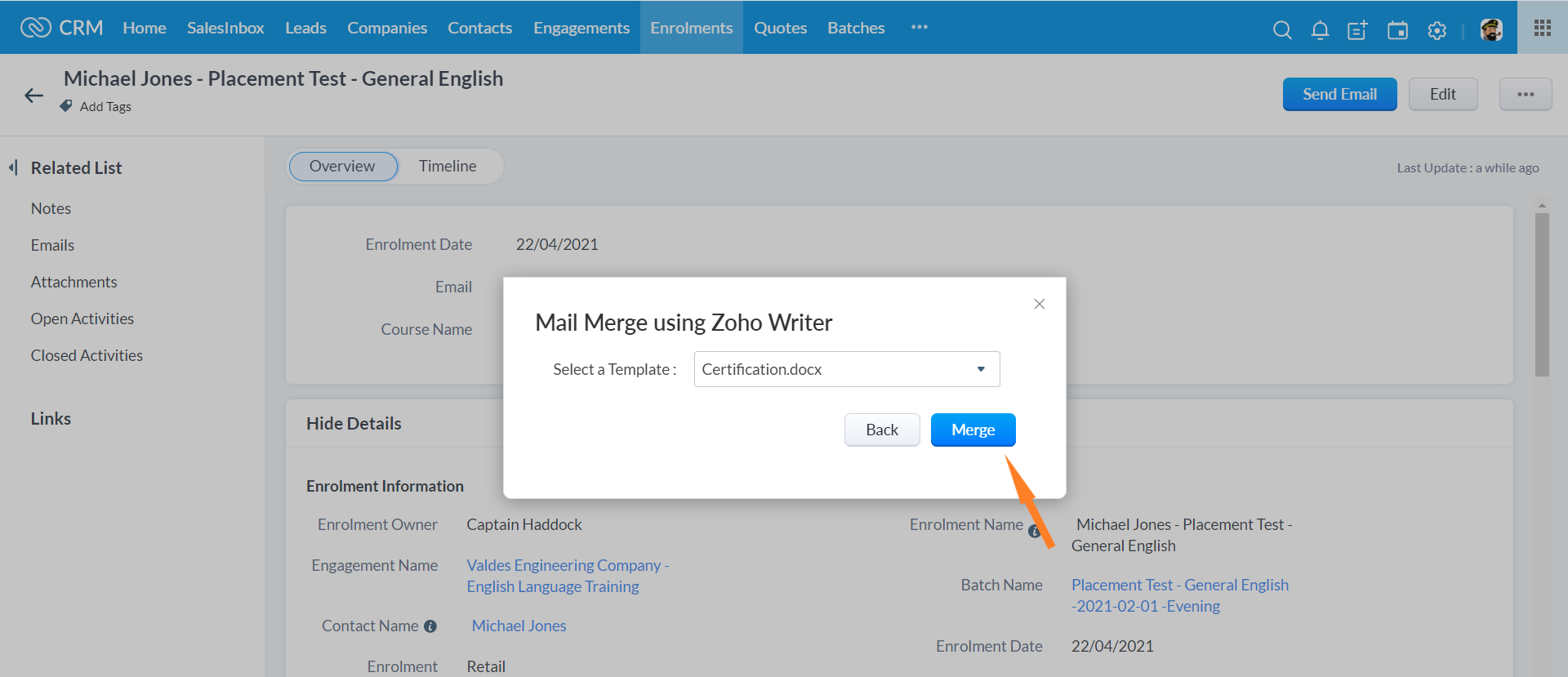 The system takes data from the record level, merges the same with your pre-built certificate template and generate a beautiful certificate in less than 60 seconds. How cool is that!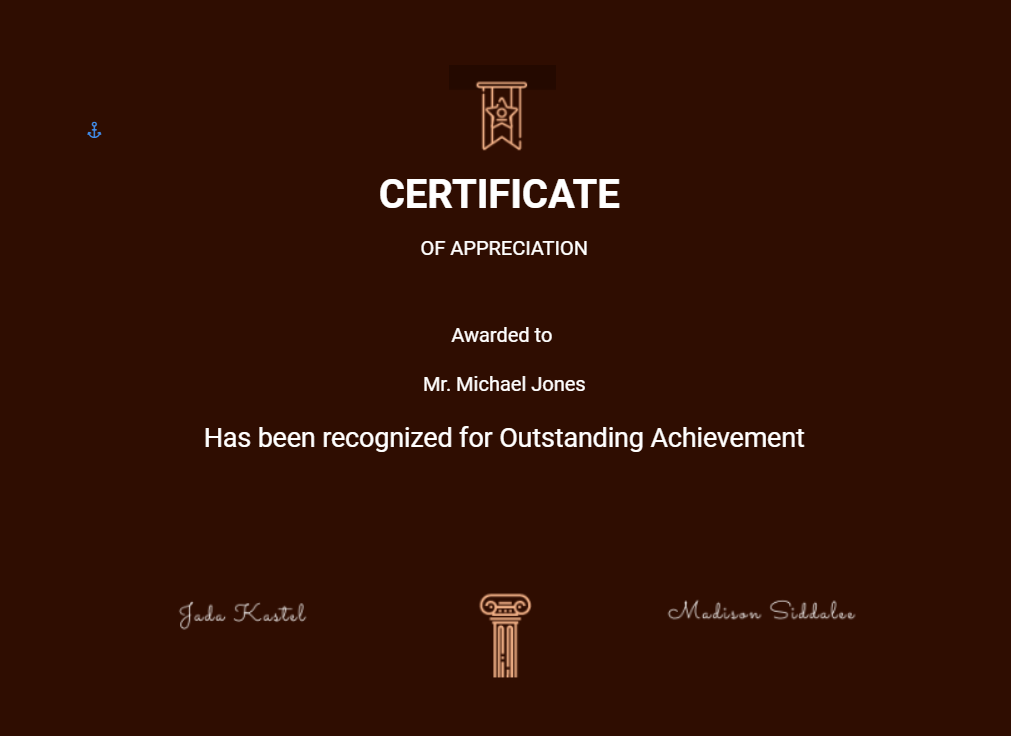 Conclusion
It is curious how such minute basic functionalities in a business profoundly affect both the business and their clients.
Upskilling is a popular trend today and companies are constantly looking for ways to upskill their employees. 
Utilize this opportunity and streamline your enrolment management with the help of the Training Provider CRM, built on top of award-winning Zoho CRM. 
Moreover, this ready to install solution comes at an affordable price and can be availed from any electronic device. 
To know more about the Training Provider CRM, come and consult with an expert for a No-Obligation demonstration.