Training Provider CRM Is All About Boosting Business Productivity: Learn How
May 30, 2022
You know it's obvious when you start a business, you will naturally tend to improve your overall productivity for making better profits. So you see, productivity and profitability are directly proportional, and the only link between the two aspects is our customers. Training Provider CRM  is an expert software that helps you connect with your clients– not only as a consumer with money to spend but also as an individual with unique preferences. 
This article is solely about the 5 essential steps that help you improve overall business productivity with Training Provider CRM.
Connect Your Business With Centralized Data 
This decade demands you to be more flexible with your business. You might have to permutate and combine different strategies to improve overall productivity. Training Provider CRM makes it a cake-walk situation for you. We know that each aspect of your business is important, but you must agree that some selective ones require your discreet attention daily. The home page of our solution comprises all the crucial metrics keeping a centralized and unified space for you. Whether it is about the number of generated leads in a month, conversion rates, the number of engagements (resource-wise opportunity report) in hand, and so on. These dynamic dashboards always fill you in with real-time data analytics to help you stay updated. Moreover, you can always customize this page to match your preferences and define your datahub. Therefore, you can always make informed decisions and truly manage your business on the go.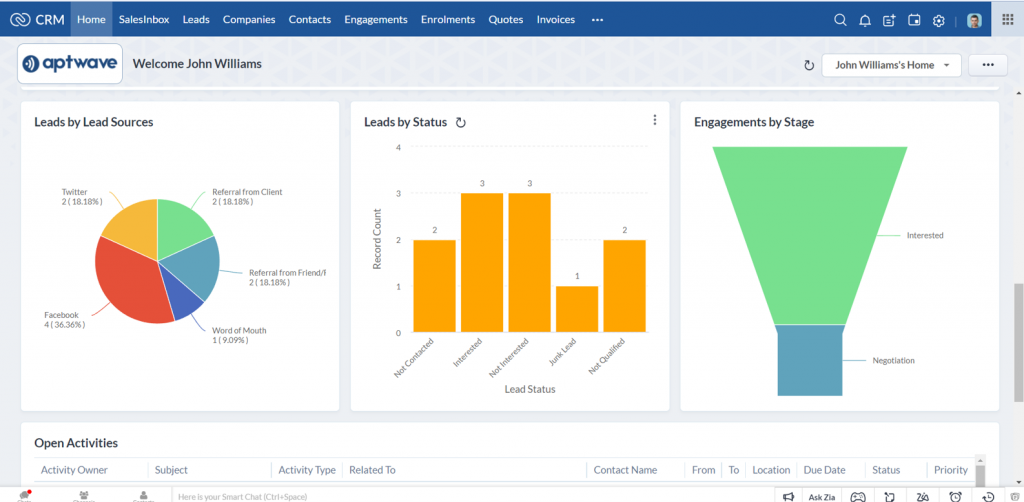 Keep An Established Workflow Process 
Every industry vertical has a particular individual workflow pattern. As a business person, you need to adjust your strategies according to fluctuating trends. However, the base of marketing, sales, and support processes needs to be in order.
Capture And Nurture Your Prospects
First, to start from the top, you need to capture an ample number of leads. As a trainer, you must have several mediums of your brand promotion. For example, websites, social media platforms, Google or newspaper advertisements, inbound calls, or referrals. Now when it comes to capturing leads simultaneously, Training Provider CRM is always at your rescue. Suppose you have an inquirer at your website browsing through different courses and gets interested in one of them. They can quickly fill in their initial details in a pre-embedded contact form to show interest and make a bridge for further communication. And viola, our CRM captures all their information and places them in a separate new lead record– all with its automation powers.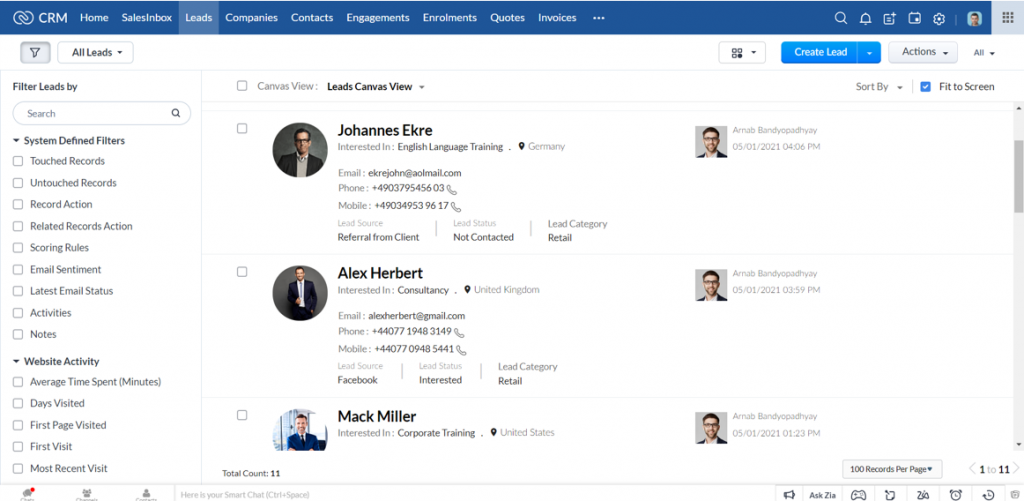 Our CRM even instantly alerts your respective teammates so that they take the lead forward which lands us on the next part– nurturing prospects. As our potential customers are already swamped with options from different brands, we need to assist them proactively before they make a purchase decision, right? So as a trainer, you can initiate different follow-up activities, schedule meetings or calls, and assign them to your team members. Most importantly, to maintain a communication flow, you can sync your calendar with your schedule or set reminders and pop-up notifications as well.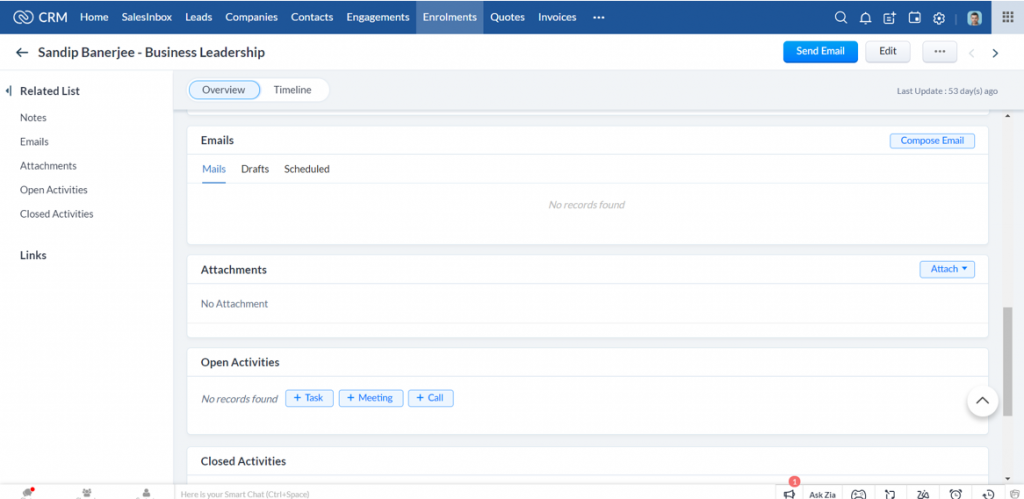 Conversion And Automated Customer Profiling 
Once you're done with the nurturing process, you can evaluate your leads' merits and convert them into contact, company (applicable only for B2B opportunities), and engagement. Our Training Provider CRM becomes real beneficial here as it automatically creates three different records under the aforementioned perspectives. So when you get inside a contact record for a particular client you can check all the contact-related information. The same pattern follows for the other two. Note, if you scroll down a little you can see the company and engagement in the related list and when you click on any of them, our CRM directly takes you to the dedicated record. These modules are interlinked in the simplest way possible!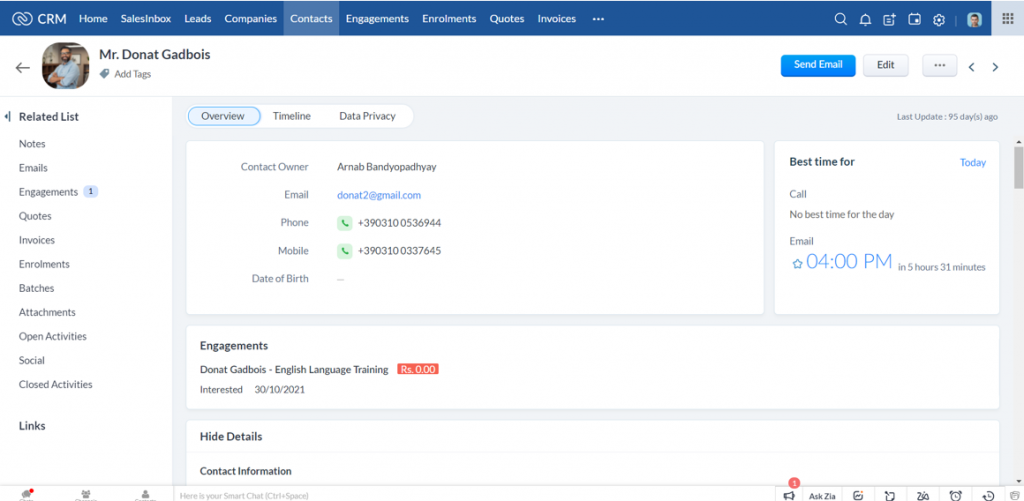 Ready-Made Sales Pipeline
Our CRM solution for trainers is truly a complete, all-in-one software that you can possibly need. Why? Based on your industry vertical, the solution comes equipped with a ready-made sales pipeline for your advantage. It includes all the stages to cover your entire sales process. Moreover, it updates itself after a customer completes his/her previous stage. Therefore, on one hand, your sales team does not even have to wonder about what their next step will be. And on the other hand, they can resume the process right from where they left off. A next-level advancement, won't you agree?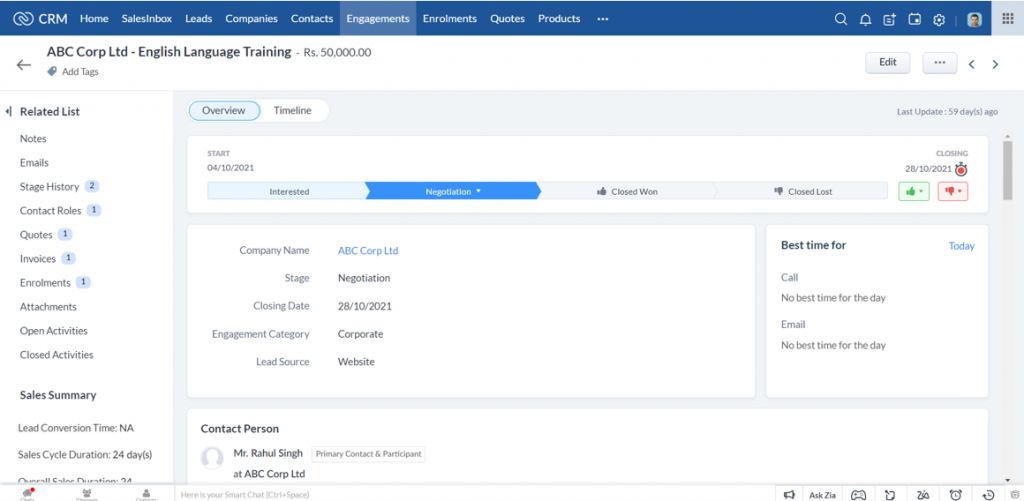 Engage Your Customers 
Since customers are the focal point of your business, engaging them with subtle marketing tactics can never run out of fashion. For both the pre-sales and post-sales stages, you need to promote your brand and engage your target audience with your posts. For the former, you already have different marketing channels. Most millennials and Gen Z are housed on social media platforms and this can be extremely beneficial for you to spread your word and acquire a larger audience. When it comes to the latter, i.e. the post-sales stage, Training Provider CRM can help you a great deal.
As the CRM solution holds every piece of information about each of your clients, you already have an upper hand. You can easily narrow down which of your contacts could be interested in which of your courses. Accordingly, you can make a list and trigger email or social media campaigns for them. You can share the latest courses that can benefit them, news about instructors, invitations to free webinars or counseling sessions, and so forth. With Training Provider CRM, you can keep a track of your customers' behavior. This means the number of likes and shares your posts received, and the click-and-view rates for retargeting your audience.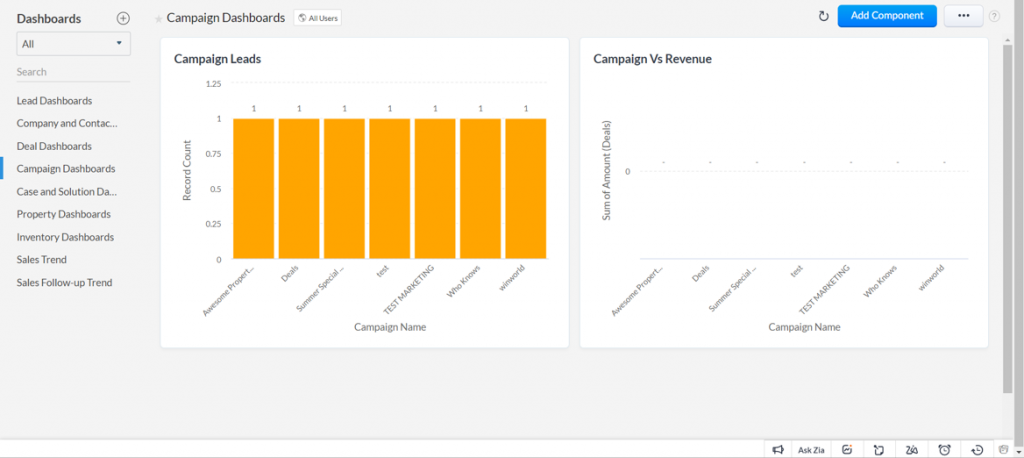 What if tell you that we have a perfect solution for engaging your customers? Yes, that's right. DocHipo is the ultimate easy-to-use software solution that comes with a vast range of pre-designed templates that you can customize consistently for creating your posts. Be it an email header, Facebook post, or an invitation to a webinar– this software has it all. 

Ensure Customer Loyalty
When you offer and deliver the best-personalized service to your clients as a trainer, it is unlikely that they would move on to other companies. But you need to assure them with constant support for ensuring their loyalty in return. Training Provider CRM helps you grow customer loyalty at a rapid pace. It lets you hone your customer needs with its gathered and streamlined information. So, when a learner receives a certificate of completion, you can instantly offer them a relevant next-level course. You can trigger newsletters or auto-responders for them to keep constant communication. The most effective one, other seasonal or exclusive discount offers, is the feedback survey. You can reach them out for their opinions, use the best ones for website testimonials and use the not-so-great ones for further improvement. This enlightens you for betterment, strengthens relationships with your customers, and thus ensures loyalty.
Implement Ideas With Data Insights 
The key takeaways of using our Training Provider CRM are the reports and dashboards. These help you take a quick glance at every aspect of your business in an organized manner. You can track your key performance indicators, monitor your each of team member's performance, and work according to the emerging marketing trends that our CRM can evidently identify. You are always filled in with real-time data analytics so that you can implement your strategies rightly, and execute them with careful planning. This is an exemplary report-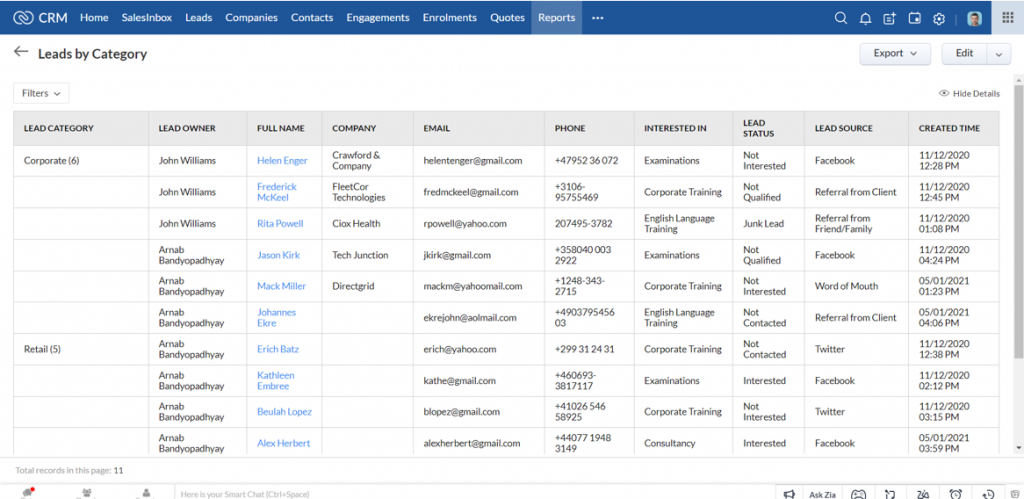 And this is what a dashboard looks like-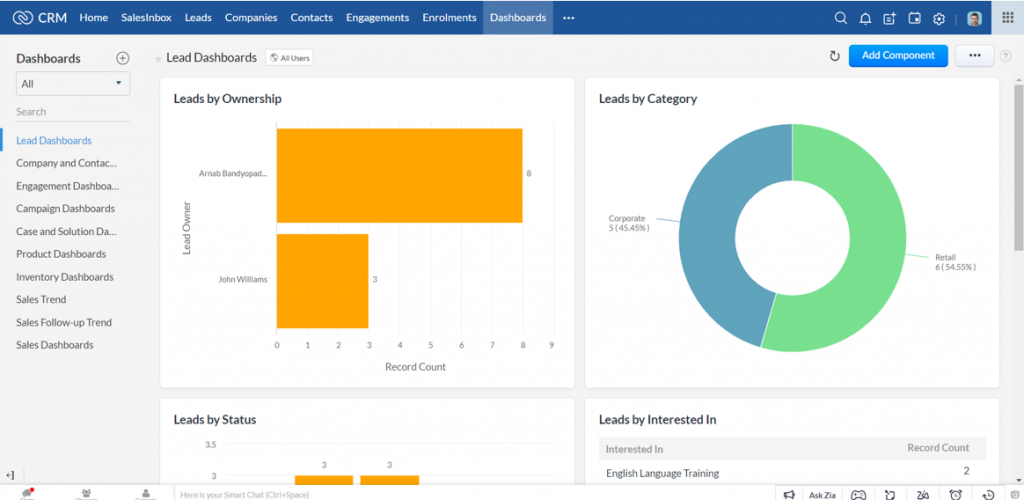 Last Words, 
Training Provider CRM is the most efficient, feature-rich, and easy-to-use solution for modern trainers. Built on the renowned Zoho platform, this cloud application can be accessed from any device, at any time, and from any part of the world. All you need is a browser to manage your business and improve overall productivity on the go!
Watch this super-amazing video to learn more about how our solution manages your entire sales process. 
So click on this information link and ace your productivity game!