Challenges in Batch Management and How Training Provider CRM Resolves the Problems
May 3, 2021
When you are running a training-providing business, you cannot ignore the fact that batch management is the most crucial task in the entire process. And it is true, that perfect management of your batch is the scaffold to enhance and grow your business in this competitive environment. In this article, we will talk about how Training Provider CRM helps you manage batches effectively.
The whole learning and development industry is undergoing a huge transformation owing to technological advancements and changing business environments, as observed by Sanjay Bhal the CEO and MD of centum Learning.
Therefore, it is a dire need to pace up with the demands of the market and upgrade your business tools from time to time.
Today we're going to discuss particularly the concept of batch management at a training providing industry, the challenges that are faced, and how to efficiently overcome them using definitive techniques.
Who Needs to Focus on Batch Management?
Well, not everybody or all those who are providing training needs to think of how they are going to manage their batches. For example, trainers who provide one-on-one classes or those who instruct only one batch, may not find it so difficult to manage them.
But this problem is common if you are handling multiple batches simultaneously. Moreover, when you have to reschedule a batch, it becomes the ultimate challenge, because you have to keep in mind so many factors before you can actually make a decision.
The batch management is most crucial for the following –
Training Providers who provide classroom training:
If you have a classroom full of learners taking offline lessons, then it is mandatory to maintain an efficient way of managing the batches. Any misconduct may result in major problems as students arrive at the center to take the classes. Overlapping of classes is one of the most common issues that are faced in such institutions. And that needs to be curtailed as repeated problems degrade the image of your Training Providing business.
Online Training Providers who Offer Live Training in Batches:
As online training is becoming more popular due to its flexibility and ease of participation, the number of enrolments is also increasing. While it is important to keep in mind that each batch must have a specific capacity, you often find more people joining in or wanting to join that particular batch. This creates a disparity between batches and that sometimes leads to overlapping in the instructors' schedule. Managing batches play a very crucial role in such situations where it is essential to understand the demand of the participants as well as the orderly execution of the training process.
Challenges in Batch Management
Let us dig deeper and understand the various challenges that you might be facing in batch management.
Capacity management
This is like a pain in the neck, that no matter how much you try, it eventually does not get easier to deal with. It is strenuous to keep track of all the trainees of each batch in a spreadsheet. Updating them simultaneously is another challenge. There are fair chances of making a mistake while arranging them manually as we are all humans and not machines. But that tiny mistake can cause havoc in terms of mismanagement.
Instructor management
Instructors are the gems of your establishment whose workload needs to be taken care of, otherwise, it might hamper the quality of your training program. You must always keep an eye on their schedules and see that it doesn't clump. But for how many of your instructors can you monitor personally? It becomes a very difficult job to keep tabs on their schedule when you already have so many batches to handle. And there is always some time when one or the other instructor is not present or one has to conduct more training programs than usual.
Identifying the Popular Batches
Identifying the popular batches is essential for you so that you can strategize accordingly and cater to the demands of the market. But picking out the course that is asked about the most can be challenging because that would require you to keep a keen eye on the candidates approaching. This is a time-consuming task at the same time quite an integral one.
Enrollment Management for each Batch
Maintaining the enrollments for each batch is a manifest function for any Training providing institution. At the same time, following a standard level of capacity in all the batches actually bring about integrity in the whole system Certainly, that is a huge task as you have to always be on foot to check that you're not over enrolling into a batch or the ones being enrolled are not having overlapping training sessions. The hassle is pertinent and you need to be very careful so as to not shake the whole process.
Communication with Participants in a Batch
The key ingredient of any successful business is when you receive and acknowledge the feedback of your clients. In this case, equitable communication with the participants of your training program becomes necessary. Sometimes that becomes a little inconvenient as there is not enough time during the session or the coordinator has his/her hands full most of the time. A more appropriate solution might help the participants of the respective batches to communicate as and when necessary.
How Training Provider CRM helps you Meet Those Challenges?
A Training Provider CRM is what you need for the smooth functioning of your batch. Here are some ways that a Training Provider CRM might help you.
Creating a Batch
Creating a batch using CRM is super easy. You need to go on to the Batches module of your CRM.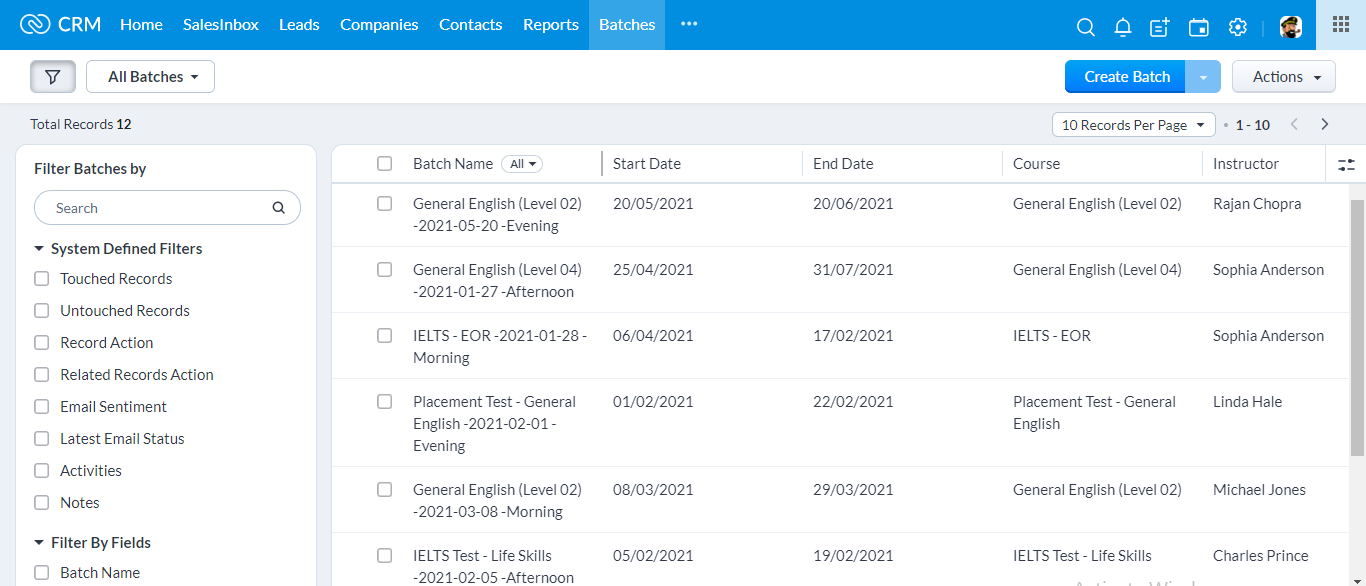 Select the Create Batch option and you will be taken to a page to fill up the details of your batch.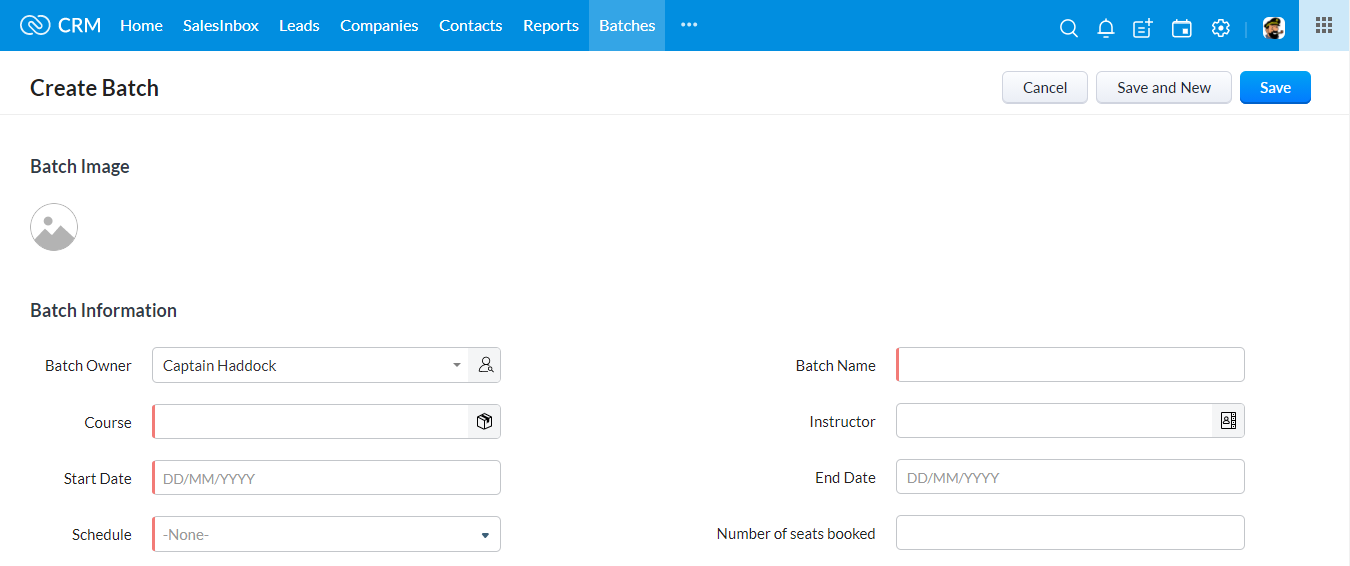 Fill out the details carefully. You can select the name of the course as well as the name of the instructor from the available list of courses and contacts. Enter the batch name, start and end date, time slot, number of days in a week, and the total number of seats for that particular batch.
Once you've created the batch it will somewhat look like this: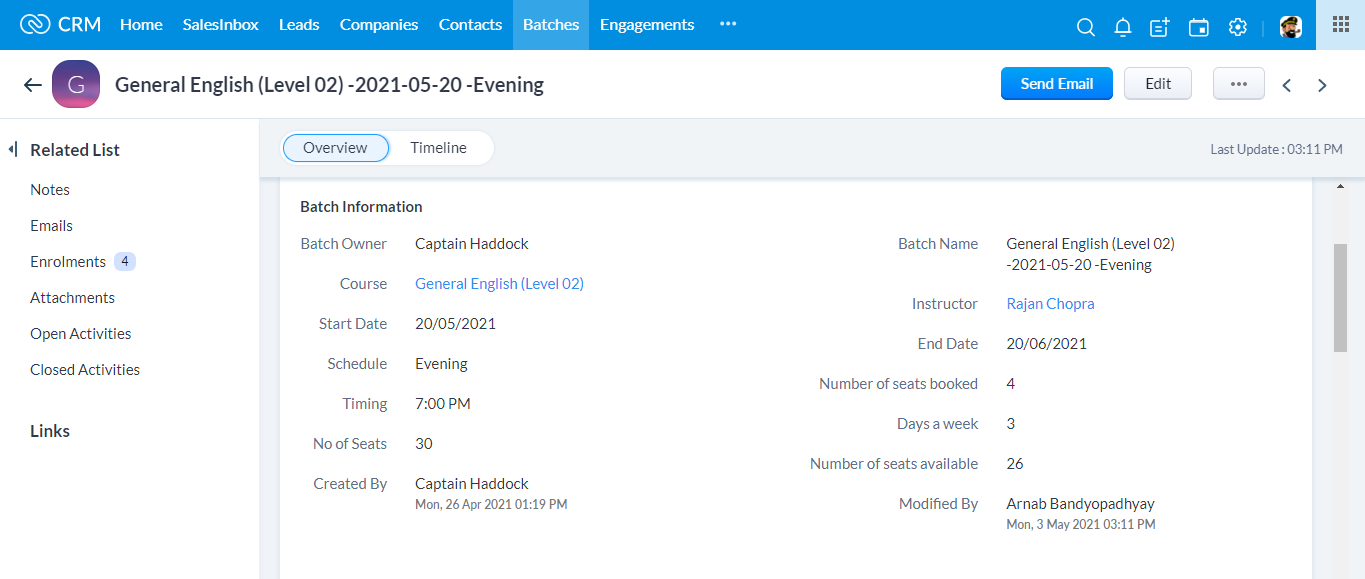 The point is to have all the information at once so that you don't have to search for each of them. Here is the list view, where you can see all of your batches at a glance with all the information related to the batch.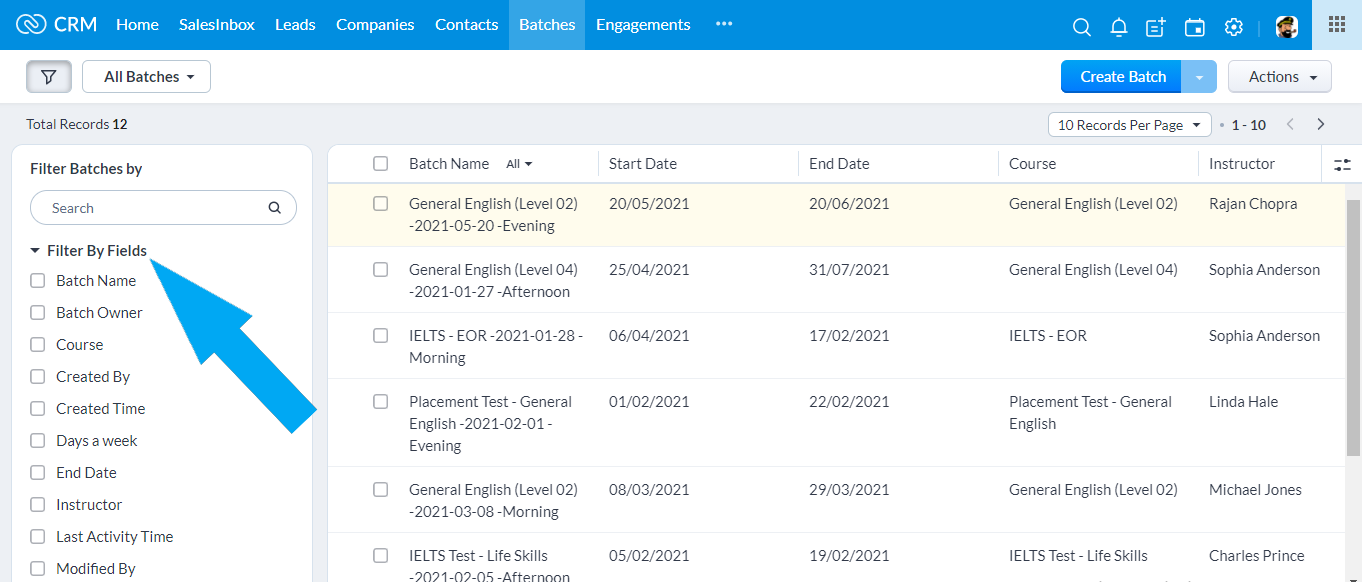 Isn't it amazing when you can look at all the details in one go? This will help you to make quicker decisions.
You can filter out the batches by batch name, owner, instructor, start date, and so on.
Creating Enrolments for Particular Batches
Adding enrolments to an engagement is particularly very easy using this CRM. You can keep track of all the participants along with extensive details within your CRM. On that note let us see how you can enroll a participant in a batch with ease.
Go to the engagement section of your Training Provider CRM. Select the engagement under whom you want to create the enrolments for particular batches.
Here I've chosen Dan Brown's engagement from the list and we can see all the details of this engagement.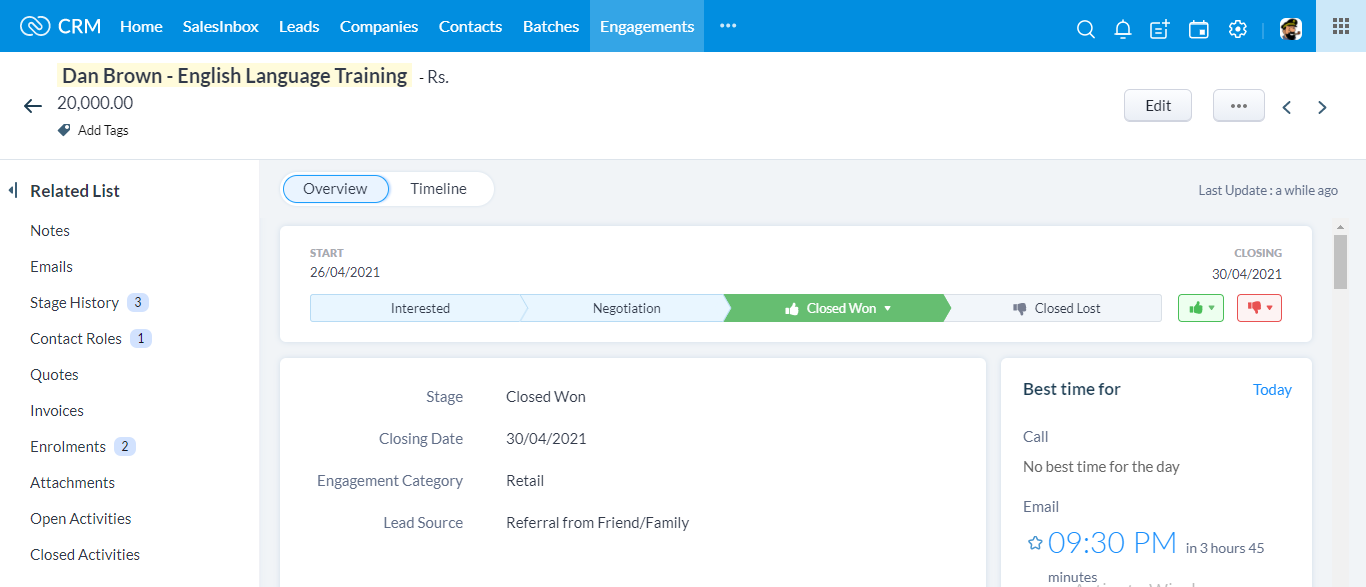 On the left-hand side, you'll notice that there's only one enrolment added to this. Let us add a few more.
Click on the enrollment option of your engagement. That will take you to this area where you can create a new enrollment.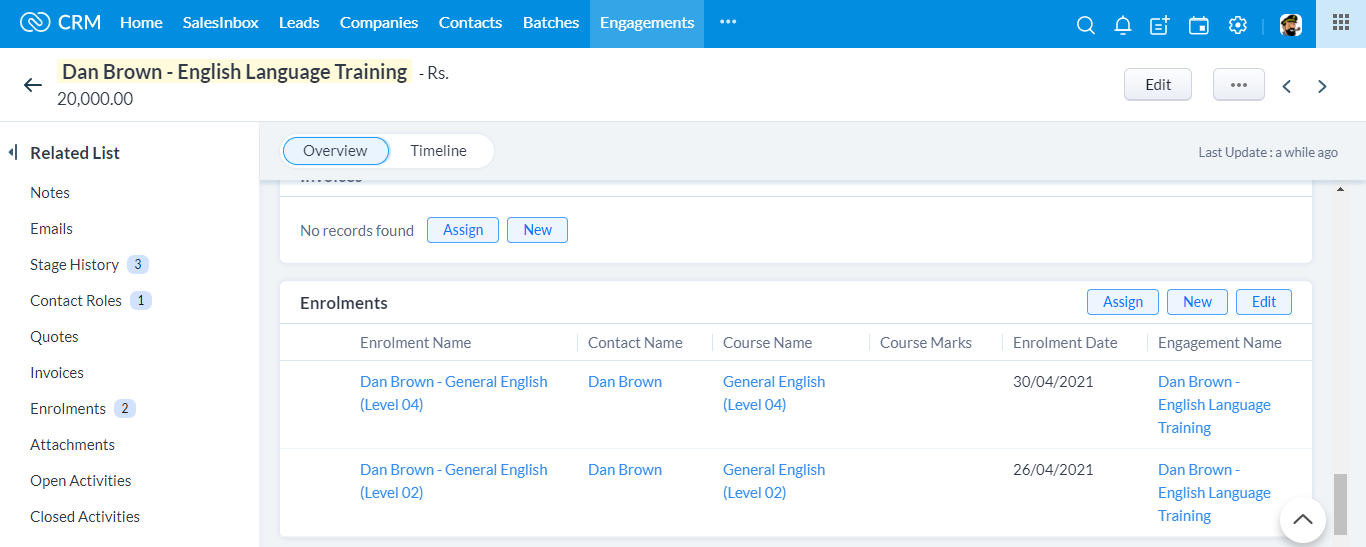 Fill out the details of the participant here. After completion save it.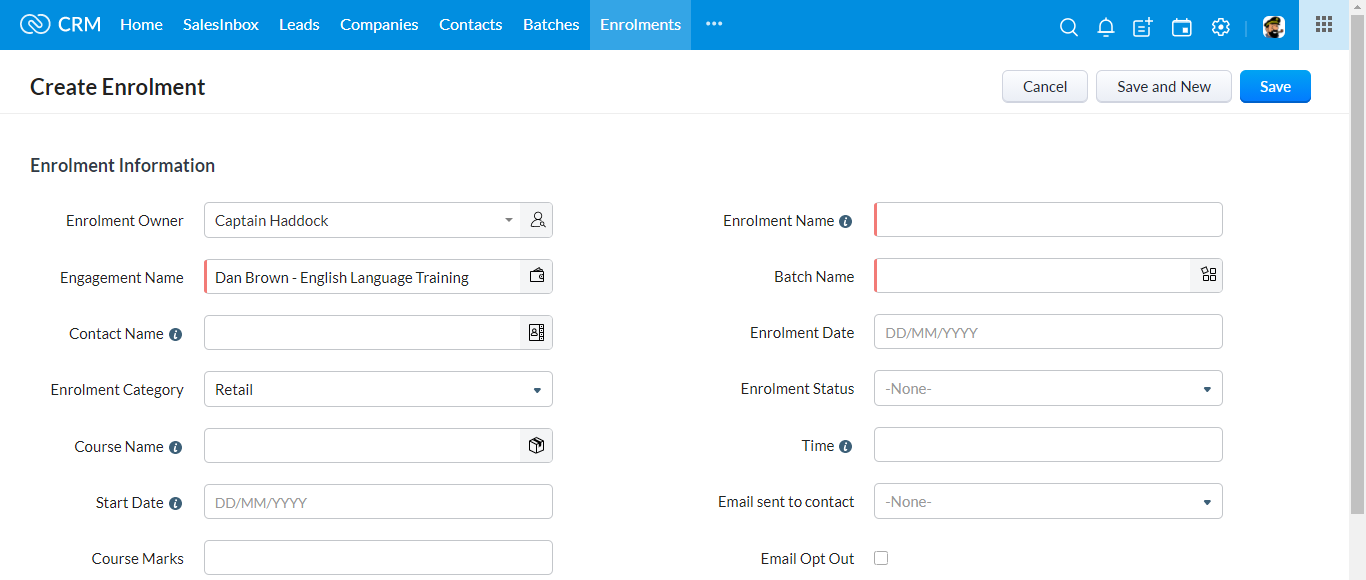 While creating enrolment you can select the batch that you are enrolling for. All other details like course name, start date, timing will populate automatically. You can then update the rest of the information like enrolment status, enrolment date, enrolment category, and complete the enrolment.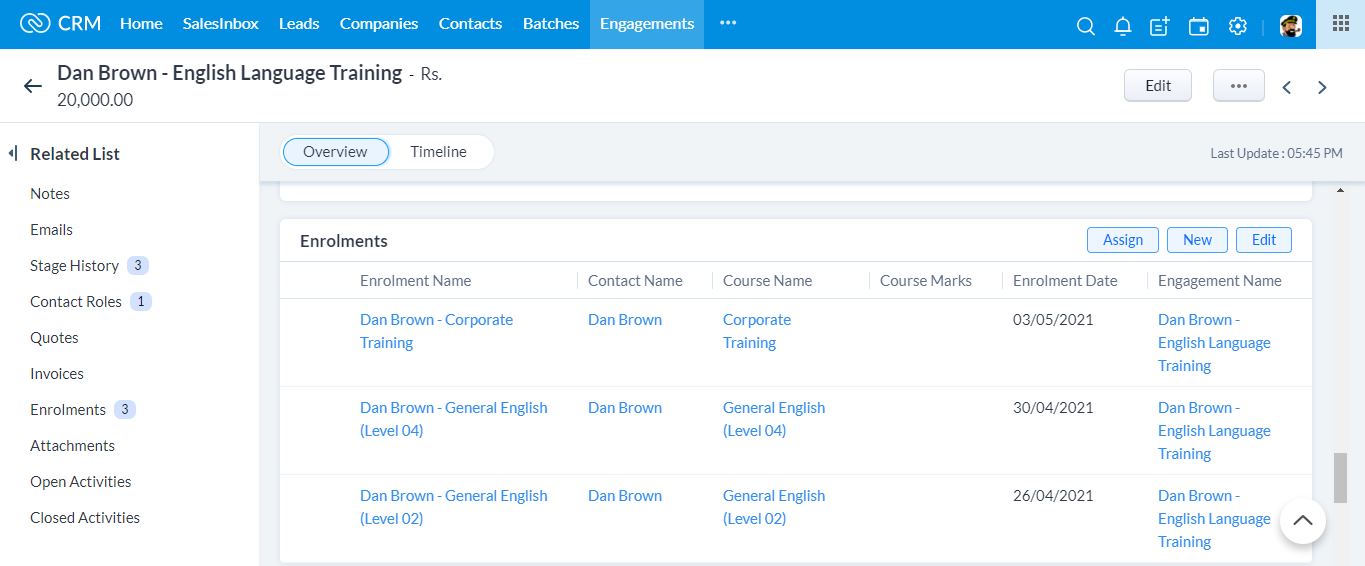 Likewise, you can create multiple enrolments with regard to the participants, each of whom can enroll in different courses of learning.
Get an Overview of the Batch
After creating the respective batches with the enrollments of the participants, you can get an overview of each batch from the Batches module of the CRM.
Select the Batches module from the top.
You will see that the number of enrolments to this batch will be displayed on the left-hand side. Click on that and you will be taken to the details of the enrollments.

Proper Reporting on Batches
A very important step in your Training Providing business is that of maintaining a proper report of the whole system so that you can evaluate your actions and take the necessary step.
The Training Provider CRM helps you to look and evaluate all the useful data via the report module.
Let us see how that works.
Go to the Reports module of the CRM and you'll be able to see all the business-critical reports.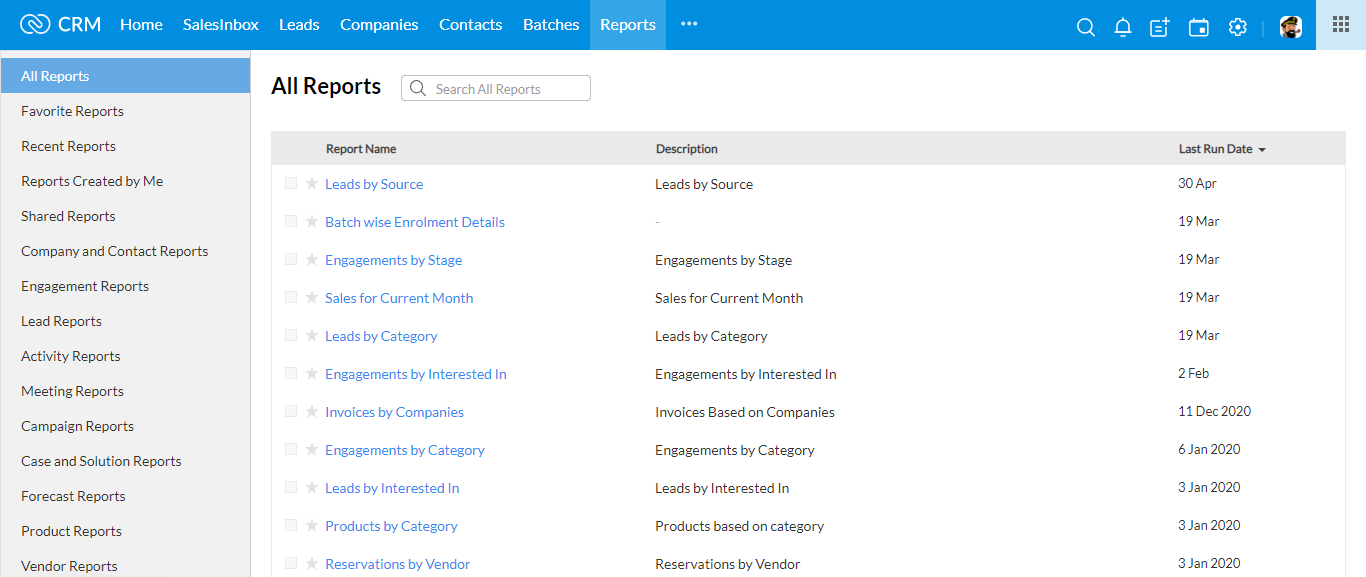 As you can see there are several matrices by which you will get an outline of all your activities. Leads by source, Batch Engagement details, Invoices, Sales of the current month, and many more such useful analysis can be obtained.

The CRM helps you to overcome the struggle of going into each important segment of the business and analyze it thoroughly. Instead, you get the whole idea pretty much from just one click.
Scalability: Batch Enhancements, Automation, and Calendar Sync
The Training Provider CRM makes batch management so easy that once you get your hands on it, it is hard to not use it. It comes with various automation tools like when you enroll in the batches the number of seats occupied gets changed.
Also, with some additional customization, you can sync your daily training sessions with your calendar. That way keeping a track of your training sessions gets easier.
The Training Provider CRM not only helps you with easy batch management but also comes with tons of features that allow you to scale up your business. To get a better understanding of the CRM check out this video.
Conclusion
Training programs are becoming more popular due to rising corporate and retail demand.
This demand makes it more worthwhile to enhance batch management and take your business to the next level.
The Training Provider CRM is totally equipped to handle the ever-growing needs of the Learning and Training industry. From capturing lead to managing batches all work smoothly with the tools of this CRM.
If you want to know more about Training Provider CRM, then simply consult with an expert.