Training Provider CRM: How To Streamline your Training Business with the Right CRM
Apr 9, 2021
Are you the owner of a training-provider company and looking for an efficient way to grow your business? 
Then you must know how the Training Providing industry is in high demand given the increasing growth of the corporate sector. In 2019, the estimated size of the training industry in the US went up to 169.4 billion USD. It is evaluated that the global corporate Training Market will be growing at a rate of 5.1% by the year 2021-2016 
Moreover, it is also noticed that 68% of employees are quite excited to participate in training programs, especially when the programs are undertaken by the company itself. 
You can take advantage of the given situation and reach your ultimate goal, only with the help of the right CRM tool.
But before that let me tell you why you need the Training Provider CRM to manage and scale your business. 
According to recent statistical data utilization of CRM in a business can increase the revenue by 41% per sales representative. And not only is it important to convert new leads but retention of the existing customers is what holds your business. 
More and more companies are using the cloud deployment method of maintaining their database, and it is also proven to be 65% easy to use. Most businesses worldwide believe that CRM is a crucial tool in achieving their revenue goals. 
In this article, we shall discuss the major challenges that a Training Provider business face on a daily basis. And, how the tailored Training Provider CRM solves this problem. 
Challenges of the Training Provider Companies
Challenges can be enjoyable when it pushes you to work harder and helps you to flourish. But it is not fair to have challenges with data management that disturb the whole functioning of your company. 
So when you have got a lot of potential leads flowing into your records or quite a few corporate meetings at hand, it becomes humanly not possible to keep up the speedy work. Moreover, there is always a chance to make mistakes, as we aren't machines, which in turn damages the reputation of the company.   
Let us quickly dig into some challenges that are faced by the Training Provider companies.
Sales Pipeline Management
The sales pipeline is a visual representation of the steps you got through while following a sale. It outlines the series of actions that a sales rep performs to convert a prospect to a customer. 
It is a lengthy process that involves a lot of communications, data exchange, negotiation, and so on. 
Sometimes, in the training-providing community, it becomes difficult because the client, corporate or retail, may want demo classes. They may even add some customization to your standard program.
Now imagine the difficulty in dealing with so many customers at the same time, who are at different stages of the sales cycles respectively. 
And if you miss out on any step, that will compromise on your deal with a potential prospect. 
So, you must adapt to a system that allows you to stay organized and shows the position of your sales process quickly. 
Enrolment Management
One of the fundamental tasks of any training-providing company is to manage the enrollments that are taking place and updating them at regular intervals.
Enrolment pipelines include everything from the initial stage to certification. It means that even when an older student or client comes up to you for another course, you won't have to dig into your files, instead, you can search the enrollment's name and get every detail at hand. 
And to point it out, there can be much trouble due to manhandling of data. 
Managing the total enrolment program is quite a tricky business. Using the correct tool can ease up the chances of getting things wrong.  
Batch Management
Maintaining the batches properly is central to any training-providing organization. Creating batches, setting their timeline, recording the number of seats are only among the few things that you need to keep in mind.
Whether the mode is online or offline, there are still many factors to keep in mind when you are running a batch. As you well know, with a limited number of experts in your hand, you have to come up with a proper timetable of whom to place where and keep a record of how many classes are each of them taking.   
Meanwhile, you cannot forget about the learners, who need to be evaluated regularly and catered to their needs. 
So batch management is quite a handful task and the chances of overstepping into one another are also very high. As you know very well how a minute mishap in your management can cause havoc.
Certificate Generation
 After completion of every course, a certificate of recognition is given to the candidate. This is the most important document for any learner, producing which he/she can claim their expertise. 
But you often get candidates who come up with the issue of losing their certificate and request you for another copy. Preparing another certificate becomes quite a hassle. 
Sometimes, you may have to wait for the supervisor to sign it, which might take days. What if there was a system where you could generate a certificate with just the click of a button? And that too as many times as you want. 
That kind of CRM would have saved so much of your time and effort.  
Proper Reporting
At the end of the day, you want to have an overall look at your activities. A proper report with all the vital information of your business visually expressed using pie charts and graphs is all you need.
Creating a good report with your own hand becomes difficult, especially at the end of each day.
You need a system that would generate reports according to sales of that month, engagement stages, leads by category, and so on.
At this point, a CRM with default generation of reports, which are automatically updated along with your system can do wonders. Moreover, the chances of the report getting messed up are very less if compared to the ones done manually. 
How Training Provider CRM Helps You in Overcoming These Challenges? 
To overcome these shortcomings of your business, you need a system that tracks, manages, and builds an efficient pipeline for all the major segments of your day-to-day work.
An efficient CRM can make all these obstacles go away and save enough of your time to look into other prospective matters of your company.
In order to grow your business, you need to work smart this time. 
Without further ado let's see how the Training Provider CRM of Zoho Business solutions can make your journey a lot smoother. 
See the Most Important Metrics with
Training Provider CRM
The Homepage of the Training provider CRM is to set-up to display the most important metrics of your business. Whether it's the Lead Source, Total Number of Enrolment in the Month, Revenue Generated by Each Salesperson or the To-Do List,  you can add the dashboards and reports to the Homepage of your Training Provider CRM. What more, you can set-up different reports and dashboards for different users in your organization. 
For example, as Director, you might want to see the details of all the enrolment and engagements in the pipeline. But, for another User, the To-List for the day might be super-critical. By setting-up the appropriate dashboards on the Homepage for each user, you can ensure that everyone gets to see what's most important, as soon as they log in to the Training Provider CRM.

Manage Your Leads Effortlessly with CRM for Training Provider 
Lead Management was never this easy!
With the Training Provider CRM in place, you can centralize all your Leads in one place. You can integrate your website contact form with this tailored CRM for Training Providers. This way you can capture all details of the enquiry into the CRM. Also automate lead capturing from Social Media with Zoho Social integration here. For leads captured offline or saved on a spreadsheet, you can add them manually or import them from your spreadsheets.
With all your leads in one place, you can filter them out by Courses Interested-in, Stages, Level of Activity or any other parameters.

Once you've captured the leads, you can further nurture them effectively by managing all your Activities minutely. Be it a follow-up task, a call or a meeting, you can log each of your activities within the CRM, set reminders (so that nothing falls through the crack) and also note down the outcome of each and every activity. This way, you have all your nurturing activities sorted, recorded centrally and ensure easy accessibility.

Effective Engagement Management Made Easy
Once your leads show interest in the courses you offer, you can convert them into Prospect Contact and create an Engagement for them. The Engagement is the financial deal you are having with your Customers. For a Corporate Lead, you would be creating an Account as well. For each of your Contacts you can create and manage multiple engagements with the Training Provider CRM.
The Engagement will go through different stages like Quote Requested, Negotiation etc and at the end you'll either Won it or Lose it. The next time the same Contact comes back to you for another course, you can simply create a new Engagement for them. This way you can keep track of all your repeat business effectively.

Manage Your Enrolment and Batches Easily
Managing Enrolments and Batches is at the heart of running a Training Provider Business. The Training Provider CRM lets you manage multiple Enrolments under one Engagements.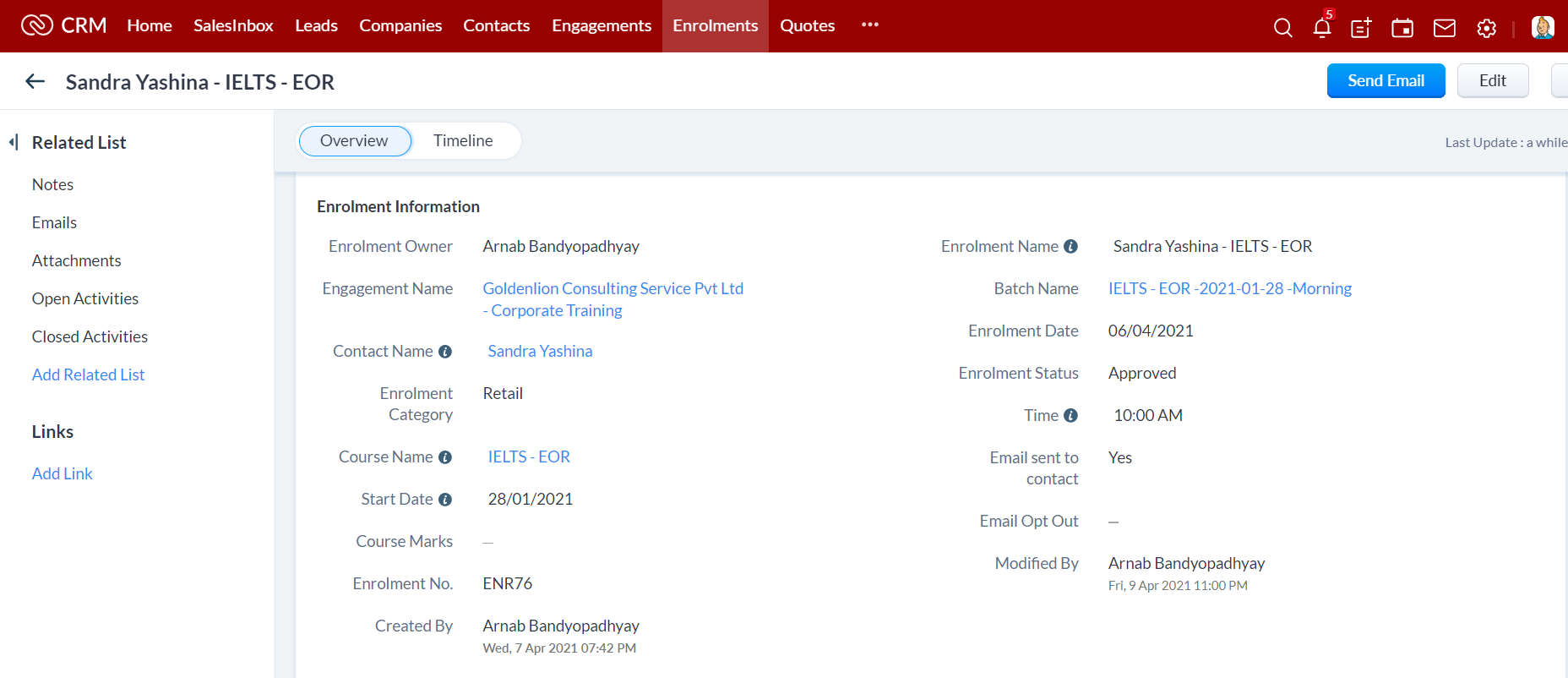 You can capture and manage all Enrolment related details within the Enrolment module. The Batches module lets you manage different training Batches. You can also assign instructors, manage seat availability for each batch in a super-easy intuitive way.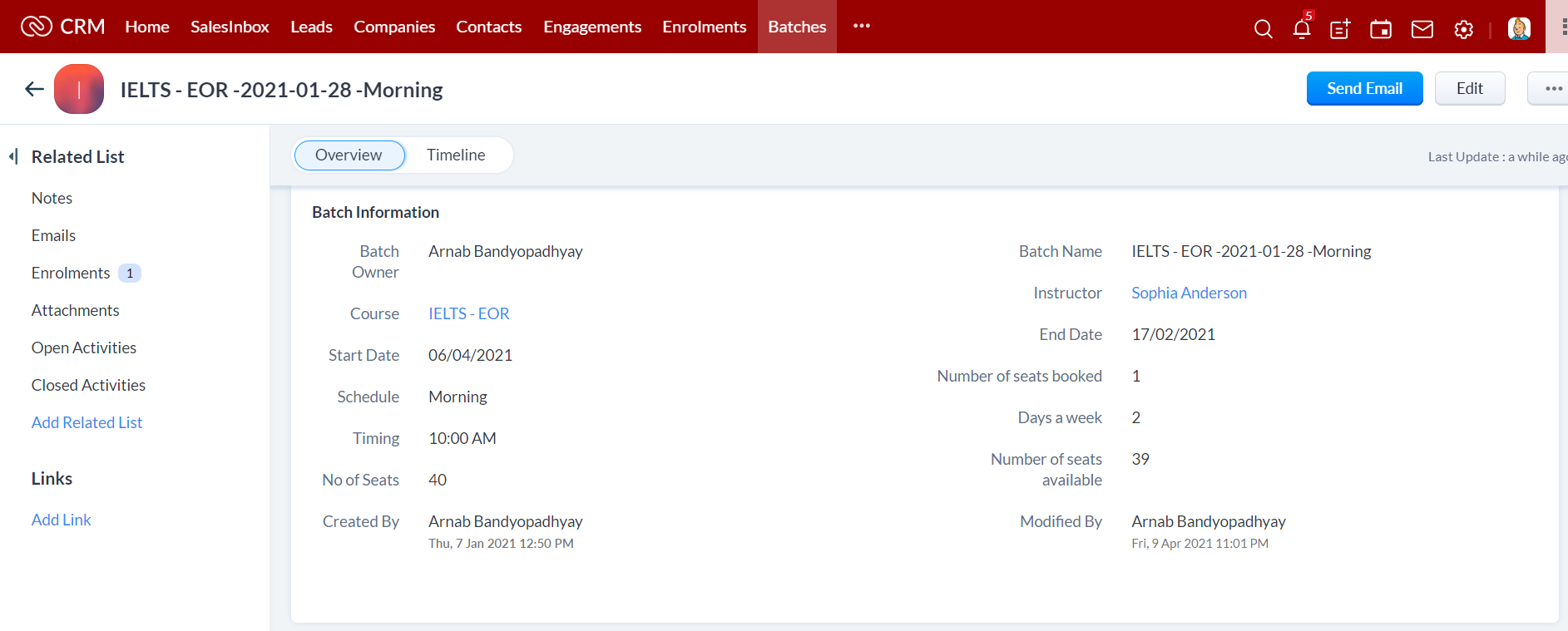 Once the Enrolment is complete, hopefully your student will passed with flying colours. Now, you can generate the Certificate with one click. This way, even if the student comes back years later and requests for a duplicate certificate, you don't have to go through any files or folders. Simply generate the Certificate again with one click!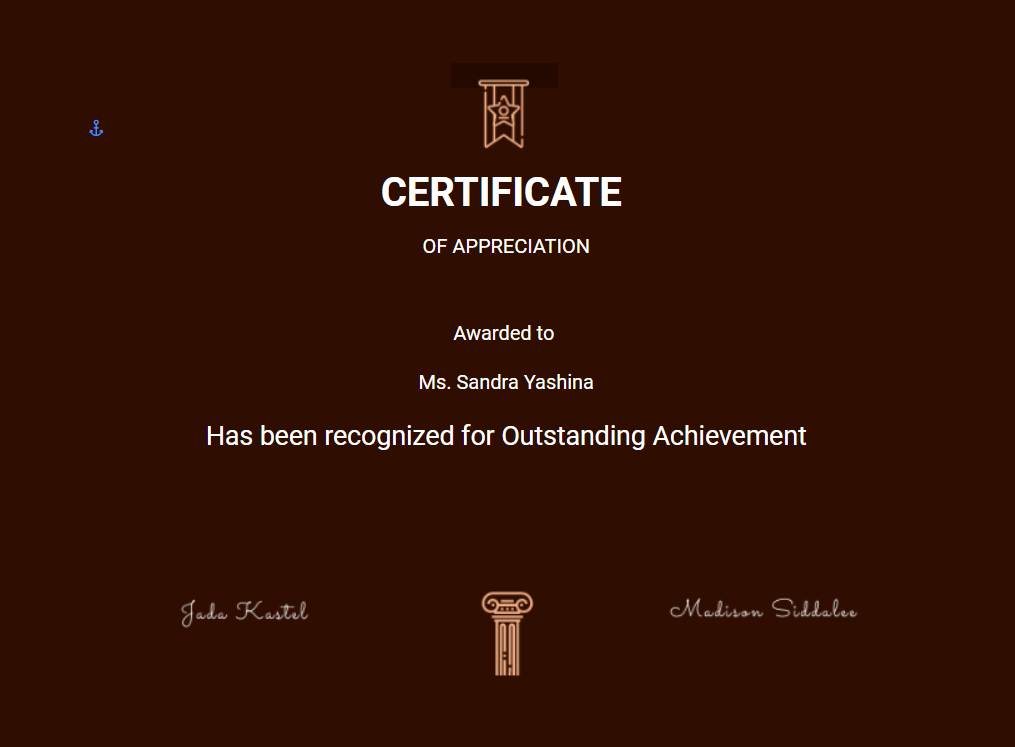 Keep a Track on the Health of  Your business with Crucial Reports and Dashboards
The Training Provider CRM comes with tons of useful reports and dashboards. These can help you keep a track of your business' health. In case, you need some more reports, you can create them easily.
Here's a video that walks you through the Training Provider CRM and it's amazing functionalities:
Conclusion: Book a Demo for The Training Provider CRM
A Training Provider's job is really exciting and quite in demand at the moment. 
Upskilling is a popular trend today. Moreover, companies are generously offering to upskill their staff. 
This is the time to utilize the opportunity of using the Training Provider CRM of Zoho and feel the ease of working.
Moreover, this CRM comes at affordable prices and can be operated via any electronic device. 
To know more about Training Provider CRM come and consult with an expert to get a complete demonstration of the Training Provider CRM.