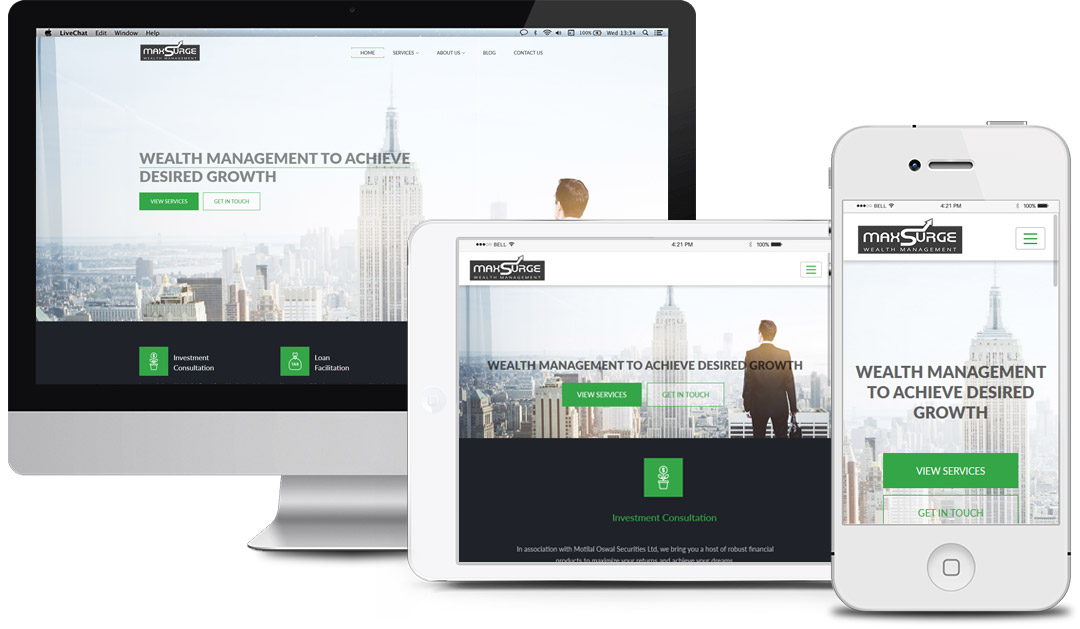 MaxSurge Wealth Management
Wealth Management Service
MaxSurge Wealth Management is a full fledged wealth management consultancy who offer expert guidance to their clients and help their financial dreams come true. The newly established business, run by veteran investment consultants and seasoned investment gurus aspire to help their clients achieve financial freedom and make their dreams come true.
When MaxSurge started their operations, they wanted to create a strong online presence from the very beginning! They wanted a website that'll be informative, engaging and keyword-rich.
GoldenLion experts understood that as a new business MaxSurge needs to attract new leads and convert them into paying customers. To achieve this objective, the website was to play a crucial role. Thus, GoldenLion developed a website that is highly user-friendly, features fully responsive design and comes with keyword rich informative content.
The website is fully dynamic and comes with a robust CMS. This way, the business can keep adding new data and keep the website updated all the time.
With this world-class SEO friendly website, GoldenLion aims at helping MaxSurge grow their business with every passing day!
Working with the team at GoldenLion has been a breath of fresh air. GoldenLion understands that I am busy, and they use their experience and expertise to make my life easier, not complicate it. VdM Consulting Group receives praise for the work that GoldenLion has done for us. This is one of the rare cases where I feel that we receive very very good value for the money we spend on the services.
Adrian Van de Mosselaer,
Principal, VdM Consulting Group
We wanted to scale our business for a very long time. We had been looking for the right partner. When we first interacted with the team of GoldenLion, we realized that they have the potential to help us with it. With my personal experience I can vouch for them. And they can be a great resource for you as well.
Pritish Shroff,
Partner, Graphic Enterprises
Team Golden Lion was entrusted to make a vibrant, business orientated and corporate-friendly website for me, my organization and my future venture. I'm extremely happy to share that their dynamic, highly professional and brilliant team not only completed the project within a challenging time frame, but they developed a vibrant website that fits my Engineering industry and aligns with my business goals perfectly. I've started seeing the magical effects in my business almost immediately. I hope GoldenLion shall touch many more professional peaks in future with their unique business approach.
Arghya Banerjee,
Managing Director, Klystron Electronics Pvt Ltd.
TRUSTED BY COMPAINES IN 30+ COUNTRIES