Why We Moved from Spreadsheet to Zoho CRM 10 Years Ago
Aug 4, 2020
It's been 10 amazing years since we ventured into the journey with Zoho to help businesses grow. Well, these years have been life-changing. The journey constantly challenged us to expand our abilities and shaped us into a world class company serving 500+ businesses in over 30+ countries today.
It was not simple!
We faced multiple challenges and had to adapt ourselves in ways in which we can give our best. Among these, the most challenging part was maintaining and operating our sales and other business processes through spreadsheets.
Sounds very familiar right?
Then, be with me, as I share what problems we faced while operating in spreadsheets, and how we solved it through the implementation of Zoho CRM systems.
Problems of Using Spreadsheet for Managing Our Business
10 years ago, when we started out, we managed our business on spreadsheets, like most businesses. And trust me, we absolutely love spreadsheets! I mean, they are handy, can be created and updated quickly, need no investment at all and can be tailored as we want! What's not to love, right?
But, as we started acquiring more and more customers, we started facing some challenges! Let's check the business areas where we were struggling.
1. Lead Nurturing
From the very beginning, GoldenLion had an inbound marketing model. Businesses would visit our website, review all the information we have there and would either schedule a meeting with us or contact us via our Contact Form. The leads from these challenges were mainly going to one particular email inbox. But, you don't just receive leads in your inbox! On any given day, you would possibly get 100 emails minimum, right? It was the same for us!
So, not only we had to identify these leads from among hundreds of emails from clients, colleagues, marketers (and of course from those funny animal videos websites), we had to manually update the leads in our spreadsheet too!
This made the lead nurturing process messy and hectic, as the identification of the leads and responding to them took time. Now and again, leads would even go unattended and would fall through the cracks.
Moreover, this inherent repetition of filling-in the spreadsheet brought in many discrepancies, which would result in miscommunication and misinformation. This was especially prominent among the team members. They would skip out on the vital data and we would get different versions of the spreadsheet updates.
2. Deal Stages Tracking
Like any B2B system implementation company, we have to address multiple touch-points in the sales cycle. Working on the spreadsheet made this difficult. Let me tell you how…
The first major challenge is that we are all human beings. Yes, we all have our limitations when we work manually on spreadsheets. Hence, tracking the deal stages through the spreadsheet seemed a humongous task. Also, data seemed to be scattered across different team members making us rely upon the other. Interdependence is good when you work jointly as a group on a project. But in this case, assembling data from different team members made the information inconsistent and unstructured.
Now, imagine a scenario where the concerned individual is absent or resigns. You are automatically at the mercy of your scouting ability to gather vital information related to sales. This interrupts and delays the next stages that you need to implement to close a sales deal.
Over time, there were piles of potentially useful lead information, hidden in inaccessible document chambers in individual desktops.
3. Centralized Data Repository
As you have already realized by now, that spreadsheet pretty much affected our work patterns. Data was scattered everywhere; inboxes, individual desktops, telephones, and also in our mental retention ability. Yes! We were messed up…
We wanted a common platform through which we can communicate to all our prospective and existing customers. Moreover, with an increase in our workforce, our company was also expanding. This further enhanced the incompatibility of the spreadsheet to bring efficacious results.
I know that our demands were too high for spreadsheets to handle!
So, we desperately looked for the right way in which we can implement a more centralized system; a system that would keep everything in one place, making our work systematic and monitorable.
4.
Better Data Visibility
The spreadsheet has a boring, non-spacey structure, where all the information seems too monotonously placed. Especially for the eye, filtering out the relevant information about leads can get really jarring.
Hence, the lack of better data visibility led to the difficulties of extracting the right information needed to execute a proper sales strategy. Minute yet important details, such as the industry type, company size, location, etc, could not be easily sorted-out. This made the marketing campaigns inept.
After all, we need to understand our clients before proposing a potential solution through our marketing gateways.
So, we would often crave for a system that would automatically accumulate the customer and lead information. This would make the entire marketing process monitor-able and error-free. If not error-free then at least a system that can minimize chances of risk and effort.
5.
Reporting
Let's admit spreadsheets are really problematic in terms of finding clarity in the information. To be honest, we would often find ourselves struggling to interpret data from it; and this was just not the only problem.
Firstly, we had difficulty in tracking and proactively reaching-out to our prospective and qualified leads. Secondly, we could not track the number of leads converting into potential clients, stripping us off from other productive activities. Thirdly, these factors ended up hampering our ROI report. Hence we needed to fine-tune marketing for better avenues.
Especially for the ROI, it is important to check the investment and the return that you get from that investment. To understand the profitability of your business, you have to trace how many leads are converting and becoming your clients. After all, you have to enumerate the efficacy of the business and create new strategies accordingly. Similarly, it is not just the number but the total deal values that have been targeted and completed successfully.
Now, understanding this data via a spreadsheet was a tough call to take.
6.
Lack of Automation
I guess everyone wants an automatic mechanism that will make life easy. We were no different. Especially given to the circumstances that spreadsheets brought about, the data seemed more entangled.The manual effort made many work processes lengthy, unorganized, and repetitive.
In fact, some work elements are actually impossible to work down manually and definitely requires a robust automation process. Like, a system automation process can possibly follow leads and track the workflow. This in-turn would update our customers with new information about our business.
Just imagine a mechanism that can send mass emails to our existing and potential clients, automatically, without the need to manually set things-up. Doesn't that sound simply magical!
Again, not just emails, how about mass-scale notifications as well, with the option to organize other internal communications between team members. Yes, we wanted a common automated platform where the total communication process can be conducted.
So, We Realized We Need a System in Place…
We needed a magnificent tool that will not only replace spreadsheets but will also help us to overcome the complexities. We started our research and looked for a system that will help us track the leads, monitor the sales process, and store the data correctly; above all a system through which we can save time and use it to expand our other business endeavors.
Being a sales consulting company, aspects around sales played a crucial role in our work process. We started to look for different cost-effective tools through which we can handle the sales process efficiently. At last, we came across Zoho CRM.
Why Use Zoho CRM?
Zoho CRM was exactly what we needed. It took care of every single aspect of business development, enabling a smooth workflow. With time we realized that switching to Zoho CRM was probably the best decision we made, in terms of running our business processes.
Let me tell you why…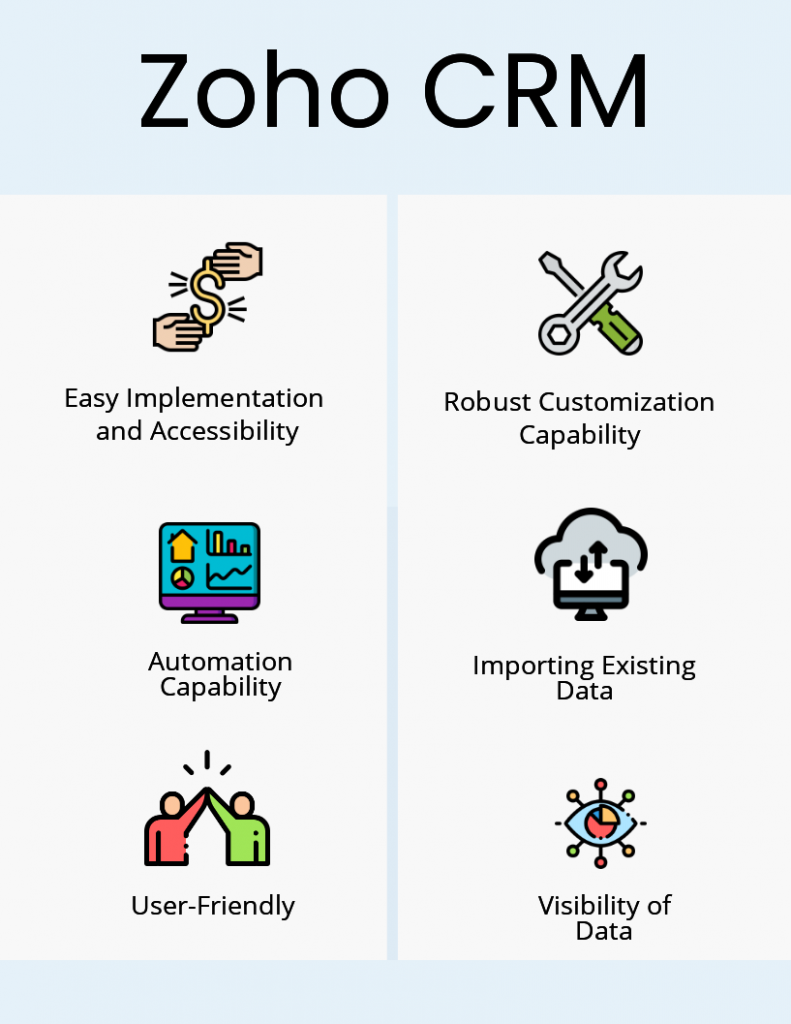 Easy Implementation and Accessibility:
Zoho CRM is a cloud-based system. That means all you need is a browser and an internet connection. This also makes implementation charges affordable, as it is cloud-based and does not require heavy infrastructure.
Interestingly, due to the system being web-based, it is accessible in every form of device, from a desktop and a laptop to a mobile phone. This accessibility makes the system highly flexible. We can now access the CRM from anywhere and everywhere based on our convenience.
Robust Customization Capability:
Another interesting aspect of Zoho CRM implementation is its robust customization capability. Every business, although being tied to a common thread, has different requirements based on their niche. The Zoho CRM systems can be customized and adapted according to the specificity of the need and the business. This aspect further made the Zoho CRM simply enchanting…
Having your own tailored CRM system that serves your business interests is simply an out of the box thing. Also, unlike other CRMs, at Zoho, you can opt for both horizontal and vertical systems.
Automation Capability:
Along with its flexibility, Zoho CRM has the much-desired automation capability. With this system, we can now automate the entire work process; from sorting out leads through multiple emails to sending mass emails and notifications to our leads and stakeholders. Hence, we no longer had to manually work out the sales strategies and inputs. This saved us our time and energy which we started to utilize on our customers.
Thanks to the automation feature, we are now able to track the sales cycle without the chance of missing out on vital leads. According to a survey, companies that are using CRM have a high ROI, as high as $8.71 for each dollar spent. This is mainly credited to the automation aspect of the CRM processes.
Importing Existing Data:
Excitingly, you can simply import all the existing data to the CRM system in just one click! Believe me on this when I say we no longer have to type the data manually. With Zoho CRM, everything was simply automatic.
User-Friendly:
Furthermore, the user-friendliness of the CRM system is our most favorite thing about Zoho.
Our team members were more accustomed to working on the spreadsheets. We were a little concerned about how well they can adapt to this new implementation and start operating their work through the CRM system. But, this transition was really smooth! Everyone was able to operate, in fact, they started enjoying it.
Visibility of Data
Also now, we were able to see the data more clearly! The Zoho CRM enabled us a clearer vision when observing and perceiving the data. The visibility that a CRM system provided, increased the chances of better customer retention capability. This enabled us to proactively contact our customers with interesting updates and offers which might be useful for them and their business.
We now can simply knock and remind our clients about what they might just need. In this way, we were able to help our customers to scale their business better. According to statistics, with the implementation of the CRM system, customer retention and satisfaction increased by 47% and the conversion rates can increase by up to 300%. This is especially relatable in our case as well.
Conclusion
So the lesson here is, in order to have a successful sales closure, a smooth pre-sales and post-sales process is a necessity. This is only possible through an efficient CRM system, which we found through Zoho. Our in-depth experience with the Zoho applications, especially Zoho CRM, enabled us to understand this platform thoroughly.
Hence we thought of sharing and serving the companies with our expert guidance on how to implement Zoho applications. So, from being a well-pleased Zoho customer, today we are a well-placed Zoho partner, serving companies all around the world.
If you can relate to our problems of using a spreadsheet and want to switch to Zoho CRM, then you are at the right place!
Talk to our experts now, for a perfect guidance in implementing the awesome Zoho CRM system.