Zoho CRM Fundamentals: Lead, Contact, Account, Deal
Jan 6, 2021
For companies that have to deal with many clients and their data, CRM tools come as a blessing to them. Especially if you have Zoho CRM to the rescue, you can totally ace your game.
With CRM at your service, you have the chance to improve your sales by 22%. Not just that you can improve on other aspects of your business as well. 
With Zoho CRM you can automate your data flow under a more centralized structure. It is easy to maneuver within the application and you can customize it to fit your industry. So if you have already implemented Zoho CRM to work out with your business processes, then that's good news. 
But now, to really utilize this platform to its fullest, you have to be thorough in its basic components that'll help you store data.
Lack of proper knowledge of the CRM system will affect data integrity, messing up with the right data, and its tagged and segregated elements. 
This is the major reason behind the failure rate varying from 47% to 63% in implementing a new CRM system. 
Hence, to make sure that you do not commit the same mistakes and get the full benefit from the Zoho CRM, it is crucial to understand about Lead, Contact, Account, and Deal present in your system. In-depth knowledge of these fundamentals will give you a better position in dealing with data and its segregation, making your life with the Zoho CRM as easy as possible.
Lead
With Zoho CRM integrated with your marketing channels, it will capture new leads and place them under the section, "leads" in your system.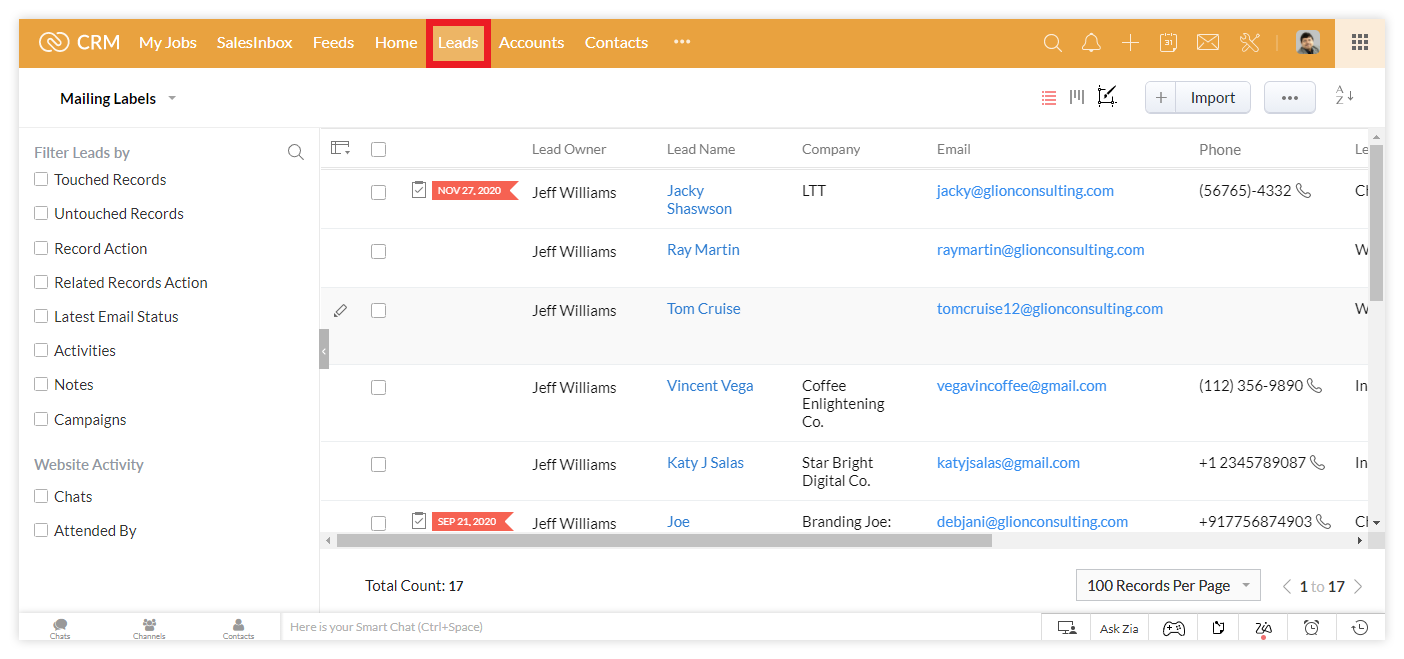 Leads are basically the inquiries that you get, which are not sales-qualified, but market-qualified. Hence they have a rudimentary idea of what a CRM does and express interest to gain further understanding of it. 
You can get Leads not just from websites alone but from multiple marketing channels. The moment you get the inquiry through one of these channels, the prospect has to go through various stages to get sales-qualified. 
This complete process of converting a Lead into a customer is a time-consuming one, demanding constant attention. Hence, when you have many Leads pouring into your CRM system, it is not possible to give equal attention to everyone. 
More so because not every prospect can become sales-qualified. Hence, giving equal attention to all the Leads might be a waste of time. You could have probably utilized this time on a more potential sales opportunity.
So, to avoid meaningless interactions, start prioritizing your prospects based on certain parameters. 
In GoldenLion, when we choose our prospects for further interactions, we do this based on 4 parameters.
Need:

  Is there a compatibility between the services we offer and the needs of the prospects?

Budget:

can the prospect afford our services?

Urgency:

How fast do they want to implement the service?

Authority:

Does the executive/representative, who inquired, has the authority to make significant decisions? If not, then who is it and how can I reach him/her?
Through these parameters we get a good clarity of which prospects we should focus on now and which ones should we keep in the sales funnel for future interaction.
So once the prospect gets sales-qualified, his/her data is stored in the contact list within the CRM.
Contact
Leads and Contacts are not the same and have a clear distinction. 
To summarize it, Leads are basically inquiries that are just market-qualified. But once some of them get sales-qualified, it automatically stores their information in the Contacts.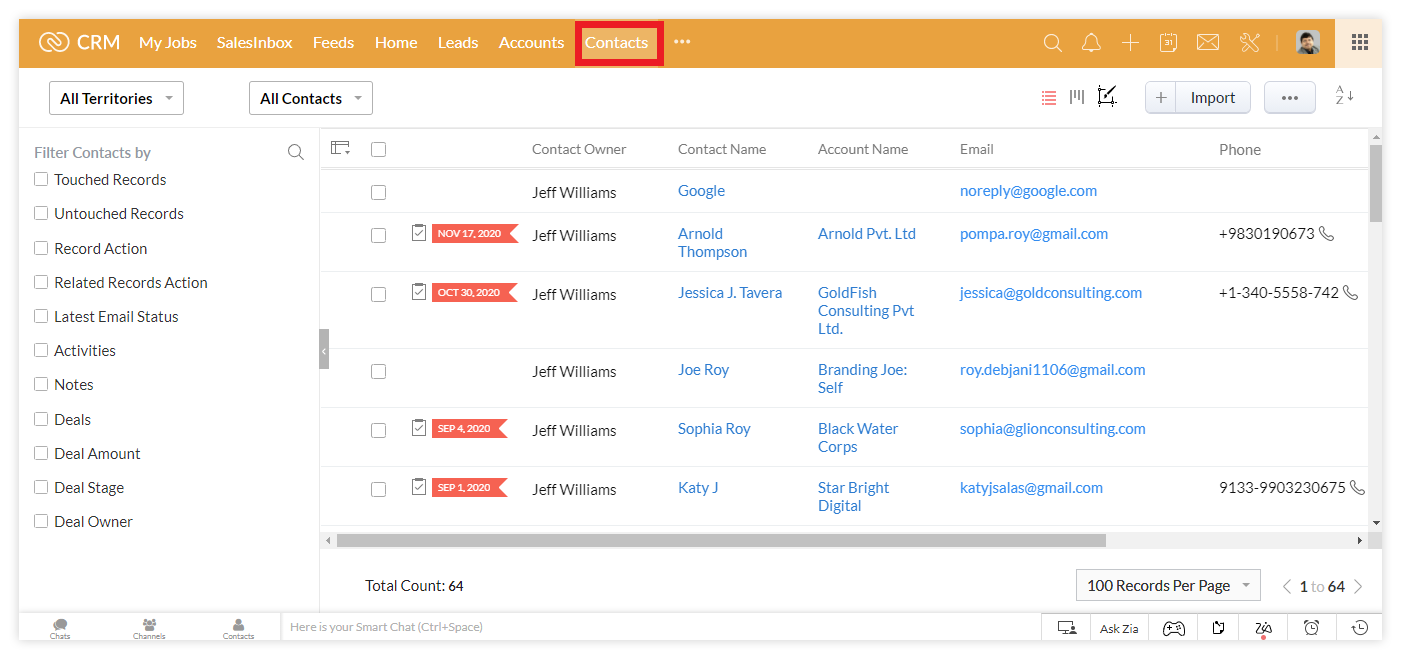 In the Zoho CRM, Contact is the place where you house all your qualified and valued contact persons. 
So depending on the connection that you have with your contacts, you can further segregate them into distinct groups of contacts. Like client contacts, partner contacts, supplier contacts, etc.
These systematic compartmentalization guides you properly when making prioritization. With all the categorized contact, you can easily navigate to the particular contact that you are looking for a specific work. This saves time, energy, and increases efficiency.
Account
The Account section in the Zoho CRM system is mainly relevant for a B2B domain.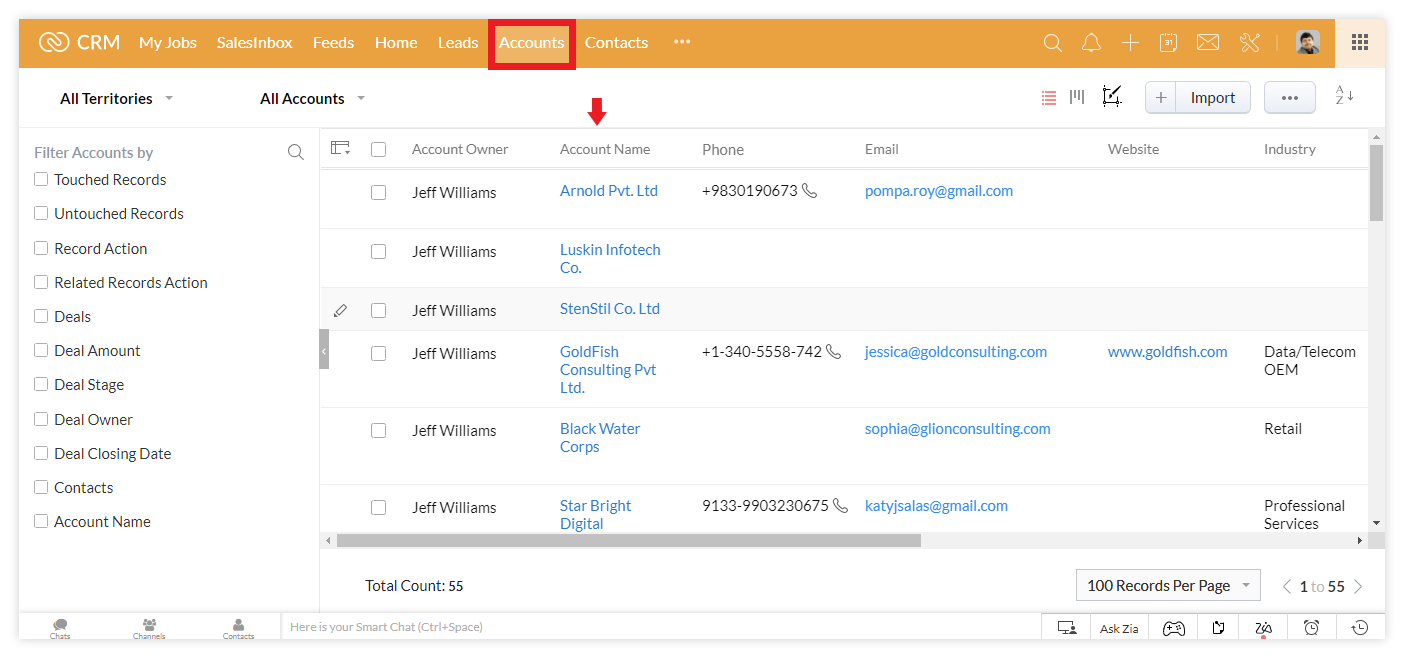 A business that always aims to expand, demands more facilities and processes that will help it sustain the growth. Hence, there is a constant interaction and rapport between the two parties that have to be maintained for further reciprocal exchanges. 
Especially when a company buys the service, they will often coupled it with more add-ons and other premium versions. This makes it really important for you to store all the information of the client within the B2B environment.
Another major reason for B2B businesses to have an Account section in the Zoho CRM is that the purchase in such a structure goes through different complicated stages. 
A business is never a one-man show and involves different people in distinct roles within the arena. So, they make a decision after they have done a proper consultation between the authoritative figure with his/her executives to reach a conclusion. 
This makes it really important for you to have an Account for each business because it will help you to group the concerned people, who can be contacted whenever required. 
Within these Accounts, you can create multiple contacts that will store the data of the executives involved in the projects. You can also create a hierarchical structure within the contacts, which will give you a better idea of the right person to contact whenever the need arises.
In a B2C transaction, things are pretty straightforward. Your client browses through your products/services, makes a quick decision, and then purchases it. 
That's it!
Hence businesses dealing with a B2C structure do not require an Account. You can store your potential customers in the Contacts section of the Zoho CRM and continue to nurture them.
Deal
You can say that a Deal captures the true essence of the entire sales cycle. So, once you strike a Deal, your sales journey begins.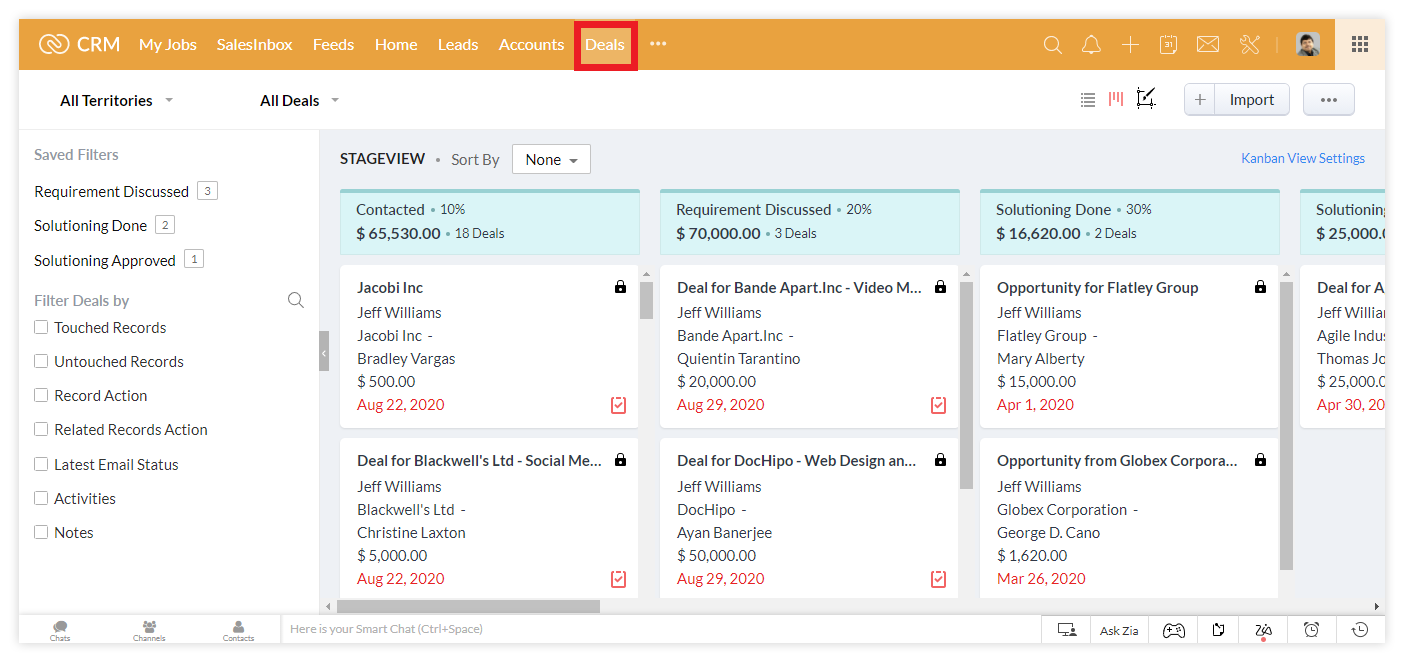 A Deal can be defined as the business opportunity that you get from a client. It is just like a negotiation that also involves the timeline and amount related to that business transaction.
So, for companies dealing with a B2B market, your clients are the other businesses with whom you are negotiating a Deal. For companies dealing with a B2C market, your clients are individuals purchasing an item which forms the Deal.
When talking specifically about a B2B scenario, then an Account created for the company, which is your client, can have many Deals negotiated under it. This is because, as already mentioned before, companies always want to expand and look for the right services and tools which can support their growth. So you can get multiple deals from one company itself.
Now, a Deal involves 4 important stages that lead to the sale's closure.
Need Analysis:

 This is the first stage before the sales cycle begins, where you have to get more details of your client's needs.

Solution:

After you are well-acquainted with the client's needs, you work on providing the right solution.

Quotation:

When you are ready with your solution plan, you can develop a quotation or a proposal.

Negotiation:

this is the last stage that involves negotiation, leading to an outcome.
So, once you successfully go through all these stages, it is then you can close the deal and win a customer. 
With Zoho CRM, you will constantly be guided through these entire sales stages, so that you never skip out on any critical step.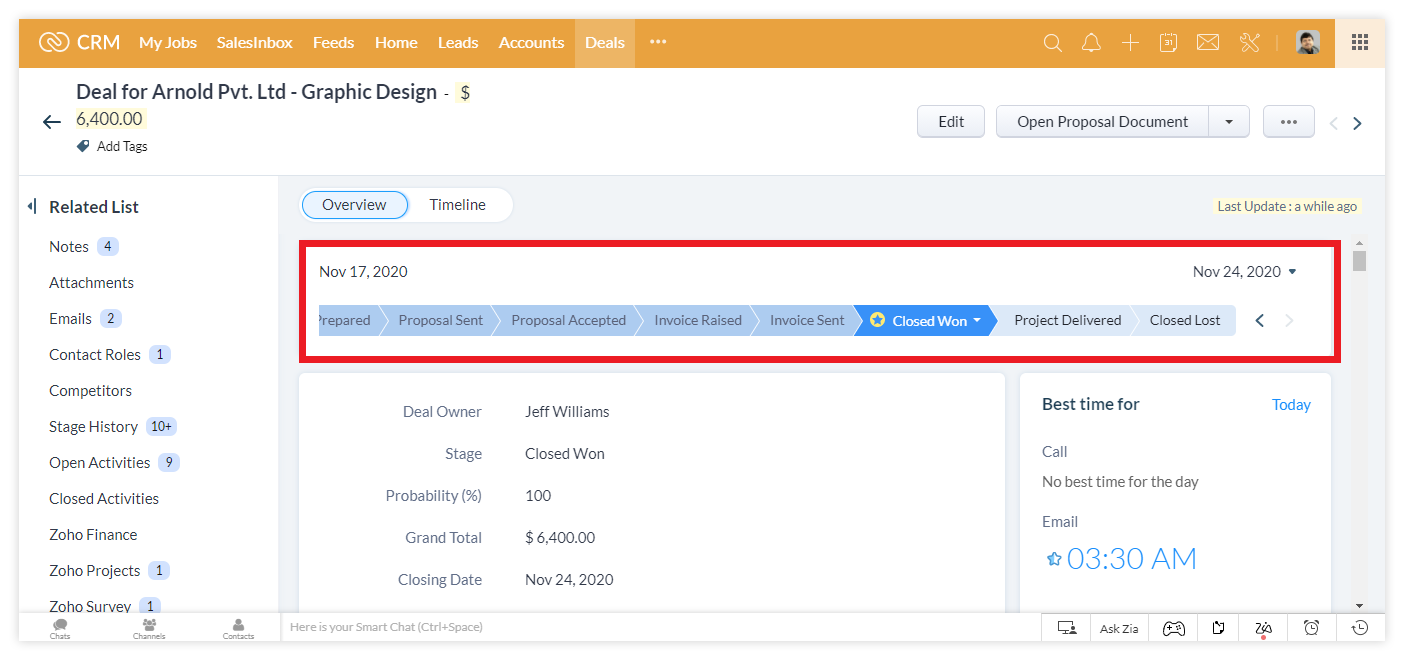 If you want to know more, then check this video out:
Conclusion
To kick-start your profitable sales strategies, implement a system that can help you with the entire process. For this, CRM implementations have always been the best. This is the reason why 65% of companies start using CRM systems within their first 5 years of business.
Zoho CRM is the best platform to really work out your sales activities. You can centralize all your information in one space. You can also get automatic updates of any new leads and other status changes. 
But, to fully utilize this system you have to be well-versed with all the fundamentals and components. A fair knowledge about leads, Contacts, Account, and Deal components present in the Zoho CRM system can help you have better clarity of how to work on this platform.
So, when a new inquiry get registered through one of the marketing channels, it captures a new lead in the system under "Leads". The next step is always about measuring them through various parameters. Following which you can sales-qualifying them by storing their details under the "Contact" section in the system. 
Now, if you deal with a B2C market, you jump into the deal stage, where the sales process is linear. But for a B2B market, you save the company details under the "Account" section. Then you move towards your sales journey by creating a Deal. 
If you want to know more about the Zoho CRM fundamentals, then it is time for an expert consultation!