Zoho One for Professional Services: How Do You Effortlessly Manage Your Appointments
Sep 23, 2020
As a professional services company, booking an appointment with your prospect/customer can be really thrilling. Because you absolutely love your clients and are always ready to give your best to them.
But the constant back and forth of scheduling appointments makes the initial process tiresome and lengthy, delaying the entire sales process. Especially if you still use a spreadsheet and a diary to manage your meetings. 
Moreover, statistics show that 41.4% of clients prefer booking their appointments via online platforms. To take full advantage of this increasing accessibility, we need a flawless appointment management system that will automate the booking process, reducing the risk of mistakes. 
Hence, we are here today to provide you with the best solution that can eliminate the hassles of appointment management. Yes! I am talking about Zoho Bookings.
With Zoho Bookings you can manage all your appointments effortlessly, boosting your sales processes. 
But, before that, let's also talk a bit more about the everlasting connection of a successful professional services company with flawless appointment management systems.
Why Appointment Management is Supercritical for Professional Services Business?
Appointment management is important for every business. But, with the professional services business, appointment management becomes the key to their growth.
Let me tell you why?
Let's understand one thing. Professional services business has to cater to different clients having unique business needs. Hence, it is mandatory to have an in-depth discussion with your clients at every step to provide a seamless service; first, to qualify them and their requirements; second, to provide a proper solution walk-through. 
Not just that! You also have to communicate constantly for follow-ups and feedback.
Also, the B2B sales-cycle will involve multiple decision-makers on either side. Hence, the constant attempt of adjusting to a common availability leads to the exchange of several email threads, making the entire process complicated. So, without a streamlined-way of managing the appointments, it will be difficult to fix a proper time for hosting a meeting.
Moreover, meetings are integral to your business. To provide a smooth service to your clients, you have to constantly conduct meetings. This also means that there are instances of handling multiple meetings in a day. So, it is natural, but not ideal, to overbook yourself. This leads to missing out on crucial meetings and commitments, making your company seem unprofessional, tampering with the overall reputation. 
So, unless you have a streamlined way to manage your appointment schedules, it becomes very difficult for you to scale your practice, to maintain your reputation, and to organize your meeting timings.
How does Zoho Bookings Help?
According to statistics, most of the B2B clients are already 57% of the way through the buying process before the first meeting with the business representative. This means, to successfully close the deal, it is crucial to perfectly manage your meeting schedules.
But I am sure by now you can feel the incompetence of managing your appointments via diaries and spreadsheets. These archaic methods might be useful, but not always reliable for the human eye to meticulously detect available time slots and appointment schedules.
Instead, with Zoho Bookings you can perfectly manage all your appointments, eliminating your chances of making crucial mistakes.
Here, I'll give you 6 reasons on how Zoho Booking can be a game-changer, promising new heights to your business.
1. Each Team Member Can Set Their Availability
Reaching to a conclusive appointment time can be tough when multiple participants are involved. Different team members have different important commitments, making it difficult to schedule a common time. 
This is usually the major reason for delayed business processes, as, without a proper series of discussions, the sales cycle can never precede. 
But, With Zoho Booking integrated into your CRM system, you can set each of your team member's availability in the Zoho Booking Calendar.
Each member can provide their availability and share the same with prospects/customers via the link, where your customer can book an available slot. This concludes a common time, which is convenient not only to a single participant but also to a team of participants. 
This makes appointment booking quick, easy and non-messy.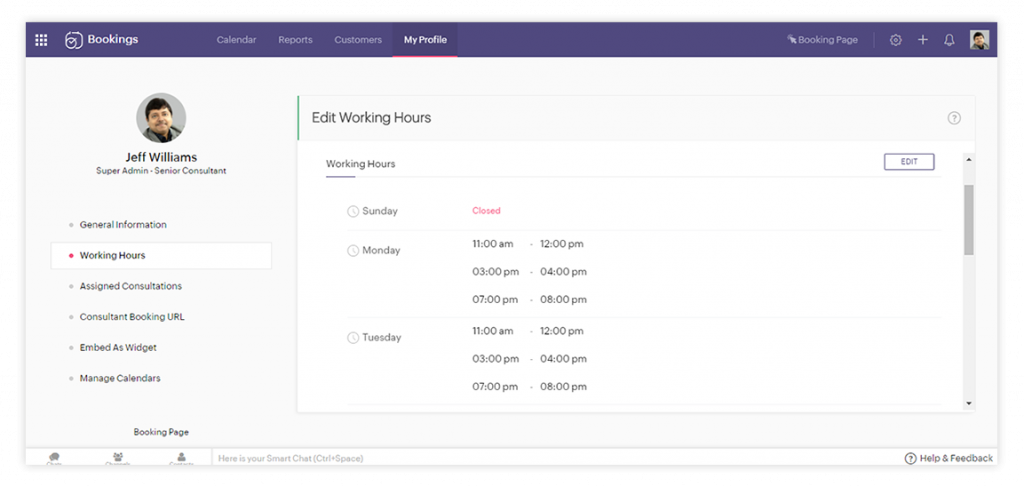 2. The Prospects and Customers Can See All Upcoming Meeting Slots
When Zoho Bookings automatically sends a link to your prospects and customers, they can view a list of available time slots. Hence, they can choose a convenient time for the meeting from the options available.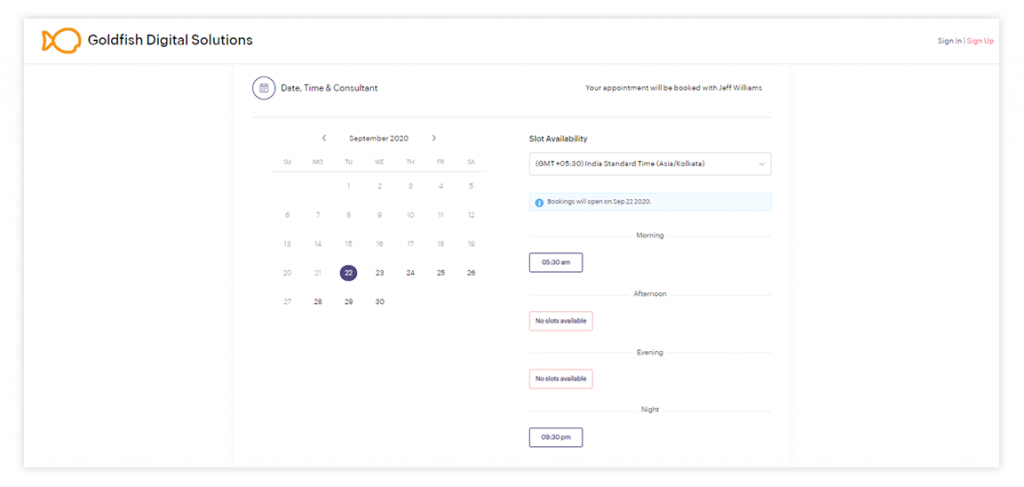 A client in a hurry can never be a good listener. Especially in a B2B model, your clients are super busy trying their best to expand. So it is natural to be preoccupied with multiple tasks and projects.
But, to convince them about your services, it is also important for your clients to have full attention in all the meetings they attend with you. With Zoho bookings establishing a convenient time, with its greatest ability to suit all, your clients get the free space to listen and understand you.
This also gives your prospects/clients a feeling where they are not pressurized to meet an appointment time, enabling a clear communication.
3. The Prospects and Customers See the Meeting Timings in their Own Time Zone
Time zones can get confusing! I especially remember missing a flight because of the utter confusion of sticking to multiple time zones. This cost me a huge deal of money, as I cannot be stuck at the airport.
Time zone confusions are common in this globally connected world. But to miss out on a business appointment due to the misunderstanding of decoding the right time, on either side, can get really frustrating. Especially in a professional services company that has a global clientele. 
With Zoho Bookings to the rescue, you no longer have to miss your appointments with your clients, located in different parts of the world. Mainly because, while booking an available time-slot, your prospective/customers can see the meeting timings in their own time zone. 
This eliminates the constant worry of making sure that you and your clients are in-sync with the scheduled time.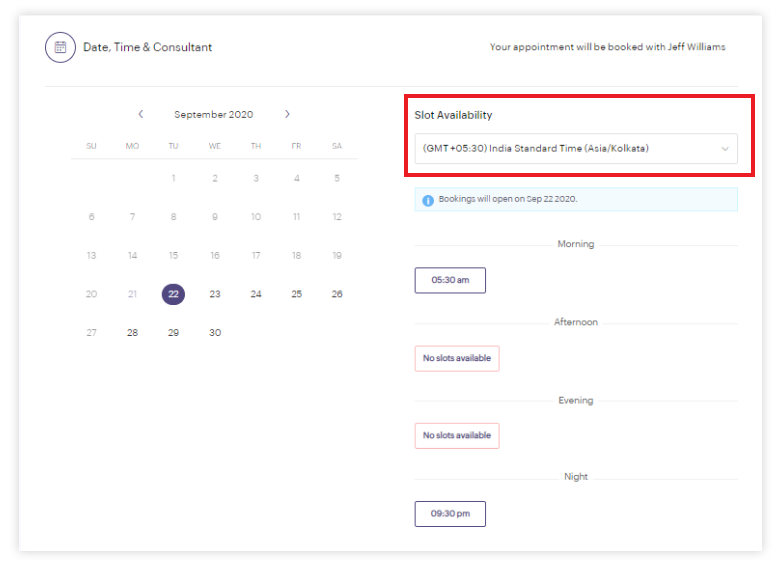 4. The Meeting Gets Synced with Your Own Calendar in CRM
Once the appointment is booked by your prospect/clients, the time and date of the meeting gets automatically synced with your calendar in the CRM.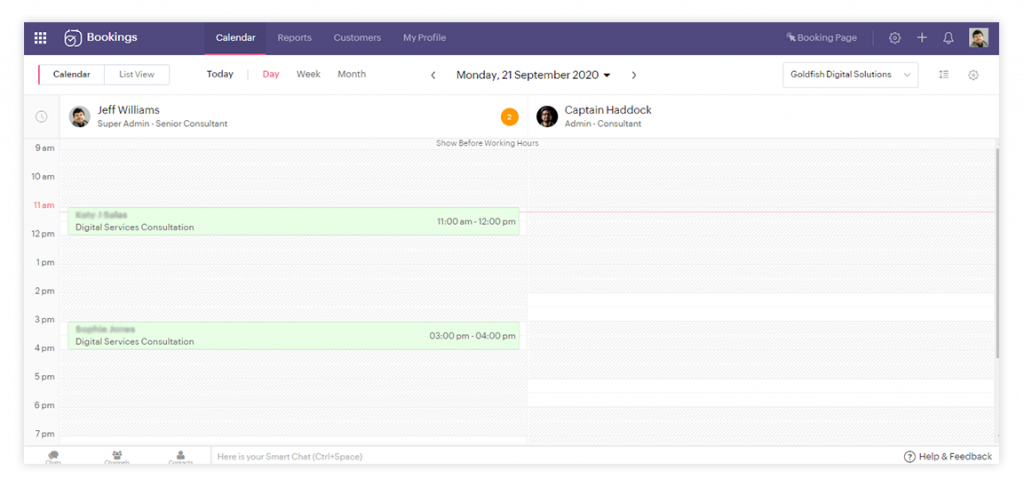 This means you can keep track of all your appointments and plan accordingly, making your work systematic and organized.
Also, your clients get the option to sync the meeting schedule in their calendar. To do this, they do not need to have a similar application. They can easily sync the schedule in their Gmail or Outlook calendar.
5. Team Members Can Block Out Dates and Timings When They are Not Available
Overbooking can be extremely problematic. Especially when that becomes the prime reason for unintentionally skipping out on potential commitments, crucial for your business. But with Zoho Bookings, you no longer have to be stressed about that.
Zoho Bookings enable you and your team members with the facility of blocking out dates and timings, which is not convenient.
For instance, if your business is closed on Saturdays and Sundays, you can block out the weekend dates and timings. This will make sure that no appointment is booked on those days, keeping you relaxed.
This feature also removes the hassle of changing dates back and forth, smoothly setting a proper meeting schedule.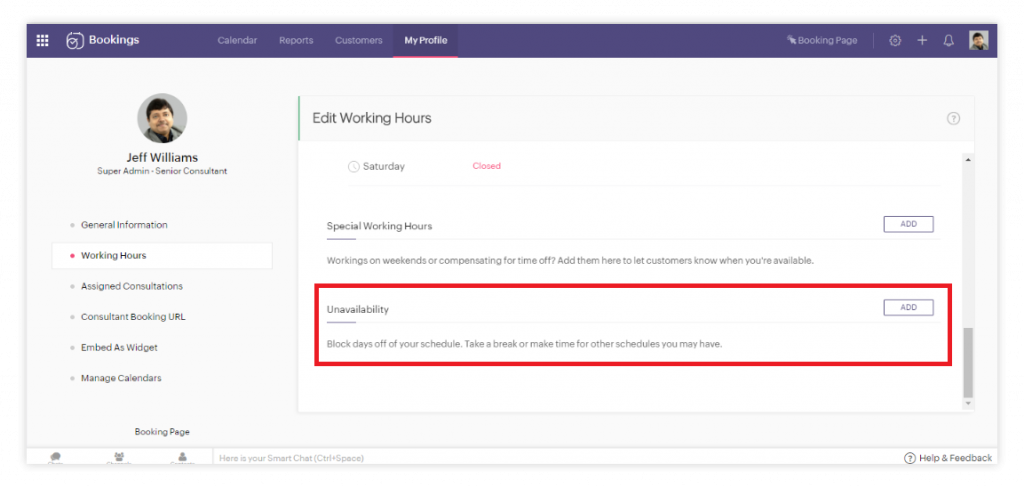 6. Automated confirmation and reminders
Zoho Booking makes sure that the meeting is successfully conducted. For that, it automatically emails your clients with confirmation.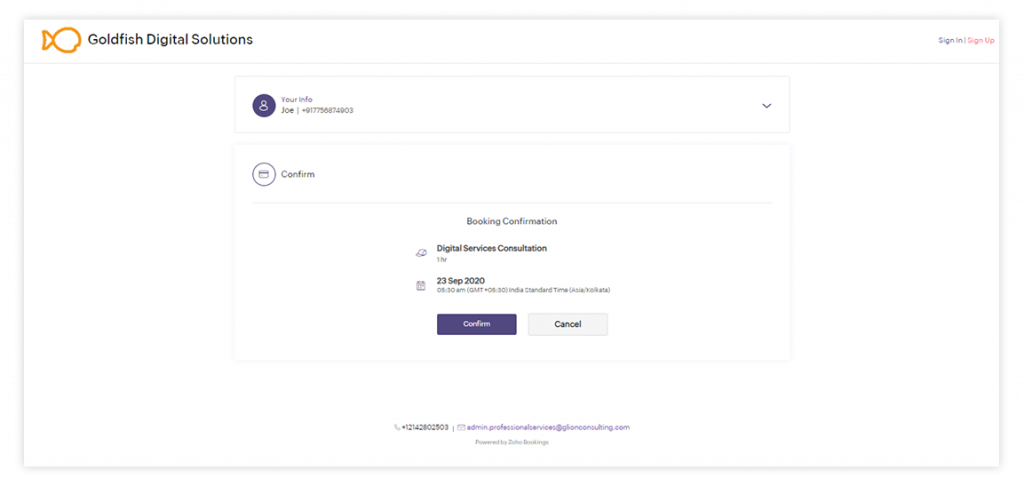 Not just that. It also sends an automated email, 24 hours before the meeting, reminding the client of the upcoming appointment.
Along with your clients, even you will receive internal notifications, reminding you and your team about the meeting.
With the Zoho Bookings application, you can also adjust the reminder frequencies that are sent to your clients, so that it is sufficient but not over persuasive.
The reminders act as a confirmation to make sure that both the parties on either side are willingly attending the interview. Also, if by any chance your client has a sudden preoccupancy, then they will have sufficient time to inform you and vice versa. This assures that no time has been wasted, which maintains mutual respect.
Want to know more?
Then check this video out:
Conclusion
Online meetings are increasing in popularity and becoming a convenient mode of communication and transaction. A study suggests that by 2028, 73% of the company employees will switch to remote working. This will make online appointment management systems even more convenient and important.
Hence, not just a professional services company, but Zoho Booking can be useful for any kind of business. This is because it makes your appointment management super simple by streamlining the process and negating discrepancies in scheduling a convenient time. This takes away the risk of missing out on potential appointments.
Also, let's not forget the importance of having a remote setup which will help us navigate our business in any kind of crisis. Hence, with Zoho Bookings integrated into your system, you can manage your appointments and have uninterrupted communication with your clients.
So, if you are looking at implementing Zoho Booking and want to integrate that to your CRM, then you can get in touch with us for expert consultation.