Zoho One for Professional Services: Improve website conversion with Chatbot
Sep 8, 2020
I am sure you have an amazing B2B website!
Your website is attractive; provides detailed product/services description; has an amazing loading speed; showcases testimonies of your clients; and has blog articles that provide the best guidance.
But, even after having a stunning website that successfully establishes credibility and provides the right solutions, you are still not being able to generate a good conversion rate.
Why is it so?
Because your website doesn't use the secret ingredient that propels prospective leads to action. This secret ingredient is a chatbot.
In this article we will talk about website conversion and why a chatbot implementation can improve the conversion rate, making your website extremely interactive.
What is website conversion?
As a consumer, I usually first visit the website of the company before interacting with their representatives directly. With the easy access of the internet, this is the usual pattern adopted by most of the product/service seekers. According to statistics, 90% of people use the world-wide-web to find local businesses. 
This tendency makes the website a powerful platform to influence and convert leads.
So, website conversion is all about capturing potential leads. It usually involves keeping your potential visitors engaged and evoking the desired action out of them. This action results in capturing of lead's important information, opening wider avenues for further interaction.
In a B2B scenario, good website conversion is extremely important. Mainly because, for such domains, lead conversion from a website is not a direct process and involves several steps. Compared to an e-commerce website, where the customer directly purchases the product, B2B businesses capture leads via the website, nurture them, and then complete the sales.
Hence, an interactive website becomes crucial for such businesses, where chatbots will act as a virtual consultant.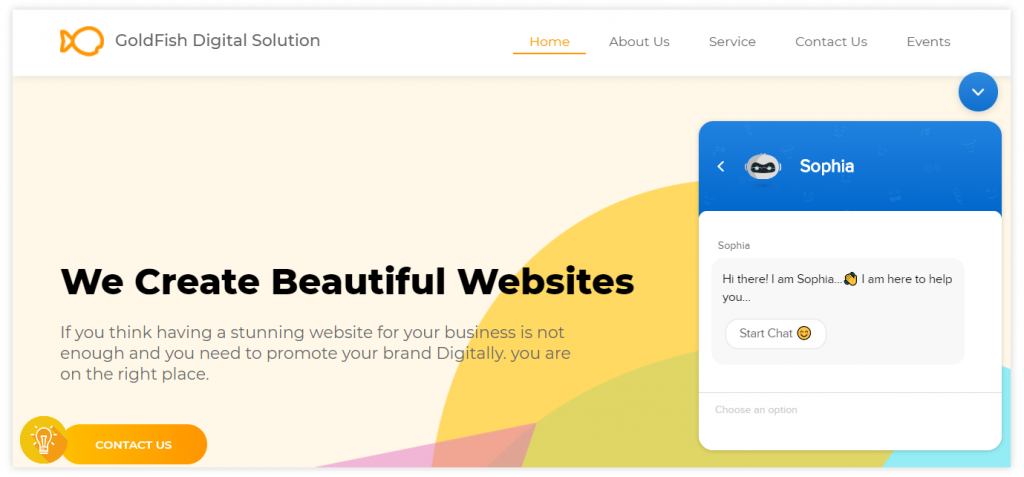 Why are Chatbots Important?
I came across an article that forecasted about 80% of the organizations using chatbot by the end of 2020. This is not surprising as chatbot are in trend.
With a chatbot integrated to your website, it will readily start a conversation inviting vital leads to your CRM. Hence, Chatbot installed on a landing page can boost conversion rates by 36%.
What's more, is that you can program the chatbots to interpret words for responding with suitable answers. They will continue the conversation naturally, making the visitor feel cared for and understood.
But that's not all. There are many more reasons for chatbots becoming an important element to drive the sales cycle faster. Here I will jot down 5 reasons why chatbots are culminating in such a grand manner.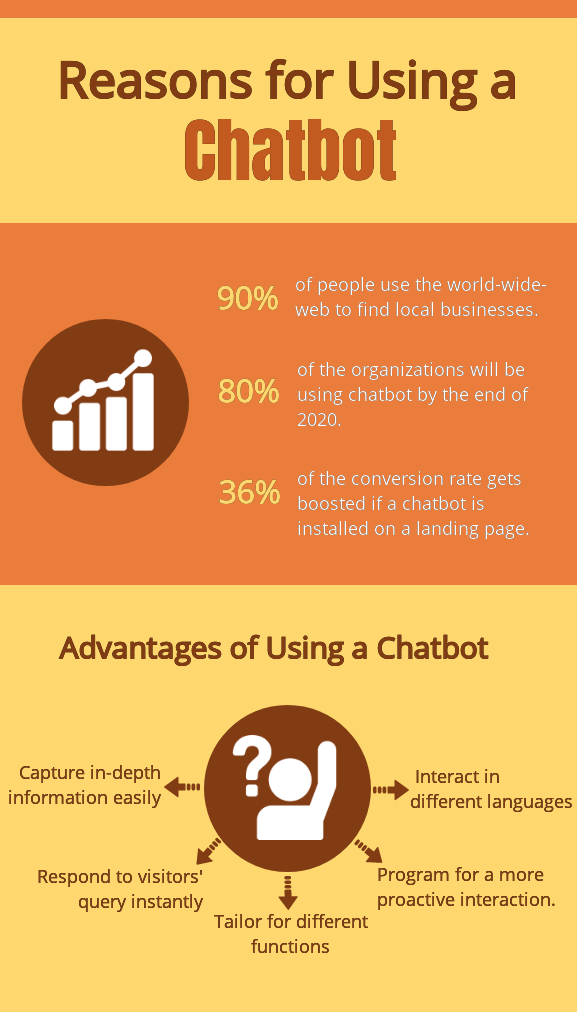 1.  Instant Reply to a Visitor's Query
If you can recall even a decade ago, life was very different. Information was not easily available, pushing us out of the comforts of the house to meet the company representatives. 
Now we get everything online. Not just everything, but at any hour of the day, quickly.
Our lifestyle has also gotten us used to this fast pace of life. Whether booking a pizza online and expecting the delivery to be at our doorsteps by 30 minutes or contacting a website for a query, we want to get a quick response.
Hence, it is necessary to interact with your leads instantly after they enter your website. Or else they might wander off to other websites.
By integrating chatbots you can do this skillfully. 
With the help of a Chatbot, your business will stay online 24×7. This also means your business is operational out of working hours, without the constant need of your company executive's involvement.
Chatbots integrated to your website will never give you the chance to miss out on any potential leads.
2.  Capturing In-Depth Information Easily
When talking about adhering to a certain lifestyle, then let's not forget our present mode of communication. We are constantly over the phone, chatting with our friends, and colleagues, on WhatsApp, Skype, Facebook messenger, etc. 
Notifications popping up in any size of screen compel us to react.
Also, chatting over texts makes situations less confrontational, opening avenues to talk more freely. A study conducted by HubSpot stated that almost 70% of customers prefer messaging apps for getting customer support.
Hence, with a chatbot doing all the talking, conversations are open. People communicate more frankly with a chatbot than with a live chat application. I guess we are all very careful about how we communicate to a person with a mind of his/her own.
Chatbots are a pleasant way to capture lead information. A visitor who is interested in availing your services does not have to undergo the monotony of manually typing in the website form. Chatbot makes that process super easy, by just starting a conversation and approaching them with a friendly greeting.
As the lead continues the conversation, the chatbot will showcase various products that might interest him/her. This interaction captures vital information to the CRM system that is used for lead nurturing, eventually leading to sales.
3.  Chatbots Can Be Programmed for a More Proactive Interaction
I am sure that your website has often faced visitors that repeatedly hover around a specific service/product. But, for some mysterious reasons, they never contact you for more information.
If you program your chatbot to start a conversation proactively, then this will encourage those visitors to interact. It will automatically assess the visitor's probable requirements by analyzing and monitoring different parameters of the visitor's activity.
Often companies program their chatbots to automatically interpret the lead's requirements by analyzing words and phrases. Based on that, it offers different products appropriate to the client's needs. This makes capturing information highly interactive.
An active chatbot that automatically approaches the visitor can keep the website engaging. With this proactive bot, making your life easy, you can get some extra time to use it the way you want.
4.  Different Chatbots Can Be Created for Different Functions
Many business websites have programmed chatbots that meet the requirements of different functions; as a support bot, as a sales bot, or even as a knowledge bot.
Depending on the queries of the visitors, it activates the suitable bot that will guide them towards the specific requirement. Hence the discussion becomes more focused and gives the desired information required by the visitor.
A website that boasts of multiple chatbots, programmed to take care of different customer queries, can create a positive impression.
5.  Can Easily Interact in Different Languages
Chatbots can be optimized to interact in multiple languages as well. Whether your leads speak English or Spanish, chatbots can fluently communicate with them in their tongue to gain vital information.
Interacting in native languages can personalize conversations, as mother-tongues are intimate and close to our way of expressing ourselves. With a chatbot that can communicate to people in their local languages, you can absolutely cross the language barriers and gain more potential leads.
If you want to know more about Chatbot and how it can boost your website conversions, then check this video out:
Conclusion
As you have already understood, chatbots can do real magic. With the help of a chatbot, your rate of conversation via websites can soar high, enabling you to give an impeccable performance.  
Especially in today's age, chatbots are everything and will soon become a mandate to meet the business website requirements.
Hence, do not fall behind the race and enhance your website conversions with a friendly, supportive chatbot. You can create a chatbot for yourself easily with the help of Zoho SalesIQ.
With Zoho SalesIQ, you can keep your website visitors engaged while capturing potential lead data, which is transferred to the Zoho CRM for lead nurturing. Moreover, it entitles you with exciting features through which you can segment your leads based on their level of interest, connect with the prospective ones and also keep track of the progress generated by your company's representatives. If you want to know more about this, then book a No-Obligation Consultation with our experts today!